Broccoli Salad will be the star of your next cookout! It's refreshing and full of crisp vegetables and fruits coated in a creamy dressing and studded with chopped candied pecans. Fast and perfect for making ahead to serve at potlucks, BBQs, and picnics!
Serving a crowd this coming weekend? The Best Cucumber Sandwiches, Salmon Patties, and Smoked Salmon Dip are great for groups and a hit with all ages!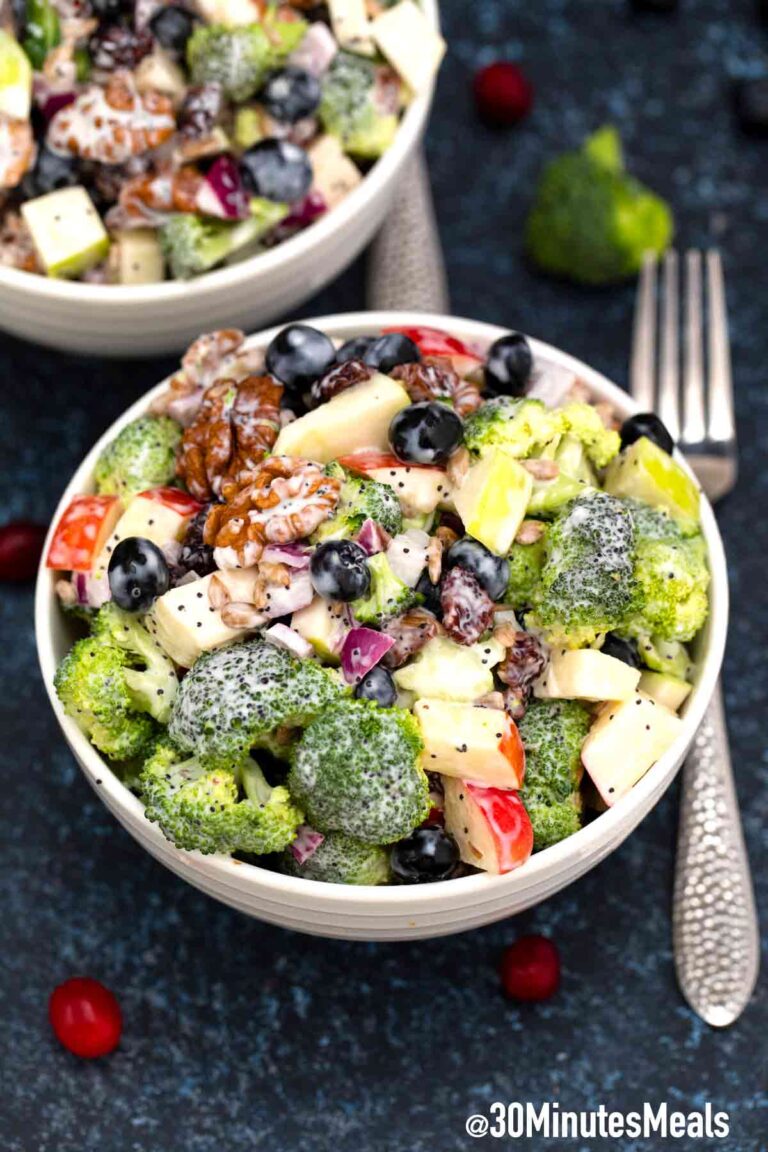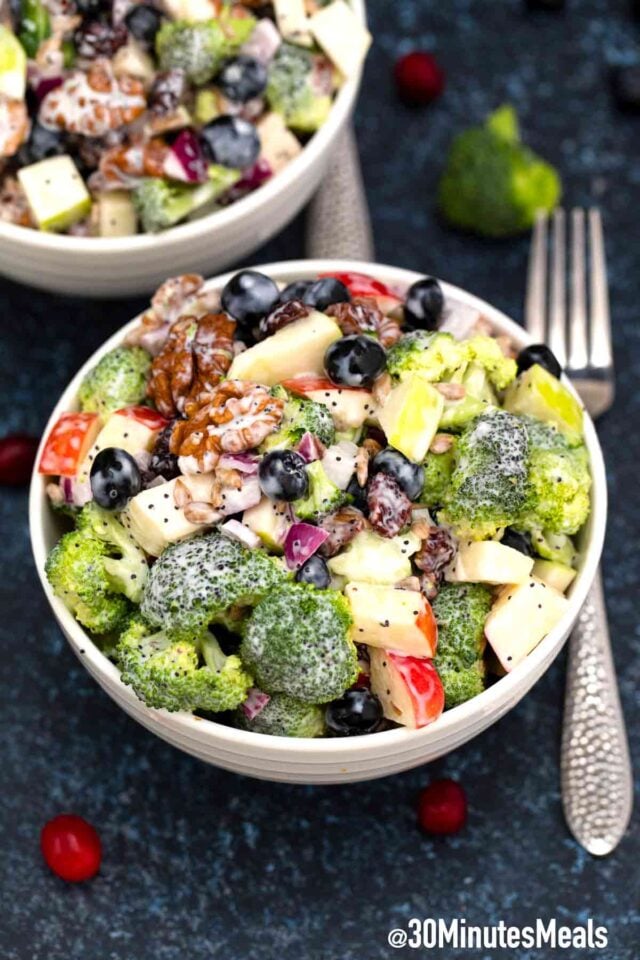 Broccoli Blueberry Salad
Broccoli Salad can make anyone want to eat their veggies first! The flavor combination in this dish is absolutely perfect – crunchy veggies, the creamiest dressing, and juicy grapes come together for a seriously tasty dish. Great as a side or even a meat-free main dish if you're craving something light.
On top of that, it takes only minutes to make. Chop, mix, chill, done! The recipe is also a breeze to double or triple. And trust me, you will need a big batch because this dish always goes fast at any get-together.
Is broccoli salad healthy?
Yes! Broccoli is one of the healthiest things you can eat, period. It's rich in antioxidants, vitamins, and is packed with fiber. Cauliflower is another superfood in this dish. It has tons of nutrients and reduces the risk of heart disease and other illnesses. In addition, both are low-carb and low-calorie, so they're fantastic for weight loss.
If you want to make this recipe healthier, you can use substitutes for some of the ingredients. For instance, greek yogurt is an excellent alternative for mayo and sour cream. There are also low-fat versions available in the market to fit your diet.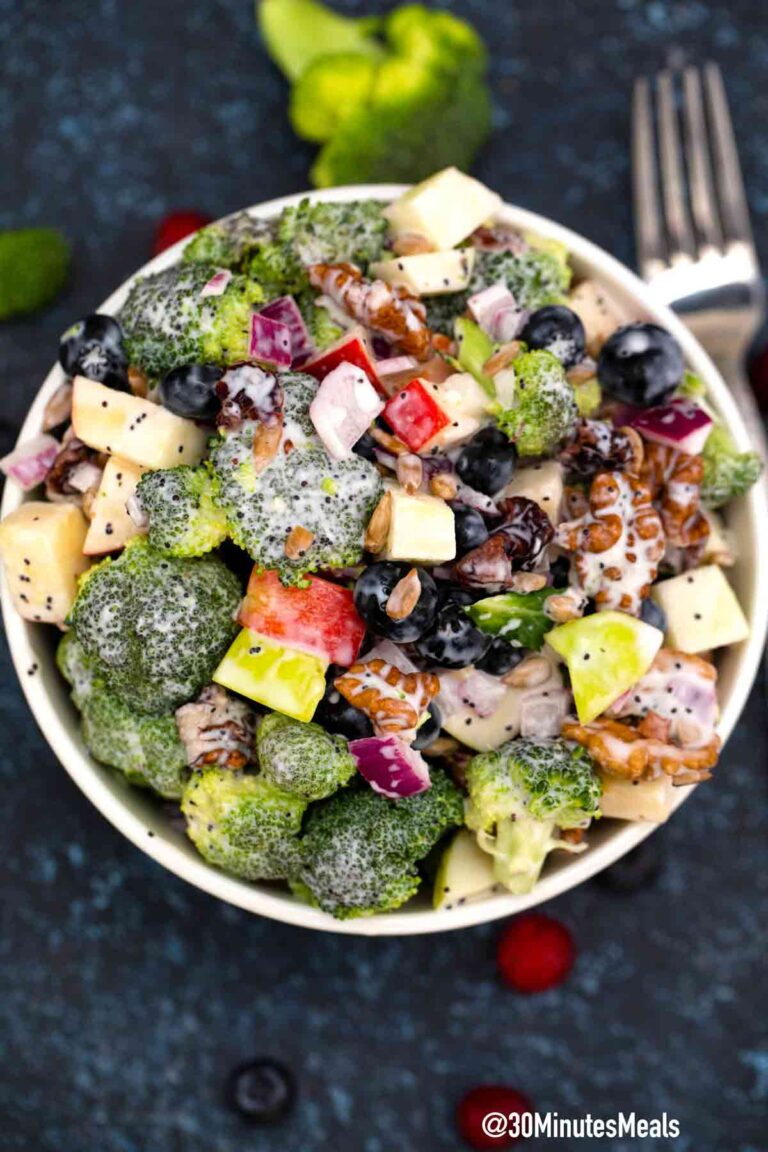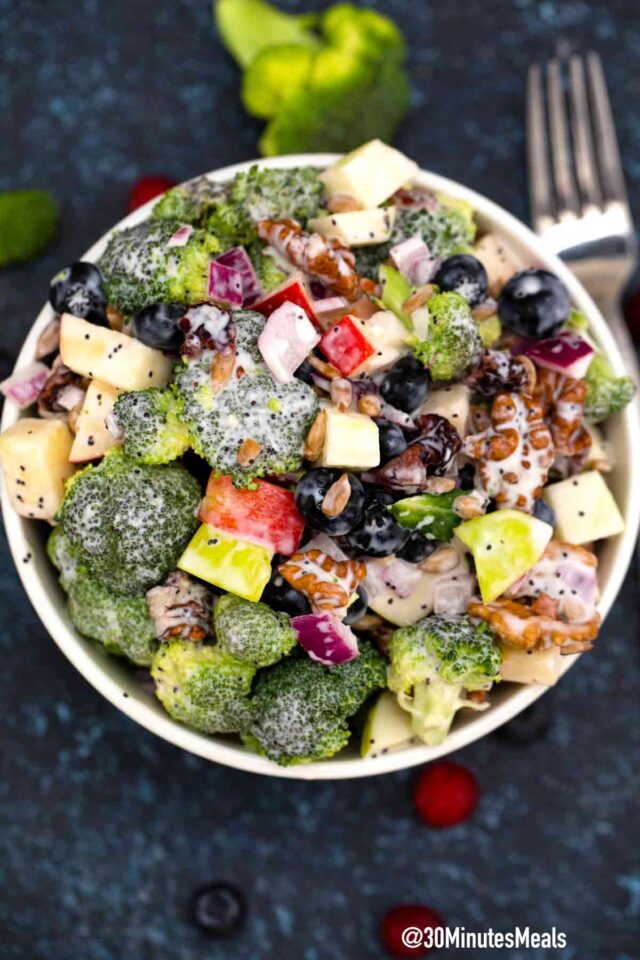 Broccoli Salad Ingredients:
Broccoli and cauliflower

: both chopped into florets.

Red Onion:

while optional, you can skip it if you don't like onion, but if you do, it definitely is a nice addition to this salad.

Apple and Grapes:

the fruits adds a nice balance.

Nuts:

I used pecans, but walnuts are also great.

Mayonnaise and sour cream

: the tangy and creamy base for the dressing.

Poppy Seeds:

They add a nice crunch and flavor to the dressing.

Seasonings

: salt and sugar.
Do you have to cook the broccoli?
No, that delicious crunch is one of the best things about this dish! It also makes it super easy too, because you just chop the veggies and it's ready to go.
Because we're using raw veggies, make sure to chop them very small. This allows the dressing to fully coat and soften the florets, removing that raw taste but retaining all of the fresh crunchiness.
If you prefer cooked vegetables, go ahead and blanch them first. Don't forget to dunk in an ice bath to stop the cooking process and retain as much of the crispiness as possible. If you're blanching it, drain it well so that the moisture doesn't water down the dressing.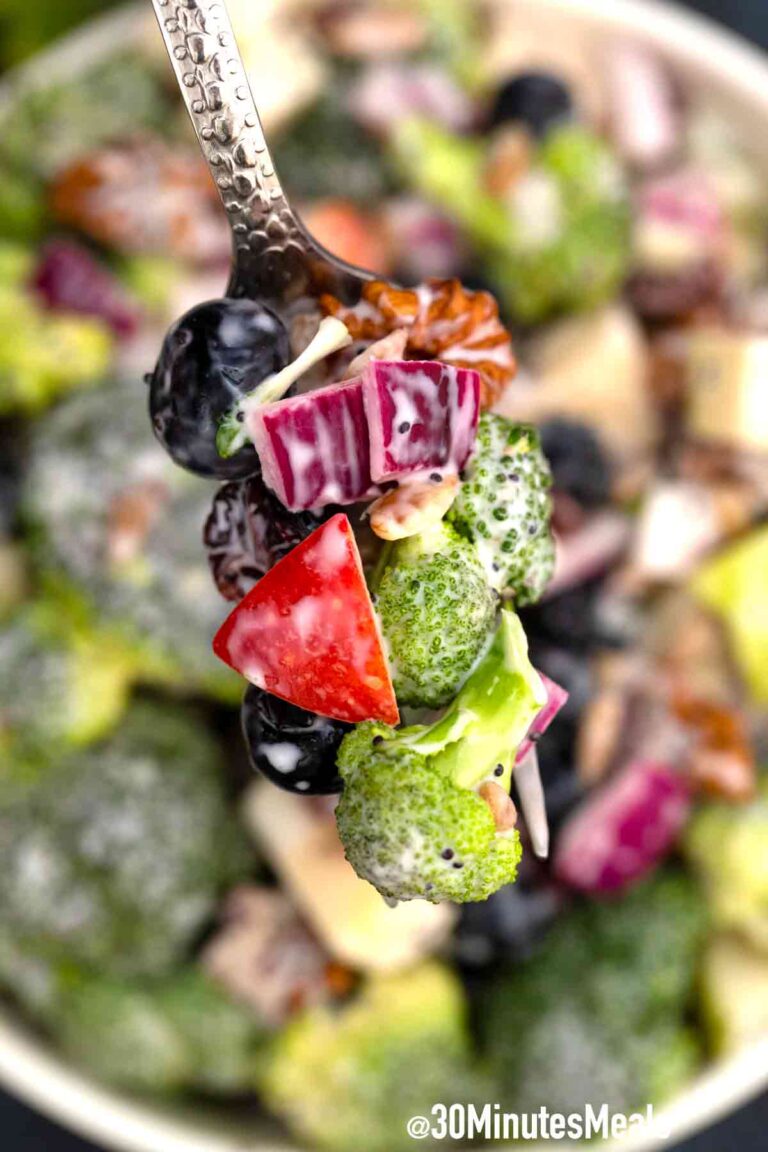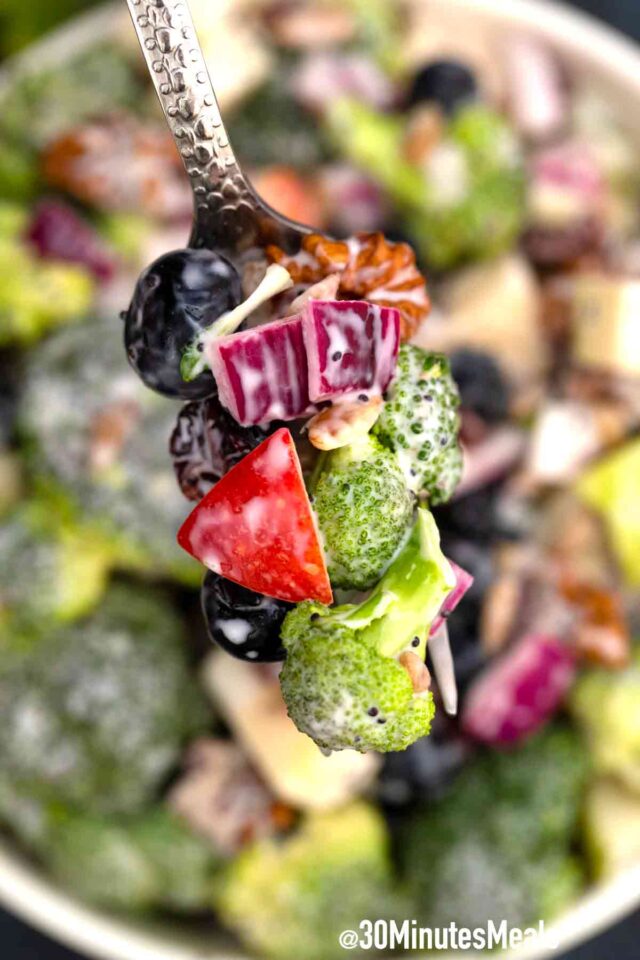 How to make the best broccoli salad?
Combine the veggies, fruits, and nuts.

Make the dressing.

Toss all the ingredients together, making sure everything is coated well.

Chill for an hour or two so that the flavors come together.

Serve cold and enjoy!
Recipe variations and substitutions:
Use cheeses

: try goat cheese, blue cheese, sharp aged cheddar.

Swap with Greek yogurt

: for a lighter but equally creamy alternative, use yogurt for the base of the dressing.

Add more veggies

: boost the vegetable content with celery, carrots, cucumbers, zucchini, and even some finely-chopped red onions.

Add fruits

: this dish tastes fantastic with dried or fresh fruits like cranberries, grapes, raisins, strawberries.

Sprinkle with nuts

: for more crunch, try adding sunflower seeds, walnuts, and almond slivers.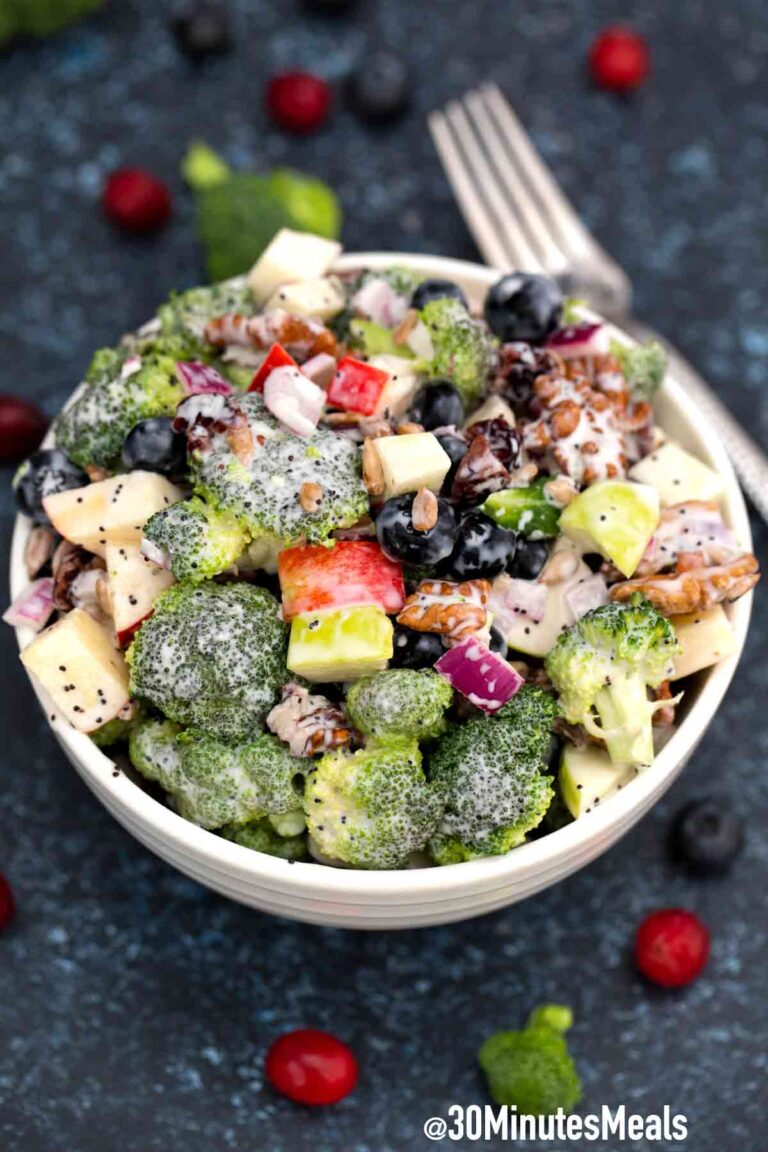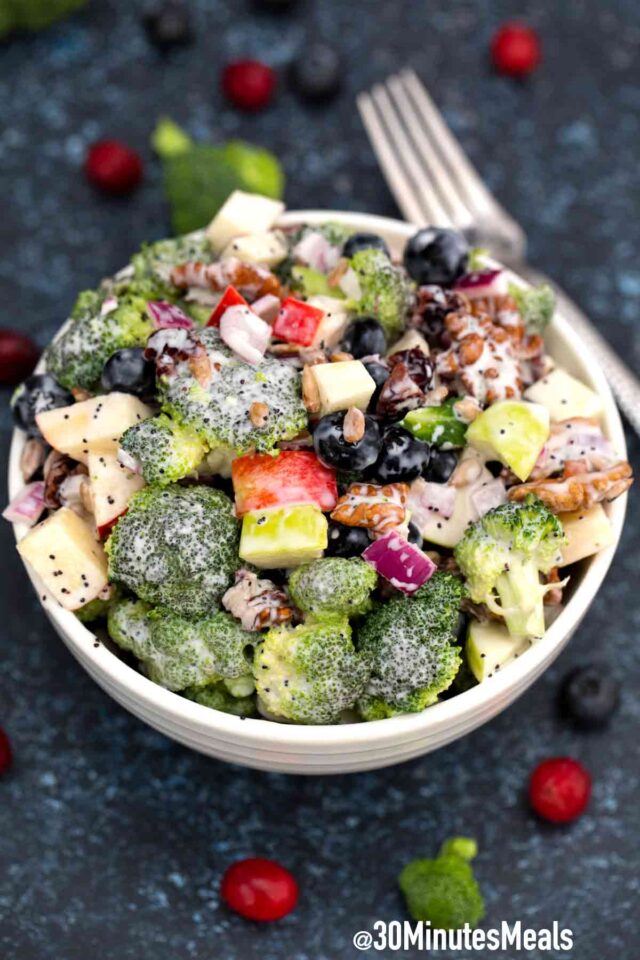 What to serve with broccoli salad?
Almost everything goes well with this dish! It's really good as a side dish to the Peach Pork Chops, Sloppy Joes, and Citrus Baked Salmon.
More salad recipes you will love:
Can you make it ahead?
This recipe is actually best when made ahead! While it tastes great served immediately, it gets even better after a day or two. The veggies absorb more of the dressing and become tender. The flavors also have time to marry and deepen.
Store in a sealed container and keep in the fridge for up to three days. To serve, just transfer to a serving dish and enjoy!
Recipe tips:
Try to chop the ingredients in similar sizes. This way, each bite has a little of everything.

Chilling the dish for a few hours before serving is highly recommended to tenderize the veggies and develop the flavors.

You may blanch the veggies if you prefer them cooked.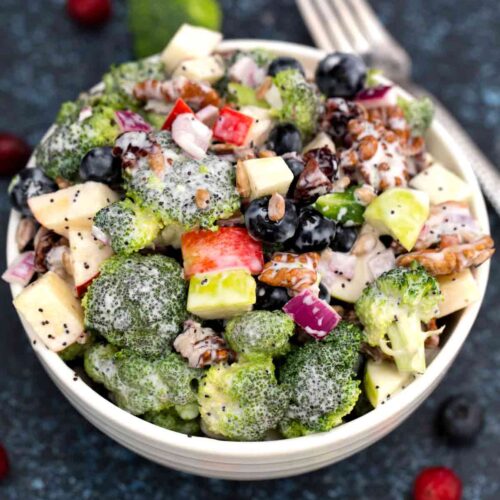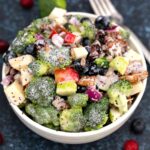 Broccoli Salad Recipe
BroccoliSalad will be the star of your next cookout! It's refreshing andfull of crisp vegetables and fruits coated in a creamy dressing andstudded with chopped candied pecans.
Ingredients
4

cups

broccoli florets

sliced

2

cups

cauliflower florets

sliced

1/2

medium red onion

thinly sliced

1

green apple

cubed

1

red apple

cubed

1

cup

red grapes

1

cup

blueberries

1

cup

pecan

halves
Dressing:
1

cup

mayo

3

tablespoons

lemon juice

3

tablespoons

honey

1

tablespoon

poppy seeds
Instructions
In a large bowl combine all the "Salad" ingredients.

In a small bowl, combine the "Dressing" ingredients and add to the salad.

Toss until fully combined.

Serve cold and refrigerate any leftovers.
Nutrition Facts
Broccoli Salad Recipe
Amount Per Serving
Calories 351
Calories from Fat 369
% Daily Value*
Fat 41g63%
Cholesterol 16mg5%
Sodium 270mg12%
Potassium 530mg15%
Carbohydrates 35g12%
Protein 5g10%
Vitamin A 474IU9%
Vitamin C 80mg97%
Calcium 80mg8%
Iron 2mg11%
* Percent Daily Values are based on a 2000 calorie diet.