Shrimp Salad is a luxurious chilled dish flavored with Old Bay, celery, and a light mayo dressing. Perfect as stuffing for wraps, on a bed of greens, in a toasted sub, or enjoyed on its own!
Sometimes, you just want something light and healthy instead of a full meal. For those days, these Cucumber Sandwiches and Detox Beet Juice are a nutritious way to power up your day. If you want something heartier, my Skinny Mongolian Beef Noodles is a delicious choice!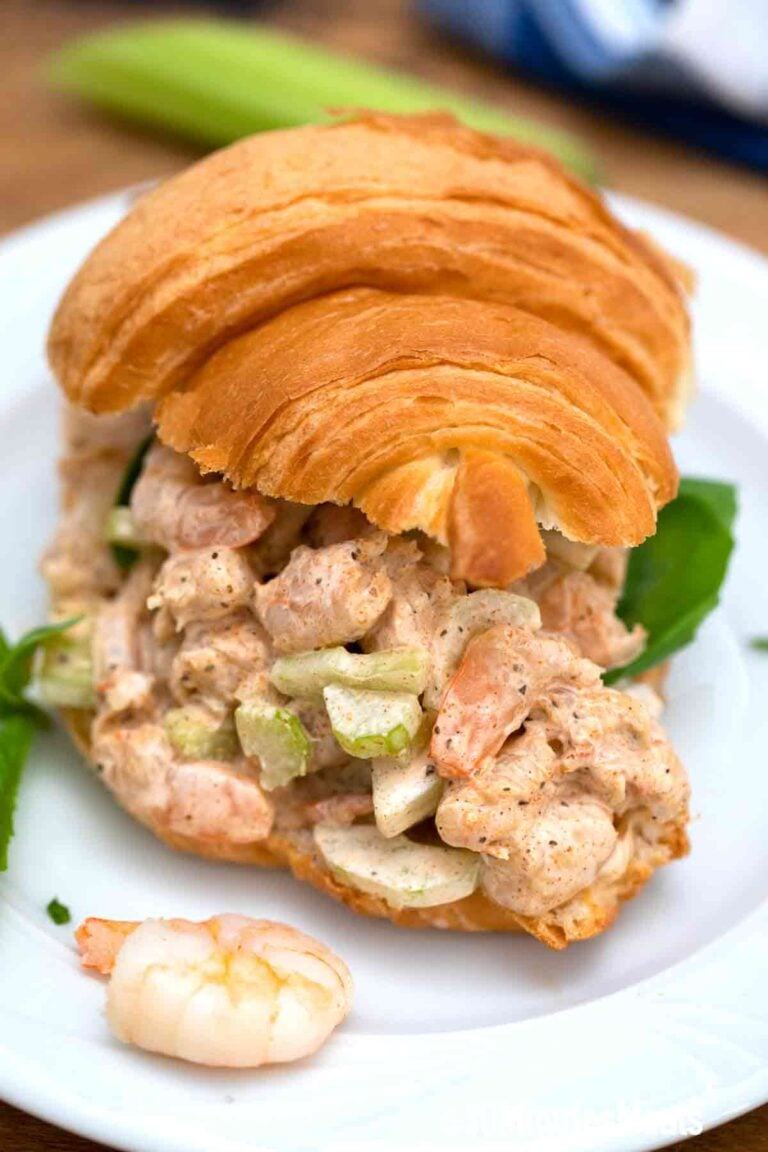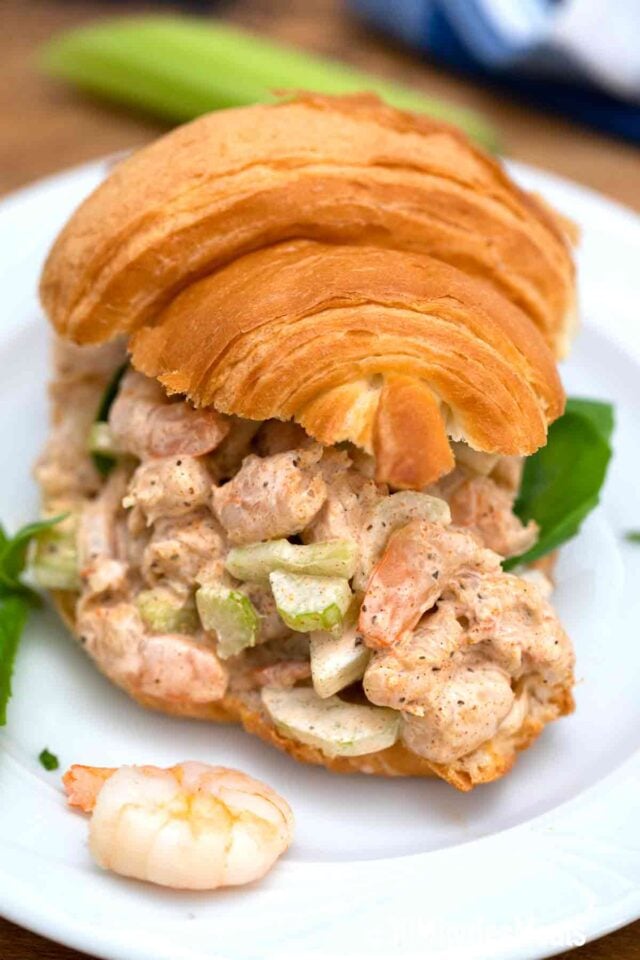 Creamy Shrimp Salad
Shrimp Salad is such a fabulous entrée. There's nothing quite as elegant as this dish scooped on a bed of endives, crisp lettuce, or as a filling for a freshly-baked croissant. It's a beautiful dish too, with pops of green celery and perfectly pink seafood against a creamy backdrop.
This recipe is so quick and easy, even total beginners can pull it off. I guarantee you'll be making this over and over.
For lunch, potlucks, picnics, brunches, and any occasion that calls for a tasty and impressive dish. A must-have for any home cook's repertoire!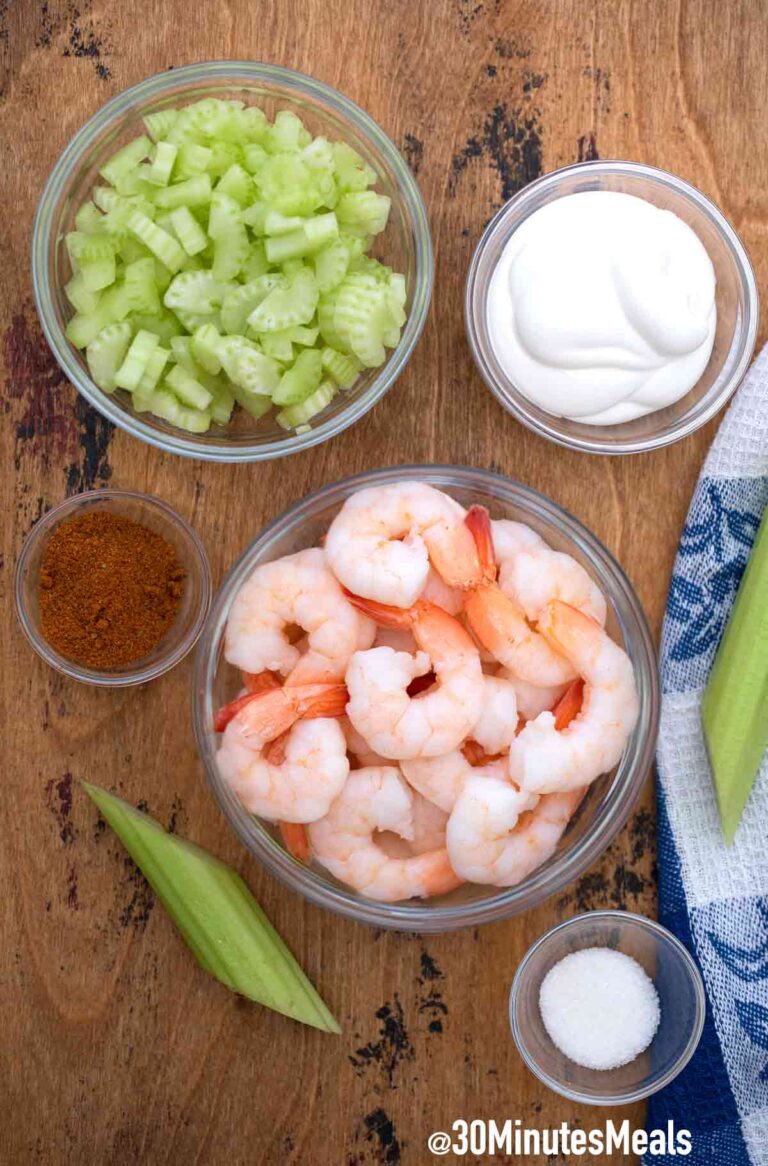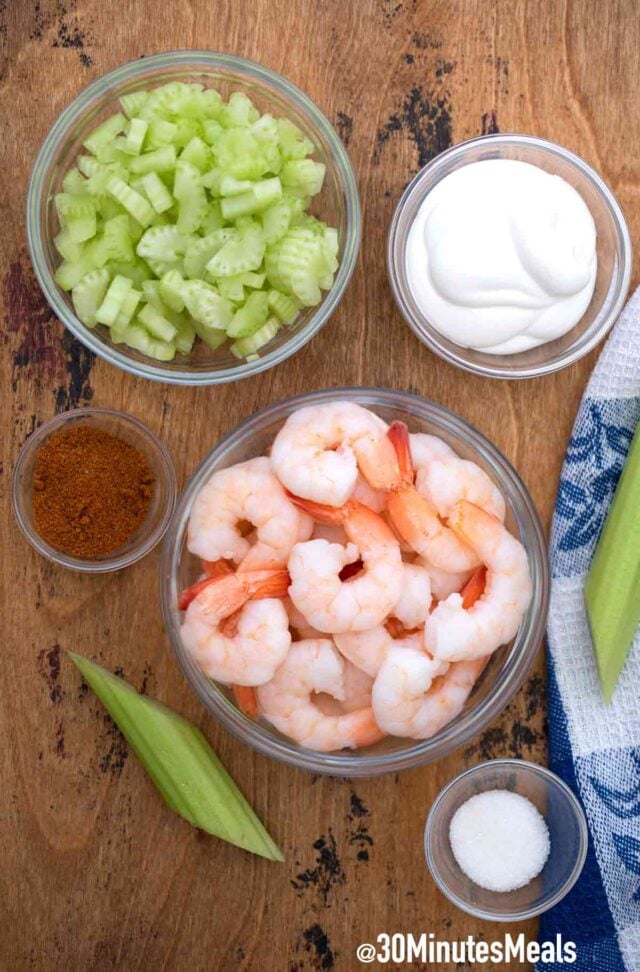 Shrimp Salad Ingredients:
This dish calls for just 6 ingredients you probably have in your kitchen already:
Shrimp: fresh is best, and make sure to devein it after cooking and peeling
Old Bay seasoning: this quintessential seafood seasoning is a zesty blend of many spices and herbs
Mayonnaise: just 1/3 cup is enough for the pound of seafood we're using
Sugar: a bit goes a long way to highlight the natural sweetness of the shrimp
Celery: for crunch, color, and additional nutrients
Pro-tip: Stock up on those shrimp rings when they go on sale in your local grocery!
How to peel shrimp?
We're using the raw kind for this dish, so get ready to peel them. No need to panic because it's ridiculously easy:
Remove the head: chop or just twist and pull it off, then remove the legs
Pull the shell off: after removing the legs, place your thumb carefully under the shell. Pull the entire thing in one piece.

Pinch the tail off: unlike other recipes such as Sweet and Sour Shrimp where you can leave the tail on, you need to remove it for this one.
Now it's time to devein our seafood. With a paring knife, make a shallow cut skimming along the vein. Lightly pull at it with the knife, then finish by using your fingers to pull it off.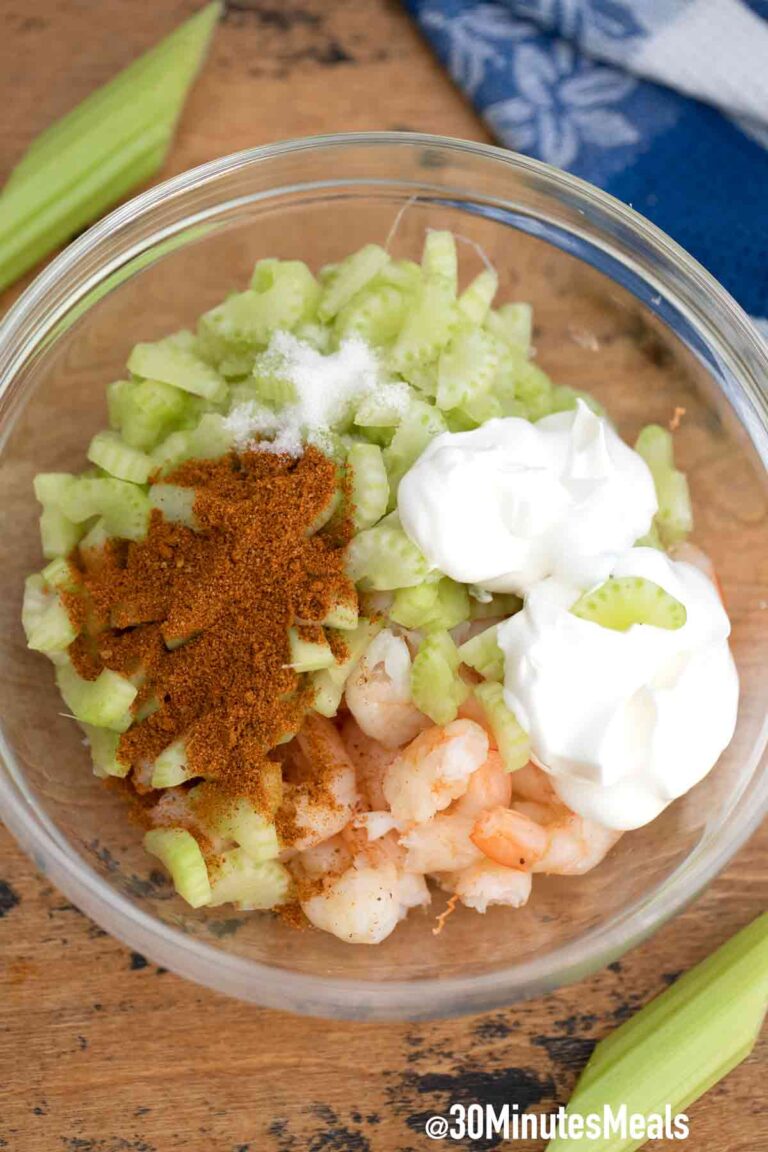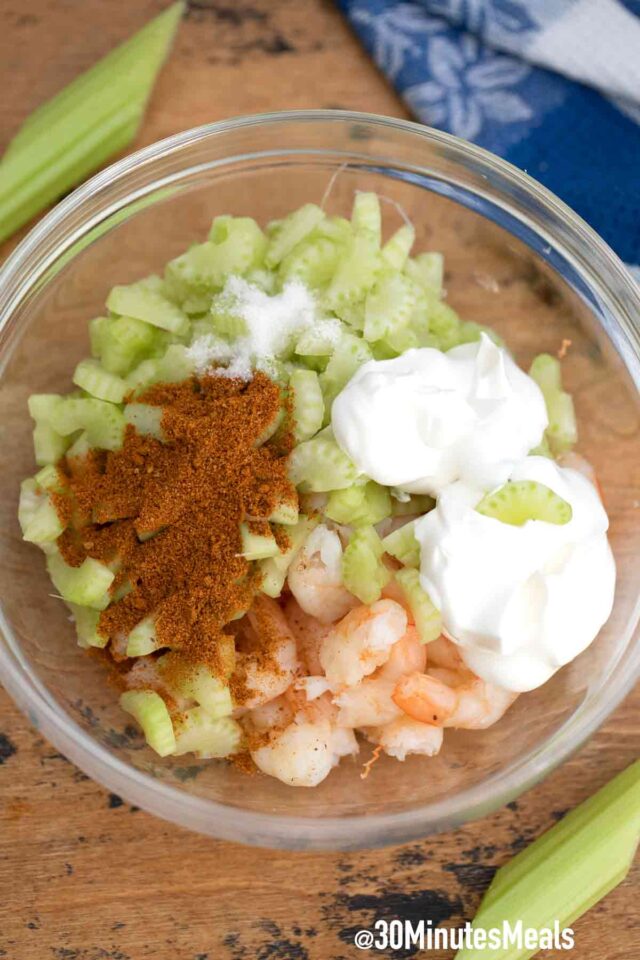 Other ways to cook shrimp:
There are other delicious ways to prepare the seafood for this dish aside from boiling. Brush with oil and grill, or sear in the skillet using a bit of olive oil. No matter how you prepare it, make sure not to overcook.
How to make Shrimp Salad:
Boil the seafood: Season your water with Old Bay then bring to a boil. Add the seafood and cook until pinkish orange.

Cool down in an ice bath: use a slotted spoon to the seafood from the boil. Transfer it to a bowl with ice to stop the cooking process. Remove after 15 minutes, and continue chilling in the fridge. You can do this for just an hour if serving immediately, or overnight if you're making it ahead.
Assemble: roughly chop the seafood in large pieces. Toss it with the celery and mayo. Chill.
Enjoy. Serve immediately and enjoy it any way you prefer.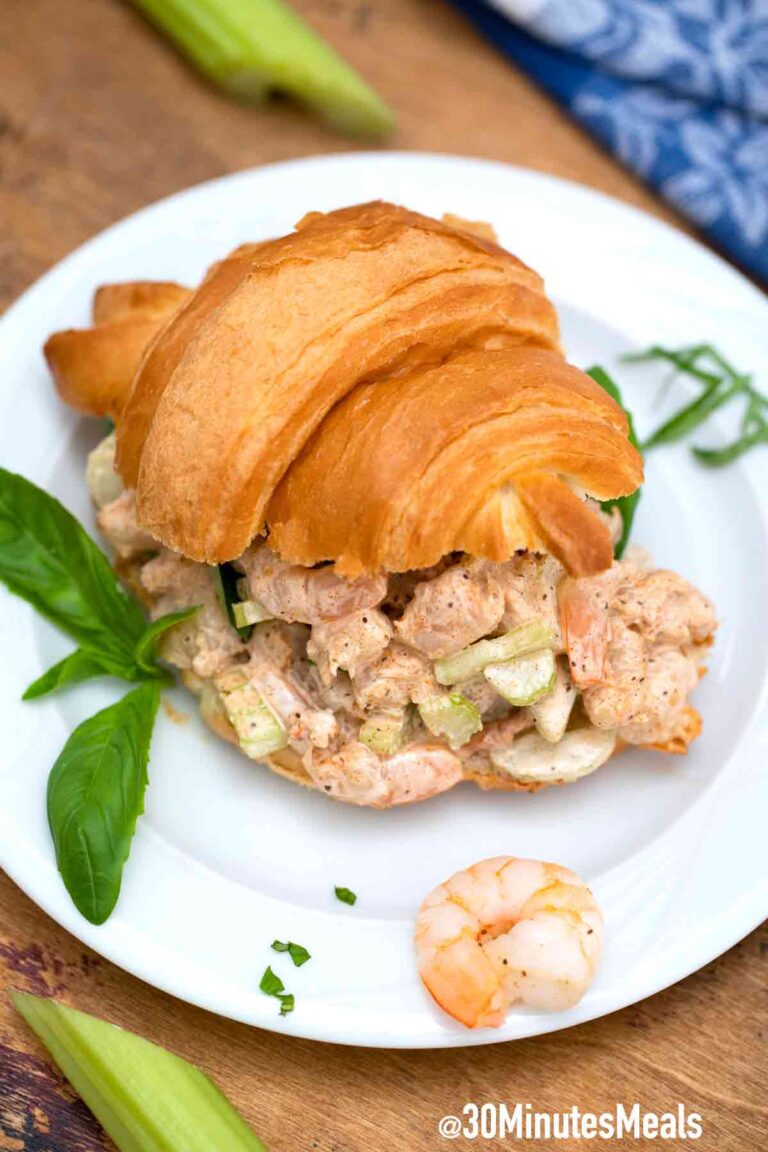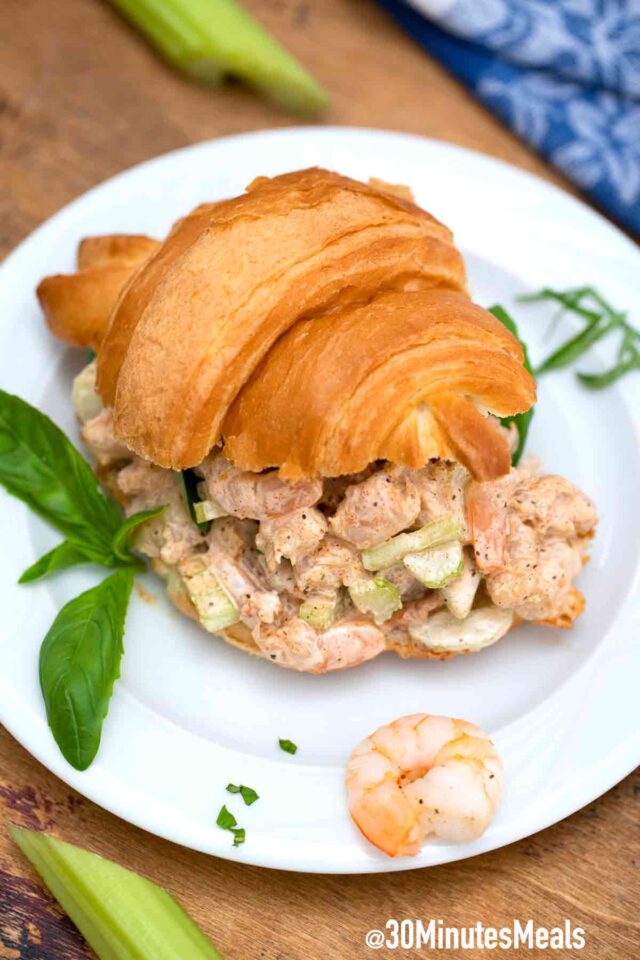 Shrimp Salad Recipe Variations:
It's already amazing as is, but you can totally put your own twist to this recipe. Some great variations are:
Add herbs: dill, chives, and even basil add tons of flavor
Add vegetables: add finely diced red onion, red bell pepper, and carrots

Load it up with protein: enjoy this with chopped hard boiled and bacon
Add Dijon mustard to the dressing: makes it tangier with a bit of bite
Use other seasonings: try adding paprika, ground pepper, and cayenne
What to serve with Shrimp salad?
Serve it on top of toast, or as filling for wraps, pita pockets, subs, and rolls. Keep it simple by placing a big scoop on a bed of Romaine or iceberg lettuce. Great with some avocado and tomatoes as well, or for snacking straight from the fridge!
More easy salad recipes: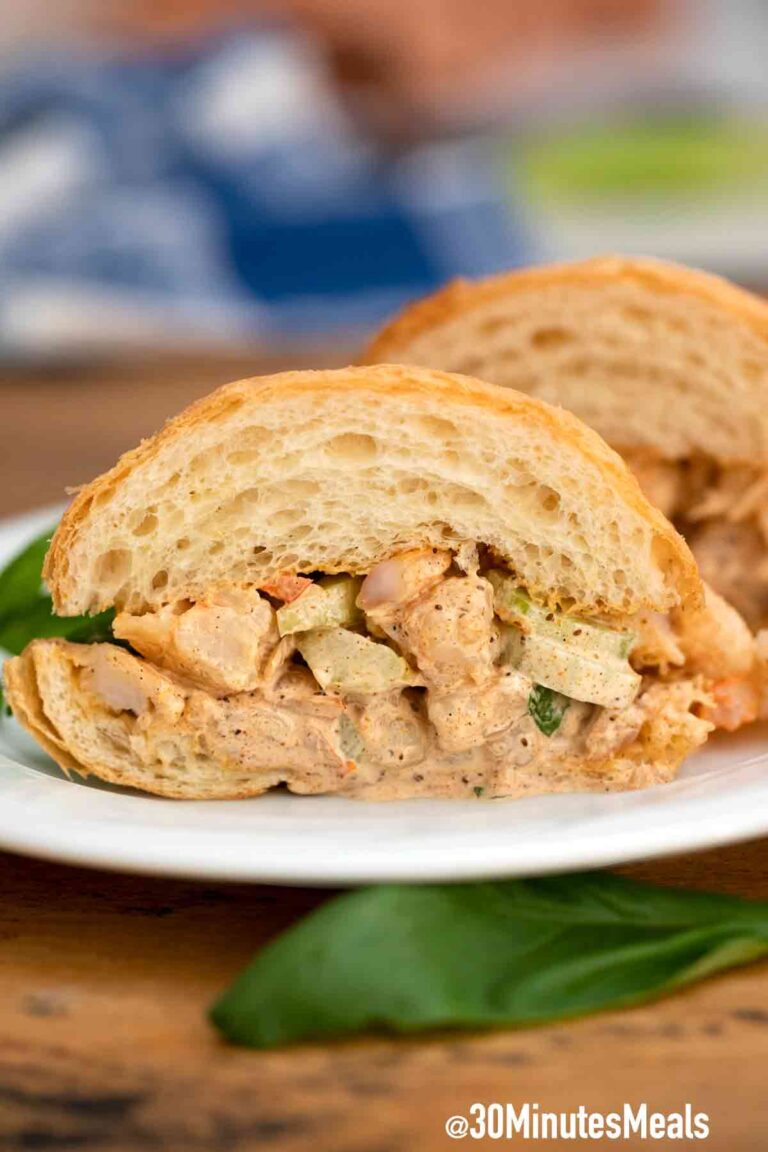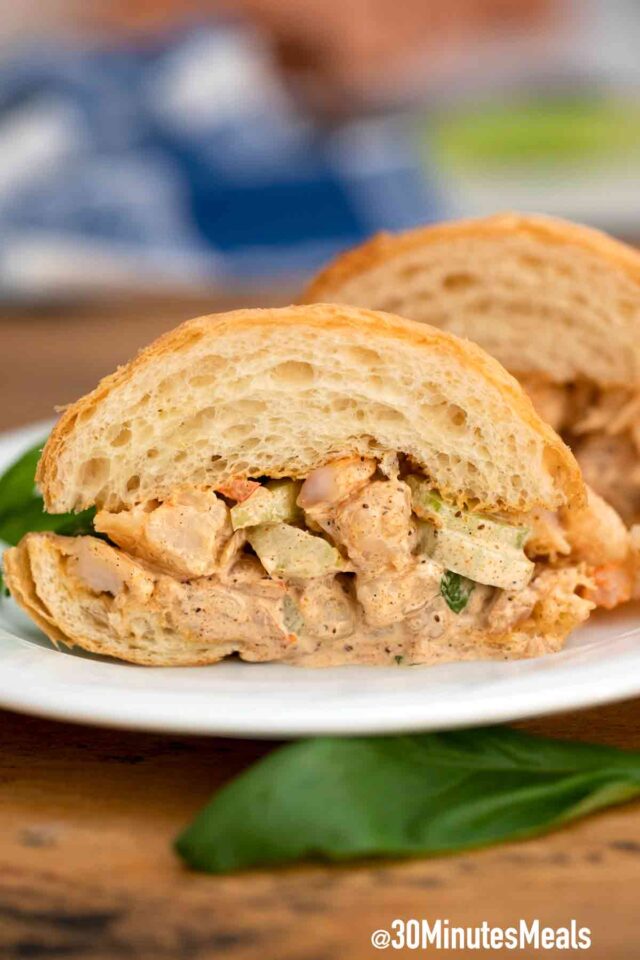 Storing Instructions:
Keep in the fridge using an air-tight container and consume within three days. Any longer than that, and the texture of the seafood may deteriorate.
I don't recommend freezing this dish because once thawed, it will become watery and not as good as freshly-made.
Recipe Tips:
Brighten up the flavors with a squeeze of lemon.
It's fine to skip deveining if you prefer.

Don't forget the ice bath! It becomes rubbery and tough when overcooked.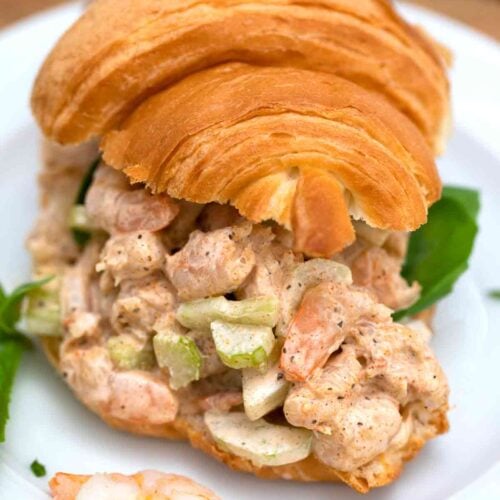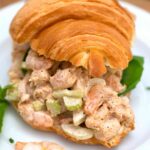 Deli Style Shrimp Salad
Shrimp Salad is a luxurious chilled dish flavored with Old Bay, celery, and a light mayo dressing.
Ingredients
1

pound

shrimp

peeled and deveined

1 1/2

tablespoons

Old Bay seasoning

2

stalks celery

finely diced

1/3

cup

mayonnaise

1

teaspoon

sugar

1

teaspoon

lemon juice

optional

1

teaspoon

chopped dill

optional
Instructions
If using frozen shrimp, thaw it first in cold water.

Add water to a large saucepan and bring it to a boil, add 1 tablespoon of Old Bay Seasoning and the thawed shrimp. Cook for 5-6 minutes, shrimp should be light pink.

Drain the water and run the cooked shrimp cool under very cold water to cool. Drain well. If you have time, place the cooled shrimp in the refrigerator for one hour or overnight to chill.

When ready to make the salad, roughly chop the shrimp leaving in some big pieces.

Mix all the ingredients together in a medium bowl. Serve immediately, or for best results, chill in the fridge for a bit.

Serve as a sandwich, a salad, or wrap.
Nutrition Facts
Deli Style Shrimp Salad
Amount Per Serving
Calories 249
Calories from Fat 144
% Daily Value*
Fat 16g25%
Cholesterol 294mg98%
Sodium 1002mg44%
Potassium 101mg3%
Carbohydrates 2g1%
Protein 23g46%
Vitamin A 39IU1%
Vitamin C 5mg6%
Calcium 179mg18%
Iron 3mg17%
* Percent Daily Values are based on a 2000 calorie diet.