Peach Pork Chops – One Pan
Peach Pork Chops are the perfect combination of sweet and savory. An easy and beautiful one-pan meal, ready in just 30 minutes.
This is a great and easy summer dinner to prepare. It is so flavorful and colorful, that it does not get any better than that. You might also love my other easy skillet dinners, such as Lemon Garlic Scallops, Beef and Broccoli Stir Fry, and Cajun Chicken Alfredo Pasta.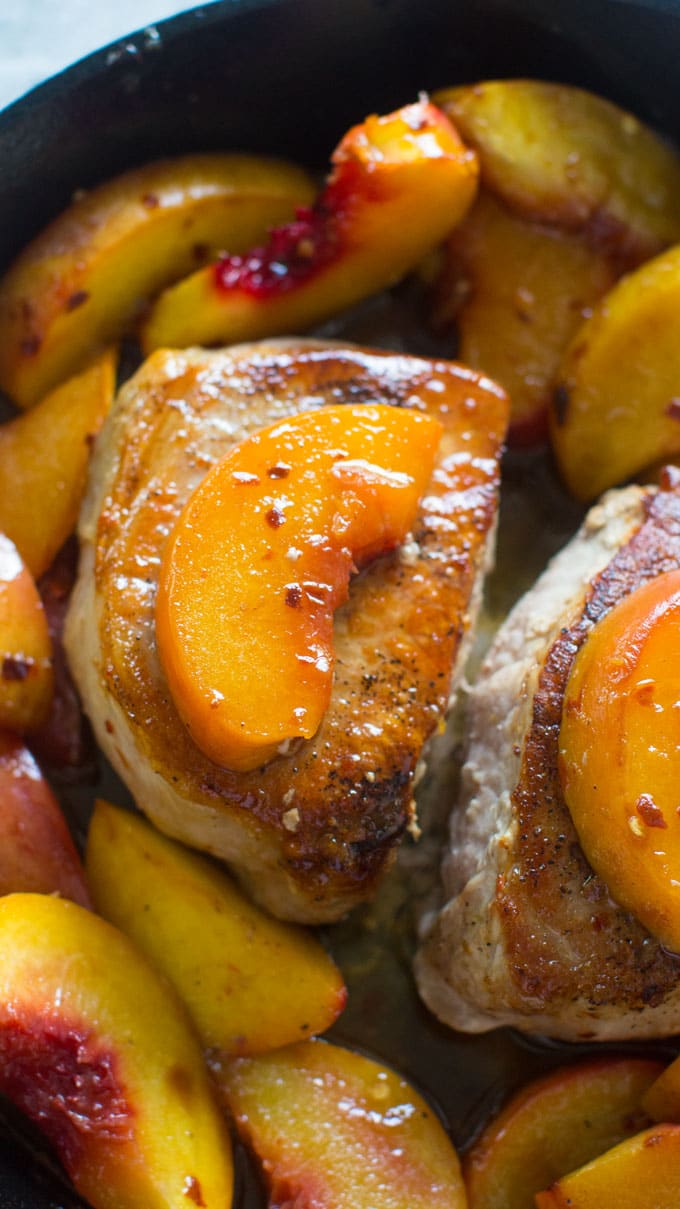 Best Skillet Pork Chops
Peach Pork Chops are a summer must-try dish. It is a super easy dinner to make, and you only need one pan. Also, this delicious and colorful meal is ready in just 30 minutes.
You can use bone-in pork chops, or as I did, center-cut pork chops. I am a huge fan of sweet and savory recipes, and this one is perfect for those quick summer meals. These pork chops are pan-seared and cooked with olive oil and fresh peaches to create the perfect sweet and savory combo.
Use an oven-safe pan, so you can make this meal using only one pan. The juicy pork is perfect alongside sweet and caramelized peaches with a dash of fresh lemon zest and spicy red pepper flakes.
I can eat these Peach Pork Chops all summer long for dinner and not complain. However, if you are looking for a slow cooker version, try this Thai pork with peanut sauce.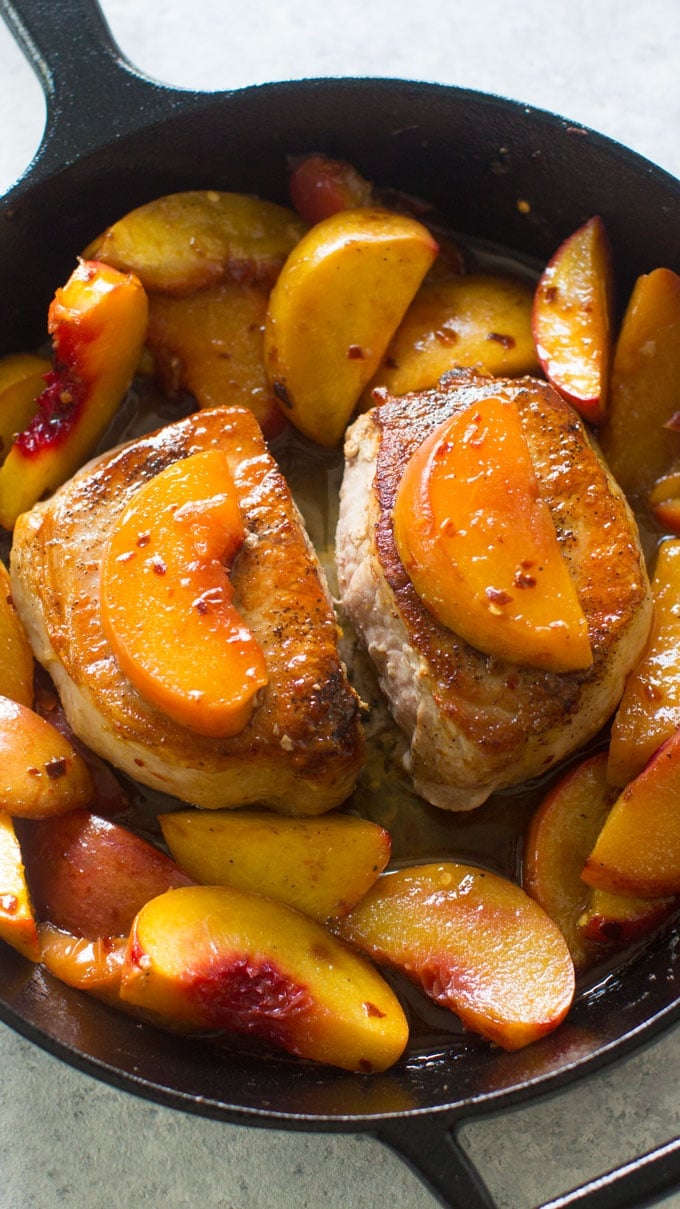 How to make Peach Pork Chops?
This is a quick and simple recipe to make at home. The general steps are as follows:
Brown the pork chops: Over medium-high heat, in a cast iron pan, add some olive oil. Then, add the chops, season with salt and pepper, and brown them on each side for 4-6 minutes. You want to get them nicely browned but not fully cooked. Once browned, remove them from the pan, and set aside on a plate and tent with foil.
Sear the peaches: Lower heat to medium-low and add some butter. Then, add the peaches, lemon zest, sugar, salt, and dried chili flakes. Cook for about 2-3 minutes, while gently stirring until the peaches begin to soften but don't lose their shape.
Bake: Lastly, add the chops back to the pan, and bake for an additional 10 minutes. The meat internal temperature should be 145 degrees F. Serve immediately.
How to store them?
If you have leftover or want to make this dish in advance, you can easily do so. Simply, let the dish completely cool prior to refrigerating. Then, transfer it to an airtight dish, and refrigerate for up to 4 days. Reheat prior to serving.
Also, you can freeze it. Just use a freezer-safe dish, and freeze them for up to 3 months.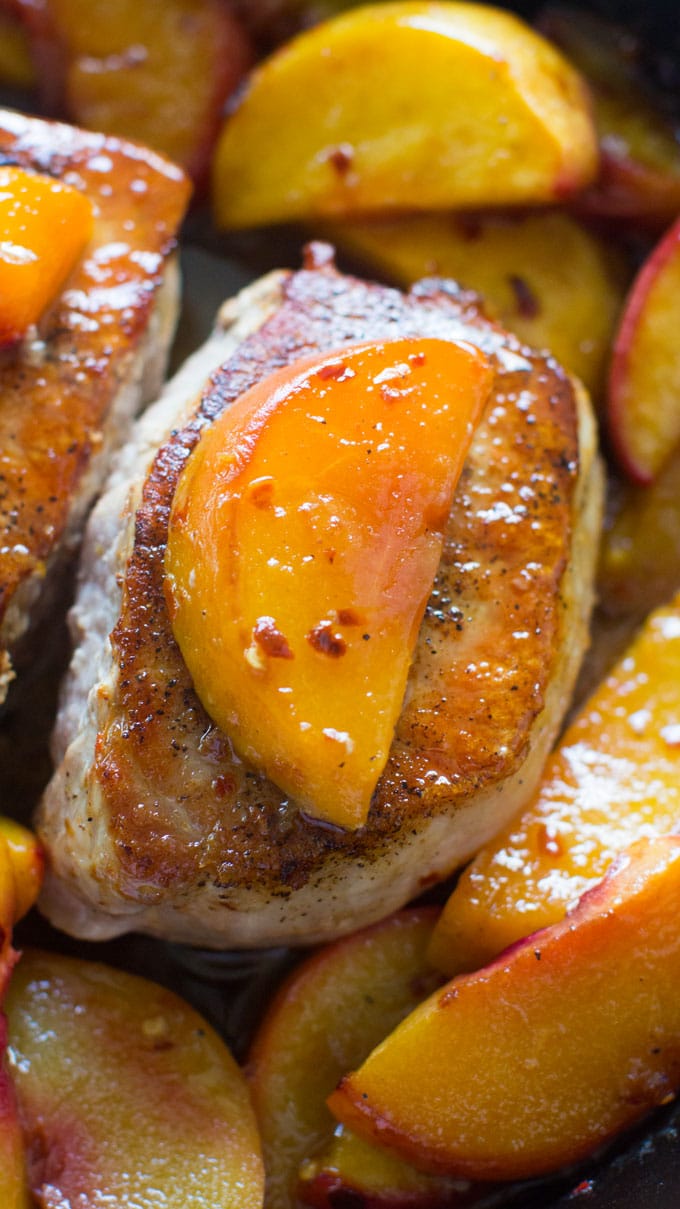 Recipe Tips:
I like using a cast-iron skillet for this recipe.
Also, make sure you heat your cast iron, it needs to be hot when you add the oil.
Sear the pork chops for 5 minutes on each side.
In addition, if you use bone-in pork chops, sear for 5 minutes on 1 side and 3 minutes on the other. Because they are usually thinner, they will cook faster.
For the peaches not to break and become mushy, look for peaches that are not very soft. You want them ripe, but not overly soft.
You can skip the red pepper flakes or add more, depends how spicy you want the dish to be.
Also, the lemon can be replaced with an orange or lime.
Vinegar can be added as well during the cooking. If a fan, just adds some.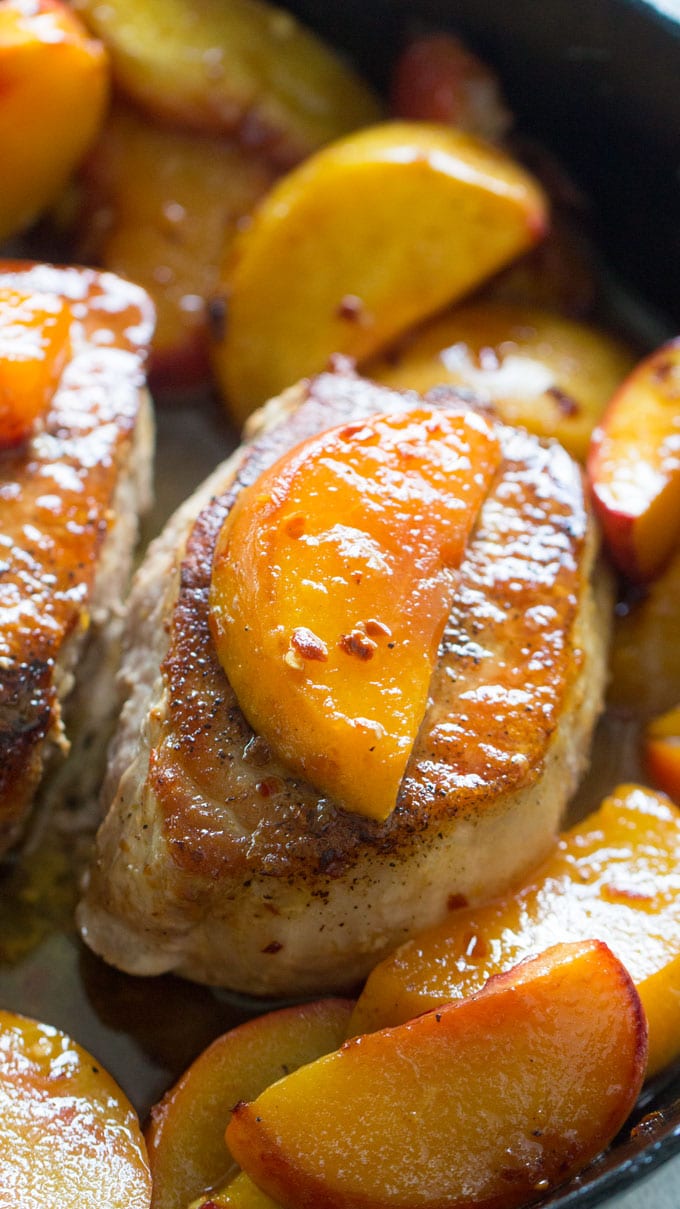 Tools I used in the making of this Peach Pork Chops Recipe:
Cast Iron Skillet – get one and you will use it forever. I like that it heats evenly and consistently and that it comes pre-seasoned for the first use.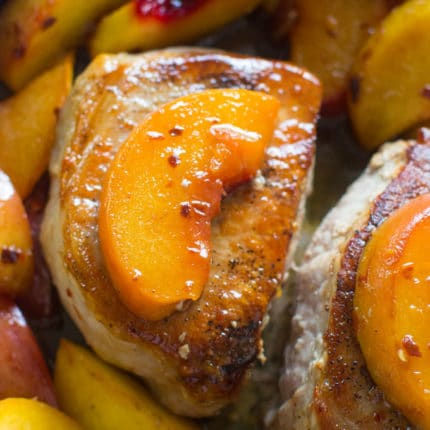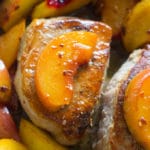 PEACH PORK CHOPS
Peach Pork Chops are the perfect combination of sweet and savory. An easy and beautiful one pan meal, ready in just 30 minutes.
Ingredients
2

bone-in rib or center-cut chops

Salt and freshly ground black pepper

2

tablespoon

olive oil

2

tablespoons

butter

3

peaches

pits removed, cut into 1/4-inch slices

Zest and juice from 1 lemon

3

tablespoons

brown sugar

1/2

teaspoon

red pepper flakes
Instructions
Preheat oven to 375 degrees F.

Place a 10-12 inch cast iron skillet over medium-high heat. When hot add 1 tablespoon of olive oil and heat until lightly smoking.

Season pork chops well with salt and pepper and add them to the skillet.

Cook on one side until nicely browned, for about 4 to 6 minutes.

Flip and continue to cook for another 3-4 minutes. Transfer to a plate and tent with foil.

Lower heat to medium low and add butter to the skillet.

Add the peaches, lemon zest, brown sugar, lemon juice, and red pepper flakes. Stir gently and cook for about 1-2 minutes.

Add the pork chops back to the skillet and transfer to the preheated oven.

Bake for 10 minutes or until the internal temperature of the pork chops registers 145°F on an instant read thermometer.

Remove from oven, gently stir the peaches so they are covered in the caramelized sauce. Divide the peaches between two plates, add the pork chops to the place and then pour the pan juices on top.

Serve immediately.
Nutrition Facts
PEACH PORK CHOPS
Amount Per Serving
Calories 589
Calories from Fat 315
% Daily Value*
Fat 35g54%
Cholesterol 119mg40%
Sodium 177mg8%
Potassium 951mg27%
Carbohydrates 39g13%
Protein 31g62%
Vitamin A 1230IU25%
Vitamin C 14.9mg18%
Calcium 38mg4%
Iron 1.4mg8%
* Percent Daily Values are based on a 2000 calorie diet.