Easy Beef Gravy adds a rich and meaty flavor to any dish, and you can make it in less than five minutes with only a few ingredients. Whether you use pan juices and browned bits from the bottom of the pan or beef broth, this should be in your gravy boat for your next family dinner.
This would also go great on top of these Bacon Wrapped Pork Medallions made with caramelized bacon. If you are in the mood for chicken, try our Sweet and Spicy Chicken made with garlic and ginger or this Crispy Honey Lemon Chicken with green onions and sesame seeds.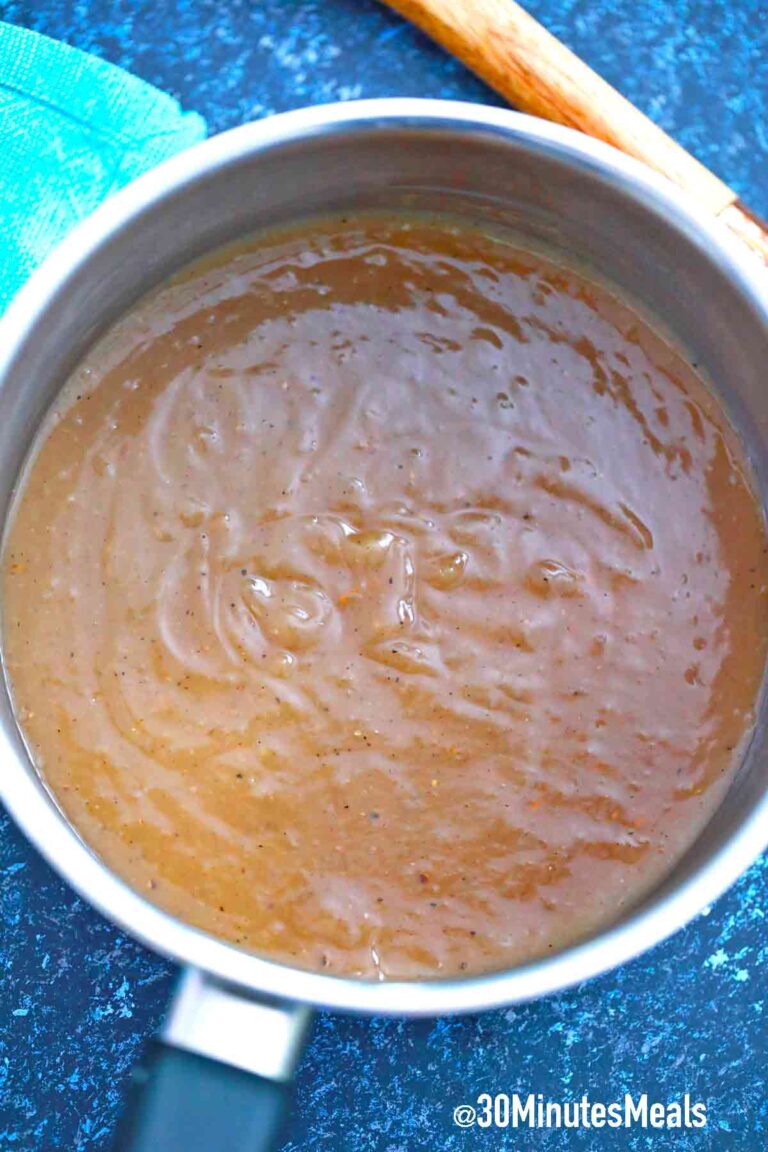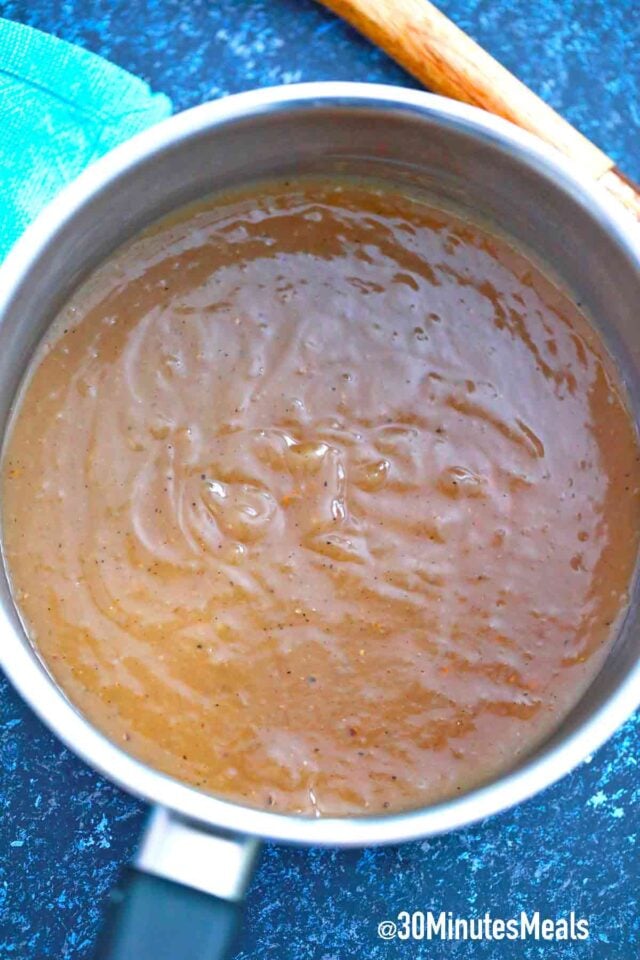 Our easy beef gravy recipe only takes a few ingredients and even fewer minutes to prepare, and it is the perfect topping for all types of meats and side dishes as well as on sandwiches and burgers.
There is so much you can do with this that you should always have some on hand.
For this easy gravy recipe, you probably will not even have to go to the grocery store because it uses ingredients that are often found in your kitchen.
A beef base, cornstarch or plain flour, and some seasonings is all that you need unless you want to add our secret ingredient, the Worcestershire sauce.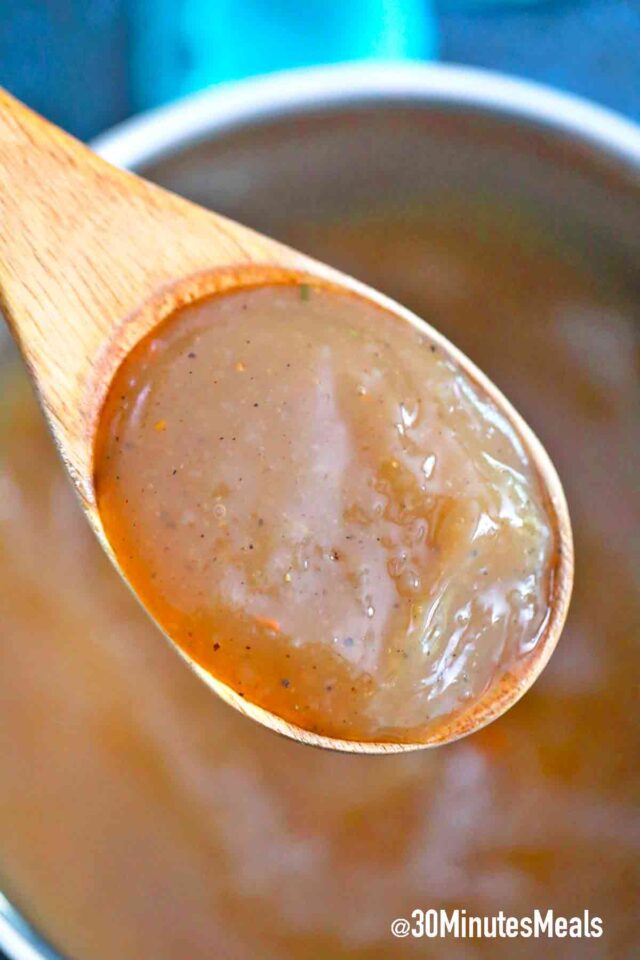 Ingredients needed:
Check out our recipe card at the bottom of the page for step-by-step instructions but here are the simple ingredients for this easy recipe.
Beef broth: Or use meat drippings.
Cornstarch: Mixed with water for slurry.

Garlic powder
Onion powder
Worcestershire sauce
Kosher salt

Black pepper
How do you make easy beef gravy from scratch?
Boil: First, in a medium saucepan over medium heat, bring the broth to a boil. Stir in the onion powder, garlic powder, and Worcestershire sauce.

Whisk: Next, whisk the cornstarch and cold water in a small bowl until you have a smooth paste.

Cornstarch: Pour the cornstarch mixture into the boiling broth and keep stirring until it is the perfect consistency.

Serve: Finally, season with salt and pepper before serving.
Recipe variations:
Flour: Alternatively, use three tablespoons of flour instead of cornstarch.
Soy sauce: Add some soy sauce for a richer flavor.
Slow cooker: If you are making a triple batch or more, use a slow cooker or crock pot for easy cooking.

Browning sauce: For a smoky flavor, add a couple of drops of browning and seasoning sauce.

Chicken broth: Replace the beef broth with chicken broth to make easy chicken gravy, which is great on top of fried chicken.

Bouillon: Bouillon cubes also make a great substitute for broth.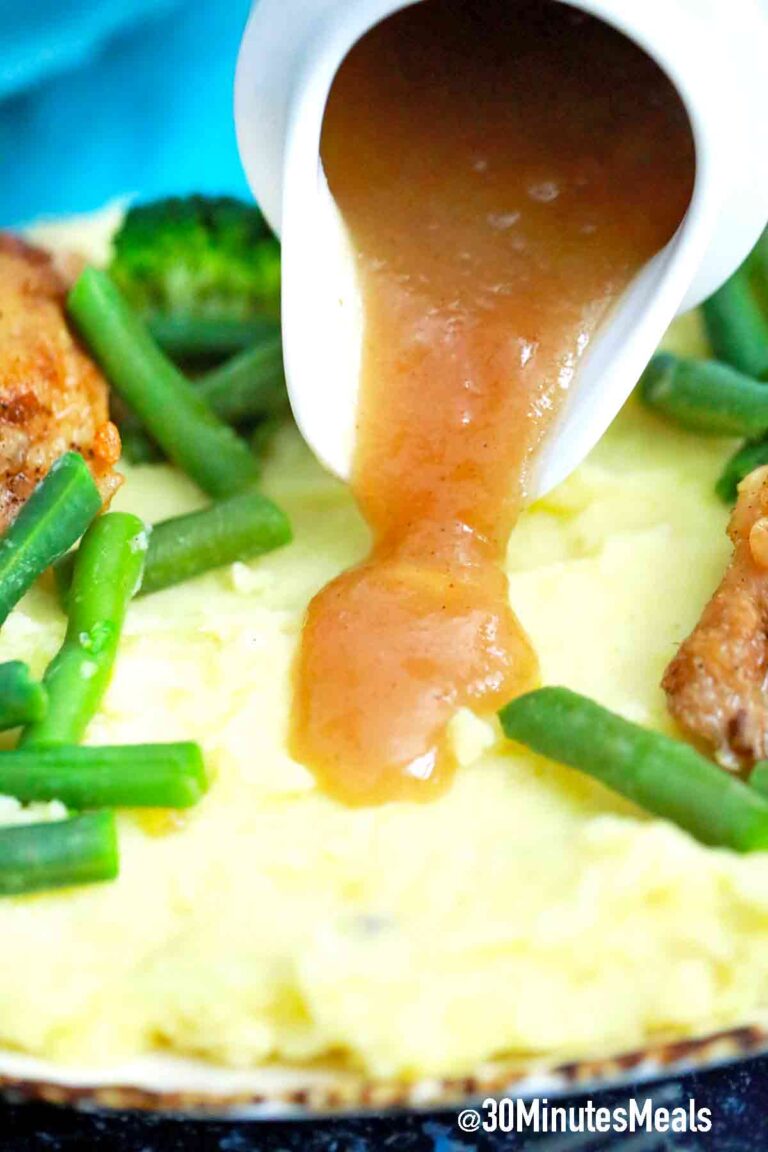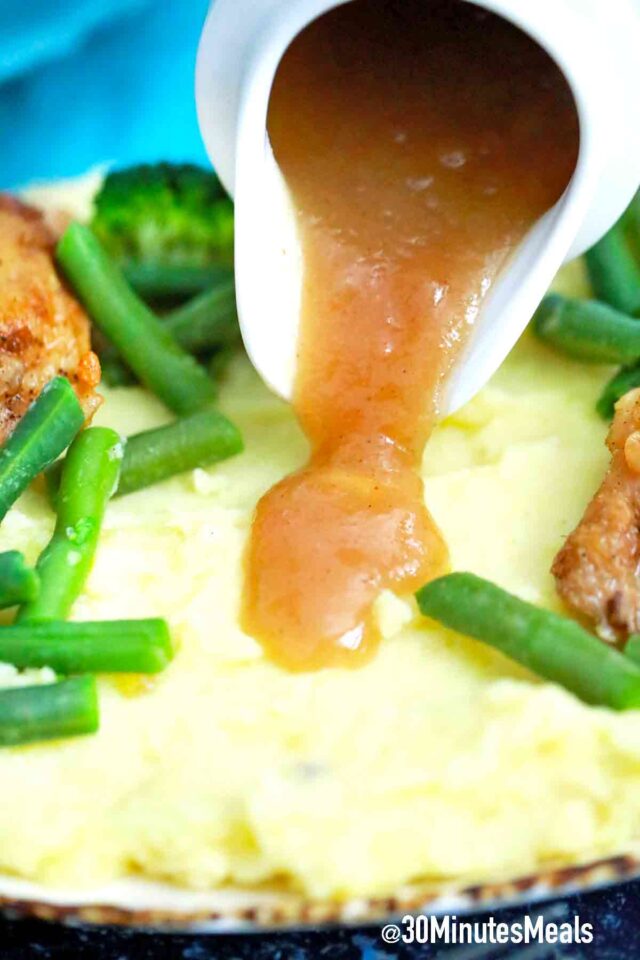 How to serve:
This is the perfect gravy to top mashed potatoes or roast beef. Here are some other serving suggestions:
Pour on top of French fries and cheese curds to make poutine.

Use this rich brown gravy on top of our air fryer chicken breast.

Another great use for this is with pot roast or chuck roast.
You could also pour this on beef tips, pork chops, or beef roast.
Make our meatloaf muffins and serve with a side of this rich beef gravy.
Frequently asked questions
Why make gravy without drippings?
If you just need the gravy for something and have not cooked any beef for pan drippings, with this easy brown gravy recipe you will not even need the meat.
It is also healthier since you will be using beef broth or stock instead of the drippings. To make it even healthier, use cornstarch slurry instead of butter or oil.
Why does my gravy have lumps?
The most common reason for lumps is that you added too much flour at once. For an easy way to avoid those lumps, make a paste with the oil and flour (or the beef drippings and flour) before adding it to the beef stock.
Or try using cornstarch slurry by mixing cold water with cornstarch before adding it to the stock.
How can I thicken my gravy?
Adding a corn starch slurry is the easiest way to make your gravy thicker. The cornstarch has no taste and will thicken it faster and easier than using flour.
However, you can use flour if you do not have cornstarch. Add it just a little at a time and wait a few minutes to see if it is thick enough.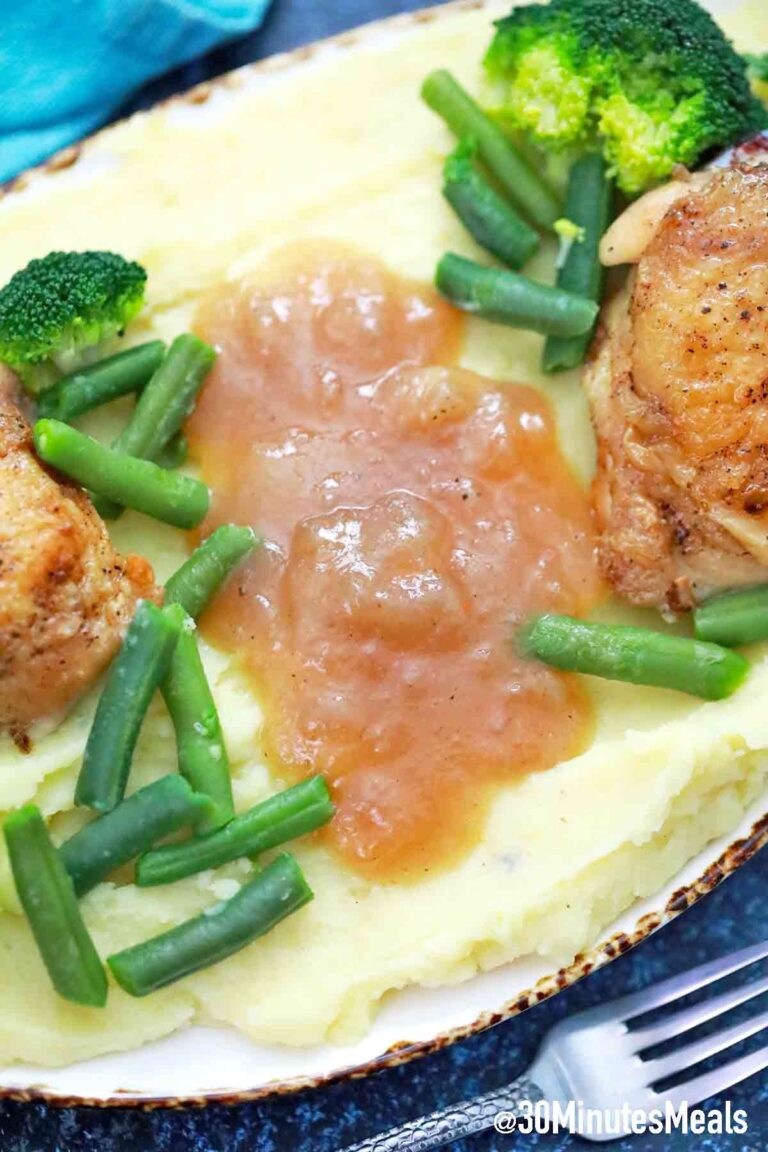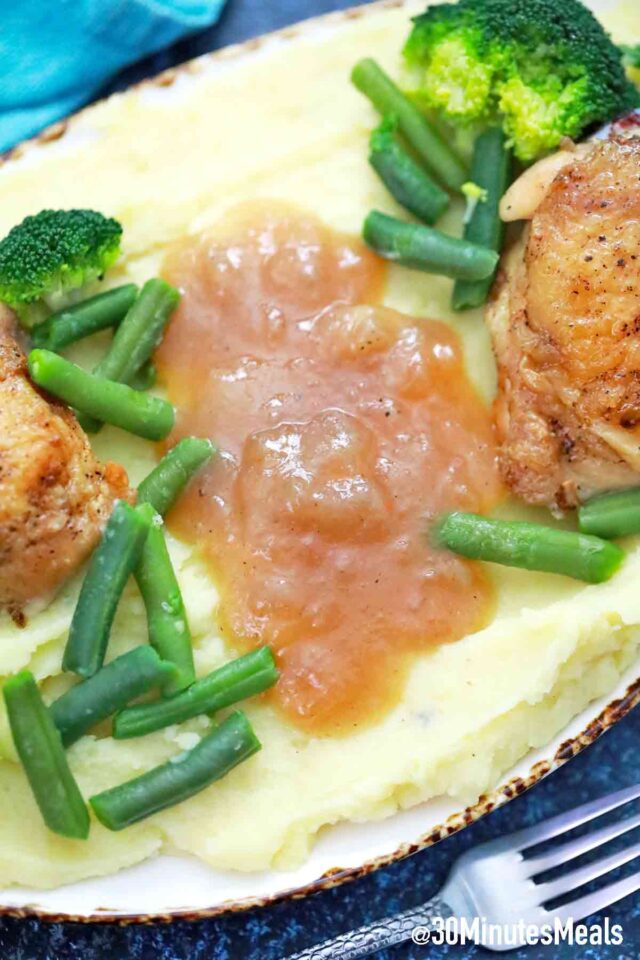 How to store leftovers:
Store: Your homemade beef gravy can be kept in the fridge in an airtight container for up to five days.

Freeze: If you have too much leftover, you can always freeze it for up to four months in the airtight container or freezer bags.
Thaw: Thaw overnight in the fridge before if you like.
Reheat: You can reheat this gravy from frozen with no problem. Just make sure you bring it to a rolling boil before serving it.
Recipe tips:
If your gravy is lumpy, use an immersion blender to blend it in the pan or you can also strain it with a strainer.

To prevent lumps, use cold water to make your cornstarch slurry.

For gravy that is too thick, add some broth or water and whisk until it is at the desired consistency.
Make extra and store it in the freezer in small freezer bags for easy single-serve use.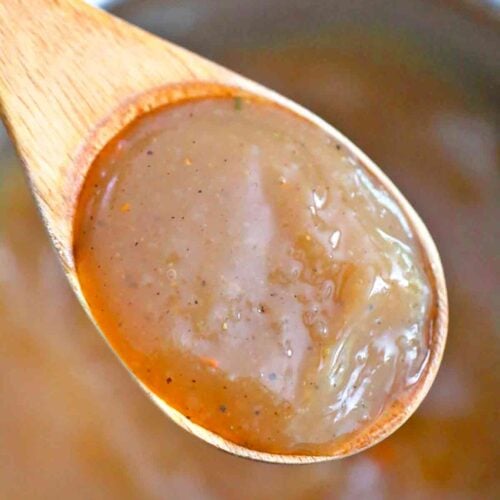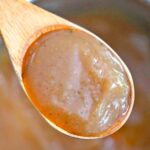 Easy Beef Gravy
Easy Beef Gravy adds a rich and meaty flavor to any dish, and you can make it in less than five minutes with only a few ingredients.
Ingredients
2

cups

beef broth

or beef drippings

2

teaspoons

garlic powder

1

teaspoon

onion powder

1/4

cup

water

2 1/2

tablespoons

corn starch

salt and pepper to taste
Instructions
In a medium saucepan over medium heat, bring beef broth to a boil.

Immediately stir in garlic powder, onion powder, and Worcestershire sauce.

In a small bowl whisk together water and corn starch until fully dissolved. Add the slurry to the boiling beef broth and reduce heat to medium-low. Stir until thickened.

Season with salt and pepper to taste.

Remove from heat and serve.
Nutrition Facts
Easy Beef Gravy
Amount Per Serving
Calories 23
Calories from Fat 9
% Daily Value*
Fat 1g2%
Sodium 299mg13%
Potassium 59mg2%
Carbohydrates 4g1%
Protein 1g2%
Vitamin C 1mg1%
Calcium 7mg1%
Iron 1mg6%
* Percent Daily Values are based on a 2000 calorie diet.