Detox Salad with Avocado Dressing
Detox Salad is a healthy salad full of flavors with crisp vegetables, toasted almonds, creamy avocados, and drizzled with a homemade avocado ginger dressing. You may see this as a crunchy detox salad because of all the fresh raw veggies.
Besides this ultimate detox salad, you can also try one of our other easy and delicious salad recipes. Our Avocado Corn Salad has tomatoes, sweet corn, avocados, red onions, and radishes for a crispy and vibrant flavor.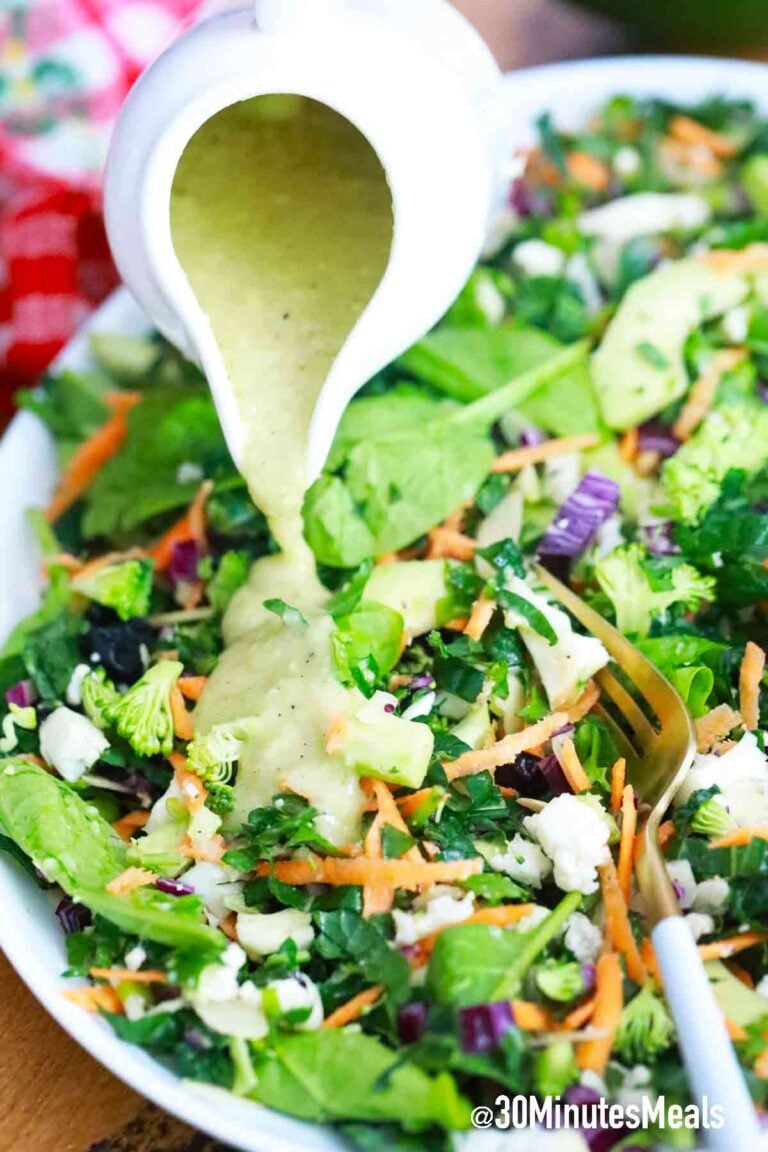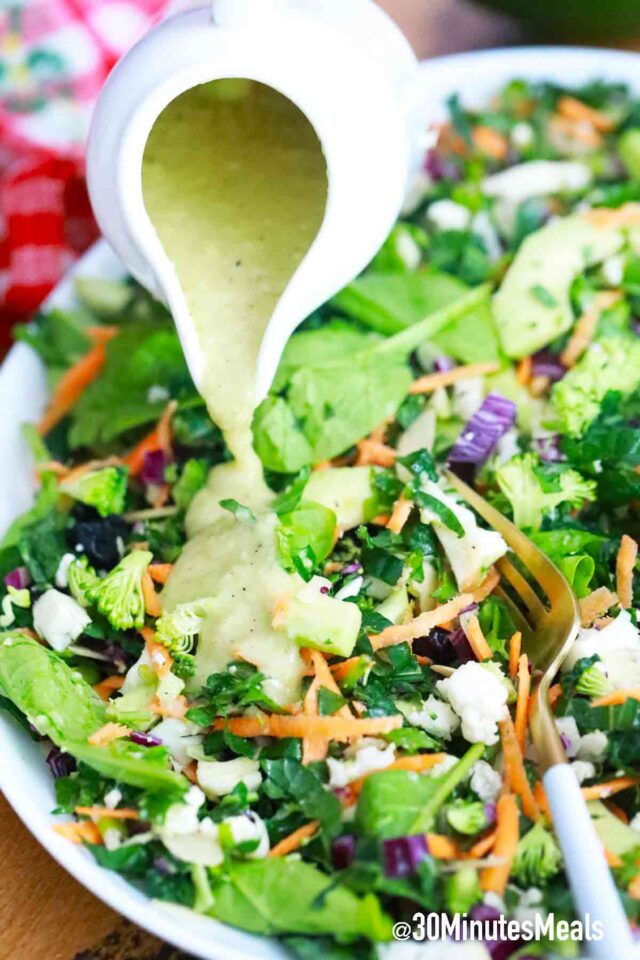 If you had too much to drink last night or have been feeling sluggish and bloated, this is the best detox salad for that.
Eat a large bowl of this every day and you will be feeling lighter and less bloated in fust a few days. And the best part is that it tastes delicious!
This dish is full of vitamins and minerals including vitamin A, vitamin C, calcium, folate, potassium, and selenium. In fact, it is the perfect dish for your New Year resolution to get healthy and begin a detox diet.
If you want some meat in your salad, our creamy Turkey Salad with Dijon mayo is perfect. Similarly, this Crab Salad boasts chunks of crab meat and celery with a creamy dressing.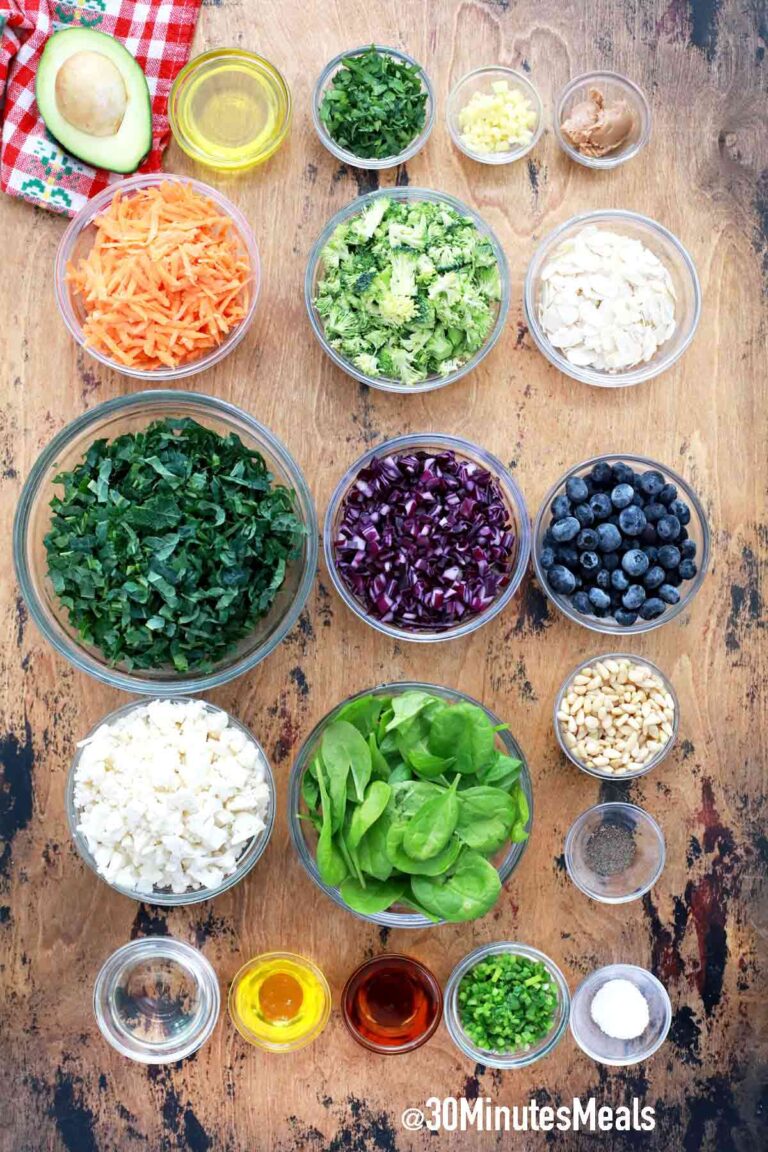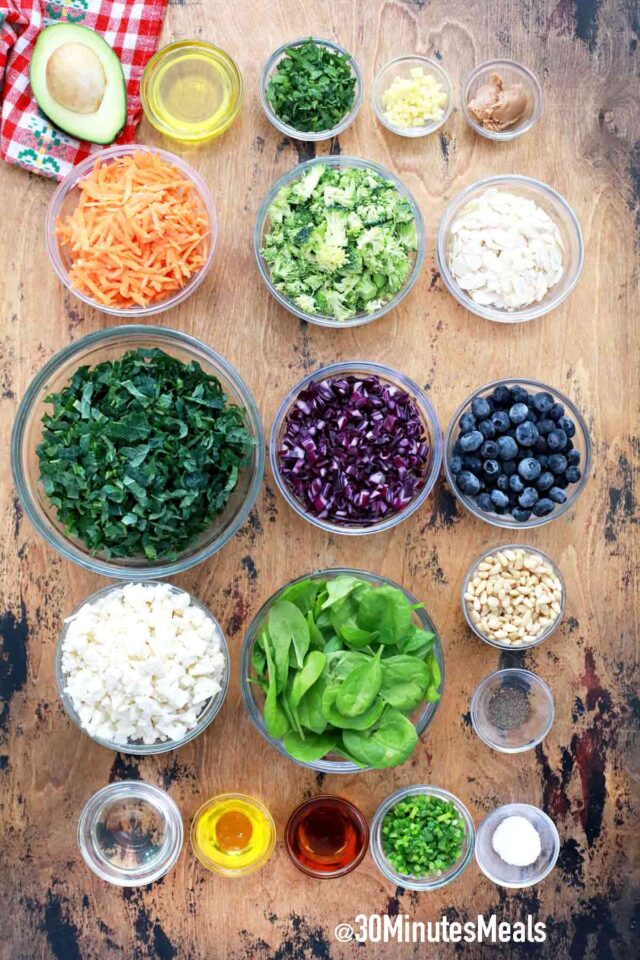 Ingredients needed:
But before you head off to the store, check our ingredients list because you may already have these common items. You will find our easy step-by-step instructions on our recipe card below but here is the ingredient list for this great recipe.
Kale leaves: Finely chopped.

Broccoli florets: Finely chopped.
Cauliflower florets: Finely chopped.
Spinach leaves
Red cabbage: Finely chopped.
Shredded carrots: Freshly shredded.
Cilantro leaves: Roughly chopped.
Slivered almonds: Toasted.

Green onions: Sliced thin.
Avocados: Peeled, pitted and diced.
Blueberries
Avocado Dressing Ingredients:
Avocado: Peeled and roughly chopped.
Rice wine vinegar
Avocado or olive oil: Or any mild cooking oil.

Fresh ginger: Finely chopped.
Honey: Or a different healthy sweetener that you like.
White miso: Shiro.
Sesame oil: Toasted.
Kosher salt and black pepper
How do you make detox salad from scratch?
Prepare: First, chop all of the vegetables with a food processor, blender, or by hand.
Make the salad: Then, add all the ingredients to a large bowl and toss it to combine it well. Serve it immediately with our dressing.
Make the dressing: Last, put all of the ingredients into a food processor or blender and pulse until it is completely smooth. Season and sprinkle on top of your plate.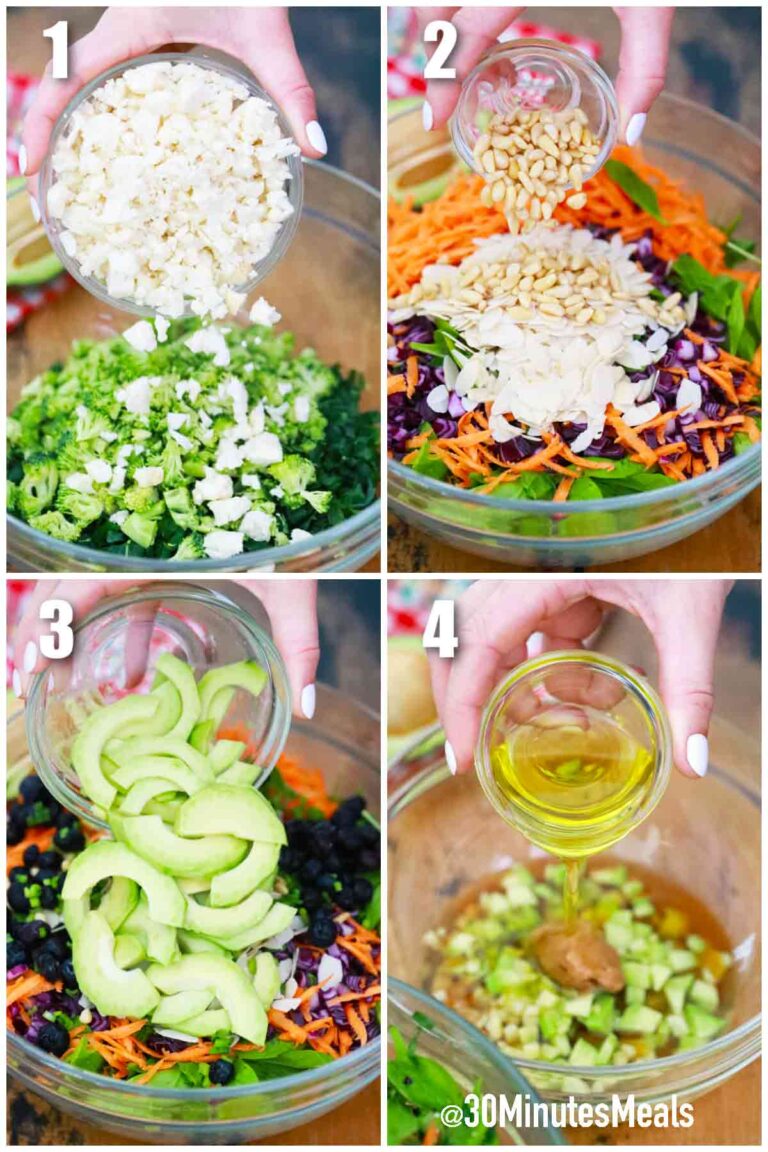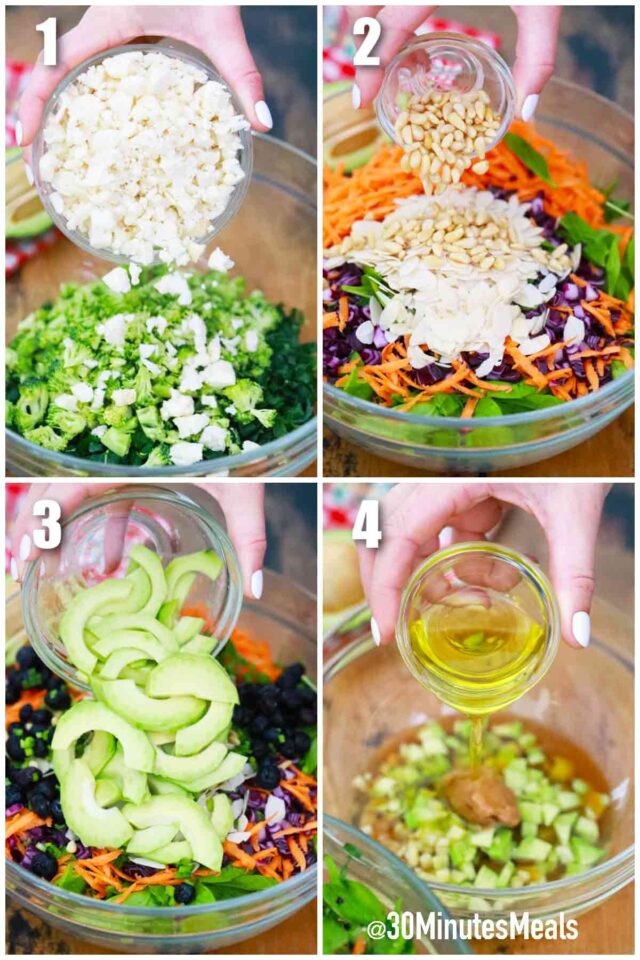 Recipe variations:
Lemon dressing: Alternatively, try lemon dressing with fresh lemons, olive oil, Dijon mustard, honey, and garlic.

Green goddess detox salad: Make this dressing with chives, parsley, white wine vinegar, anchovies, sour cream, and mayo.

More veggies: Add some other fresh vegetables like snap peas, grape tomatoes, fresh kale,

Add fruit: Feel free to add some of your favorite fruits to this salad for a sweet flavor.
More greens: You can also add other greens such as turnip greens, mustard greens, or bok choy.
How to serve:
This is one of those delicious detox salads that are perfect as a side dish, a meal, or just an afternoon snack. It is one of the great examples of how to cleanse your system and boost immunity while still tasting great. Here are some serving ideas: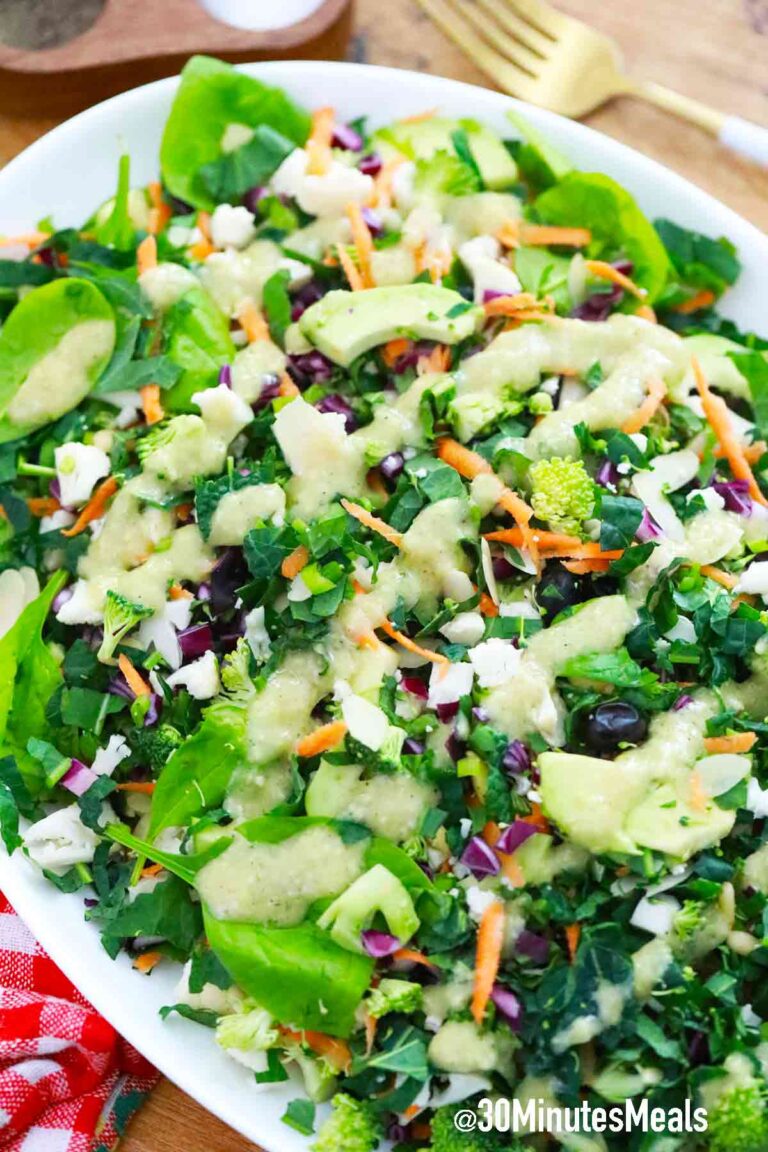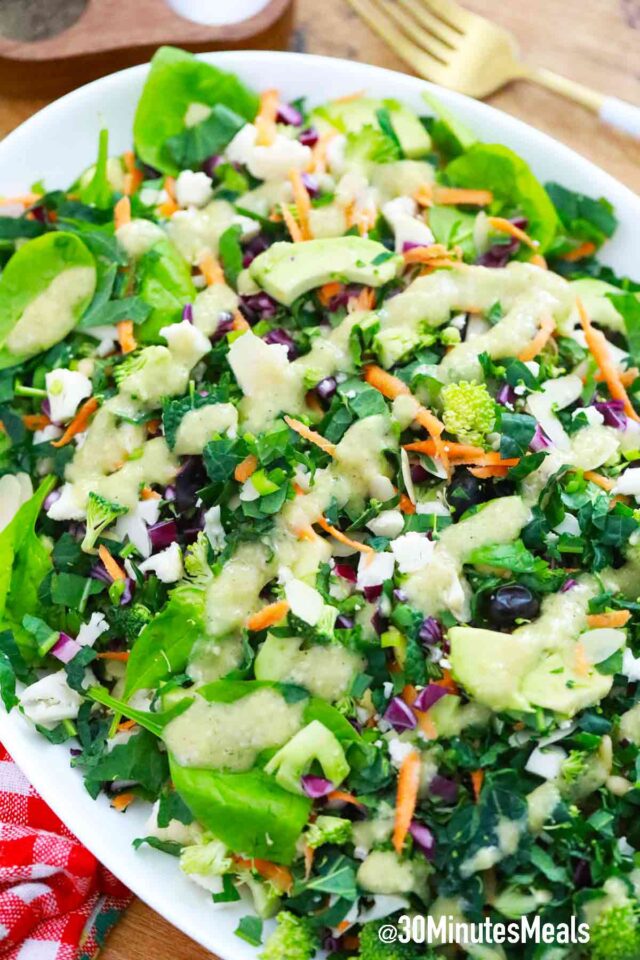 Frequently asked questions
What is detox salad?
It has become very popular to detoxify yourself with some kind of juice, vegetable, or salad. The main idea is to restore balance to your body and cleanse your digestive system.
Doing this boosts your immune system, rids your body of toxins and free radicals, and can even help with weight loss.
There are many different detox salad recipes, but the basics include some kind of greens, vegetables, and maybe some nuts, berries, or fruit.
Our recipe includes kale, broccoli, cabbage, and carrots as well as almonds, green onions, avocados, and cilantro leaves. Many people like to add beans, quinoa, or flax seeds too.
What can I drink to detox my body?
There are a variety of detox drinks as well. Some of these include mint tea, ginger and lemon tea, fenugreek water, turmeric tea, or kale and lemon juice.
Because of the array of detox vegetables and fruits, you can mix up just about any detoxing food and make a juice that will help rid your system of nasty additives.
Any kind of cruciferous vegetable is good to add to your drink.
What foods naturally detox your body?
Besides detox salad, or in addition to it, there are also many detox foods you can eat that will cleanse your body naturally.
Some of these include spinach, beets, sunflower seeds, collard greens, red onion, artichokes, and kale as well as avocado, asparagus, grapefruit, pumpkin seeds, and broccoli.
You could eat these raw on their own, add them to a salad, or puree them for a cleansing drink.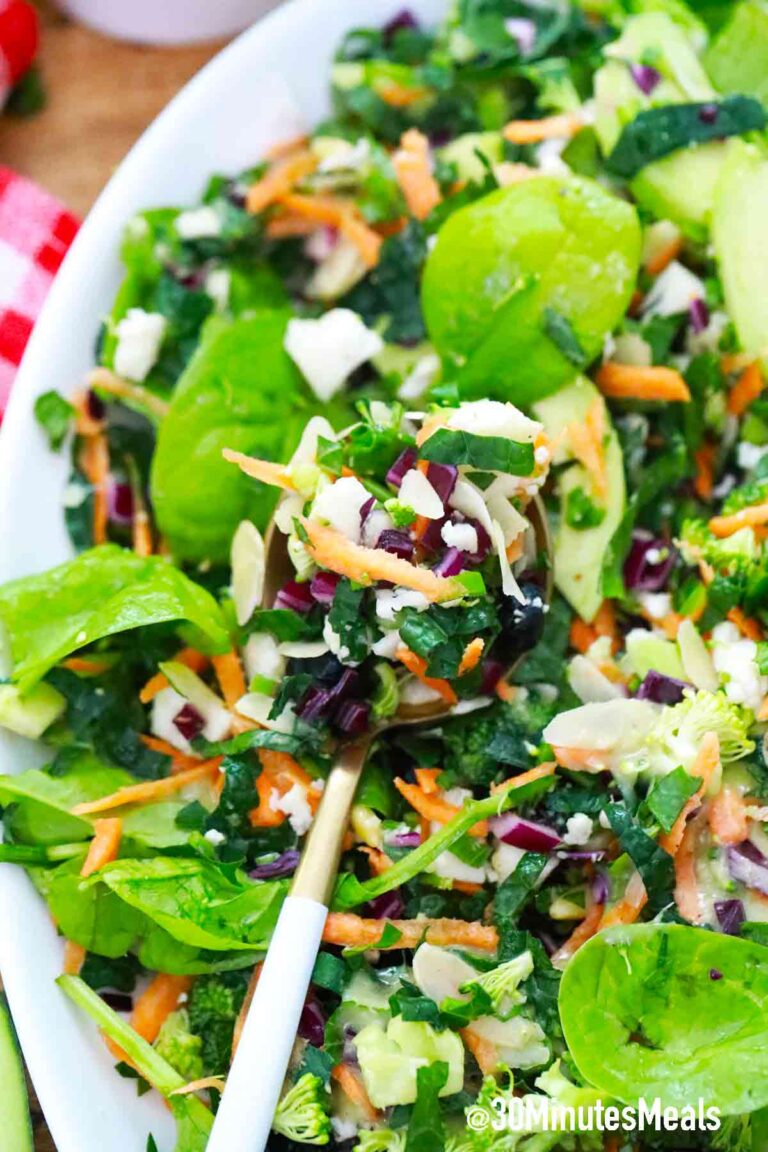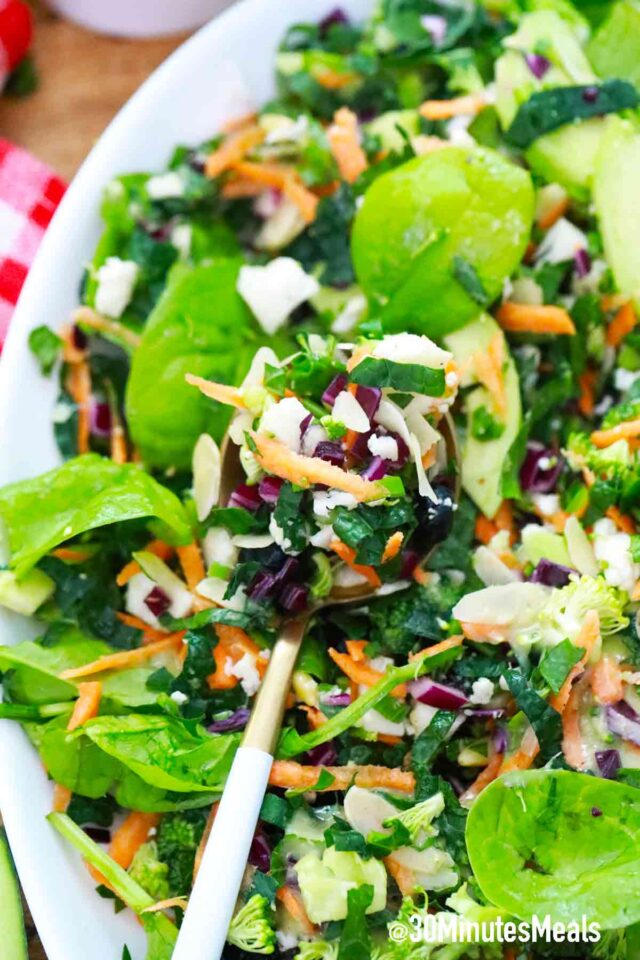 How to store leftovers:
Store: As you probably already know, salads of any kind do not tend to stay crispy and delicious for more than one or two days. This one can be stored in a sealed container in the fridge for up to two days.

Freeze: Freezing is not recommended.
Recipe tips:
Using a food processor for this recipe is a big help. You can shred and chop all your veggies in a fraction of the time you could do it by hand.

If you add salad dressing, make sure it is healthy as well or it defeats the purpose of the detox. Lemon vinaigrette is a great choice, and it is full of vitamin C.
Some excellent cruciferous vegetables include cauliflower, bok choy, kale, broccoli, radishes, bell pepper, and brussels sprouts.

Remember, healthy fats are good such as fatty fish, seeds, nuts, and olive oil.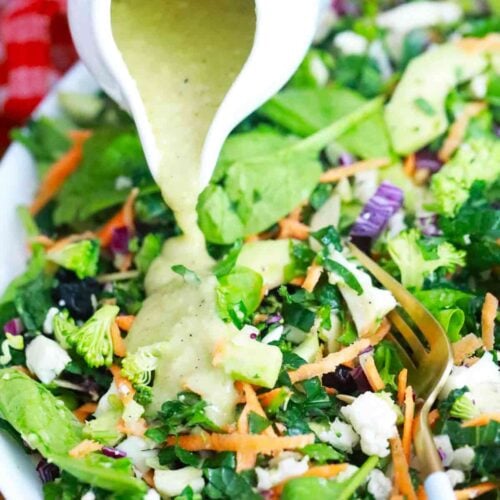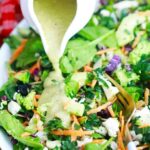 Detox Salad with Avocado Dressing
Detox Salad is a healthy salad full of flavors with crisp vegetables, toasted almonds, creamy avocados, and drizzled with avocado dressing.
Ingredients
Salad:
3

cups

finely-chopped kale leaves

2

cups

spinach leaves

2

cups

finely-chopped broccoli florets

2

cups

finely-chopped cauliflower florets

2

cups

finely-chopped red cabbage

1

cup

shredded carrots

1/2

cup

chopped fresh cilantro leaves

1/2

cup

toasted slivered almonds

1/4

cup

toasted pine nuts

1/3

cup

thinly-sliced green onions

2

avocados

peeled, pitted and diced

1

cup

blueberries
Avocado dressing:
2

large avocados

peeled and chopped

1/4

cup

rice wine vinegar

4

tablespoons

avocado oil

1

tablespoon

finely-chopped fresh ginger

2

tablespoons

honey

1

tablespoon

white miso

2

teaspoons

toasted sesame oil

Kosher salt and black pepper

to taste
Instructions
Add all the salad ingredients to a large bowl, and toss to combine.

Add all the dressing ingredients to a blender or food processor, and pulse until completely smooth.

Season with salt and pepper to taste.

Pour over the salad, toss to combine, and serve.
Nutrition Facts
Detox Salad with Avocado Dressing
Amount Per Serving
Calories 746
Calories from Fat 531
% Daily Value*
Fat 59g91%
Sodium 260mg11%
Potassium 1955mg56%
Carbohydrates 54g18%
Protein 14g28%
Vitamin A 11684IU234%
Vitamin C 178mg216%
Calcium 213mg21%
Iron 4mg22%
* Percent Daily Values are based on a 2000 calorie diet.