Air Fryer Chicken Breast has a crunchy parmesan breading with incredibly juicy meat. A healthy and tasty dinner that literally takes minutes!
This recipe is keto-friendly, just like this colorful Cobb Salad, Low Carb Mongolian Beef, and stir-fried Shrimp and Broccoli. Enjoy delicious, fresh meals without going over your macros!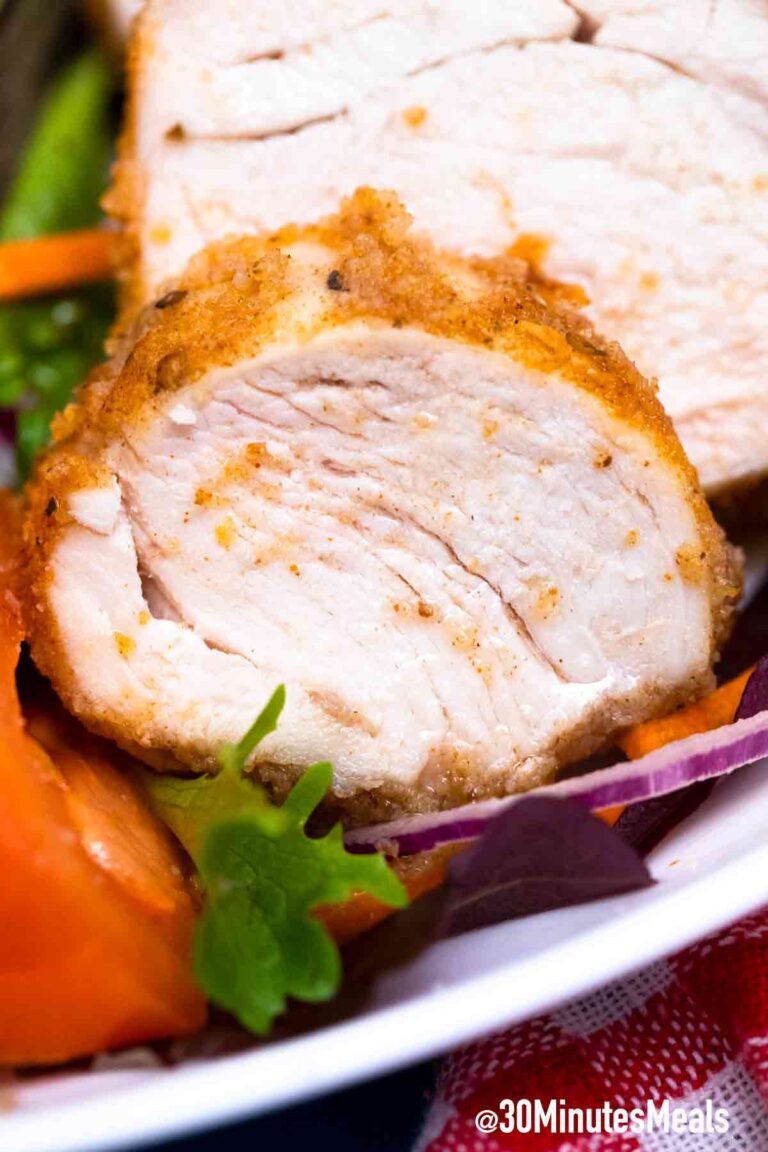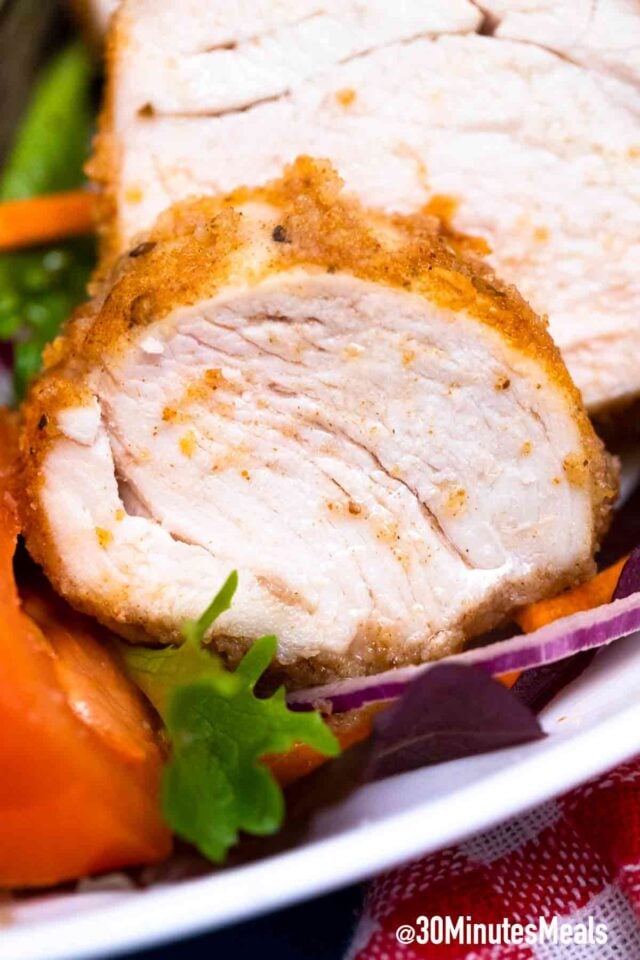 Air Fryer Chicken Recipe
Air Fryer Chicken Breast is guilt-free but perfectly juicy and crispy! The parmesan breading gets nice and crunchy without any deep frying involved. The dish is done in a flash, too. It only takes around 10 minutes to get dinner on the table!
Aside from being unbelievably fast and delicious, I love how air-fried food doesn't leave much mess behind. No oily pot or several dishes to wash, and you can pop the basket right in the dishwasher. It won't heat up the kitchen as well. Perfect for healthy, tasty, and quick meals!
Can you put raw chicken in an air fryer?
Yes! You can air-fry not just raw chicken, but also a whole raw bird, raw fish, beef, and other meats. Simply check the internal temp to make sure they're done.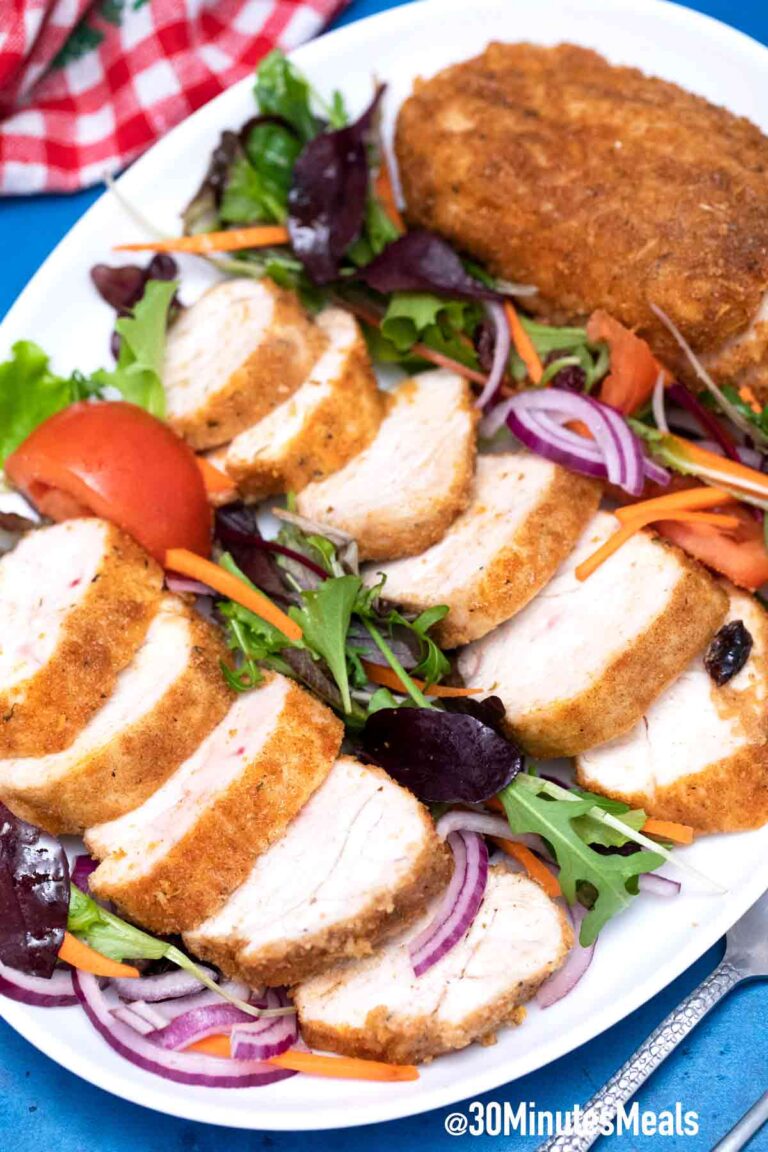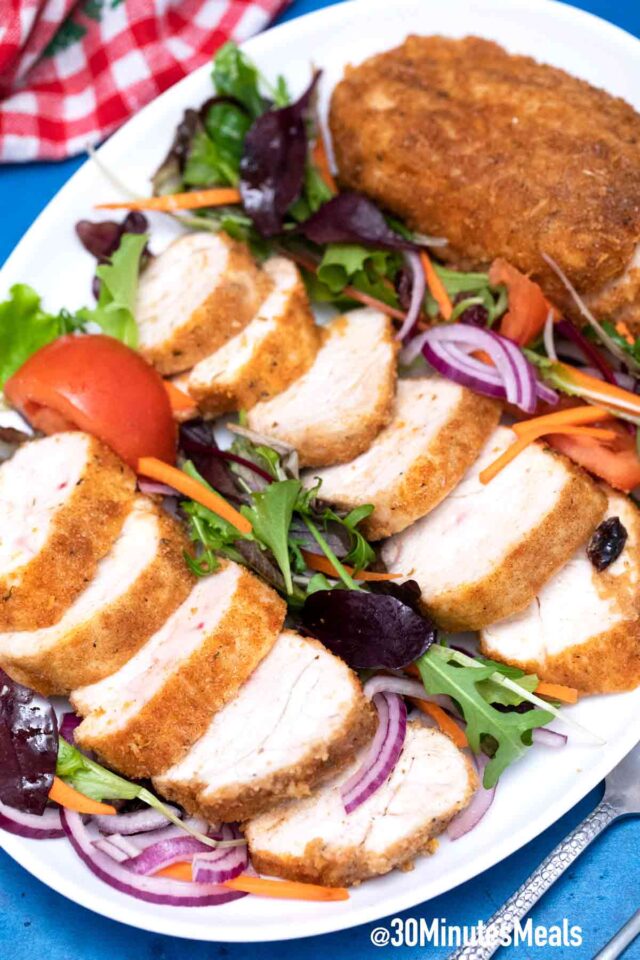 How to bread the chicken?
Before rolling in the parmesan crumbs, spray with a little oil first. This makes sure that that seasoned crumbs stick to the breasts.
How do you make homemade Air Fryer Chicken Breasts?
Mix

. Combine the parmesan with the breadcrumbs, spices, Italian herbs, and salt.

Coat

. Roll meat in the parmesan crumbs after a light spray of oil.

Cook

. Arrange the pieces in the basket with gaps in between. Air-fry for 8 to 10 mins, and turn them halfway through. Once the internal temp is at 165F, the meat is done.

Serve

. Rest for a few minutes, and enjoy!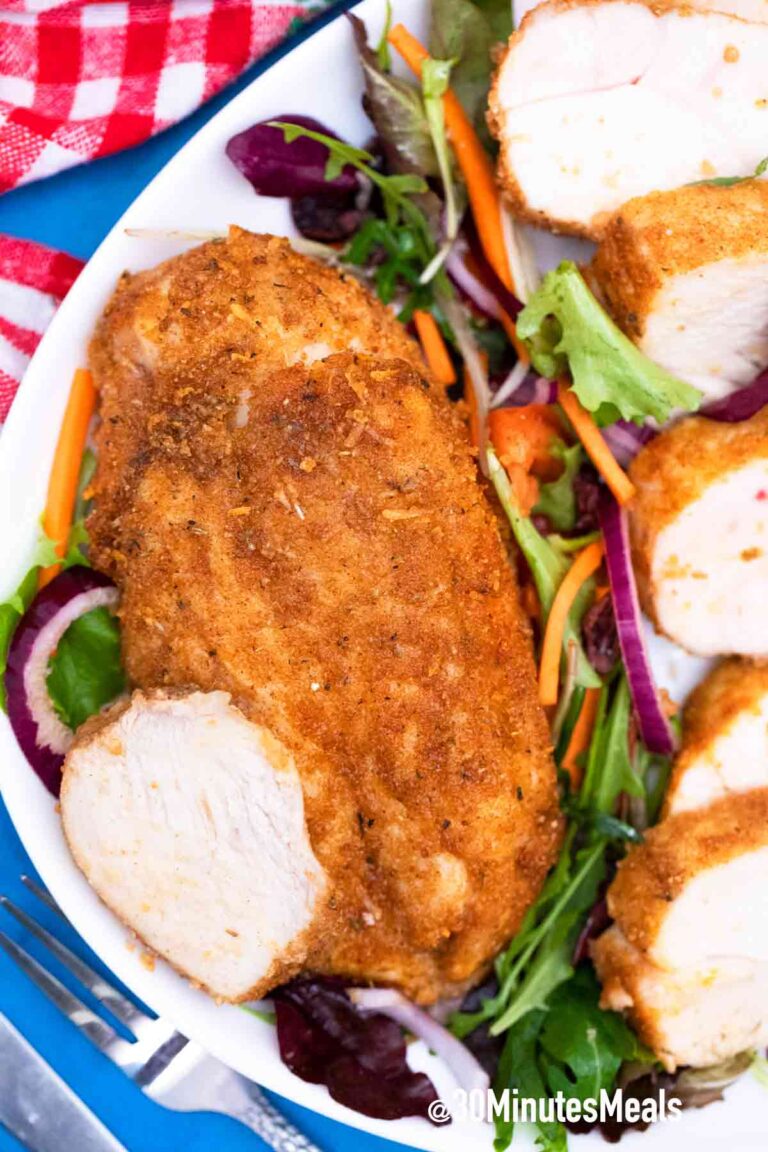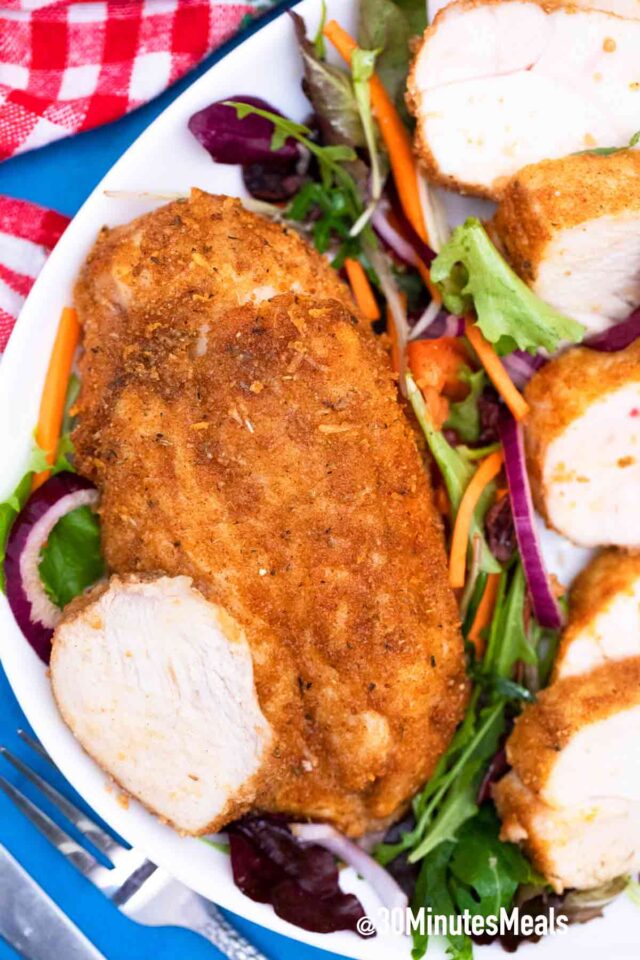 How Long Should You Cook Chicken in an Air Fryer?
Breasts

: About 10 minutes for boneless fillets.

Wings

: Around 24 mins at 360F.

Thighs

: About 18 minutes.

Drumsticks

: 20 minutes, flipping halfway.

Whole:

50 mins. one side, then 10 minutes on the other to finish and crisp up.
Note that these are just rough guidelines. The total times will still depend on the recipe and how big the pieces of meat are. But what's great about the air fryer is you can open it any time to check for doneness, and cover if you need to cook it some more!
How to Make Air Fryer Unbreaded Chicken?
Coat breasts with cooking spray, then season with your preferred spices. Arrange in the basket with space in between. Fry for about 10 to 15 mins, flipping halfway. Rest for 5 mins to redistribute the juices and enjoy.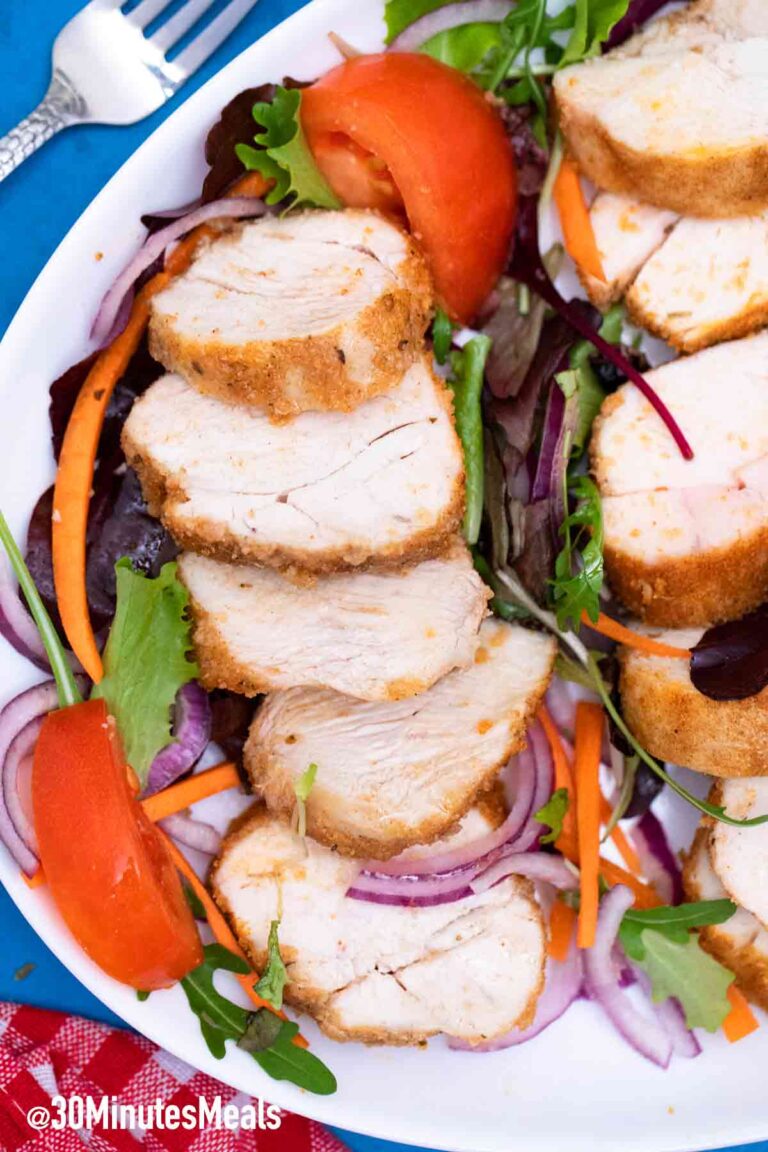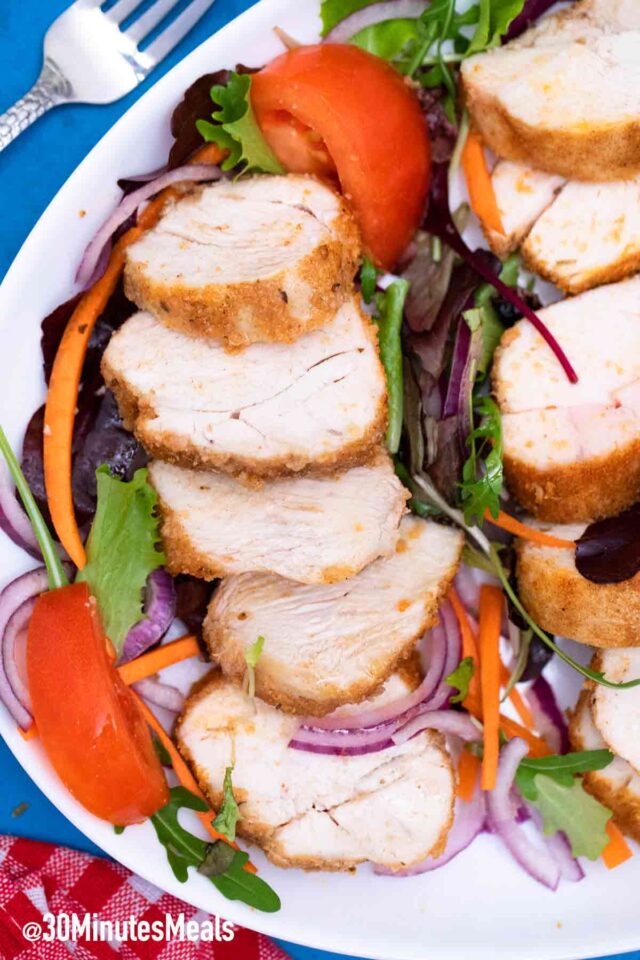 Is air fried chicken breast healthy?
Yes! It's much healthier compared to any fried chicken recipe. We're using almost no oil, which makes the dish low-fat. It's low-carb too, but you can use keto bread crumbs if you want to lower the carb content further. And of course, breast meat is full of protein and minerals that's great for any diet.
What sauce can you serve this chicken with?
It's amazing with homemade Chick-fil-A Sauce Copycat and Barbecue sauce! It also goes really well with ranch, ketchup, aioli, chimichurri, and many other sauces. Even mango salsa tastes delicious with it, especially if you season the crumbs with taco seasoning!
What side dishes go well with Air Fryer Chicken Breasts?
You can enjoy it with usual sides for the fried version, such as potato mash, rice, or roasted potatoes. But for a healthier meal, we recommend pairing it with Sauteed Cabbage, Crispy Fried Brussel Sprouts (keto-approved!), and Broccoli Salad.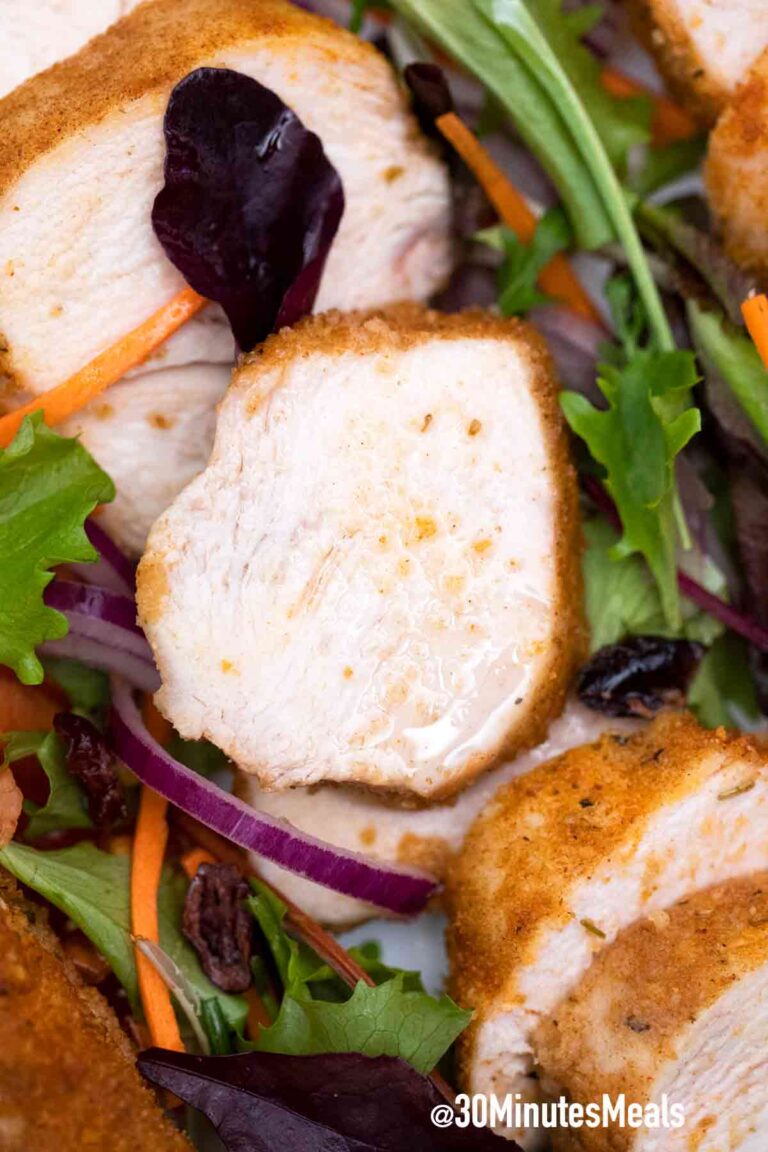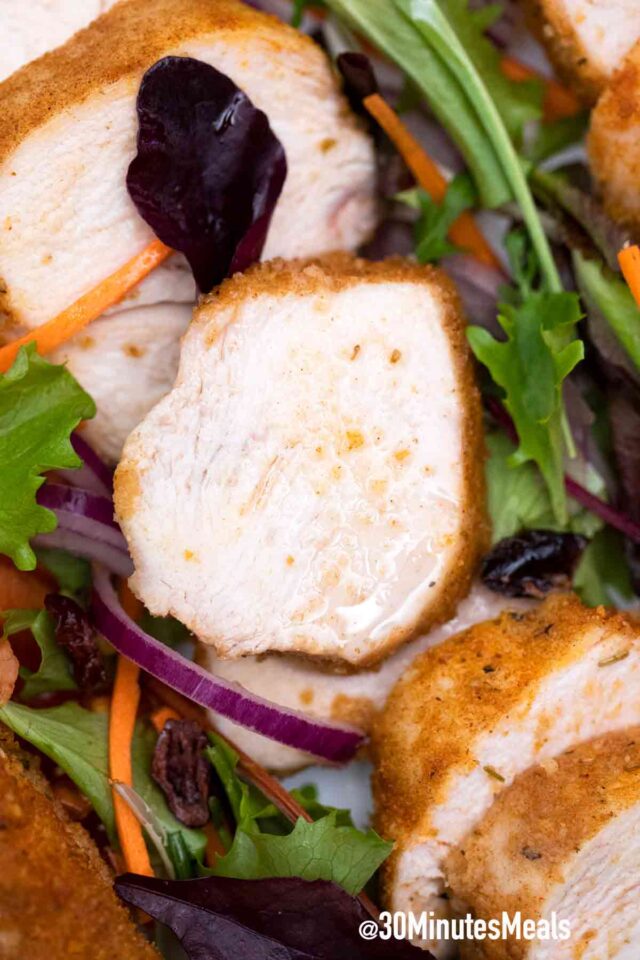 How to store leftovers?
Once the leftovers are cool, transfer them to an air-tight container. Make sure it's well sealed, because exposure to air can dry these out! Stash in the fridge up to 3 days, but try to finish them as early as you can. Heat up in the air-fryer at 400F for 5 minutes, or microwave until hot.
More air fryer recipes to try:
Recipe Tips:
Once the breasts hit the proper internal temp, take them out of the basket ASAP to avoid drying them out.

Rest the meat for about 5 minutes for the juiciest results.

Try other seasonings to spice up your chicken, such as Old Bay, fajita, Creole, ranch, and more.

Check more air fryer recipes for beginners for a variety of easy homemade dinners.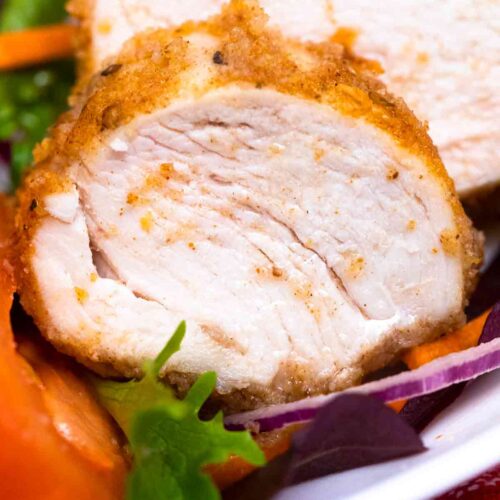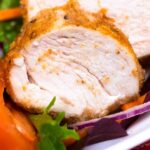 Air Fryer Chicken Breast
AirFryer Chicken Breast has a crunchy parmesan breading with incrediblyjuicy meat. A healthy and tasty dinner that literally takes minutes!
Keyword:
Air Fryer Chicken Breast
Ingredients
2

lb

skinless boneless chicken breasts

halved crossways

½

cup

breadcrumbs

1/4

cup

grated parmesan cheese

1

teaspoon

smoked paprika

1

teaspoon

Italian seasoning

1/2

teaspoon

dried oregano

salt and pepper to taste

cooking spray
Instructions
Preheat the air fryer to 350F.

Mix together breadcrumbs, parmesan cheese, paprika, Italian Seasoning, dried oregano, salt, and pepper in a bowl.

Lightly spray both sides of the halved chicken breasts with cooking spray.

Toss the chicken breasts well in the coating mix and place them in the air fryer basket. Make sure they are not touching.

Cook between 4-5 mins then flip over and cook for 4-5 mins on the next side Cooking times will vary a few minutes based on the thickness of the breast. Chicken is done when it reaches an internal temperature of 165 F.
Nutrition Facts
Air Fryer Chicken Breast
Amount Per Serving
Calories 342
Calories from Fat 72
% Daily Value*
Fat 8g12%
Cholesterol 151mg50%
Sodium 458mg20%
Potassium 894mg26%
Carbohydrates 11g4%
Protein 52g104%
Vitamin A 381IU8%
Vitamin C 3mg4%
Calcium 118mg12%
Iron 2mg11%
* Percent Daily Values are based on a 2000 calorie diet.