Bacon Wrapped Pork Medallions
Bacon Wrapped Pork Medallions is a dinner showstopper featuring flavorful tenderloin slices encased in crispy, caramelized bacon. Impress your family and guests with a fantastic dinner that takes about 30 minutes to make!
A satisfying meal doesn't have to take a lot of effort. If you have half an hour to spare, you have enough time to this delicious Ground Beef Stroganoff, Chicken Teriyaki, and One-Pan Chicken Cordon Bleu Pasta all from scratch!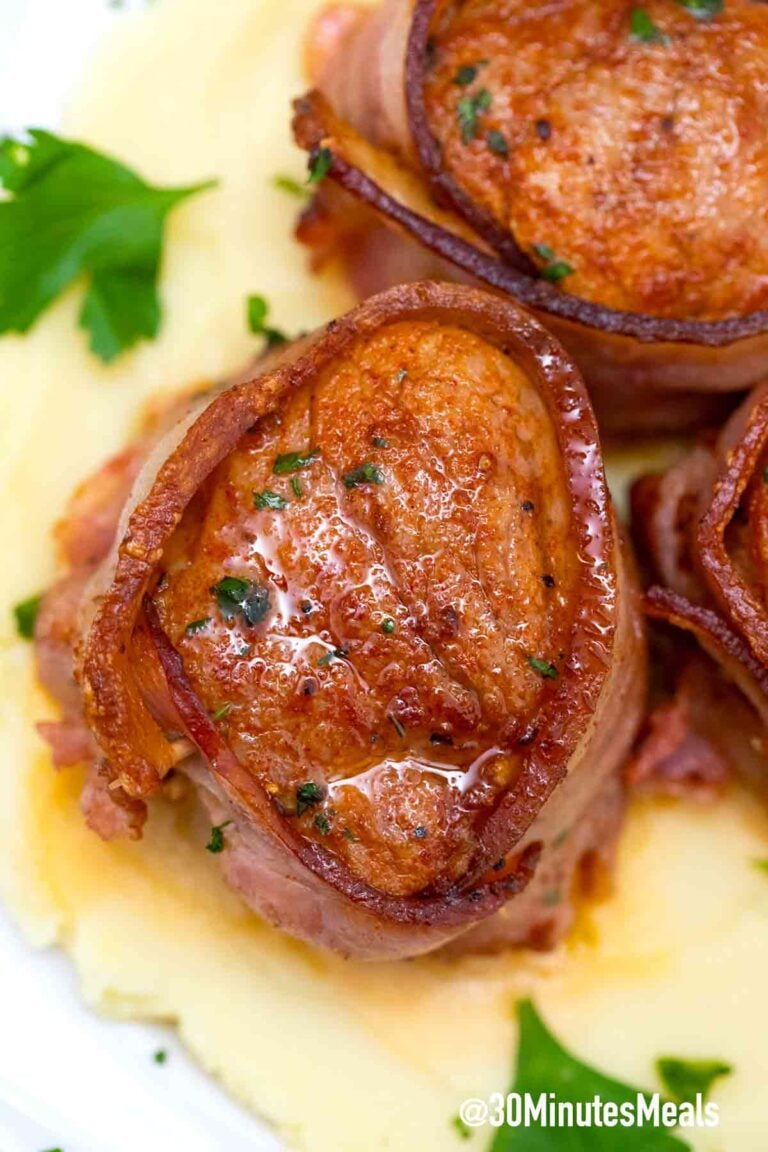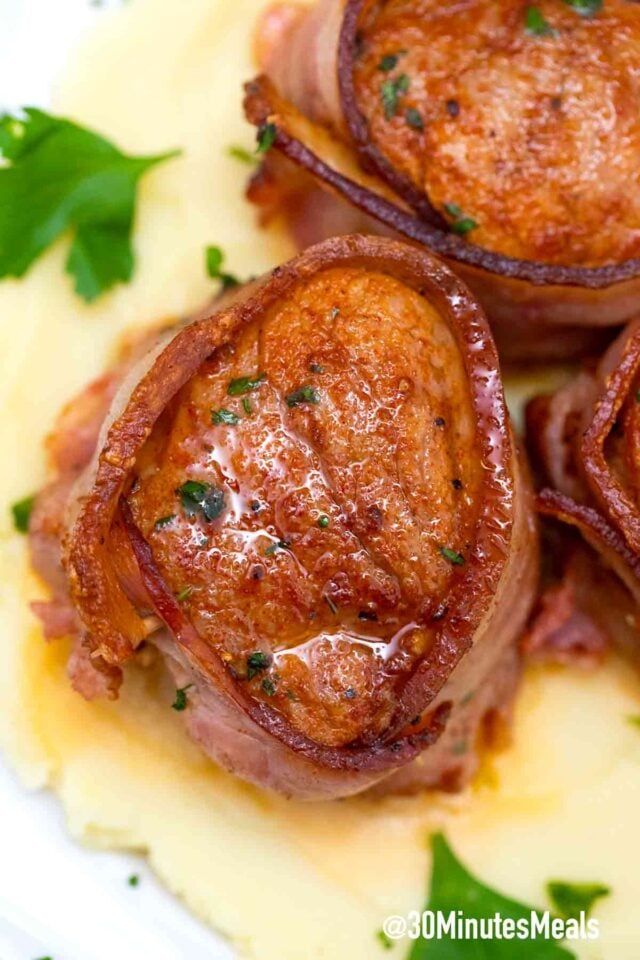 Bacon Wrapped Pork Recipe
Bacon Wrapped Pork Medallions are my secret weapon when I'm having company over and I'm short on time. They look beautiful on the plate and taste so amazing. Melt-in-your-mouth meat wrapped in smoky, caramelized bacon— what can be a better combo than that!
We use tenderloin, a lean and tender part, to cut down on the cooking time without sacrificing juiciness. You can also try your own twists on this recipe, such as using different flavors of bacon or spice blends. A 5-star dish is sure to wow anyone joining you for dinner!
How is pork loin different from tenderloin?
They sound confusingly similar, don't they? But don't make the mistake of using one for the other in your recipes, because they're very different.
The loin is thick and wide, capped with fat. Tenderloin is thin, almost fatless, and narrow.
Because the loin is a big cut, it's perfect for low and slow cooking like roasting. It's the complete opposite of tenderloin, which get very tough if you cook it for a long time. Stick to quick methods like searing, grilling over high heat, or slice into strips for stir-fries.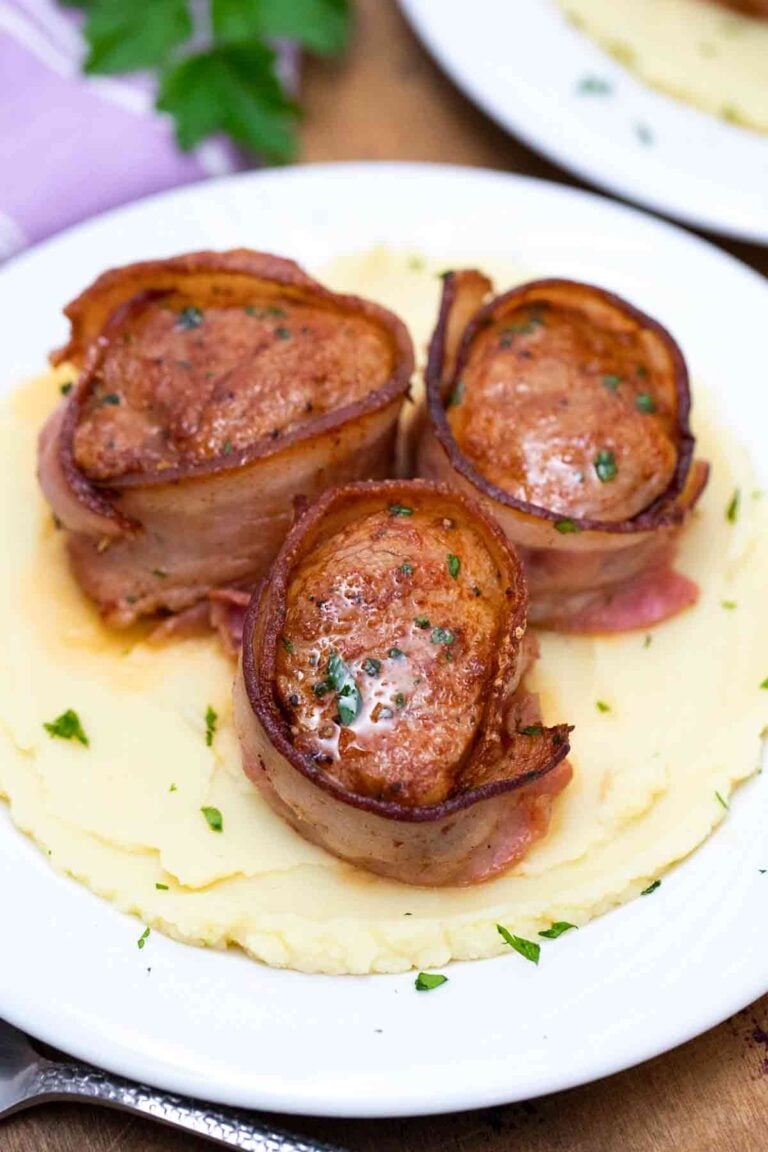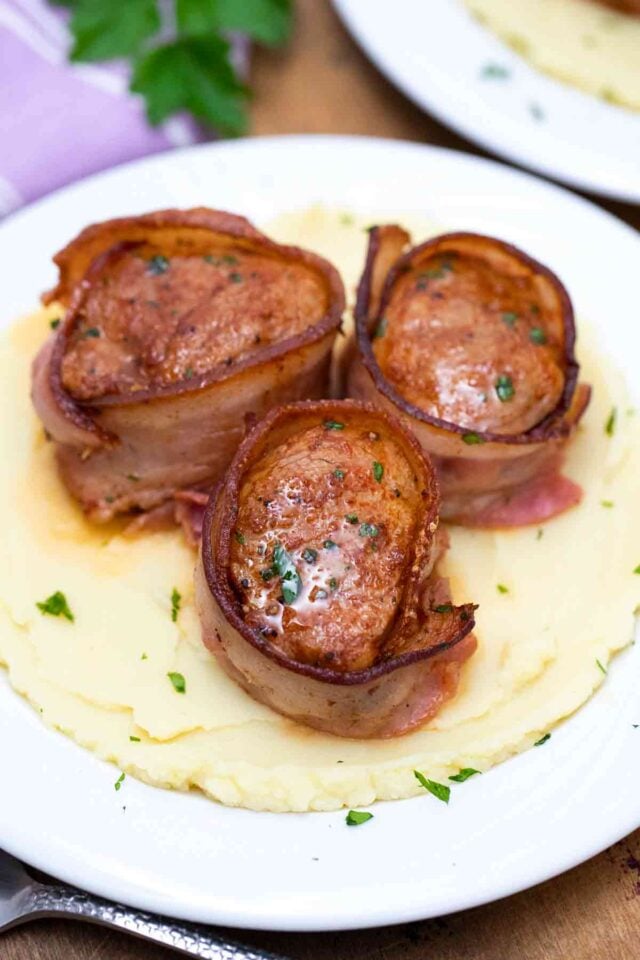 Is pork meat healthy?
Yes! It's a tremendous source of minerals like selenium and phosphorous, vitamins like B6 and B12, and protein. Tenderloin, in particular, is leaner than chicken breast. Like any food, it's a great addition to a balanced diet when eaten in moderation.
How to choose fresh pork meat?
The flesh should be reddish pink, and darker meat is more flavorful than very light-colored ones. It should have no smell at all and should be firm to the touch.
What are pork medallions?
It refers to a specific tenderloin cut. To get medallions, we'll cut the narrow tenderloin along the width to get circular pieces of meat. Slice them about 2" thick for this dish.
How to cook homemade Bacon Wrapped Pork Medallions?
Coat in spices. Do this BEFORE you slice into medallions.
Wrap. Par-cook the bacon strips, then wrap around each medallion. Make them stay in place using a toothpick.
Bake. Transfer to a hot skillet, then drizzle each one with fat. Bake at 400F for 15 mins. Don't forget to toss out the toothpicks.
Serve. Plate it up with a sprinkling of fresh, chopped parsley. Enjoy!
Recipe Variations:
Try other bacon flavors: Give the dish a boost of deliciousness with different bacon flavors like BBQ, black pepper, brown sugar or maple, spicy chipotle, or apple cinnamon.

Use different spice rubs: Cajun blend tastes amazing, as do lemon salt, herb blend, and other spices and seasonings.
Air fry: Cook in a 400F air fryer at 35 minutes.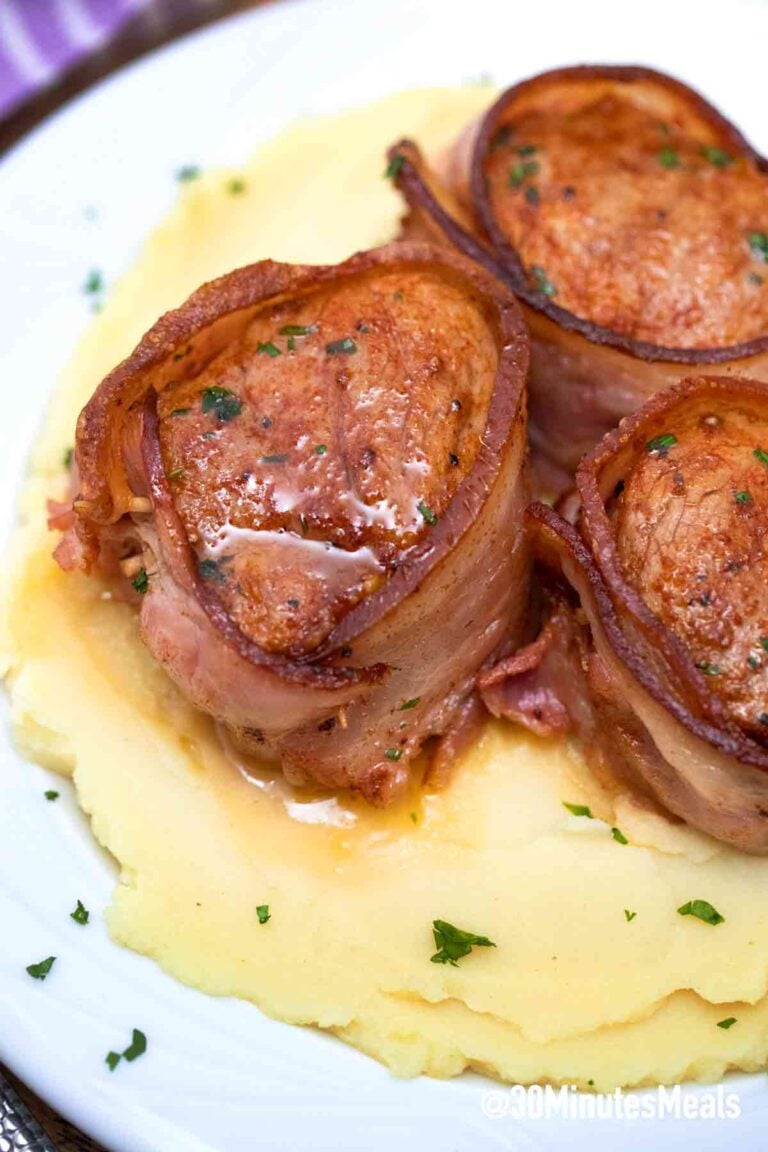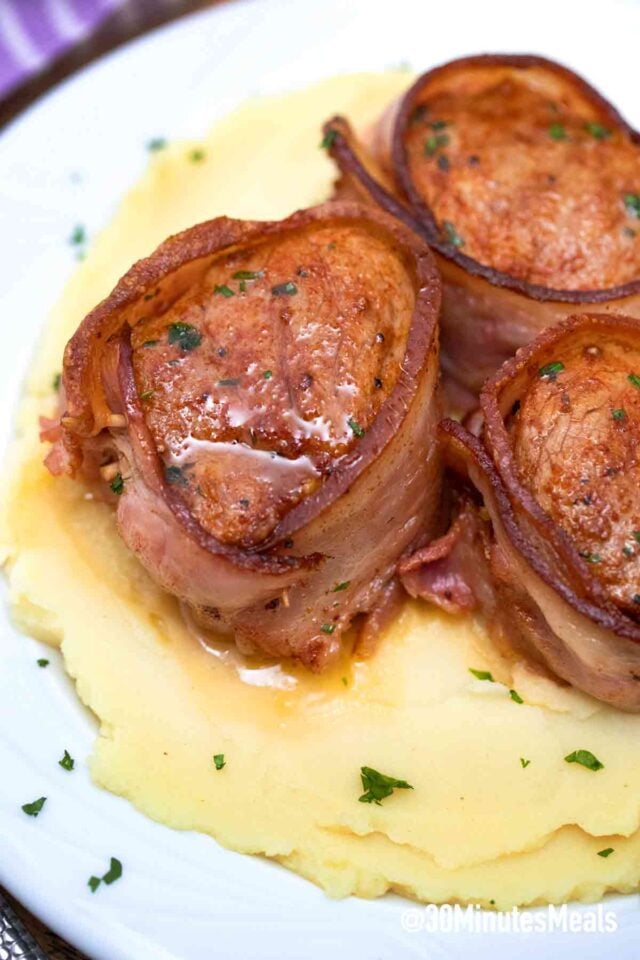 How do you tenderize pork?
First, buy the freshest, most high-quality meat possible. Tenderizing methods include marinating, pounding with a meat mallet, or brining.
Be sure to follow the recipe strictly, too— follow the exact cooking temperature and time to avoid drying it out.
What's the safe temperature for pork?
145F internally. Always double-check with a meat thermometer!
What to serve with Pork Medallions?
It's really delicious with a nice Broccoli Salad or Caprese Salad. Pasta is a nice side as well, particularly this creamy One Pot Garlic Parmesan Pasta, Brussels Sprouts in Alfredo Sauce Pasta, or Chicken Pesto Pasta.
How to store:
Cool the leftovers first, then place them in a container with a tight lid. Store in the refrigerator and consume within 2 days. To reheat, microwave, or bake for a few minutes until hot.
More Pork Recipes: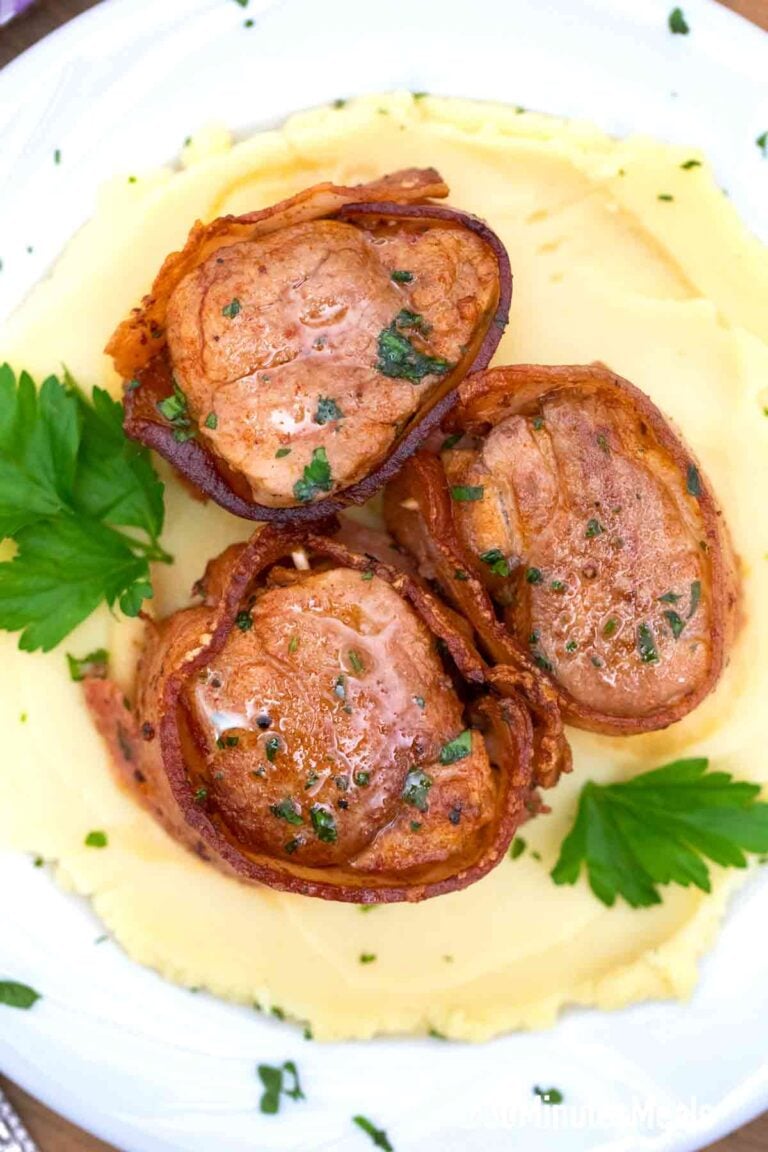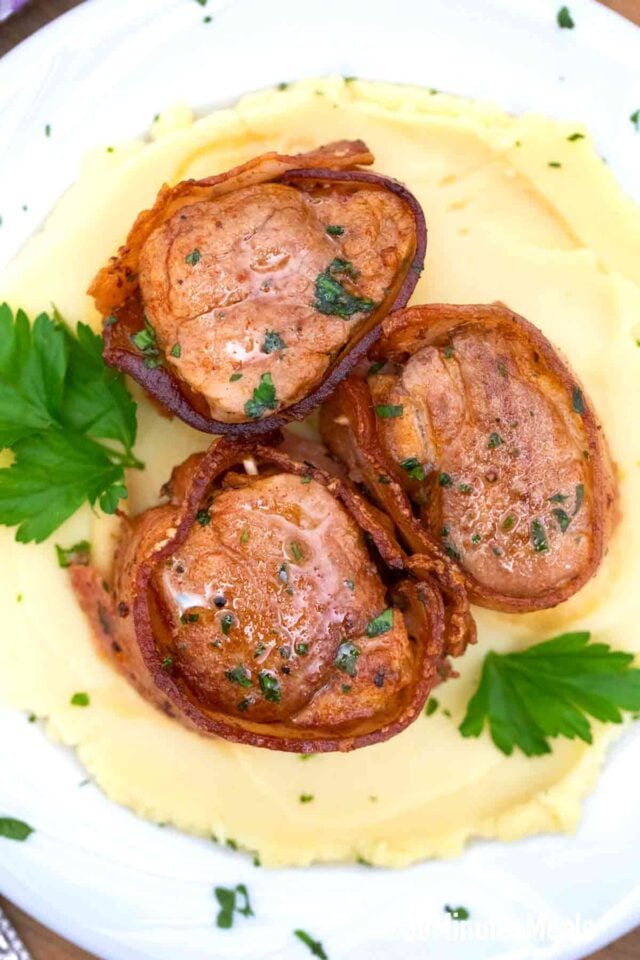 Recipe Tips:
Par-cook the bacon to make them easy to wrap. This also renders the fat, which will be spooned over the medallions to boost juiciness.

If you have a cast-iron skillet, use it to get an excellent sear on the meat.
Try making a simple gravy using the pan drippings.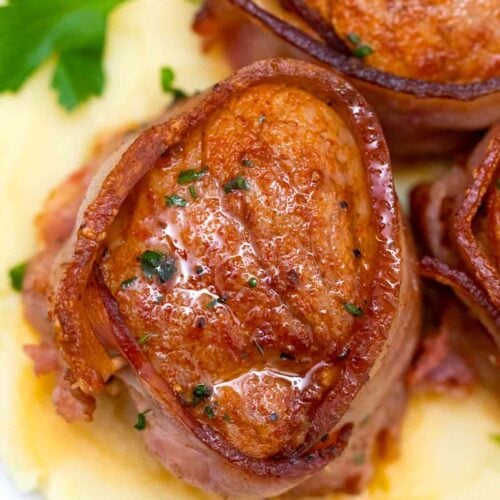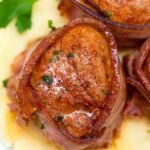 Bacon Wrapped Pork Medallions
Bacon Wrapped Pork Medallions is a dinner showstopper featuring flavorful tenderloin slices encased in crispy, caramelized bacon.
Keyword:
Bacon Wrapped Pork Medallions
Ingredients
1

pork tenderloin

cut into about 8 to 10 portions 2 inches thick

8-10

slices

smoked thick-cut bacon slices
Seasoning:
1

teaspoon

kosher salt

1/4

teaspoon

ground black pepper

1

tablespoon

garlic powder

1

tablespoon

smoked paprika
Instructions
Preheat the oven to 420 degrees F.

Mix all the Seasoning ingredients in a small bowl and rub onto the pork tenderloin BEFORE cutting it into medallions.

Place a large cast iron pan over medium-high heat, and cook the bacon strips for a few minutes, just until about half-cooked.

Wrap each medallion in a piece of bacon and secure it with a toothpick.

Place the same cast-iron pan, with the bacon dripings, over high heat, and once hot, add the pork medallions and cook on both sides until browned 3-4 minutes. After that transfer the pan into the pre-heated oven. Bake for and additional 15-20 minutes.

Remove toothpicks before serving and sprinkle medallions with chopped fresh parsley.
Nutrition Facts
Bacon Wrapped Pork Medallions
Amount Per Serving
Calories 640
Calories from Fat 306
% Daily Value*
Fat 34g52%
Cholesterol 324mg108%
Sodium 1111mg48%
Potassium 1933mg55%
Carbohydrates 3g1%
Protein 100g200%
Vitamin A 878IU18%
Calcium 31mg3%
Iron 5mg28%
* Percent Daily Values are based on a 2000 calorie diet.