Air Fryer Pork Chops are crispy on the outside and super juicy and tender on the inside. This is a quick and easy family dinner that is ready in less than 20 minutes from start to finish.
When I want to cook something quick and healthy, I always do that in the air fryer. Some of my favorite recipes are AF Steak, Healthy Air Fryer Asparagus, and Hasselback Potatoes.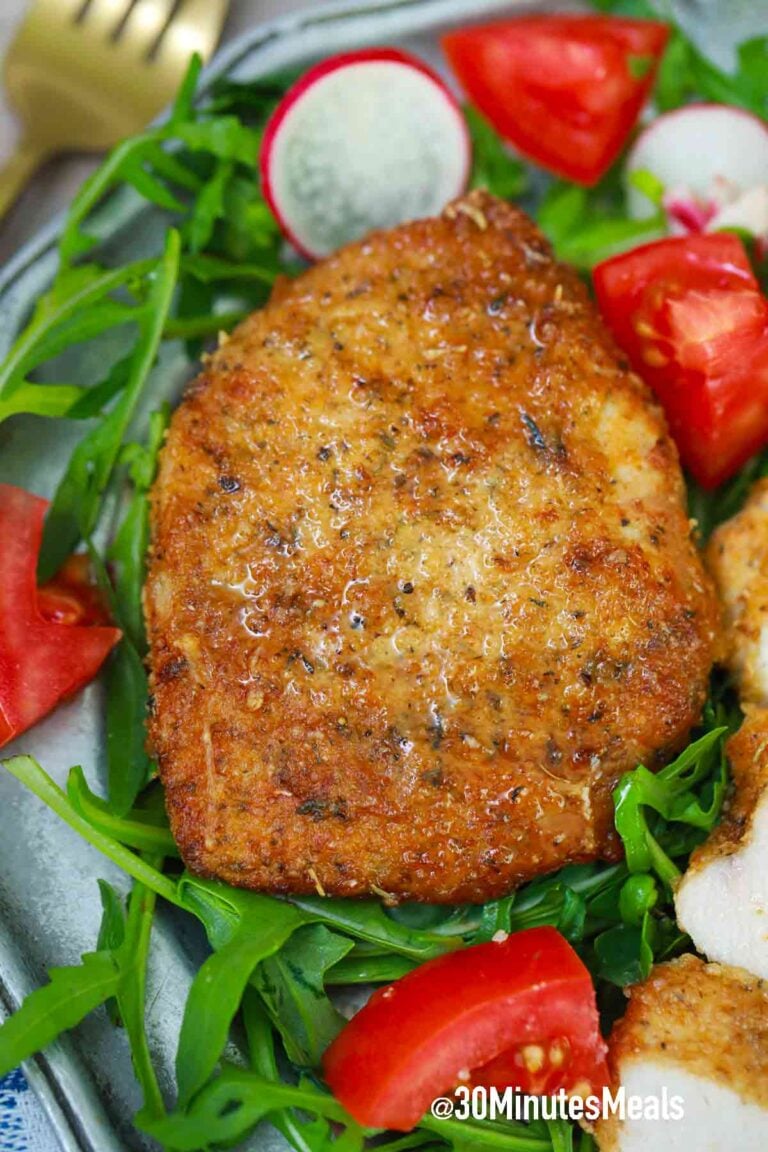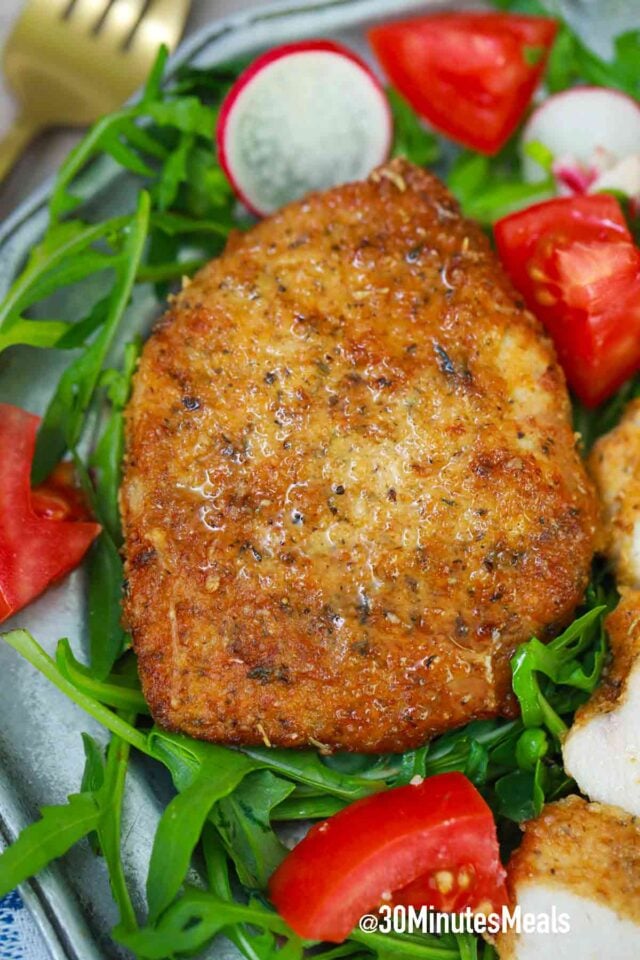 Crispy Air Fryer Pork Chops Recipe
These Air Fryer Pork Chops are so juicy, tender, and delicious that I make them pretty much weekly. My whole family loves pork recipes, and I try to incorporate them quite often. I usually rotate between this recipe or Peach Pork Chops and Bacon Wrapped Pork Medallions.
However, air frying is my favorite method of cooking them. Firstly, you do not need to guess the cooking time. They always come out perfectly cooked, with a crispy crust, and juicy. Also, they don't dry out as the oven or skillet version, and only a small amount of cooking oil is used here.
They are tasty and ready in no time, just ideal dinner for busy families during any day of the week. As for the rub, you can go with what you like. I use a bit of seasoning and some grated parmesan cheese for flavoring, and the combination is outstanding.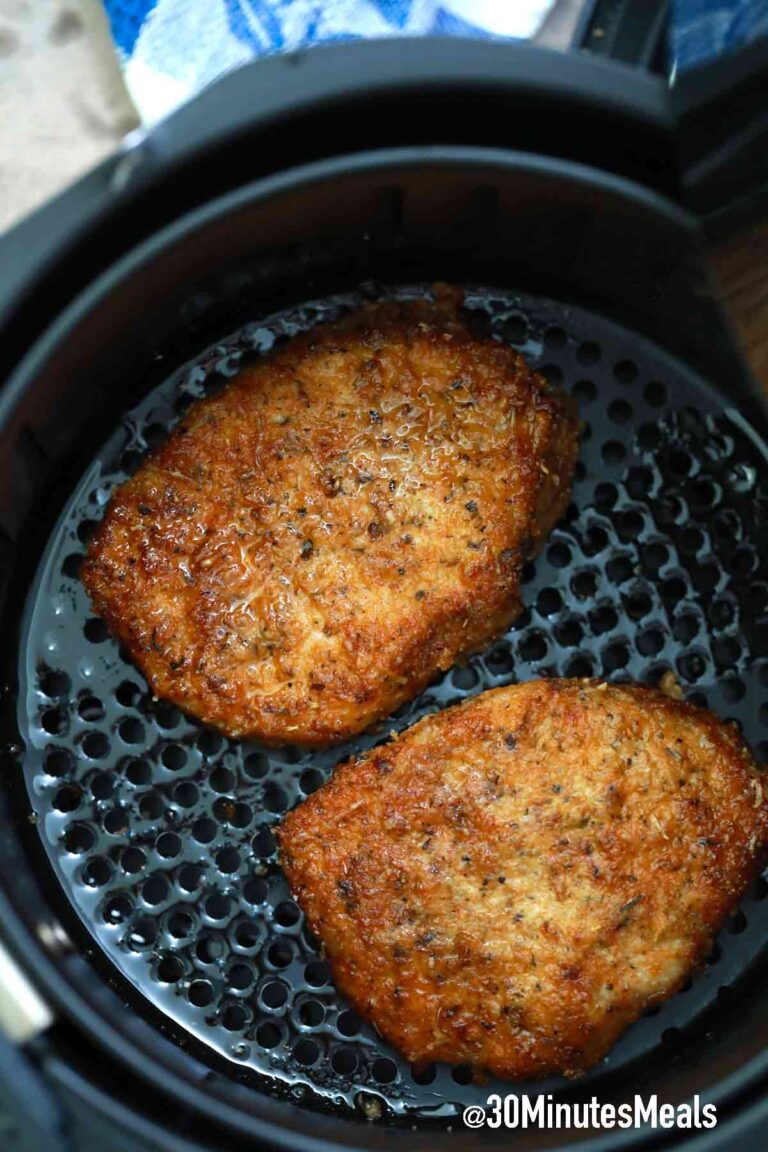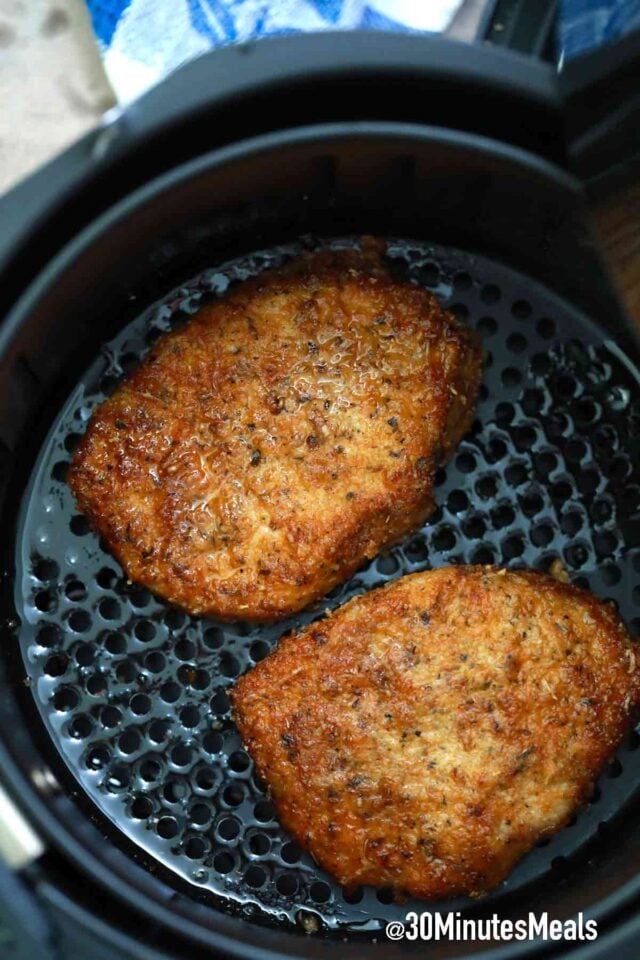 Ingredients Needed to make this recipe:
Meat: You can use bone-in or boneless pork chops, both are ok here. Also, I highly recommend using thicker cut chops – at least 1 inch thick. This way, you will end up with the juiciest chops!
Cooking oil: Extra virgin olive oil is what I use most of the time.
Seasoning: Salt, pepper, onion powder, garlic powder, paprika,
Parmesan cheese: This is probably the secret ingredient here! It adds so much flavor and aromas to this dish, that I would never skip it! Also, try using good-quality parmesan cheese. It will make a huge difference!
How to make the best air fryer pork chops?
As stated above, this is probably one of the easiest recipes to make. Here are the steps:
Make the rub: In a small bowl, combine the seasoning along with Parmesan cheese. Then, pat the pork chops on both sides to give them a nice coat.
Cook: Once coated, place the meat in the basket of the air fryer, and cook at 400 degrees F for 10 minutes.
Serve: Let them rest for a few minutes, then serve warm with your favorite side dish!
Recipe Variations:
Seasoning: Feel free to swap and/or use your favorite seasoning combination here. Anything from the ranch seasoning, Italian, cajun, spicy can be used.
Meat: You can easily swap the meat and make the following in the air fryer: Salmon, Fish, Chicken Thighs, or Steak.
Cheese: Instead of Parmesan cheese, you can use Asiago or Dry Jack.
Herb: Use fresh herbs, like basil, rosemary, etc.
Oven-Baked: To make this recipe in the oven simply coat the meat. Then, pop the chops into a preheated oven at 400 degrees F, and bake for 10-12 minutes. Also, we recommend you try these shake and bake pork chops. Another tasty dinner you should add to your rotation.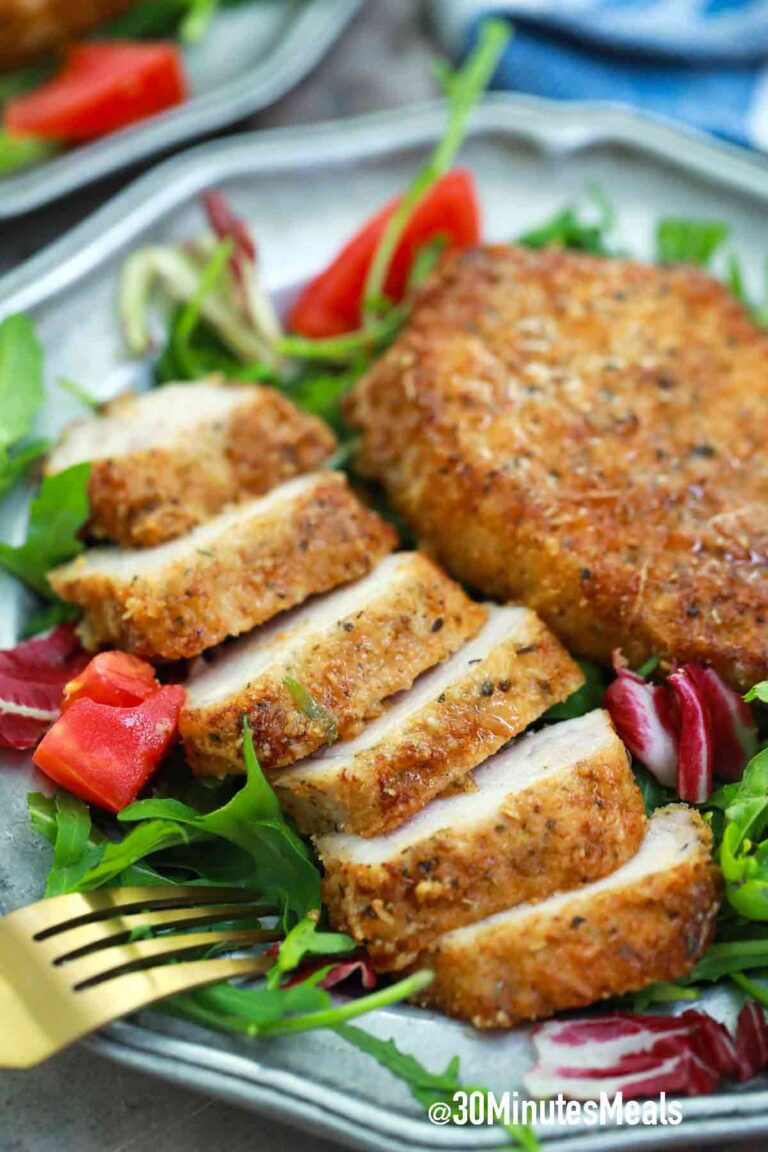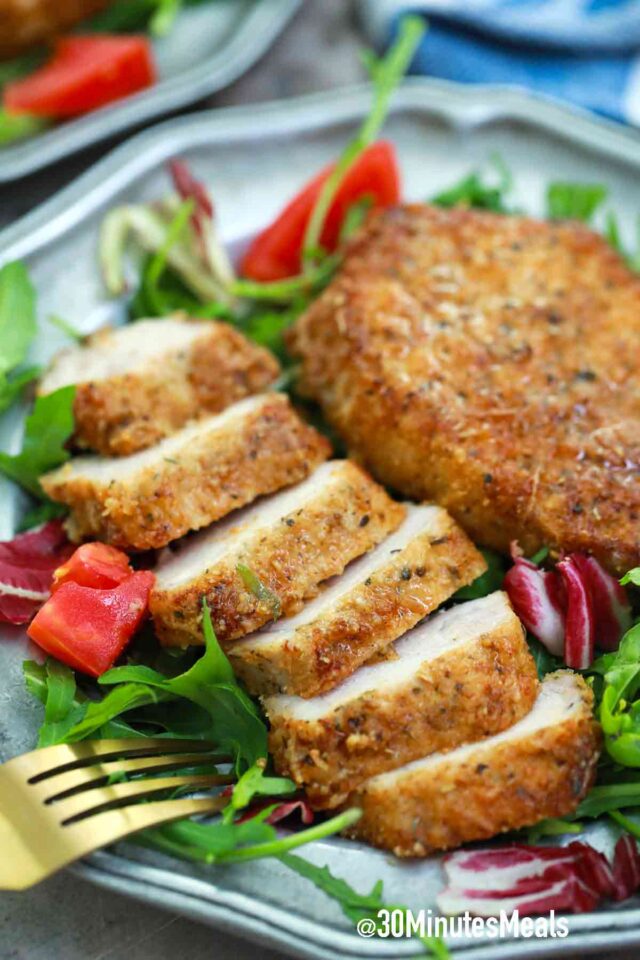 What are the best pork chops for the air fryer?
As a general rule, you want to use thicker cut meat, anytime you cook in the AF. This will lead to juicy and tender pork while maintaining a crispy char on the outside.
For the best result, I recommend using 1 to 1.5 inch thick cuts. Also, you can use either bone-in or boneless chops here.
Should I use parchment in the air fryer?
This is not mandatory, and it is totally up to you. I have been cooking this recipe with and without parchment, and both methods are ok. The benefit of using parchment paper is that it is easier to clean up the dish and it protects the basket from scratches.
On the other hand, when air frying, it is very important for the air to circulate. So, if you end up using parchment paper, ensure to make holes in it, so air flows freely.
What to serve with this dish?
This classic dish can be served with Parmesan Brussel Sprouts, Beer Battered Onion Rings, Cabbage Salad, or Caesar Salad.
How to store and reheat leftovers?
Refrigerate: If you end up with leftovers, simply use an airtight container and refrigerate them for up to 4 days.
To freeze: Use a freezer-safe dish, and freeze them for up to 3 months.
To reheat: Pop them in the oven at 350 degrees F and reheat for about 10 minutes until warm. Also, you could use a microwave.
More Easy Dinners to try: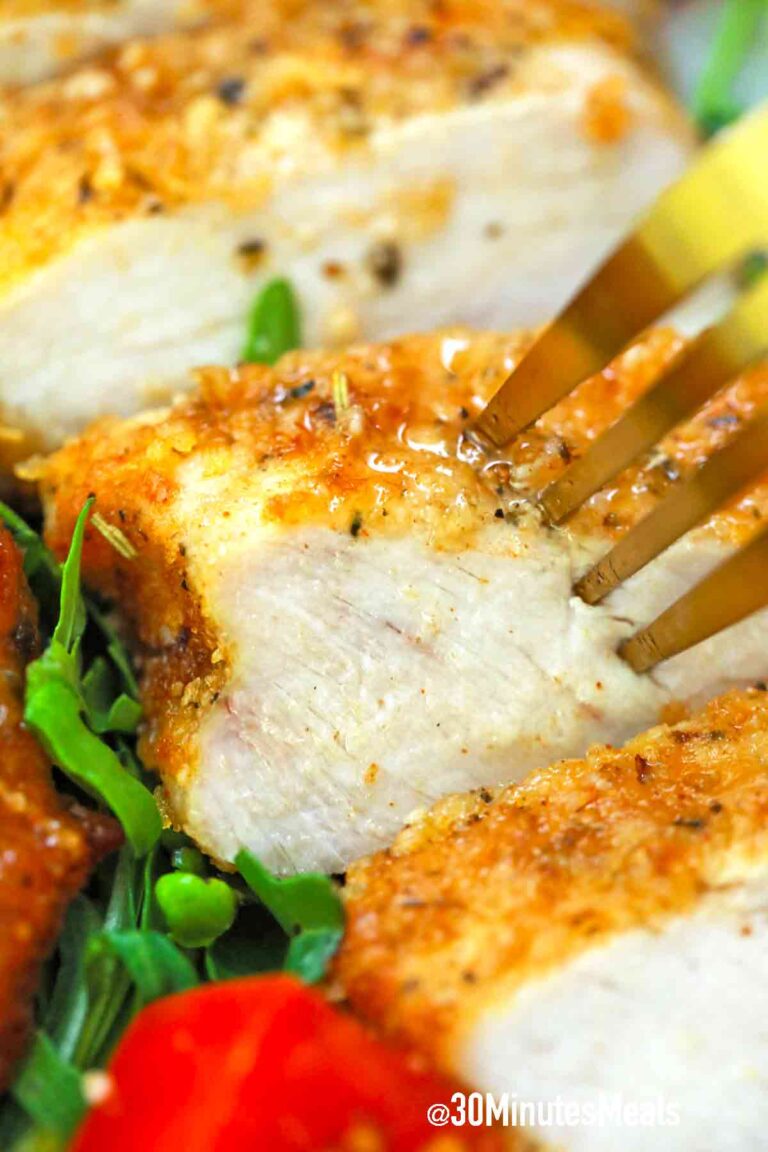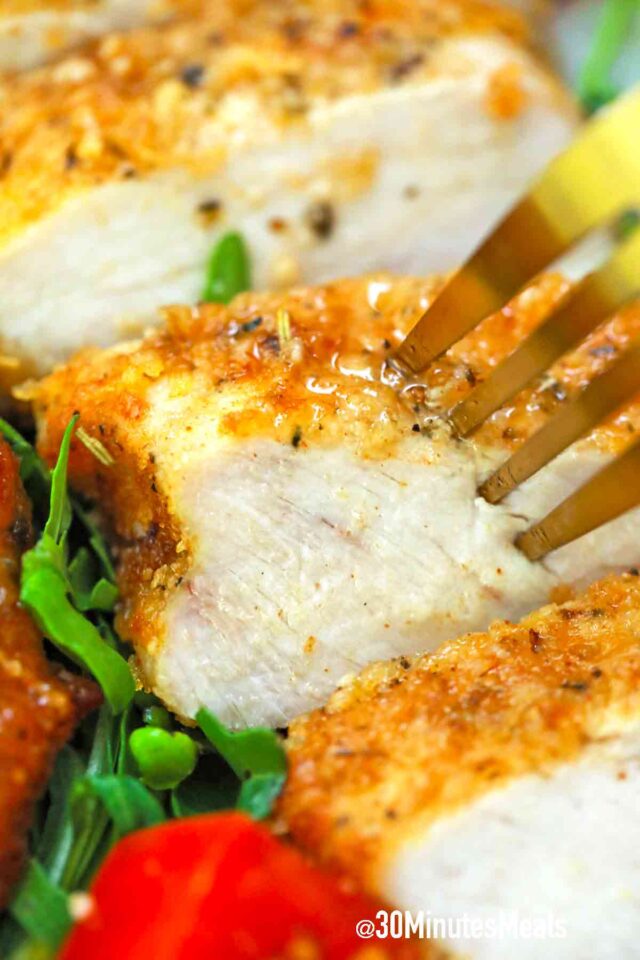 Recipe Tips and Tricks:
It is very important to preheat your air fryer before cooking.
Also, keep an eye on your meat not to overcook it. I tend to cook them for about 10 minutes, and if needed, I cook them for another 2-3 minutes. In addition, use an instant-read thermometer to check the internal temperature. It should read 145 degrees F in the thickest portion of the chops.
For extra flavor, you can slice some butter and add it on top right after removing the chops from the basket.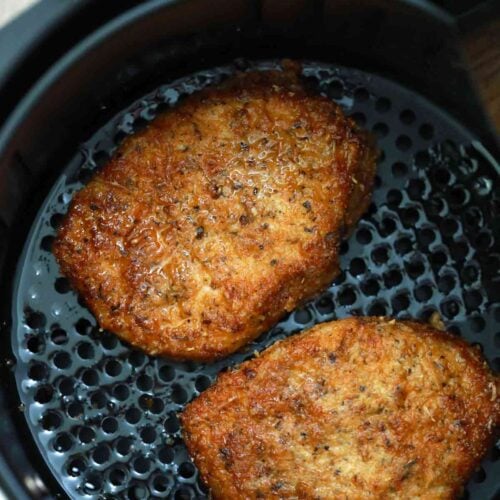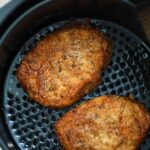 Air Fryer Pork Chops
Air Fryer Pork Chops are crispy on the outside and super juicy and tender on the inside. Ready in less than 20 minutes from start to finish.
Keyword:
Air Fryer Pork Chops
Ingredients
4

pork chops

2

tablespoons

extra-virgin olive oil
Seasoning:
1/2

cup

freshly grated Parmesan

1

teaspoon

kosher salt

1/4

teaspoon

freshly ground black pepper

1

teaspoon

smoked paprika

2

teaspoons

garlic powder

1

teaspoon

onion powder
Instructions
Preheat air fryer to 400 degrees F.

Pat dry pork chops with paper towels, then brush with oil.

In a medium bowl, combine all the Seasoning ingredients.

Coat well and rub the Seasoning onto the pork chops, press slightly for it to stick to the meat.

Place pork chops in the basket of the air fryer and cook for 10-12 minutes, flip pork chops mid-cooking.

They are done once golden brown and the internal temperature is 145-160 degrees Fahrenheit.

Let them rest 10 minutes before slicing and serving.
Nutrition Facts
Air Fryer Pork Chops
Amount Per Serving
Calories 327
Calories from Fat 180
% Daily Value*
Fat 20g31%
Cholesterol 98mg33%
Sodium 848mg37%
Potassium 547mg16%
Carbohydrates 2g1%
Protein 34g68%
Vitamin A 350IU7%
Vitamin C 1mg1%
Calcium 163mg16%
Iron 1mg6%
* Percent Daily Values are based on a 2000 calorie diet.