Nothing screams summer like grilled corn on the cob! This recipe is so easy, you will end up making it all the time. The sweet corn is charred to perfection, and it makes the best side dish, snack, or appetizer.
This recipe is so versatile and it can act as the base for many other delicious dishes. For example, use the corn to make this Avocado Corn Salad or this filling Southwest salad.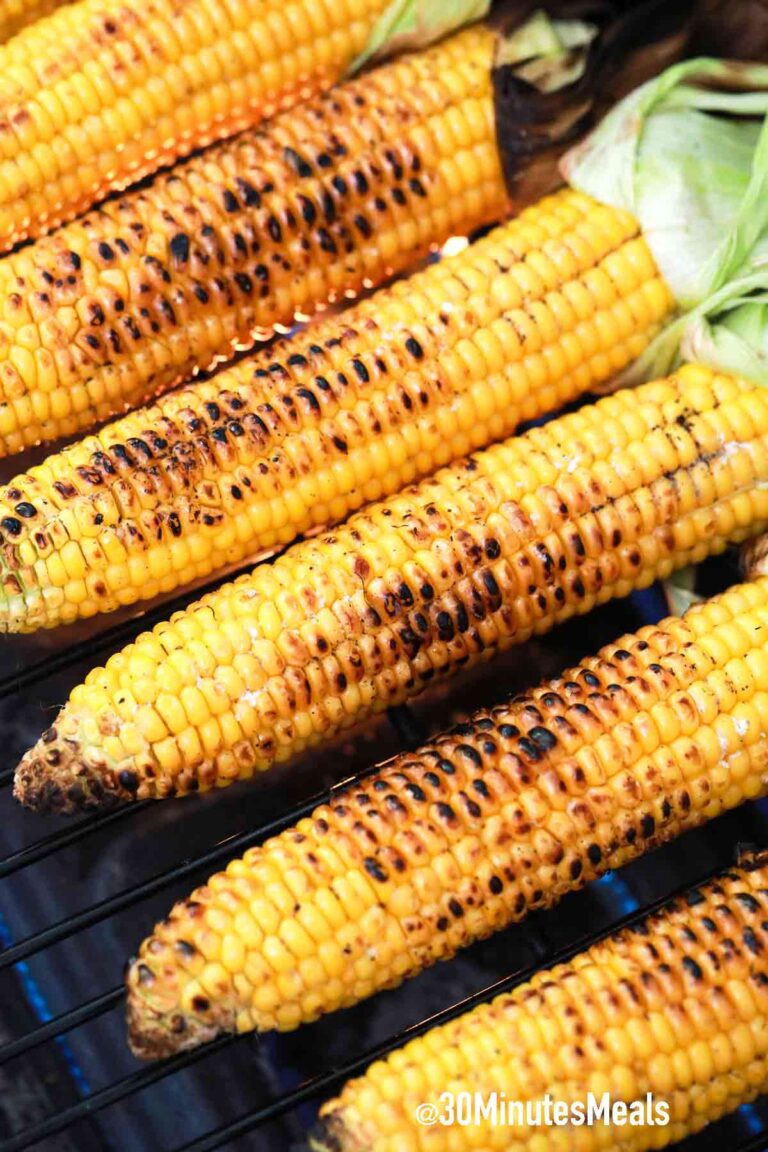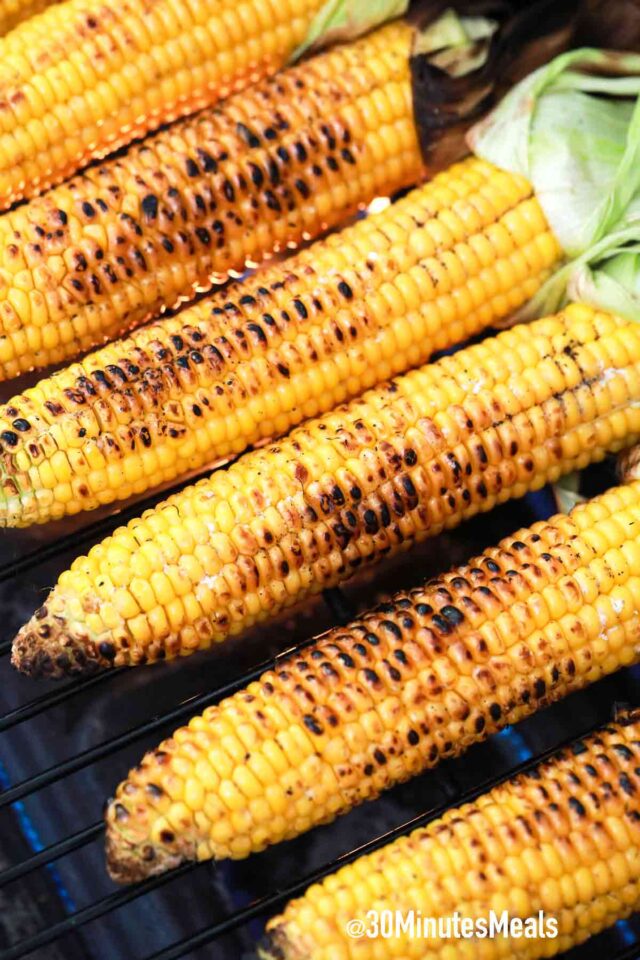 Grilled Corn on the Cob
Recipes like this that can be enjoyed on their own or incorporated into another dish are the best. Basically, you learn the technique of how to make grilled corn and after that decide how to use it.
I like this basic recipe because it makes the juiciest corn, also I prefer mine on the charred side, seasoned well with salt and pepper. Similarly, I like adding some paprika, butter and if I am feeling fancy, I sprinkle parmesan cheese on top.
With the abundance of sweet corn during summertime, I like to grill it and after that freeze some for later. After that, I add it to soups, casseroles, or cheese dips.
Ingredients Needed:
Fresh ears of corn: Also make sure they are sweet and fresh.
Olive oil
Butter: I like using unsalted and it should be at room temperature.
Paprika: Either use sweet or smoked paprika.
Salt and pepper: Freshly ground black pepper will add extra flavor.
Cotija cheese: We use crumbled cotija cheese on top.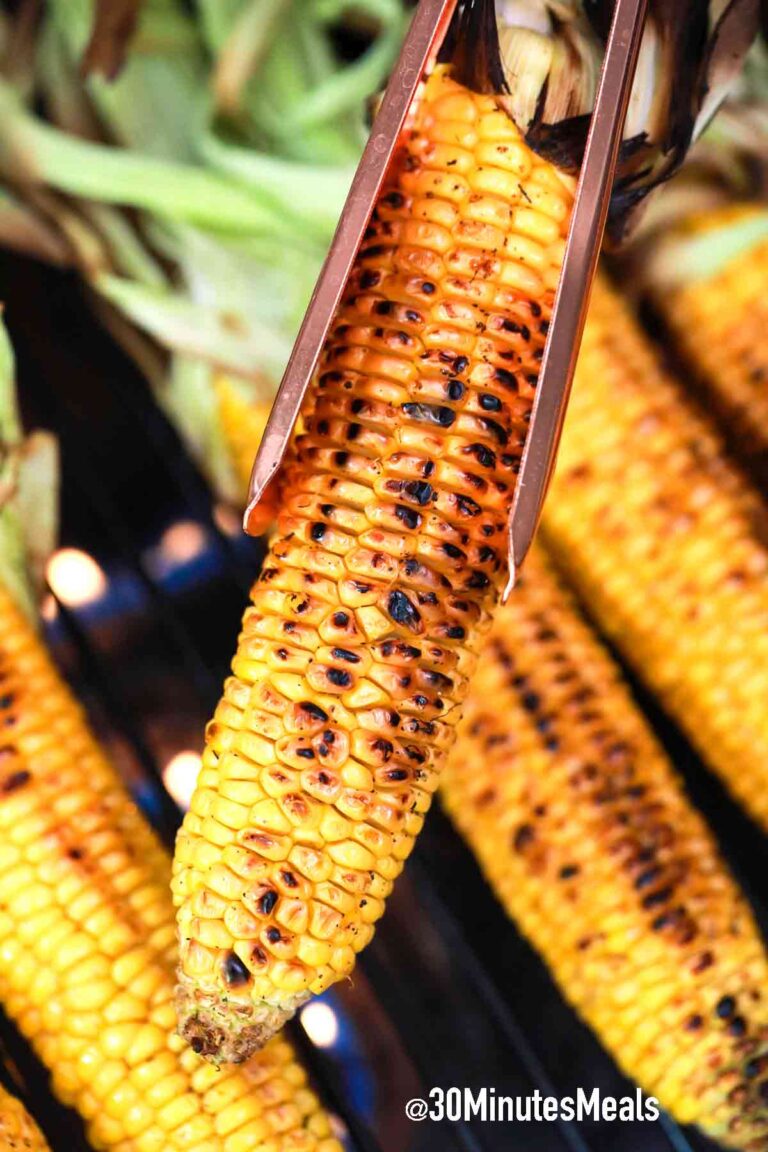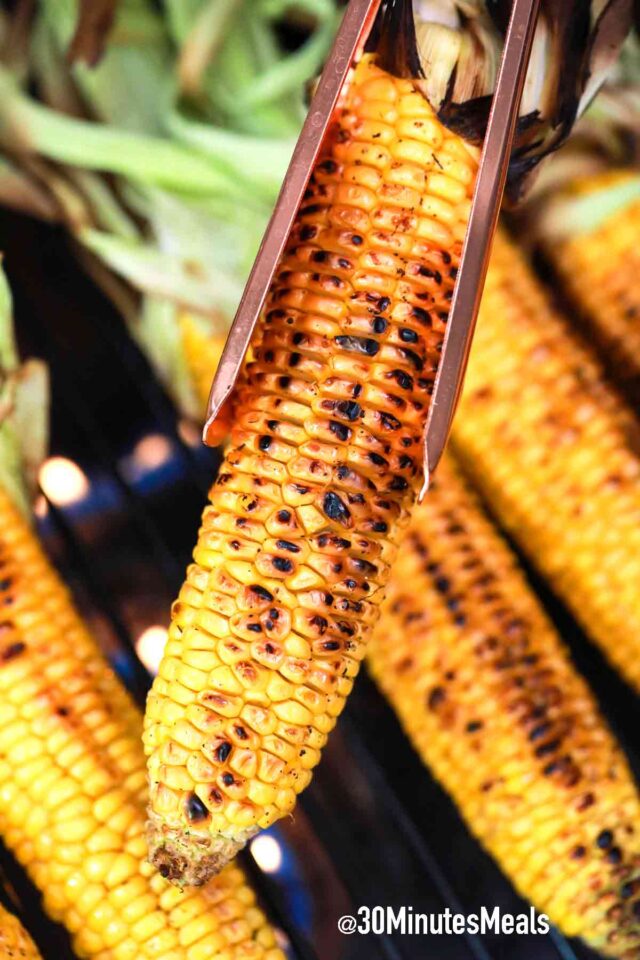 How do you make grilled corn on the cob from scratch?
Prep: First, preheat the grill, that is easier if you use a gas one, however, plan a bit in advance if you have a charcoal grill.
Corn: Next, peel back the husks, leaving them attached at the base, remove the silk and discard it.

Also, we recommend running the ears under cold water and pat dry with a paper towel.

Season: After that, brush it with oil and season with salt and pepper.
Grill: Finally, arrange it onto the grill and cover. After that, cook it for 15-20 minutes, turning them occasionally.
Serve: Finally, when ready to serve, remove the husks, spread butter over the surface. Sprinkle cotija cheese, paprika, and parmesan cheese on top.
Recipe Variations:
Alternatively, if you are not a fan of charred kernels, wrap the corn in aluminum foil.

Also, use your favorite seasoning before grilling it, sprinkle on some taco seasoning or spicy chili powder.
For a sweet and spicy combo, coat the surface with chili sauce and brown sugar.
How to serve:
Serve the recipe as is, a side dish or an appetizer.
Make Corn Muffins and have some for breakfast.
Alternatively, remove the kernels from the cob and use them as a topping for salad, soups, chili, casseroles, or dips.
Another option is to pile it up with toppings or create a grilled corn bar.
It basically goes well with any main dish, so try it with this Chicken and Asparagus.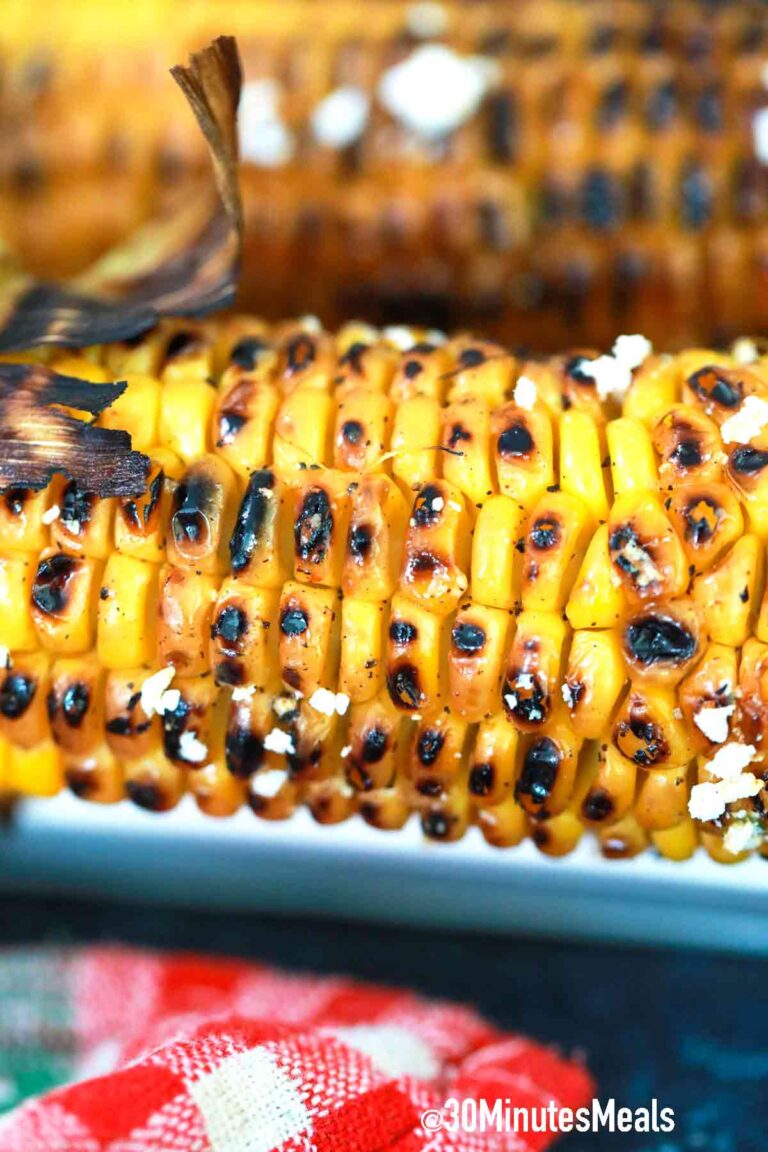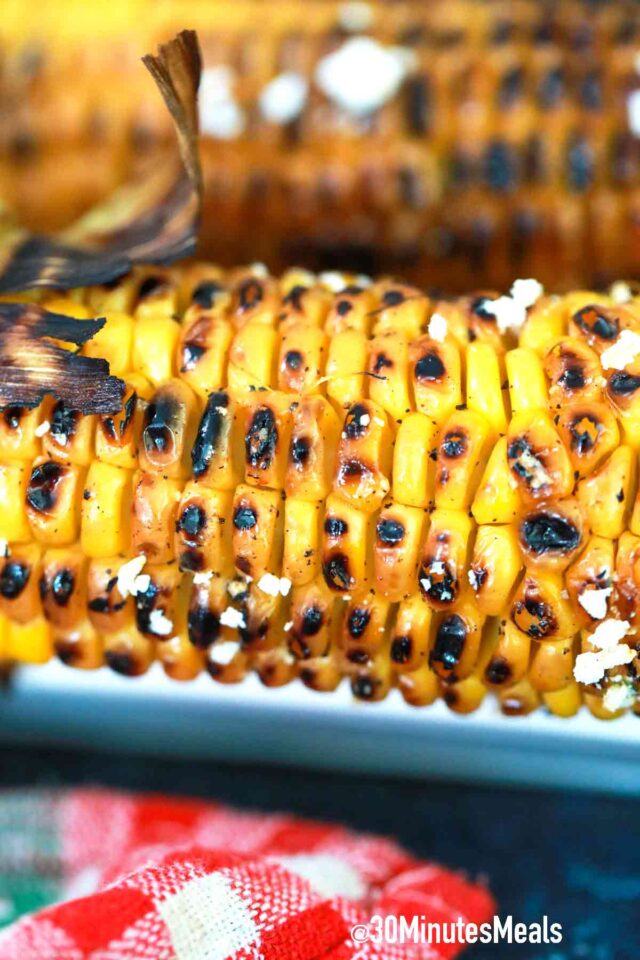 Toppings:
Use your favorite cheese, we suggest crumbled goat cheese, cotija cheese, feta, or blue cheese.
Parmesan cheese, Romano cheese, or fontina are great options as well.
Smoked paprika or sweet paprika.
Chili powder
Cumin powder
Butter
Also, chopped fresh herbs like chives, green onions, cilantro, or dill.
Mayo
Buffalo sauce
Ranch dressing and chopped bacon bits
How to store:
First, let the grilled corn fully cool and after that either wrap it in foil or add it to an airtight container. Store in the fridge for 3 days and reheat in the microwave or on the grill.
Alternatively, remove the kernels from the cob and store them in an airtight container for 3 days in the fridge.
To freeze, add the kernels to a freezer bag or freezer-safe airtight container and freeze for up to 3 months.
When ready to serve, transfer the frozen corn kernels from the freezer to the fridge and let them thaw overnight.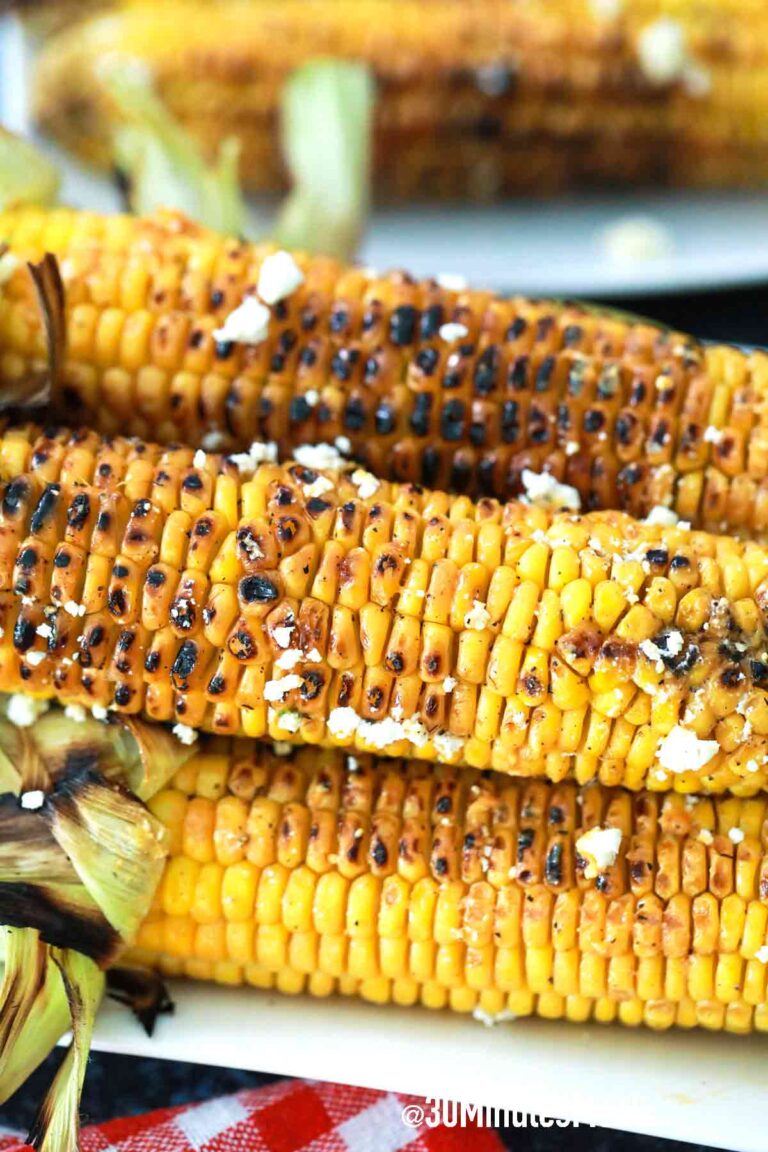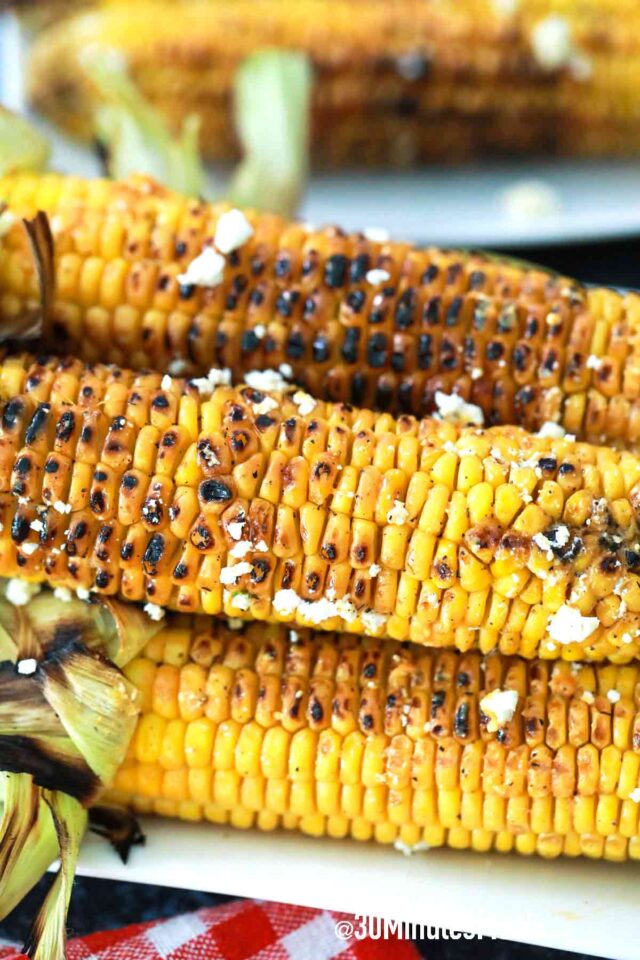 Frequently Asked Questions
Should corn be boiled before grilling?
You do not have to boil it first, and quite frankly, sometimes you don't even have the possibility.
However, if you are wondering why it is recommended, it's because it results in a bit more tender corn. You see, when you grill it without boiling, it may take up to 20 minutes, increases the chances of overcooking it. As a result, it is tougher and harder to it.
Hence, boiling it for a few minutes will add extra moisture and therefore more tenderness. In case you don't have time to boil it, soak the corn in boiling water for a few minutes before grilling.
Can you overcook corn on the grill?
Like any recipe, the grilled corn recipe can be overcooked if the steps are not followed properly. Keep in mind, that you have to check on the corn and if the kernels begin to pull away from the tip of the ear, it means the corn is ready.
Cooking it extra time will result in tougher, chewier, and sometimes mushier kernels.
Recipe Tips:
We always buy corn in the husks and also make sure it is fresh and not too old and tough.
Also, make sure to preheat the grill first.
Equally important is to make sure to clean the corn ears before cooking.
Remember to always keep an eye on it and check on it every 5 minutes while cooking. That is about 3 times in 15 minutes. This is to prevent overcooking it. Also, make sure to turn it frequently, for uniform cooking.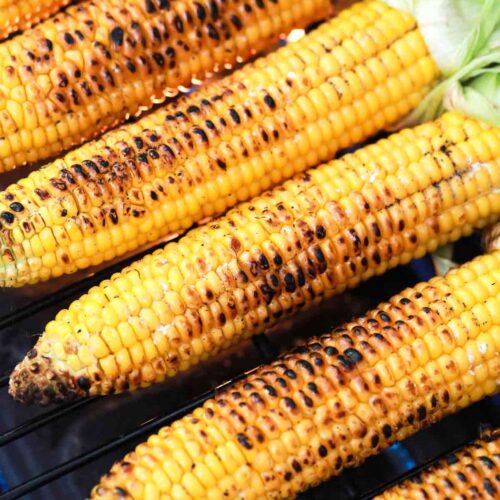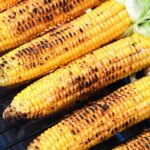 Grilled Corn Recipe
Nothing screams summer like grilled corn on the cob! Charred to perfection, it makes the best side dish, snack, or appetizer.
Course:
Appetizer, Side Dish
Keyword:
Grilled Corn Recipe
Ingredients
8

ears of corn

2

tablespoons

olive oil

or canola oil

Kosher salt and freshly ground black pepper

to taste

1/2

cup

unsalted butter

at room temperature

1

teaspoon

smoked paprika

1/4

cup

crumbled cotija cheese

or blue cheese
Instructions
Preheat the grill to medium-high heat.
Prep the corn:
Peel back the husks from the corn ears, leave them attached at the base of the ear only. Remove and discard the silks. After that, rinse and pat dry the corn with a paper towel.

Brush with oil and season with salt and pepper, to taste.
Grill:
Arrange the corn on the grill, cover, and cook, turning it occasionally, for about 15-20 minutes. It should be nicely charred and tender.
Serve:
Peel down the inner husks and top with the butter, smoked paprika, and crumbled cheese.
Nutrition Facts
Grilled Corn Recipe
Amount Per Serving
Calories 223
Calories from Fat 153
% Daily Value*
Fat 17g26%
Cholesterol 35mg12%
Sodium 68mg3%
Potassium 255mg7%
Carbohydrates 17g6%
Protein 4g8%
Vitamin A 666IU13%
Vitamin C 6mg7%
Calcium 29mg3%
Iron 1mg6%
* Percent Daily Values are based on a 2000 calorie diet.