Honey Garlic Salmon Recipe
Honey Garlic Salmon is a fast and easy recipe that is just as delicious as it is healthy. Made with tender salmon, in a flavorful honey garlic sauce, this is a tasty family meal ready in less than 30 minutes. Packed with Asian flavors, this dish can be served with white rice, brown rice, or noodles.
If you and your family enjoy this recipe, you may want to try Honey Chicken or Honey Lemon Garlic Chicken for dinner next. Chicken is a mild meat that absorbs any flavor you add to it to make a succulent entrée that will make your whole family ask for seconds. Sweet and Spicy Chicken is another great dish and all these recipes can be done in less than 30 minutes.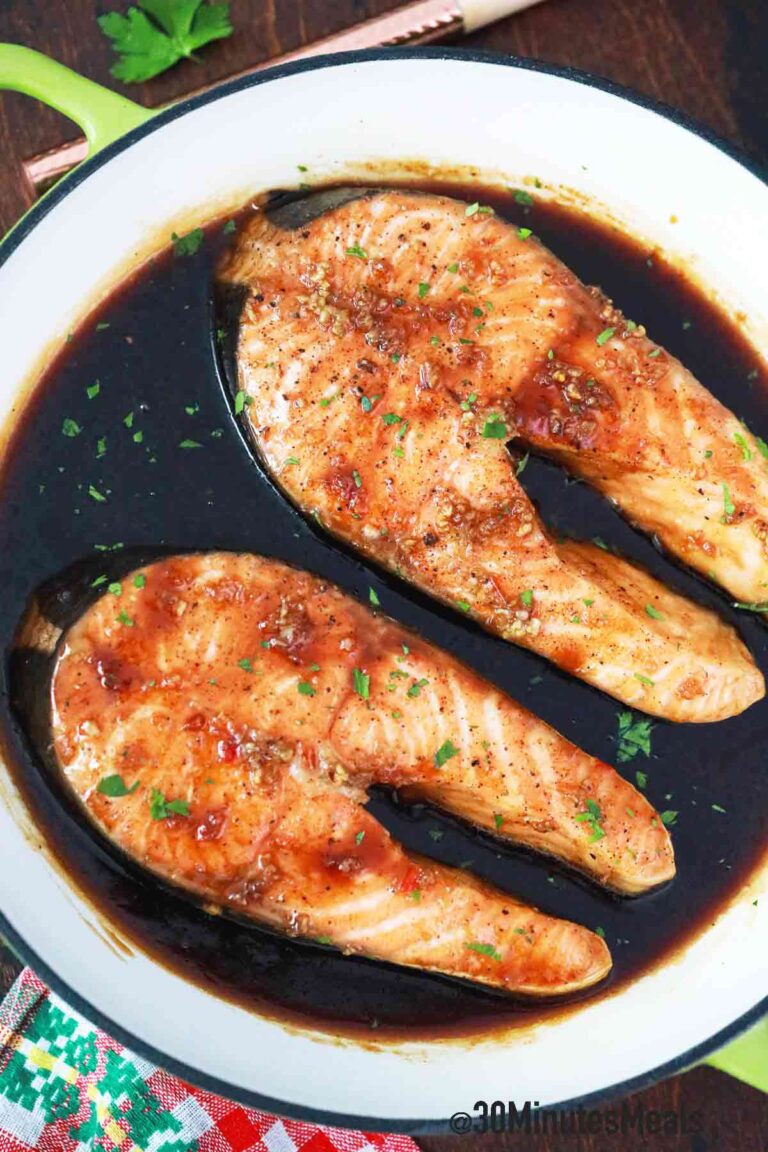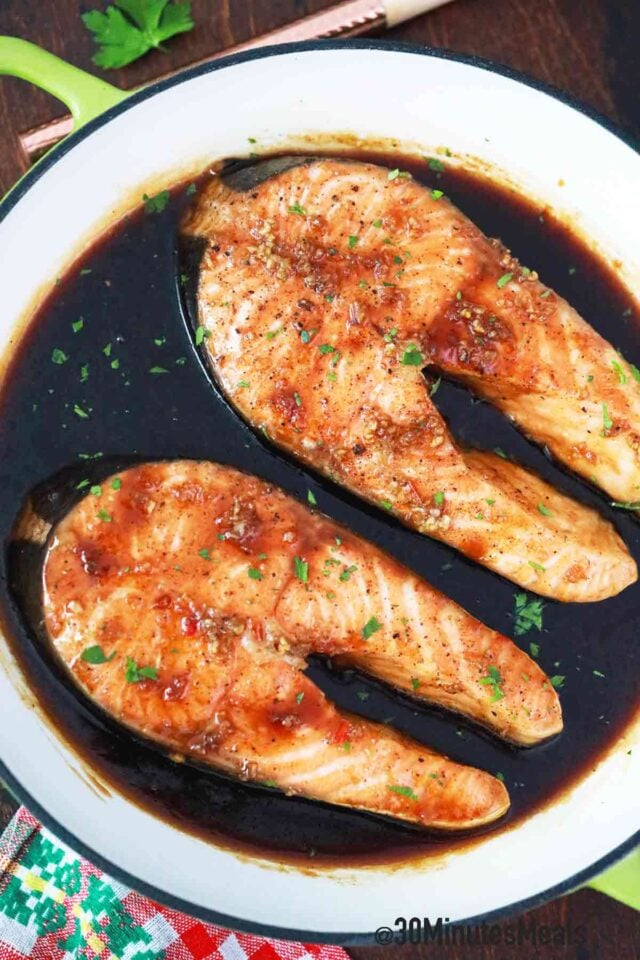 Honey Garlic Salmon Steaks Recipe
With tons of vitamins and very little fat, salmon is one of the healthiest foods you can eat, and with this recipe, it will still be just as healthy as cooking it without anything on it. The baked-in honey, brown sugar, and garlic flavors give it a unique taste any family loves.
This easy salmon recipe will quickly become your favorite way to cook this fish. This may end up being your family's favorite weeknight dinner. The sweetness of the sugar and honey and tanginess of the lemon juice mixed with the spiciness from the chili sauce gives it a burst of amazing flavors in every bite.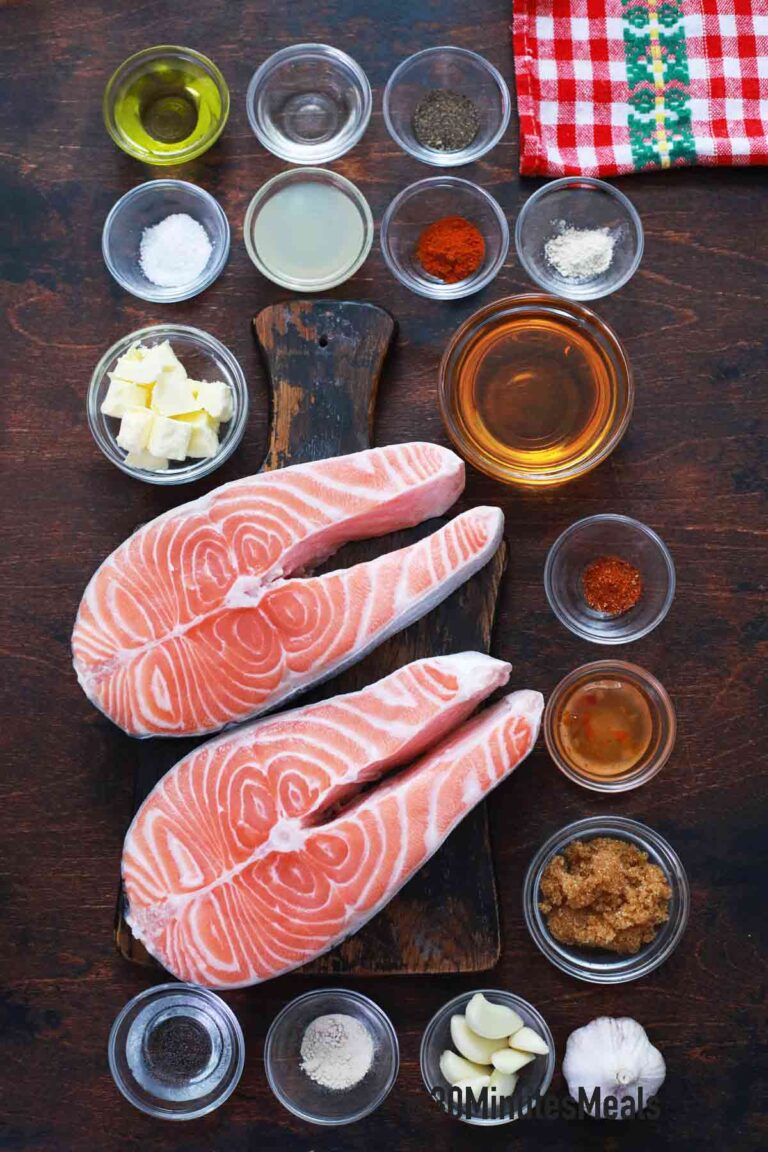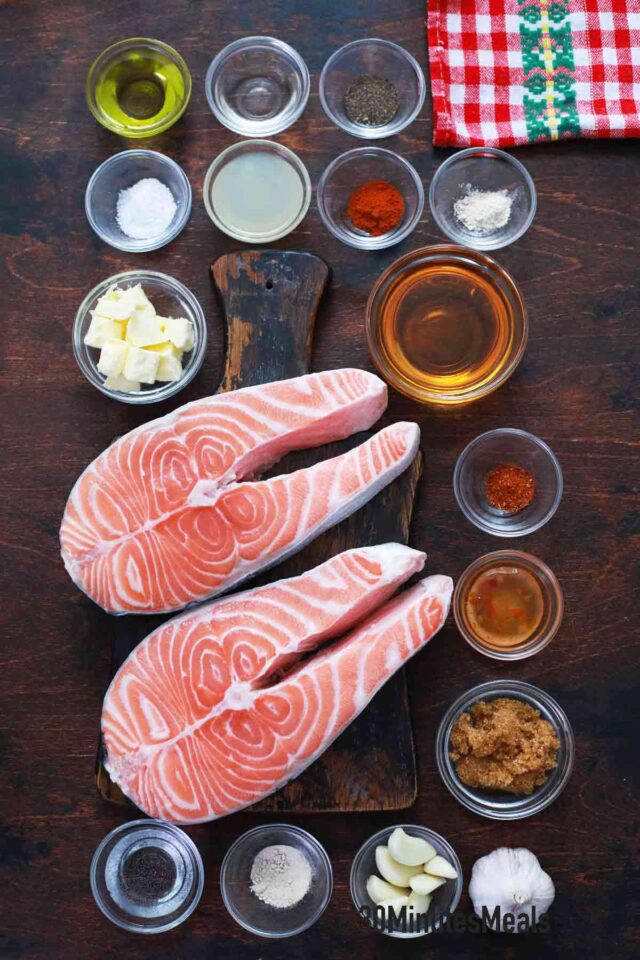 Ingredients needed:
You will need just a handful of simple ingredients to make this quick weeknight dinner. Scroll down to get the exact directions and measurements from our handy recipe card. But here are the ingredients you will be needing:
You will need the following ingredients for the Salmon Steaks:
Fresh Salmon steaks: About six ounces each. Also, we prefer Atlantic salmon. Sockeye salmon works just as well.
Paprika: We used smoked paprika for a smoky flavor.

Kosher salt and pepper: Season to taste.
Garlic powder: Or you can use fresh garlic.
Onion powder: Just a touch.
You will need the following ingredients for the Honey garlic sauce:
Butter: Unsalted and room temperature.
Olive oil: Virgin or extra virgin are both fine.
Garlic cloves: Minced yourself or store-bought.
Brown sugar: Light or dark will do.
Honey: Homemade or store-bought.
Soy Sauce: Also, homemade or store-bought.

Vinegar: We used rice vinegar, but you can use apple cider or white vinegar too.

Lemon juice: Freshly squeezed or from a bottle.

Lime juice also tastes great in this recipe.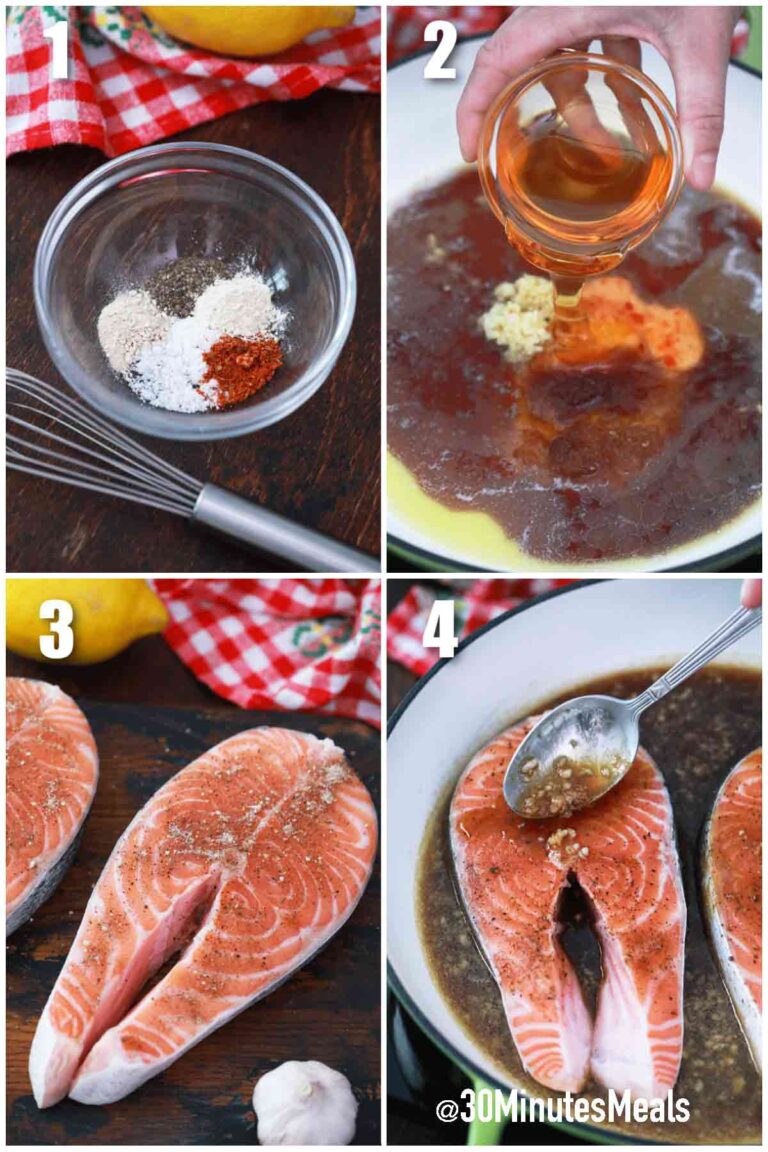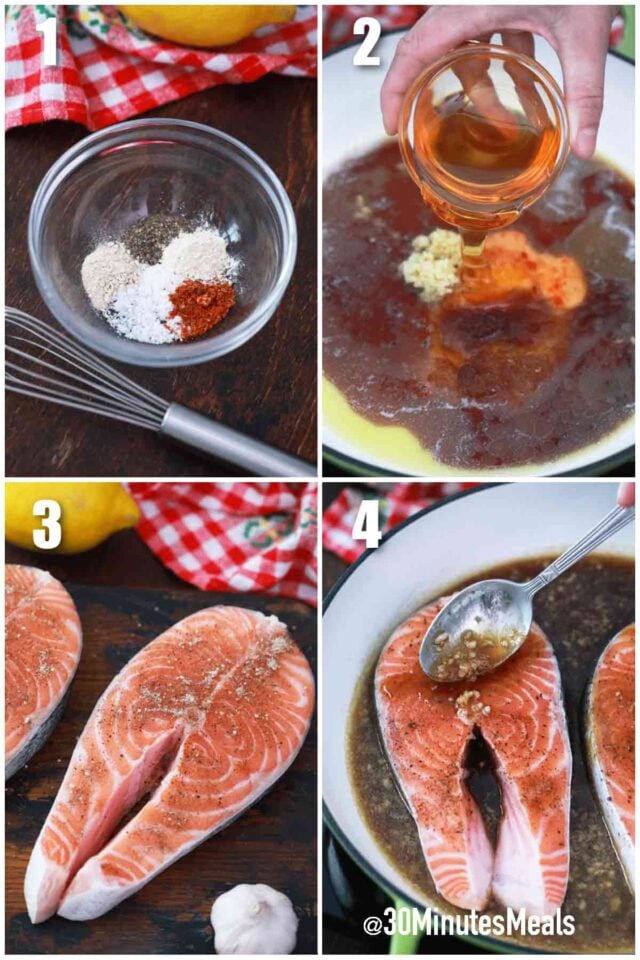 Making one pan honey garlic salmon from scratch:
Prepare: First, pat the fish steaks dry with paper towels on both sides.

Mix: Then, combine onion powder, garlic powder, blackening seasoning, paprika, salt, and pepper.

Rub: After, season the fish on both sides by rubbing the mix into it gently.

Preheat: Before preheating the broiler, move the oven rack to the middle.

Make the sauce: Meanwhile, heat a large skillet or cast-iron skillet over medium-high heat and add the oil and butter to the hot pan.

Honey Garlic Glaze: Once the butter is melted, add the garlic, lemon juice, sugar, soy sauce, honey, chili sauce, vinegar, and a bit of water in a small bowl before moving it to the pan. Cook for 1 minute while stirring to heat the sauce all the way through.

Cook: Next, put the salmon skin side down in the pan and cook, basting it often with the sauce.

Broil: Finally, put the whole skillet in the oven to broil the salmon for about five minutes until the fish is caramelized and flaky.

Garnish: Add some green onions, mint, or parsley.
Recipe variations:
Heat it up: If you want more spiciness, add jalapenos, red pepper flakes, or cayenne pepper to the sauce.
Make it sweet: Alternatively, add more sweetness with white sugar or maple syrup.
Make it tangy: As an option, stir in a tablespoon of apple cider vinegar to add some tanginess to the dish.
Instead of lemon juice: Other fruit also tastes great with salmon like cherry juice, orange juice, or add some peach or lemon extract.

Other seafood: As an alternative make this simple recipe using trout, tilapia, or mahi-mahi. Also, instead of steaks use juicy salmon fillets.
Other meat: Instead of fish, try chicken, beef, or pork.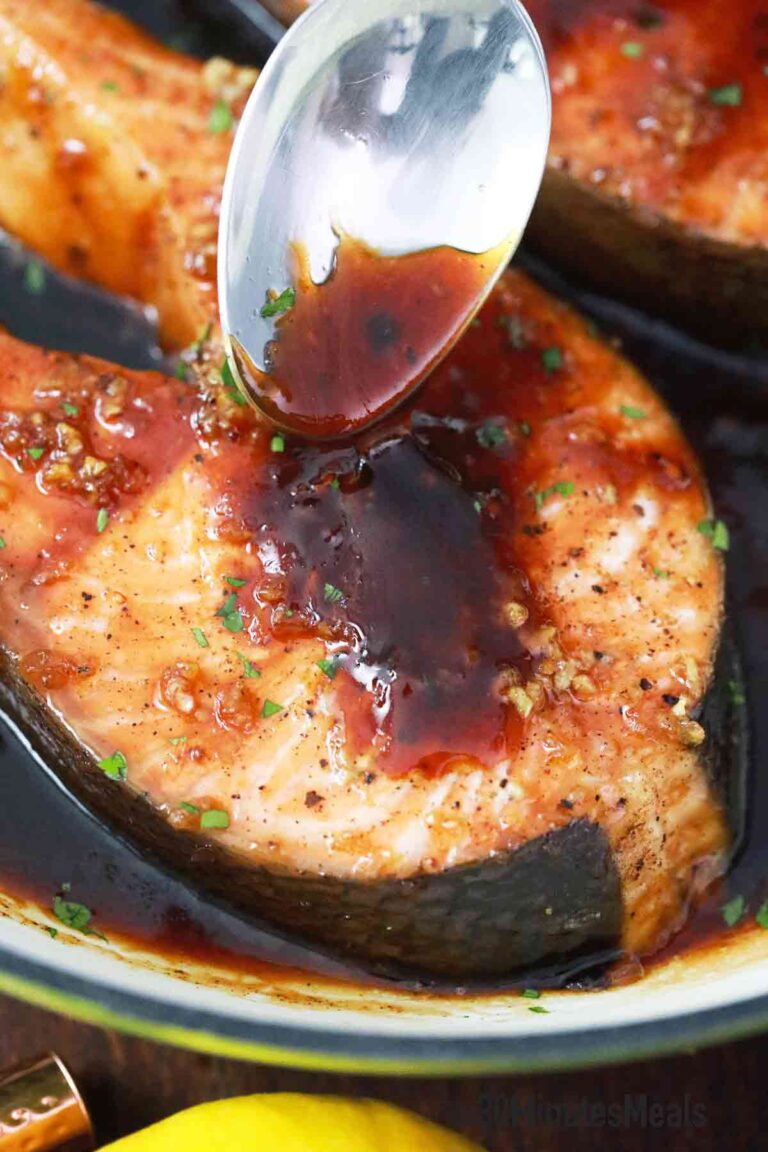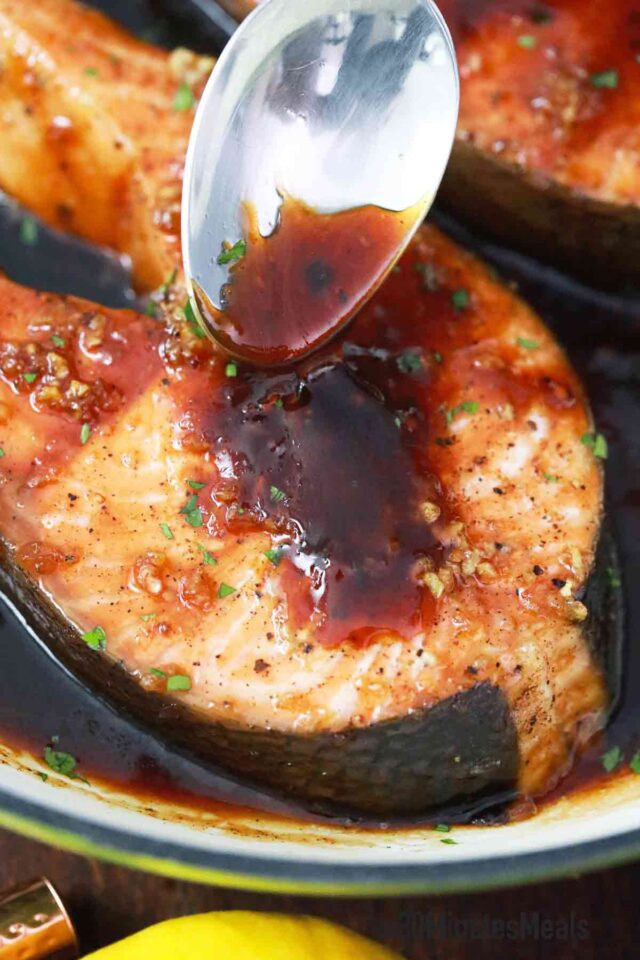 How to serve:
You should serve this salmon dish right out of the oven with a garnish of parsley, mint, or green onions. Here are some other serving ideas:
In addition, you can flake the fish and use it on a baguette or homemade bread.

Serve on a bed of chicken pesto pasta with this easy recipe.

Similarly, lay the steaks on top of this healthy sauteed cabbage.
This dish is perfect with a glass of chilled red or white wine.

Salmon also goes great with this green beans with bacon recipe.
Or break out the air fryer and serve the fish with this tender asparagus.

Also, serve this delicious salmon recipe with your favorite veggies.
As an alternative, to keep this healthy dinner light, serve it with cauliflower rice or a simple salad on the side.
Frequently asked questions
How can I make the salmon taste less fishy?
Salmon is one of the healthiest foods you can eat with omega-3 fatty acids, which are important fats for your heart and brain. It is also full of vitamin B, selenium, copper, protein, and iron. And it is low in calories as well.
However, some people do not like the fishy taste that salmon can have. But there are some ways to get rid of that harsh taste. First, the best way is to marinate in milk for about 20 to 30 minutes. You can also squeeze lemon on it, make a dill sauce with yogurt, or use this delicious recipe.
How long should I marinate salmon?
Some of the most popular marinades include lemon, olive oil, red wine vinegar, brown sugar, or seasonings like rosemary, parsley, and basil. No matter what you use for the marinade, you should soak it for at least 20 minutes but not longer than an hour. If you marinate it too long, it can break down the fish and make it mushy.
What is the best way to cook tender and juicy salmon?
Whichever way you cook your salmon, it will taste delicious but there are certain ways that are more popular than others. For example, poaching it in olive oil may be the least common but it often yields the best-tasting fish. The problem with this is that you may have to use a lot of oil and it can be a messy experience.
The sous vide cooking method is the most popular with many because cooking it in a sealed bag holds in all the juices and flavors that you add to the marinade. You do not have to watch it constantly and can just toss the bag into a pot of water while you prepare the side dishes.
The easiest way to cook salmon is by wrapping it in parchment paper and baking it for less than 15 minutes. It is super easy, fast, and not messy at all. Pan-frying and slow roasting are also popular and common ways to cook salmon with no worries.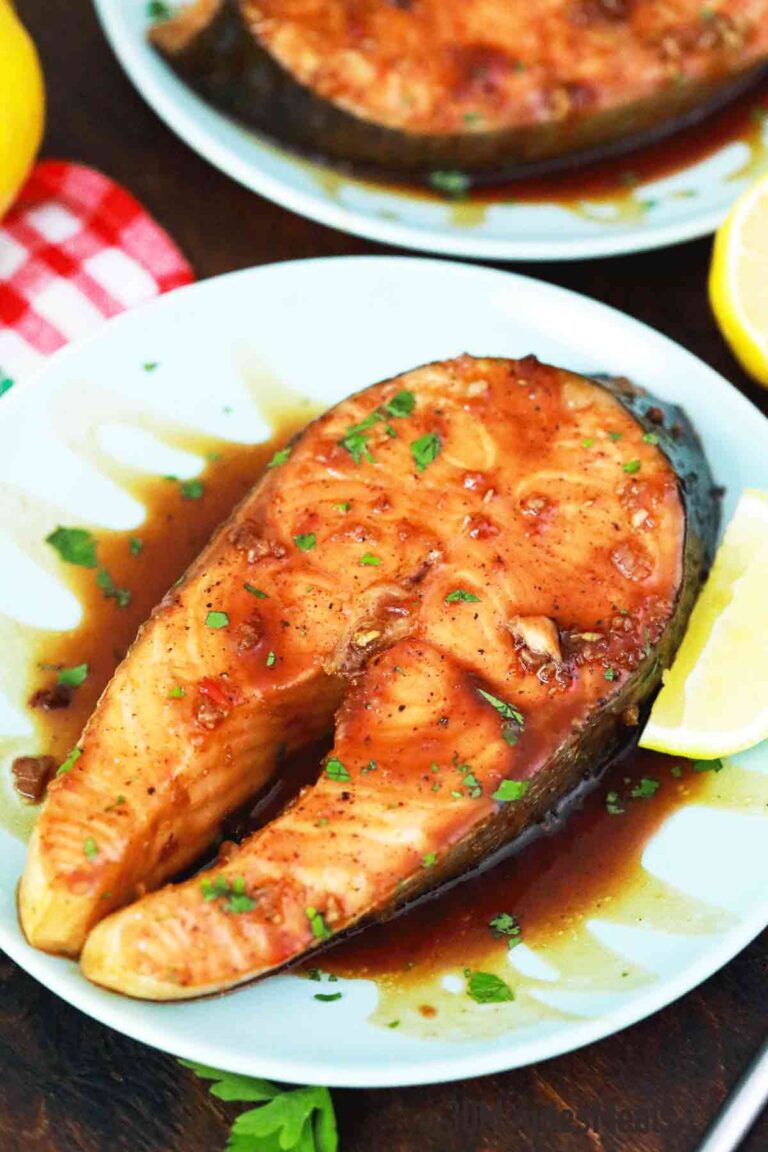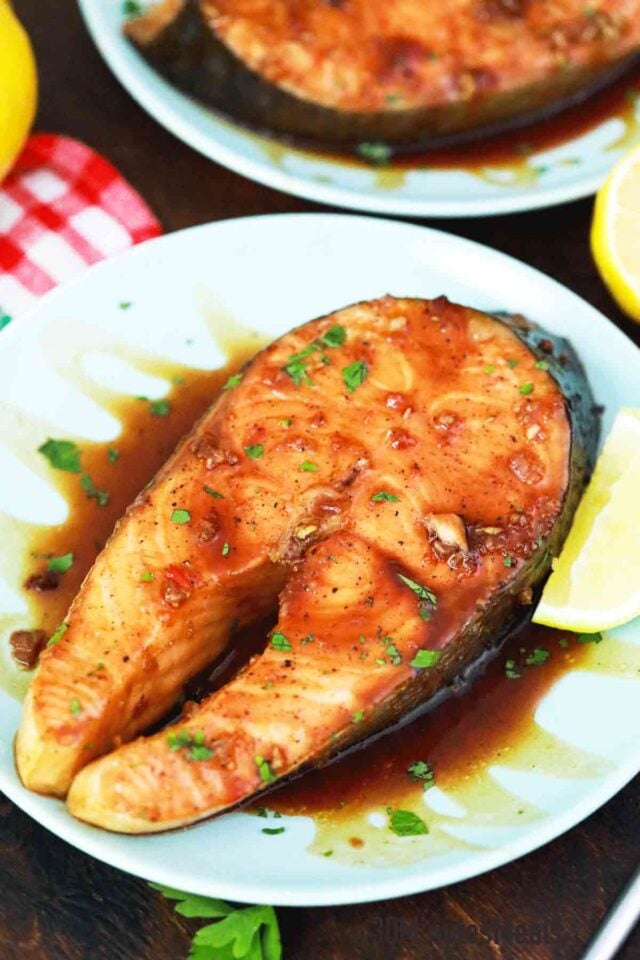 How to store leftovers:
Store: Salmon can be stored in the fridge in an airtight container for up to three days.

Freeze: Freezing is not recommended because the texture will be rubbery when you thaw it out.

Reheat: Either reheat fillets in a skillet over medium heat or in the microwave.
Recipe tips:
You can use frozen salmon if you do not have fresh but make sure it is completely thawed before cooking.

Sprinkle the salmon with salt on the skin side to keep it from sticking.

Make sure the skillet you are using is oven and broiler-safe, so you don't have to transfer the fish to another pan. A cast-iron skillet is perfect for this.
If you are on a paleo diet, use liquid coconut aminos or tamari sauce instead of soy sauce.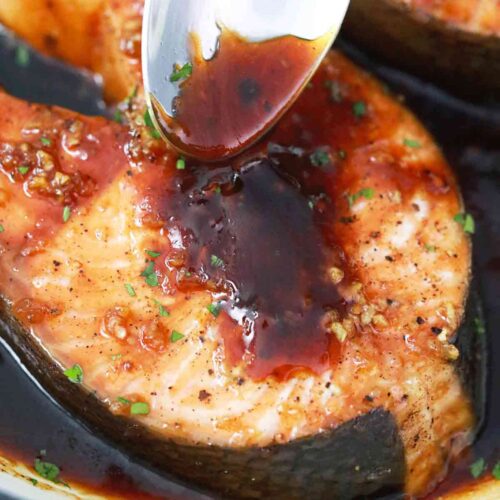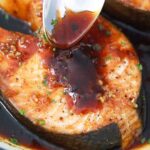 Honey Garlic Salmon Recipe
Honey Garlic Salmon is made with tender salmon, in a flavorful honey garlic sauce, this is a tasty family meal ready in less than 30 minutes.
Cuisine:
American, Asian, Chinese
Keyword:
Honey Garlic Salmon
Ingredients
Seasoning:
1/2

teaspoon

paprika

4

6oz each

salmon steaks

1/2

teaspoon

kosher salt

1/2

teaspoon

black pepper

1/2

teaspoon

garlic powder

1/3

teaspoon onion powder
Honey Garlic Sauce:
3

tablespoons

unsalted butter

1

tablespoon

olive oil

6

cloves

garlic

minced

1

tablespoon

brown sugar

1/3

cup

honey

2

tablespoons

water

4

tablespoons

soy sauce

1

teaspoon

rice vinegar

1

tablespoon

lemon juice
Instructions
Seasoning:
Pat dry the salmon steaks using paper towels.

In a small bowl combine salt, pepper, paprika, garlic powder, and onion powder.

Gently rub the seasoning into the fish. Set aside.

Adjust the oven rack to the middle position, and turn on the broiler.
Honey Garlic Sauce::
Place a large oven-safe skillet or cast iron pan over medium-high heat.

Add the butter and oil, and stir to melt the butter. Once melted add garlic, brown sugar, water, soy sauce, vinegar, honey, and lemon juice. Stir and cook the mixture for 1 minute, or until heated through.
Cook the Salmon:
Add the fish steaks to the skillet and cook for about 3-5 minutes, basting it with the sauce from time to time.

After that, transfer the pan into the oven and broil for another for 5 minutes, also basting the fish a few times.

Broil until the top of the steaks are caramelized and cooked to the preferred doneness.
Serve:
Garnish with chopped green onions and serve.
Nutrition Facts
Honey Garlic Salmon Recipe
Amount Per Serving
Calories 803
Calories from Fat 594
% Daily Value*
Fat 66g102%
Cholesterol 246mg82%
Sodium 5329mg232%
Potassium 1769mg51%
Carbohydrates 118g39%
Protein 66g132%
Vitamin A 1664IU33%
Vitamin C 12mg15%
Calcium 119mg12%
Iron 5mg28%
* Percent Daily Values are based on a 2000 calorie diet.