Irish coffee is a cocktail made of freshly brewed coffee, whiskey, maple syrup, and topped with whipped cream. If you are looking for a great drink to enjoy during the Christmas holidays, and St. Paddy's Day, this is the best one to go!
This easy and classic cocktail is definitely one of my favorites to enjoy during the holidays. Feel free to pair it with Chocolate Turtel Apples, Chocolate Dipped Strawberries, and Mint Mousse.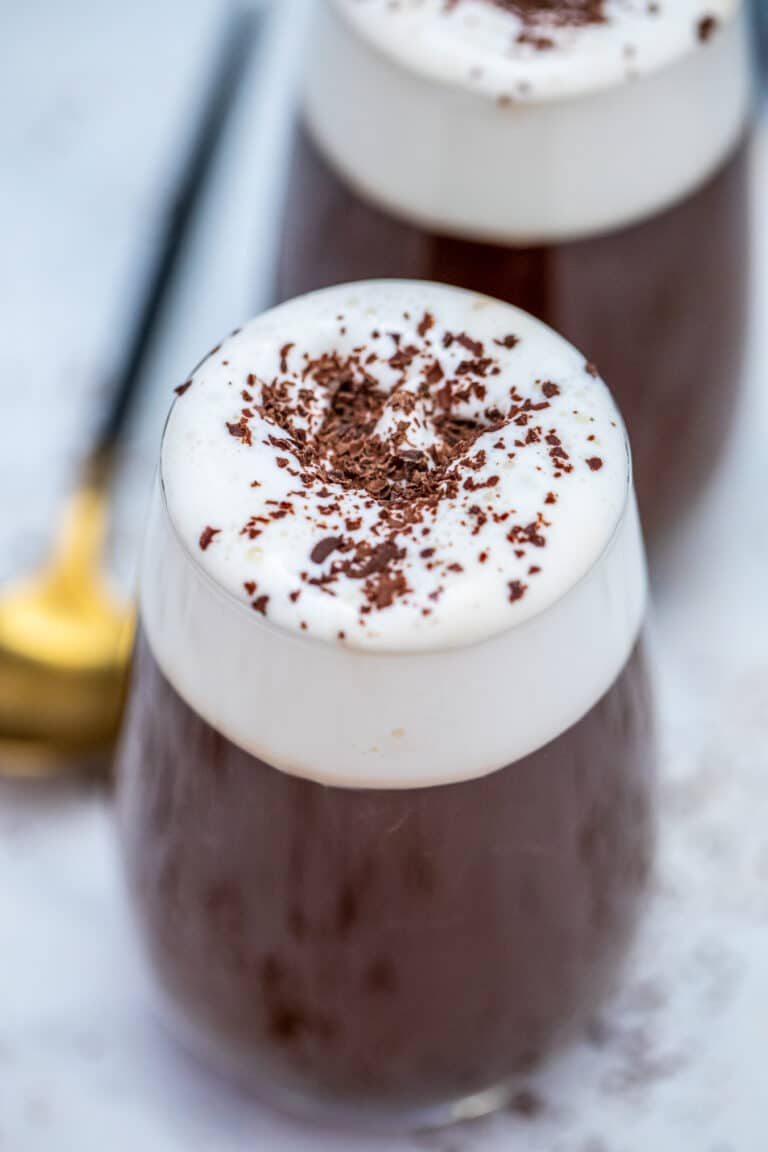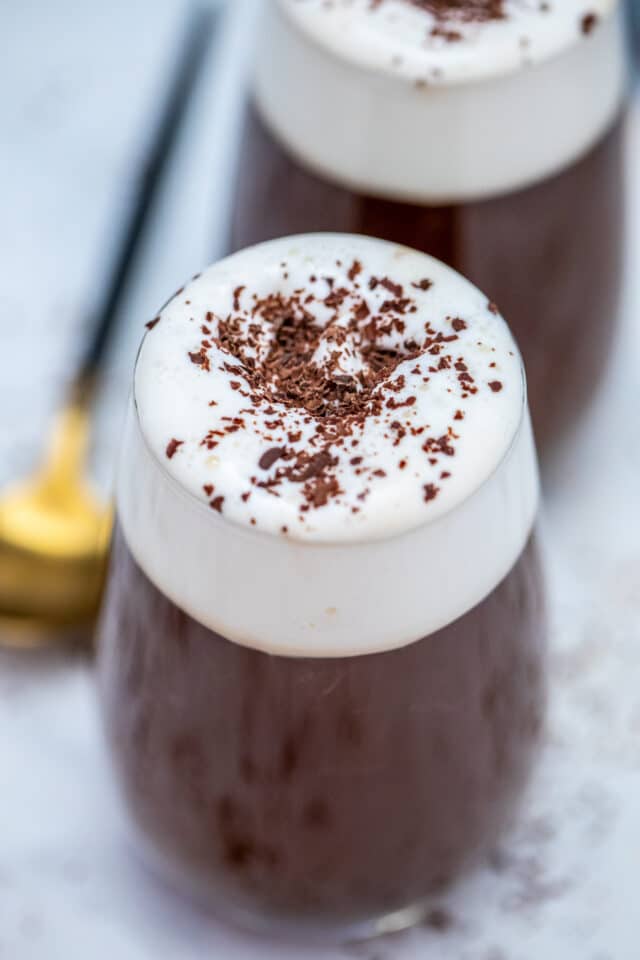 The Best Irish Coffee Recipe
I think a lot of people (including myself) became familiar with Irish Coffee for St. Patricks Day. This is definitely one of the main cocktails to celebrate this special day. However, it is quite popular to enjoy it on ant other occasions. Feel free to make it for Thanksgiving, Christmas, Valentine's Day, or birthday party.
Also, it is quite easy to prepare. All you need is just four ingredients: hot coffee, Irish whiskey, sugar, or honey, and whipped cream. You can adjust the sweetness as you like. Usually, this cocktail is served on a sweeter note in the restaurants, but this can be easily adjusted.
The main secret to this recipe is to use good quality coffee. I usually try to get the best brand, and medium to dark roast. It will make the flavor so much better and super aromatic. The rest is pretty simple. Learn how to make it at home, and you are guaranteed to save a lot of money!
Why is it called Irish coffee?
The classic Irish coffee dates back to almost 100 years ago. From the mid 19th century, it was served in a glass, topped with whipped cream. The drink was born on a typically stormy winters night on the wild west coast of Ireland in 1942.
Nowadays, is a very popular drink, and served pretty much all over the world.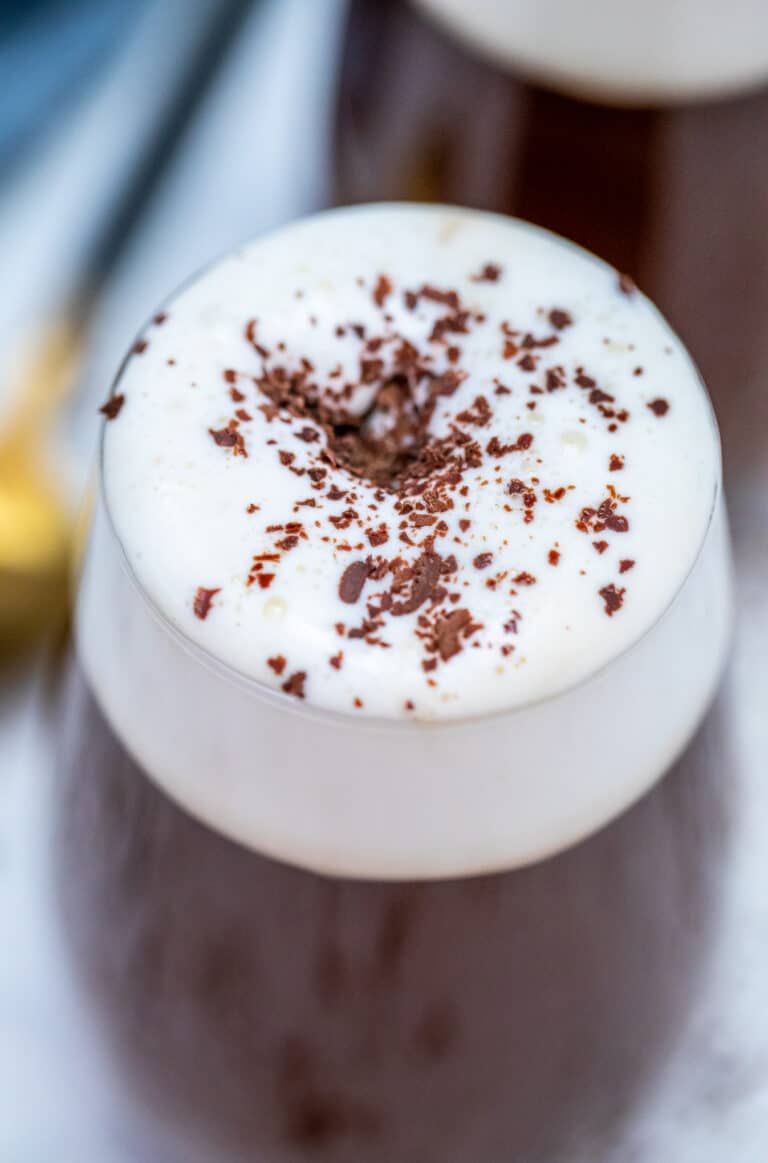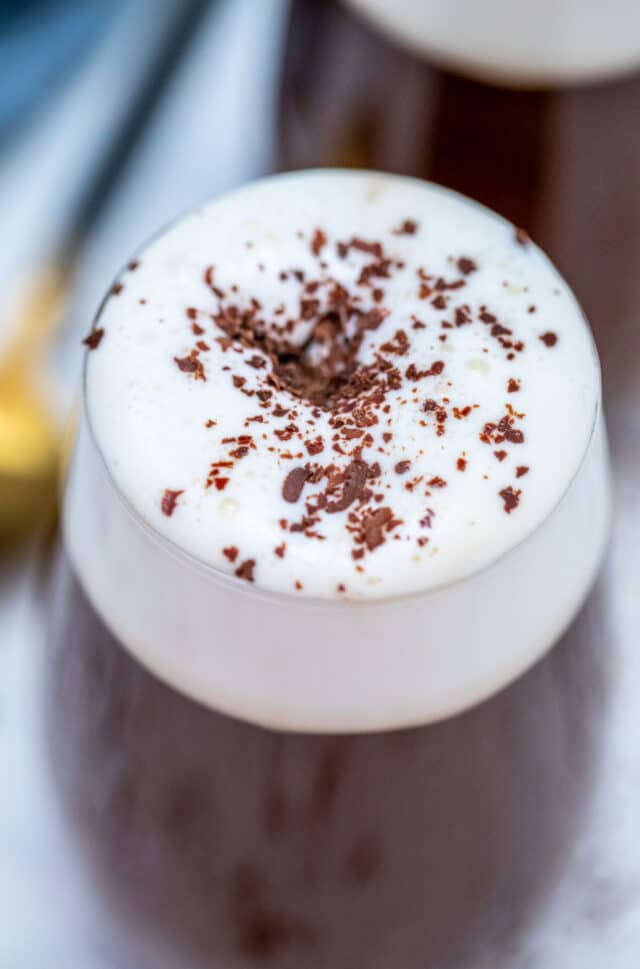 When should I drink Irish Coffee?
Obviously, this is a popular recipe to enjoy during st. Patrick's Day! However, drink it whenever you feel like it! Because it is made with warm coffee and whiskey, this will warm you up quite easily.
So, if you are looking for a special cocktail to warm your soul during colder days, with some Irish history to it, then this is definitely the recipe to go with.
Irish Coffee Ingredients:
You will need the following ingredients to make it:
Whiskeys such as Jameson, or any rum type
Maple syrup or sugar
Freshly brewed coffee
Whipped Cream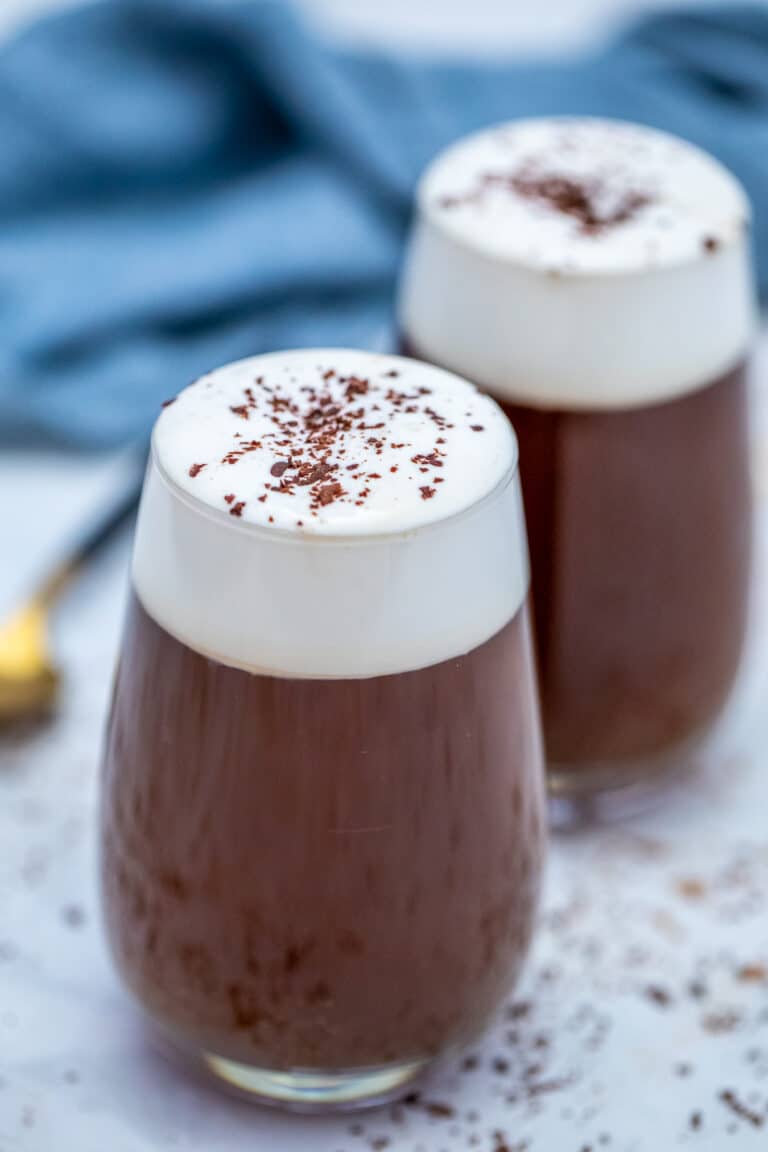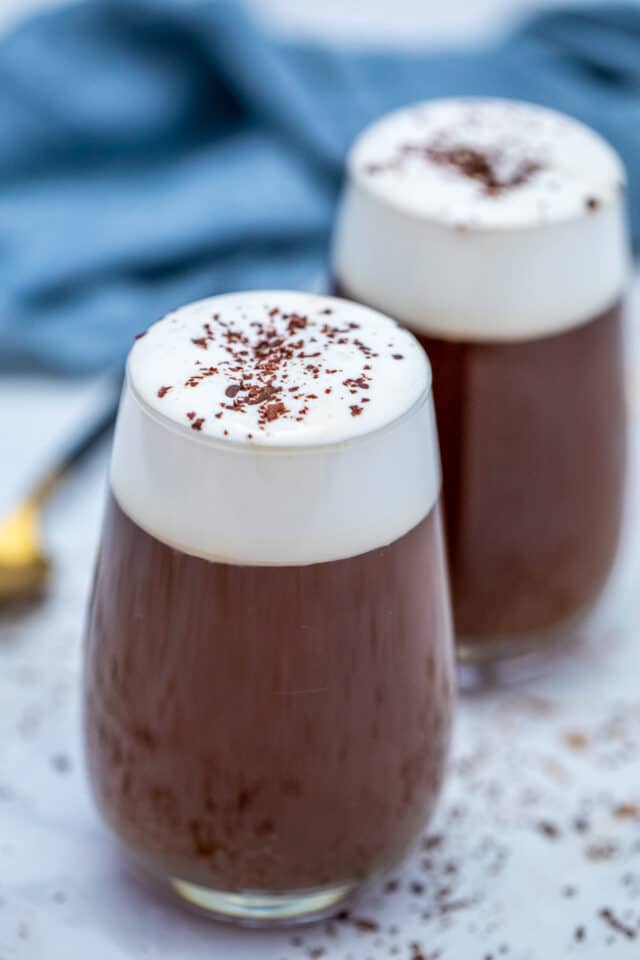 How to Make the Best Irish Coffee?
As stated above, the secret to this recipe is by using the best coffee available. The general steps are as follows:
Brew your favorite coffee. Once brewed, set aside.
Add Irish whiskey to a mug. Feel free to use Jameson or other types. Also, you can use a mug or a regular cup.
Add the sweetness. Here, you can use sugar, brown sugar, maple syrup, or even honey. Just adjust based on your taste.
Pour in the coffee. Next, fill about 3/4 of the mug with coffee and gently stir to dissolve and mix the sugar.
Whisk cream. In a separate bowl, using an electric mixer, whisk the cream until soft. Then, top it over the coffee by gently pouring over it.
Recipe Variations
This drink can be easily adjusted and modified. Although I like the classic recipe as described in this post, you can easily alter it to your taste.
Top it with chocolate or sprinkles. One of my favorite way to enjoy it is with some shaved chocolate on top. Also, sprinkles or other spices, such as cinnamon work perfectly well.
Use other spirits. Substitute whiskey with Bailey's. It is super delicious, and it pairs very well here.
Serve it cold. Though it is mostly served hot, do not hesitate to serve it on ice. This is particularly handy on a hot summer day!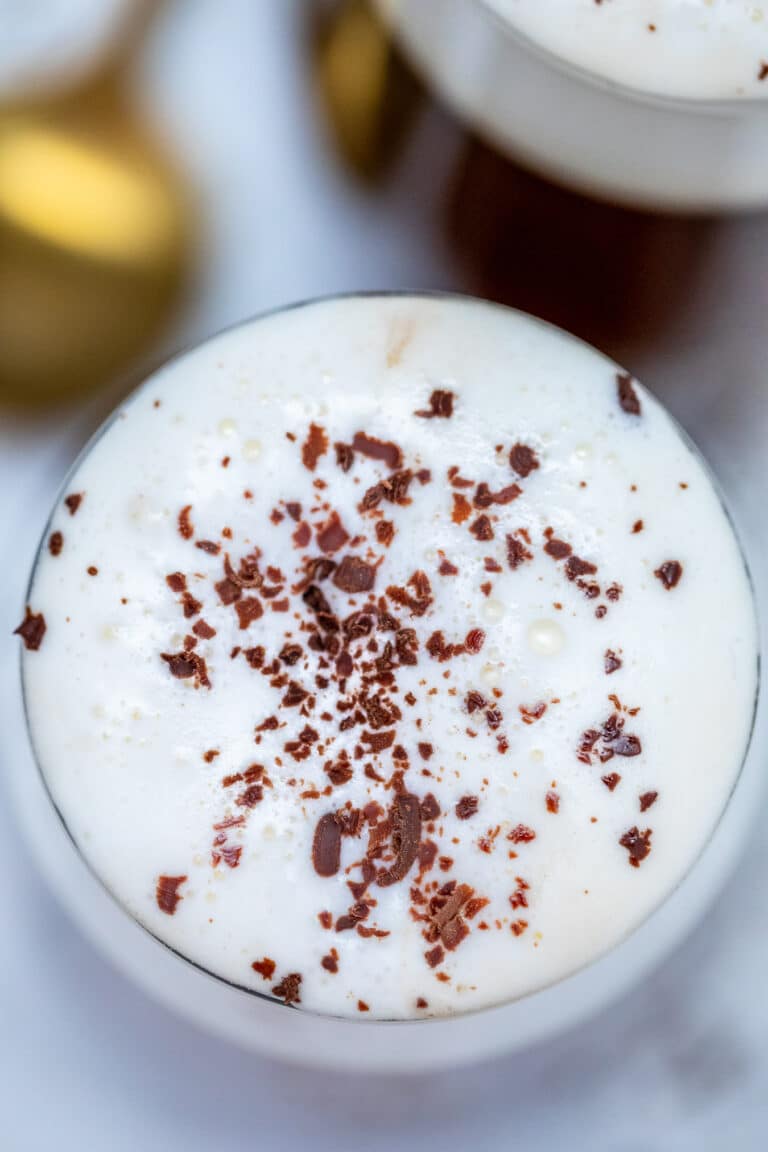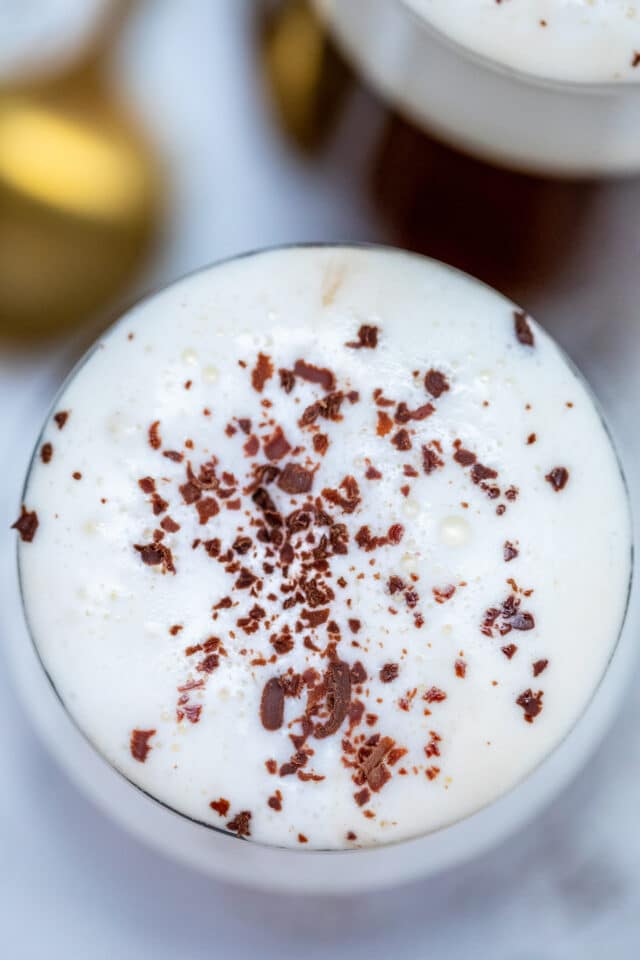 Recipe Tips:
As stated above, go with high-quality coffee. This will certainly make the drink more aromatic, and more authentic. Medium to dark roasted variety works best here.
You can use a decaffeinated version if you prefer.
In addition, use freshly whipped cream. It is super easy to make it at home and is ready in less than 2 minutes. Therefore, I highly recommend doing it at home and topping the drink.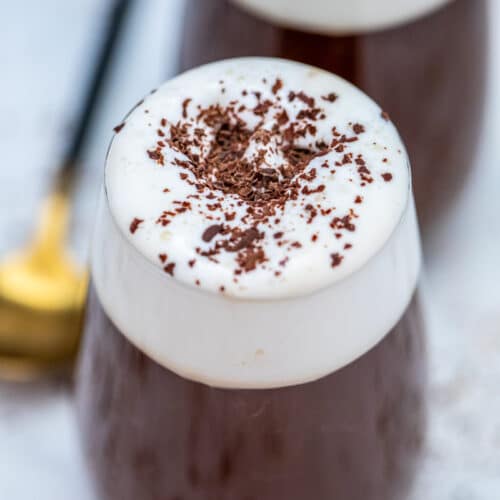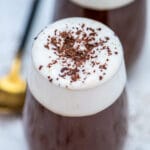 Irish Coffee Recipe
Irish coffee is a cocktail made of freshly brewed coffee, whiskey, maple syrup, and topped with whipped cream. If you are looking for a great drink to enjoy during the Christmas holidays, and St. Paddy's Day, this is the best one to go!
Keyword:
Irish Coffee Recipe
Ingredients
2

tablespoons

maple syrup

or brown sugar

2

cups

brewed coffee

2

oz.

Irish whiskey

1/2

cup

heavy cream

Chocolate shavings

or cocoa powder for garnish
Instructions
In a chilled mixer bowl add the cream and whisk until soft peaks form. The cream should still be soft, but not too liquidy. Set aside.

Add 1 tablespoon of Maple syrup to each mug.

Pour over hot coffee and whiskey and slightly stir to combine.

Top with cream and garnish with chocolate shavings or cocoa powder.
Nutrition Facts
Irish Coffee Recipe
Amount Per Serving
Calories 262
Calories from Fat 198
% Daily Value*
Fat 22g34%
Cholesterol 82mg27%
Sodium 29mg1%
Potassium 206mg6%
Carbohydrates 15g5%
Protein 2g4%
Vitamin A 875IU18%
Calcium 60mg6%
* Percent Daily Values are based on a 2000 calorie diet.