This Lemonade recipe brings back a lot of childhood memories! Quench your thirst this summer with this recipe! It is so easy even kids can do it!
A cool glass of this beverage is always a treat, especially when served with savory dishes! I love serving this with Chicken Marsala, Jalapeno Popper Pasta, and Bacon Philly Cheesesteak Sloppy Joes.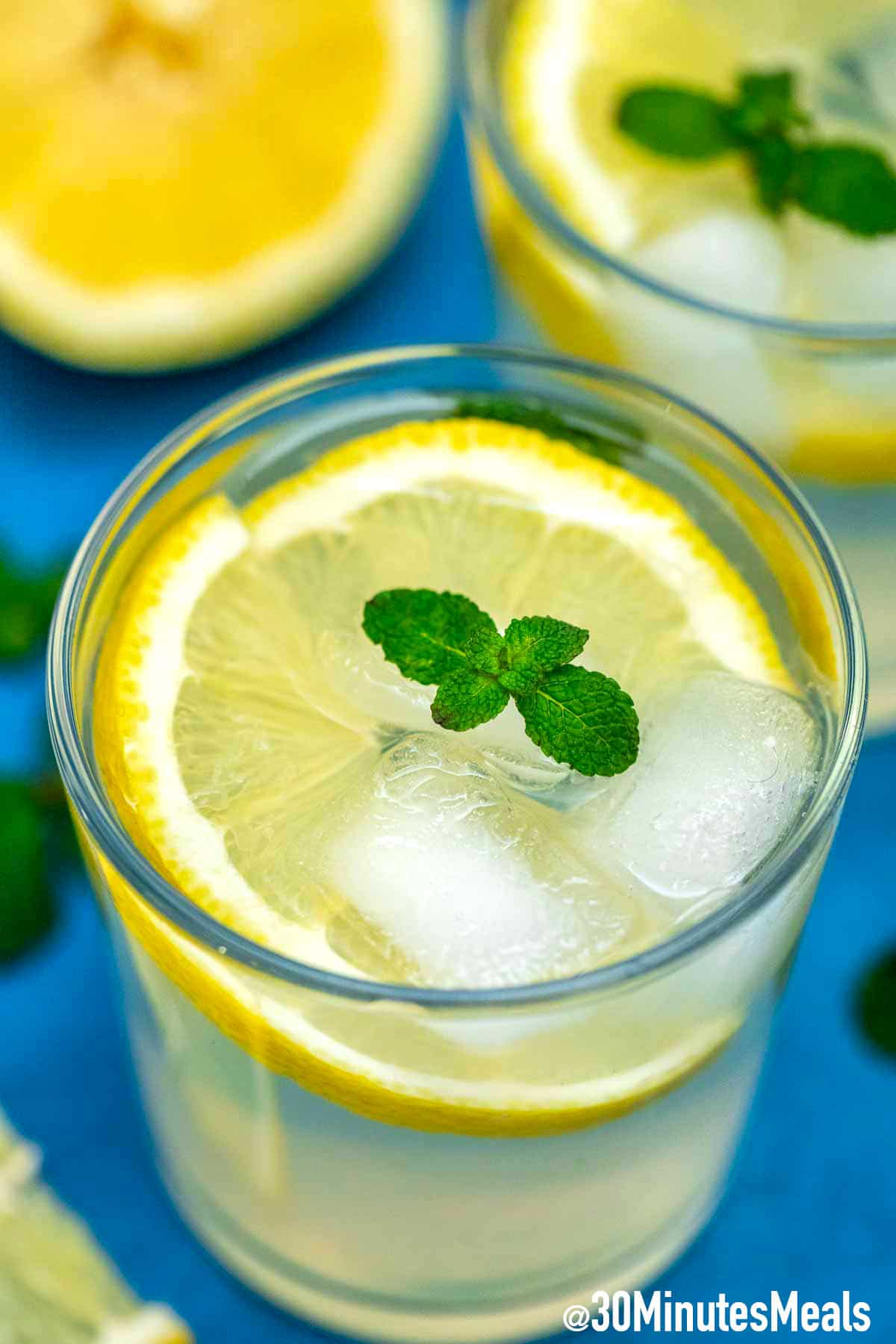 Homemade Lemonade Recipe
Lemonade is the perfect summer drink. Are you having barbecues at home? This pairs well with all the celebrations you are having now!
It is sweet and sour at the same time with a hint of bitterness. Everything is balanced and the freshness from the mint sprigs makes it more thirst-quenching.
What I like about this recipe is that the sugar completely dissolves in the liquid to make the syrup. Hence, the sweetness is even throughout because you get to mix everything well. There are no granules settling at the bottom.
And when serving this to a group, you can let them customize their drink by letting them mix as much syrup and water as they want. So, they get to choose how sweet they want their drink to be.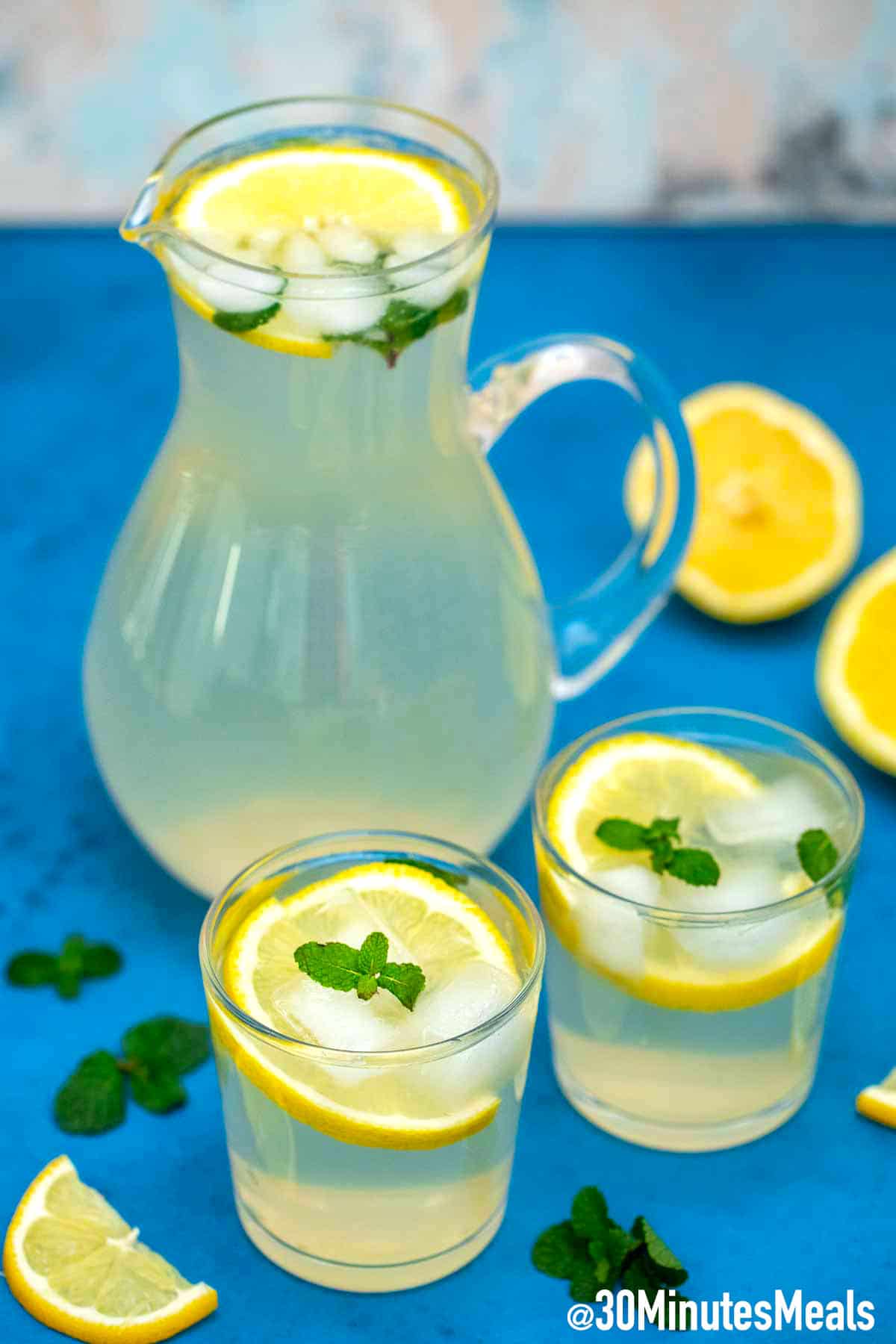 What does lemonade mean?
It is a refreshment that has lemon, sweetener, and water. For this recipe, you can also add mint sprigs to enhance its flavors.
Is lemonade healthy?
It is healthy, too! One fruit contains 51% of your recommended dietary intake of vitamin C. It helps your body combat heart and kidney problems, iron deficiency, and cancer.
Other than that, it has fiber that is good for your digestion. Just make sure to include the pulp to maximize the health benefits of the fruit.
The coolness of this drink and the refreshing taste of citrus makes it the perfect summer drink! Especially during this time, we all need to stay hydrated.
While plain water is enough, it is always a joy when you have something delicious, right? It is also a lot healthier to be able to make your drink from scratch.
Compared with buying commercially available ones, making this at home gives you the control you need to add only fresh ingredients. And you get to customize the level of sweetness. Now, that's another reason to make this recipe!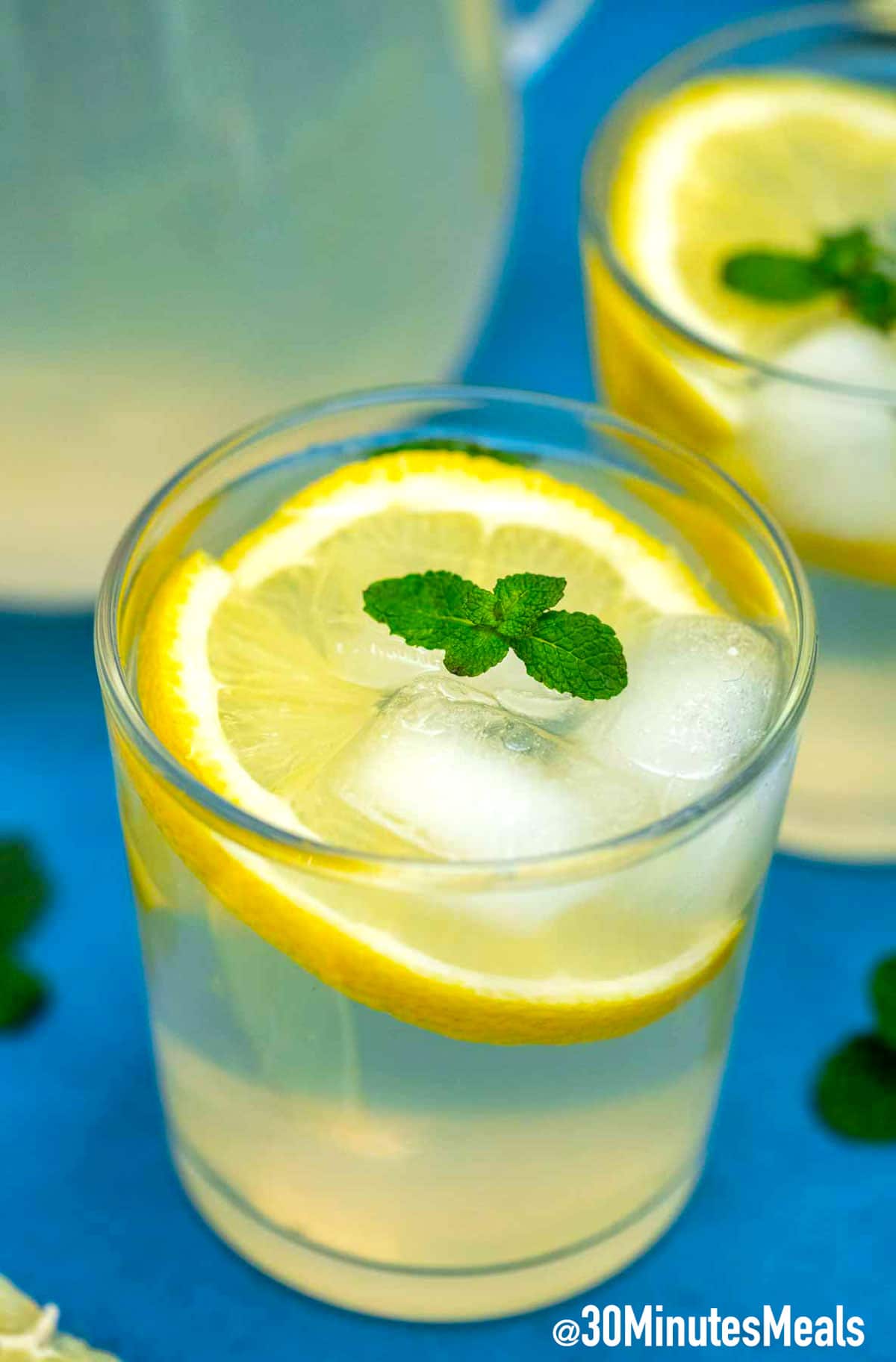 How do you make lemonade from scratch?
Make the syrup: In a saucepan, combine all the ingredients except for the citrus. Allow the mixture to simmer over medium heat until the sugar dissolves. Then, let the mixture cool and remove the leaves.

Mix: In a pitcher, mix everything including the syrup. Add the water last. Put in 2 cups first and taste. If it tastes too sweet, put in some more water to dilute.

Chill: Garnish and put ice in it then refrigerate for 30 to 60 minutes. Garnish and serve cold.
How long does homemade lemonade last?
It lasts for about 7 days. Just keep it refrigerated!
How to store fresh lemonade?
Put it in an airtight container in the fridge but remove the fruit slices and mint sprigs first. Just replenish with fresh ones when you are serving it again.
More delicious drinks:

Recipe Tips
When adjusting the sweetness, take into consideration that you will ice later that can dilute the drink further. You can also make ice cubes out of the lemonade. These will dissolve in the water without affecting the taste.

As a sugar or honey substitute, you can add stevia instead. Make sure to add small amounts of it until you get the desired sweetness.

If you want to store a concentrate, put the syrup with lemon juice in an ice tray. Then, put it in the freezer for later use.

You can combine other fruits in it just like blueberries, strawberries, watermelon, and lychee.

If you can take the heat, you can also make it spicy! Add ginger and cayenne as you make the syrup.

Replace some of the water with club soda to make it fizzy!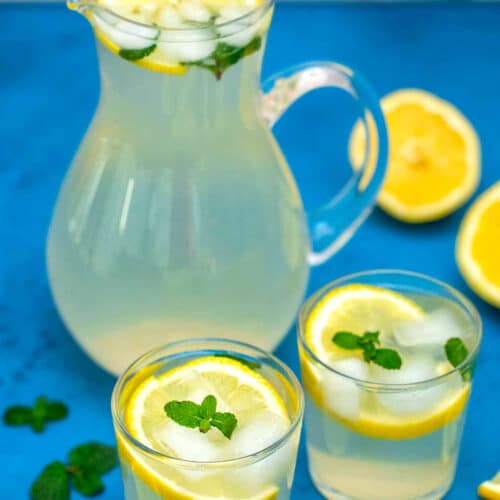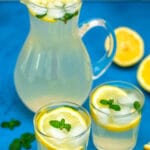 Lemonade Recipe
This Lemonade recipe
brings back a lot of childhood memories! Quench your thirst this
summer with this recipe! It is so easy even kids can do it!
Ingredients
1

cup

white granulated sugar

or less, honey or maple syrup work too

1

cup

water

1

cup

lemon juice

from about 6 large lemons

3

cups

cold water

1

lemon

washed and sliced

6

mint sprigs
Instructions
Add sugar, mint sprigs and 1 cup of water to a small saucepan over medium heat and bring to a simmer. Simmer until the sugar dissolves completely, remove from heat and set aside.

Cool syrup to room temperature and discard the mint sprigs.

In a pitcher combine: lemon juice, simple syrup, and cold water stir well. Add first two cups of water, taste, and if the mixture is too sweet add more water, making it as diluted as you prefer.

Add the sliced lemon and to the pitcher, refrigerate for 30-60 minutes.

Serve with ice, lemon slices, and fresh mint leaves if desired.