Ranch Bacon Pea Salad is the perfect summery side dish. Made with creamy ranch, lots of blue cheese and delicious, crispy bacon.
This easy side is a welcome salad at any potluck and perfect served next to Garlic Scallops, Taco Tortilla Roll Ups, and Baked Lemon Thyme Chicken.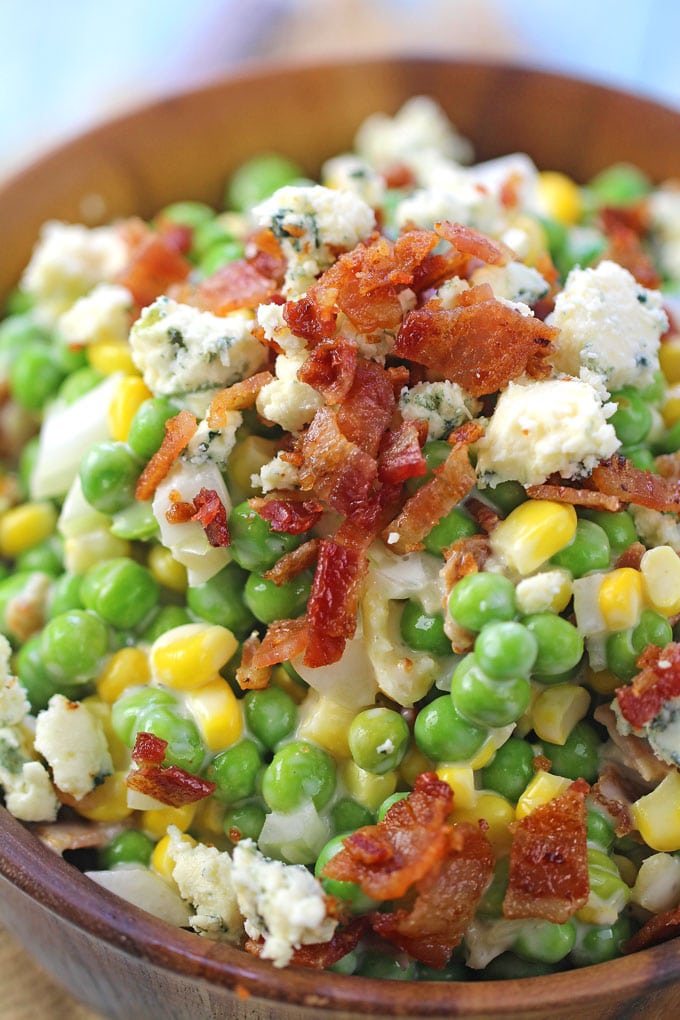 The Best Bacon Peas Salad
Ranch Bacon Pea Salad is a classic American salad that is creamy, crunchy and bursting with flavor. There are many ways how to make this dish. I prefer mine with sweet corn and blue cheese, which is a slight deviation from the classic pea salad made with cheddar cheese and no corn.
The corn adds a nice pop of color and the blue cheese adds a nice flavor. I love a good creamy salad, and I am actually a huge fan of mayo-based salads, but this time I decided to use zesty ranch salad dressing.
Crispy bacon is mixed into the salad and also sprinkled on top, and the combo of creamy, salty, crispy and sweet will make everyone ask for seconds. The perfect dish to enjoy at potlucks, barbecue parties, or as a delicious side dish!
Do You Have to Cook Frozen Peas for Salad?
As a general rule, you do not have to cook frozen peas before making the peas salad. Most frozen veggies in the USA have been already blanched prior to freezing. Therefore, they are already "quickly cooked' and safe to eat.
For this recipe, I recommend going with frozen baby sweet peas. Prior to assembling the salad, simply run them under cold water and allow them to defrost. That is it!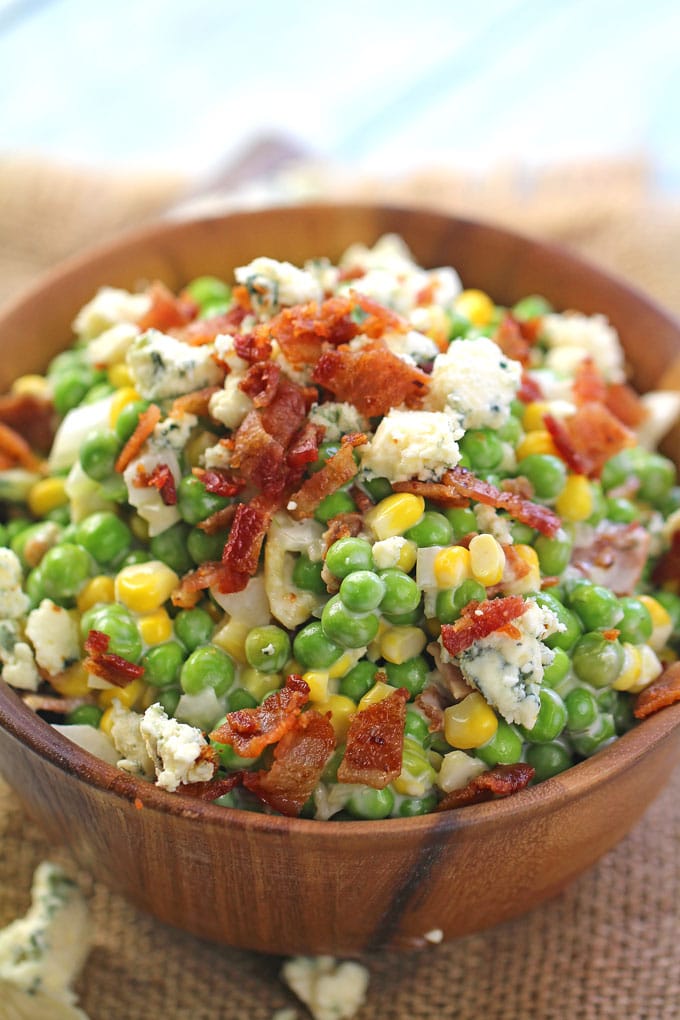 How to Make Bacon Pea Salad?
First, defrost the peas under cold water.
In a skillet, cook the bacon until crispy and then crumble.
Then, mix together the dressing ingredients in a bowl.
Lastly, add the peas, bacon, and onion, and stir to coat with the dressing.
Wondering how to cook the bacon for this Ranch Bacon Pea Salad Recipe? Check the instructions below on how to cook bacon on the stovetop or in the oven.
How To Cook Bacon On The Stovetop:
I prefer to cook my bacon in a cast-iron frying pan. Before you put the pan on the stove, add the bacon to the COLD pan. Lay the bacon strips close to each other, but not overlapping.
Cook the bacon on low heat. The bacon will release its own fat and it will start cooking in it.
When it starts to buckle and curl, use tongs to turn the slices to cook on the other side. Keep flipping and turning the bacon so that it browns evenly.
Cook the bacon to your preferred level of doneness. Some people like it looser, others like it crispier. For the Ranch Bacon Pea Salad recipe, you will need it more on the crispier side.
Keep in mind that the bacon will continue to cook a bit after you pull it from the pan. Bacon will stiffen up a little once it cools.
Remove the bacon from the pan using tongs and place on a cooling rack placed over a baking tray, to drain excess fat. To avoid dirtying another pan, place the cooked bacon a paper towel-lined plate.
Once the bacon has cooled to room temperature, slice it into bacon bits.
How To Cook Bacon In The Oven for Peas Salad?
Preheat oven to 400 degrees F.

Cover a sheet pan with parchment paper for easier cleaning.

Lay the bacon on the sheet pan and bake for 15 to 20 minutes, until the bacon is really crispy.

Make sure to check on it so it doesn't burn.

Dry of excess fat on paper towels.

Once the bacon has cooled to room temperature, slice it into bacon bits.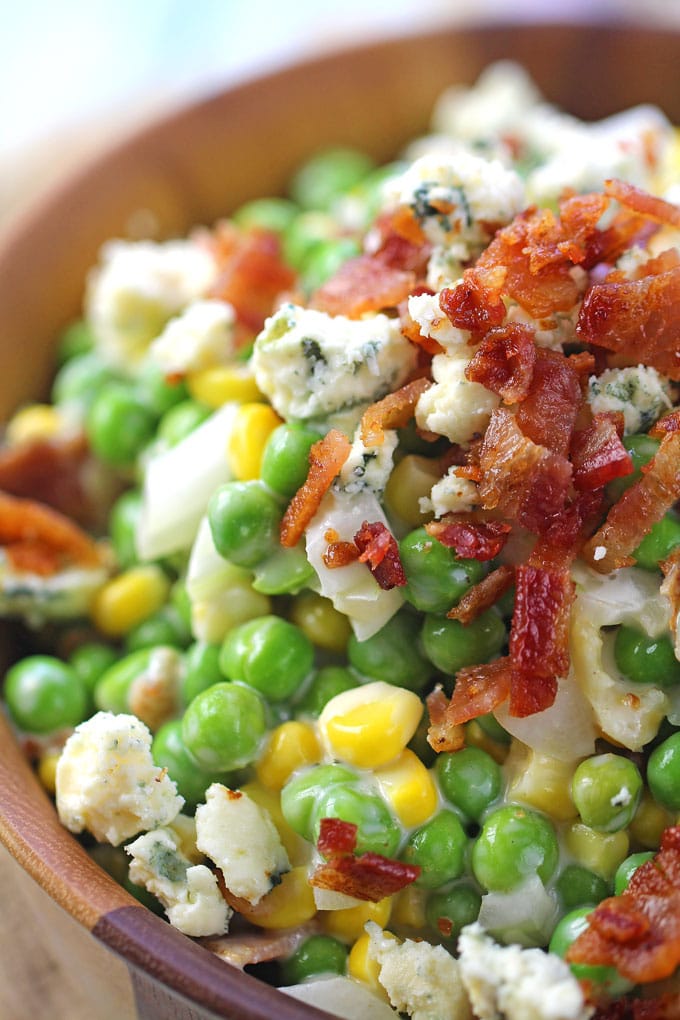 Can You freeze Pea Salad?
You could, but it is not recommended. First, once the peas and corn will get frozen, they will get watery and mushy. Also, if you make it with dairy products, like blue cheese or mayonnaise, it will make it mushy as well once defrosted.
Therefore, it is best to avoid freezing it altogether.
Recipe Tips
You can make the salad without corn, just replace it with peas.
Preferably use frozen peas that have been thawed, not canned peas.
Also, if you want to use canned peas, drain, rinse and dry of excess water on a paper towel.
Preferably use frozen sweet corn that has been thawed, not canned corn.
If you want to use canned sweet corn, drain, rinse and dry of excess water on a paper towel.
Don't use creamy corn, you need sweet corn kernels for this recipe.
You can use fresh corn as well, and fresh, never-frozen peas.
Blue cheese can be replaced with cheddar cheese or feta cheese.
You can use sweet onion or red onion.
Garlic is optional, but it adds a nice flavor, you can use more or less.
The ranch can be replaced with mayo, use a 1:1 ratio.
In addition, for a skinnier version use 1/2 cup plain greek yogurt and 1/2 cup ranch for the dressing.
Another great dressing that works with this salad is Cream Blue Cheese salad dressing.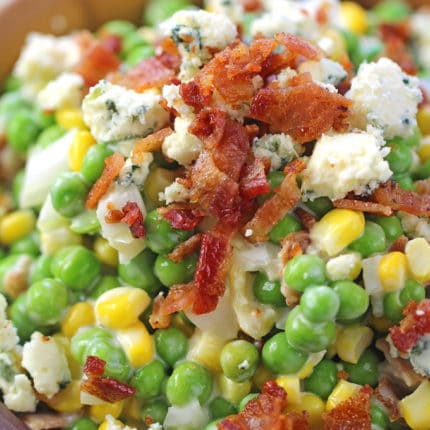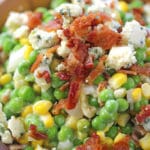 RANCH BACON PEA SALAD
Creamy Ranch Bacon Pea Salad with sweet corn, is the perfect summery side dish. Made with creamy ranch, lots of blue cheese and delicious, crispy bacon.
Ingredients
24

ounces

frozen peas

thawed

10

ounces

frozen sweet corn

thawed

1

small sweet onion

chopped

5

garlic cloves

minced

8

bacon strips

cooked until crisp and chopped

1

cup

Ranch salad dressing

1

cup

crumbled blue cheese
Instructions
Drain or dry of excess water thawed sweet peas and sweet corn on paper towels.

Add to a large salad bowl. Add chopped onion, minced garlic, 2/3 of the cooked bacon and 2/3 of the blue cheese.

Add Ranch salad dressing and gently stir until all the ingredients are well mixed and evenly coated.

Top with the remaining bacon bits and crumbled blue cheese.

Refrigerate for 2-4 hours before serving.

Store in the fridge for up to 3 days.

Always serve chilled.
Nutrition Facts
RANCH BACON PEA SALAD
Amount Per Serving
Calories 332
Calories from Fat 207
% Daily Value*
Fat 23g35%
Cholesterol 29mg10%
Sodium 573mg25%
Potassium 357mg10%
Carbohydrates 20g7%
Protein 10g20%
Vitamin A 715IU14%
Vitamin C 31.7mg38%
Calcium 105mg11%
Iron 1.5mg8%
* Percent Daily Values are based on a 2000 calorie diet.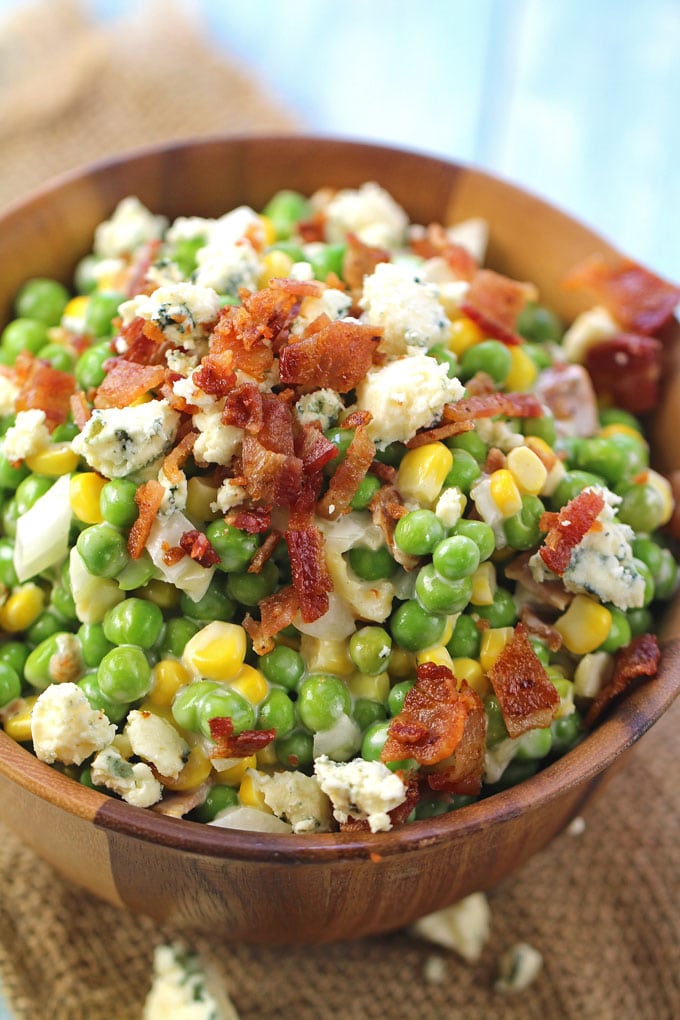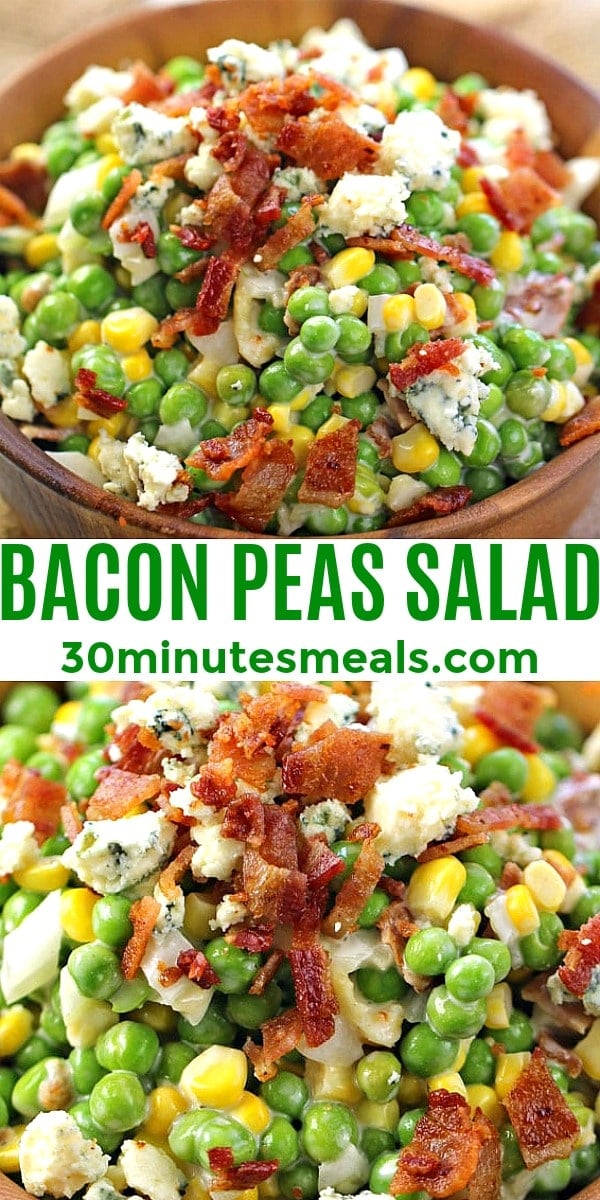 Save