Baked Chocolate Donuts are moist, super chocolate-y, and covered with a sweet glaze. These will be devoured in minutes!
Half an hour is all you need to create baked treats from scratch! Impress your family and friends with these super easy Pineapple Upside Down Cakes, warmly-spiced Snickerdoodle Muffins, and these awesome 140-Calorie Mini Cornbread Muffins.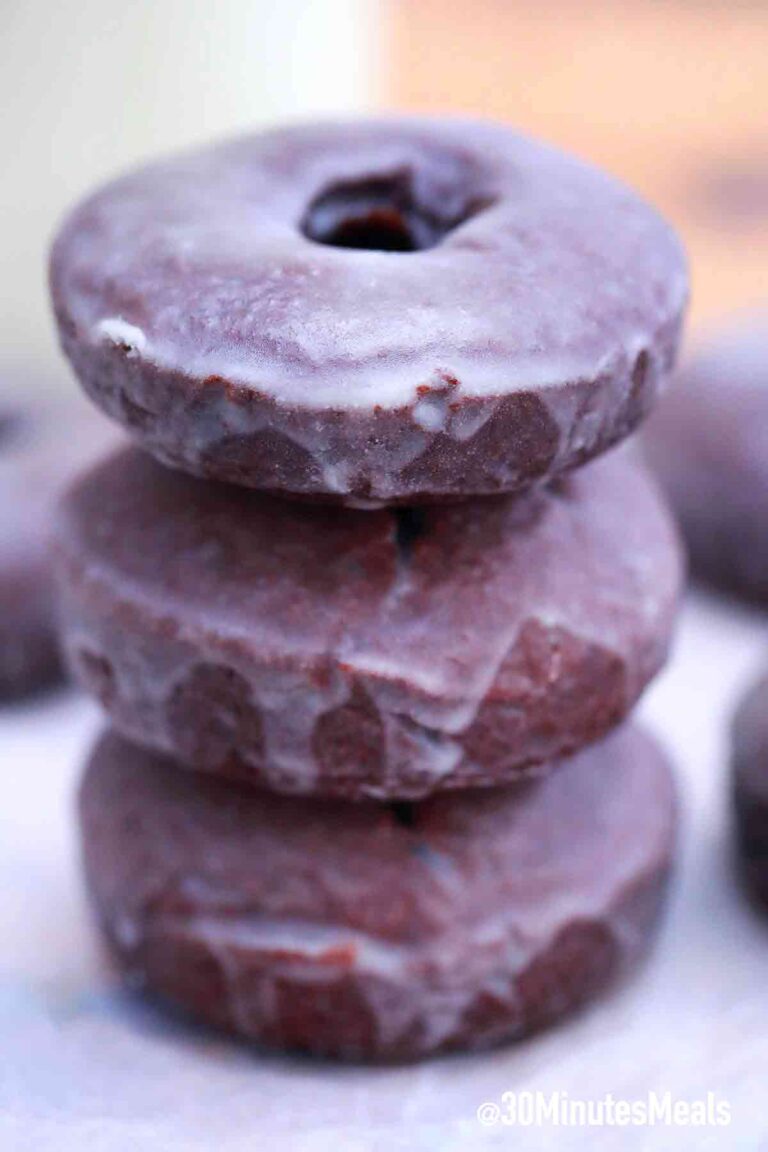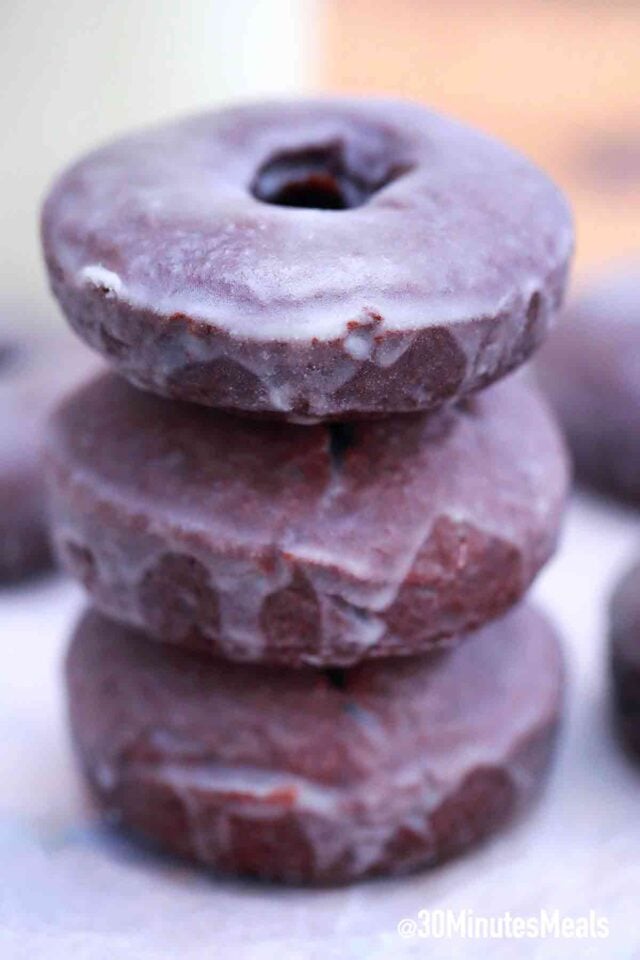 Easy Chocolate Donuts
Baked Chocolate Donuts— don't they sound amazing? It combines two of the best things in the world: chocolate and fresh, home-baked doughnuts!
They only take 10 minutes in the oven and are very easy to put together. In fact, it's a really fun baking project for the family! The kids can stir the batter together and glaze the warm treats afterward.
The donuts themselves have a deep chocolate flavor thanks to the cocoa. The glaze hardens after it sets, giving these a slightly crisp shell that's amazing to bite into. The perfect dessert or snack!
Are baked or fried donuts better?
It definitely depends on what you're looking for. On one hand, baking them is easier and more convenient than deep-frying. No need to heat up a ton of oil or hover on top of the stove to make sure the dough doesn't burn. The oven does all the work!
Baked ones are healthier, too. They have much less fat and are lower in calories. So, if that's what you're after, baking them is a better option.
As for the flavor, they're both so good! Fried doughnuts have that rich taste that can only come from being deep-fried in oil. But baked doughnuts are equally delicious – light, soft, and just melts in your mouth.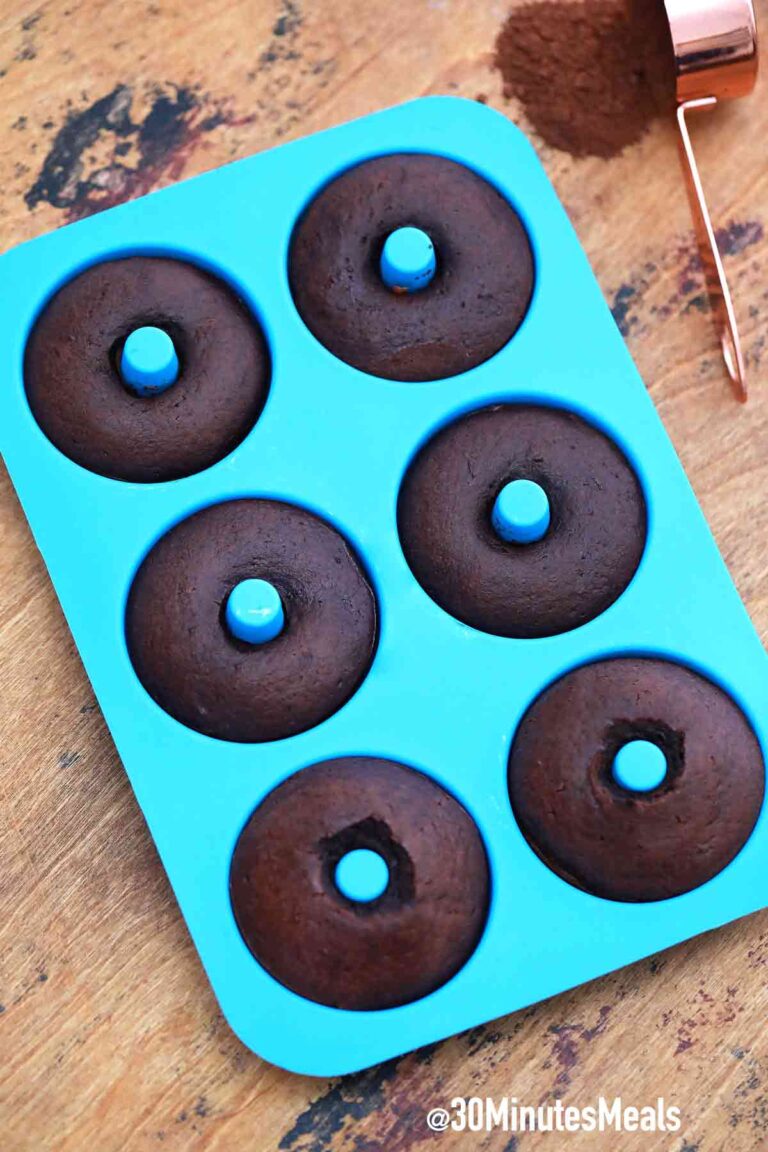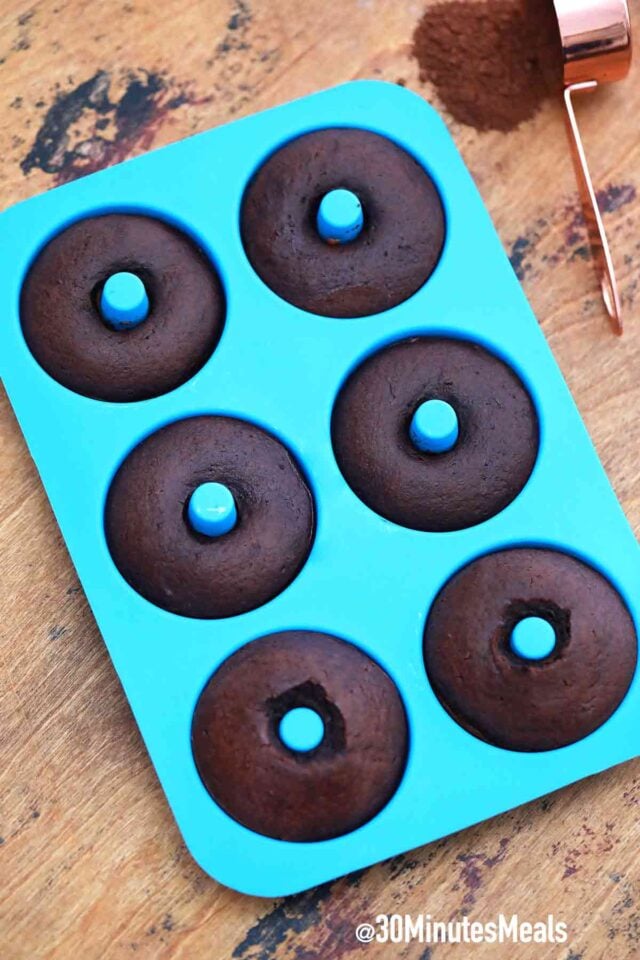 What do you need to make Baked Chocolate Donuts?
Batter:
Flour:

Plain all-purpose is fine.

Cocoa Powder

: This is the star flavor, so use the best you can get!

Baking powder

: Gives these baked treats lift and fluffiness.

Salt

: Essential in all baked good, or they will taste flat.

Sugar

: Just enough to make these doughnuts perfectly sweet.

Eggs

: Gives the batter structure.

Sour cream

: Makes these treats so moist and tender!

Butter, melted

: Adds richness and moisture.

Vanilla Extract

: For more flavor!
Glaze
Our basic sugar glaze uses

powdered sugar

, a little

vanilla extract

, and a splash of

milk

to loosen it up.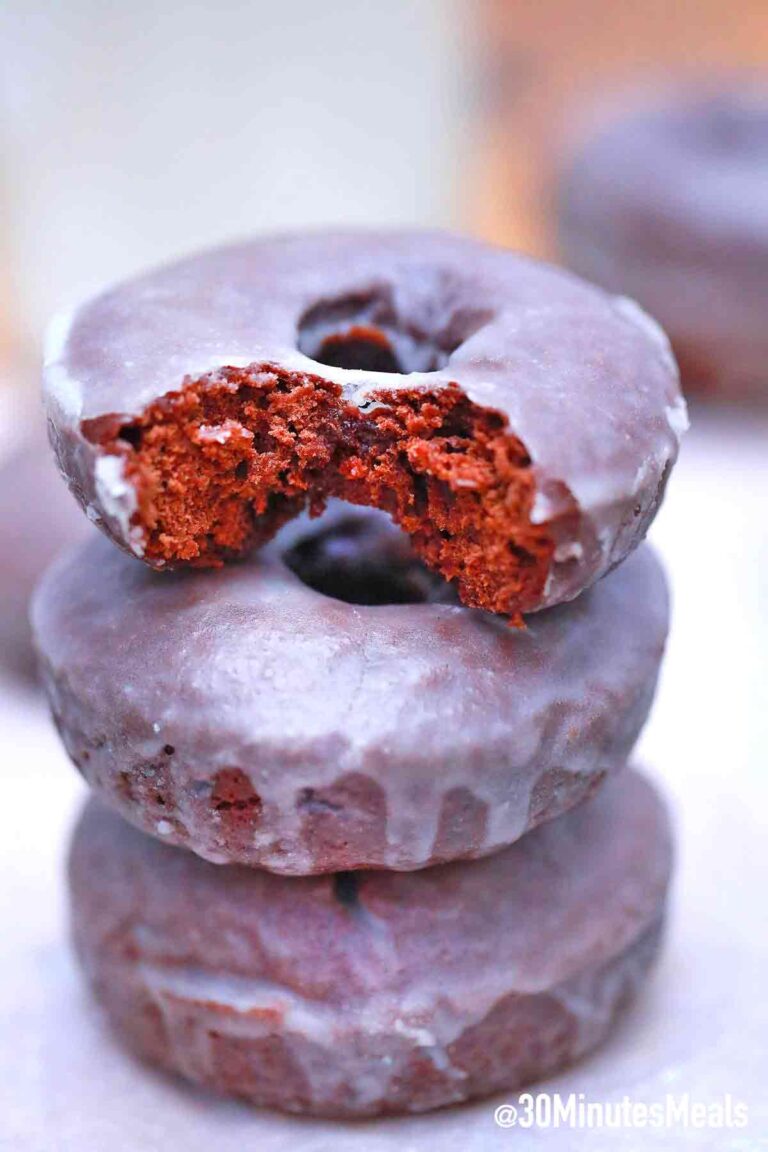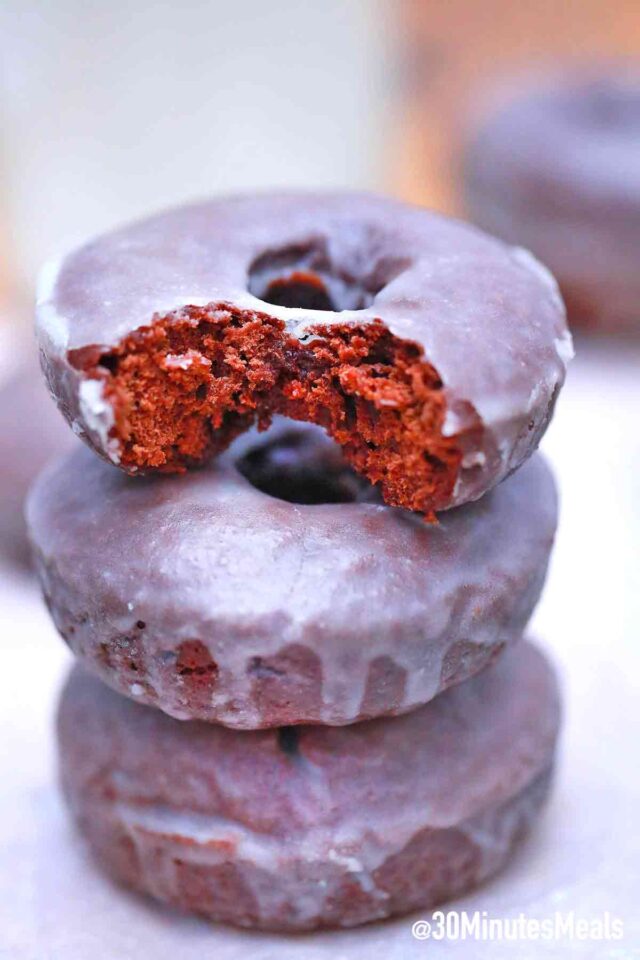 How do you make Baked Chocolate Donuts from scratch?
Prep

. Coat your doughnut pans with non-stick cooking spray. Preheat the oven to 400F.

Make the batter

. First whisk the dry together, then stir in all the wet.

Bake

. Pipe or spoon into the pan. Bake until done, around 10 mins. Leave to cool on a rack.

Glaze

. Whisk the glaze until smooth and pouring consistency. Dip both sides of the warm donuts, then arrange on a rack to set.

Enjoy

. Eat them fresh!
Recipe Variations:
Double glazed:

Glaze them a second time after letting the first coating set a bit.

Double chocolate

: Cover them with chocolate glaze.

Cover with frosting

: Got a major sweet tooth? Instead of a simple glaze, pipe frosting on top of these donuts! It's delicious with vanilla, mocha, sweet cream cheese, or strawberry frosting.

Add spice

: Add some cinnamon and nutmeg for a spiced version.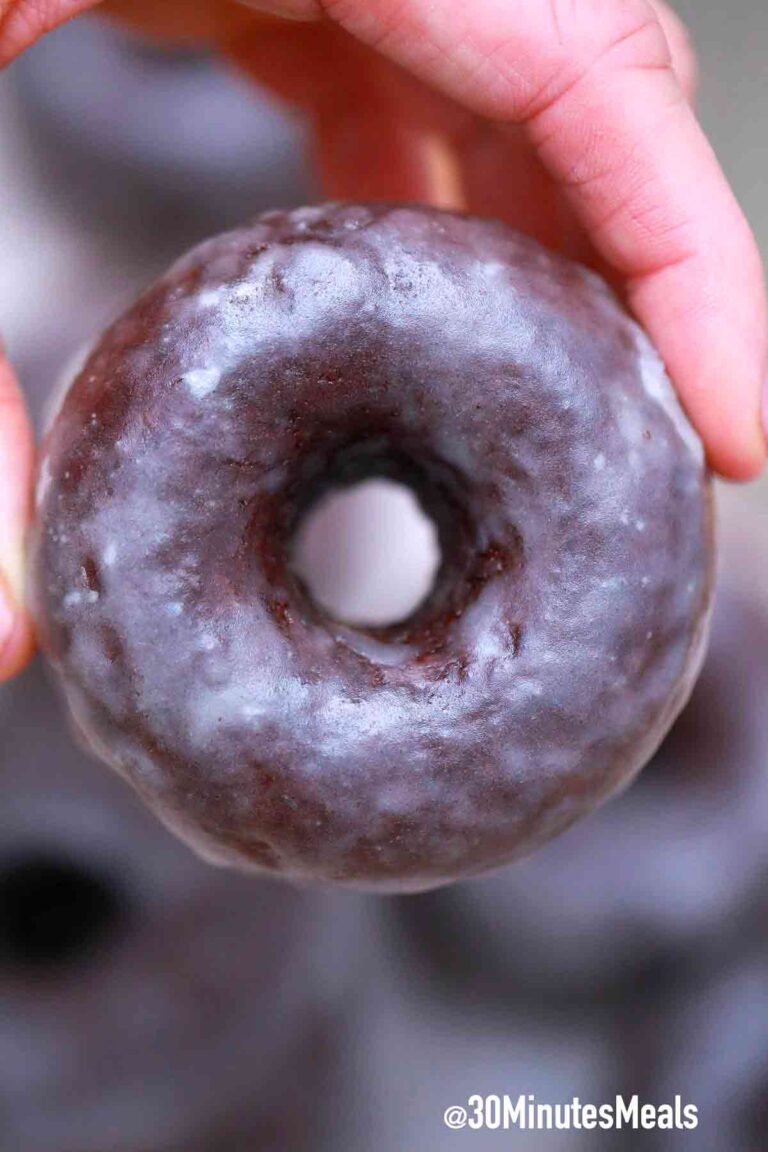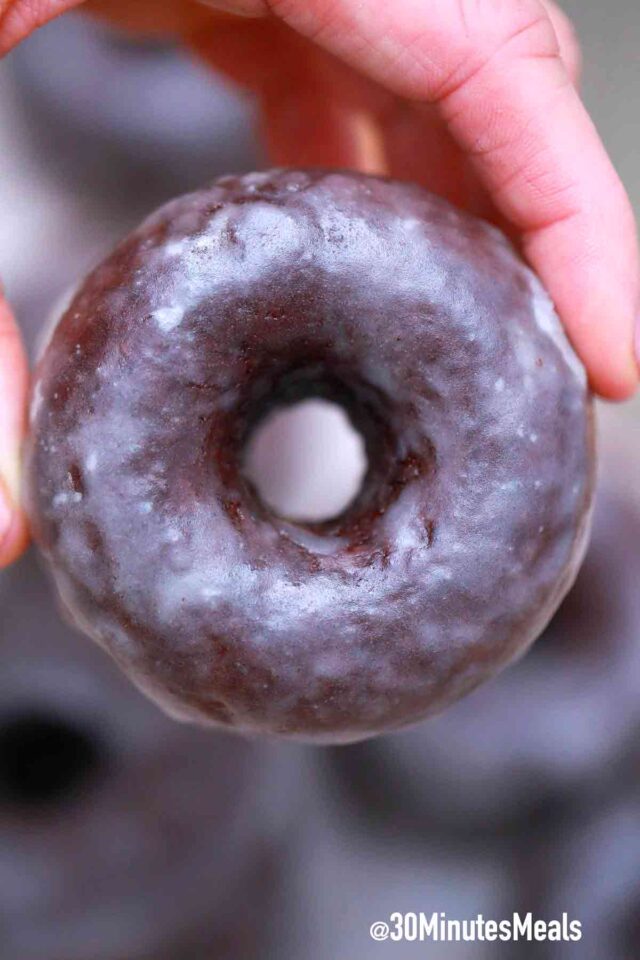 Why are my baked donuts dry?
You may have overbaked them. Test them 5 minutes before the baking time is done. The toothpick should not come out completely clean, but you should still see a few moist crumbs.
Why are my donuts crunchy?
This a more common issue among fried versions. One reason is deep-frying them at a low temperature, creating a tough crust because oil removes moisture. Over-frying or using oil that's too hot is another reason.
What makes donuts rise?
It depends on the recipe. But usual raising agents are yeast, baking powder, or baking soda.
How do you make donuts without a donut pan?
Use foil and your muffin tin! Cut out a square shape out of the foil, slightly bigger than the holes in your pan. Place on one of your fingers and fold around it to create a raised, pointed section in the middle. Press into each muffin hole, taking care not to flatten the pointed part. Now you're ready to make doughnuts!
How to store:
Cool them first. Then, arrange them in a completely air-tight container. Keep in room temperature for up to 3 days. However, I recommend consuming them as soon as you can so they taste as fresh as possible.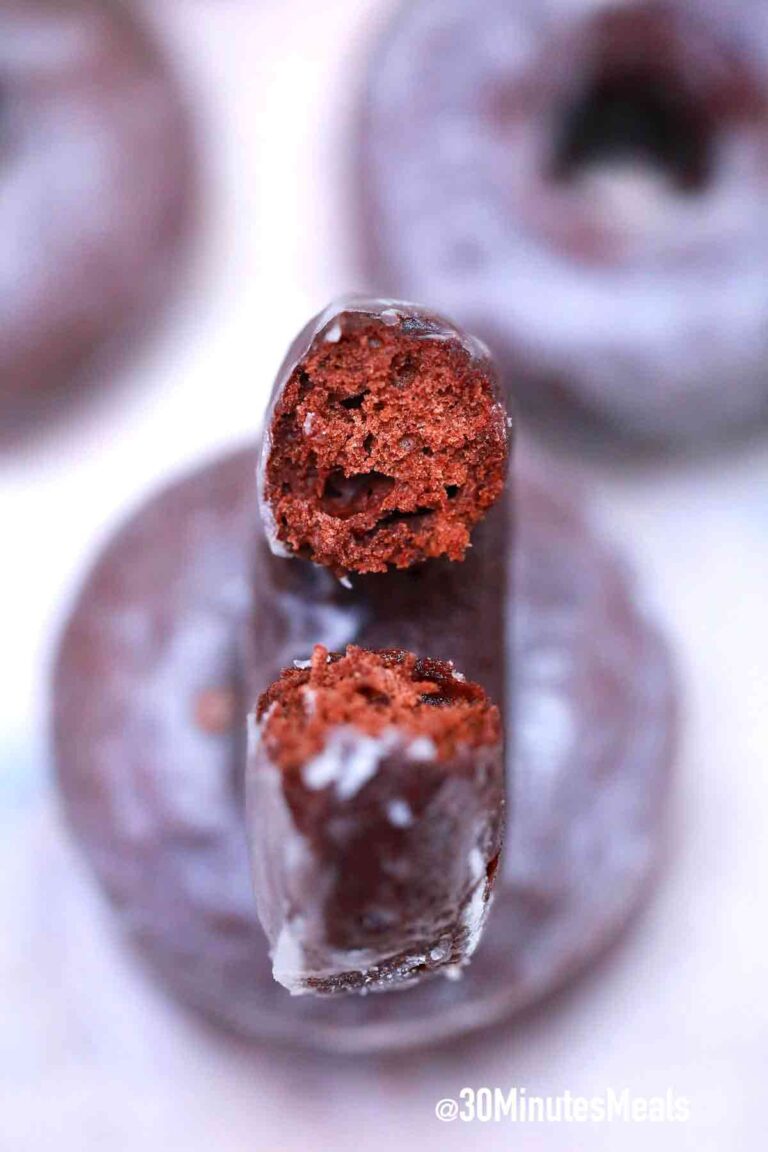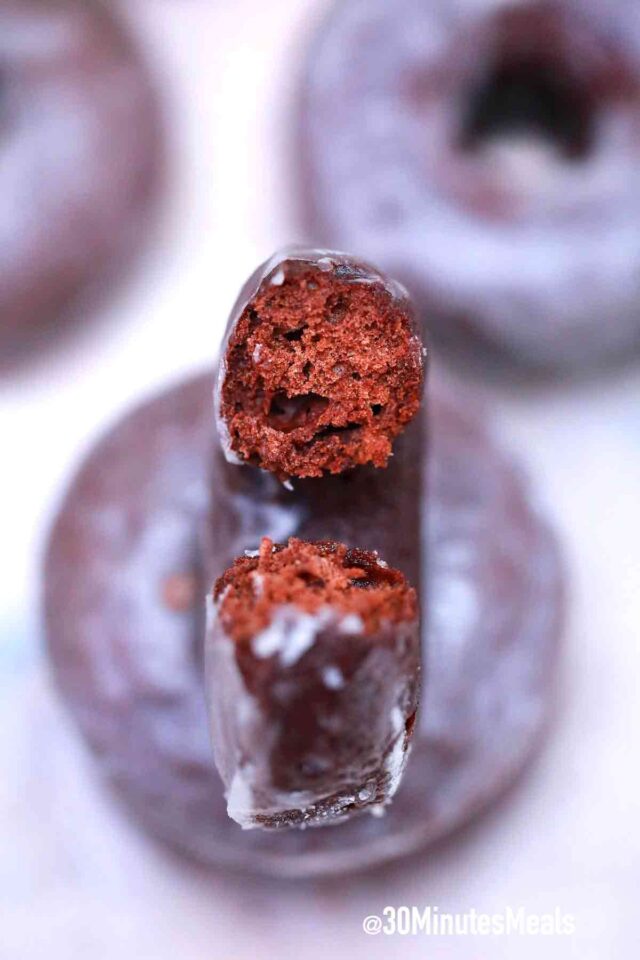 How to freeze and thaw:
Wrap each piece tightly in cling wrap then foil (make sure all of them are completely cool and the glaze has set!) Freeze up to 3 months.
To defrost, you can set them out on the counter overnight. Freshen them up by sprinkling with a little water and microwaving until warm.
More Easy Desserts:
Recipe Tips:
You can sub the sour cream with plain yogurt or buttermilk.

Add a tablespoon of brewed espresso to the batter for a more intense chocolate flavor.

Decorate with sprinkles, crushed cookies, or chocolate chips!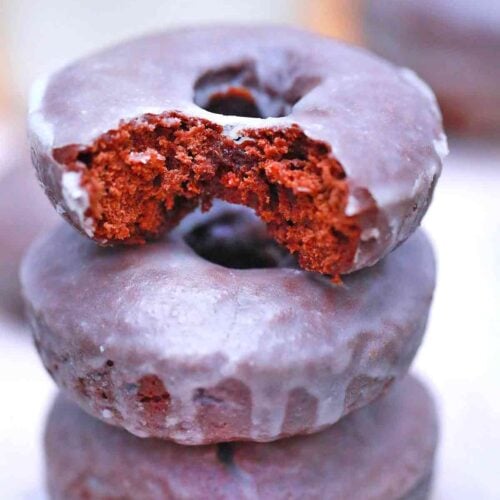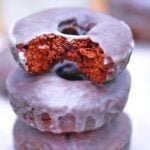 Baked Chocolate Donuts
BakedChocolate Donuts are moist, super chocolate-y, and covered with asweet glaze. These will be devoured in minutes!
Keyword:
Baked Chocolate Donuts
Ingredients
1 1/2

cups

all-purpose flour

1/2

cup

cocoa powder

2

teaspoons

baking powder

1/2

teaspoon

salt

1/2

cup

granulated sugar

2

large eggs

room temperature

1/2

cup

full fat greek yogurt

6

tablespoons

milk

2

tablespoons

butter melted

1

teaspoon

vanilla extract
Glaze:
2

cups

powdered sugar

4

tablespoons

milk

1

teaspoon

vanilla extract
Instructions
Pre-heat oven to 400 degrees F. Spray a donut pan with non-stick cooking spray, set aside.

Mix all dry ingredients in a bowl.

Add the eggs, yogurt, milk, butter and vanilla extract to the dry ingredients and stir until combined.

Add the mixture to a piping bag and pipe it into the donut pan.

Bake for about 10 minutes or until donuts spring back when touched.

Remove from the oven and cool on a wire rack.

Mix together the glaze ingredients in a bowl until smooth.

Once donuts are cool, dip the tops into the glaze and place back

onto the wire rack to harden.
Nutrition Facts
Baked Chocolate Donuts
Amount Per Serving
Calories 435
Calories from Fat 63
% Daily Value*
Fat 7g11%
Cholesterol 58mg19%
Sodium 280mg12%
Potassium 354mg10%
Carbohydrates 87g29%
Protein 9g18%
Vitamin A 287IU6%
Calcium 126mg13%
Iron 3mg17%
* Percent Daily Values are based on a 2000 calorie diet.