To Go Breakfast Bowls Recipe
To Go Breakfast Bowls with eggs, potatoes, and cheese, can be made in just under 30 minutes and served as breakfast on the go. Our egg breakfast bowl is a great way to start any day or even for easy dinners when you don't feel like cooking. Just prepare this in a large bowl and then separate it into individual servings in mason jars or some other airtight container.
Looking for more easy recipes? Try our Korean Chicken Bowls with ground chicken, soy sauce, and sesame oil, or this easy Egg Roll in a Bowl made with ground beef, coleslaw mix, and soy sauce. Another fantastic recipe is our Fried Cabbage and Noodles flavored with Worcestershire sauce and chicken broth.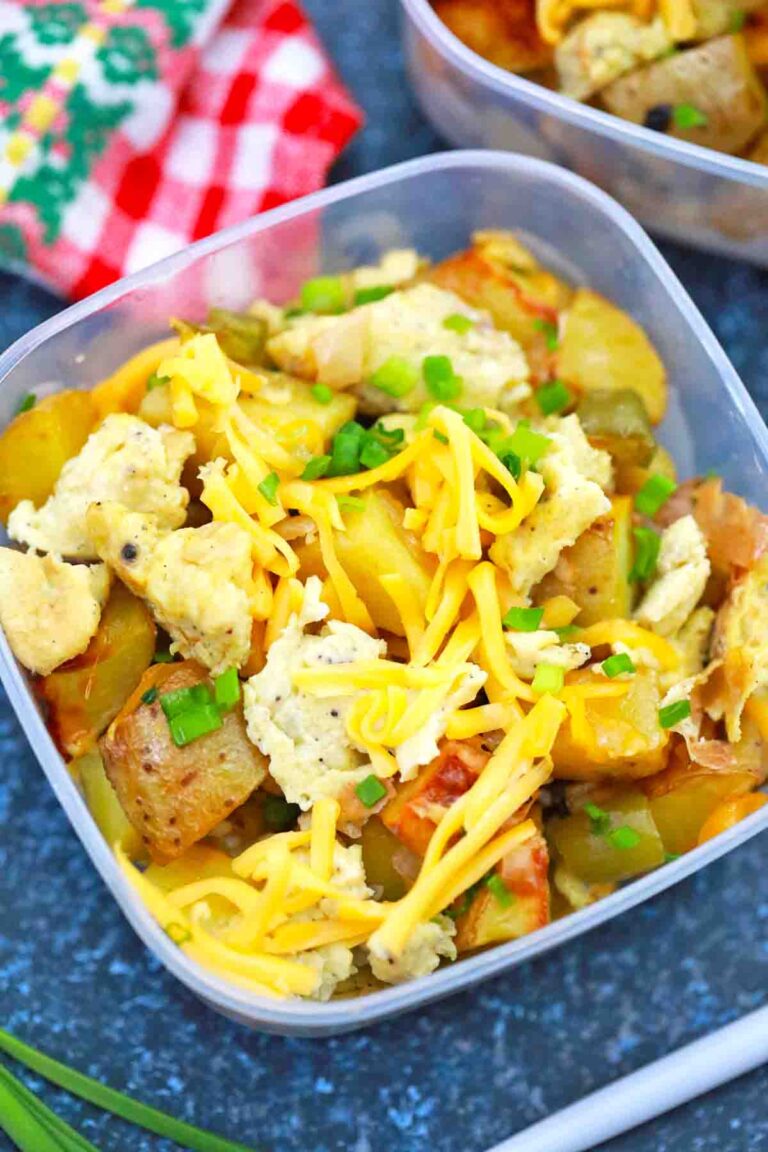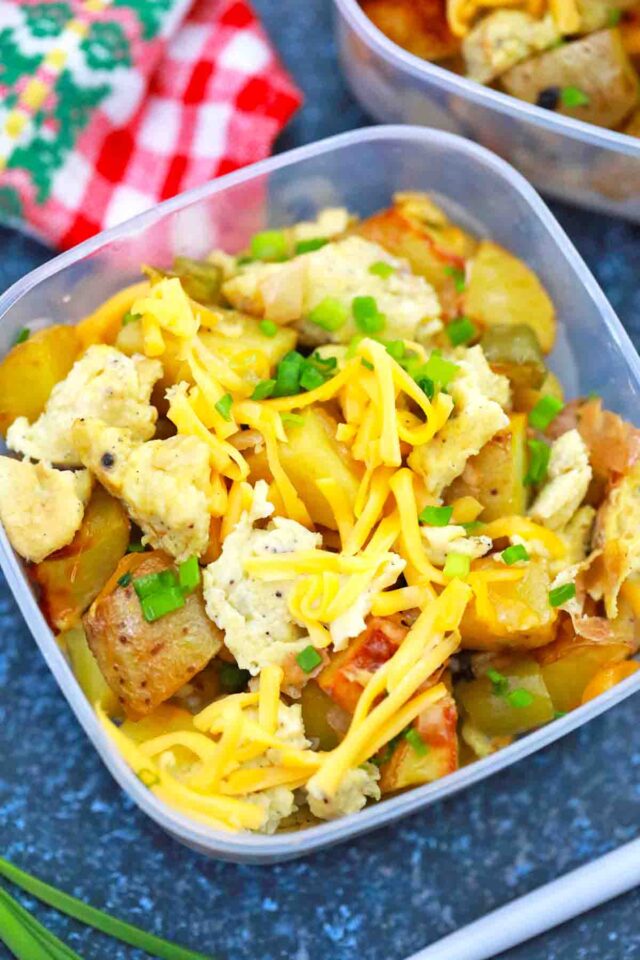 You have probably heard the saying breakfast is the most important meal of the day, and it is true. You need a good quick breakfast to start your day with energy. With these simple ingredients, you may not even need to go to the grocery store.
Feel free to add or remove what you like or dislike to make this recipe your own for the perfect way to start your day. You can keep this easy meal vegetarian, or add your favorite sausage into the mix.
Crispy bacon also pairs perfectly, you can mix it in with the eggs or just layer it on top of the other ingredients when assembling the bowls.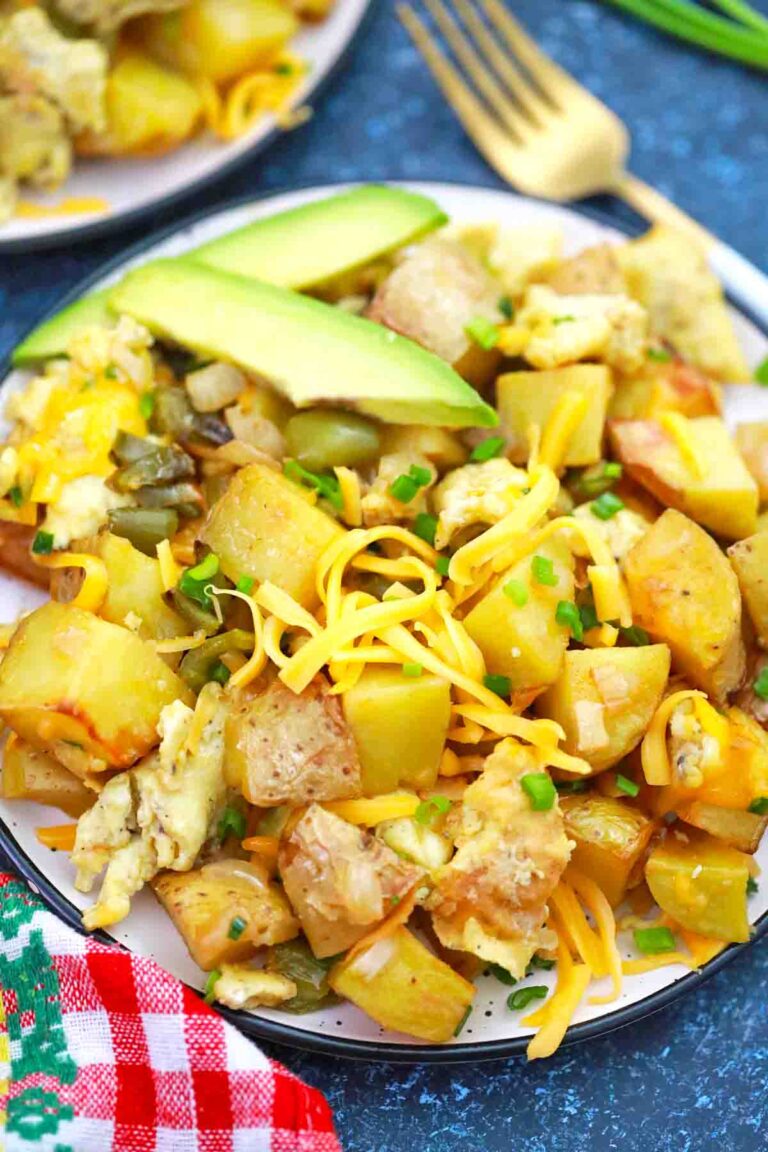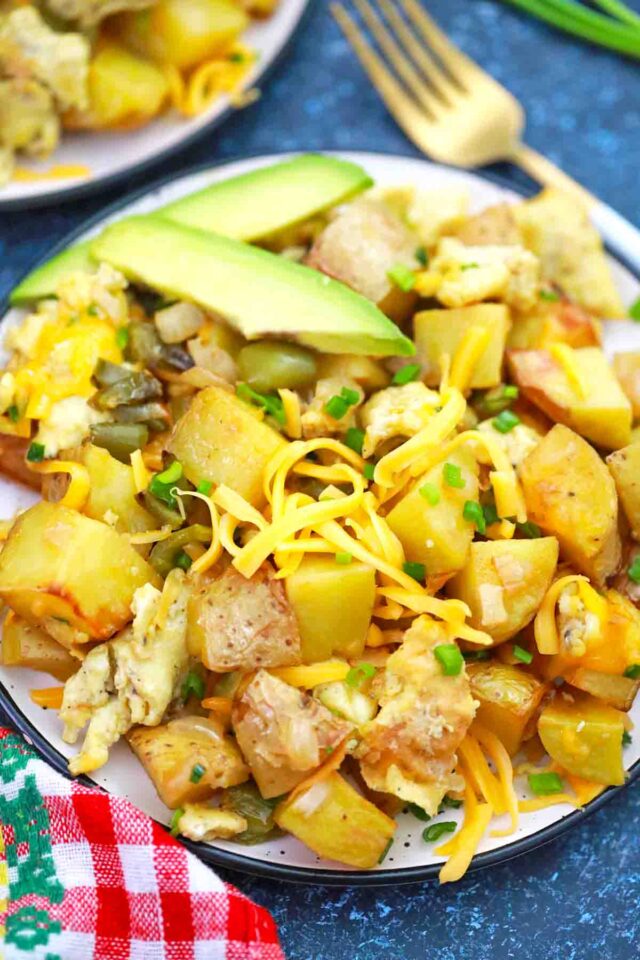 Ingredients needed:
These are the main ingredients for our breakfast bowl recipe. Scroll down to our printable recipe card for complete instructions.
Eggs: Large eggs at room temperature.
Potatoes: We used Yukon gold potatoes, chopped into one-inch cubes.
Green pepper: Bell pepper, seeded and chopped into one-inch pieces.

Chopped onion
Cheese: We used shredded cheddar cheese.

Green onions
Olive oil: Extra virgin olive oil for best results.

Seasoned salt: Such as Lawry's.
Kosher salt
Freshly ground black pepper
How to make to-go breakfast bowls recipe?
Preheat: First, heat the oven to 425 degrees F.
Toss: Then, use a large baking sheet to mix onions, peppers, and potatoes in a single layer. Sprinkle on a little olive oil and seasonings before tossing to coat.

Roast: After, cook for 30 to 40 minutes or until the potatoes are brown and tender. Stir about halfway through the cooking time.
Mix: Meanwhile, mix eggs, salt, and pepper in a large bowl, whisking until it is smooth.

Heat: Next, heat in a large skillet coated with nonstick cooking spray over medium heat. Scramble until they are just barely cooked and then put them aside on a plate.

Divide: Then, divide the potato mixture and eggs evenly into six glass jars or containers with lids and put them aside to cool.
Chill: Finally, sprinkle with cheese and green onions, cover, and chill in the fridge for up to three days.

Serve: When you need a healthy breakfast bowl, serve preheated in the container for a delicious make-ahead breakfast.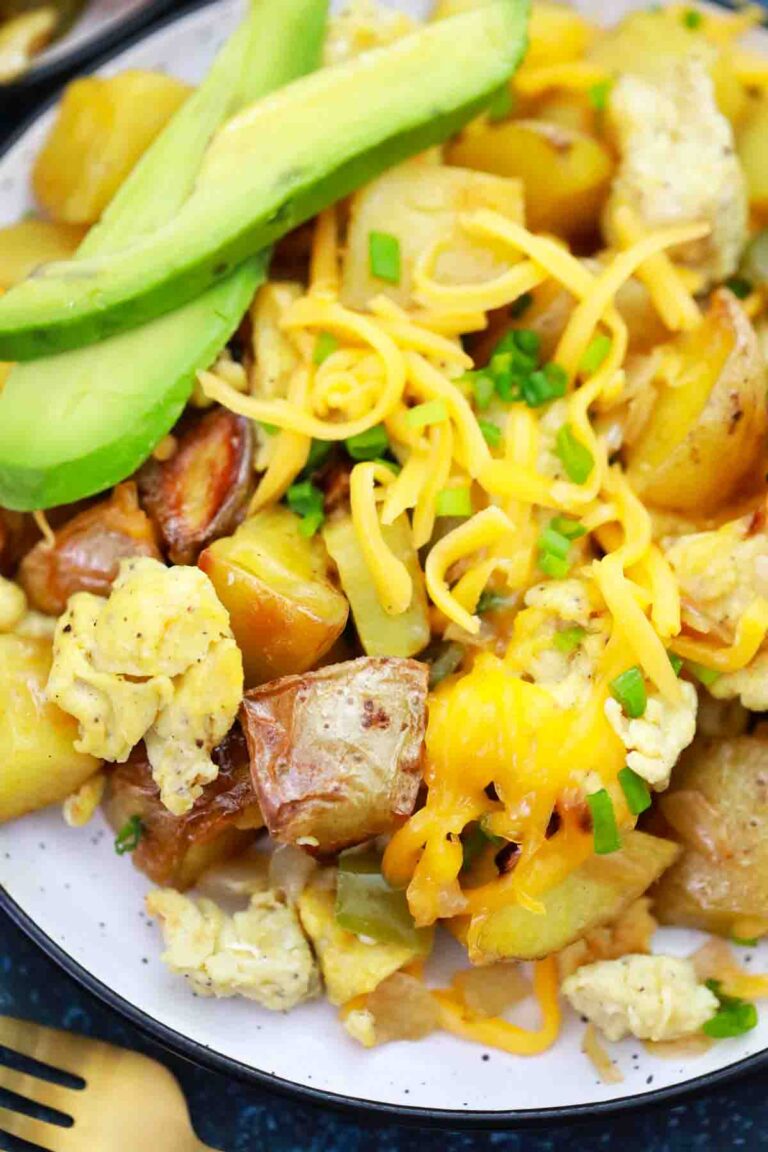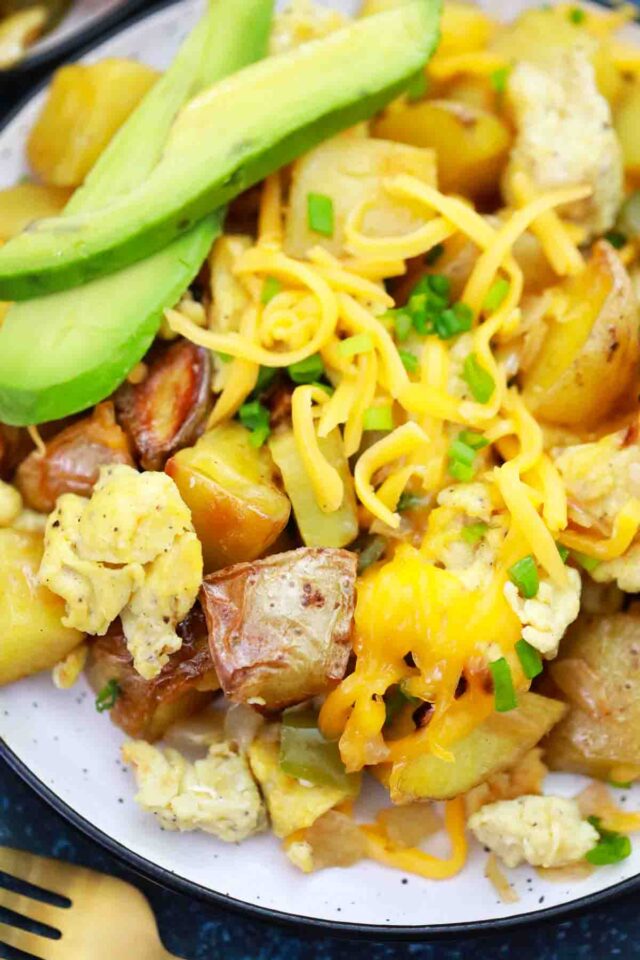 Recipe variations:
Other potatoes: You can use yellow or red potatoes or whichever you like best.

Sweet: In fact, try sweet potatoes for a sweeter flavor.
Even sweeter: Add peanut butter before reheating for a delicious, sweet glaze.
Beans: Add a cup of black beans for extra protein.
Sausage: This is also great mixed with a cup of cooked turkey sausage.
How to serve:
This savory breakfast bowl is perfect for those busy mornings when you want a hot meal but don't have much time to cook. Just toss a cup of this into a bowl for a fast and easy meal anytime. Or try one of these serving suggestions:
Serve with fresh fruit and a glass of coconut milk or almond milk for hearty breakfasts.
A scoop of maple syrup is a perfectly sweet topping for these hearty breakfast bowls.
Or top with a dollop of plain Greek yogurt.

Roll into tortillas to make breakfast burritos and wrap in plastic wrap for easy breakfasts on the go.
This also goes great with a side of hash browns, tater tots, or bacon.
Sprinkle on some chia seeds for an extra fiber boost.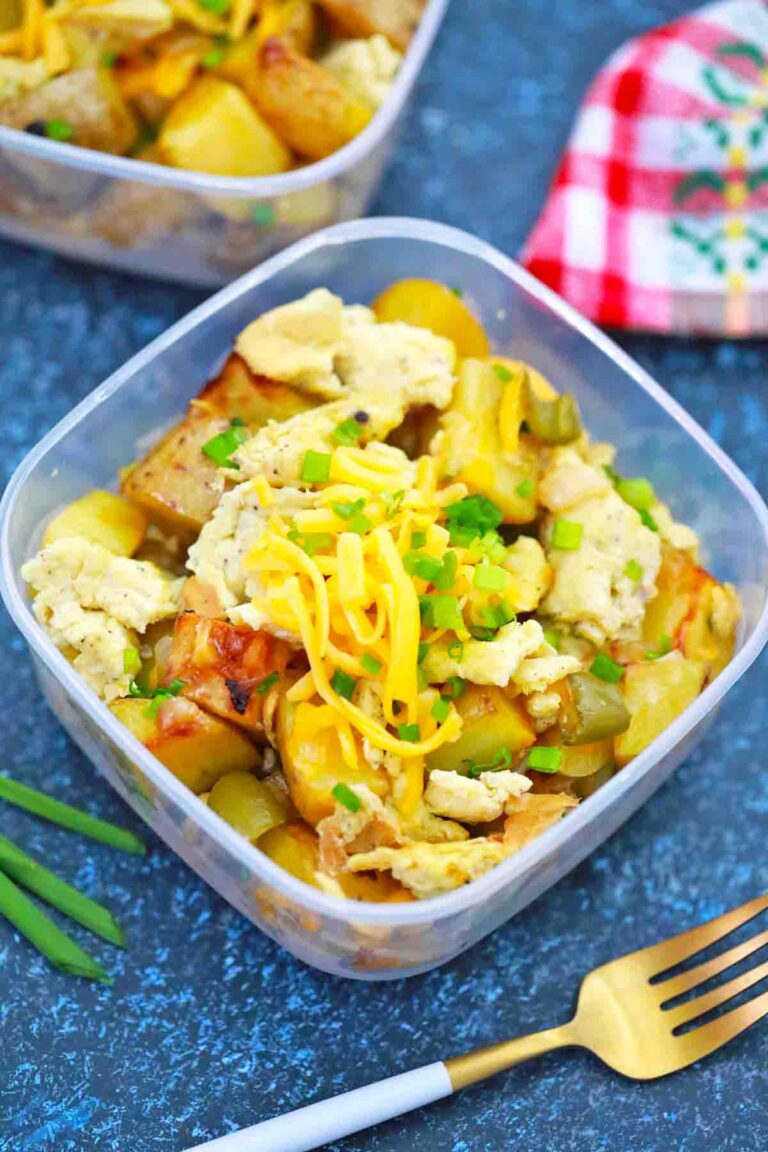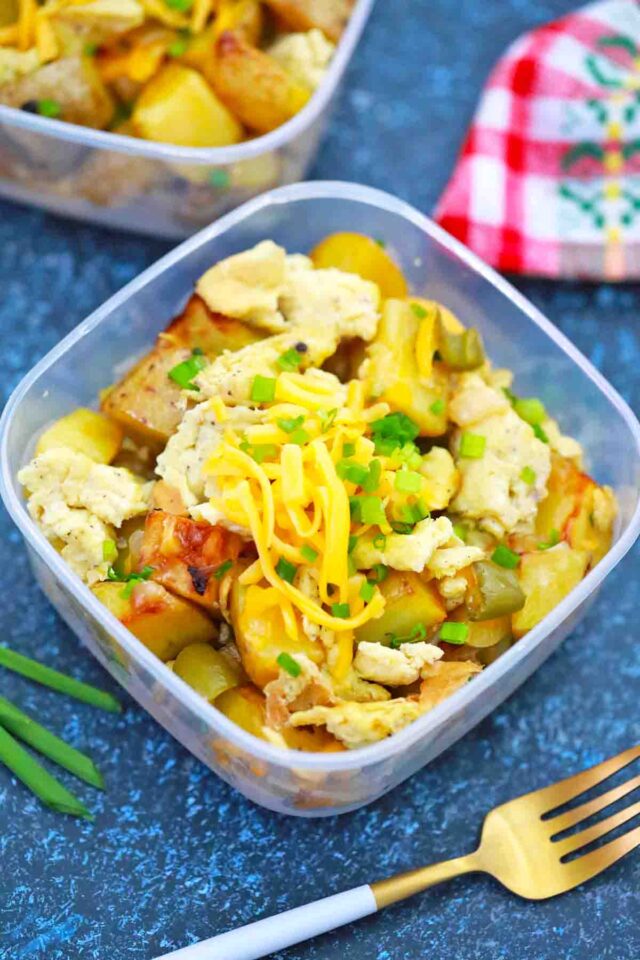 Frequently asked questions
Are breakfast bowls good for you?
These delicious breakfast bowls are made with healthy ingredients like eggs, veggies, and cheese. If you have a long day ahead of you and are running short on time, making breakfast bowls ahead of time is perfect.
Another great thing about these breakfast meal prep bowls is that once you have them made and stored in the fridge, all you have to do is heat them and go. No reason to grab a sugary donut or Danish. And the best part is that you will feel so much better as you go through your day.
Which potatoes are best for this recipe?
Although this recipe calls for Yukon gold potatoes, you can use whatever kind you like. However, the firm and waxy potatoes turn creamy inside and stay crisp outside while starchy ones like russets can become mushy.
Are there other healthy breakfast bowls?
Absolutely. Try our green smoothie bowl made with coconut milk, kale, avocado, bananas, and pineapples. Everything is pureed in a blender to make a nice thick drink. Or toss in some acai and whatever fruits and veggies you enjoy and chill instead of blending for a healthy breakfast bowl recipe any time.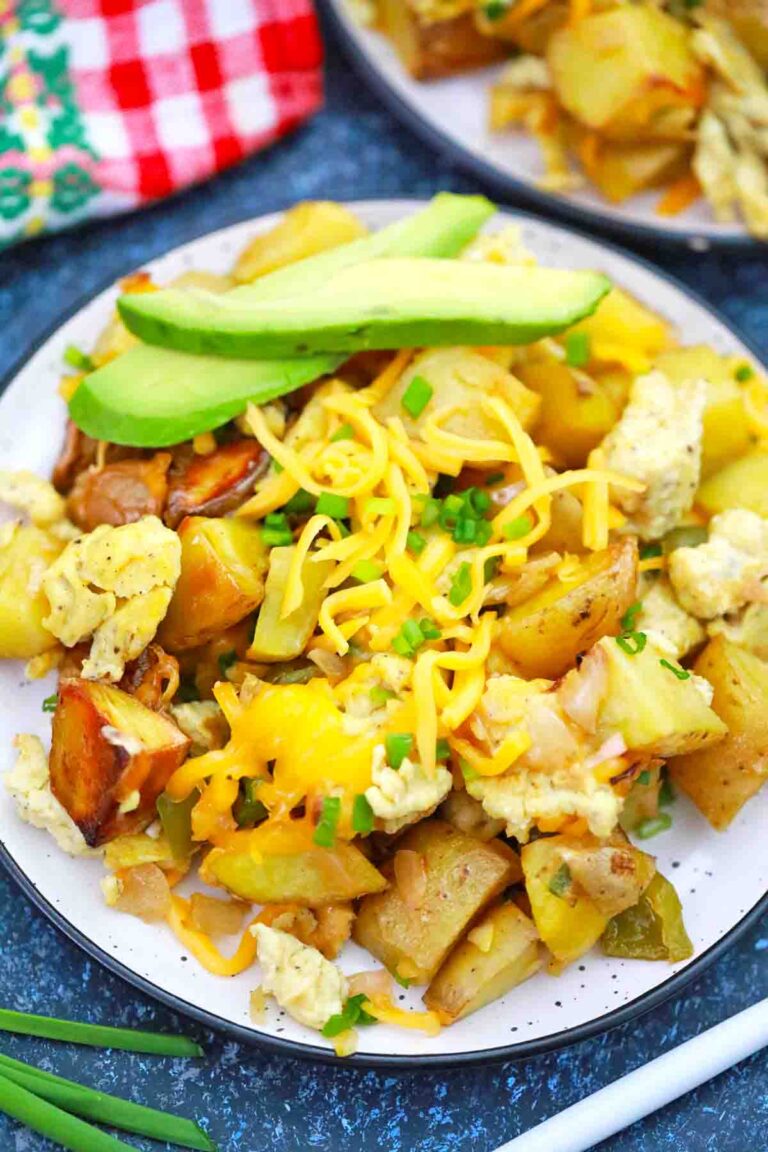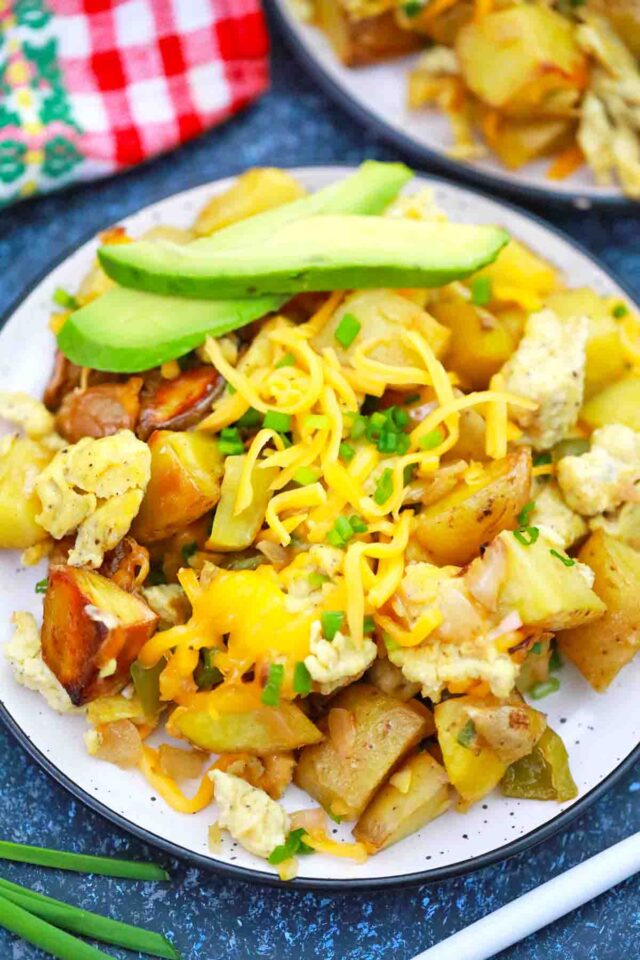 How to store leftovers:
Store: These are made to be stored for several days in individual airtight containers. However, you should eat them within three days for the best flavor.

Freeze: To make them last even longer, store in the freezer for up to 90 days.
Defrost: Remember to thaw overnight to serve the next day.

Reheat: Reheat in the microwave at 50% power for 90 seconds or eat at room temperature.
Cooking tips:
Make your own seasoned salt by combining two teaspoons of garlic powder, two teaspoons of onion powder, one tablespoon of paprika, and five tablespoons of salt.

Place your potatoes on the flat cut sides so they turn golden.
Remember to flip your potatoes or they will get darker on one side.

For a shortcut, buy a couple of bags of precooked frozen potatoes mixed with green peppers and onions.
If you use bacon or sausage, make sure you drain it completely before adding it to the bowls. You do not want all that grease in your breakfast bowls.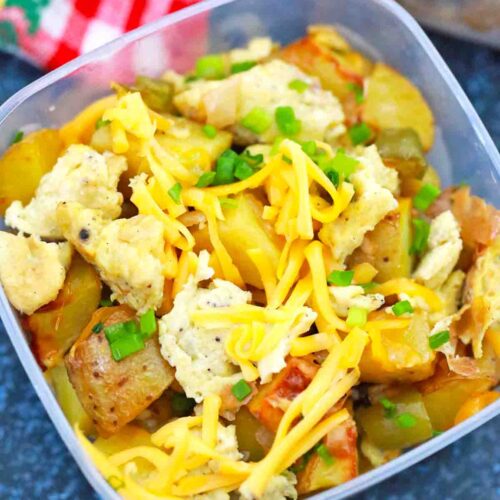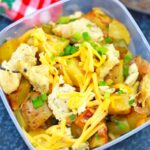 To Go Breakfast Bowls
To Go Breakfast Bowls with eggs, potatoes, and cheese, can be made in just under 30 minutes and served as breakfast on the go.
Keyword:
To Go Breakfast Bowls
Ingredients
2

pounds

Yukon gold potatoes

washed and chopped into 1" cubes

1

green bell pepper

chopped

1

small onion

chopped

4

tablespoons

extra virgin olive oil

salt and freshly ground black pepper

to taste

12

large eggs

2

cups

shredded cheddar cheese

4

green onions

diced
Instructions
Preheat the oven to 425 degrees F.

On a large baking sheet, add potatoes, pepper, and onions.

Drizzle with olive oil and sprinkle with a good amount of salt and ground black pepper. Toss to coat and arrange on a single layer.

Roast for about 30-40 minutes or until the potatoes are golden brown and tender. Make sure to rotate the pan and stir the mixture halfway through cooking.

Meanwhile, add the eggs to a large bowl then season with salt and pepper. After that whisk until smooth.

Heat a large non-stick skillet over medium heat, add a bit of oil or spray with nonstick cooking spray and add the eggs. Stir and scramble until the eggs are just barely cooked through, then scoop onto a plate and set aside.

Once the potatoes are done cooking, divide them evenly between the food containers and top with the eggs, set aside to cool.

After that, sprinkle with cheese and green onions then cover and refrigerate or freeze.