Mexican Horchata is a sweet and cool drink made with rice and cinnamon, also known as Mexican agua de horchata. This is a traditional Mexican horchata recipe that is often served at Mexican restaurants and dinner tables with spicy foods. It is also the perfect rice drink for Cinco de mayo.
This rice drink goes great with our Southwest Salad Recipe made with black beans, corn, and chicken. If you are looking for more drinks cuisine, try our Spiced Buttered Rum made with butter, maple syrup, and cinnamon sticks or this delicious Mango Pineapple Smoothie with lime juice, mango, and pineapples.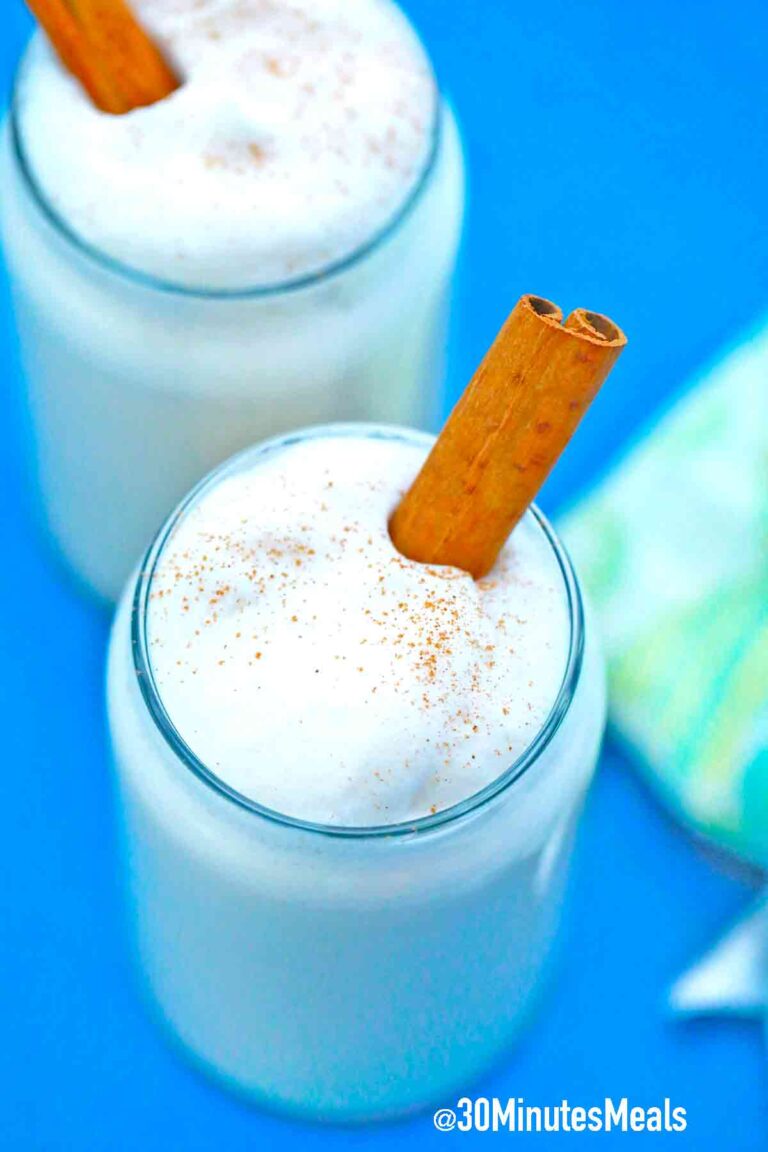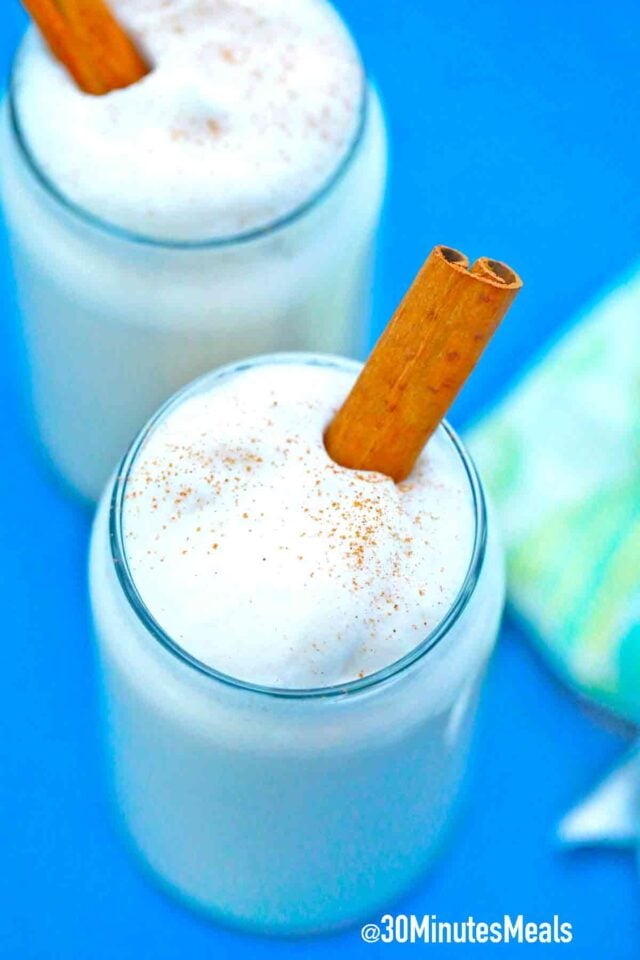 Mexican horchata
Our Mexican horchata recipe makes a delicious homemade horchata that tastes authentic as if it came from one of your favorite Mexican restaurants. You can add more cinnamon sticks or not even use a cinnamon stick if you don't like the flavor.
Other flavors work as well and can be added with extracts or fruits. For example, use a teaspoon of amaretto extract or extra cinnamon powder. You could even add chocolate syrup or caramel sauce blended in before serving.
The unique horchata taste goes well with any food although it is especially nice with a spicy dish. The rice and cinnamon sticks blend well with the milk and sugar, giving it a festive flavor you can serve at holiday parties as well.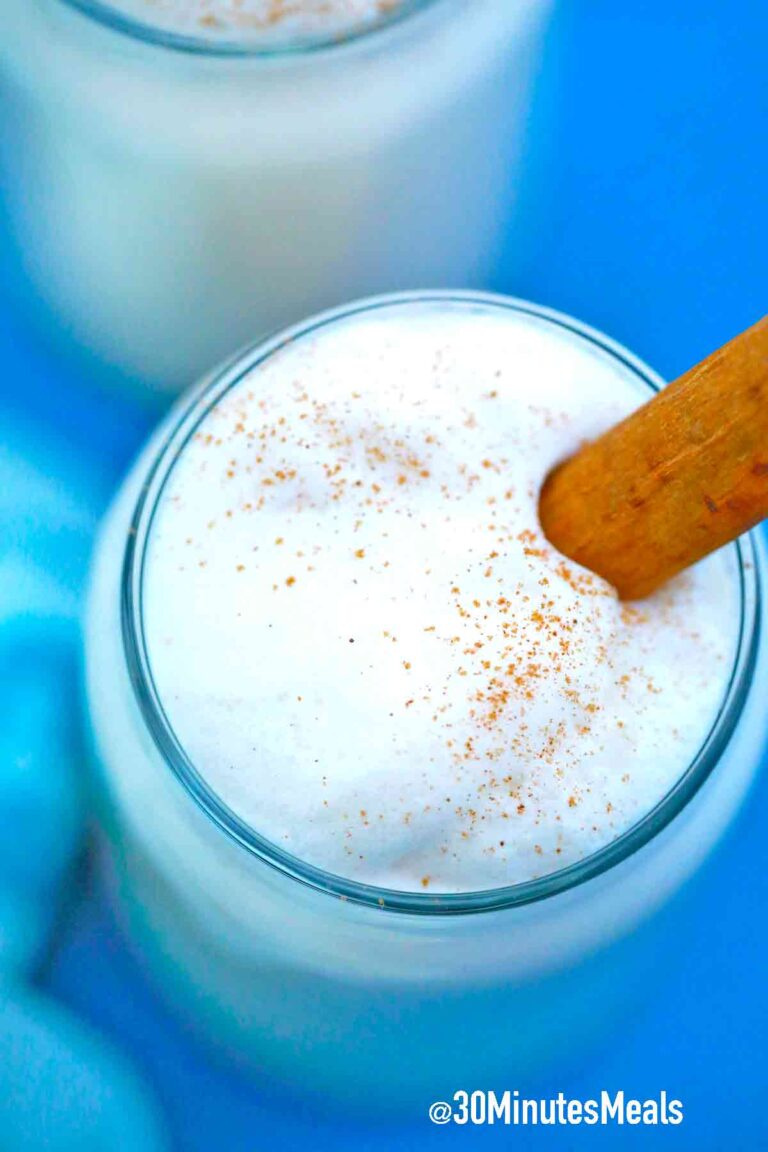 Ingredients needed:
These are the simple ingredients for this Mexican horchata recipe. Scroll down to our recipe card for complete instructions and exact measurements.
Long grain rice
Mexican cinnamon: A regular cinnamon stick will work.
Hot water
Sugar: White granulated sugar.
Vanilla: 100% pure vanilla extract.
Milk: Whole or 2% are both fine.
Ice cubes: For serving.
How to make Mexican horchata recipe?
Soak the rice: To begin, put the cinnamon stick and rice in a large glass bowl and pour in the four cups of hot water. Cover the bowl with a lid or plastic wrap and let it soak overnight or for at least eight hours.

Blend: After the rice mixture has soaked overnight, pour the rice and cinnamon sticks into a blender or food processor, and blend it until it is a smooth liquid paste.

Strain the mixture: Next, strain your rice mixture through a sieve or fine-mesh strainer into a large-mouth pitcher. Stir occasionally to help the liquid come through.

Add milk and vanilla: Lastly, pour in the milk, vanilla extract, and water. Then, stir in the sugar a little at a time to the sweetness you like.
Chill: Finally, put your homemade horchata in the fridge to cool for about an hour.

Serve: After it is chilled, stir and add ice for an authentic Mexican horchata.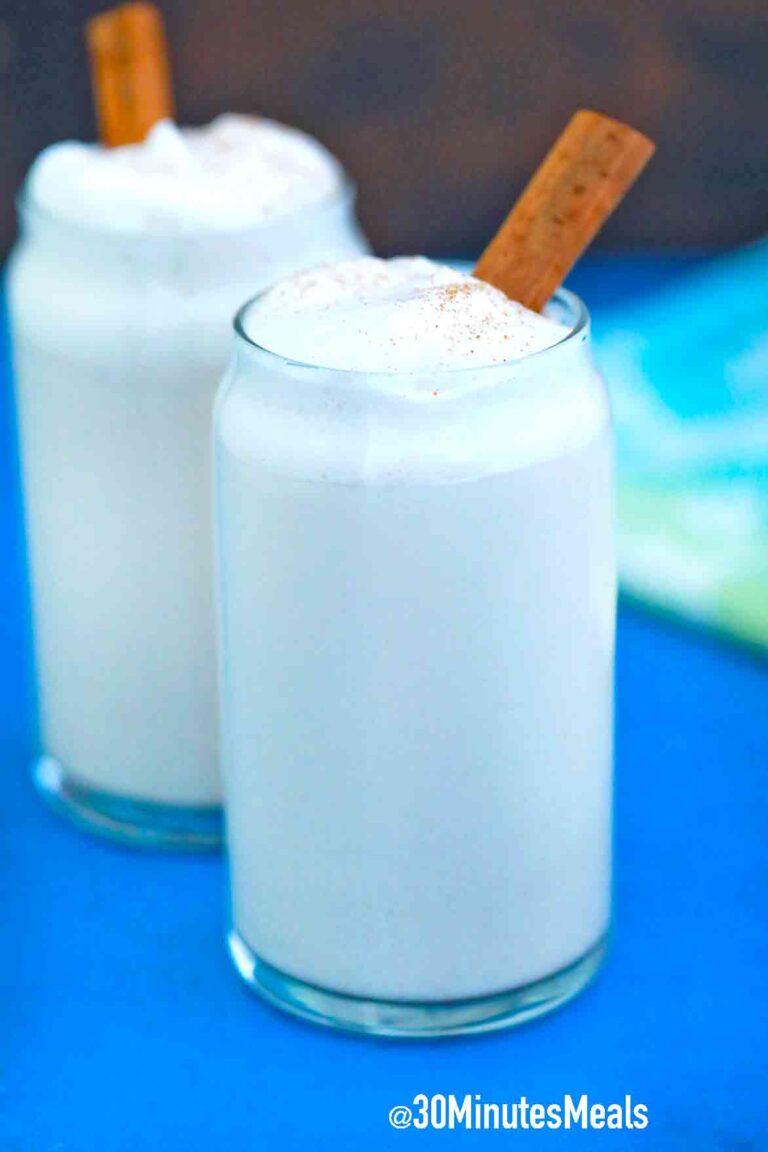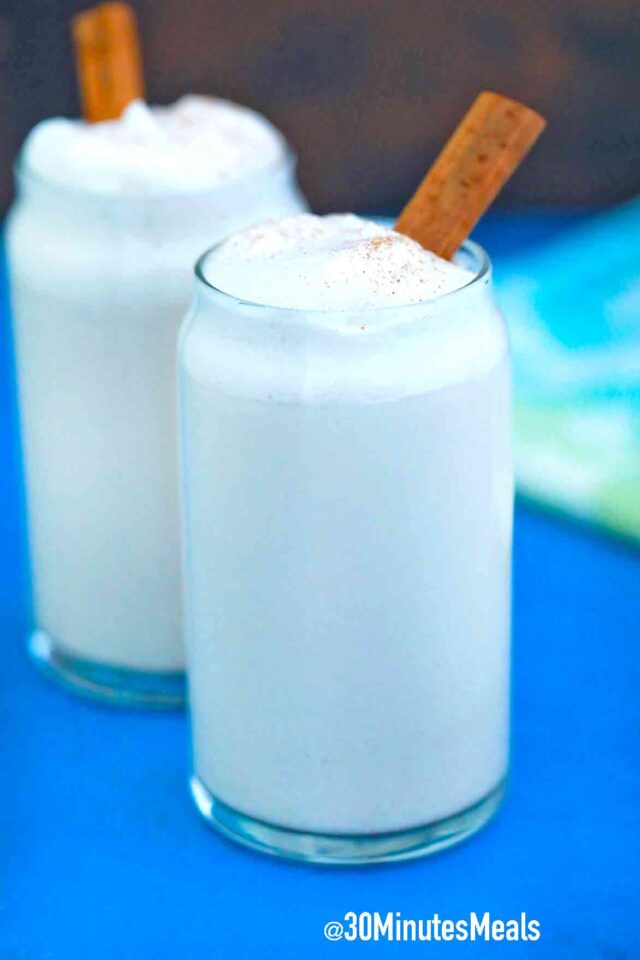 Recipe variations:
Other milk: If you are lactose intolerant, try using almond milk or coconut milk.
Evaporated milk: Alternatively, try using evaporated milk for more thickness or sweetened condensed milk for a sweeter and thicker drink. However, sweetened condensed milk will add a lot of sweetness so lower the sugar in the recipe.

Ground cinnamon: If you do not have a cinnamon stick or Mexican cinnamon stick, you can use ground cinnamon instead for your Mexican horchata recipe.
Other rice: If you do not have white rice, you can use brown rice, jasmine rice, or even just long-grain white rice for your Mexican horchata recipe. However, the rice flavor will change as well.
Agua fresca: Leave out the milk to make agua fresca. Also known as fresh water in English, the agua fresca is just water mixed with fruit or spices like cinnamon sticks, rice, and vanilla extract.
How to serve:
An authentic Mexican horchata recipe typically has the ingredients we use so you can make your own authentic Mexican horchata at home. The cinnamon flavor with the sweet rice and milk makes this delicious drink taste amazing. Here are some great ideas for serving:
For a coconut horchata, use coconut milk instead of evaporated milk or regular milk and add some shredded coconut.
Our homemade horchata recipe goes perfect with this sweet and spicy chicken.

Another way to serve this authentic horchata recipe is by adding a dollop of whipped cream and sprinkle some ground cinnamon on top. Put a few extra cinnamon sticks in the drink for even more flavor.
Add the ice cubes to your rice and cinnamon water and puree it before serving as a thick milkshake Mexican horchata.

This agua de horchata also goes great with these air fryer pineapple rings.

Sprinkle with ground cinnamon or cinnamon powder for more cinnamon flavor.

Give your authentic Mexican horchata a splash of rum for a boozy horchata.
Similarly, you could add a scoop of vanilla ice cream for horchata de Arroz.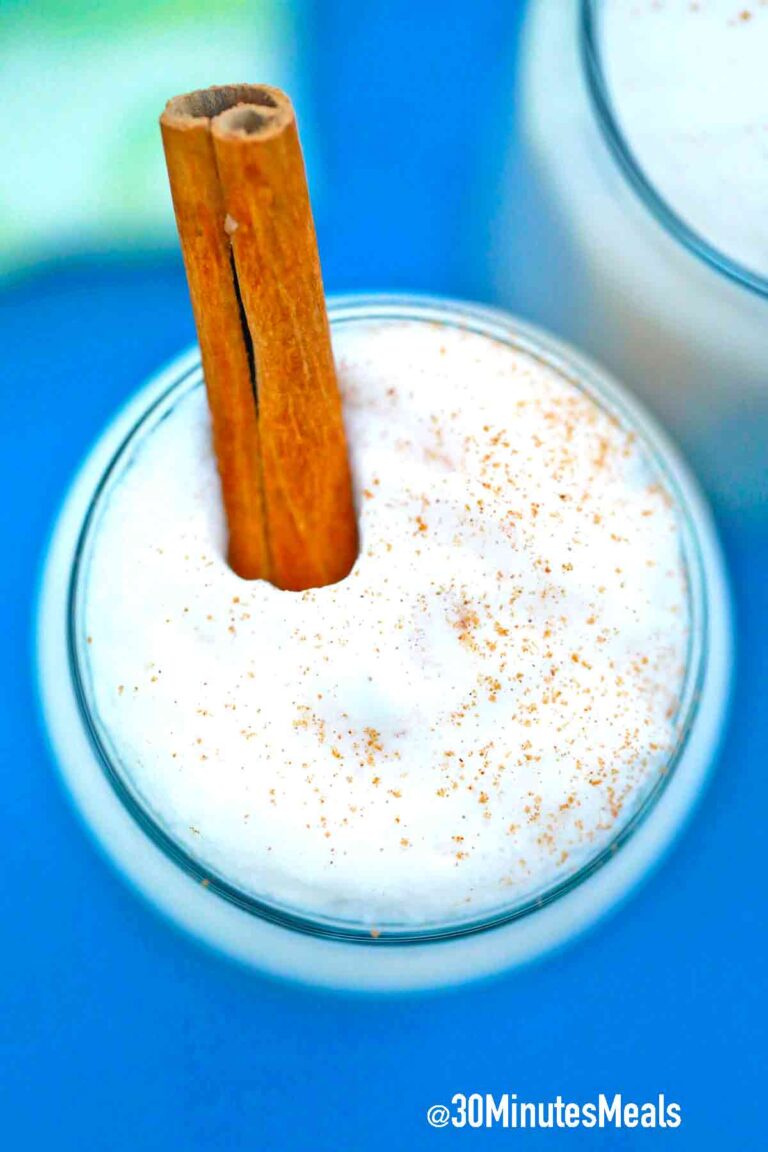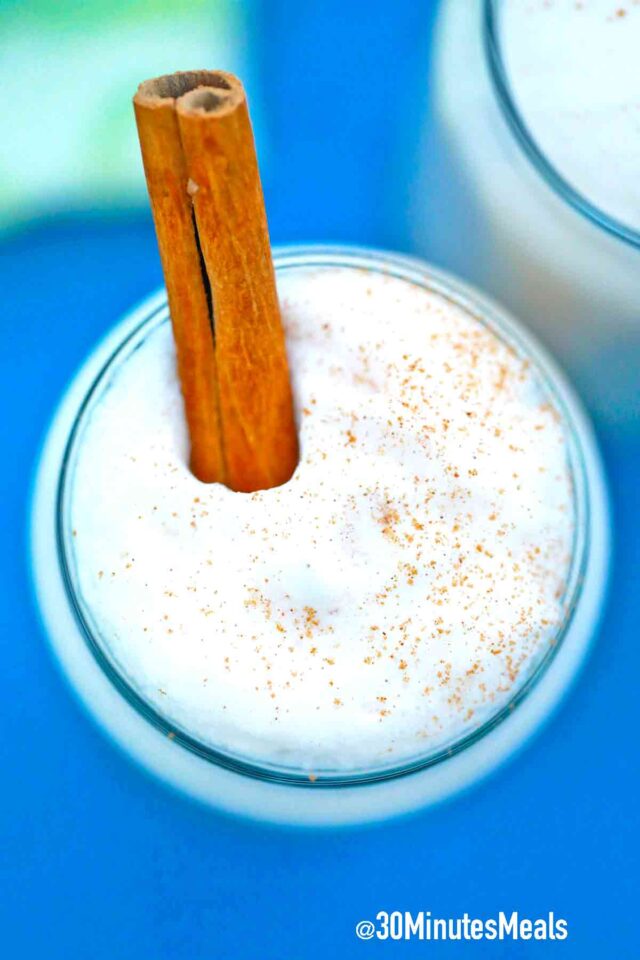 Frequently asked questions
What is the difference between Mexican horchata and Spanish horchata?
The main difference between these two is that Mexican horchata is made with white rice and Spanish horchata is made with tiger nuts. Both of these recipes soak the main ingredient in water overnight to soften and flavor them. They both use cinnamon sticks, milk, and sugar.
The Spanish, horchata de Chufa is one of Spain's most popular non-alcoholic drinks and was first made in the southwestern section of Valencia. It was made with ground chufa (tiger nuts), which are actually roots and not nuts. There is a third kind, which is the Salvadoran horchata that uses morro seeds.
What are morro seeds?
Morro seeds come from the Jicaro tree, which is known as the morro tree in English. It grows in very dry climates and produces hard round fruits. The seeds inside the fruits are the morro seeds used in the Salvadoran horchata de morro. This one also uses cinnamon sticks.
Why is horchata called horchata?
The horchata is a traditional drink made with rice water, cinnamon sticks, and evaporated milk. It was first known in Mexico in the 1500s, but the drink actually dates back to ancient Roman times. It was used as a medical elixir they called hordeata, which means drink made with barley.
Is Mexican horchata good for you?
Yes, the traditional agua de horchata is a great source of vitamins C and E as well as iron, calcium, potassium, magnesium, phosphorus, and protein. It also has unsaturated fats and enzymes that help with digestion.
If you are worried about sugar, fat, or calories, you can change the recipe to make it right for you. Use sugar substitute instead of granulated sugar and low-fat or skim milk instead of sweetened condensed milk.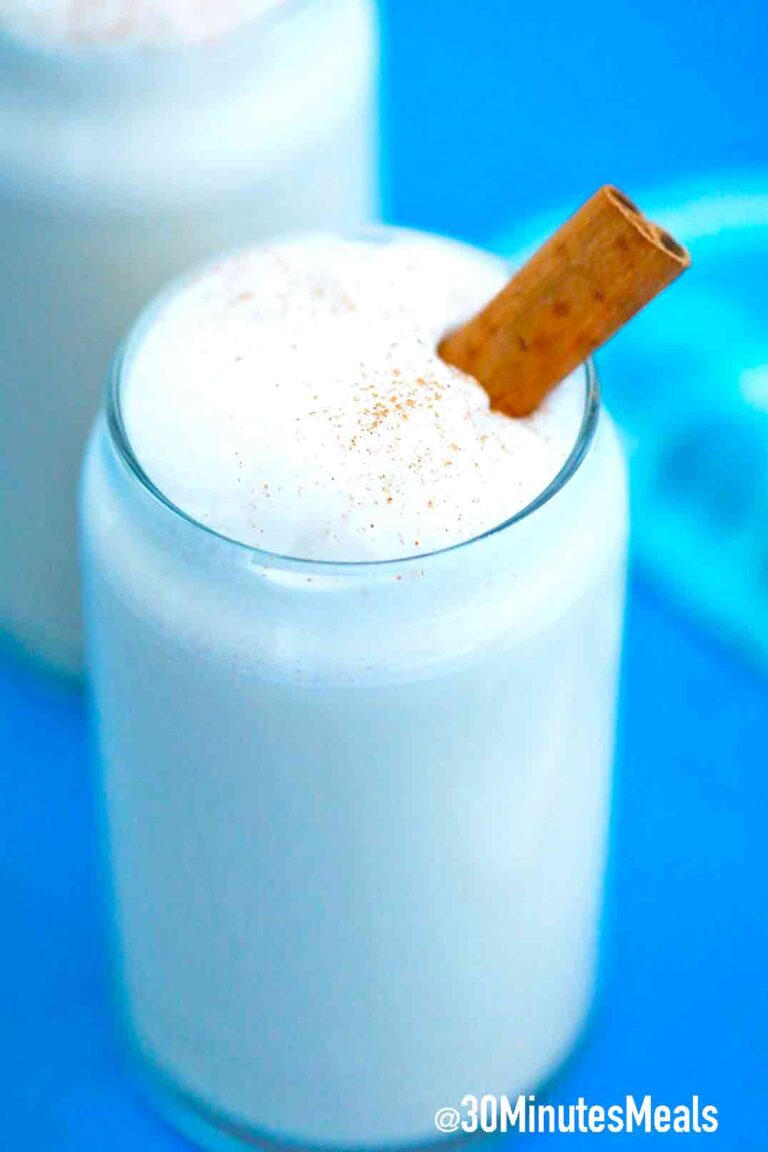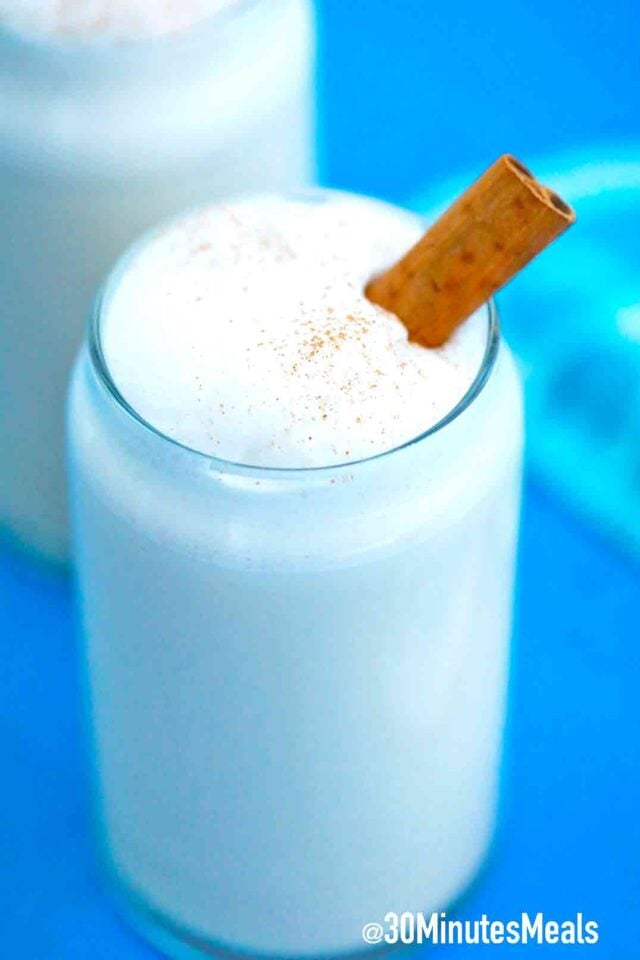 How to store leftovers:
Store: Keep Mexican horchata in a pitcher in your fridge for up to a week to drink with meals or any time you want something sweet and light.

Freeze: To freeze your leftover Mexican horchata, put it in a freezer bag and store it for up to a month in the coldest part of your freezer.
Thaw: Be sure to thaw it overnight in the refrigerator before serving the next day.
Recipe tips:
Be sure to wash and drain the rice before soaking.
If you do not have a fine-mesh strainer, you can use cheesecloth instead.

At first, you can make it extra-sugary because the ice cubes will melt, and you don't want it to be watery and bland.

Always taste the drink before and after you add the sugar.

Don't have a blender? Try using rice flour instead.

Break up the cinnamon sticks before soaking for even more cinnamon flavor.

If your Mexican horchata is too thin, add more ice and blend for a smoothie consistency.

Alternatively, you can add water or milk if your agua de horchata is too runny.

Use leftovers as a base to make rice pudding.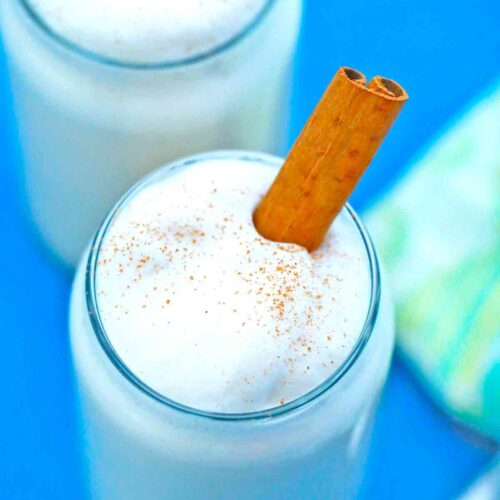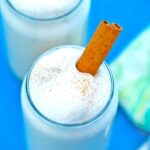 Mexican Horchata
Mexican Horchata is a sweet and cool drink made with rice and cinnamon, also known as Mexican agua de horchata.
Keyword:
Mexican Horchata
Servings
:
6
servings of 2 cups
Ingredients
2

cups

white long-grain rice

1

stick

Mexican Cinnamon

4

cups

hot water

8-10

cups

water

to finish the drink

3/4

cup

white sugar

2

teaspoon

vanilla extract

or 1 vanilla bean

1

cup

whole milk
Instructions
Add the rice and cinnamon stick, vanilla bean if using, to a large glass bowl and pour 4 cups of hot water on top.

Cover the bowl with plastic wrap, then let it soak overnight, or for at least 8 hours.

The next day, transfer the mixture to a high-speed blender and process until it becomes a smooth, watery paste.

After that, use a sieve, and strain the mixture into a pitcher.

Add the milk, vanilla extract, and the rest of the water to the pitcher.

Stir in the sugar, and taste to see if you need to add more.

Chill in the refrigerator before serving. Always stir the Horchata before serving.

Add ice cubes to glasses and pour the drink. Sprinkle with cinnamon.