Blackberry Lemonade Recipe
Blackberry Lemonade is made with ripe summer blackberries, fresh lemon juice, and a bit of club soda or sparkling water for a delicious summer drink. Actually, this homemade blackberry lemonade recipe is so easy and delightful, that you can have it anytime.
If you like this easy lemonade recipe, you will love this Blueberry Lemonade recipe made from fresh lemons, fresh berries, and water. For our classic homemade lemonade recipe, all you need is lemons, sugar, and water.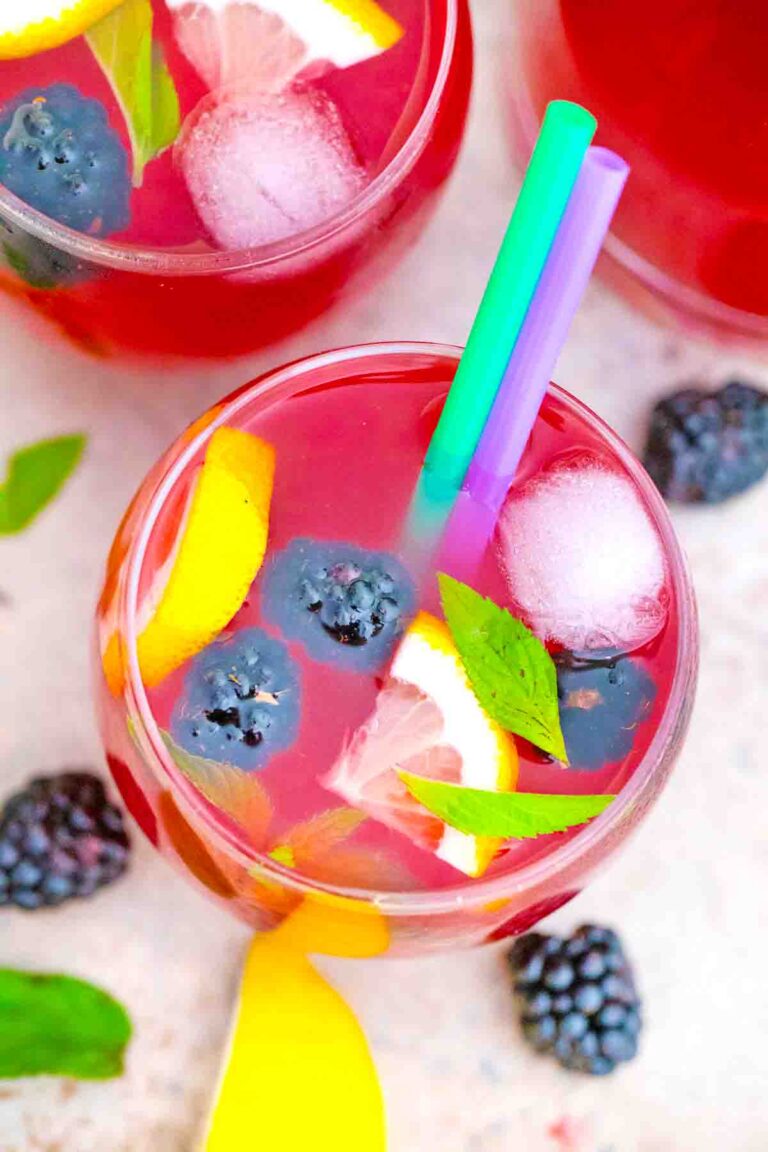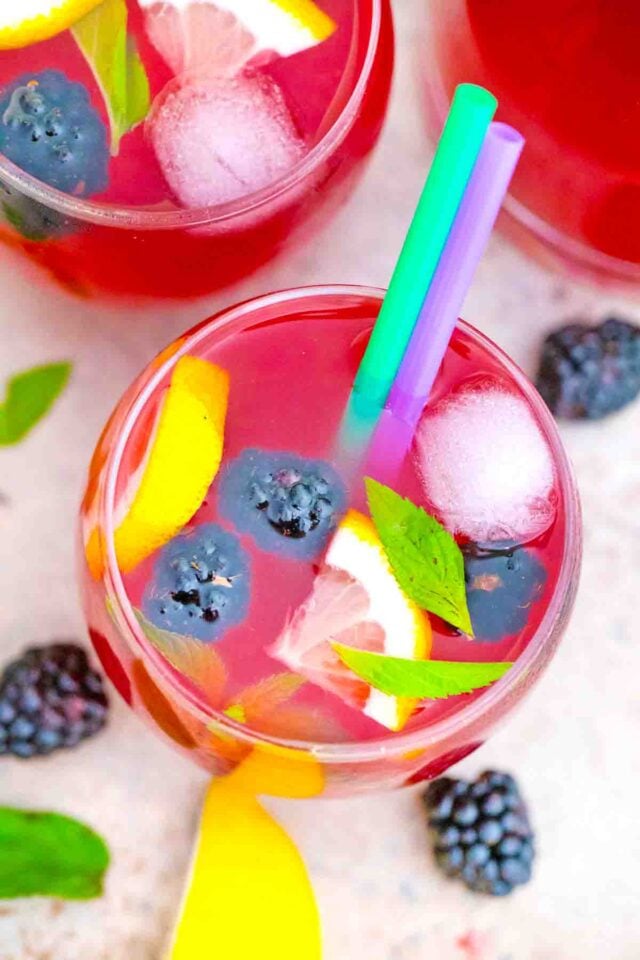 Everyone has heard of lemonade, and it is one of the most popular summer drinks in the US. It is one of my family's favorite recipes. But the first glass of lemonade was concocted in Egypt in the 12th century. It was called qatarmizat and was made with lemon, water, and sugar. The same recipe we use today!
This is the perfect drink for a hot day by the pool or you can make a big batch of it for your next family gathering or celebration. Prep time is minimal and the sweet and tangy drink is ready in minutes. It has just a few calories, no fat, and plenty of vitamin C.
With this blackberry lemonade recipe, summer never tasted so good. Most of these items are pantry staples so you will probably only need to grab some fresh blackberries and lemons from the farmers' market or grocery store.
Looking for more cocktail drink recipes? Our mimosa only needs three ingredients and it is delicious as well as boozy. And this mango colada recipe is easily made with mango chunks, rum, pineapple juice, and coconut.
Make this recipe a blackberry lemonade cocktail by adding vodka or try this Orange Cranberry Sangria recipe flavored with fresh cranberries, orange juice, and fresh oranges. For something a little different, check out this spiced buttered rum drink with cloves, cinnamon, and nutmeg.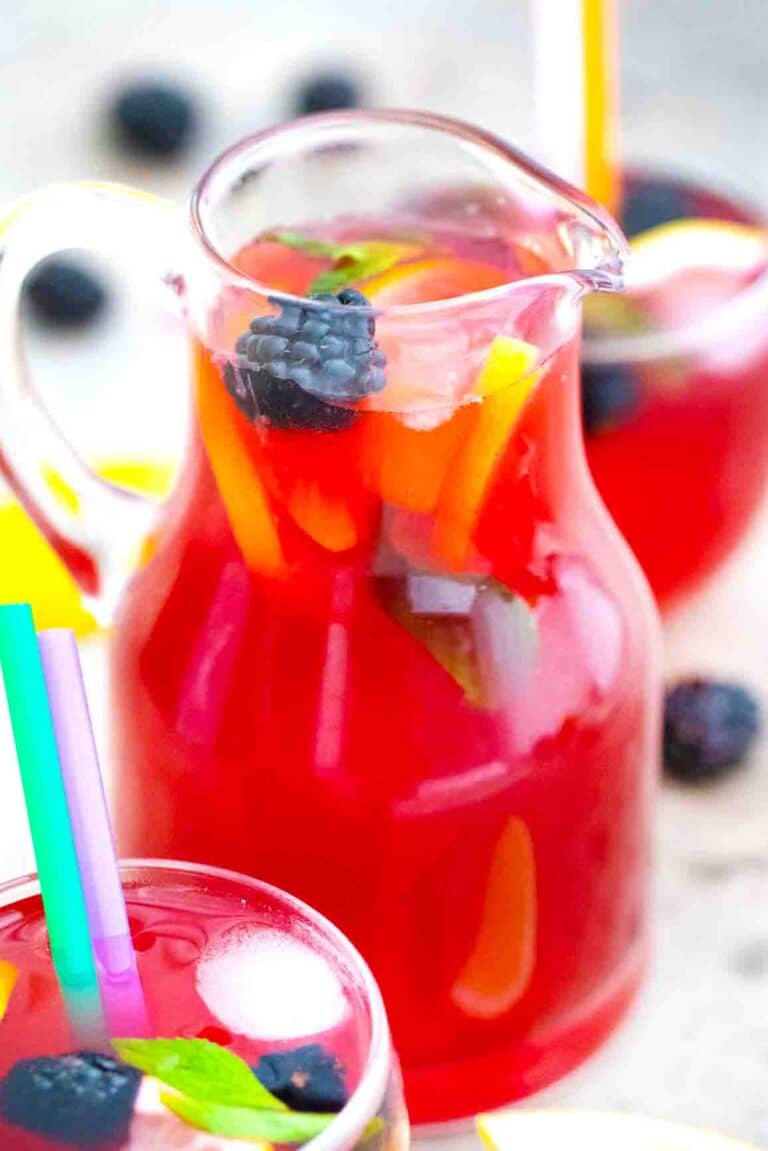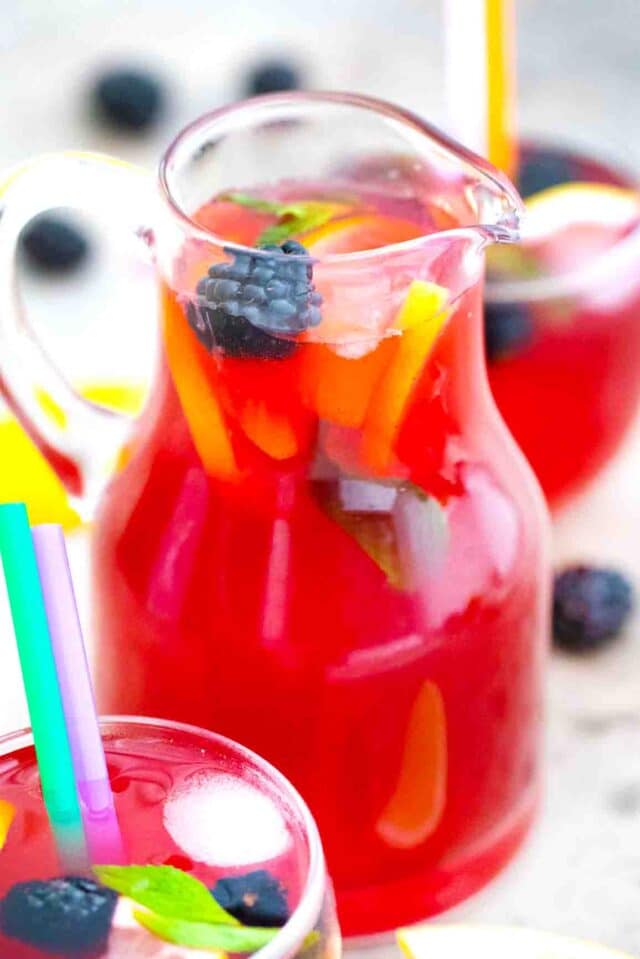 Ingredients needed:
You will not need much to make this easy blackberry lemonade recipe. For the exact amounts and instructions, scroll down to the bottom of the page for our printable recipe card.
Granulated sugar
Fresh blackberries
Frozen blackberries
Lemon peels
Fresh mint leaves
Water or club soda
Ice cubes
Freshly squeezed lemon juice: About 10 medium or 8 large.

Lemon slices and blackberries: For garnish.
How to make blackberry lemonade recipe?
Make simple syrup: First, combine 1 1/4 cups sugar with 1 1/4 cup water, lemon peel, and mint leaves in a small saucepan over medium heat. Continue to heat, stirring occasionally, until the sugar dissolves. Remove it from the heat and let it cool completely before removing the lemon peel and mint leaves.

Blend blackberry mixture: Next, mix the rest of the sugar with the blackberries in a food processor or blender until it is smooth and press it through a fine mesh sieve to get the liquid out. Discard solids.

Mix together: After, thoroughly mix the simple syrup with the blackberry mixture, lemon juice, and water in a large pitcher.

Chill and serve: Finally, put the blackberry lemonade in the fridge to chill for at least an hour before serving. Add ice, frozen blackberries, and sliced lemons for garnish. Combine the blackberry puree with the simple syrup, lemon juice, and water in a large pitcher. Stir well and chill.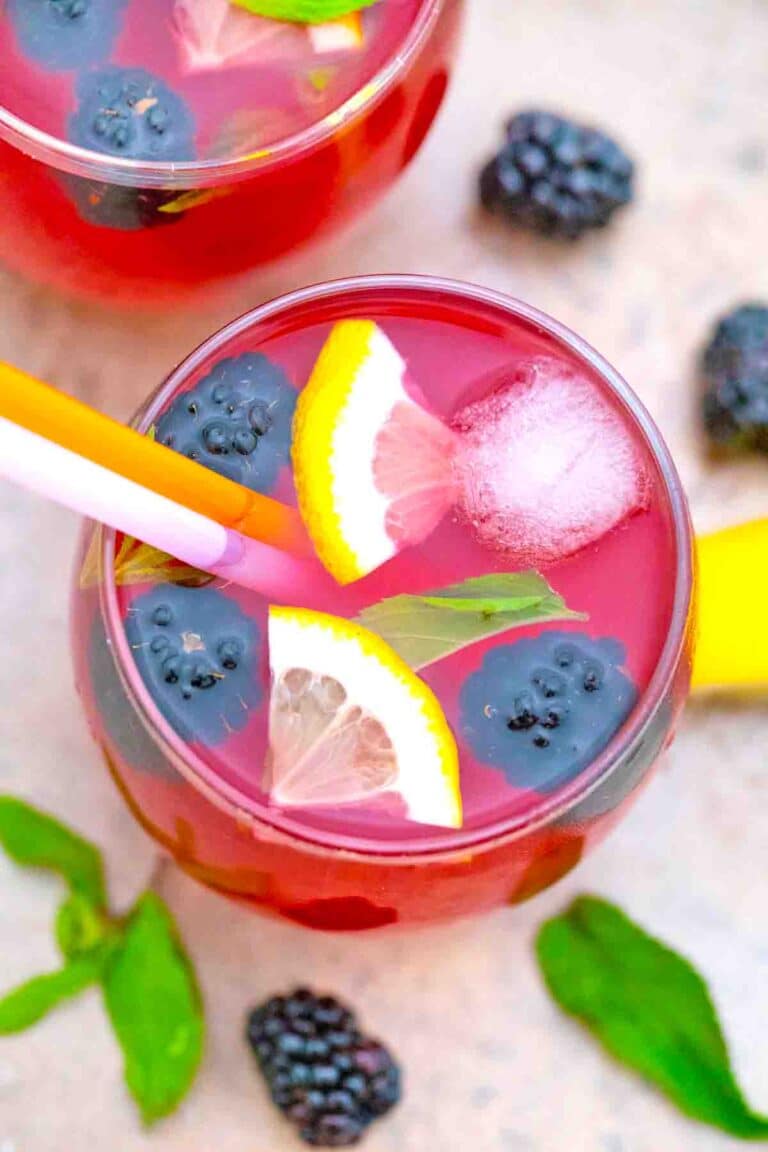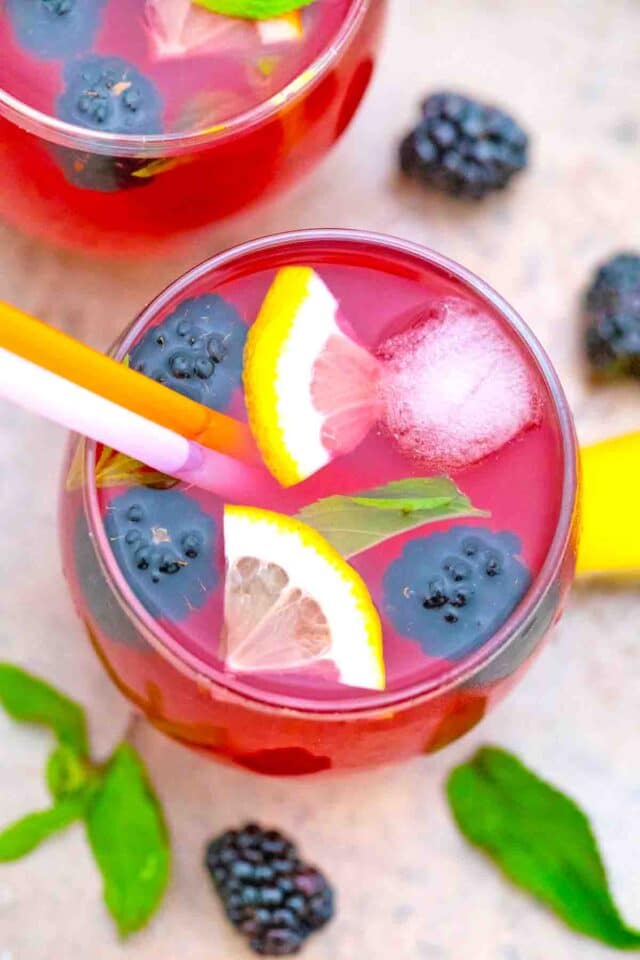 Recipe variations:
Add syrup: For even more blackberry flavor, add one teaspoon of blackberry syrup.

Fun berry twist: Add sliced strawberries, raspberries, cherries, and blueberries for a fun berry twist.

Sugar-free: Make sugar-free lemonade by using honey or an artificial sweetener like Splenda.

Tropical lemonade: If you want to add some tropical flavor, add a teaspoon of coconut and lime extract and garnish with lime wedges.

Other extracts: Feel free to use other extracts your family likes such as orange, watermelon, or peppermint.

Vanilla: For a richer flavor, add a teaspoon of vanilla extract and a scoop of vanilla ice cream.
Frozen berries: Use frozen berries instead of fresh ones if they are not in season.
How to serve:
Serve this delicious blackberry lemonade in mason jars with sprigs of rosemary and lime wedges. Or you can try one of these fun serving ideas:
Use lemonade ice cubes for a more intense lemon flavor.

You can also freeze this delicious juice into popsicles for a fun new way to enjoy the drink.

For a fun party idea, carve out the inside of a watermelon and pour the chilled lemonade in there to make a cute punch bowl. Add some fruit chunks to the top.
Add ice cream or heavy cream to make a blackberry lemonade smoothie or mix it with this recipe for a mango pineapple smoothie. Sprinkle some lemon zest into the serving glasses right before serving for an extra tangy flavor.
This juice tastes wonderful with our peanut butter cookies.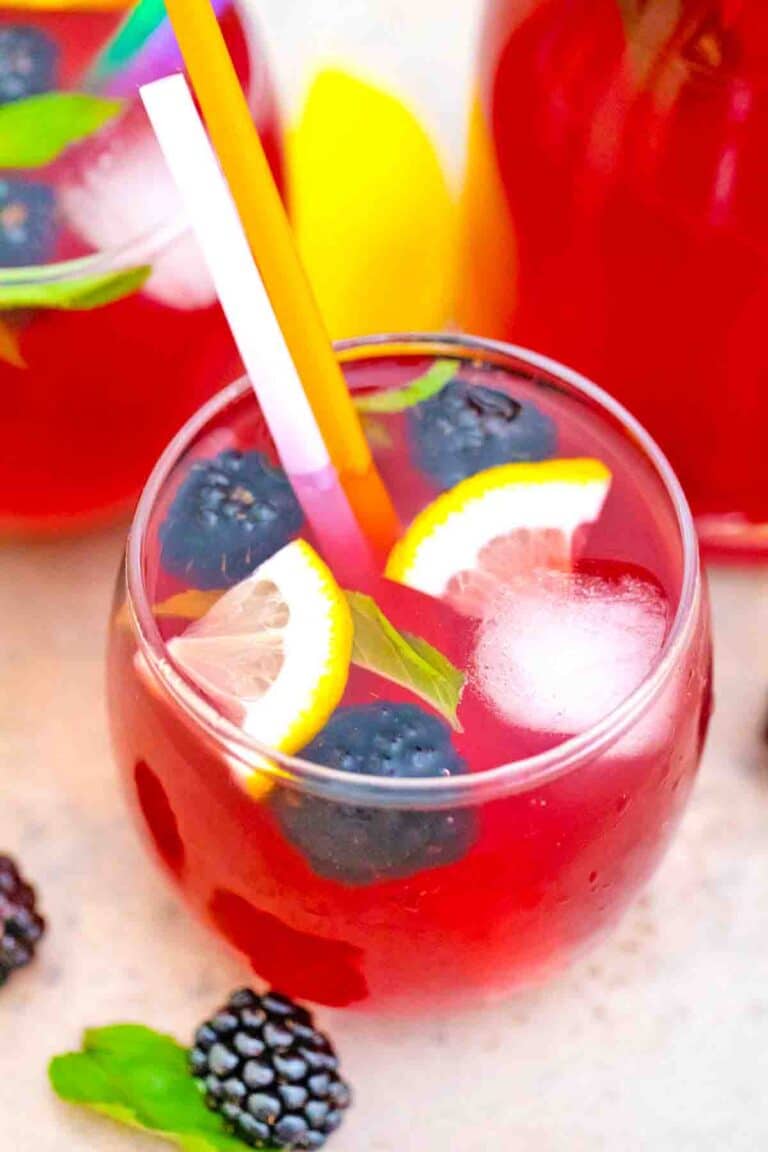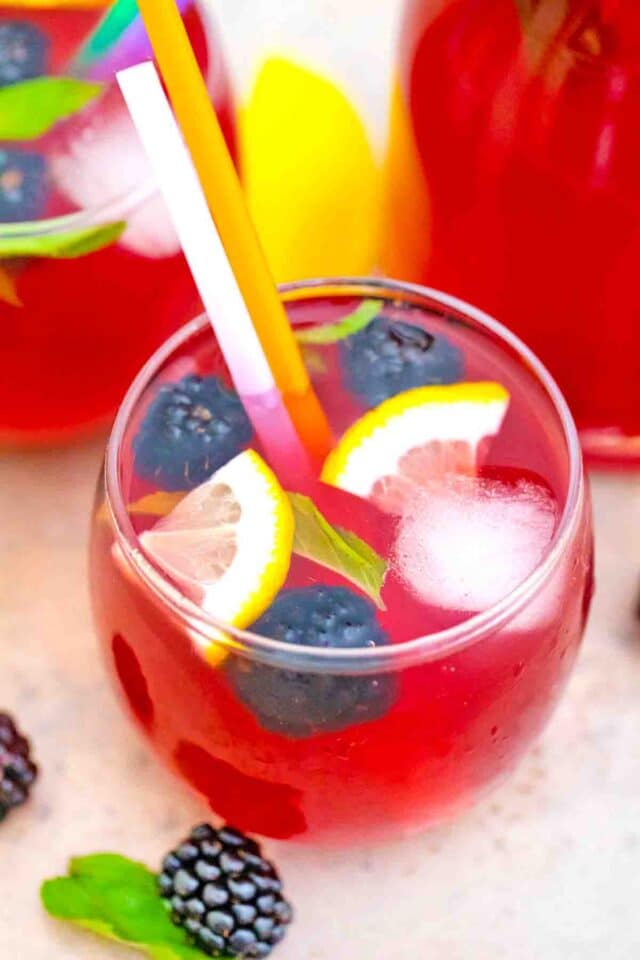 Frequently asked questions
What is better, fresh or frozen blackberries?
There is a big difference between fresh and frozen blackberries. For one thing, frozen blackberries are picked at the peak of ripeness and flash frozen to provide the best nutrients and flavor. Also, when it is frozen, you can take out as many as you like and put the rest back in the freezer.
Fresh blackberries are not often completely ripe even when they are in season. It is not often that you can buy a pack of blackberries and have all of them be completely perfect. They also do not last as long as frozen. Sure, you could freeze them yourself, but that takes time.
What are the different kinds of blackberries?
There are different varieties of blackberries. The most common ones you can find in your grocery store include Triple Crown, Ouachita, Kiowa, and Apache. Ouachita is one of the favorites. They are of medium size and are deliciously sweet.
Triple Crown is large and even sweeter than Ouachita. The Apache is one of the best for pie, jelly, and jam. Kiowa bears the largest fruit with the sweetest flavor. They are perfect for any recipe, including this one.
How do I choose the best blackberries?
Choose fruit that is not dirty or wrinkled. Make sure there is no mold or any other signs that they have been sitting for a long time. Blackberries should be plump with a deep black color. The skin should be dull black instead of shiny for the sweetest flavor. If they are purple or red, they are not ripe.
What is the difference between regular and pink lemonade?
The main difference between these two is the color. Many store-bought pink lemonades are just tinted with red food dye to change the color. However, some varieties have been naturally tinted with strawberries or raspberries and some also have grapefruit juice and other fruits in the mix.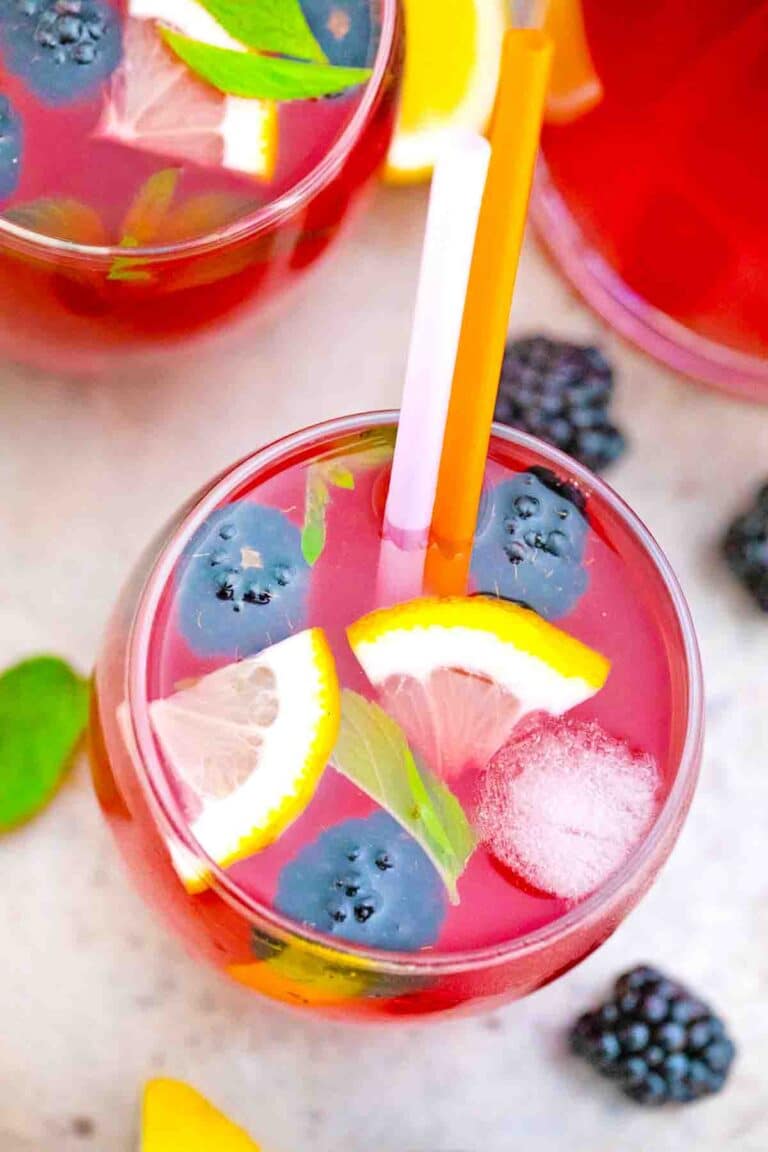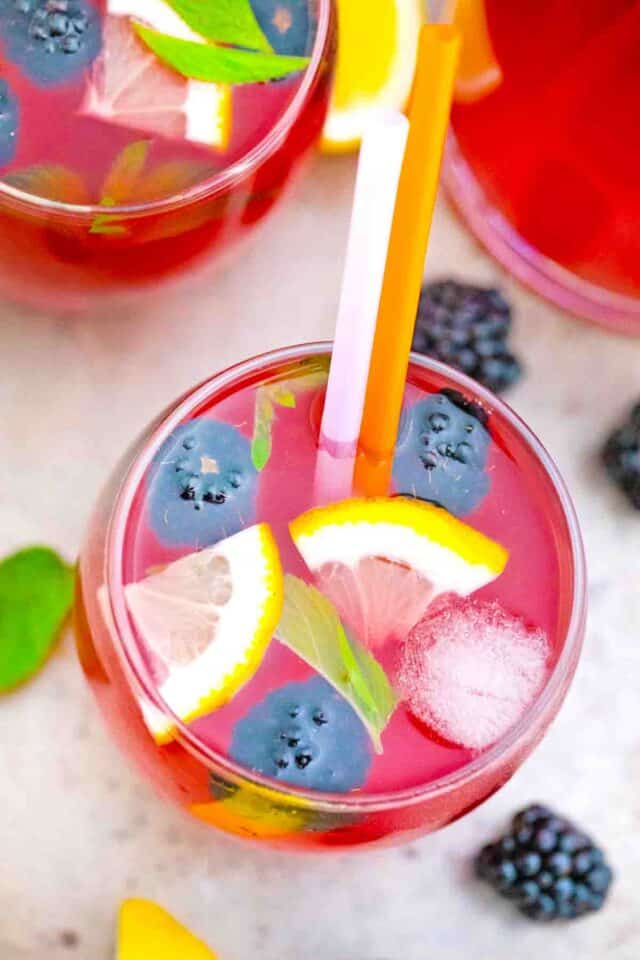 How to store leftovers:
Store: You can store your leftover blackberry lemonade in an airtight container for five to seven days.

Freeze: If you want to store it longer, you can pour your leftover lemonade into a freezer-safe container or a freezer bag. Use it within three months.

Thaw: For best results, thaw your juice in the fridge overnight before serving.
Recipe tips:
Using fresh juice makes a big difference. Try to find the ripest lemons and blackberries at your grocery store. You will need about 10 medium-sized lemons and one container of blackberries.
Warm lemons in the microwave for 20 seconds or in a bowl of hot water for two minutes to get the most juice.

Use a potato masher to puree your berries if you do not have a blender or food processor.

Be sure to clean your blackberries well and let them dry completely before using them to avoid any kind of foodborne illnesses from listeria, E. coli, and salmonella.

Remember that the ice will water down your blackberry lemonade so you may not need to add as much liquid.

Make a larger batch and freeze it for a quick beverage when friends drop by. Just put it in the microwave for 45 seconds to melt.

Look carefully at the juice when straining with your fine mesh sieve so you do not have a bunch of blackberry seeds in your drink.

If you do not have a sieve, use a piece of cheesecloth instead. Use a spatula to press down on the berries to get as much juice as you can.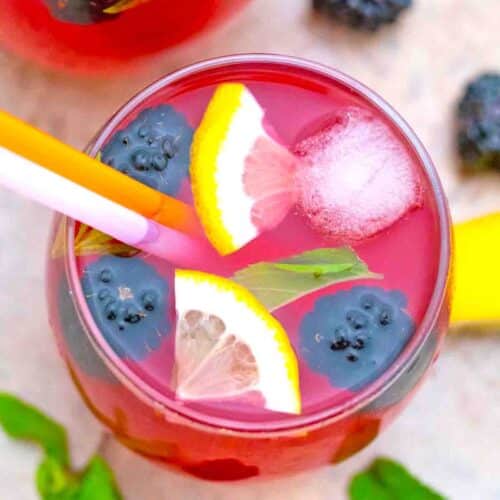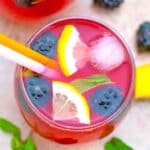 Blackberry Lemonade
Blackberry Lemonade is made with ripe summer blackberries, fresh lemon juice, and a bit of sparkling water for a delicious summer drink.
Keyword:
Blackberry Lemonade
Ingredients
1 1/2

cups

white sugar

2

cups

fresh blackberries

2

lemons

peeled

8

mint leaves

2

cups

freshly squeezed lemon juice

from about 10-12 lemons

8-10

cups

water

or sparkling water

1/2

cup

frozen blackberries

Ice cubes
Instructions
In a medium saucepan over medium heat, combine 1 1/4 cups sugar, mint leaves, lemon peel, and 1 1/4 cup of water.

Stirring occasionally, simmering until the sugar is completely dissolved.

Remove from heat and let the sugar syrup cool completely. Discard the lemon peel and mint leaves.

In a blender, puree the fresh blackberries with the remaining 1/4 of sugar.

Press the blackberry puree through a fine mesh sieve and discard solids.

Add the blackberry puree, half of the simple syrup, lemon juice, and water to a large pitcher. Stir and taste, if needed add the rest of the simple syrup.

Chill for at least one hour before serving.

Serve in glasses over ice cubes and frozen blackberries.