Witch Hat Cookies are perfectly festive for Halloween, only have a few steps to make them, and you only need four ingredients. You cannot get much easier and faster than that! What's more, you can let the kids or grandkids make these easy witch hat cookies while you watch.
If you like this recipe, try our recipe for Turkey Cookies made with Oreos and candy corn. Instead of cookies, make these healthier Halloween Chocolate Dipped Strawberries, that you can decorate as you please.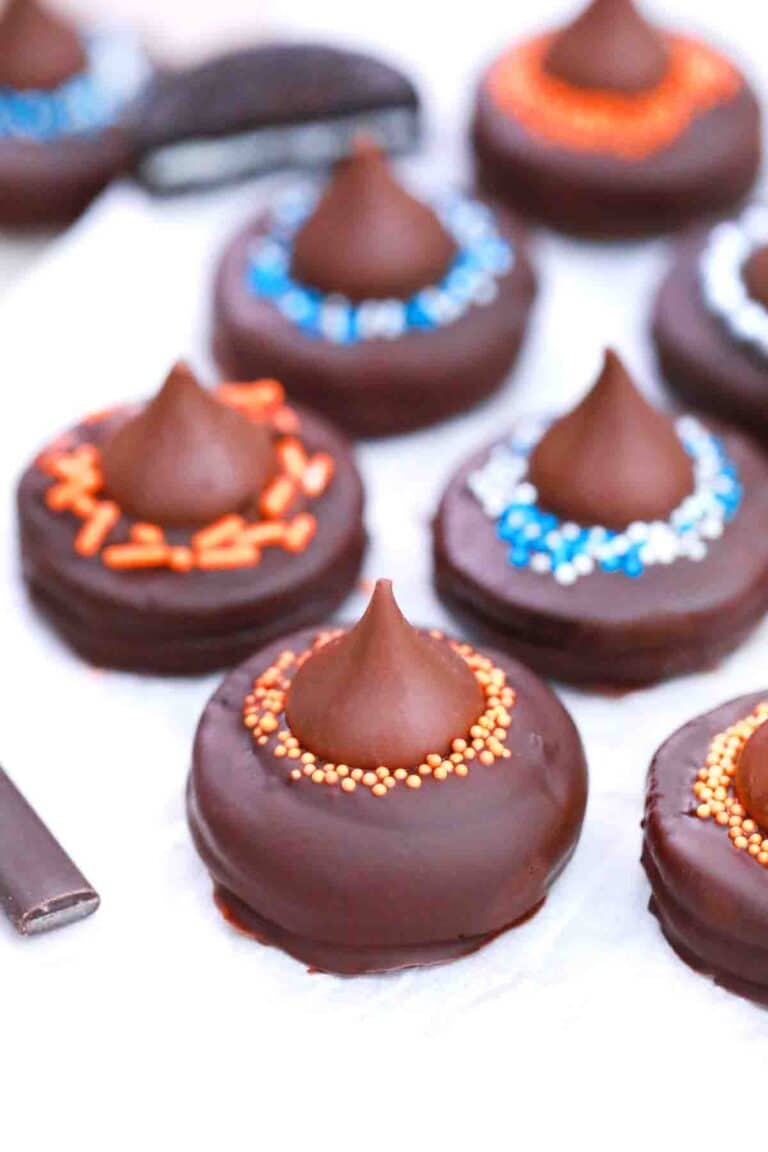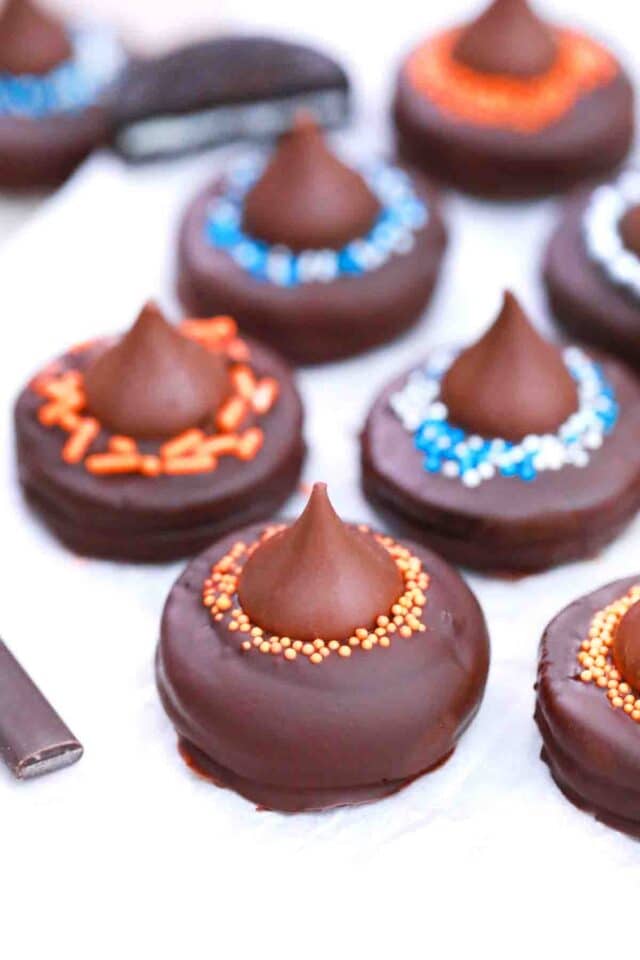 Cookies have been around for centuries. In fact, they date back to 600 AD when Persia used a small amount of cake dough to test their oven temperatures before baking their cakes. By the year 1320, cookies were common all over the world although they were called different things in other countries.
For example, Europeans call them biscuits, and Dutch cookies are called koekje. They also come in many varieties such as sandwich cookies, no-bake cookies, bar cookies, drop cookies, and molded cookies.
No baking or cooking of any kind is needed for these easy Halloween treats. Prep time is practically zero and since they are ready to eat, you can start handing them out in just a few minutes.
But be careful, your family (or you) may eat them faster than you can decorate them. The festive sprinkles and colored frosting make these cookies so much fun. It can be your new Halloween tradition. They are great for fall festivals, school parties, and as a Halloween treat for your favorite trick-or-treaters.
Looking for other kinds of dessert cuisine? These chocolate peanut butter cookies are fast and easy with peanut butter, eggs, and sugar, and they are so good, they melt in your mouth. Our chocolate fudge recipe is also easy with just a few ingredients including sweetened condensed milk, chocolate chips, butter, and vanilla.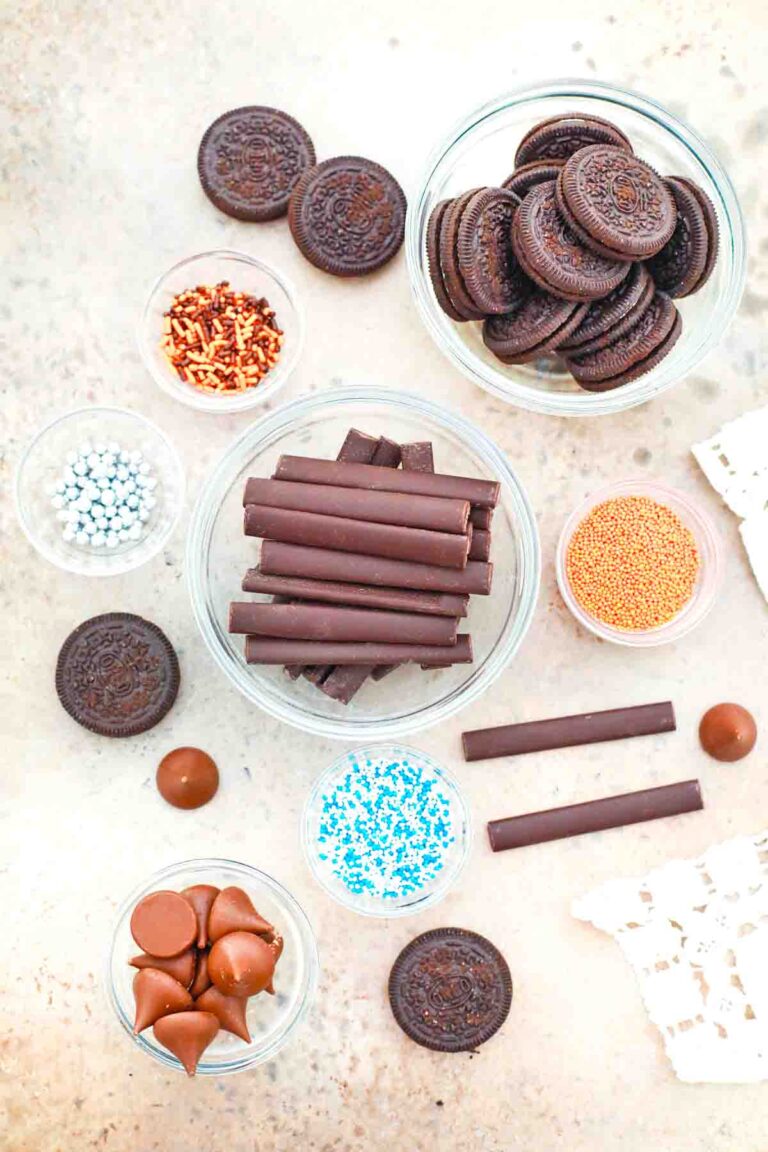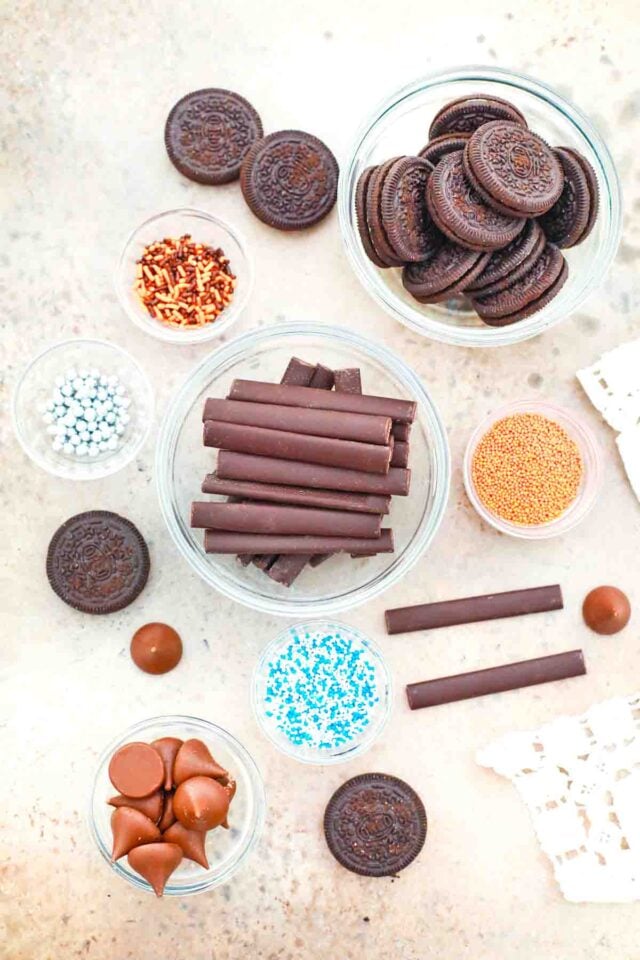 Ingredients needed:
For this great recipe, you only need four ingredients. When you are ready to put them together, scroll down to our recipe card for detailed instructions.
Oreo cookies or Oreo fudge-covered chocolate sandwich cookies
Chocolate chips: If using regular oreo cookies you will have to dip them in chocolate.
Hershey kisses: We used milk chocolate but you can use your favorite.
Wilton icing writer decorating tubes
Halloween food decorations: We used black and orange nonpareils.
How to make witch hat cookies from scratch?
Melt the chocolate: First, if using regular Oreos, add the chocolate chips to a microwave-safe dish and heat for 1 minute. Stir the mixture and heat in 30-sec intervals until fully melted.
Dip the cookies: After that, dip the Oreos in the melted chocolate, and arrange them on a baking sheet covered with waxed paper.
Add the Hershey chocolates: Immediately, add the Hershey chocolate on top and sprinkles around it. Let the chocolate set before serving.
Using fudge-covered Oreos: First, squeeze a dollop of icing on the underside of one unwrapped Hershey kiss and press it into the top of the fudge-covered Oreo.
Make them all first: Then, continue until you use all of the Oreos and Hershey kisses.
Add some frosting: Next, after all of the witch hats are made, working one at a time, use the frosting to make a line around the Hershey's kisses so you can see the frosting. Then, add sprinkles to the icing right away so it sticks. Continue one at a time until they are all decorated.
Serve: Serve your witch hat cookies with some of your other favorite Halloween food creations.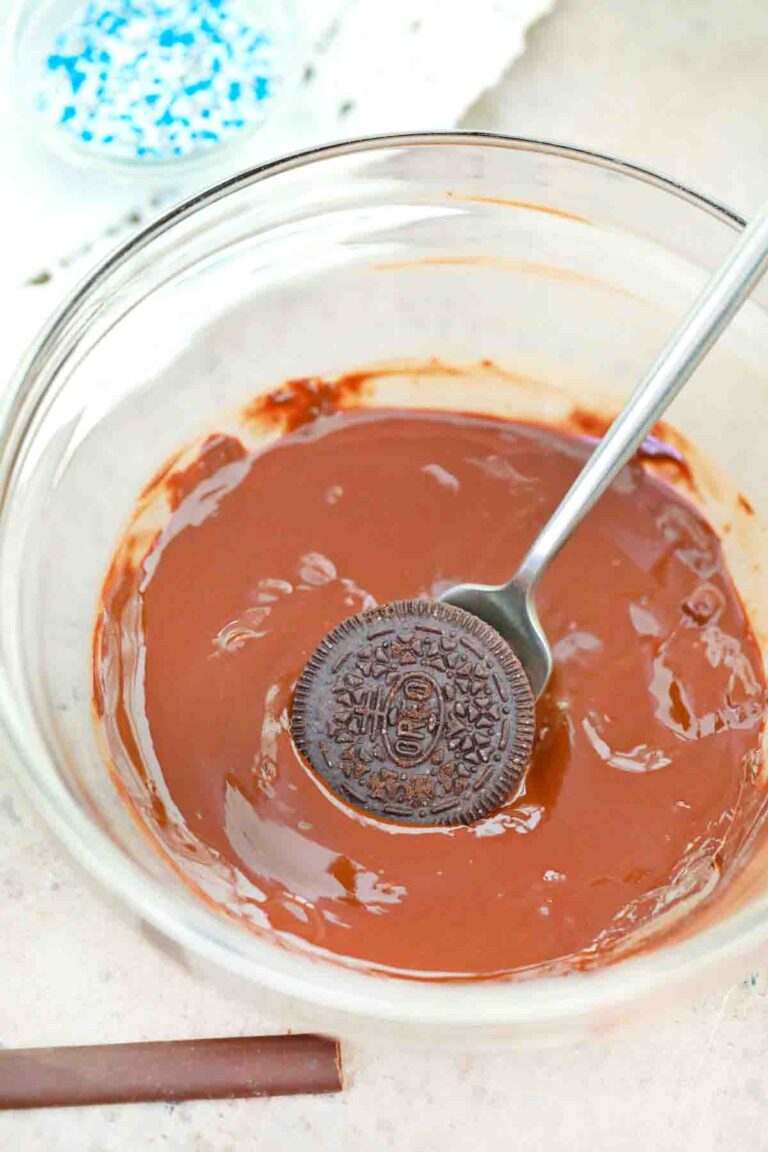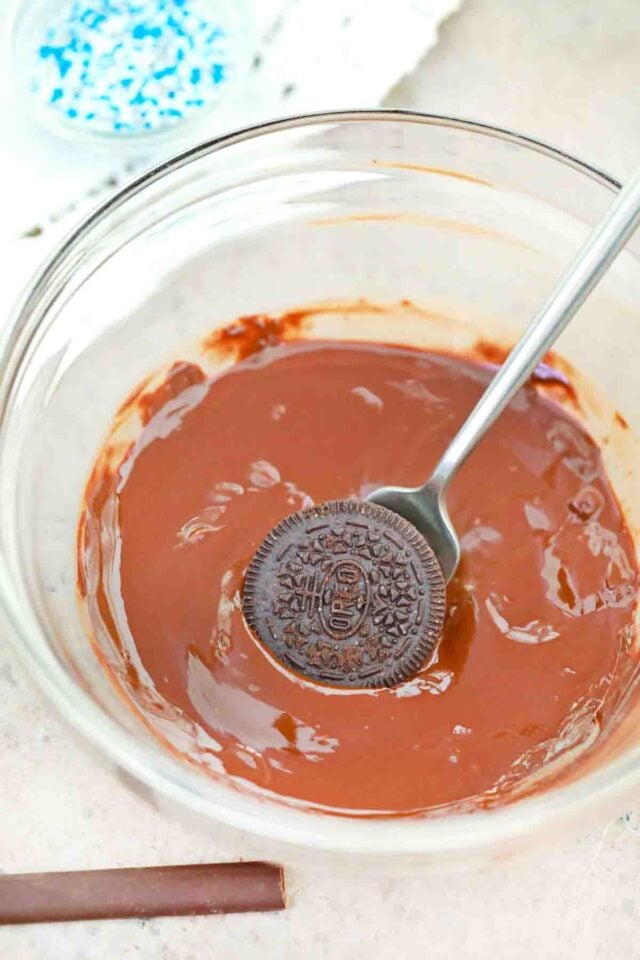 How to make witch hat cookies with your own dough?
Gather ingredients: For this recipe, you will need flour, baking powder, cocoa powder, sugar, butter, one egg, heavy cream, and vanilla extract.
Combine: First, whisk together cocoa powder, salt, baking soda, and flour in a small bowl.
Mix the wet ingredients: Next, using your stand mixer with a paddle attachment, cream the sugar and butter until it is mixed and then add the egg, vanilla extract, and heavy cream.
Add dry mixture: After, leave the mixer going on low speed and add the flour mixture gradually. Continue to beat until the mixture pulls away from the sides, scraping down the sides of the bowl.
Chill cookie dough: Then, divide the dough into two balls and wrap them in plastic wrap. Chill for two hours.
Preheat and prepare: When they are done chilling, preheat your oven to 375 degrees F and line sheet trays with parchment paper.
Roll out cookie dough balls: Meanwhile, roll out cookie dough balls onto a surface dusted with powdered sugar. Continue rolling until it is 1/4 inch thick.
Cut and bake cookies: Now, cut cookies into circles using a cookie cutter or the bottom of a glass. Put them on the prepared sheet tray and bake for seven to nine minutes.
Cool on a wire rack: Finally, let the cookies cool completely on a cooling rack before decorating.
Decorate and serve: To decorate, place scoops of frosting on the top center of each cookie and add a Hershey's kiss. Then run a ring of icing around the kiss and sprinkle with sanding sugar or some other decorations.
Recipe variations:
White chocolate kisses: Ready for Christmas? Why not make some Santa hat cookies instead? Just use white fudge Oreo cookies and white chocolate kisses. Coat the kisses with frosting and sprinkle red sugar on top of them to make them red.
Another oil: Feel free to use other oils such as avocado oil or whichever you like cooking with.
Peanut butter: Instead of frosting, use peanut butter to stick a Hershey's kiss to the cookie.
Nutella: Similarly, you could also use Nutella instead of icing.
Other cookies: Instead of Oreos, you can use fudge stripe cookies turned upside down or any other chocolate cookie.
Other kisses: For a different look and flavor, use a Hershey's hug kiss instead of chocolate kisses.
Different flavors: In fact, you can make all sorts of different flavor combinations using different kinds of Oreos and Hershey kisses.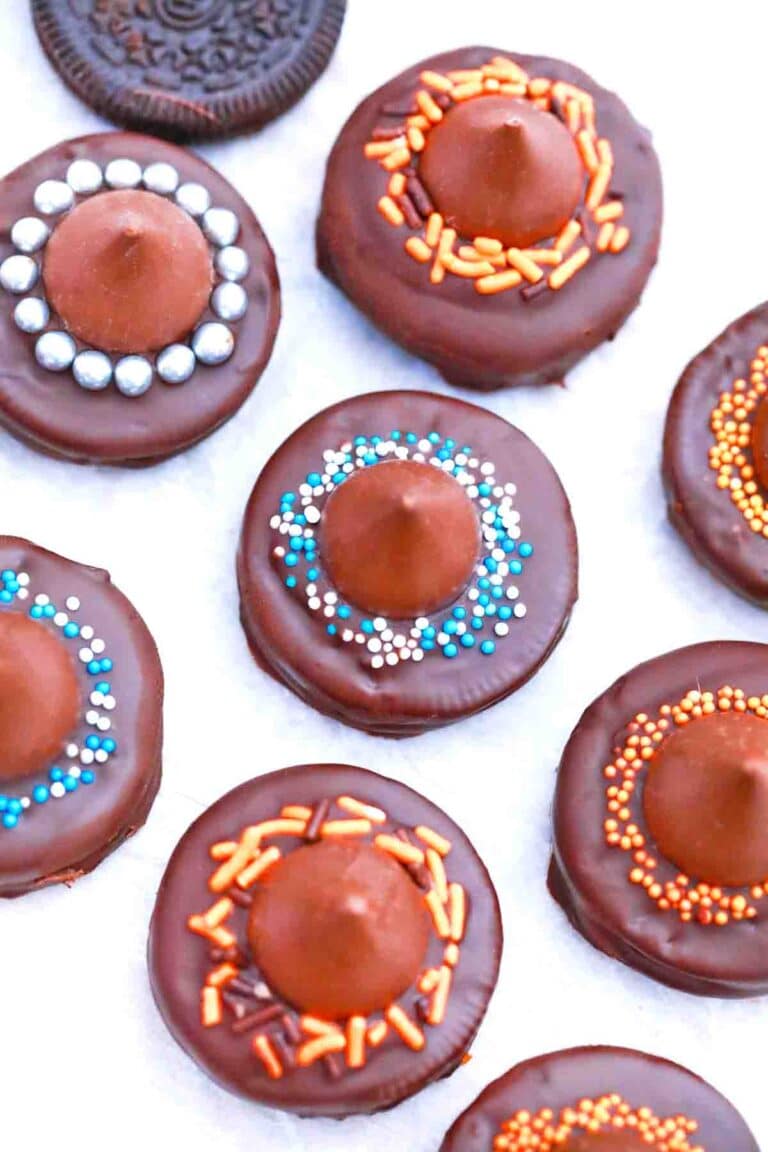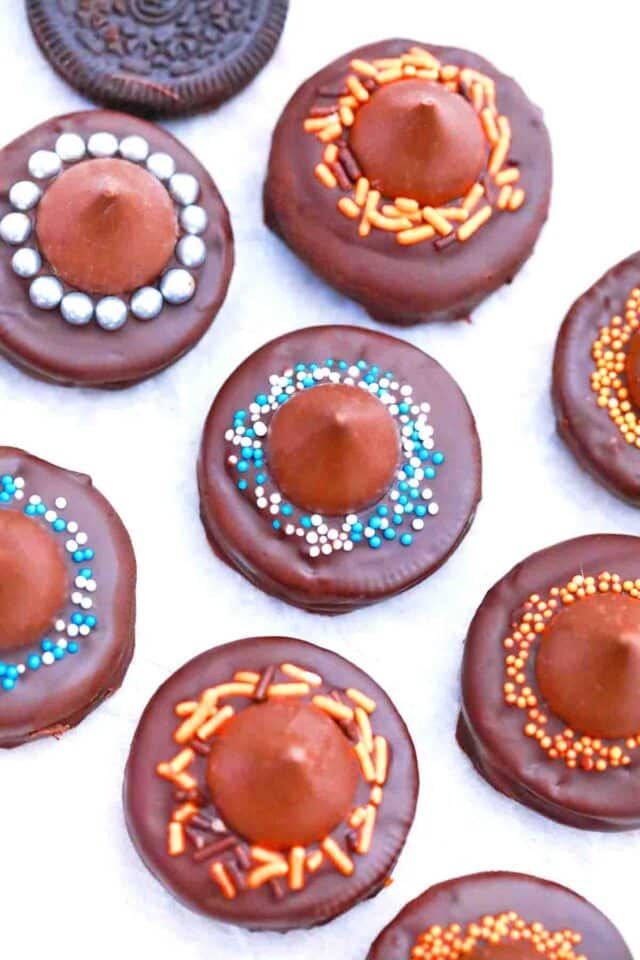 How to serve:
These Halloween witch hat cookies are perfect for a Halloween party or an after-school snack for the kids. You can also serve them as a dessert for any autumn dinner. You could really serve them anytime because they are so good, and this fun Halloween cookie recipe only takes a few minutes.
These easy witch hat cookies are perfect, but you can switch the type of cookie or frosting as you wish. You could even use a different topping instead of Hershey's kisses.
Instead of icing, you could use caramel topping.
Want to hand these out as Halloween treats? Wrap each witch hat cookie in plastic wrap and tie it on top with a festive bow. The kids will love them!
Similarly, you could also use dulce de leche instead.
To make the golden buckle on the hat, use the yellow piece of candy corn.
Similarly, you can also use some other type of candy like a piece of licorice, MnMs, or cinnamon pieces.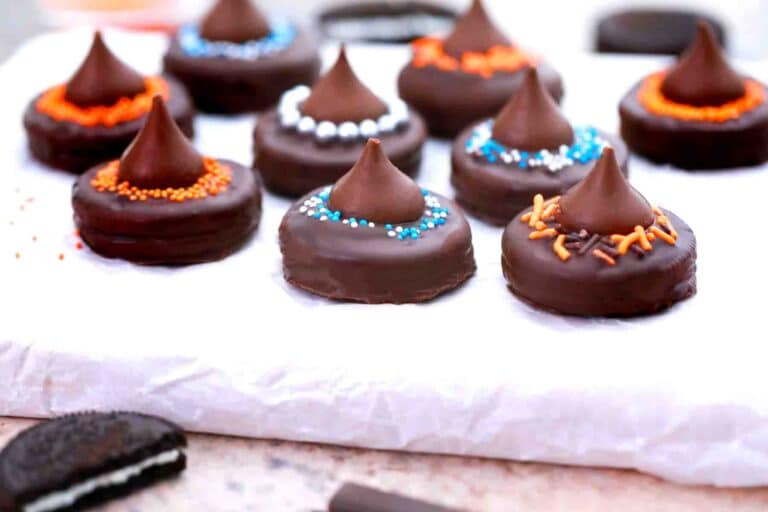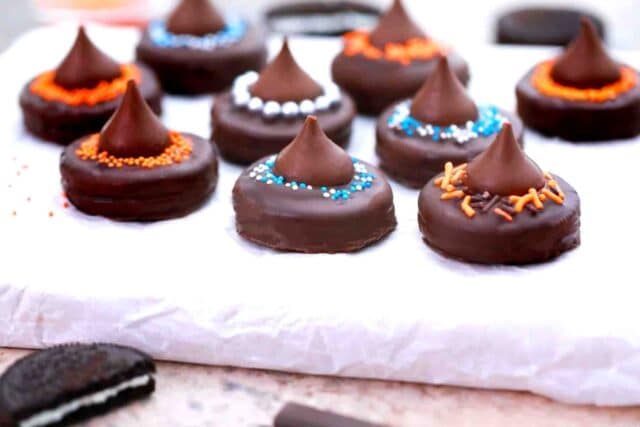 Frequently asked questions
What if I cannot find colored icing?
Instead of using Wilton's or any other colored icing, you can choose to make your own homemade frosting. After that, separate into three small bowls and add food coloring. Give it a few good stirs to make sure it is evenly distributed before you put them in a piping bag to use.
Can I make witch hat cookies ahead of time?
This is the kind of recipe that you want to make lots of during the Halloween season. Double or triple the recipe and make them ahead of time. To hand out to trick-or-treaters, wrap each of the witch hat cookies in plastic. Or keep them in an airtight container until ready to serve.
What if I cannot find fudge-covered Oreos?
You can use regular Oreos and coat them in melted chocolate candy discs. In fact, you can use this method with any kind of Oreo or a different kind of cookie. Fudge stripe cookies are great for this. Just use the frosting to cover the hole in the middle.
What is the nutritional information in this recipe?
Each serving of these delicious Halloween witch hat cookies has 135 calories, 16 grams of carbohydrates, and 7 grams of fat which includes 3 grams of saturated fat, and 2 grams of monounsaturated fat. Also, there are 14 milligrams of cholesterol, 60 milligrams of sodium, and 10 grams of sugar.
On the plus side, you also get 1 milligram of iron, 15 milligrams of calcium, and 95 units of vitamin A as well as 2 grams of fiber, 50 milligrams of potassium, and 3 grams of protein. These amounts are approximated and vary widely depending on the ingredients you use.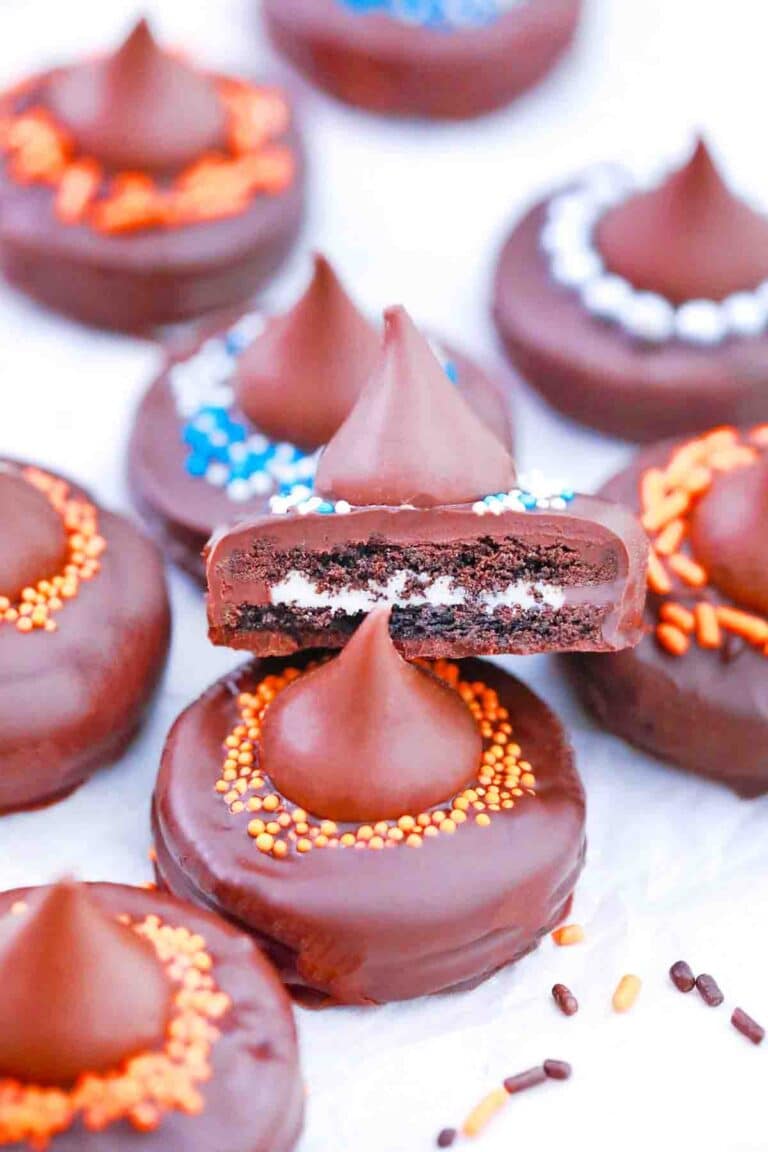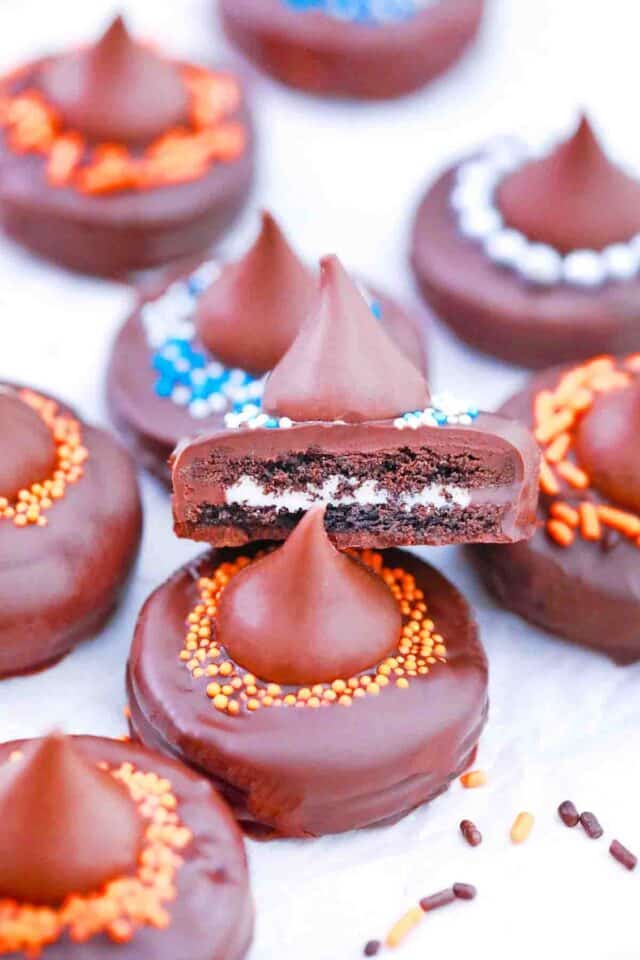 How to store leftovers:
Store: Leftover witch hat cookies can be stored in the fridge for several days in an airtight container or freezer bag.
Freeze: To freeze Halloween witch hat cookies, place them on a cookie sheet tray in the freezer for several hours before placing them in a container separated with parchment paper.
Thaw: Remember to put your frozen leftovers in the fridge to thaw overnight for best results.
Recipe tips:
If you cannot find the right colored icing you need, just use white frosting that has been colored with gel food coloring. If you do not have gel, you can use liquid food coloring instead, but gel gives you a more vibrant color.
You can also use an electric hand mixer and a large bowl instead of a stand mixer.
Use one teaspoon of cornstarch in your cookie dough to keep your cookies soft.
If you only want to use one color, orange icing is our favorite choice.
To keep cookies from sticking, cover each baking sheet with parchment paper and spritz with non-stick cooking spray.
If you want to make your own cookies but don't have much time, use a box of devil's food cake mixed with vegetable oil and two eggs instead.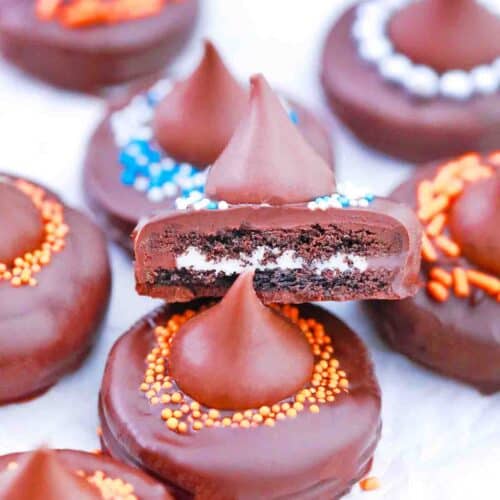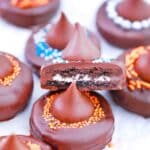 Witch Hat Cookies
Witch Hat Cookies are perfectly festive for Halloween, only have a few steps to make them, and you only need four ingredients.
Keyword:
Witch Hat Cookies
Ingredients
12

Oreo cookies

or Oreo Fudge Covered Cookies

1 1/2

cup

milk chocolate chips

only if using regular Oreos

12

Hershey Milk Chocolate Kisses

1

box Wilton Icing Writer Decorating Tubes

only if using Oreo Fudge Covered Cookies

Halloween sprinkles I used black and orange nonpareils
Instructions
Using regular Oreo:
Cover a baking sheet with waxed paper and set it aside.

Add the chocolate chips to a microwave-safe bowl and microwave for 1 minute, stir well and microwave in 30-second intervals until the chocolate is melted. Make sure to stir well after each interval.

Using two forks, dip the Oreos in the melted chocolate and place them on the prepared baking sheet.

Immediately top each cookie with a Hershey's kiss and decorate with sprinkles.

Let the chocolate set before serving.
Using fudge-covered Oreos:
Arrange the cookies on a cutting board or plate.

Using the icing, attach an unwrapped Hershey Kiss on top of each cookie.

After that, ice a line around each Hershey Kiss and cover it with Halloween sprinkles.
Nutrition Facts
Witch Hat Cookies
Amount Per Serving
Calories 191
Calories from Fat 81
% Daily Value*
Fat 9g14%
Cholesterol 5mg2%
Sodium 66mg3%
Potassium 28mg1%
Carbohydrates 27g9%
Protein 2g4%
Vitamin A 51IU1%
Vitamin C 0.1mg0%
Calcium 38mg4%
Iron 2mg11%
* Percent Daily Values are based on a 2000 calorie diet.