Three Ingredient Peanut Butter Cookies
Three Ingredient Peanut Butter Cookies only take about 15 minutes and just a few ingredients, you get that peanut butter goodness fast and easy. You can adjust the recipe to your liking whether you want chewy peanut butter cookies or crispy ones.
If you are looking for more easy cookie recipes, try our No-Bake PB Balls with chocolate and sprinkles or these Christmas Trash Cookies that have potato chips, pretzels, and candy in them. For a different kind of dessert, try our crispy Air Fryer Apple Fries made with graham cracker crumbs and brown sugar.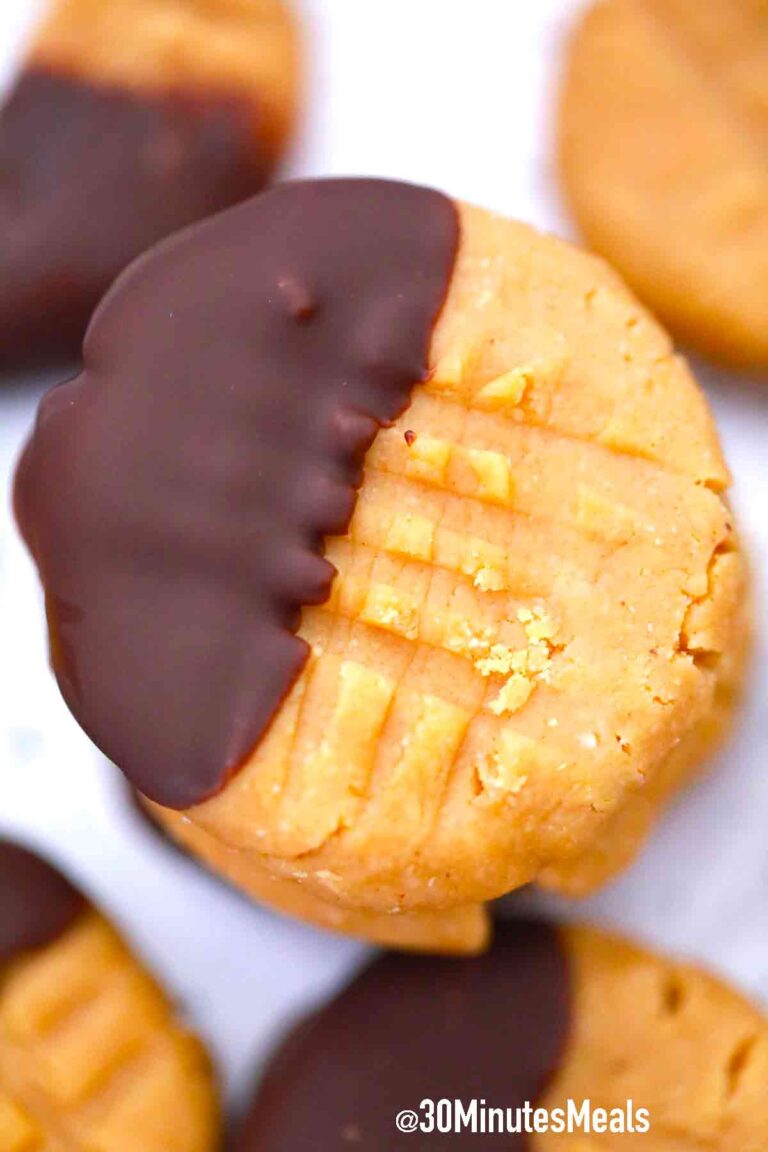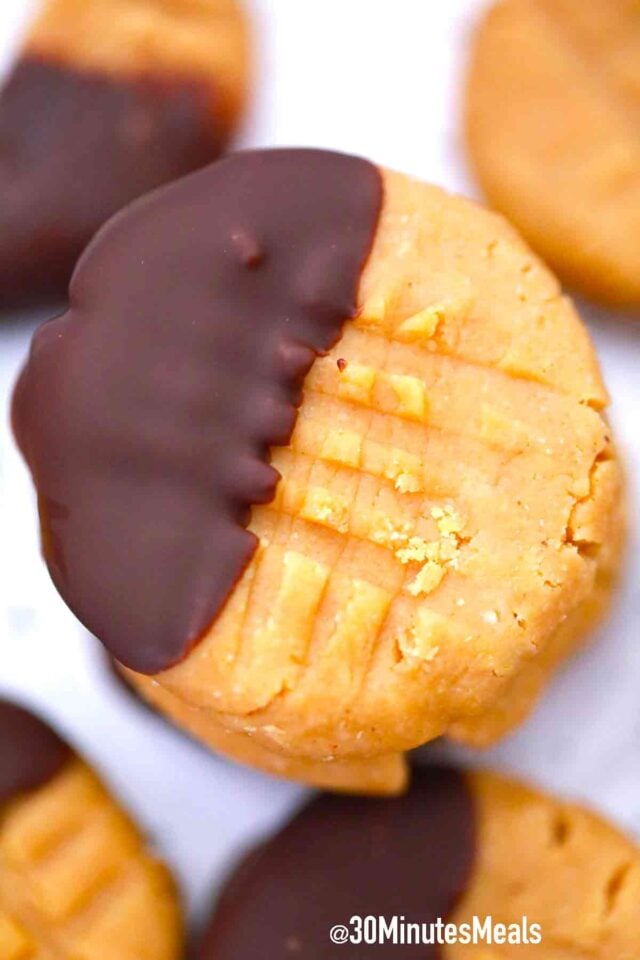 These delicious cookies are perfect for a treat anytime. Since they are flourless peanut butter cookies, they are an easy keto recipe to use as well.
These tasty cookies are just as good as the classic peanut butter cookies with a lot less work. Make these even healthier using a flax egg.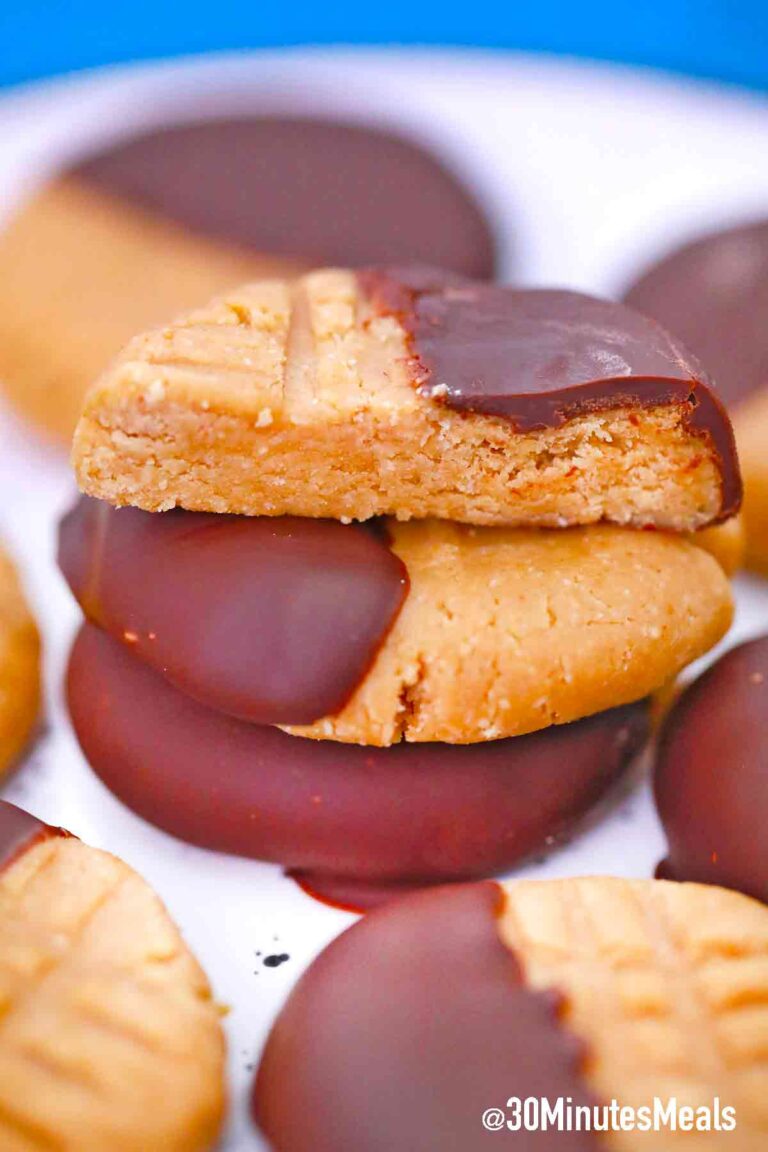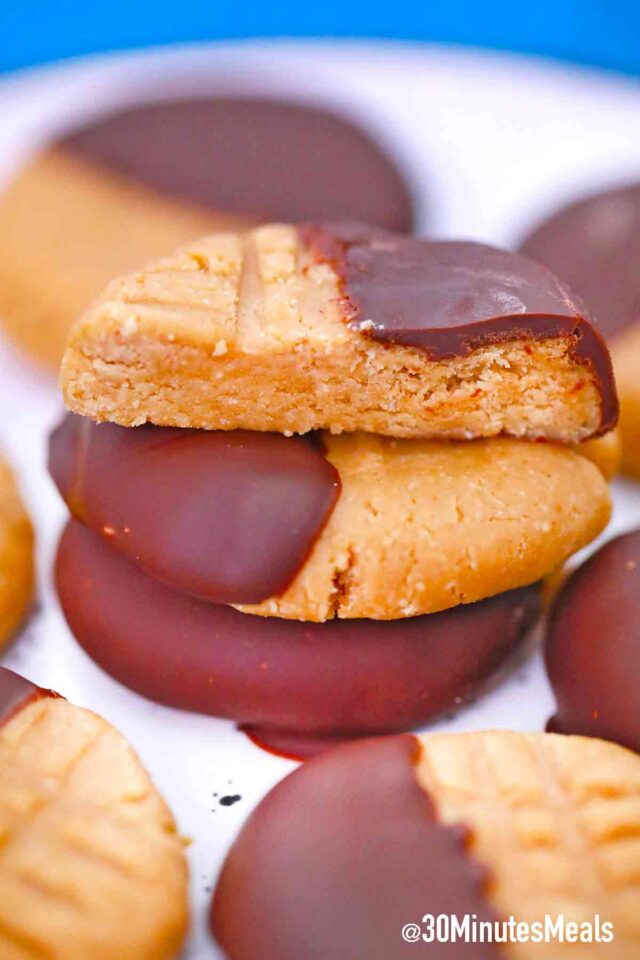 Ingredients needed:
Scroll down to the bottom of the page to get the exact measurements from our recipe card. But here are the simple ingredients you need for this 3-ingredient recipe:
Creamy peanut butter
Granulated white sugar
Large eggs
How to make three ingredient peanut butter cookies from scratch?
Preheat: First, preheat your oven to 350 degrees F.

Mix: Then, mix all ingredients in a medium bowl or mixing bowl using a wooden spoon or rubber spatula.

Cookie balls: Then, spoon balls of batter onto the baking sheet and use the tines of a fork to flatten them.

Bake: Last, bake cookies for 10 to 12 minutes until they are golden brown.

Cool: Finally, let them cool completely on a cooling rack or wire rack before serving.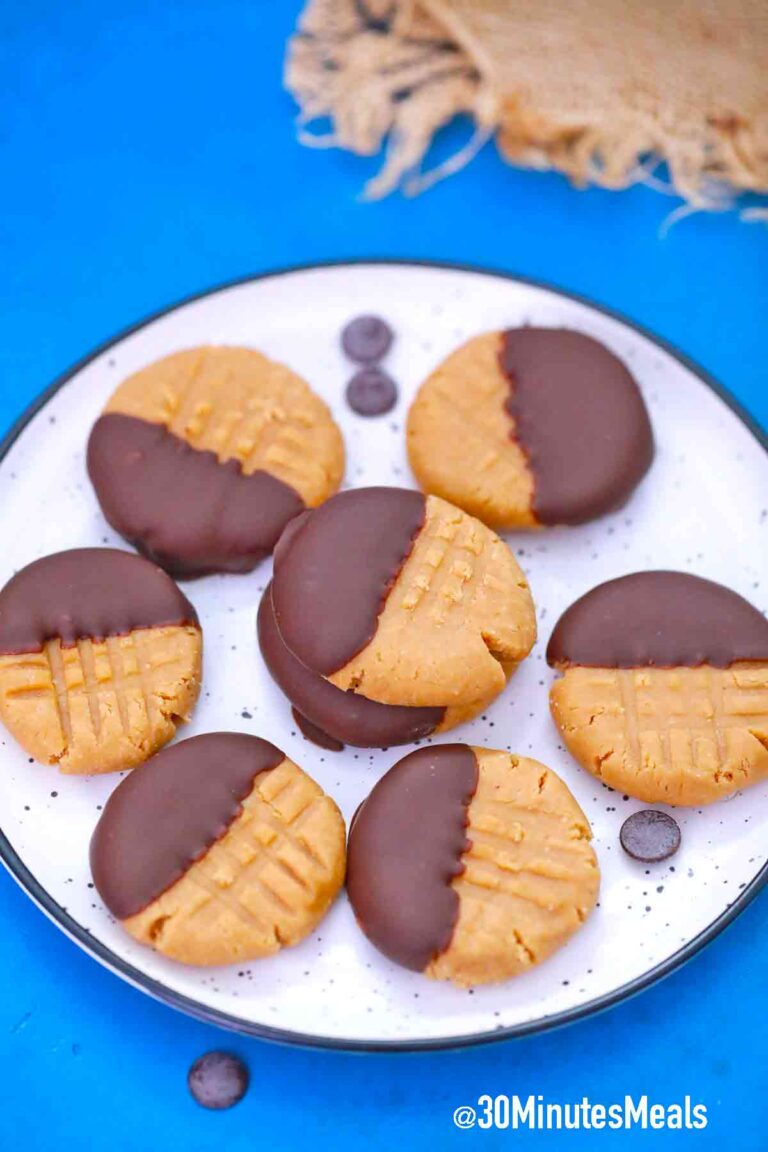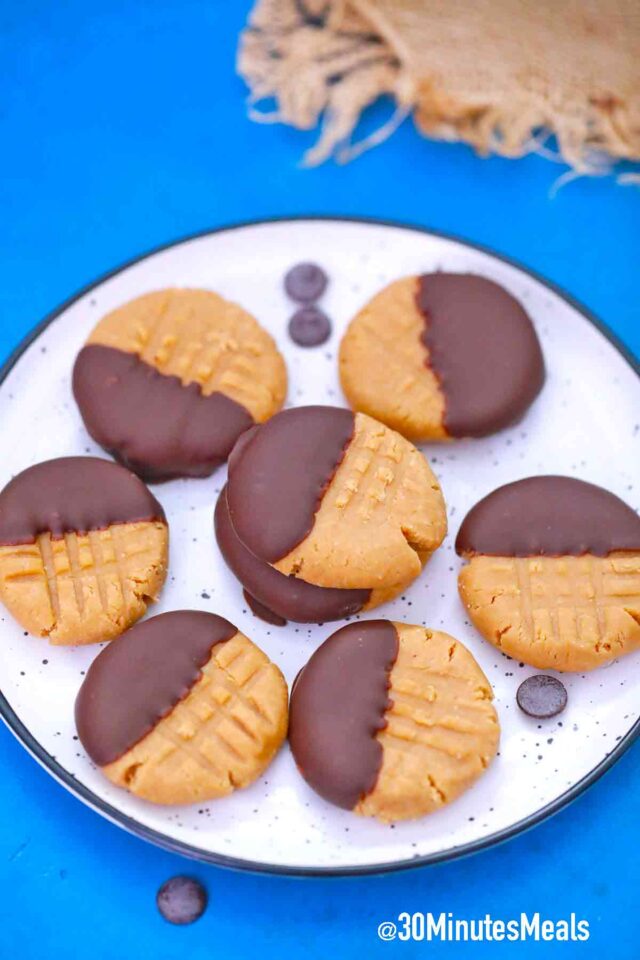 Recipe variations:
Crunchy: Alternatively, use crunchy peanut butter for a crunchy cookie.
Nutty: Similarly, you may also like walnuts, pecans, or almond in this recipe.

Chocolate: You could also add chocolate chips for chocolate lovers.
Other butter: Feel free to use other nut butters like cashew or almond butter.
Flavors: For other flavors, add vanilla or almond extract.
Half: To halve this recipe, use one large egg, ½ cup of sugar, and one cup of nut butter.
How to serve:
These go great with a glass of ice-cold milk. Or try one of these serving suggestions:
Add a bit of frosting to the tops of these cookies before serving.
You could also add sprinkles or M&M's for a festive look.
Use leftovers to crumble on top of ice cream, pudding, mousse, or a frosted cake.
Serve these with a bowl of ice cream.

In fact, you can put ice cream between two cookies to make an ice cream cookie sandwich.

You could also crumble them onto the top of this easy PB mousse.
Frequently asked questions
Why are my cookies falling apart?
One reason your cookies may be falling apart is that they are too dry. You may have added too much flour.
They may also be crumbly if you use margarine instead of real butter. Also, cookies that are not done all the way or cooled properly will fall apart when you move them.
Why do you put a crosshatch pattern on these cookies?
The early ones did not have the criss-cross pattern. In fact, the earliest ones were rolled thin and cut into certain shapes.
However, the criss-cross marks made with fork tines were first published in the Schenectady Gazette newspaper in 1932.
It was a way to make sure they cook evenly because they are so thick.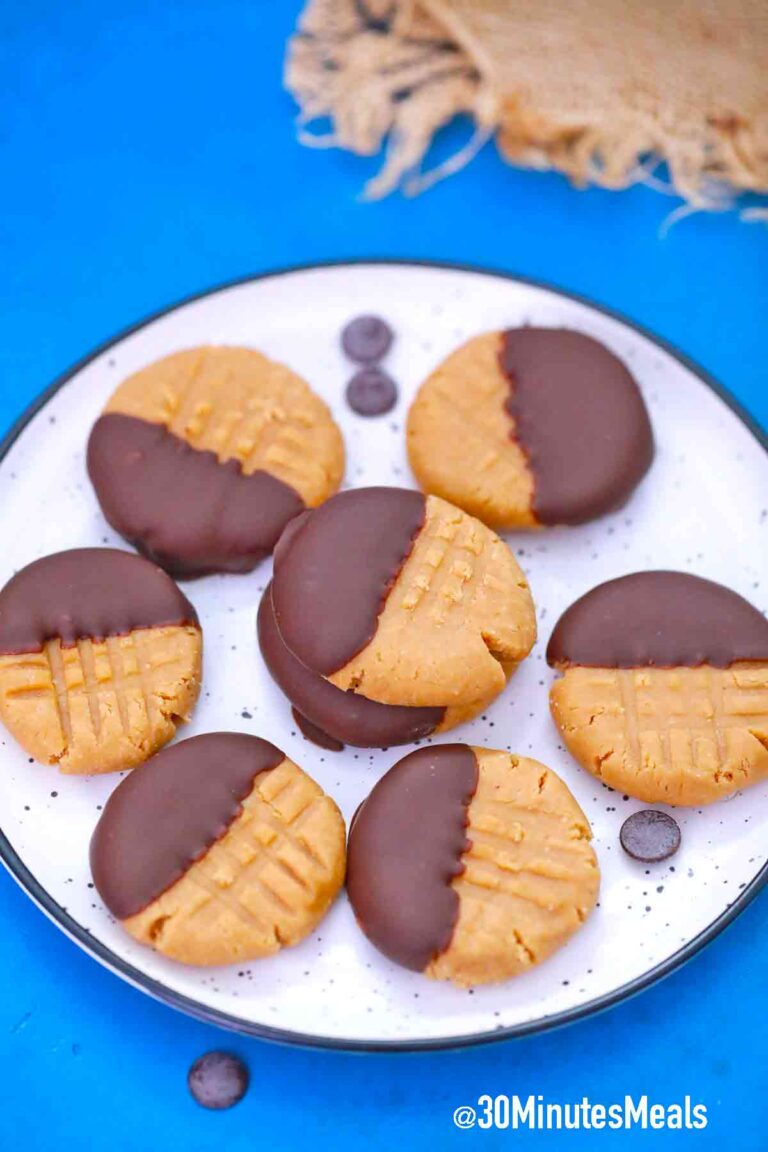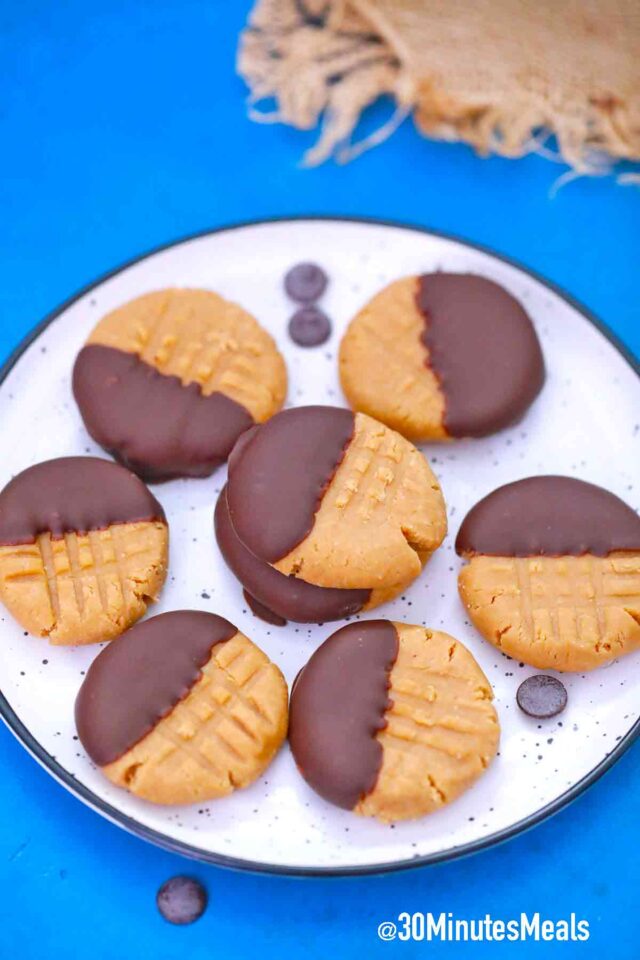 How do I make the best cookie consistency?
The trick to making your cookies chewy or crunchy depends on the amount and temperature of the ingredients.
For a crunchy consistency, you have to have the right amount of fat and dry ingredients.
Use shortening instead of butter and granulated sugar instead of brown sugar.
For a soft and chewy cookie, you need more moisture and less dry ingredients.
You can substitute butter instead of shortening, use brown sugar instead of granulated, and cook it at a lower temperature for a longer time.
How to store leftovers:
Store: Leftover cookies should be stored in an airtight container or storage bag. In the refrigerator, they will stay fresh for a week. Or you can keep them on the counter in a cookie jar for several days.
Freeze: If you made way too many, wrap them in plastic wrap or aluminum foil and store them in your freezer in a freezer bag. These will stay fresh for about three months.

Thaw: Remember to thaw these overnight before you plan to serve them for best results. Serve at room temperature.
Recipe tips:
Do not use an electric mixer for this recipe.

Use parchment paper on your cookie sheet for best results.

Dip the fork into sugar each time you use it to make the fork tine pattern so it will not stick.
Add an extra egg if you like them cakier.
Instead of trying to fork-tine these, just use your thumb to press them down.
Be sure to whisk your egg first so the yolk and whites are evenly combined into the dough.

If you are using unsalted natural peanut butter, be sure to add a pinch of salt.

Use a large bowl instead of a medium for a large recipe.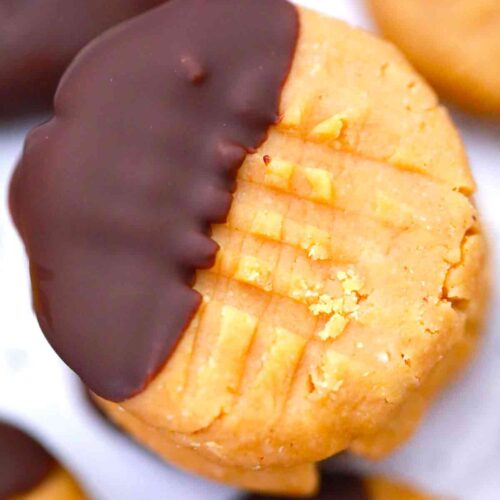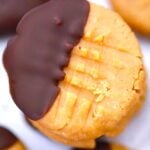 Three Ingredient Peanut Butter Cookies
Three Ingredient Peanut Butter Cookies only take about 15 minutes and with just a few ingredients, you get that peanut butter goodness fast.
Keyword:
Three Ingredient Peanut Butter Cookies
Ingredients
2

cups

creamy peanut butter

1 1/2

cup

granulated sugar

2

eggs
Instructions
Preheat oven to 350 degrees F.

Line a cookie sheet with parchment paper.

In a mixing bowl, combine peanut butter, sugar, and eggs. Mix until well combined.

After that, using a 1 or 2 tablespoons scoop, drop balls onto the cookie sheet.

Using the tines of a fork, flatten the cookie dough with a criss-cross pattern.

Bake for 10-12 minutes, or until lightly browned.

Allow cooling completely.

Optionally, dip in melted chocolate and sprinkle with sea salt.