Pineapple Fried Rice Recipe
Pineapple Fried Rice is a delicious blend of jasmine rice, sweet pineapple, and veggies, all cooked in 30 minutes or less in one pan. Homemade fried rice is much better than the kind you get if you ask for pineapple fried rice at a fast food joint and it is fast and easy to do. With this delicious recipe, you can have the spicy flavors of a Thai dish blended with sweet pineapple and fresh cilantro in just a few minutes.
Looking for more rice recipes? Try our delicious Egg-Fried Rice made with snap peas, fresh green onions, and sesame oil. For something more substantial, this Chicken Fried Rice is a hearty meal made from chicken thighs and brown rice. Another pineapple dish your family will love is this Chicken Salad with Pineapple made with cream cheese and rotisserie chicken.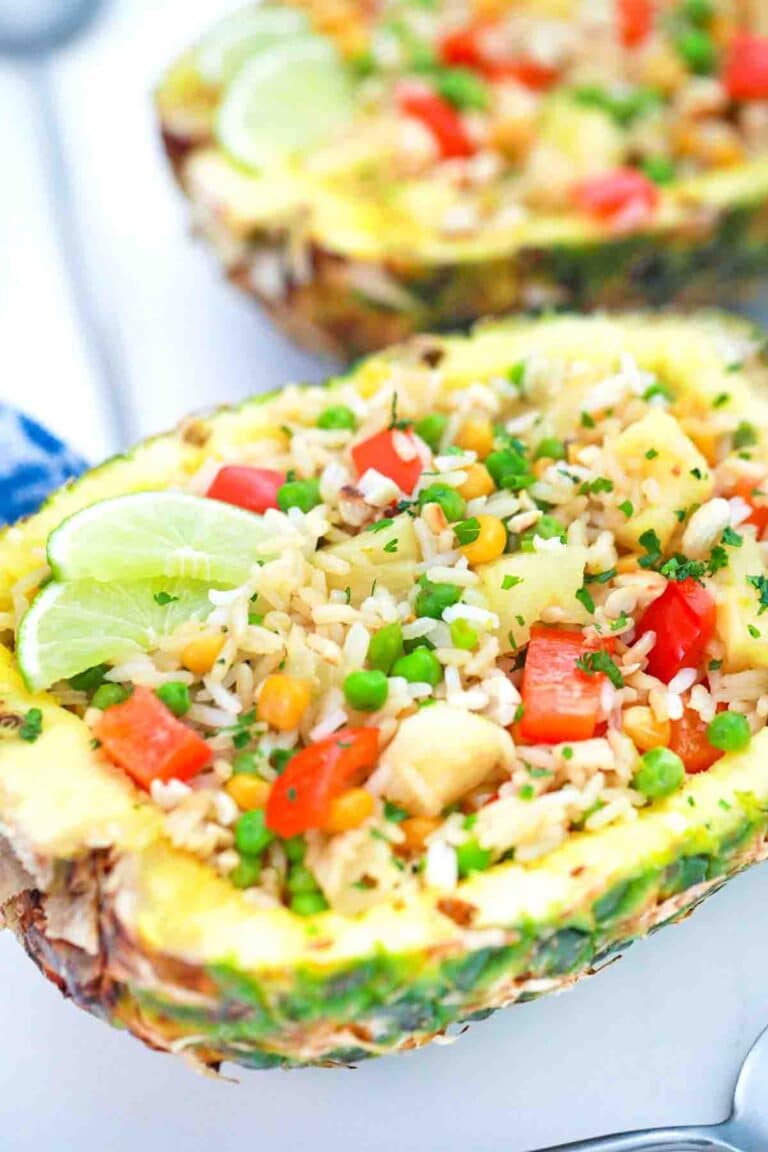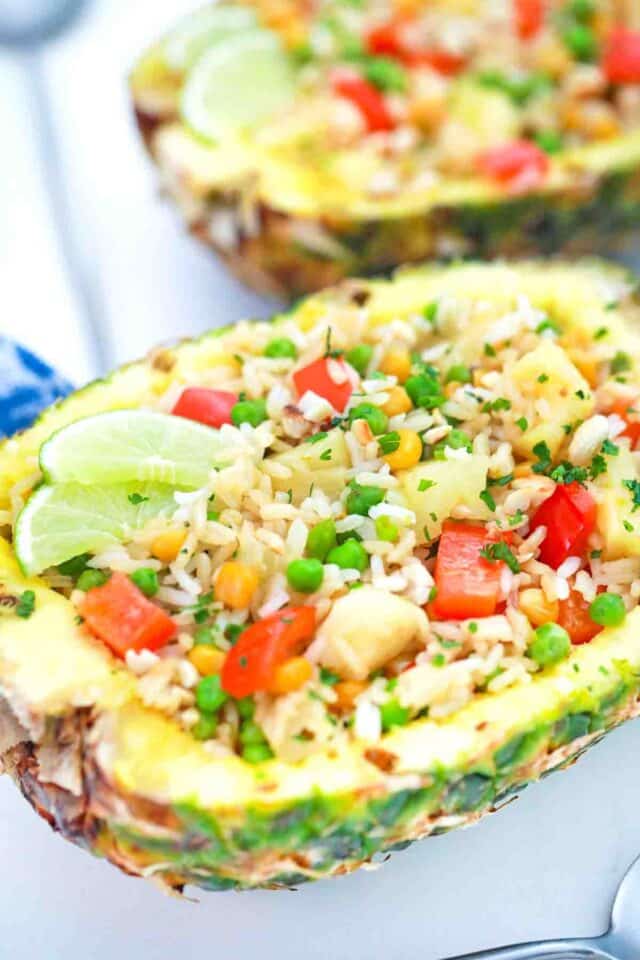 Although this recipe can be considered Thai because of the jasmine rice, fried rice was originally made in China in 600 AD during the Sui dynasty. However, rice dishes are popular all over Asia as rice is the most popular crop grown there. In fact, China grows more rice than any other place in the world.
Also known as Thai pineapple fried rice, this Thai fried rice dish is a great way to use leftover rice, or you can use fresh rice cooked the day before. Add some pineapple chunks and veggies with a few spices and you have one of the best fried rice dishes you have ever tasted. This is one of those delicious recipes you will want to save so you can make it often.
Are you looking for more delicious recipes? Our blackened chicken recipe is amazing and healthy with skinless chicken breasts and Italian seasoning. Add some cabbage salad on the side for a sensational light dinner. For an appetizer, try this recipe for pineapple mango salsa served with tortilla chips.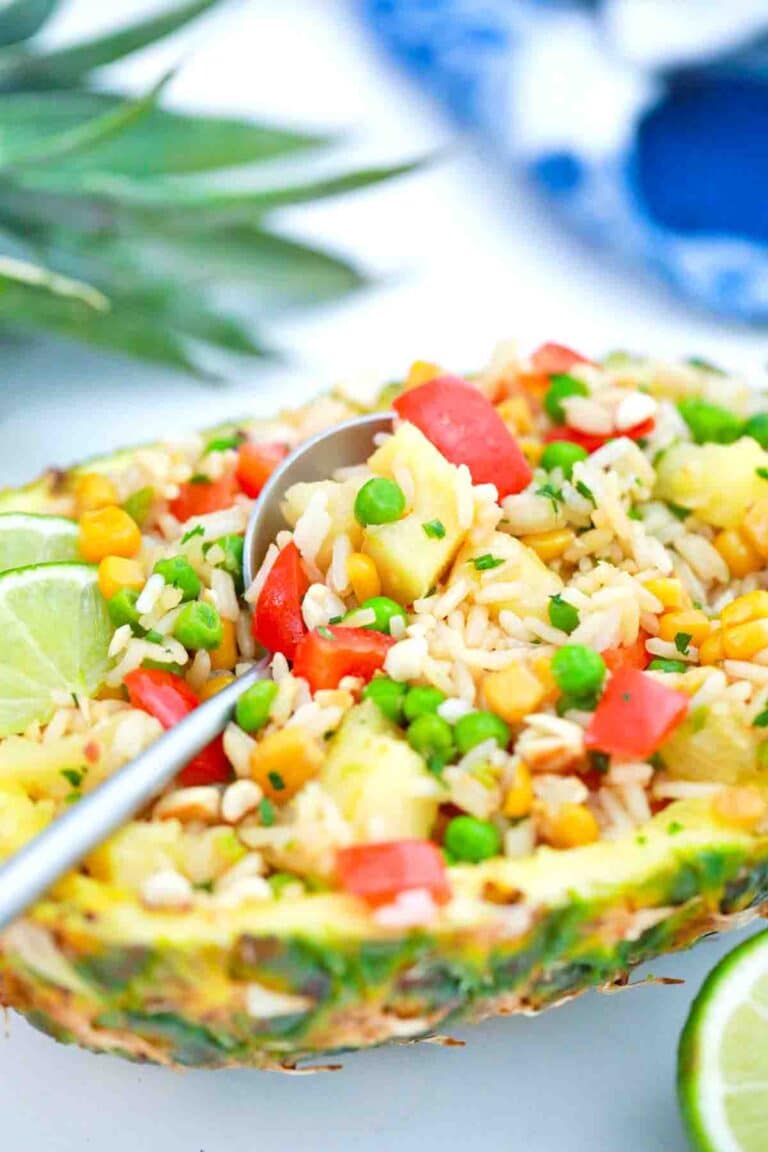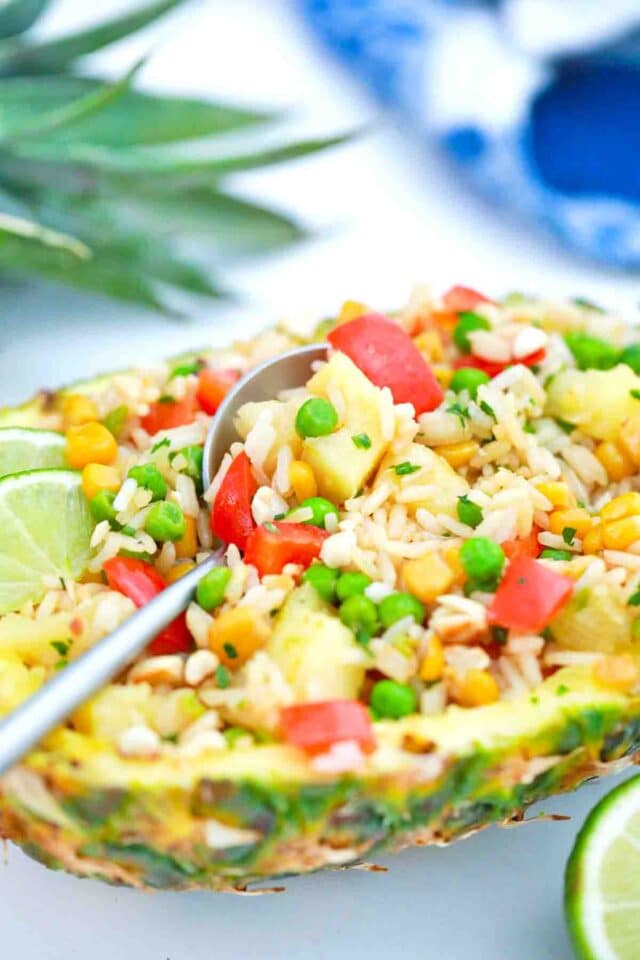 Ingredients needed:
These are the simple ingredients for this pineapple fried rice recipe. Take a look at our recipe card at the bottom of the page for complete instructions and exact measurements.
Drained canned pineapple
Cooked jasmine rice: Has to be at least one day old.
Sweet corn: Drained.
Red bell pepper: Diced.
Frozen peas
Green onions: Finely chopped.
Minced garlic cloves
Unsalted peanuts: Chopped.
Canola oil
Cilantro: Chopped.
Red pepper flakes
Lime zest
Lime juice
Sauce:
Fish sauce
Oyster sauce
Sugar
Soy sauce
Mirin
How to make pineapple fried rice from scratch?
Preheat: First, preheat your wok or skillet with the oil on high heat.
Cook garlic and red pepper: After it is hot, add the red pepper and minced garlic. Cook while stirring constantly for 60 seconds.
Add bell pepper: Next, add the red bell pepper and cook for another minute, stirring. If you want your pineapple caramelized and soft, you can add it to this step as well.
Mix in the veggies: Then, add the peas and corn and stir for 30 seconds before adding the rice and sauce ingredients. Cook for another two to three minutes.
Add fruit: After, add lime juice, pineapple, and lime zest and stir for another minute until it is warm.
Stir in green onions: Now, stir in the onions and take it off the stove before topping it with cilantro and peanuts.
Serve pineapple fried rice: Finally, serve with lime as a garnish.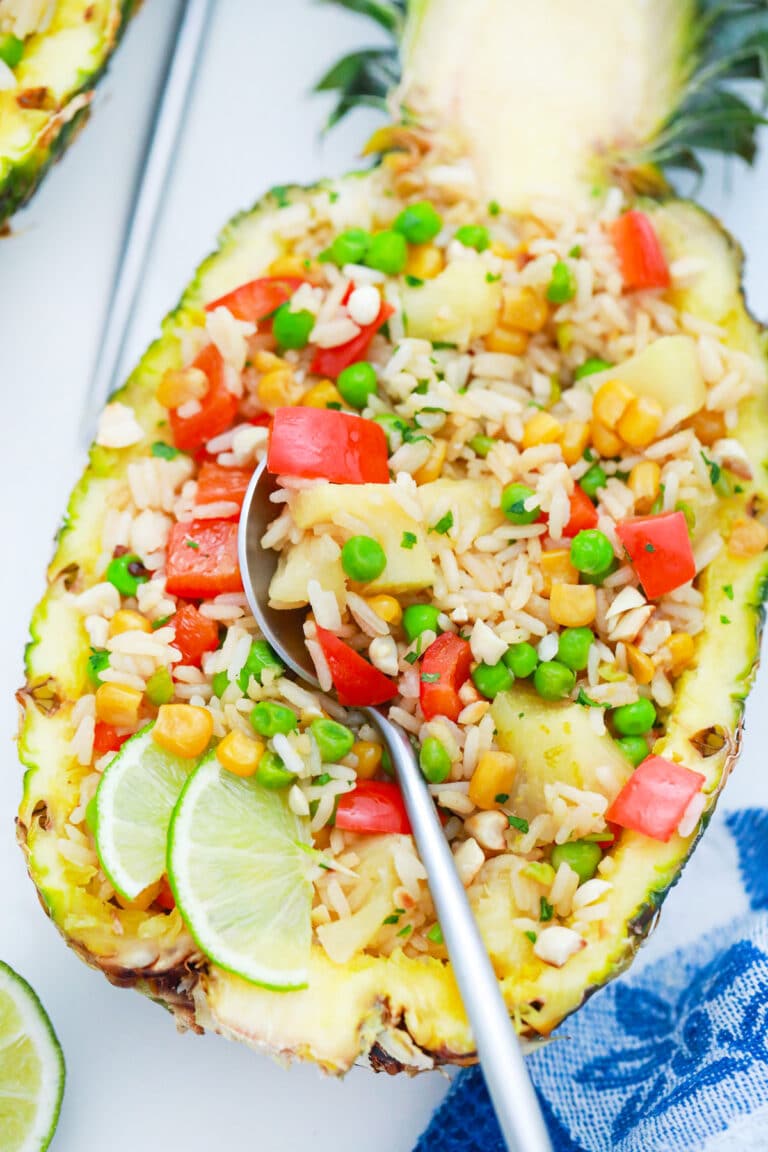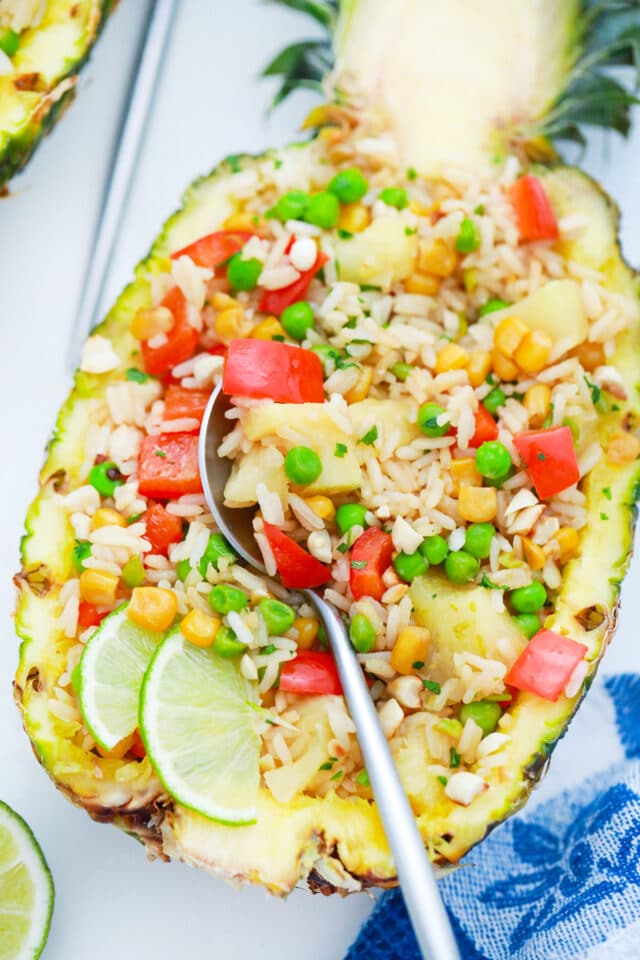 Recipe variations:
Vegan fried rice: Make your pineapple fried rice vegan by leaving out the oyster and fish sauce.
Other nuts: Instead of peanuts, try using crunchy cashews or almonds.
Curry: Add a dash of red or yellow curry powder for an Indian flavor.
Other oil: You can use another type of oil like olive oil, sesame oil, or whatever oil you like to cook with.
More veggies: Feel free to add your own favorite stir fry veggies like green beans, carrots, broccoli, onions, and cauliflower.
Other pineapples: Instead of chunks, you can use pineapple tidbits or crushed pineapple.
Brown sugar: Use brown sugar instead of white for a richer flavor.
Fresh ginger: Add a bit of fresh ginger powder for even more flavor.
How to serve:
When was the last time you ordered pineapple rice at your favorite Thai food place? Well, you can make it at home, and it will taste even better with all fresh ingredients like juicy pineapple pieces and veggies like bell peppers, peas, and corn with an absolutely delicious soy sauce mixture. Try one of our delicious serving ideas below or share one of your own in the comments section at the bottom of the page.
Serve this delicious recipe with chili garlic sauce on the side. Chili sauce will give your rice a bit of a kick as well as a tangy garlic flavor.
Another sauce that you can try on this absolutely delicious pineapple fried rice is our tangy teriyaki sauce.
For a festive dish, serve this fried rice in a pineapple bowl. Just cut a pineapple in two lengthwise and scoop out the flesh. Then fill it with rice and serve it at your next backyard barbecue or family gathering.
This pineapple fried rice goes great with firecracker chicken breast made from tender white meat and spicy sauce.
Be sure to set out condiments so guests can add more soy sauce or whatever else they like.
Our peach pork chops recipe with fresh peaches and lemon juice is also a great entree to serve with this Thai rice dish.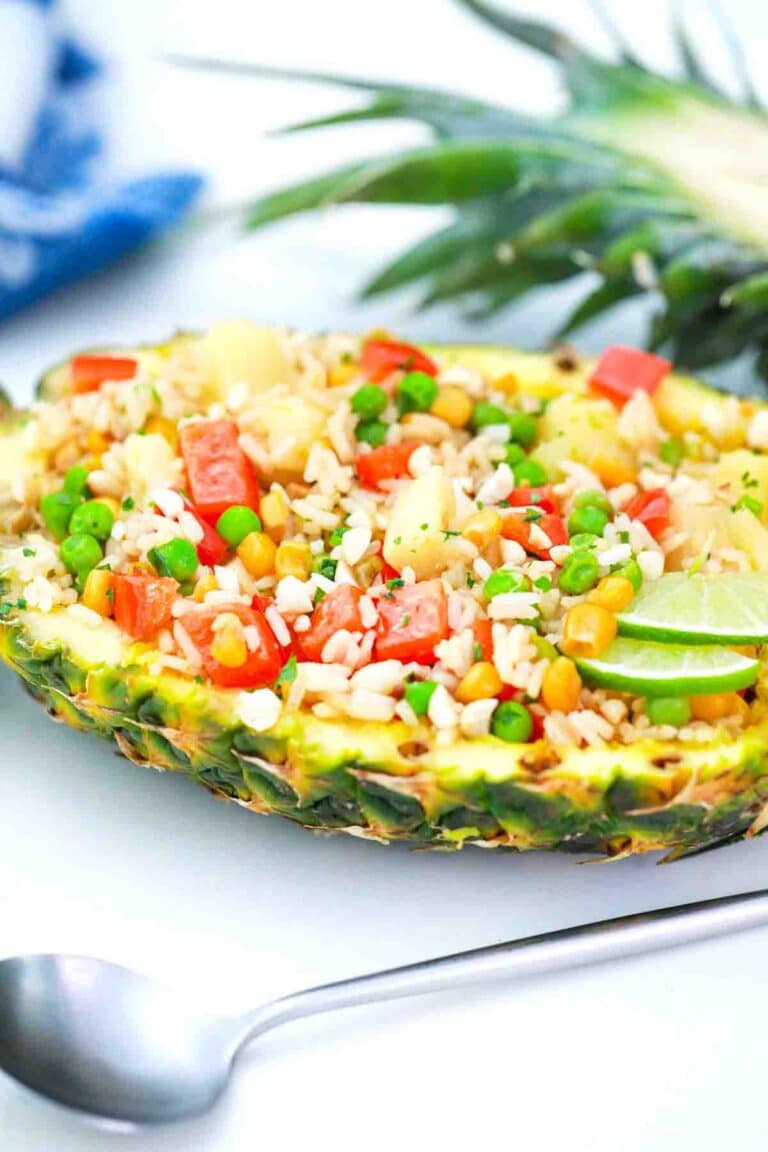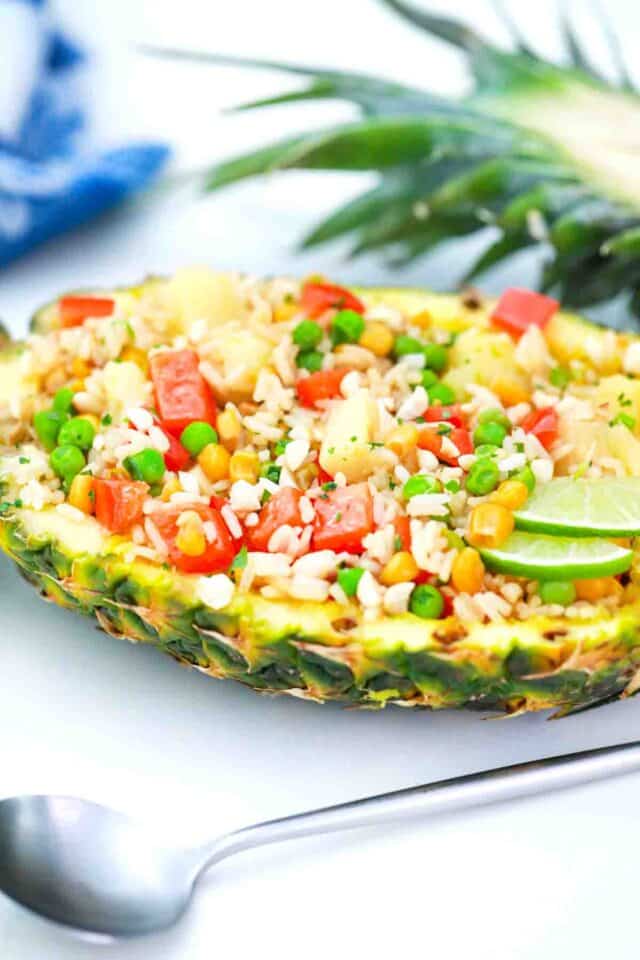 Frequently asked questions
What kind of rice is best for fried rice?
Although this recipe calls for jasmine rice, you can use any kind of rice for this dish. The best fried rice is made with day-old rice, no matter what kind you use. Brown rice will work for this recipe as well as basmati rice or brown jasmine rice. But most of the fried rice you get at restaurants is made with whole-grain or long-grain white rice like jasmine rice.
Why can't I use freshly cooked rice for this dish?
It is best to use day-old rice for this dish, so it does not stick. In fact, using freshly cooked rice will leave you with soft and mushy lumps of rice. Day-old rice is able to retrograde when being cooked a second time. This makes the starch crystalized and gives it a solid grain to keep it from getting soggy and has a better rice taste.
How do you make rice caramelize?
It is important to use a stir-fry wok or large pan so you can toss the rice grains around in the sauce. This makes them caramelize and gives your pineapple fried rice a lot more flavor. You do not want wet rice. Make sure you cook your rice grains completely, so they are a little bit crispy.
What are the nutrition facts in this recipe?
Each serving has 380 calories, 55 grams of carbs, and 14 grams of fat with 2 grams of saturated fat, 5 grams of polyunsaturated fat, and 7 grams of monosaturated fat. Also, there are 1,276 milligrams of sodium, 11 grams of sugar, and 89 milligrams of cholesterol.
On the other hand, each serving also contains 10 grams of protein, 433 milligrams of potassium, and 5 grams of fiber as well as 1,387 units of vitamin A, 79 milligrams of vitamin C, 56 milligrams of calcium, and 2 milligrams of iron.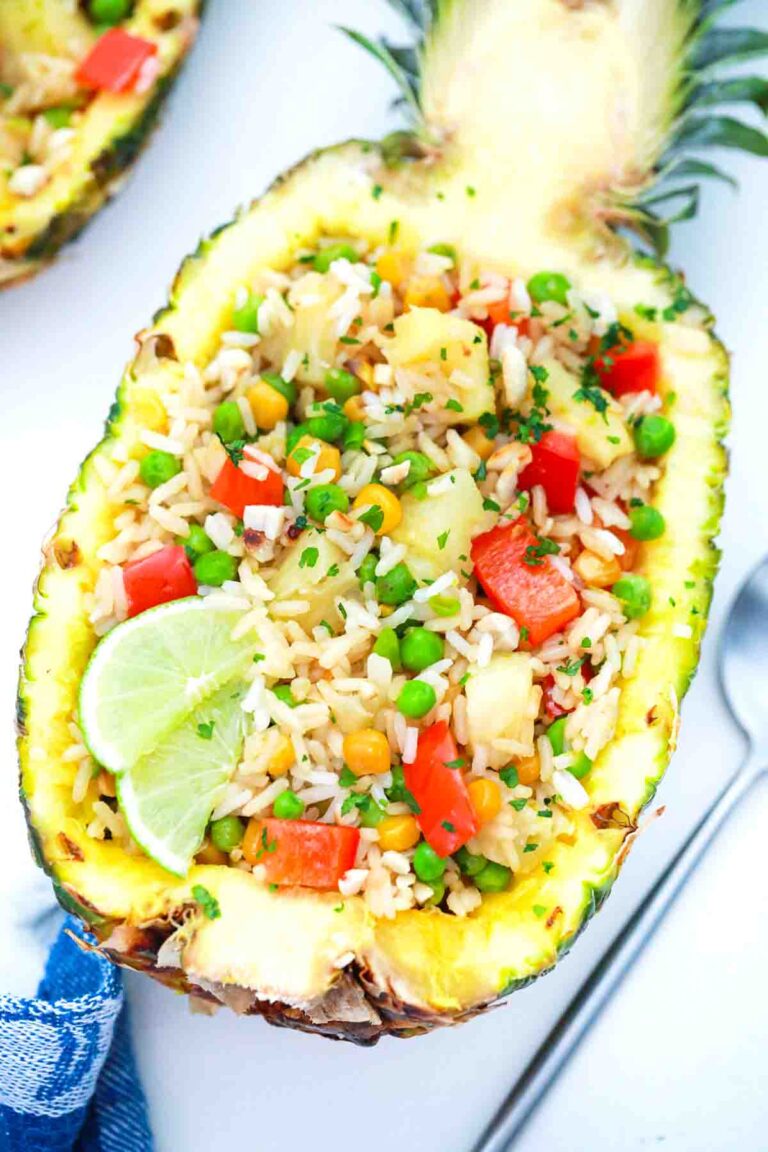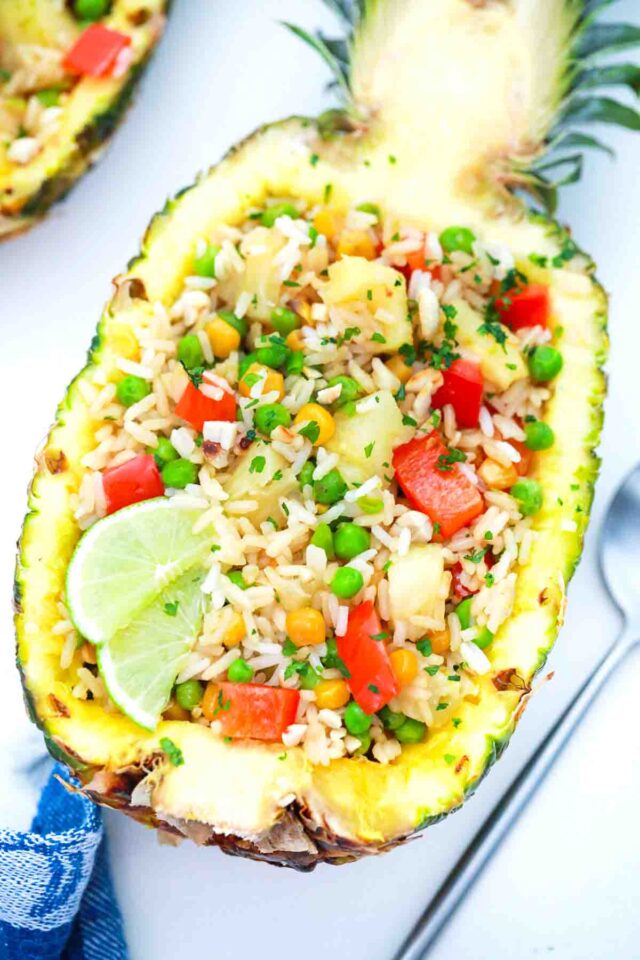 How to store leftovers:
Store: If you have leftover rice, refrigerate it in an airtight container or zipper baggie. It will stay good for about four or five days in the fridge.
Freeze: For storing longer than a few days, pack your leftover pineapple fried rice in a freezer bag and it will stay fresh in the freezer for up to 90 days.
Thaw: Thaw rice in the fridge overnight for the best flavor and texture.
Reheat: To reheat, microwave for 60 to 90 minutes or stir fry for two or three minutes.
Recipe tips:
One cup of dry uncooked rice makes three cups of cooked rice.
You can also use frozen pineapple or fresh pineapple.
If you want to make this dish now and do not have day-old rice, you can cook rice and then spread it out on a tray and freeze it for one hour. Then, defrost and use.
Stir-frying is a much healthier way to make Thai cuisine than the usual way to fry it.
For faster preparation time, you can use store-bought sauce and frozen veggies.
Make sure you have all the ingredients ready before starting because this dish cooks quickly.
It is best for the rice to be cold when you cook it.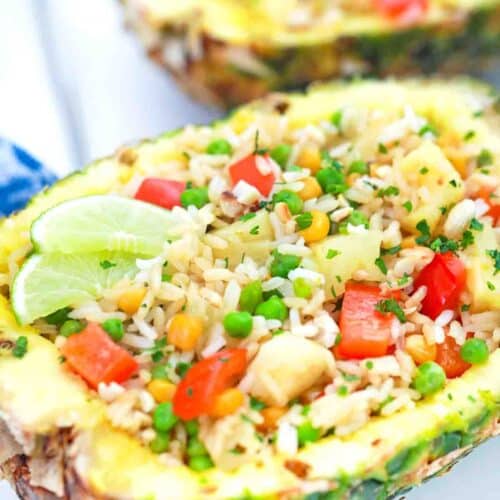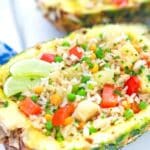 Pineapple Fried Rice
Pineapple Fried Rice is a delicious blend of jasmine rice, sweet pineapple, and veggies, all cooked in 30 minutes or less in one pan.
Course:
Main Course, Side Dish
Cuisine:
American, Chinese
Keyword:
Pineapple Fried Rice
Ingredients
2

tablespoons

canola oil

2

cloves

garlic

grated

1/4

teaspoon

red pepper flakes

optional

1

red bell pepper

diced

1/2

cup

peas

frozen

1/2

cup

sweet corn

drained

3

cups

cooked jasmine rice

day old*

1 1/2

cups

fresh pineapple chunks

cut into 1 inch pieces

1

lime

zested and juiced

1/3

cup

green onions

diced

1/3

cup

unsalted peanuts

roasted and chopped

1/4

cup

cilantro

chopped
Sauce :
1

tablespoon

oyster sauce

2

tablespoons

fish sauce

1

teaspoon

mirin

3

tablespoons

soy sauce

1

teaspoon

sugar
Instructions
Mix the sauce ingredients in a small bowl and set aside.

Place a large non-stick skillet over high heat and add the oil.

Once hot, add the garlic and pepper flakes, stir and cook for 30 seconds to 1 minute, until fragrant.

Add the red bell pepper and pineapple, stir and cook for 1 minute.

Next, add the peas, and corn, and cook for 30 seconds.

Add the rice and all the Sauce. Stirring and cook for 2-3 minutes.

Finally add the lime zest, and juice and stir for about 1 minute.

Mix in the green onions and remove from heat.

Top the fried rice with peanuts and cilantro and serve.
Recipe Notes
* 1 cup dry rice makes 3 cups of cooked rice
Nutrition Facts
Pineapple Fried Rice
Amount Per Serving
Calories 406
Calories from Fat 126
% Daily Value*
Fat 14g22%
Sodium 1615mg70%
Potassium 478mg14%
Carbohydrates 64g21%
Protein 10g20%
Vitamin A 2886IU58%
Vitamin C 57mg69%
Calcium 64mg6%
Iron 2mg11%
* Percent Daily Values are based on a 2000 calorie diet.