Quick Chocolate Fudge Recipe
Quick Chocolate Fudge is a delicious treat for the holiday season made with just 3 ingredients. And with this simple chocolate fudge recipe, you can make it any time of the year with little effort in less than 30 minutes.
For another delicious three-ingredient treat, try this creamy Quick Chocolate Mousse recipe. If you would rather have peanut butter, our Easy Peanut Butter Mousse recipe only uses three ingredients as well. For a minty drink, this Shamrock Shake is fast and easy too.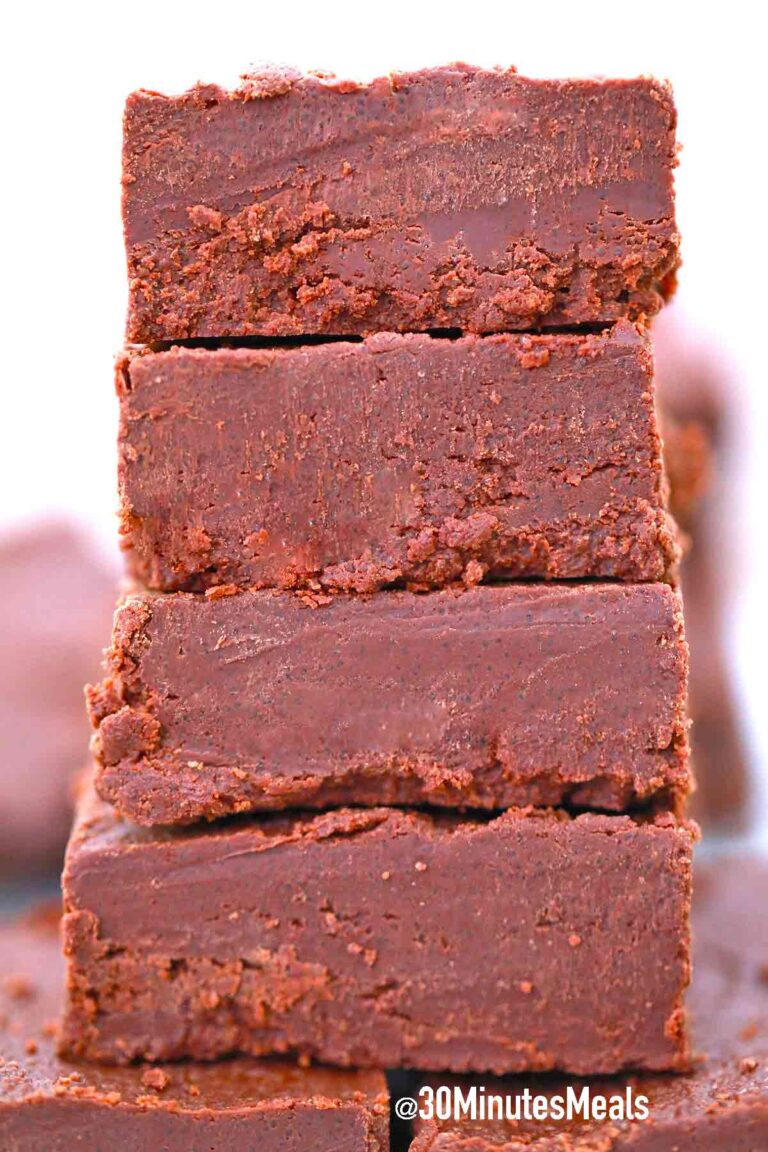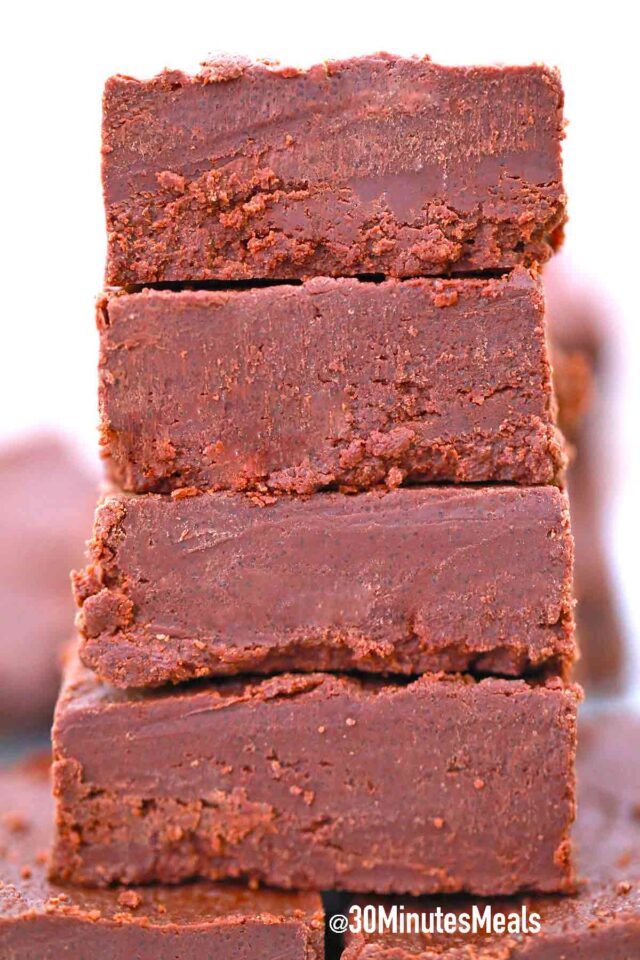 Whether you are trying out a new recipe for the kids or you just need something to satisfy your sweet tooth, this is a great recipe because it is so simple to do. You can also add your favorite ingredients to the mixture to make it unique.
This is one of those sweet treats that is versatile and perfect for anyone at any time of year. Our three-ingredient chocolate fudge is so much easier than the traditional method, you will want to make it all the time. And you can, because this easy homemade fudge recipe is amazing.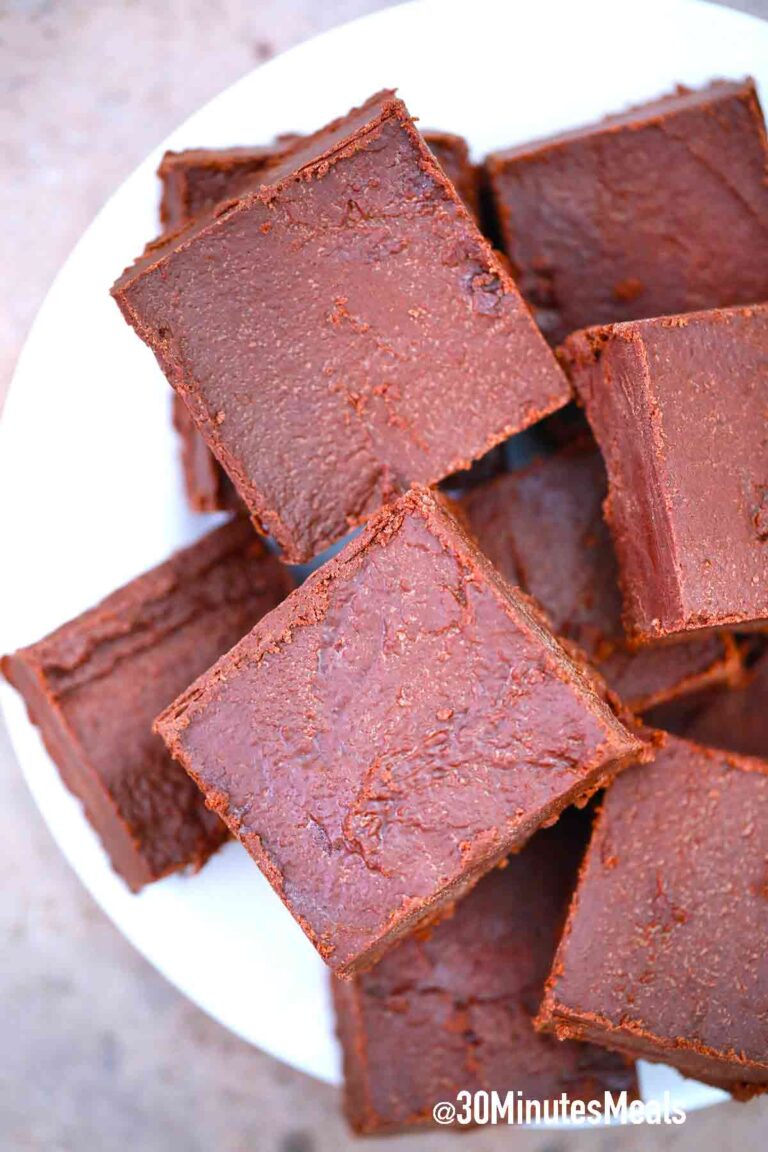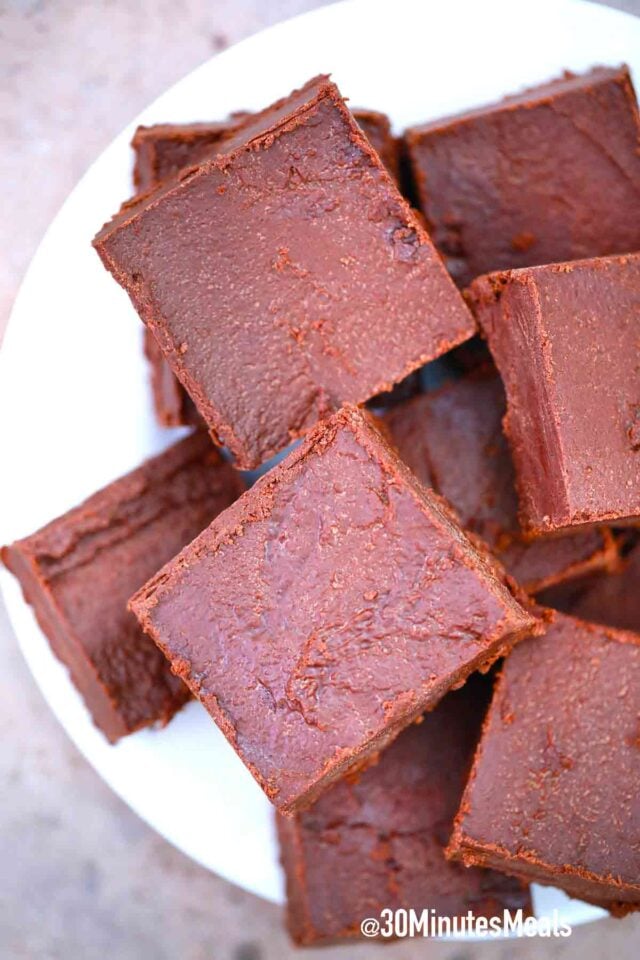 Ingredients needed:
Since there are only a few basic ingredients, this will be a short list. But for the exact instructions and measurements, scroll down to our recipe card below.
Chocolate chips: We used semi-sweet chocolate chips. Do not use milk chocolate because it will not set properly.
Sweetened condensed milk: Do not use evaporated milk.
Vanilla: It is best to use pure vanilla extract.
How do make quick chocolate fudge?
Prepare: First, get your pan ready. You should use a 9×9 square pan lined with parchment paper.

Melt: Next, pour the milk and chips into a large microwave-safe bowl and cook it on high for one minute.

Stir: Then, stir the fudge mixture well with a wooden spoon until it is all blended together.

Continue: After, continue to heat the chocolate in 30-second intervals, stirring well until it is completely smooth.
Vanilla: Last, stir the vanilla into the mixture and then transfer it to your prepared pan immediately.

Refrigerate: After spreading the top of the fudge evenly, refrigerate it for two to three hours.
Cut: Finally, cut it right out of the fridge while it is still cold. Run a butter knife around the sides of the pan to loosen it up and put it on a cutting board before you cut it.
Recipe variations:
Rocky road: Add peanuts and marshmallows for rocky road fudge.
Other nuts: Similarly, you can also use some other nuts like walnuts, almonds, or pecans.
Hawaiian: Make it Hawaiian with some coconut flakes and pineapple topping.

Fruity: Alternatively, try adding strawberries, cranberries, or some other fruit.

Add liquor: Make adult candy by adding bourbon or rum.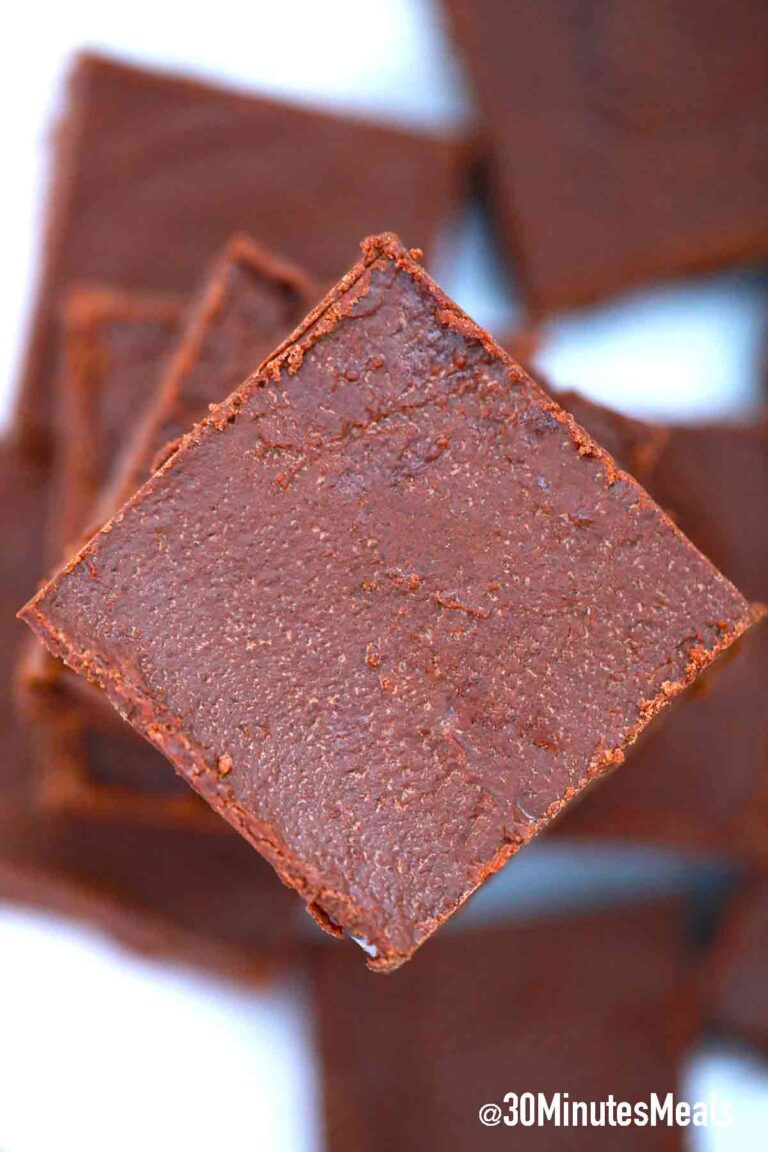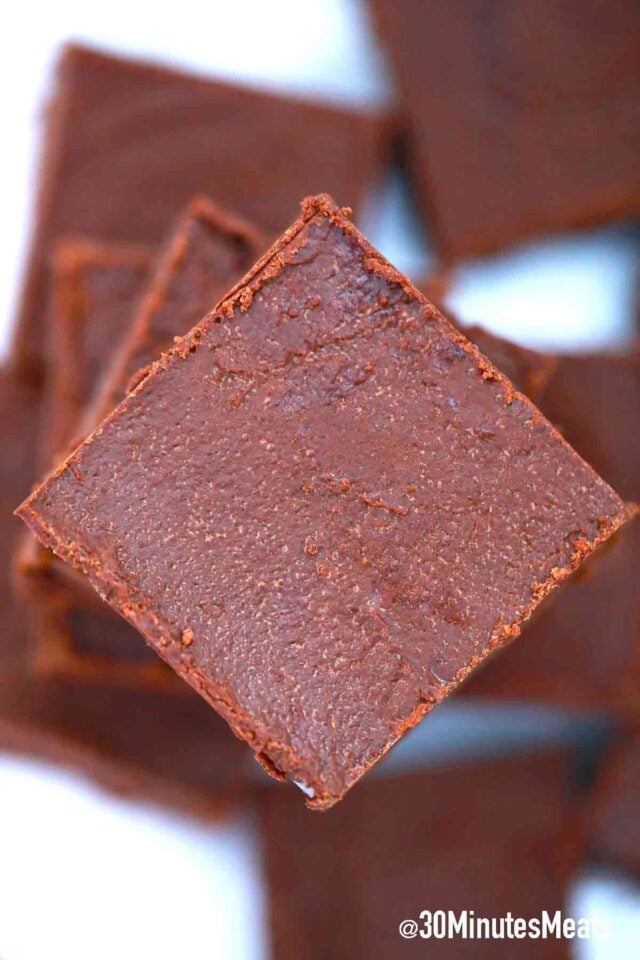 How to serve:
It is important to cool the fudge in your refrigerator for at least two hours. Then, after it sets, cut it and let it sit for a little time before serving.
Add a dollop of this chocolate mint mousse on top for a minty flavor.

Melt chocolate chips on low heat for a few minutes and drizzle it on top of the cooled candy.
Alternatively, try using white chocolate or peanut butter chips to add on top.
Serve with a glass of this Starbucks pumpkin latte or Irish coffee.
Frequently asked questions
Why is my fudge grainy?
If you do not stir it long enough or hard enough, you will not get the creamy fudge that you want. Although crystals form naturally when cooking candy, you want them to be tiny enough so that you can not feel them on your tongue.
The secret to perfectly creamy chocolate fudge is stirring it correctly and getting it to the right temperature. It has to be heated to about 235 degrees F and then cooled to 110 degrees F before stirring. If you stir it too soon, the crystals will be larger, giving it a grainy texture.
However, with this easy recipe, you are using the microwave and cooking in short bursts, so the stirring is different. The crystalizing process in this recipe is different too so you do not really have to worry about the temperature when you stir it.
Why is my fudge too soft?
To prevent soft fudge, you have to cook it to the right temperature and use the exact ingredients with precise measurements. It has to be between 230 to 240 degrees F so make sure you have a candy thermometer before you begin.
With this easy chocolate fudge recipe, you should not have any trouble getting your fudge set as long as you follow the instructions carefully. Do not substitute anything. With only three ingredients, that should not be a problem.
For example, you need to have semi-sweet chocolate chips instead of milk chocolate and sweetened condensed milk instead of evaporated milk. You could also use dark chocolate chips, but the result will not be as sweet.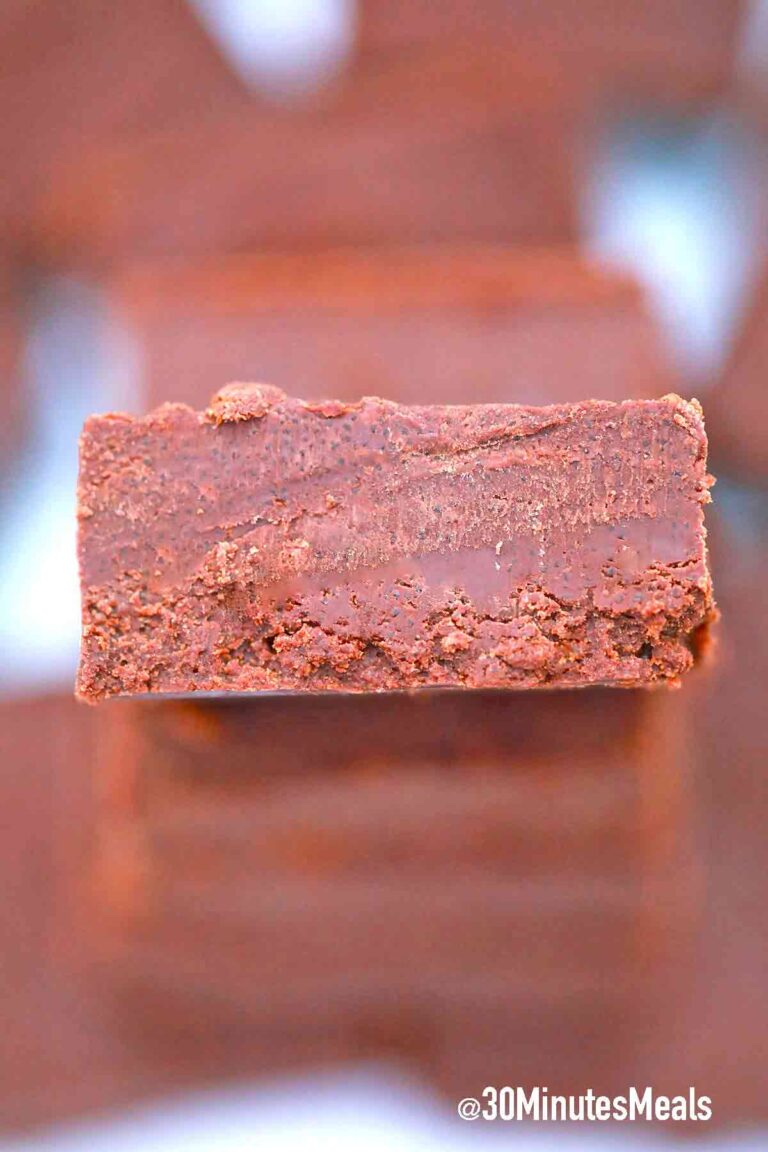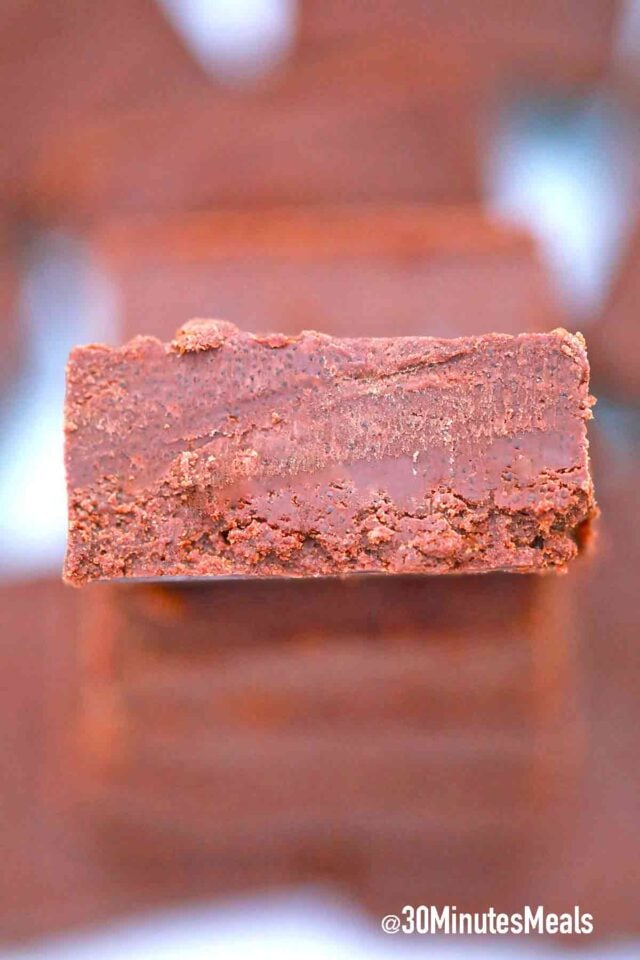 Can I use an electric mixer?
With the traditional fudge recipe (cooking it on the stove), you can use your electric mixer to beat the fudge. However, you need to use the paddle attachment instead of the regular beaters. Beat it on medium just until it loses its glossiness and starts to thicken.
How to store leftovers:
Store: No matter whether you store it at room temperature or in the refrigerator, you have to put it in an airtight container to keep it from drying out. It should last for a week on the counter or a month in the fridge.
Freeze: If by some miracle, you do not eat it all in a month, wrap it in aluminum foil and plastic wrap before putting it into a freezer bag. It will stay fresh for six to nine months in the freezer.
Thaw: To thaw, put the frozen fudge in the fridge overnight or leave it on the counter for six hours.

Reheat: No need to reheat, just serve it chilled or at room temperature.
Recipe tips:
To make the quick chocolate fudge easier to remove from the pan, line it with parchment paper.
If you do not have parchment, you can use wax paper.
Is your fudge runny? You may have used too much milk. Try adding ¼ cup semi-sweet chocolate chips and melting it again to see if it thickens up. If not, add another ¼ cup.

Do not use evaporated milk for this recipe or it will not set.
Although this is an easy fudge recipe, you have to follow the instructions and measurements exactly or the end result will not be what you want.
Be sure to stir the fudge gently, every 30 seconds.

To make the fudge set properly, let it cool for at least two hours.

If you do not have a square baking pan, use a round cake pan or pie pan.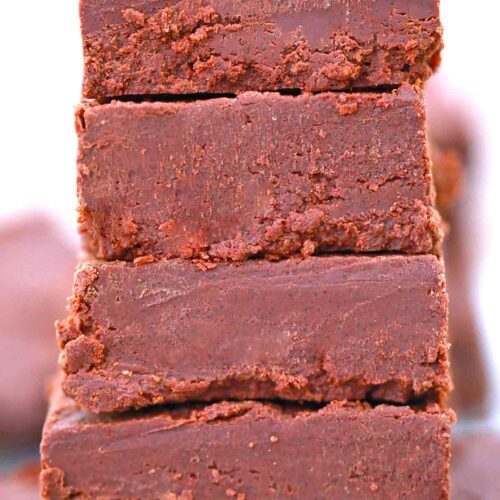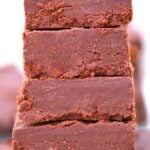 Quick Chocolate Fudge
Quick Chocolate Fudge is a delicious treat for the holiday season made with just 3 ingredients in just about 30 minutes.
Keyword:
Quick Chocolate Fudge
Ingredients
2

cups

semi sweet chocolate chips

14

oz

can sweetened condensed milk

1

teaspoon

vanilla extract
Instructions
Line a 9×9 square pan with parchment paper, make sure to go up the sides of the pan, for easy fudge removal.

Add the chocolate chips and sweetened condensed milk to a large bowl and microwave for one minute.

Stir well, the residual heat will continue to melt the chocolate.

If needed, microwave for another 30 seconds and stir until completely smooth.

Stir in the vanilla extract.

Transfer the mixture to the lined pan and spread evenly.

Refrigerate the fudge until firm, 1-2 hours.

Cut the fudge while it's still cold and store in an air tight container either room temperature or the fridge.
Nutrition Facts
Quick Chocolate Fudge
Amount Per Serving
Calories 374
Calories from Fat 171
% Daily Value*
Fat 19g29%
Cholesterol 17mg6%
Sodium 60mg3%
Potassium 391mg11%
Carbohydrates 45g15%
Protein 6g12%
Vitamin A 138IU3%
Vitamin C 1mg1%
Calcium 150mg15%
Iron 3mg17%
* Percent Daily Values are based on a 2000 calorie diet.