Greek Salad with Homemade Dressing
Crunchy and fresh Greek salad made with lots of veggies, creamy feta cheese, and the most refreshing homemade Greek salad dressing.
This is such a classic recipe that can be served pretty much with everything. I love pairing it with Pan-Roasted Swordfish, Citrus Salmon, or Baked Lemon Thyme Chicken.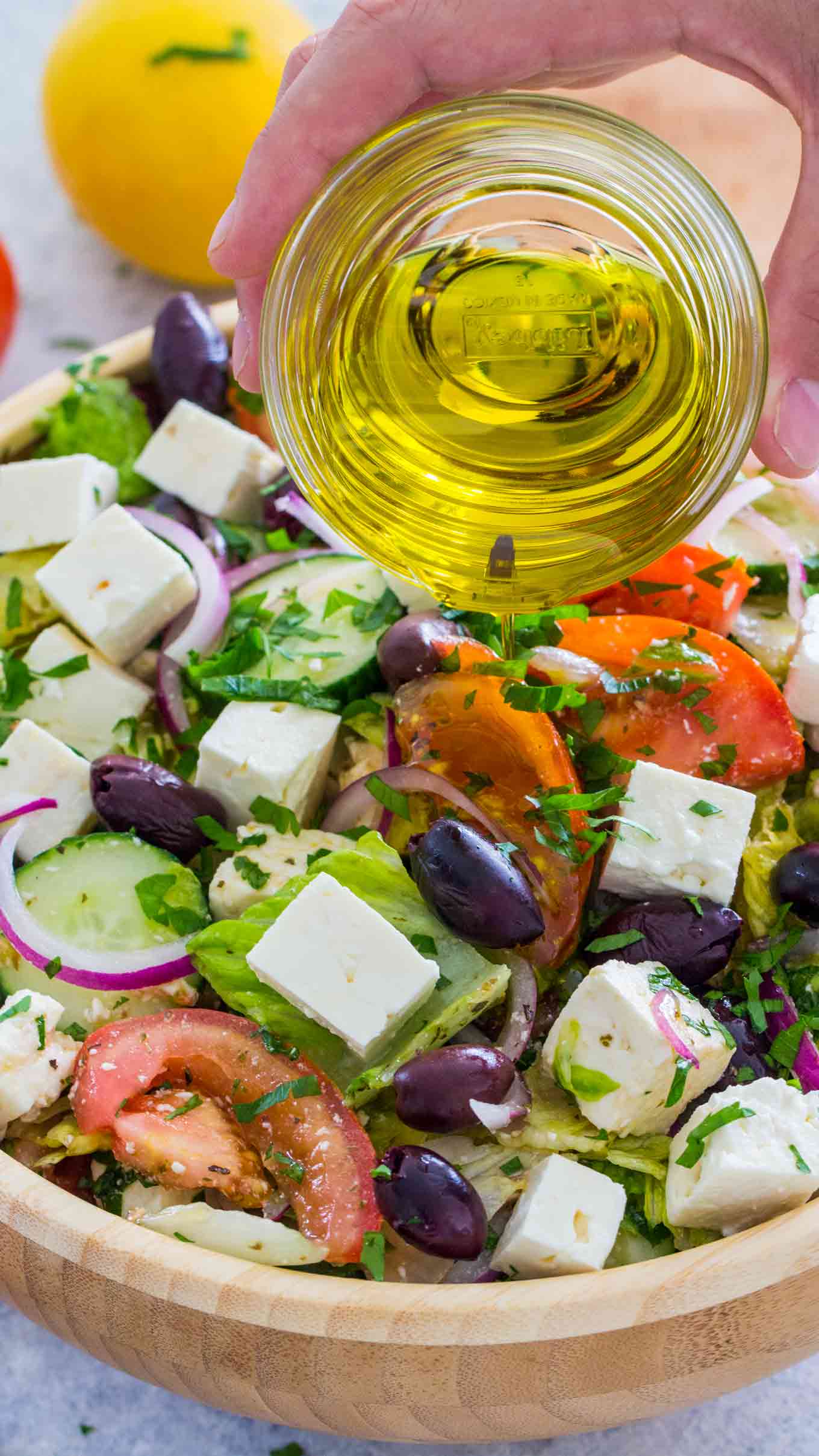 The Best Greek Salad recipe
What is your favorite salad? I am a Greek Salad girl at heart. Every time we are dining out I have a hard time deciding between a good Caesar salad or Greek salad. I enjoy them both, but this salad is my absolute favorite. It is just so refreshing that it is impossible to resist.
This recipe is so easy and simple that anyone can make at home. Also, it is very forgiving, and you really can't mess it up. I also like that its highly customizable, and you can add your favorite veggies or skip the ones that you dislike.
Not only is this salad so healthy and delicious, but also budget-friendly. In this recipe, I included the most delicious homemade dressing that complements it perfectly. The salad is so hearty that you can eat a large bowl for a meal. It's also the perfect side dish or appetizer, and it pairs well with poultry and fish.
Looking for more Salad Recipes? Check these out:
Pin This Homemade Greek Salad Recipe to your Favorite Board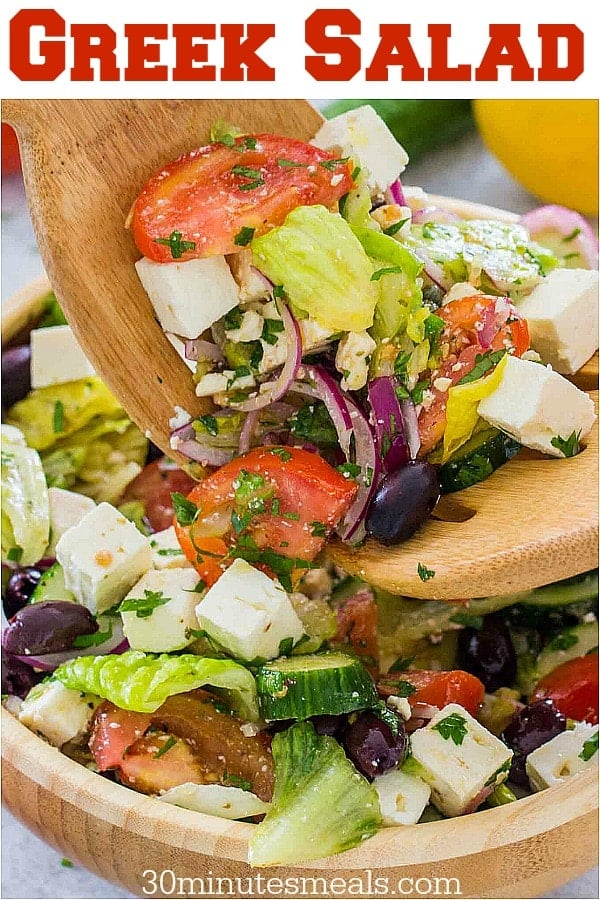 What is in a traditional Greek Salad?
It is a hearty recipe made with tomatoes, cucumbers, green peppers, sliced red onion, Kalamata olives, and feta cheese. You can also add some other veggies such as avocado to it. The dish is then topped with a dressing made with dried oregano, salt, olive oil, and red wine vinegar.
Is there lettuce in a traditional Greek Salad?
A true traditional Greek Salad does not have lettuce or any other leafy green. I personally like adding iceberg lettuce to mine, but you can skip it.
Also, if you want to go all by the book, then do not mix the salad before it is served. Similarly, the feta cheese should not be cubed or crumbled but should be served in a large piece on top of the salad.
Greek Salad Ingredients
Roma Tomatoes (grape tomatoes are delicious too)
Lettuce
Capers (this is optional and can be skipped if not a fan)
Cucumbers
Red Onion
Bell Pepper
Kalamata or Black Olives
Avocado (optional as well)
Feta Cheese
Fresh parsley
How to make Greek Salad?
This recipe is super simple. Once you have all the ingredients chopped and ready, you are pretty much done.
In a large bowl, stir together the salad ingredients. Then, gently fold in feta.
In a separate bowl, prepare the dressing, by whisking together the dressing ingredients.
Season with salt and pepper, and drizzle the dressing over the salad.
Serve immediately!
How to make Greek Salad Dressing?
The Greek Salad Dressing is very easy to make, it includes: dried oregano, good extra virgin olive oil, red wine vinegar, fresh lemon juice, salt, pepper and if you like garlic you can include one or two gloves of minced garlic.
Simply, combine them together, and whisk well.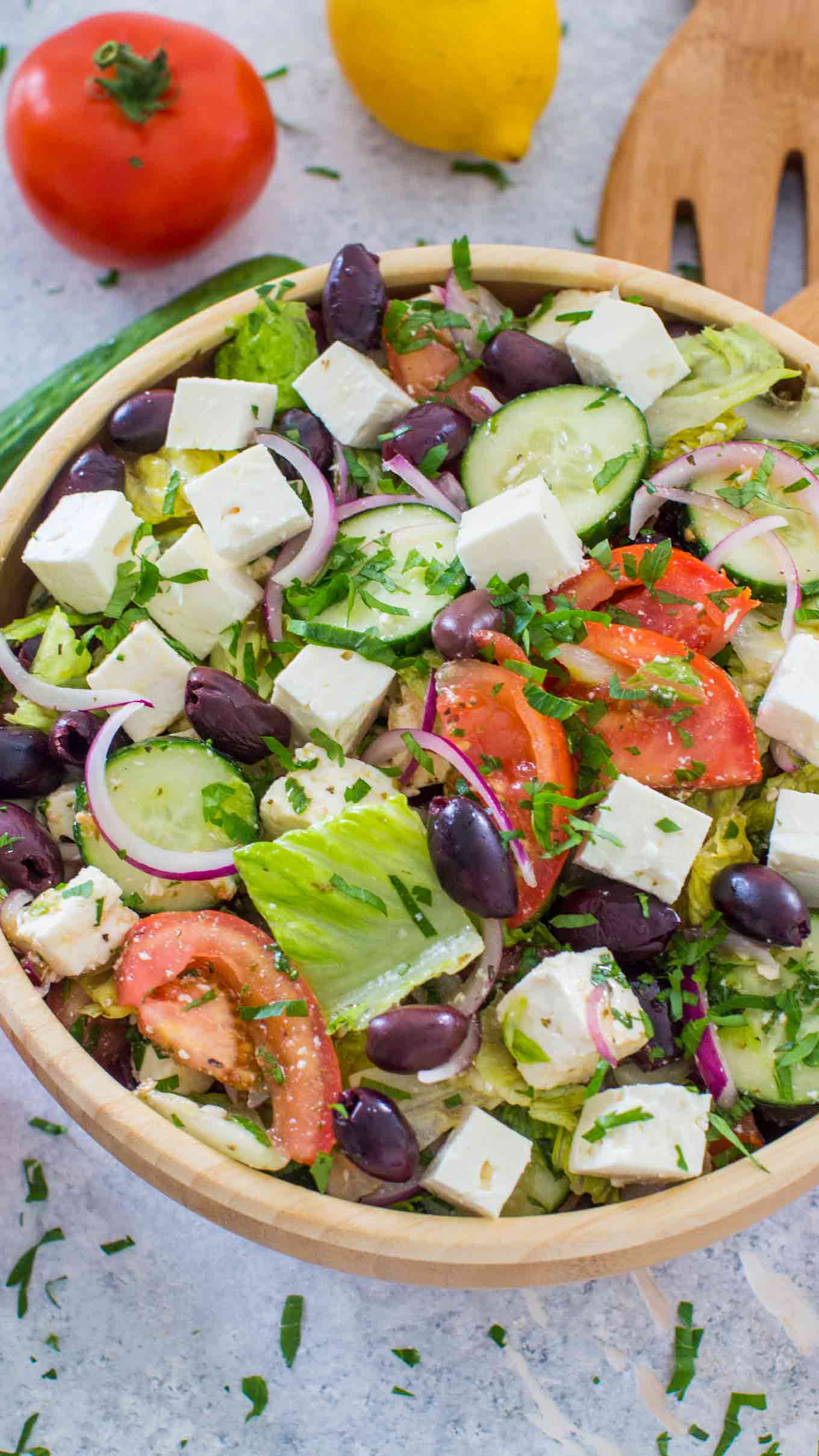 How long does Greek Salad last?
It depends on how fresh the ingredients were, to begin with, and how much time the salad spent at room temperature. Let's say if the salad was on the kitchen counter for over 4-6 hours and the room was warm, I would say to not refrigerate it. Instead, it would be best to simply throw it away.
However, if you just chopped the ingredients and added them to a bowl to mix later, properly stored, the salad can stay in the fridge for 2-4 days. Assuming all the ingredients are very fresh. Also, if you added dressing to the salad, I would say it should be consumed with 2 days. Keep in mind, that while the salad will be safe to consume, the texture will be different.
How many calories in a Greek Salad?
Greek Salad is always my healthy choice. It has lots of fresh vegetables and light dressing. That is why this salad in my recipe doesn't have many calories. One portion of salad has less than 400 calories. Pay attention to the Greek salad served in restaurants, they usually have quite a fat dressing and are packed with feta cheese, so a portion has around 800-1000 calories.
How long does the dressing last in the fridge?
If properly stored in an airtight container, the salad dressing can be refrigerated for about 2 weeks.
Best Greek Salad Recipe Tips:
This recipe is very versatile and can be made with various other ingredients. Feel free to use other greens instead of lettuce. Also, you can add avocado or even bacon to it!
If you're sensitive to raw red onion, you can skip it altogether. Or, you could soak the slices in cold water for 10 to 15 minutes, then drain and pat dry. This helps tame the spice.
Black olives can be swapped with green olives.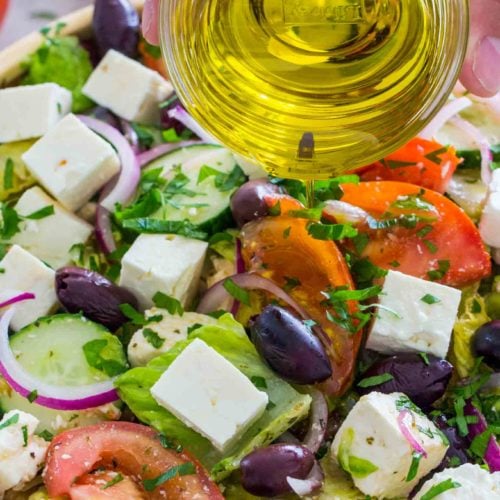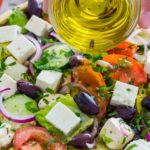 Homemade Greek Salad
Crunchy and fresh Greek salad made with lots of veggies, creamy feta cheese and the most refreshing homemade Greek salad dressing.
Ingredients
6

cups

iceberg or butter lettuce

chopped (optional)

1

tablespoon

capers

1

large cucumber

chopped

1

medium red onion

thinly sliced

4

medium tomatoes

sliced

1

green bell pepper

cored and sliced

8

oz

Greek feta cheese

cubed

1

cup

Greek Kalamata olives

pitted

1/4

cup

fresh parsley

chopped
Greek Salad Dressing:
1

tablespoon

dried oregano

1/4

cup

extra virgin olive oil

2

tablespoons

red wine vinegar

2

tablespoons

lemon juice

2

garlic cloves

minced (optional)

1/2

teaspoon

ground black pepper

optional

1/4

teaspoon

kosher salt
Instructions
Prepare all the veggies by washing and chopping them.

Chop the lettuce (if using) and add it to a large bowl, add the capers as well.

Slice the tomatoes into wedges and the cucumber into thicker rondelles. Add to the salad bowl.

Cut the red onion in half, and thinly slice. Add to the salad bowl.

Cut the bell pepper in half (if using), and thinly slice it. Add to the salad bowl.

Cut the feta cheese into small cubes and add to the salad bowl.

Add the pitted kalamata olives and parsley to the bowl.
Greek Salad Dressing:
Mix all the Salad Dressing ingredients in a medium bowl. Whisk to combine.

Pour Salad Dressing over the salad and serve immediately.

Enjoy!
Nutrition Facts
Homemade Greek Salad
Amount Per Serving
Calories 392
Calories from Fat 279
% Daily Value*
Fat 31g48%
Cholesterol 50mg17%
Sodium 1382mg60%
Potassium 723mg21%
Carbohydrates 19g6%
Protein 11g22%
Vitamin A 2440IU49%
Vitamin C 56.6mg69%
Calcium 377mg38%
Iron 2.4mg13%
* Percent Daily Values are based on a 2000 calorie diet.