Cheesy Chicken Fajita Quesadilla Recipe
Chicken Fajita Quesadilla is loaded with juicy and tender chicken meat, crunchy bell peppers and lots of delicious, melting cheese. This is our favorite Tex-Mex meal!
Quesadilla is like a sandwich but better and can be served for breakfast, lunch, or dinner. My other delicious Mexican inspired dishes are Taco Dip, Taco Mac and Cheese, and Chorizo Pasta.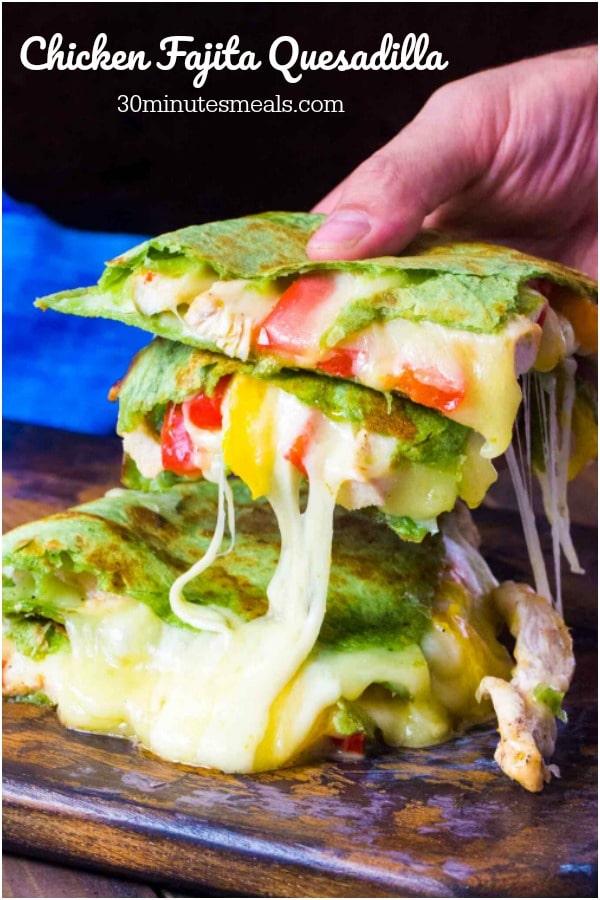 Easy Chicken Quesadilla
Chicken Fajita Quesadilla is such an easy lunch or dinner! Serve it with some sour cream on the side for dipping and with some crunchy corn chips and hot salsa for a complete Tex-Mex experience!
You know what I love about homemade quesadillas? The fact that you can load them with as much cheese as you want! Let's face it, this recipe is all about the cheese! Also, the combination of onions, peppers, meat, and toppings inside tortillas makes this one of the most popular Mexican-inspired dishes!
Also, this Chicken Fajita Quesadilla is very, very tasty and also super easy to make. All you need is a skillet and some will power not to shovel 1 pound of cheese into it. This is also a great way to use leftover chicken breasts or rotisserie chicken. I had some chicken breast from my previous meal prep. All I had to do is slice them and add them to the quesadilla.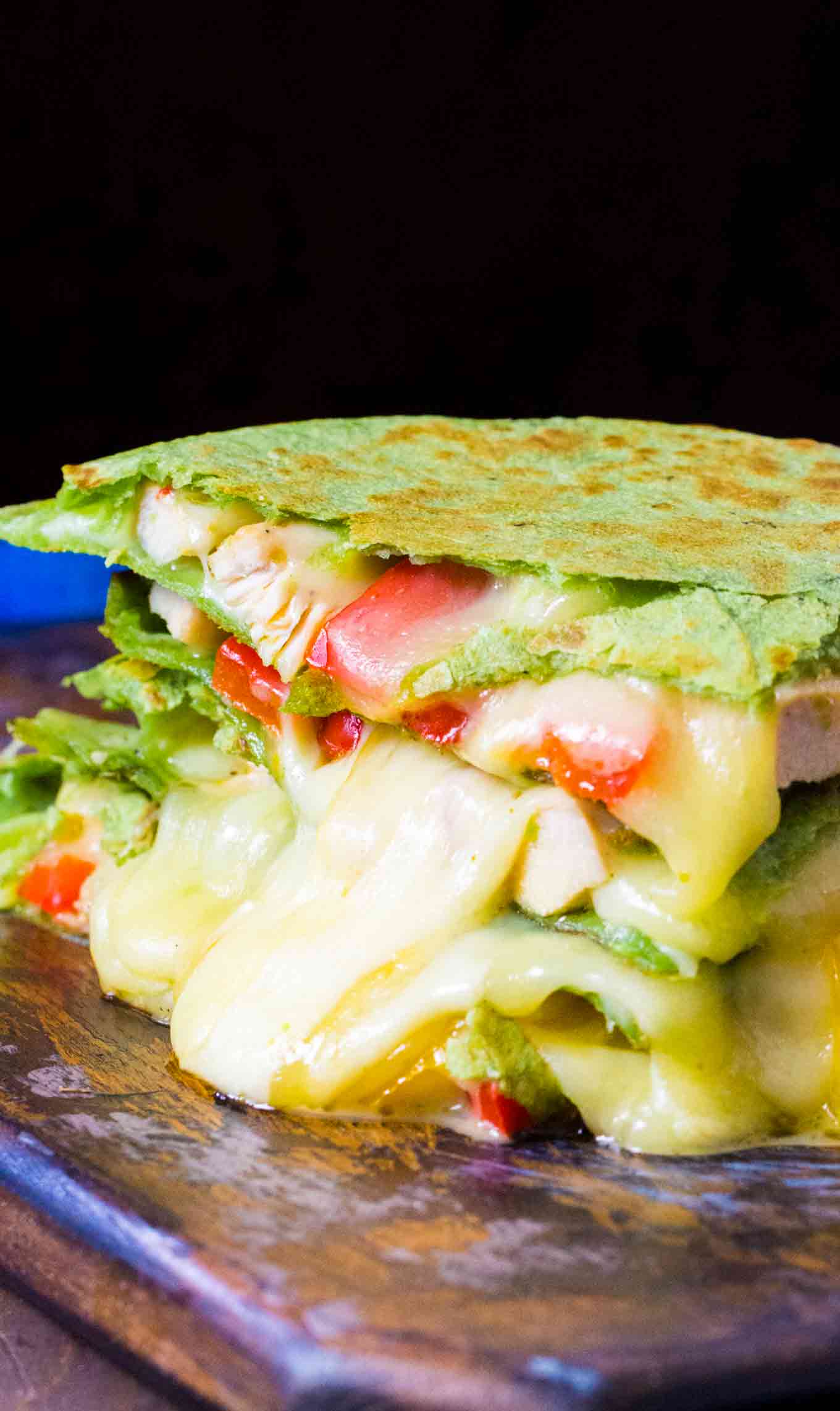 How do you make Chicken Quesadilla?
Start by cooking the chicken meat. You can use breasts or thighs. The thighs are juicier when you bite into them, so I would recommend going with thighs. Also, to save time, feel free to use leftover meat or rotisserie chicken.
Then, warm a tortilla in a skillet and top with cheese and preferred fillings. Wait until everything is warm and gooey, then either top it with another tortilla and flip it to cook on the other side or fold it and serve.
What else to add to quesadilla?
This is a very versatile recipe, and you can add pretty much any veggies you want or have available. You can use onions, beans, tomatoes, peppers, mushrooms, corn, spinach, jalapeno, etc.
Also, you can make it with other proteins. A great alternative would be beef, ham, fish, shrimp, and even tofu.
What type of tortillas should be used to make quesadillas?
I prefer flour tortillas for as its easier to come across those in larger 9- or 10-inch sizes and they get nicely crispy in the pan without breaking apart when you fold or cut them.
Looking for more delicious lunch options? Check these: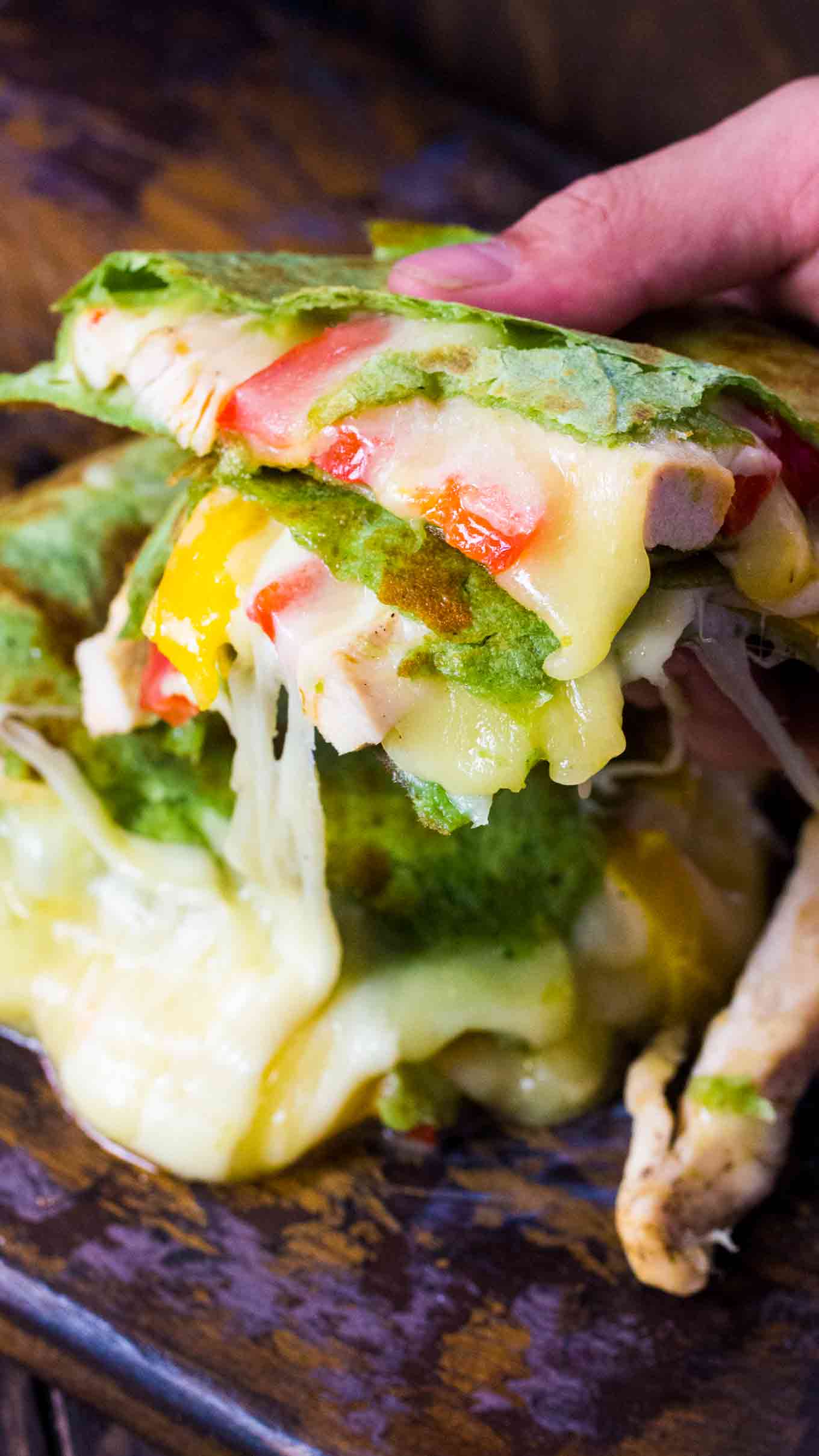 What is the best cheese for quesadillas?
Any melting cheese that you like. Originally quesadillas are made with white melting cheese but feel free to use any melting cheese that you like. Here are a few options:
Mozzarella
Colby Cheese
Cheddar Cheese
Swiss Cheese
Provolone
Queso Oaxaca
Brie
Havarti
Recipe Tips:
Instead of cooking the stovetop, you can also make it using a panini press, or even a pancake griddle.
Similarly, you could use one tortilla and fold it in half rather than using two.
Also, if you end up with leftover, just store in an airtight container, and refrigerate for up to 4 days.
For a spicier kick, add some chopper chili or jalapeno peppers.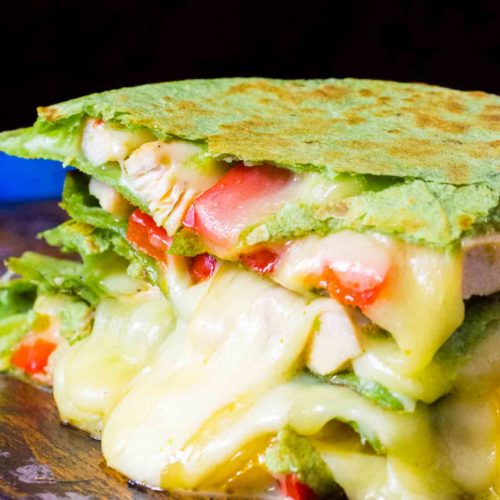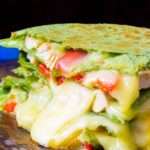 SKILLET CHICKEN FAJITA QUESADILLA
Skillet Chicken Fajita Quesadilla is loaded with juicy and tender chicken meat, crunchy bell peppers and lots of delicious, melting cheese.
Ingredients
6

large flour tortillas

1

tablespoon

olive oil

3

cups

grated cheese

Monterey Jack or Mozzarella

2

cooked chicken breasts

sliced or rotisserie chicken

1

large onion

cut in half and then into slices

1

green bell pepper

seeded and sliced into strips

1

red bell pepper

seeded and sliced into strips

1

yellow bell pepper

6

tablespoons

butter

for frying
Instructions
Add 1 tablespoon olive oil to a large cast-iron skillet over high heat.

Add in the onions and peppers and cook until the peppers have a few dark brown/black areas, 3 to 4 minutes. Remove and set aside.

Sizzle 1/2 tablespoon of the butter to the cast-iron skillet or griddle over medium heat and lay a flour tortilla in the skillet.

Build the quesadillas by laying grated cheese on the bottom tortilla, and then arranging the chicken, cooked peppers and onion. Top with a little more grated cheese and top with a second tortilla.

When the tortilla is golden on the first side, carefully flip the quesadilla to the other side, adding another 1/2 tablespoon butter to the skillet at the same time. Continue cooking until the second side is golden. Repeat with the remaining tortillas and fillings.

Cut each quesadilla into wedges and serve with Pico de Gallo, sour cream and black beans on the side.

Enjoy!