Honey Balsamic Chicken – One Pan
This Honey Balsamic Chicken is very juicy and tender, coated in a tasty sweet and slightly tangy sauce. A delicious one-pan dinner that is ready in 30 minutes only!
If you are looking for other quick and easy one-pan family recipes, check out Ground Beef Stroganoff, Chipotle Orange Chicken, and Peach Pork Chops.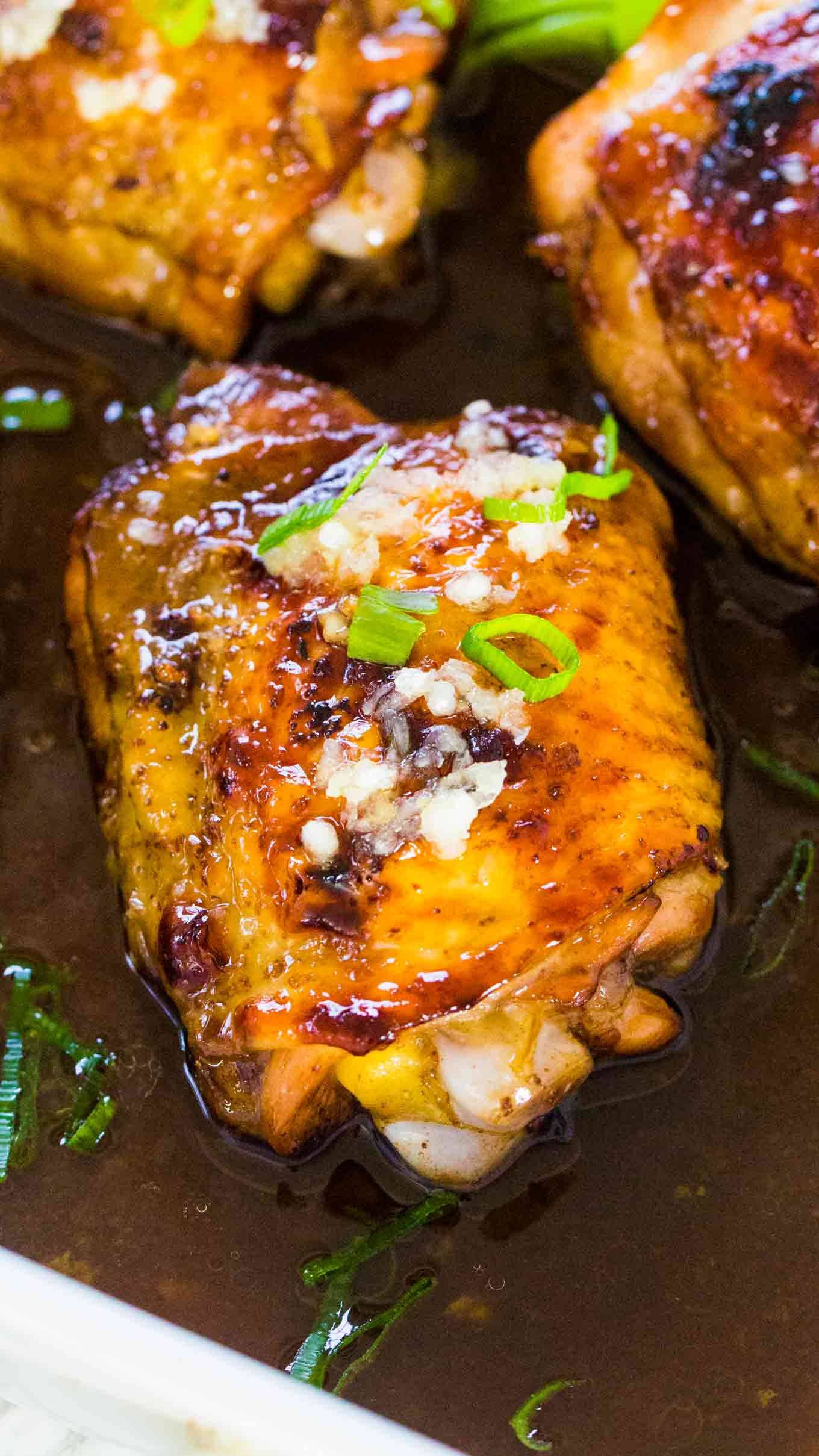 Easy Honey Balsamic Glazed Chicken
Honey Balsamic Glazed Chicken is another easy, one-pan chicken recipe that you can make in just 30 minutes. The chicken thighs are so versatile, budget-friendly and can be prepared in so many delicious ways. So you don't get bored from eating the same dinner over and over again.
The thighs are juicy and tender, baked in the most luxurious sweet and lightly tangy sauce. If you have enough time, I highly recommend to let the chicken marinate in the sauce for at least one hour. But don't worry if you are in a rush, it will still taste delicious!
This easy recipe is a crowd-pleaser for sure. The combination of honey and balsamic is classic and delicious. The flavors are restaurant-quality, and you can serve it over rice, pasta, or enjoy it with a salad on the side. Simple and super delicious!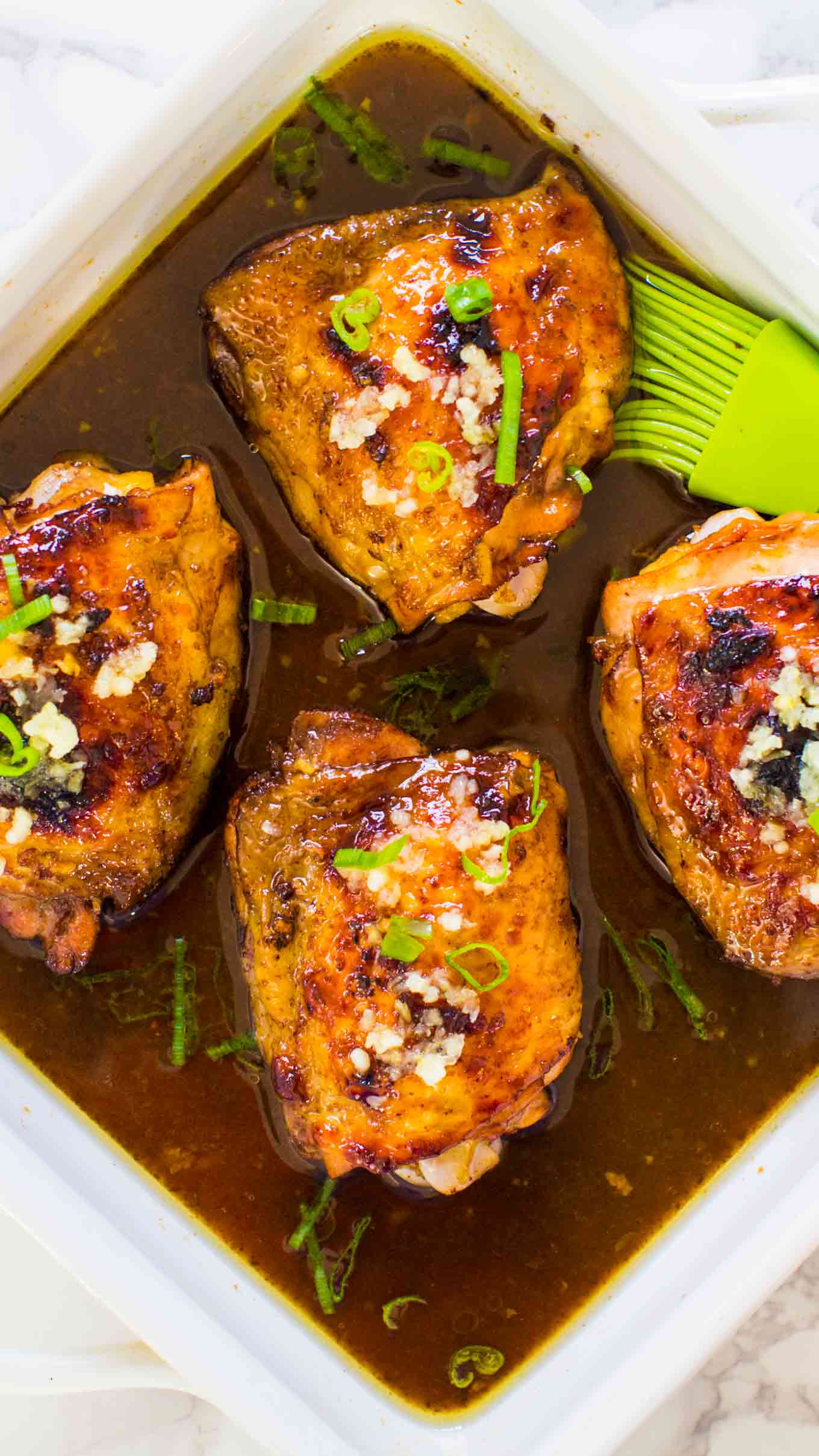 How to make Honey Balsamic Chicken?
This easy recipe is ready in no time. You will need the following ingredients:
Chicken Thighs
Balsamic Vinegar
Honey
Minced garlic
Olive oil
Salt and pepper
Once you have the ingredients ready, the general steps are as follows:
Season the poultry with salt and pepper.
In a bowl, prepare the marinade by whisking together, vinegar, honey, and minced garlic. I highly recommend marinating the meat in the sauce for a few hours. However, if you are short on time, skip this step.
Grease a baking sheet and bake the chicken until fully cooked. From time to time brush the meat with the balsamic sauce. This way it will absorb all the juices and become extra tender, flavorful, and juicy!
Enjoy it warm over some rice or pasta.
Honey balsamic chicken recipe variations:
I like baking this dish because the meat turns out super tender and juicy. However, you can also make it on the stovetop as well.
In addition, you can swap the honey with maple syrup, or even agave nectar.
For a low-carb or ket version, feel free to replace the sweetener with a non-nutritive sweetener such as stevia.
Use other herbs for a more pronounced flavor. Such as dry rosemary, thyme, basil, are a great addition to this dish.
How to store the balsamic honey chicken:
To refrigerate: Use an airtight container. Then, store the honey balsamic chicken for up to 4 days.
To freeze: Let the dish completely cool prior to freezing. Next, transfer it to a freezer-safe dish, and freeze for up to 3 months.
To reheat: Turn on the oven to 350 degrees F, and bake it for 10-15 minutes, or until completely heated.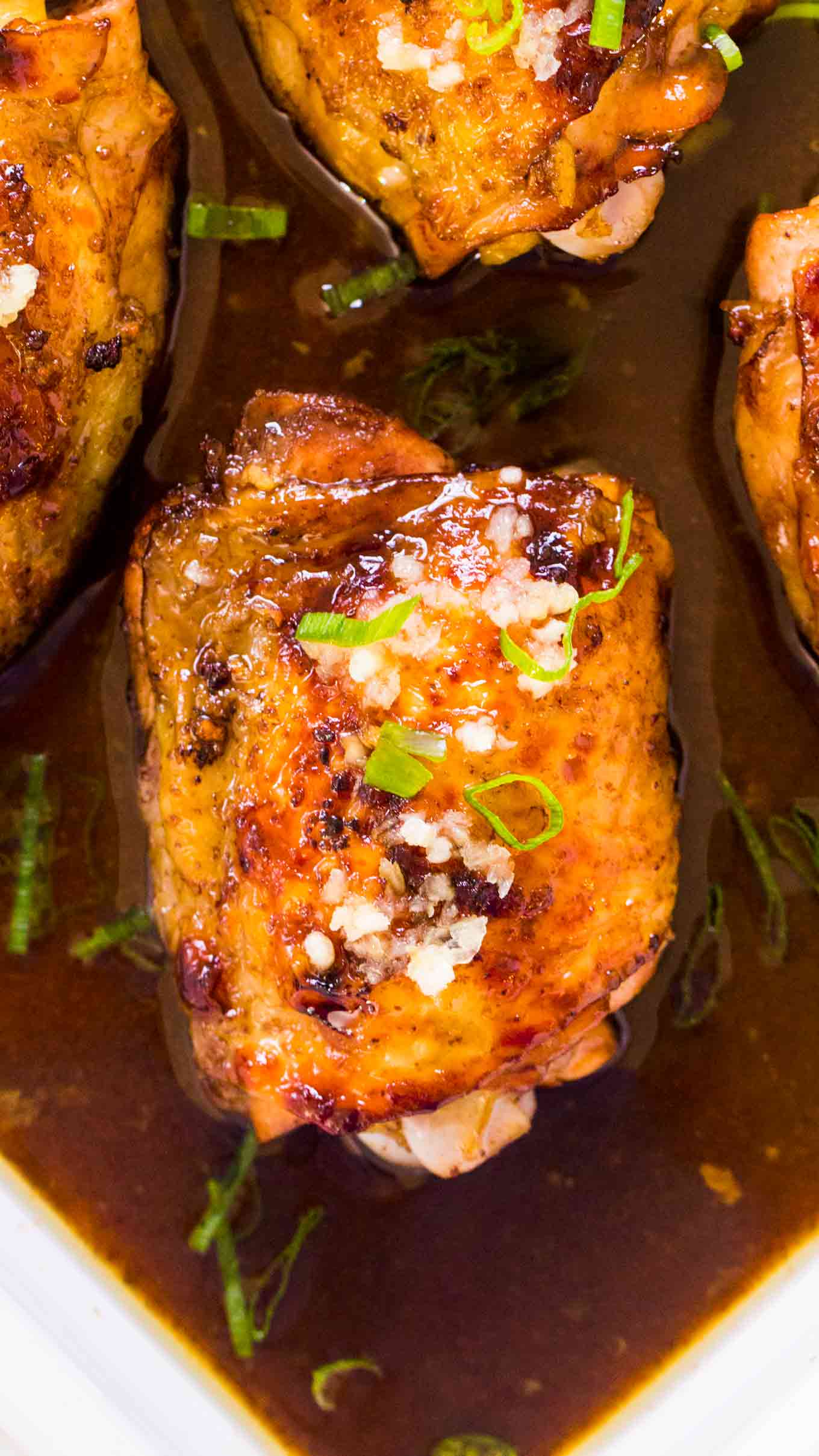 More Delicious Chicken Recipes:
Balsamic honey chicken Recipe Tricks and Tips:
I like making this dish with chicken thighs, but it works great with chicken breasts or drumsticks as well. If you will be using chicken breasts, bake them for 15-18 minutes at 425 degrees F and if you want a brown, crispy top, turn on the broiler on high for the last 3-4 minutes of baking.
For the best flavors, it's better to marinate the chicken for a few hours or even overnight.
Also, for a spicier kick, add 1-2 teaspoons of red pepper flakes.
Make sure you use balsamic vinegar in this recipe, not a balsamic reduction.
Honey can be replaced with maple syrup.
Serve the chicken garnished with parsley with rice and veggies on the side.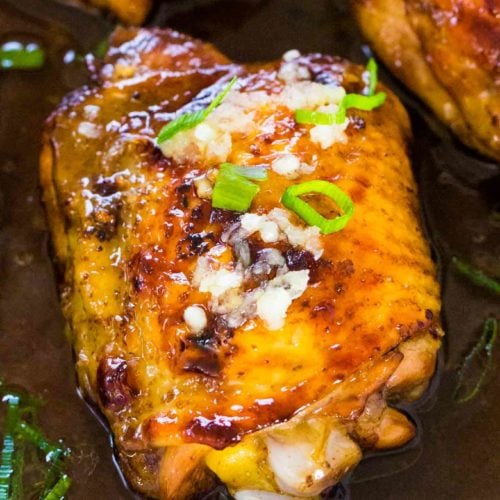 Honey Balsamic Chicken - One Pan
Honey Balsamic Chicken is very juicy and tender, coated in a tasty sweet and slightly tangy sauce, made in one pan in 30 minutes only!
Ingredients
4

chicken thighs

bone in and skin on

1/3

cup

balsamic vinegar

1/4

cup

honey

6

garlic cloves

minced

2

tablespoons

olive oil

1/2

teaspoon

kosher salt

1/4

teaspoon

black pepper
Instructions
Pre-heat oven to 425 degrees.

Season the chicken with salt and pepper.

In a medium bowl combine balsamic vinegar, honey, and minced garlic. Stir to combined.

If you have time, add the mixture over the chicken in a deep pan or large ziplock bag and marinate for 2-8 hours.

Lightly grease a deep baking dish or pan with olive oil, add chicken to the pan skin side up.

Pour the mixture over the chicken and bake for 25-30 minutes until browned and cooked through.

From time to time, brush the chicken with the juices from the pan while baking.

For a crispy, brown top, turn the broiler on high for the final 5 minutes and broil the chicken until it is cooked through and extra browned on top.

Once the chicken is cooked, remove the pan from the oven and loosely cover the pan with aluminum foil. Let the chicken rest for at least 5-10 minutes.

Serve and enjoy!