Chickpea Salad is a healthy salad made with fresh cucumbers, tomatoes, olives, and feta cheese. It is an easy and delicious recipe that is great for lunch or as a side dish.
I love making easy and healthy meals, especially during the busy weekdays. Some of my favorite ones are Cucumber Sandwiches, Shrimp Ceviche, and Baked Lemon Thyme Chicken.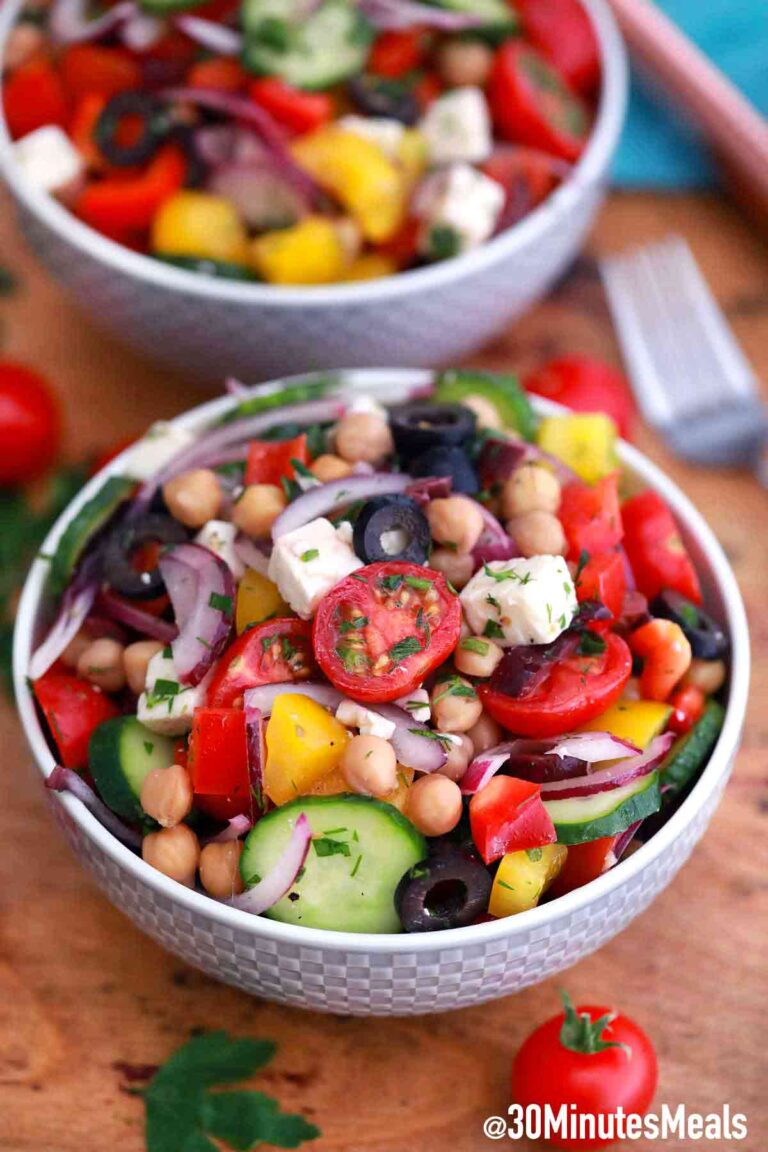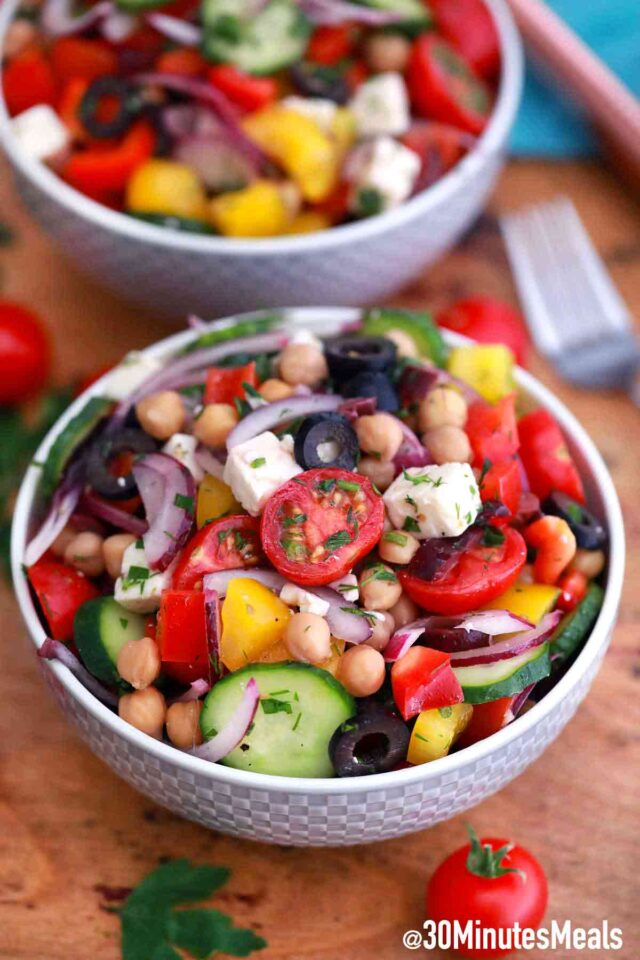 Easy Chickpea Salad with Cucumbers and Tomatoes
This Mediterranean Chickpea Salad is loaded with proteins and fiber. It can easily be served as a side dish or a complete meal, depending on your preference. Because it is packed with proteins, it will leave you feeling satisfied for hours.
The best part about this recipe is how easy it is to make. Also, because I use canned chickpeas, there is no cooking involved. You simply prepare and cut the ingredients, and you have a delicious and flavorful meal ready in about 10 minutes.
You can also swap the ingredients and use whatever you have in the fridge. Give it a try, and you will see why this protein-rich dish is one of our reader's favorite!
Are Chickpeas healthy?
Yes, they are super healthy, nutritious beans. Firstly, they are rich in plant-based protein and fiber, making them ideal to incorporate into a vegan or vegetarian diet.
Also, they are rich in vitamins such as zinc, iron, and vitamin B.
Lastly, they are rich in protein and can help with weight loss because they will leave you feeling full for hours. So, next time you want to enjoy these garbanzo beans feel free to do so without any feeling of guilt.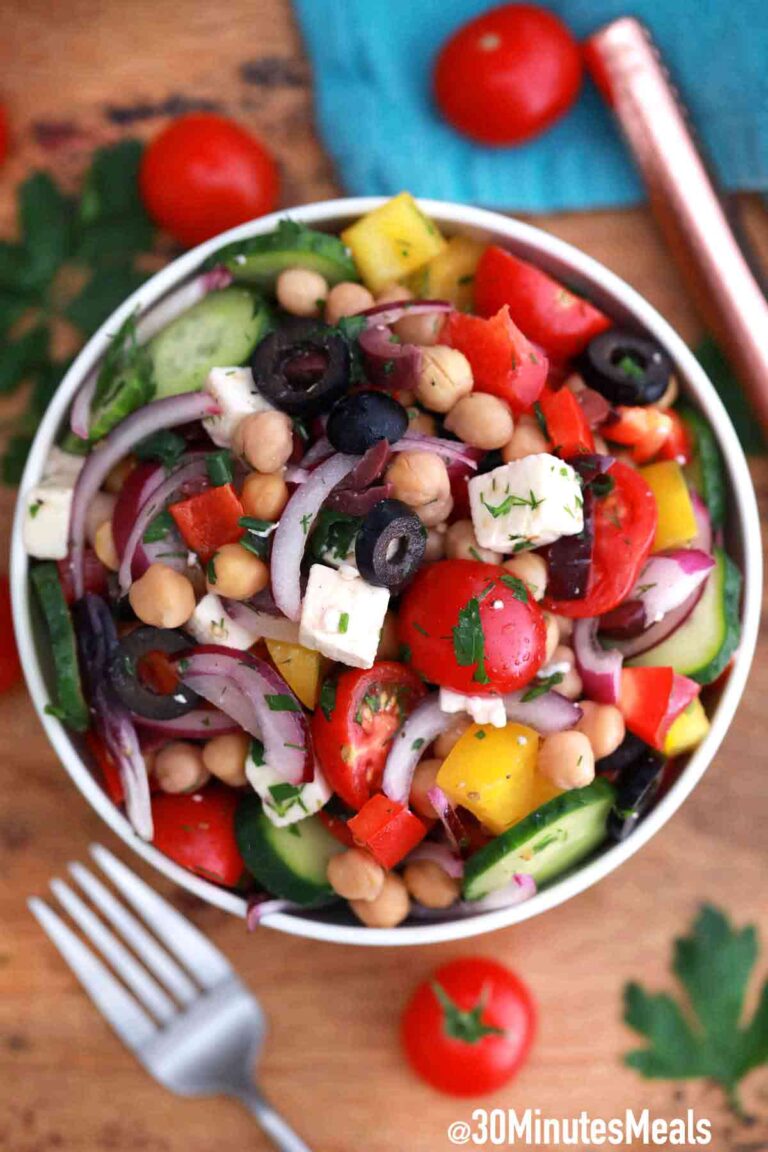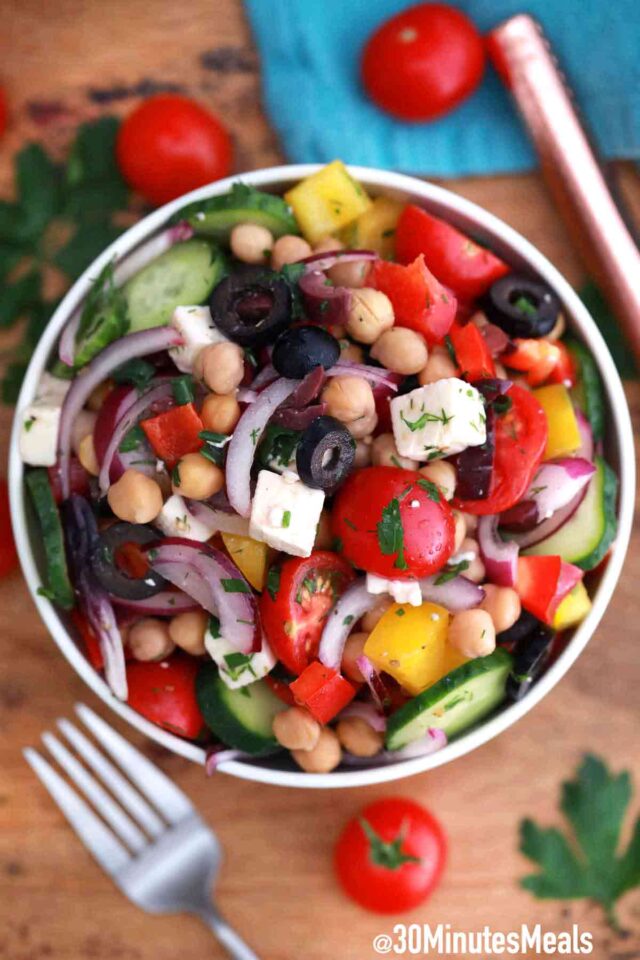 What do you need to make Chickpea Salad?
This is one of the easiest and quickest recipes out there. Once you have the ingredients ready, you are pretty much done. To make it, you will need the following ingredients:
Canned chickpeas (same as garbanzo beans) – I recommend using organic beans, as they are healthier, and taste better.
Onion – White or red onion works just great here.
Tomatoes – You can use any type. Cherry or Roma tomatoes are what I most often use. However, if you do not have these types, go with what you have on hand.
Cucumber – It adds a nice crunchy texture to it.
Bell Peppers – They add more fiber and crunch to the salad.
Parsley – It adds a nice aroma and a fresh flavor. Also, dill or cilantro can be used instead.
Olives – I use black canned olives.
Feta cheese – It adds a nice touch of Mediterranean flavor.
Olive oil – Any type will work.
Salt and pepper – To taste.
How to Make a Chickpea Salad?
Prepare and chop the veggies: Chop the veggies into bite-sized pieces. Then, transfer to a larger bowl.
Toss everything together: Toss the veggies together including the olives and cubed feta cheese. Add some olive oil or the easy Salad Dressing, and season with salt and black pepper.
Serve: Enjoy it fresh.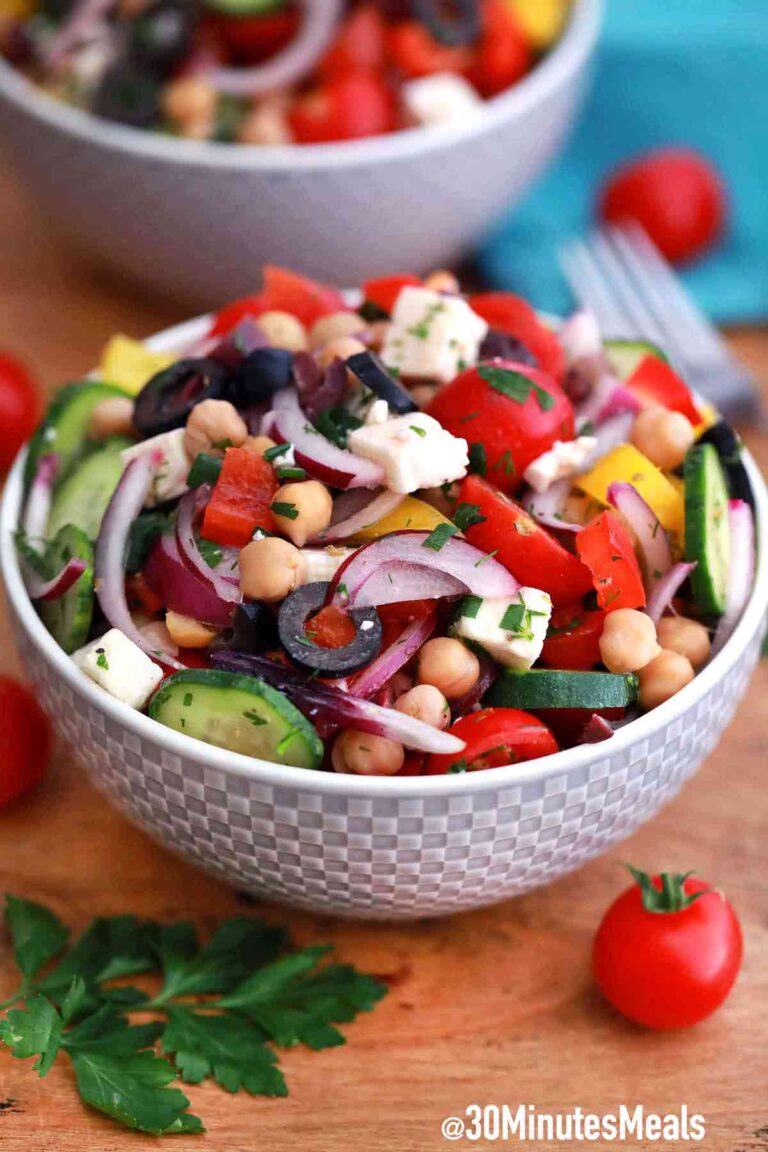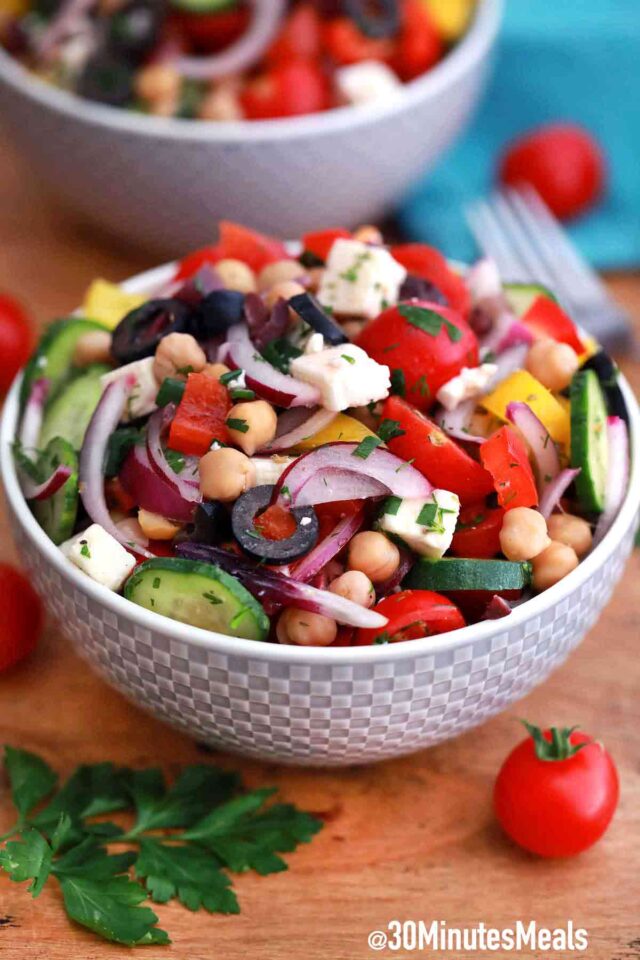 Chickpea Salad Variations:
You can easily add other ingredients if desired. Some great substitutions would be:
Other veggies: Add bell peppers or avocado.
Add some meat: For more protein intake, you can easily add some shredded chicken or tuna on top.
Use other beans: If you don't have chickpeas, you can swap them with kidney or white canned beans.
Swap the cheese: Instead of feta cheese, use goat cheese or mozzarella cheese.
Can I eat chickpeas from the can?
Absolutely! It is what I used in this recipe. Canned ones are already cooked and ready to serve. I would recommend using organic variety for a healthier alternative.
Can you make chickpeas salad in advance?
Yes. This dish can be made in advance. Simply cut the veggies and toss them together. Then, transfer them to an airtight container and refrigerate for up to 2 days.
Prior to serving, season with salt and black pepper, and add the olive oil on top. Gently toss everything together and serve.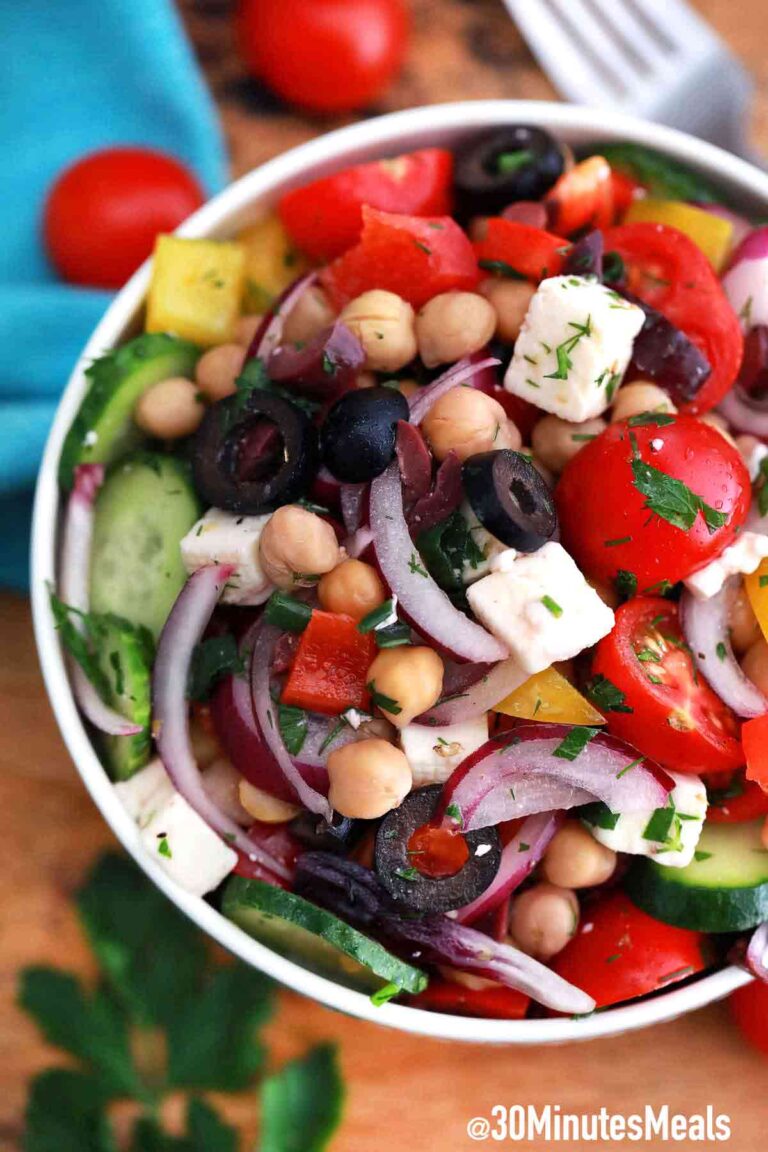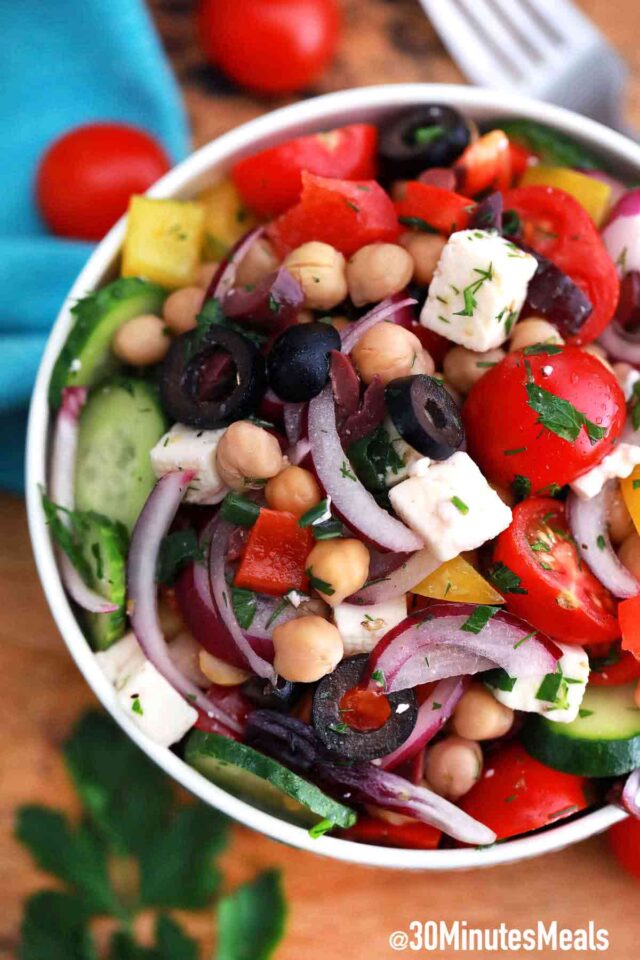 What to serve with chickpea salad?
You can enjoy it as a full meal because it is full of proteins and is quite satisfying. However, it can be served as a side dish. Some great options would be serving it with:
Recipe Tips:
Try cutting the ingredients into a similar size.
If you want to make it spicier, feel free to add some chopped jalapeno.
Also, feta cheese is already salty. So, if you are going to use it, ensure to taste and adjust the salt level per your desire.
For the best taste, use fresh herbs. Cilantro or parsley are great to incorporate here.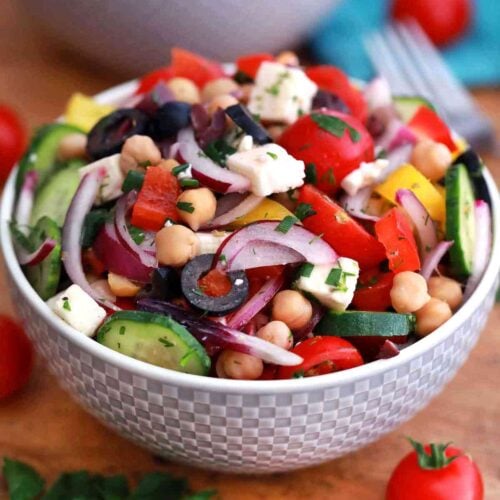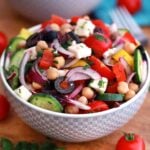 Chickpea Salad Recipe
Chickpea Salad is a healthy salad made with fresh cucumbers, tomatoes, olives, and feta cheese. It is an easy and delicious recipe that is great for lunch or as a side dish.
Ingredients
Salad:
1

large English cucumber

chopped

1

medium red onion

thinly sliced

4

medium tomatoes

sliced

1

red bell pepper

cored and sliced

1

yellow bell pepper

cored and sliced

1

tablespoon

capers

8

oz

Greek feta cheese

cubed

1

cup

black olives

or Greek Kalamata olives pitted and sliced

1/4

cup

fresh parsley

chopped
Greek Salad Dressing:
1

tablespoon

dried oregano

1/4

cup

extra virgin olive oil

2

tablespoons

red wine vinegar

2

tablespoons

lemon juice

1/2

teaspoon

ground black pepper

optional

1/4

teaspoon

kosher salt
Instructions
Prepare all the veggies by washing and chopping them.

Add the ingredients to a bowl.
Greek Salad Dressing:
Whisk all the Salad Dressing ingredients in a medium bowl.

Pour Salad Dressing over the salad and serve immediately. Toss to combine, taste for salt and pepper, and serve.
Nutrition Facts
Chickpea Salad Recipe
Amount Per Serving
Calories 665
Calories from Fat 567
% Daily Value*
Fat 63g97%
Cholesterol 101mg34%
Sodium 2745mg119%
Potassium 1211mg35%
Carbohydrates 36g12%
Protein 22g44%
Vitamin A 5926IU119%
Vitamin C 152mg184%
Calcium 706mg71%
Iron 4mg22%
* Percent Daily Values are based on a 2000 calorie diet.