Cranberry Baked Brie Recipe
Cranberry Baked Brie is the perfect appetizer cuisine for holiday entertaining this year. The creamy brie cheese, sweet and savory cranberries, and crunchy pecans make this an easy holiday appetizer to make in less than 30 minutes. Your entire family will love it and so will you.
If you are searching for more cranberry recipes, we have plenty. For your beverage, serve this festive Orange Cranberry Sangria with red wine, Captain Morgan, and cranberry juice cocktail. Or you can try our Cranberry Apple Salad made from goat cheese, bacon, and green apples for a scrumptious side dish or dessert.
Nobody really knows who discovered the first cheese. The earliest evidence of it was found in holed pottery from 7,000 years ago in Poland and Kujawy. Other shards of pottery containing evidence of cheese were found in 6,000 BC in Switzerland. No matter who found it, we sure are happy they did!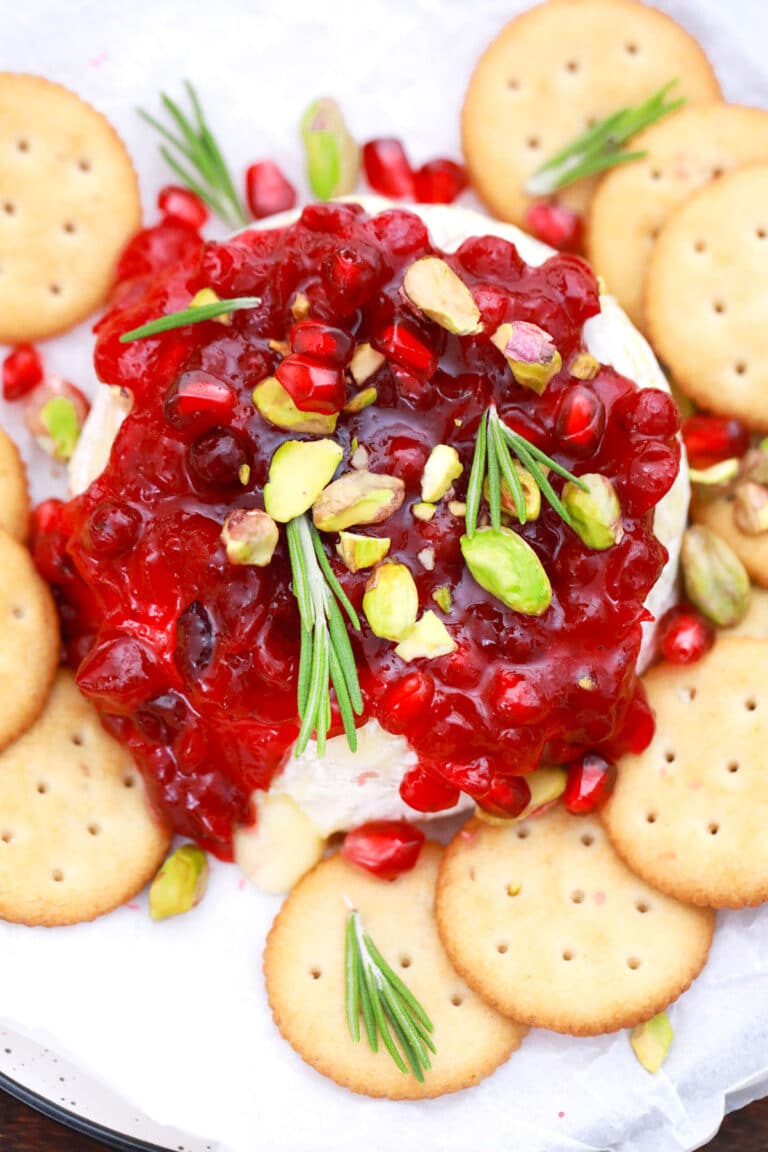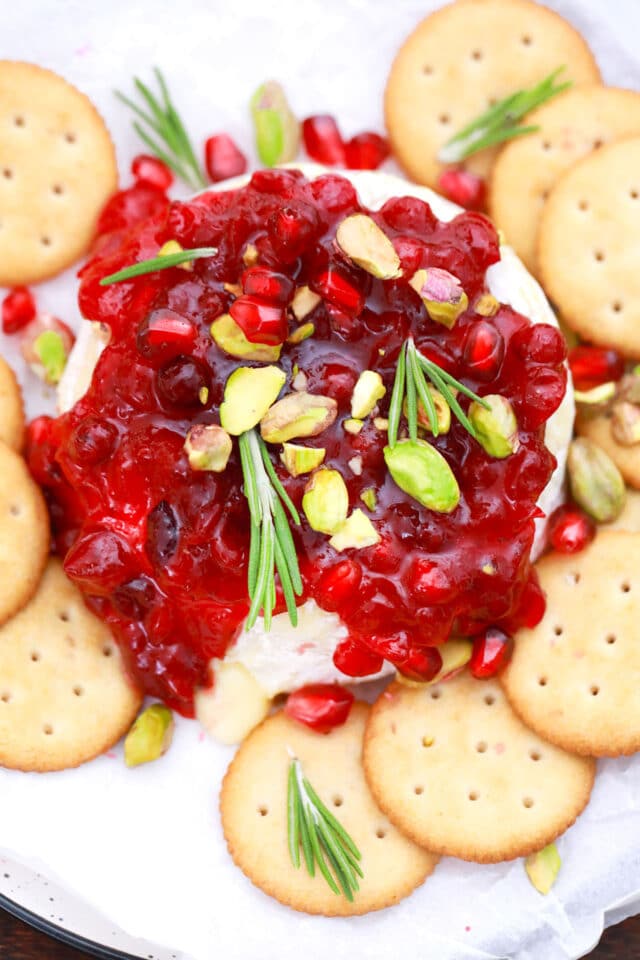 This festive cranberry baked brie appetizer is a great way to use up leftover cranberry sauce and makes a wonderful dish to start a holiday party or dinner with the family. Make your holiday season easier by making this baked brie with melted cheese and tangy cranberry mixture to serve while you finish up in the kitchen.
For more easy appetizers, try our pineapple mango salsa recipe with gluten-free crackers or chips or these air fryer bacon-wrapped chicken tenders rubbed with brown sugar, garlic, and chili powder.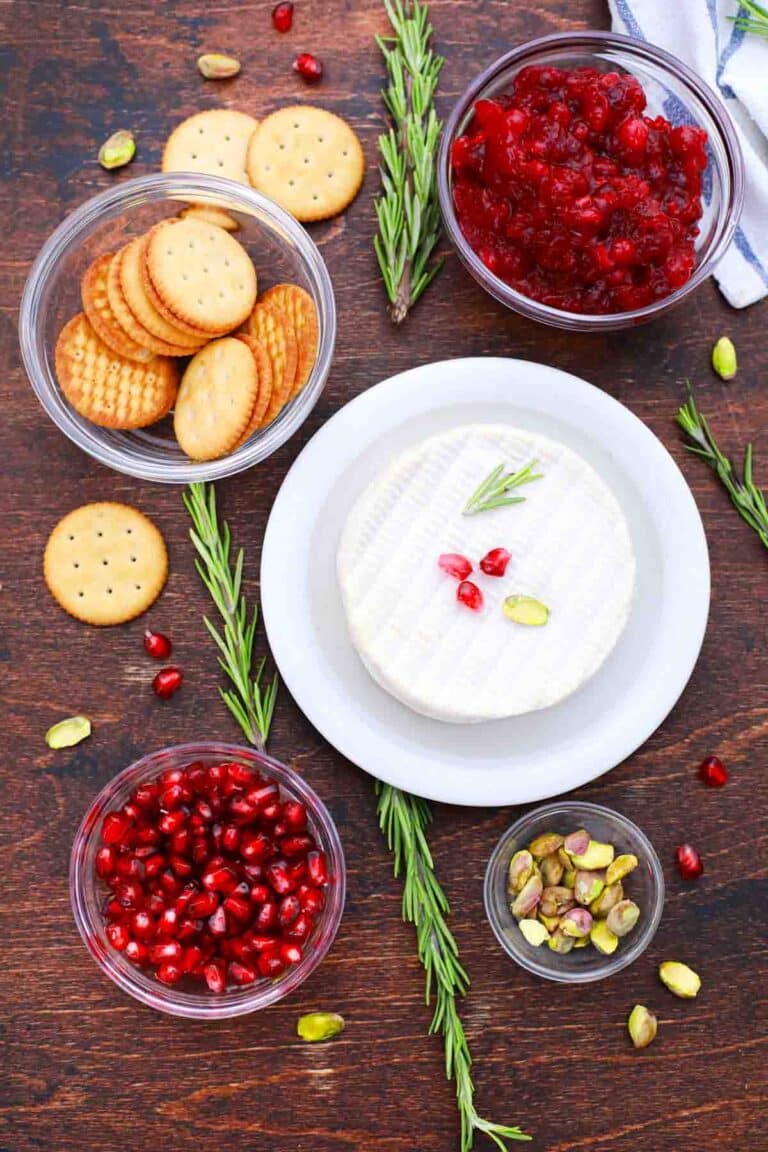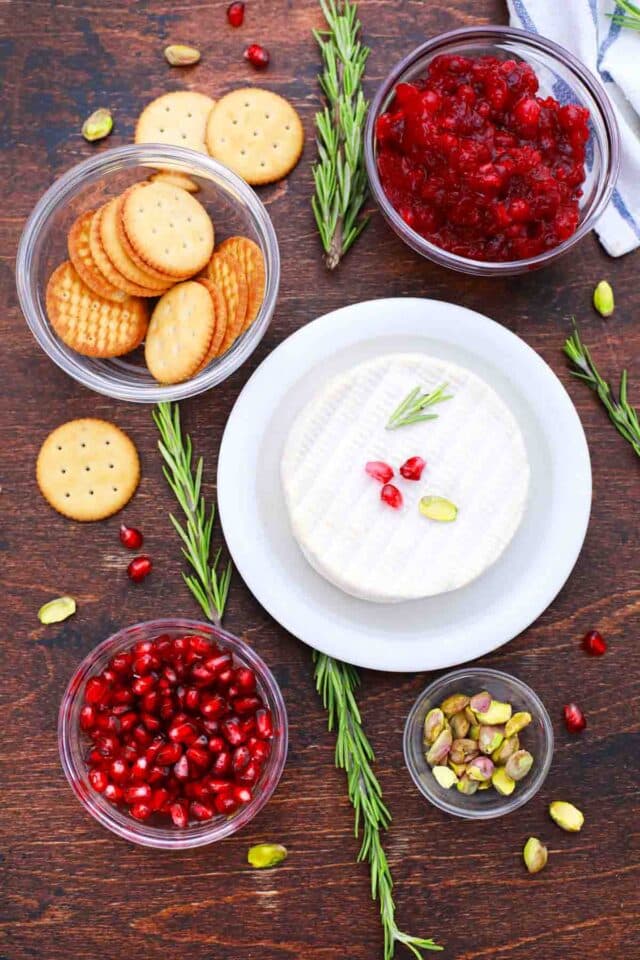 Ingredients needed:
All you need for this absolutely delicious cranberry-baked brie recipe are a few ingredients. When you are ready to prepare your appetizer, scroll down to our recipe card for complete instructions and measurements.
Brie cheese wheel

Chopped pecans
Homemade cranberry sauce ingredients:
Fresh cranberries

Pomegranate seeds

Freshly squeezed orange juice

Orange zest

Granulated sugar

Ground cinnamon

Kosher salt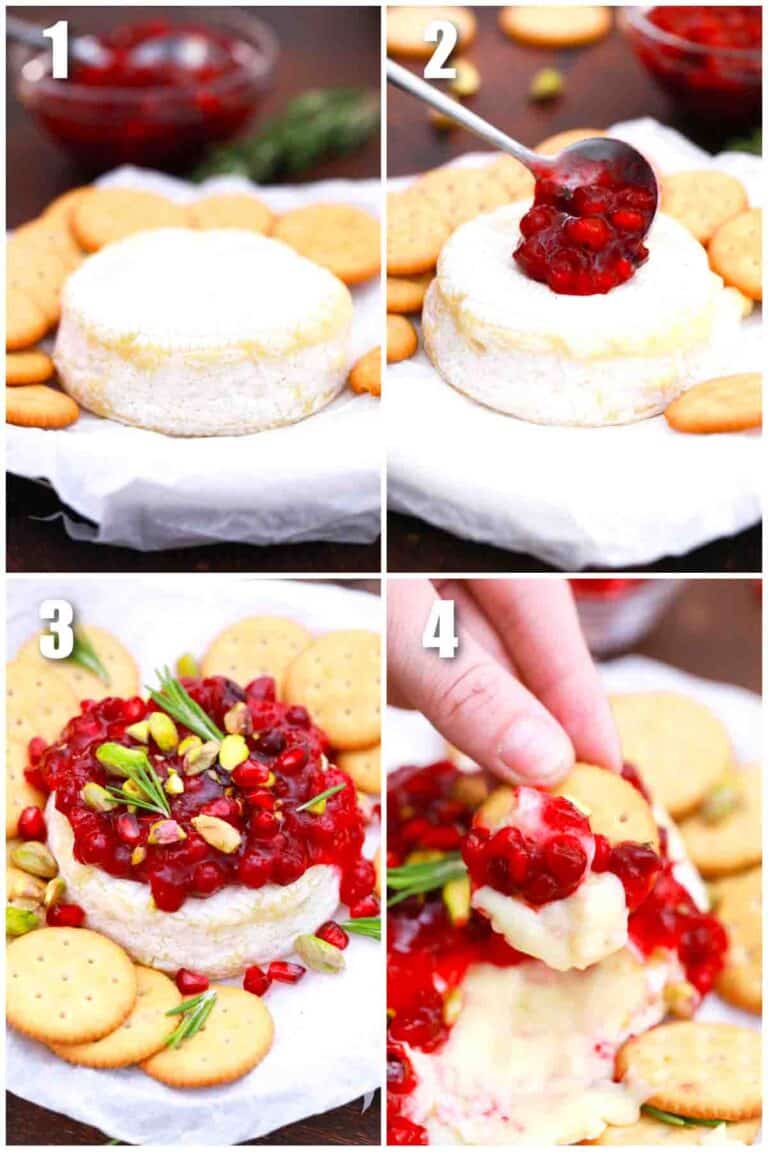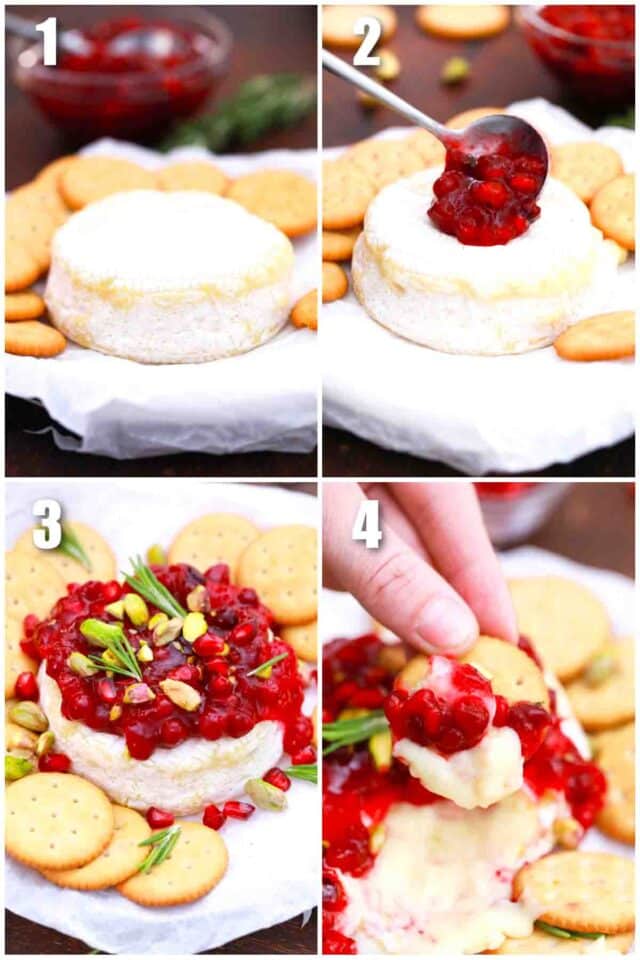 How to make cranberry baked brie from scratch?
Preheat and prepare: First, preheat your oven to 350 degrees F and put the cheese wheel on a baking sheet or an oven-safe baking dish coated with parchment paper or non-stick baking spray.

Make cranberry sauce: While you wait, prepare your homemade cranberry sauce. Add cranberries and all of the other ingredients in a large saucepan at medium heat. Stir or whisk frequently until it comes to a boiling point.

Cook and cool: Once it boils, let it cook for 10 to 15 minutes or until the cranberries have burst open and the sauce is thick. Cool to room temperature.

Bake brie: Then, bake cheese for five to eight minutes or just until the inside is soft but not melted.

Serve cranberry brie: Last, place brie in a serving dish and top with cranberry sauce and pecans. Serve immediately in the dish or on a serving platter.
How to make cranberry baked brie with puff pastry from scratch?
Preheat and prepare: First, preheat your oven to 425 degrees F.

Fix your cranberry sauce: While waiting for the oven to heat, make your cranberry sauce. Heat all ingredients in a large saucepan on medium until it starts to boil, stirring frequently. Let it cook for 10 to 15 minutes and then set it aside to cool while you prepare your cheese.

Prepare the cheese: Now, lay your puff pastry on a baking sheet lined with parchment paper and put the cheese in the middle.

Add the sauce and pecans: Next, remove some of the top rind from the cheese and add the cranberry sauce and pecans.

Fold the sides: Then, fold the sides of the pastry over on top of the brie and brush it with a beaten egg. You can also sprinkle it with sugar.

Bake and serve: Finally, bake for 20 to 25 minutes until the top is golden brown. Serve immediately.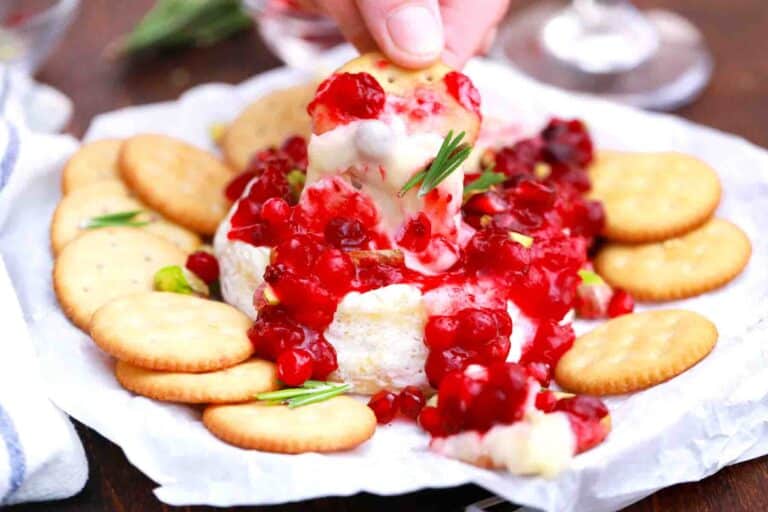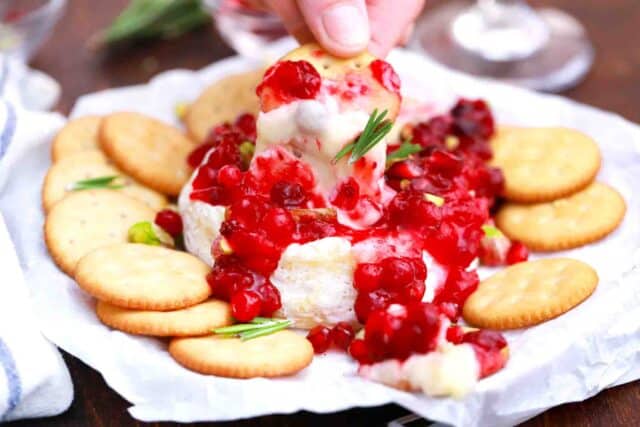 Recipe variations:
Fresh herbs: Feel free to add your own favorite herbs like fresh rosemary, nutmeg, basil, and cardamom.

Make it sweeter: Add 1/3 cup of brown sugar to the cranberry sauce for extra sweetness.

Maple syrup: Instead of brown sugar, you can use maple syrup.

Toast your pecans: Use toasted pecans for an even nuttier flavor. Just toss them in olive oil or butter and place them on a cooking sheet with parchment paper. Bake them at 350 degrees F for seven to nine minutes.

Other nuts: You can also use different kinds of nuts like walnuts, almonds, or cashews.

Bottled juice: Instead of squeezing your own, feel free to use prepared juice from a bottle or carton.
How to serve:
You can make this cranberry baked brie appetizer in minutes for your holiday table or just for a snack for yourself. Try one of these ideas or share one of your own in the comments below.
This baked brie appetizer goes great with baguette slices for dipping or spreading.

Try our best recipe for blackberry lemonade to go with your baked brie.

You can also use fresh fruit like pears or apple slices to get all that cheesy goodness.

Feel free to add toppings like dried cranberries or blueberries for extra flavor.

You can also use your leftover baked brie to make a new dip. Add it to this recipe for Velveeta spicy sausage dip for a creamier texture.

Baked brie is perfect for dipping veggies too like carrots, celery, and broccoli.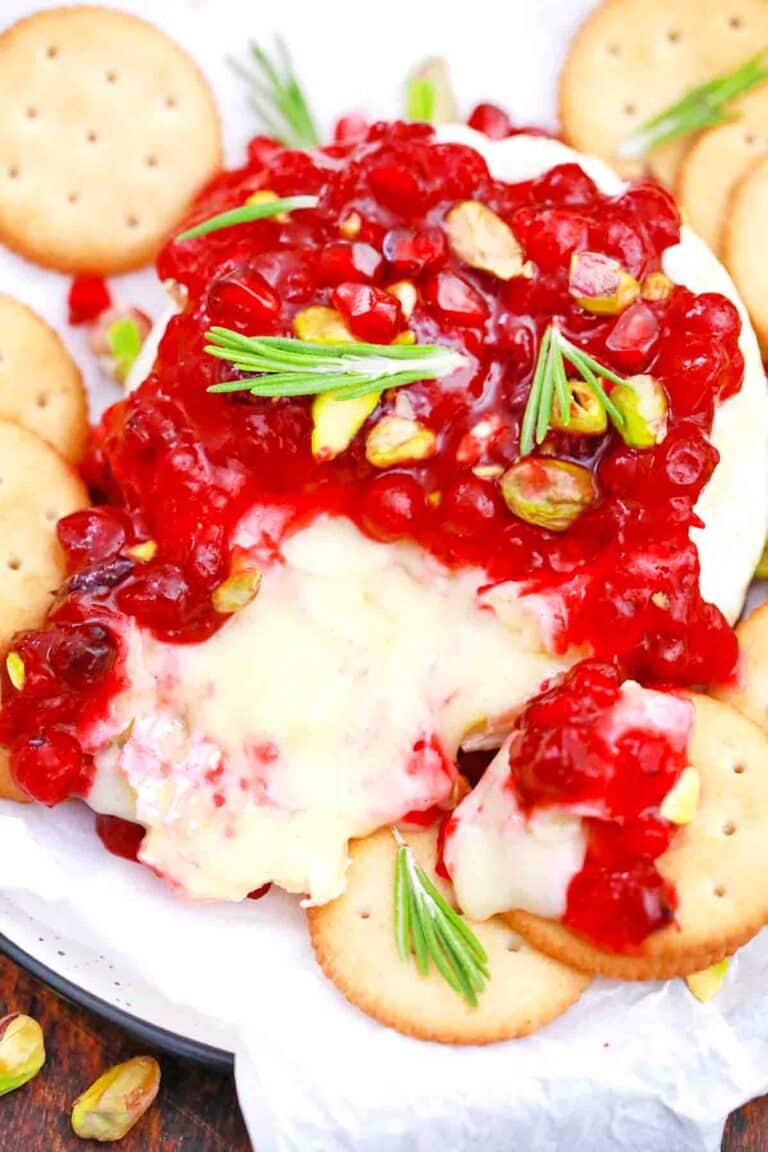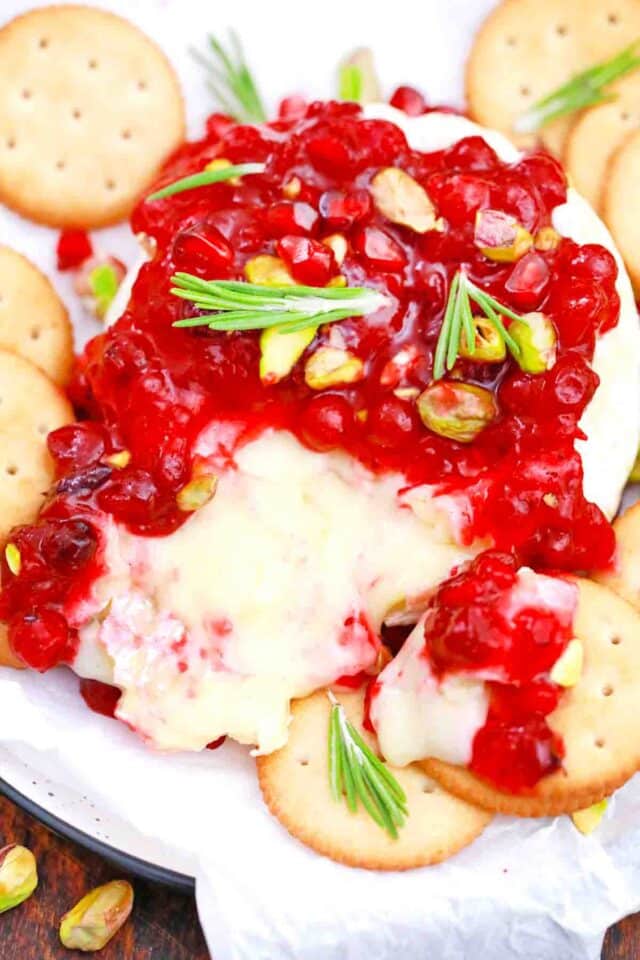 Frequently asked questions
How do I choose the best brie cheese?
When choosing your brie, try to find one that is not more than an inch thick. Also, the middle should be springy, and the outside should be firm. Remember that underripe brie will not continue to ripen when you get it home so make sure you get one that is not too hard.
Why is my cheese rubbery?
If you cook your brie cheese too long or at too high of a temperature, it will end up turning hard and rubbery. To help keep your brie cheese from getting dry, poke holes in the rind or remove the top layer. You could also try using a thicker pan or double up the pans or lower your oven temperature.
Can I eat the rind?
Yes, the rind is absolutely delicious according to many. Although some people do not like the texture because it is so powdery. One thing to note is that you should leave the sides of the rind on to help it keep its shape as it bakes. This is especially important if you are using a flat pan or cookie sheet.
What are the nutrition facts in this recipe?
The nutrition, calories, and vitamins will vary depending on the size of your serving and your exact ingredients. However, the average serving has 250 calories, 15 grams of carbs, and 18 grams of fat with 6 grams of saturated fat. It also has 30 mg of cholesterol, 277 mg of sodium, and 10 grams of sugar. You also get 75 mg of calcium, 2 mg of vitamin c, and 181 units of vitamin A as well as 9 grams of protein and 100 mg of potassium.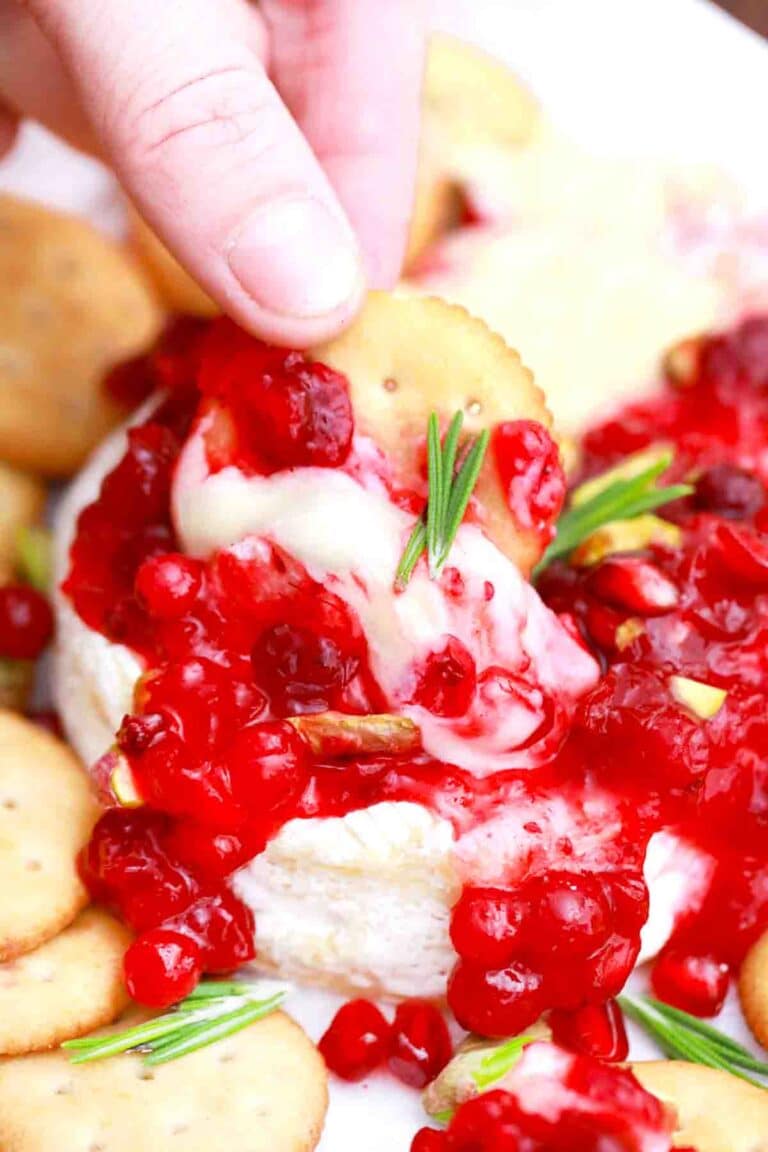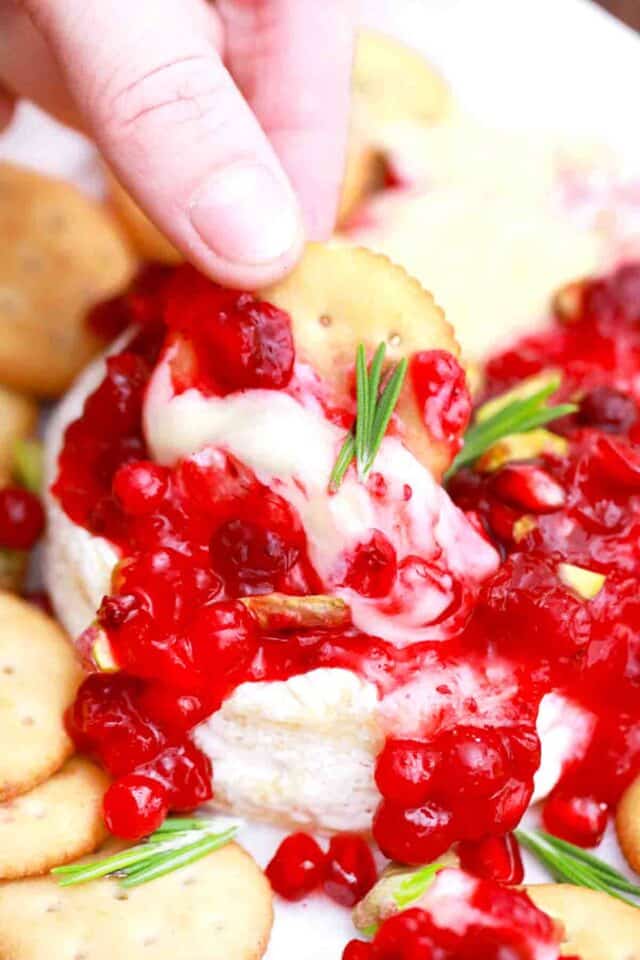 How to store leftovers:
Store: You can store your leftover brie in the fridge in an airtight container wrapped in plastic wrap. It will last in the refrigerator for several days.

Freeze: Freezing is not recommended.

Reheat: Put the brie in a microwave-safe dish and heat it for 30 seconds at a time until it is melted.
Recipe tips:
Instead of a baking dish, you could also use a cast iron skillet, or a baking sheet lined with parchment paper.

To shorten prep time and make holiday entertaining easier, use canned cranberry sauce. We won't tell anyone!

Another way to save time is to use store-bought juice.

Your melty brie will be thick so use sturdy crackers, so they do not break.

Or you can use your favorite crackers but spread the cheese on top instead of dipping it.

The baking time will vary depending on the size of your brie cheese and the temperature of your oven.

If you are not sure of your oven temperature, use an oven thermometer to check it.

To make your holiday table more elegant, be sure to cut off excess parchment paper before serving.

Do not overcook your brie cheese or it will get rubbery and hard.

If you do not have puff pastry for the second recipe, you can use a refrigerated pie crust.

After your brie has been out for a while, it will start hardening. Simply reheat in the microwave and stir.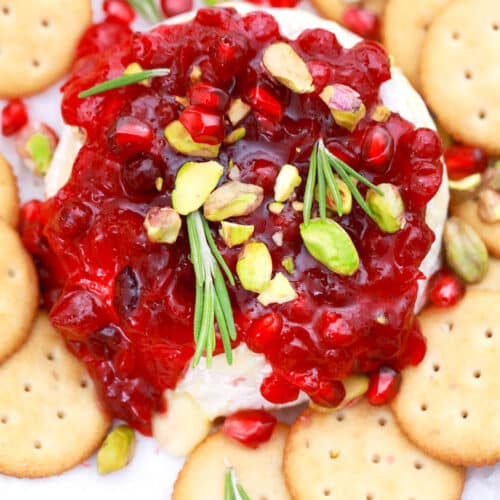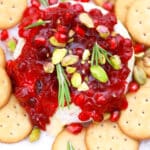 Cranberry Baked Brie
CranberryBaked Brie is the perfect appetizer cuisine for holiday entertainingthis year.
Keyword:
Cranberry Baked Brie
Ingredients
1

cup

cranberry sauce

1/4

cup

pomegranate seeds

8

ounces

brie cheese round

1/4

cup

chopped pecans

or pistachios
Instructions
Preheat oven to 350F.

In a small bowl, mix the cranberry sauce with pomegranate seeds and set it aside.

Place the cheese round on a small baking sheet or baking pan lined with parchment paper.

Bake for 5-8 minutes or until inside of cheese is softened but outside remains intact.

Transfer the baked brie to a serving dish and immediately top it with the cranberry sauce mixture and chopped nuts.

Serve immediately with crackers.
Nutrition Facts
Cranberry Baked Brie
Amount Per Serving
Calories 250
Calories from Fat 162
% Daily Value*
Fat 18g28%
Cholesterol 30mg10%
Sodium 277mg12%
Potassium 100mg3%
Carbohydrates 15g5%
Protein 9g18%
Vitamin A 181IU4%
Vitamin C 2mg2%
Calcium 75mg8%
Iron 1mg6%
* Percent Daily Values are based on a 2000 calorie diet.