Natilla Cubana is a delicious Spanish dessert similar to a thick eggnog with a kick of citrus and vanilla extract. Toss in a cinnamon stick and some cream and you have the perfect treat for cooler weather. This rich and decadent custard is milky and flavored with just the right amount of citrus and cinnamon to make it a unique treat that the whole family will love.
Enjoy a cup of this creamy Cubana natilla with our Air Fryer Toast Sticks for breakfast. You could even use the custard as a topping or a dip for this yummy texas toast dish. Another Spanish recipe you may enjoy is this Puerto Rican Coquito made from white rum, coconut cream, and warm fall spices including cloves, nutmeg, and ginger.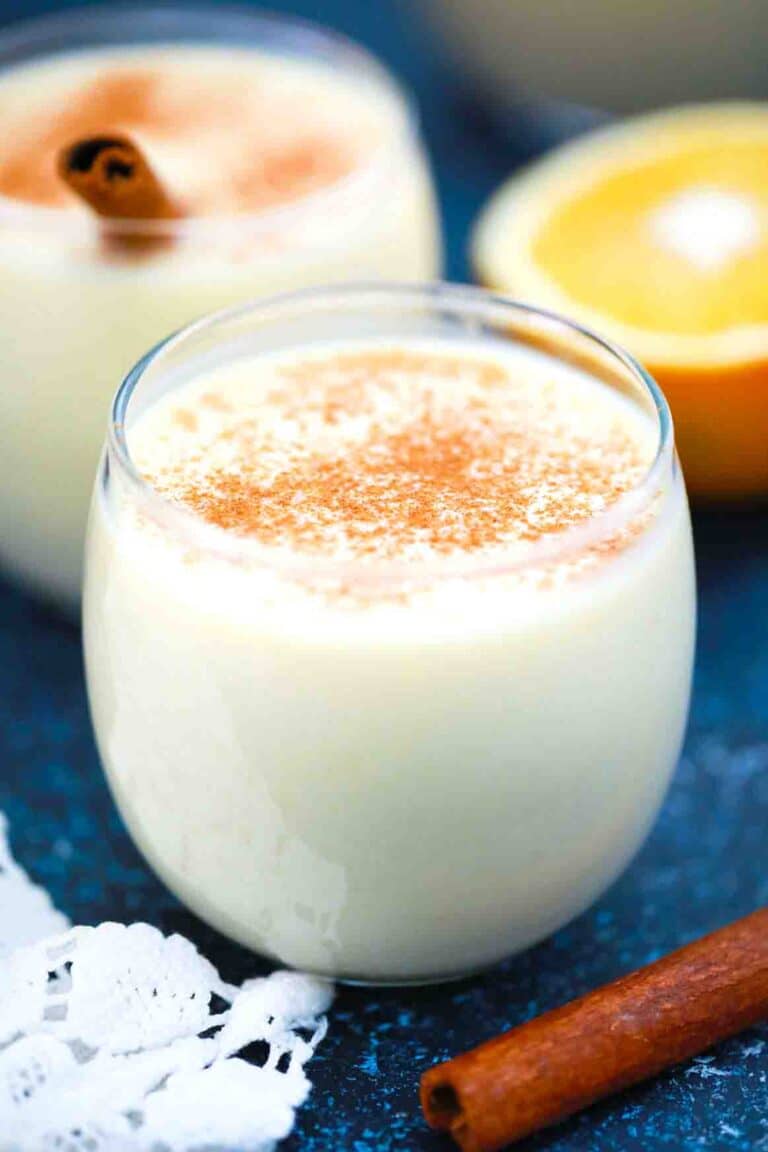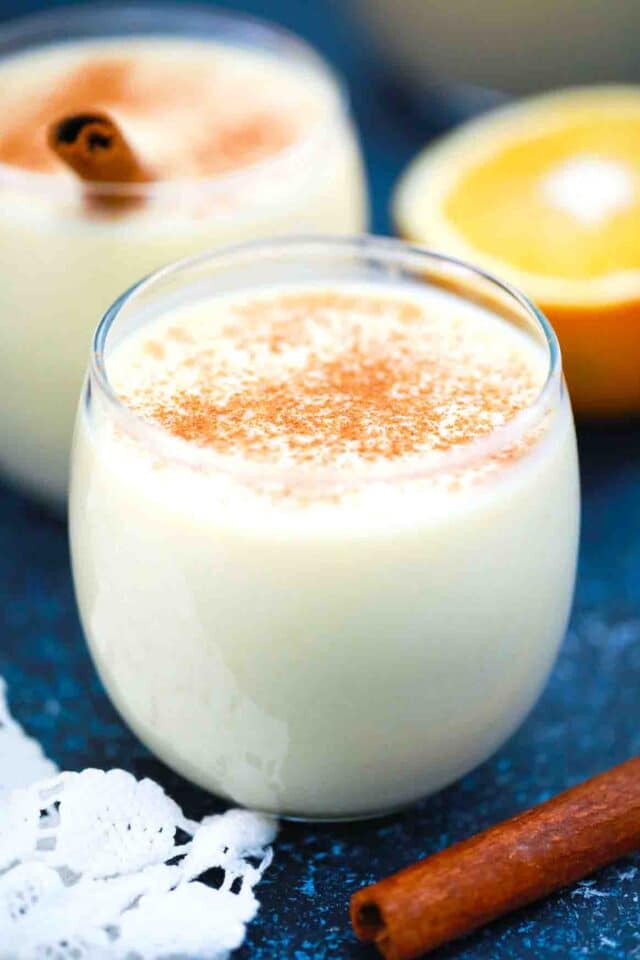 Cuban desserts are popular all over the world due to their combinations of creaminess, heat, and lime or spicy sweetness. In Cuba, flan is a type of custard. However, not all custard is flan. But custards date back to the middle ages when custard tarts were popular. And it was thought to be a French dish. Nobody knows for sure but what we do know is that this Cuban custard is delicious.
Natilla Cubana is also known as a flan to some but without caramel. It is actually an egg custard made with cream, cinnamon, orange zest, and vanilla thickened with corn starch slurry. You can serve it as dessert, a snack, or even an appetizer.
Are you looking for some other delicious Spanish recipes to try? Our chocolate santafereno recipe is a warm beverage with cloves, cinnamon, Mexican chocolate, and cream. Or you may enjoy this aguachile verde with shrimp, cucumber, and onion seasoned with serrano peppers and lime juice.
Ingredients needed:
To make this Cuban delight, you will need the simple ingredients listed below. Then, when you are ready to begin making your Cuban custard, scroll down to the bottom of the page where you can find our handy printable recipe card. There, you will see precise measurements and step-by-step directions.
Large eggs

Vanilla extract

Heavy cream

Milk

Sugar

Orange zest

Cinnamon stick

Cornstarch

Water
How to make natilla cubana from scratch?
Mix the corn starch slurry: To begin, combine the water and corn starch and whisk thoroughly until it is completely combined.

Boil the milk: Then, cook the milk with the orange zest and cinnamon stick in a medium sauce pan on medium. Once you bring it to a simmer, let it cook for eight minutes, stirring often.

Remove it from the heat: After, when the milk mixture thickens around the edges, remove the pot from the stove and add the vanilla.

Mix the eggs and sugar: Now, beat the sugar and eggs together in a large bowl until it is light and fluffy.

Make it airy and thick: Next, add the heavy cream and continue to beat until it is airy before you stir in the corn starch slurry.

Add milk: Then, slowly pour the hot milk mixture over the egg mixture, stirring constantly.

Cook some more: Afterward, add it all back to the pan and cook for another 10 minutes on medium heat. Stir frequently.

Pour and chill: Last, pour the natilla Cubana into ramekins or shot glasses and refrigerate for at least four hours.

Serve: Finally, when the custard is completely chilled, serve with a sprinkle of cinnamon on top.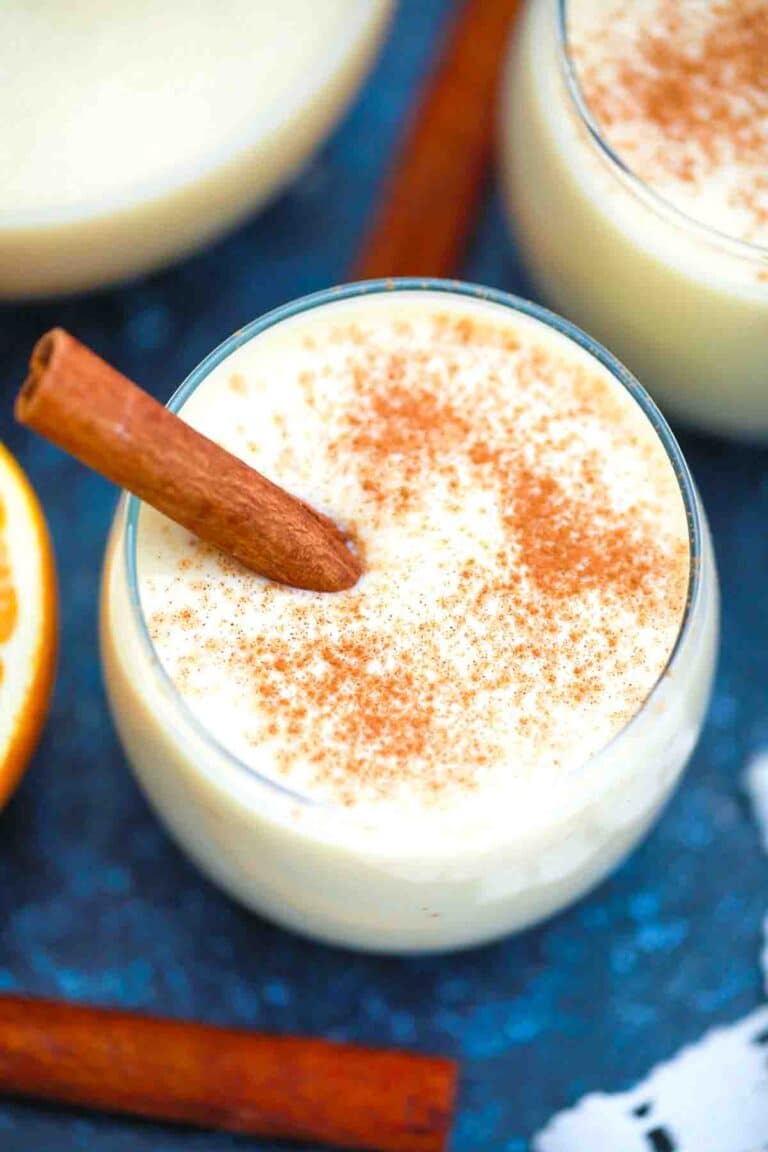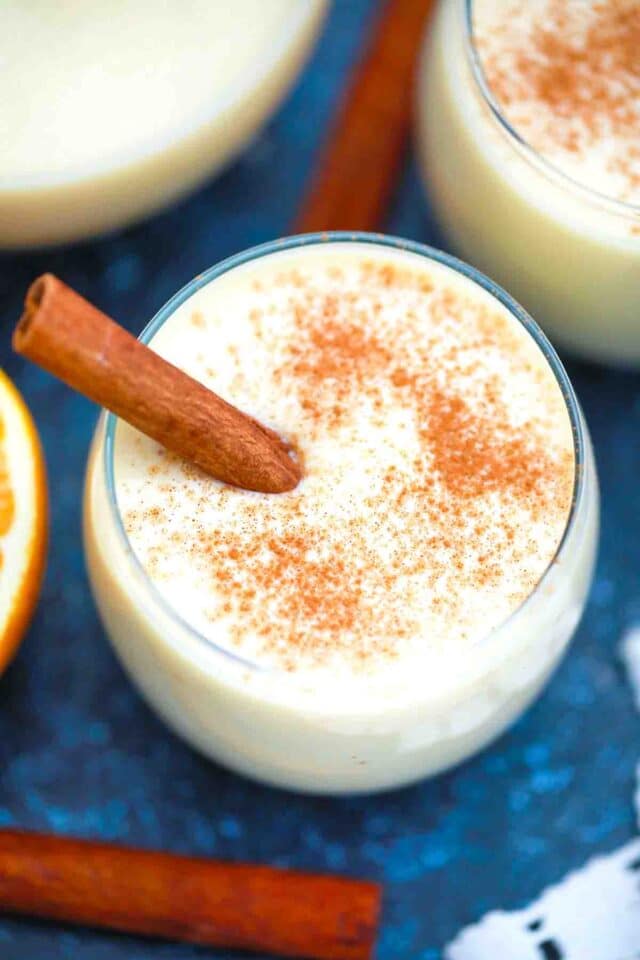 Recipe variations:
Another citrus: Instead of or in addition to the orange zest, you can also use zest from ground lime or lemon rind for an even more citrusy flavor.

Evaporated milk: Instead of three cups of milk, you can use one can of evaporated milk.

Make it thicker: For a thicker custard, use egg yolks instead of whole eggs. Save the egg whites to make a meringue topping or some other recipe that calls for egg whites.

Pinch of salt: Everything tastes better with a pinch of salt.

Make a big bowl: Instead of pouring into individual cups, you can make one large bowl of Cuban natilla instead.

No cinnamon sticks: You can use ground cinnamon if you do not have any cinnamon sticks.

Different extract: To change the flavor, try using a different kind of extract. Some great choices are almond, lemon, banana, orange, coconut, or mint.

Make it boozy: Add a 1/4 cup of rum, whiskey, or whatever kind of alcohol you like during the first simmering process.

Add fruit: Chop up some of your favorite fruit and add it during the last stage of preparation before chilling. Some fantastic ideas include maraschino cherries, sliced strawberries, and blackberries.

Brown sugar: For a richer sweetness, use brown sugar instead of white.

Spice it up: Feel free to add your own favorite spices like ginger, cloves, nutmeg, or allspice.

Hot Cuban natilla: If you like spicy food, a little bit of red pepper flakes will give your Cuban custard some heat.
How to serve:
Serve this delicious comfort food for dessert or a snack anytime. Whether you are making dinner for the family, celebrating a birthday, or having a holiday party, natilla Cubana is the perfect treat. Here are some great serving suggestions. Share some of your ideas in the comments section at the bottom of the page.
Add a dollop of whipped cream on top for extra creaminess. You can use Cool Whip or canned whipped topping.

Another way to top this delicious Cuban natilla is with pineapple. Or try our recipe for pineapple fluff.

You could also use a topping of meringue. If you do not have any handy, you can make some with five egg whites, 15 tablespoons, and a teaspoon of cream of tartar.

Serve with a few of these peanut butter cookies. They are so easy with just three ingredients.

For a crispy topping, add a light layer of sugar and then torch it. The thicker it is the crunchier the topping.

If you are not fond of open flames, you could also add granola for a crunchy topping. Or you can use chopped nuts.

Another way to serve is with a teaspoon of thick chocolate syrup. You could even add some chocolate chips for extra chocolatey flavor.

Instead of chocolate, how about some kind of fruit toppings like strawberry or cherry sauce?

Want more fruit? Some sliced strawberries or a handful of blueberries would be great.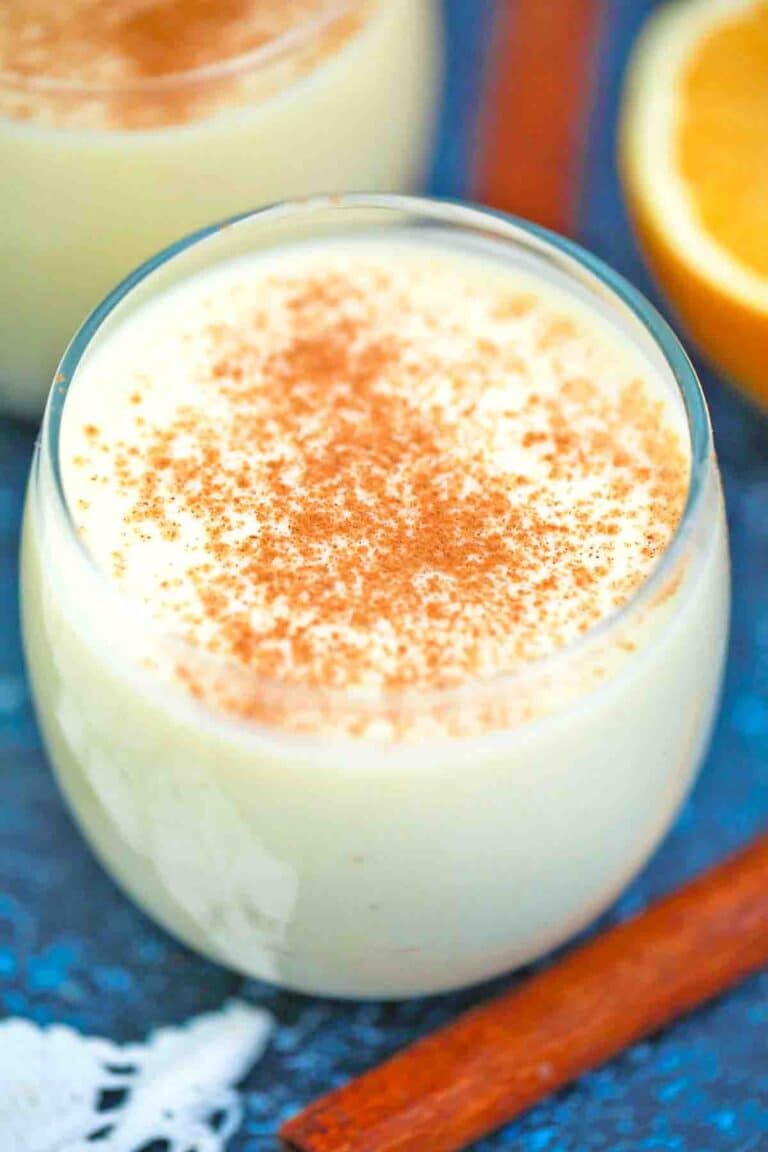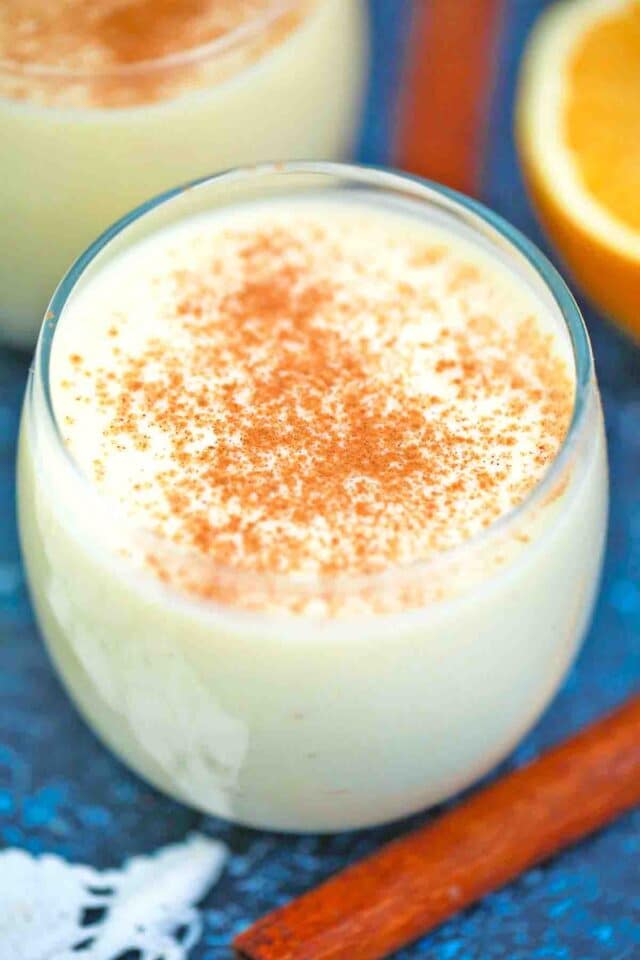 Frequently asked questions
What is natilla?
Also known as Cuban natilla or Cuban pudding, natilla is a creamy Spanish custard or pudding made from eggs, cream, and vanilla with orange zest, milk, and a cinnamon stick to balance out the flavor. It is most often served as a dessert but you can also have it as an appetizer, snack, or even a beverage.
Should I serve this hot or cold?
Although this recipe calls for serving natilla Cubana recipe chilled, you can certainly heat it up for a warm custard. This is the perfect treat for a chilly night around the fire with the family. You can serve it warm as it comes off the stove or after it chills, you can reheat it in a pot or microwave.
Can I make this with soy or almond milk?
Since milk and cream are the main ingredients in this Cuban custard, we recommend using whole milk. However, you can use substitutes like soy milk, almond milk, or coconut milk. You will just need to add some kind of thickener. Since you are already using corn starch in this recipe, you can just double it to make your custard thick enough.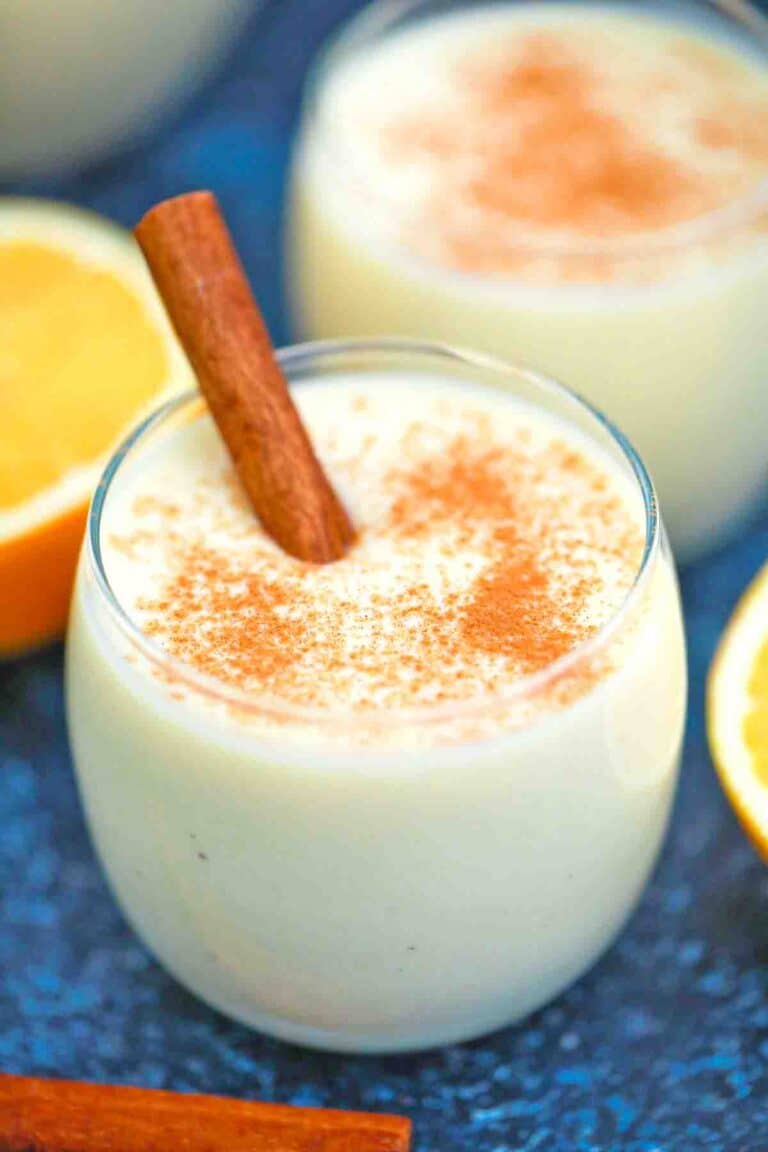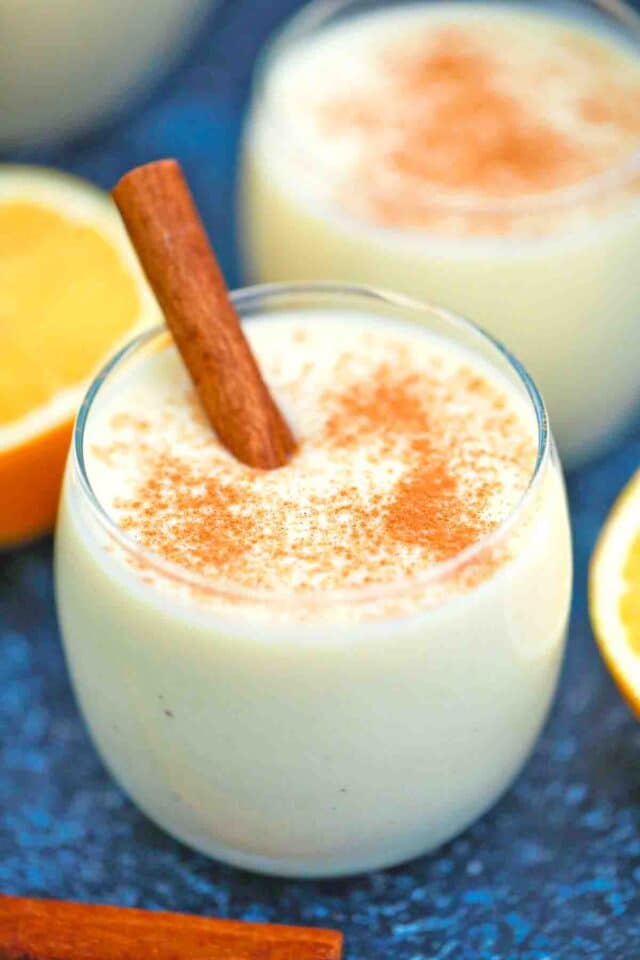 What are the nutrition facts in this recipe?
Each serving of this natilla Cubana recipe has 244 calories, 139 milligrams of cholesterol, and 10 grams of fat with 5 grams of saturated fat, 1 gram of trans fat, 2 grams of monounsaturated fat, and 2 grams of polyunsaturated fat. It also has 114 milligrams of sodium, 112 milligrams of carbs, and 14 grams of sugar. But you also get 9 grams of protein, 208 units of vitamin A, 1 milligram of vitamin C, and 90 milligrams of calcium.
How to store leftovers:
Store: You can store your leftover Natilla Cubana in an airtight container in your refrigerator for several days.

Freeze: Freezing natilla Cubana is not recommended. However, it is possible. After all, you can buy frozen custard, right? You will have to work with it quite a bit once you thaw it out though.

Thaw: Just like everything else, first you need to thaw it overnight in the fridge.

Reheat: After thawing, it is best to gradually heat it on low in a saucepan. While heating, add hot milk or cream one spoonful at a time, stirring well in between each spoonful. Eventually, it will start to become creamy again and you can chill and eat or enjoy it warm.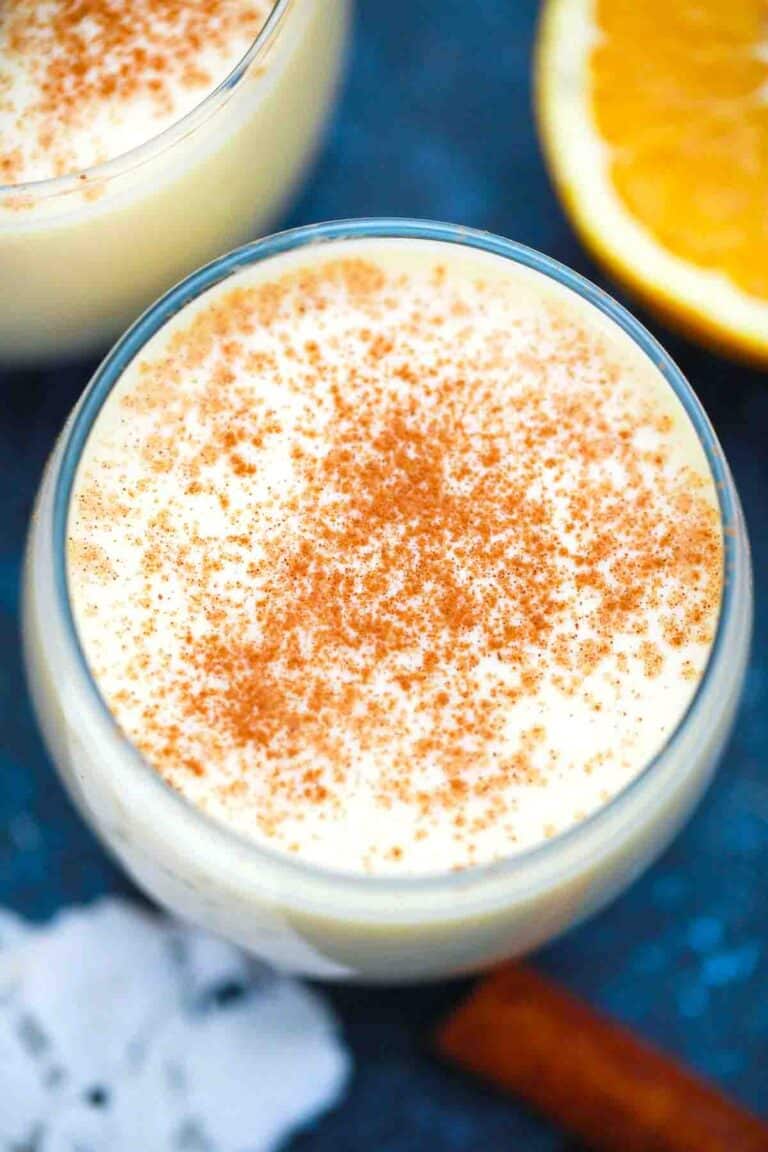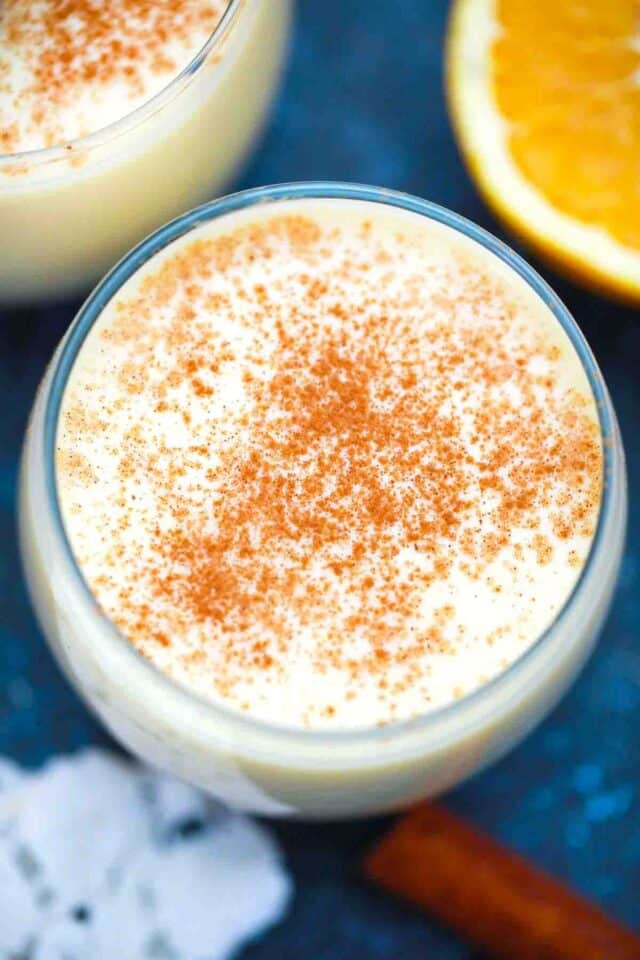 Recipe tips:
Whichever direction you start stirring in, continue in that direction. If you change direction as you stir, it will make the custard ingredients separate.

When the custard is thick all the way around the edge of the pot, turn off the heat.

Make sure you add the hot milk mixture to the egg mixture slowly or you may end up with scrambled eggs.

You will have to spend about three minutes stirring constantly so be prepared.

Do not walk away from the pot while you are cooking it. It could easily overflow and may start a fire.

To save prep time, combine milk and egg yolks in a blender. Save the egg whites to use for meringue.

Remember that this will thicken even more as it chills.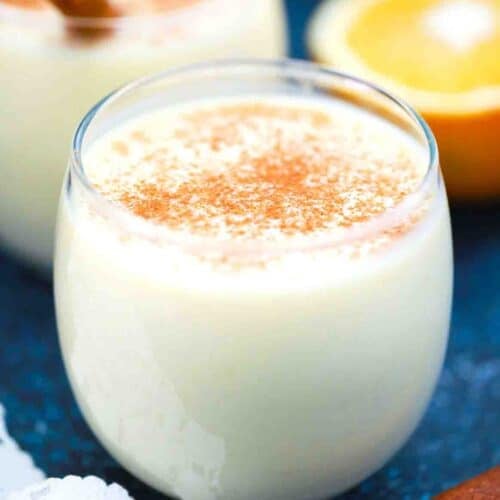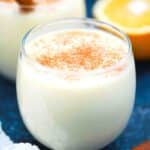 Natilla Cubana Recipe
NatillaCubana is a delicious Spanish dessert similar to a thick eggnog witha kick of citrus and vanilla extract.
Ingredients
3

cups

milk

1

cinnamon stick

1

tablespoon

orange zest

1/2

cup

heavy cream

1/2

cup

granulated sugar

6

tablespoons

cornstarch

4

tablespoons

water

4

large eggs

room temperature

2

teaspoons

vanilla extract
Instructions
Mix the cornstarch with the water until fully dissolved, and set aside.

In a small saucepan over medium heat add the milk, cinnamon stick, and orange zest. Stir and bring the mixture to a simmer, cook for 8-10 minutes.

Remove from heat.

In a separate bowl beat the eggs with the sugar until light and creamy.

Add the heavy cream and continue to beat until fluffy and airy. After that, add the cornstarch slurry,, and beat until fully combined.

Slowly and gradually, pour the hot milk mixture over the egg mixture, stirring constantly until fully incorporated.

Return the mixture to the saucepan over medium-low heat and cook for about 10 minutes or until thickened.

Pour into shot glasses and refrigerate for 3-4 hours before serving.
Nutrition Facts
Natilla Cubana Recipe
Amount Per Serving
Calories 283
Calories from Fat 126
% Daily Value*
Fat 14g22%
Cholesterol 146mg49%
Sodium 95mg4%
Potassium 250mg7%
Carbohydrates 31g10%
Protein 8g16%
Vitamin A 654IU13%
Vitamin C 2mg2%
Calcium 188mg19%
Iron 1mg6%
* Percent Daily Values are based on a 2000 calorie diet.