Velveeta Spicy Sausage Dip Recipe
Velveeta spicy sausage dip is creamy, spicy, and filling, the perfect accompaniment to tortilla chips, veggies, or crackers and will be loved by all on game day. All you need is three everyday ingredients, and you will have delicious spicy sausage dip in minutes.
Looking for other recipe ideas for the big game? Try our Air Fryer Bacon Wrapped Chicken Tenders made with barbecue sauce, brown sugar, and smoked bacon. Another delicious snack for a crowd is our Buffalo Chicken Sloppy Joes made from cheddar cheese, Worcestershire sauce, and cayenne pepper.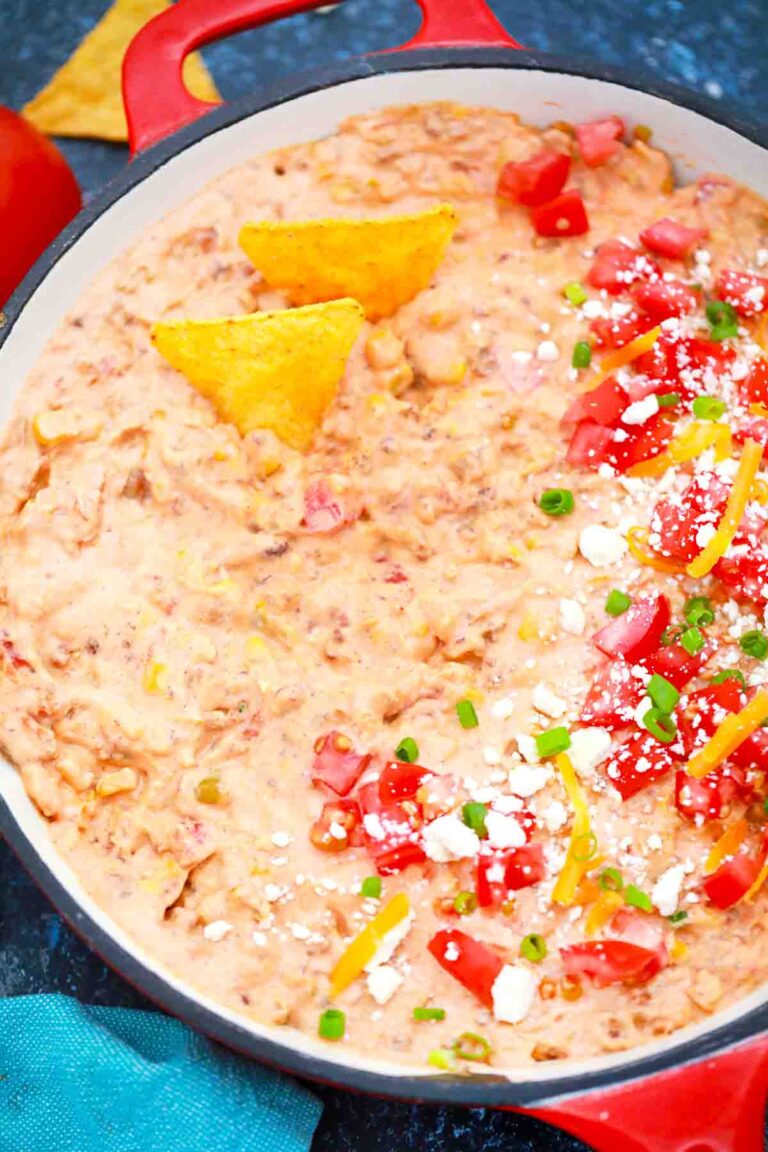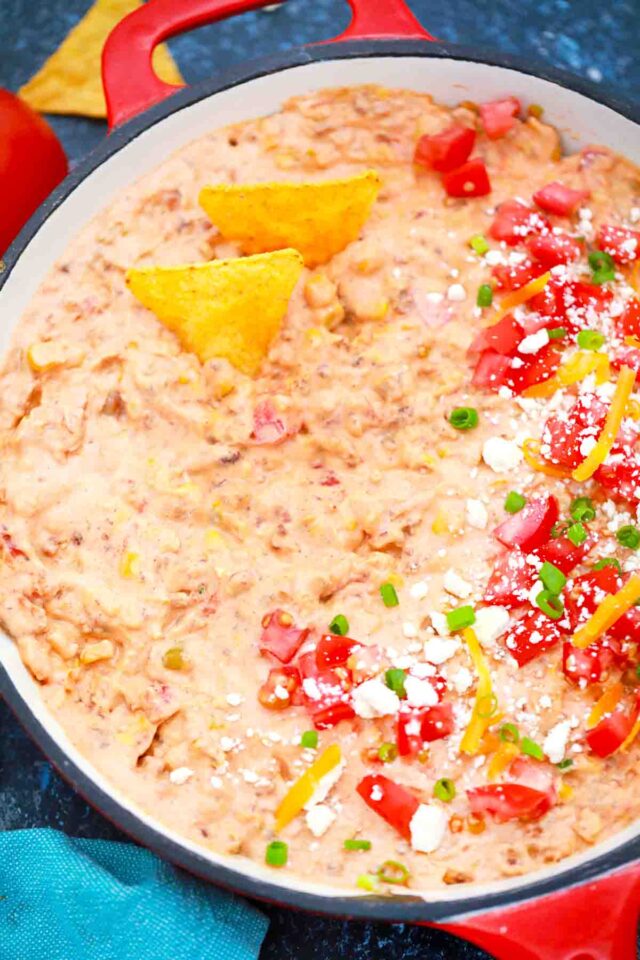 Velveeta Cheese was invented by Emil Frey from the Monroe Cheese Company in 1918. By 1923, the Velveeta Cheese Company was born and had both Swiss and American cheese before being bought by Kraft Foods. It was the first cheese product to get the seal of approval from the American Medical Association in 1930. The name refers to the velvety feel of the smooth cheese.
This creamy addictive dip recipe is seasoned with Rotel canned tomatoes and green chiles, Velveeta cheese, and pork sausage for a Velveeta Rotel dip you can serve for a big game day or any time you want a spicy and cheesy dip. You can serve it with tortilla chips, bread sticks, carrot sticks, celery, or whatever you like dipping.
There is almost no prep time and so much flavor, your taste buds will be begging for more. Toss some crumbled pork sausage into cheese and Rotel diced tomatoes for an easy snack whenever you want it.
Are you looking for some more popular recipes? Try our shrimp rolls made from freshly cooked shrimp, Greek yogurt, and mayo. This cheesy taco pasta is also a delicious dish for any meal with ground beef, rotini pasta, and taco seasoning.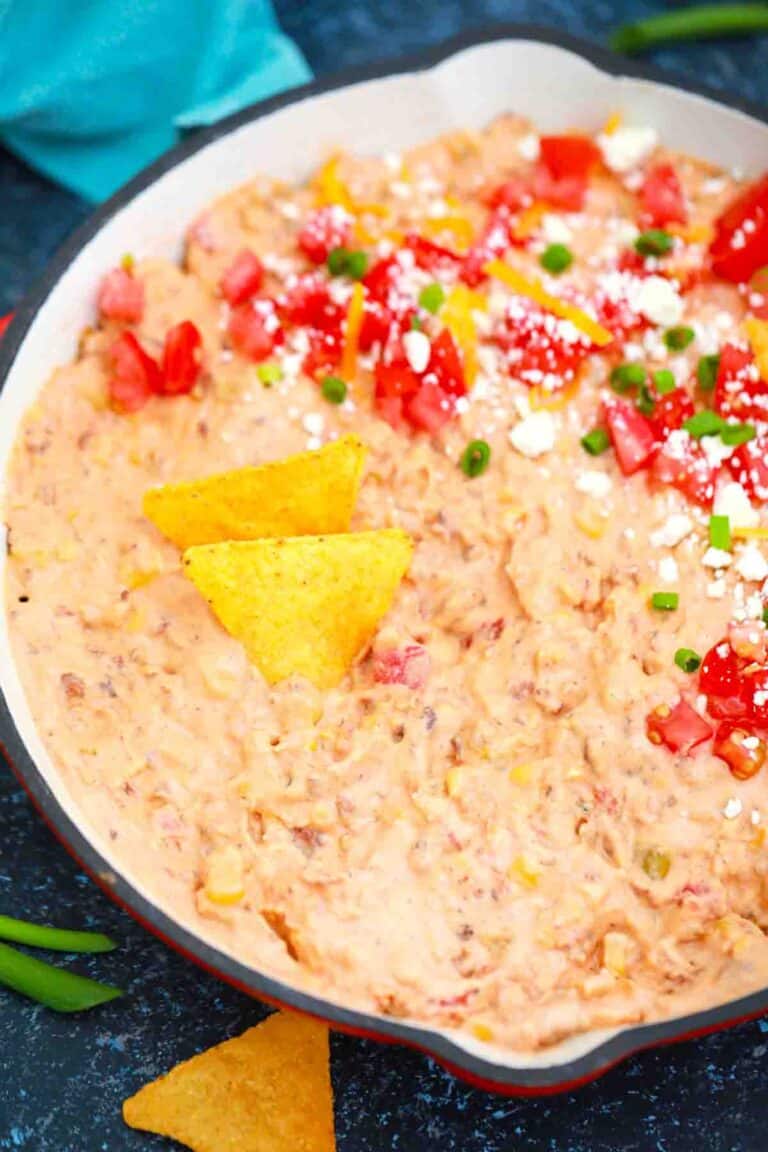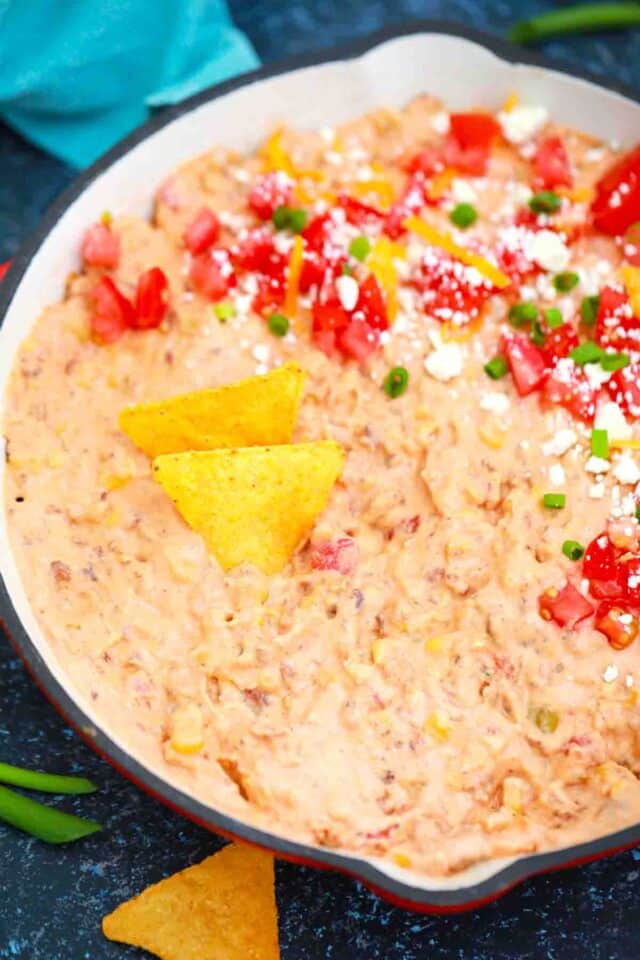 Ingredients needed:
To make this great recipe for melty cheese dip, all you need are these three ingredients. Then, when you are ready, you can scroll down to the bottom of the page to get the measurements and step-by-step instructions from our recipe card.
Velveeta: Cut into 1/2-inch cubes.
Rotel diced tomatoes and green chilies (also known as Ro Tel Tomatoes): Do not drain.
Breakfast pork sausage: You can use spicy hot sausage or try Jimmy Dean Sausage in mild, hot, or medium heat, whichever you prefer.
How to make Velveeta spicy sausage dip from scratch?
Brown the sausage: First, cook the sausage in a frying pan until it is brown.
Mix well: Then, mix the Velveeta cheese cubes with the can of Rotel and browned sausage in a microwave-safe bowl.
Cook until melted: Cook sausage dip in the microwave on high for three minutes or until the Velveeta is fully melted. Stir occasionally and check every 60 to 90 seconds.
Serve: Once the dip is completely melted, serve with your favorite dipping ingredients like chopped veggies, chips, crackers, or crusty bread.
How to make slow cooker Rotel sausage dip from scratch?
Cook the meat: To begin, brown sausage in a large skillet until it is no longer pink.
Mix it all: Next, mix cooked sausage with cheese cubes and a can of Rotel tomatoes in a large bowl and stir until combined.
Cook: Then, add all the ingredients to your crock pot and cook on low heat for four hours or on high heat for two hours.
Warm and serve: Finally, serve in the crock pot on a warm setting to keep it smooth and melty.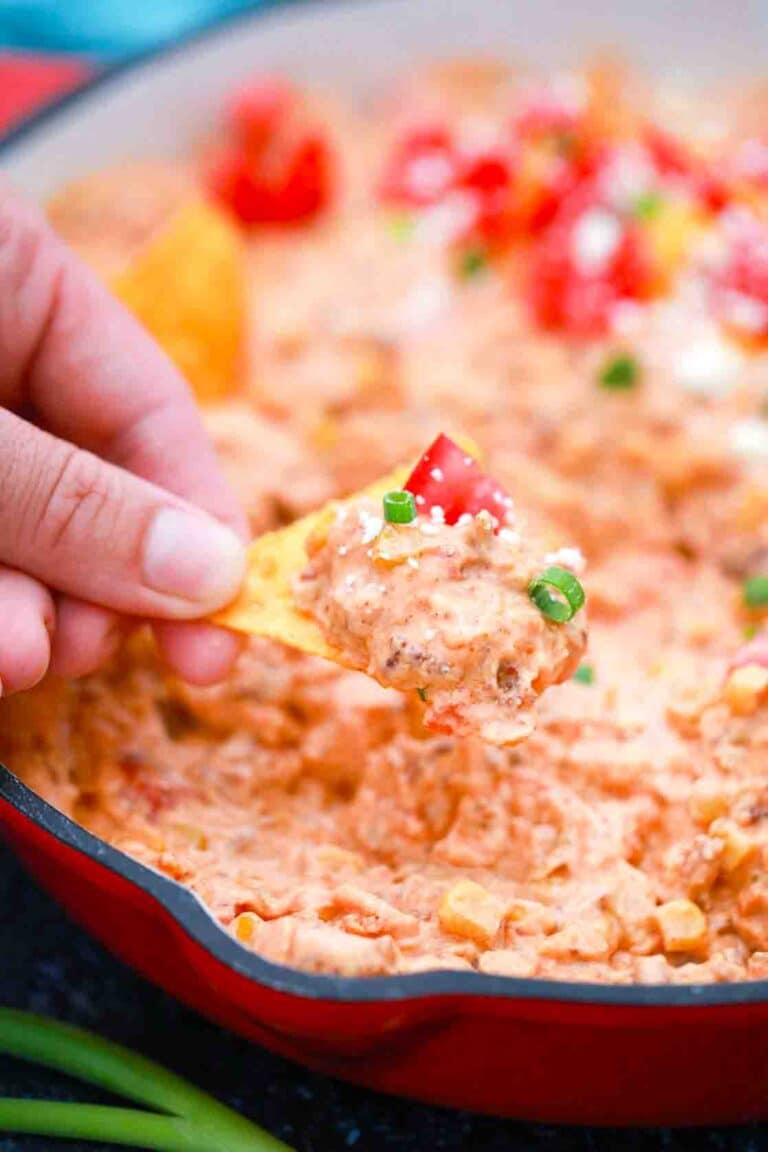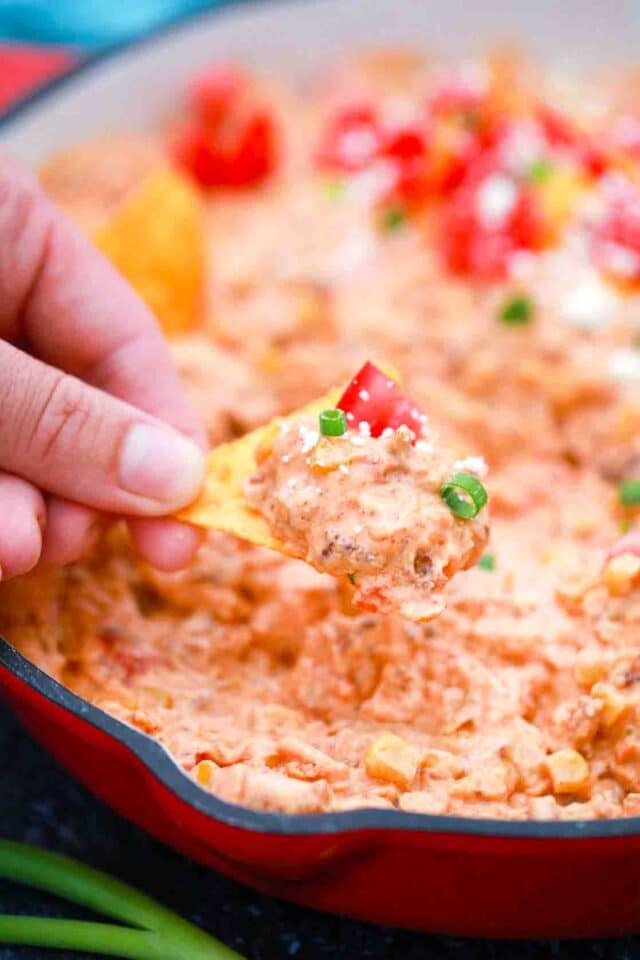 Recipe variations:
Sausage: You can use breakfast sausage, Italian sausage, pork sausage, or whatever kind you like.
Other meat: Alternatively, try this dip recipe with ground beef, chicken, or turkey instead of sausage.
Extra heat: Make your dip even spicier with extra green chilis or hot sauce. You can even use Velveeta jalapeno for even more spiciness.
Less heat: For those who are not fans of spicy food, use regular sausage and original diced tomatoes without green chilies.
Add spice: For more flavor, sprinkle in some garlic powder or onion powder. You could even use taco seasoning for a zesty recipe.
Another cheese: Feel free to use another kind of cheese for this dip. Soft cheese works best, but you can try making it with other cheeses as well.
White cheese dip: Use mozzarella or Monterey jack cheese to make white cheese dip.
Creamy dip: If you want a creamer dip, add a brick of cream cheese. Make sure it is cut into cubes and softened to room temperature.
Add more: For a heartier dip, why not try adding some green onions, black beans, or some other good food you enjoy?
How to serve:
This easy cheesy dip recipe is ready in minutes and only needs three ingredients that you may already have in your kitchen. Try one of these great serving ideas to make your dip even more delicious. Or share one of your own ideas with us in the comments section at the bottom of the page.
Add some sweet corn, cheddar, pepper jack, and cream cheese to make a creamy sausage queso dip.
Try this dip with our mini cornbread muffins or some other type of bread.
Sprinkle some parmesan or another kind of dry-aged cheese on top for a bold and rich dip.
Another way to enjoy this creamy cooked sausage dip is with these air fryer pasta chips or sweet potato chips.
Use leftover dip to add to one of your favorite soups or salads.
Sausage dip is delicious on top of chicken dishes. Try our blackened chicken recipe with a scoop of dip on top.
Also, you can add your own favorite toppings like chopped green peppers, olives, or pepperoni.
Make your next pot of chili even tastier by adding some of this Velveeta sausage dip.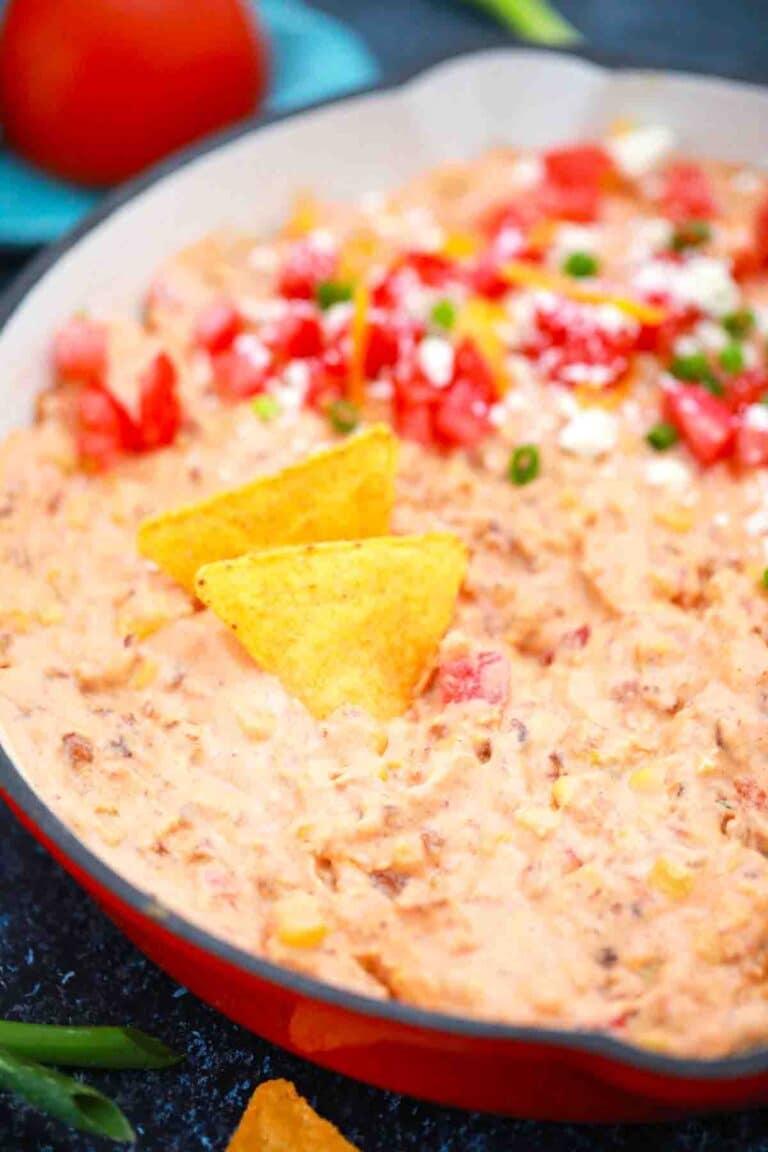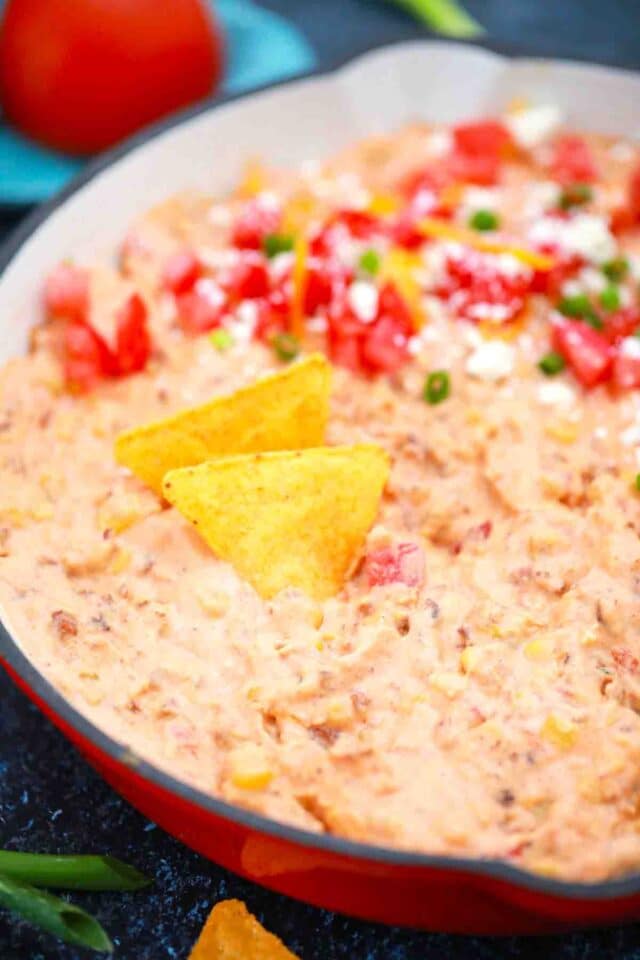 Frequently asked questions
How do you keep Velveeta sausage dip soft?
There are several ways to keep your cheese dip soft while you are eating it. First, you can keep it in a crock pot on a warm setting. Or add 1/4 cup of evaporated milk to your Velveeta sausage dip and stir well. Another tip is to use a tablespoon of cornstarch mixed with five ounces of evaporated milk and then add it to the dip. Instead of evaporated milk, you could also use whole milk.
Why is my cheese dip grainy?
If your dip is grainy or gritty, you do not have to toss it out and start over. You can fix it! First, remove the dip from the heat if you are cooking it on the stovetop. Then, add a teaspoon of cream or lemon juice. Lastly, whisk the cheese dip vigorously until it becomes creamy again. Do not use both the cream and lemon juice though, or it will make it worse.
Does Velveeta need to be refrigerated?
The ingredients in Velveeta make it a cheese product but not a true cheese. It is made with a number of preservatives and additives that keep it shelf stable for long periods of time. Because it uses pasteurized milk that is heated to 150 degrees F, it is free of bacteria that can cause it to go bad or mold. You can keep your unopened Velveeta for up to six months and open cheese for two months.
What are the nutrition facts in this recipe?
Each serving of Velveeta cheese dip has 65 calories, 15 milligrams of cholesterol, and 5 grams of fat including 3 grams of saturated fat. It also has 2 grams of sugar, 310 milligrams of sodium, and 3 grams of carbs. On the other hand, your dip also provides 4 grams of protein, 70 milligrams of calcium, 65 milligrams of potassium, and 4 milligrams of fiber.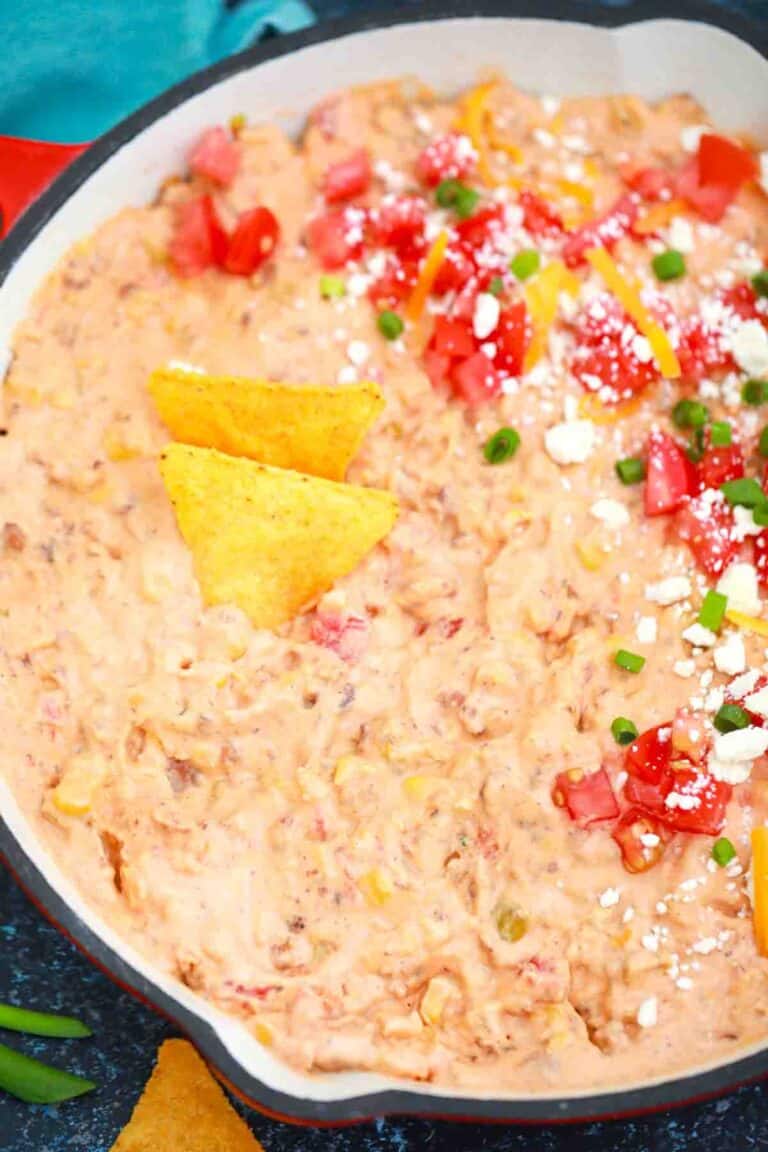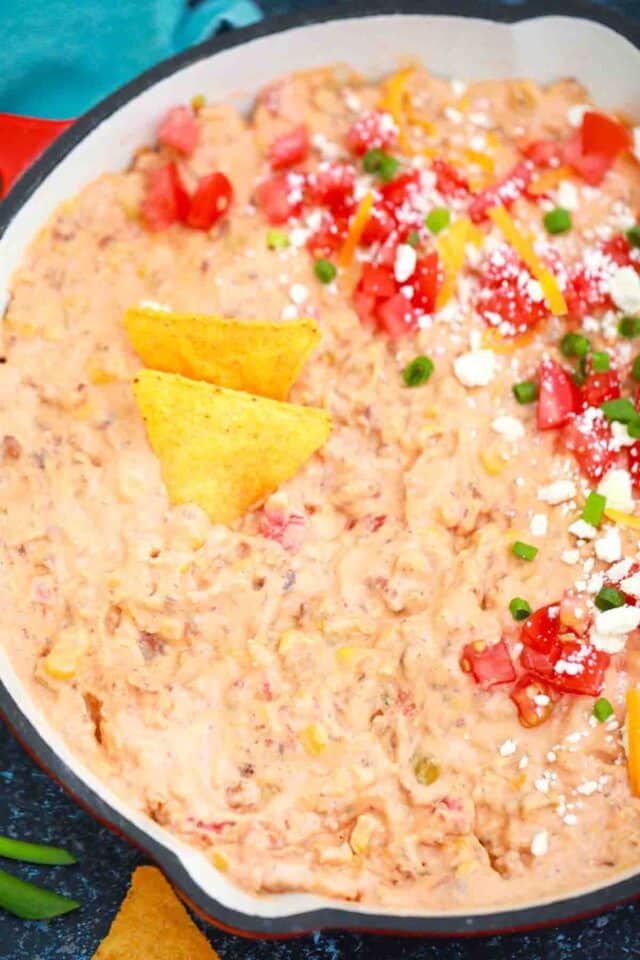 How to store leftovers:
Store: Any leftover sausage dip can be refrigerated in an airtight container for up to three days.
Freeze: If you have leftover dip after a few days, it can be frozen for up to three months.
Thaw: For the best results, thaw in the fridge overnight.
Reheat: Reheat dip in a microwave-safe bowl on medium heat for 30 seconds. Stir, and heat for 15 to 30 more seconds.
Recipe tips:
If you do not have or do not like Velveeta Cheese, you can use any kind of cheese that melts well such as American, cheddar, or mozzarella.
Your cheese dip will have a hard layer on top when it cools but it will melt again as you warm it.
For more flavor, add salt and pepper.
Adjust the thickness by using milk or cream.
Cut the cheese into cubes of the same size for uniform melting.
If you are taking your dip on the road, use a portable lunch warmer to keep it from getting hard.
Make sure you drain the excess grease and liquid from the sausage before adding it to the dip.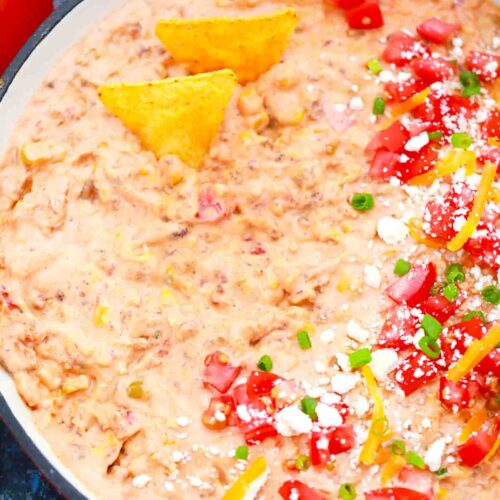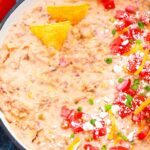 Velveeta Spicy Sausage Dip
Velveeta spicy sausage dip is creamy, spicy, and filling, the perfect accompaniment to chips, veggies, or crackers, and ideal for game day.
Keyword:
Velveeta Spicy Sausage Dip
Ingredients
1

pound

VELVEETA

cut into 1/2-inch cubes

10

ounces

can ROTEL diced tomatoes and green chilies

undrained

1/2

lb

breakfast pork sausage

cooked and drained
Instructions
Microwave method:
For the sausage, place a non-stick skillet over medium-high heat, add the sausage, and cook, stirring with a wooden spoon, until browned.

Add the sausage to a large microwave-safe bowl.

Next, add and mix in the Velveeta, and Rotel.

Microwave on high for 3 minutes. Stir, and microwave again until Velveeta is completely melted about 1-2 more minutes.

Garnish with salsa, cheese, and chips, and serve.
Skillet method:
For the sausage, place a non-stick skillet over medium-high heat, add the sausage, and cook, stirring with a wooden spoon, until browned.

Next, add and mix in the Velveeta, and Rotel.

Stir and cook until Velveeta is completely melted, about 1-2 more minutes.

Garnish with salsa, cheese, and chips, and serve.
Nutrition Facts
Velveeta Spicy Sausage Dip
Amount Per Serving
Calories 218
Calories from Fat 126
% Daily Value*
Fat 14g22%
Cholesterol 44mg15%
Sodium 1083mg47%
Potassium 333mg10%
Carbohydrates 8g3%
Protein 16g32%
Vitamin A 620IU12%
Vitamin C 4mg5%
Calcium 339mg34%
Iron 1mg6%
* Percent Daily Values are based on a 2000 calorie diet.