Pecan Pie Baked Brie Recipe
Pecan Pie Baked Brie is the perfect appetizer or snack made with delicious double cream, a wheel of brie, syrup, butter, brown sugar, and crunchy pecans. In fact, with all the sweet flavors, this dish is even great as a dessert with fruit or bread. It is comfort food at its finest and your whole family will love it.
If you are looking for another kind of dip for this holiday season, try our Cheddar Ranch Cheese Ball with just five ingredients including bacon, green onion, and ranch seasoning. If you like seafood, this Smoked Salmon Dip is awesome with smoked salmon, sour cream, and capers.
Brie comes from Paris. And while the best kind, called Brie de Meaux, still comes from there, many new bries come from all over the world. The flavor comes from the powdery mold rind, which some folks consider to be the best part. Others balk at the idea of eating mold. But it is actually good for you and tastes mild and buttery. Try it! You may like it.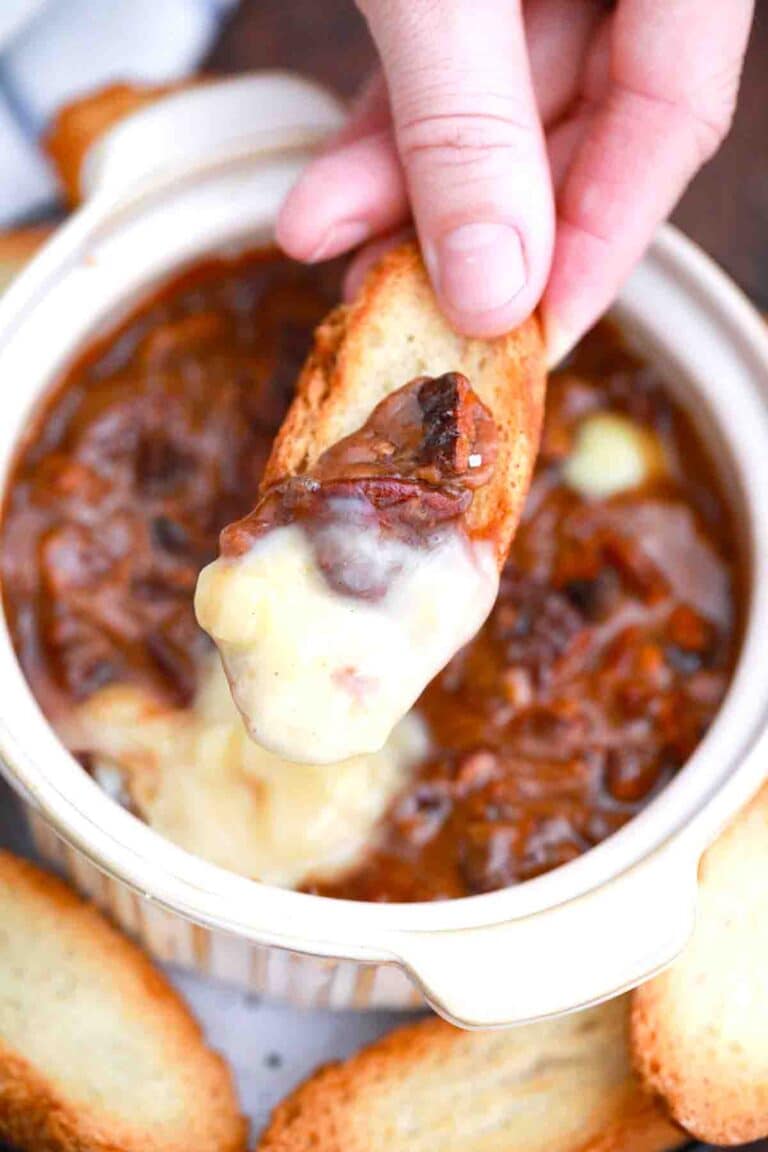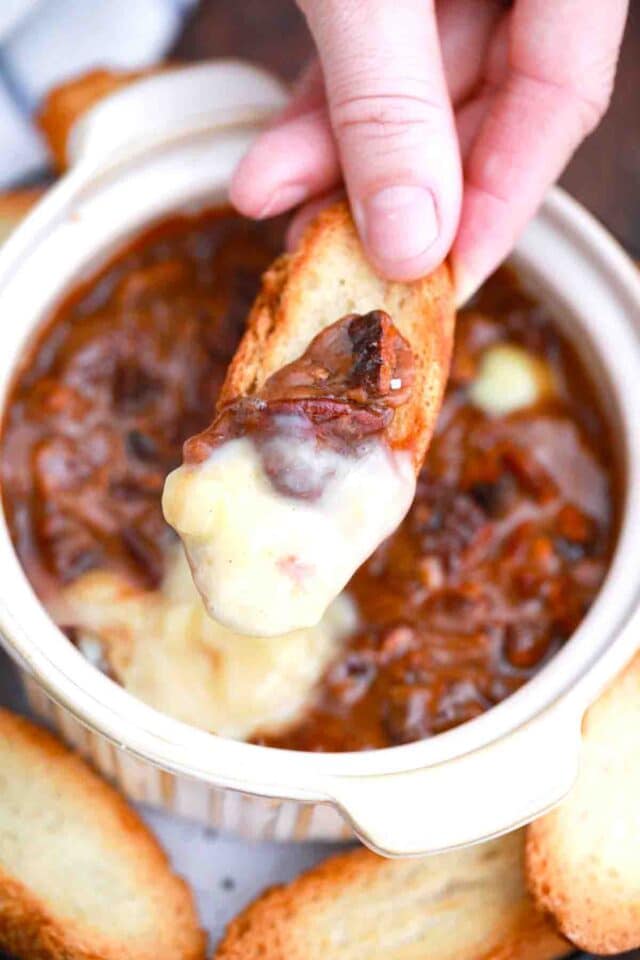 This pecan pie brie recipe is perfect if you love brie. Whether you use it as a dip or spread it on bread or crackers, pecan pie brie will make your happy holidays even happier. Are you looking for other great recipes? We have plenty!
If you want a spicier dip, try our five-minute taco dip. All you need is cream cheese, sour cream, Greek yogurt, and taco seasoning. Another spicy dip is this Velveeta spicy sausage dip made with only three ingredients, Rotel, Velveeta, and pork sausage.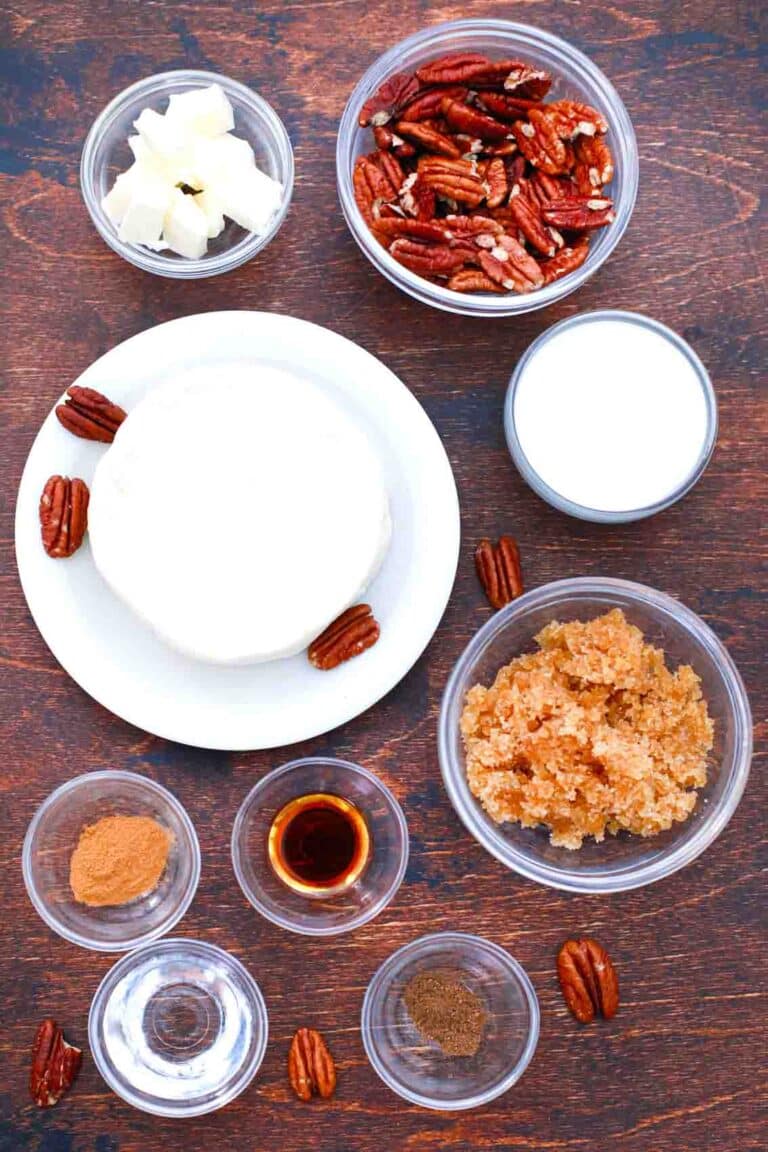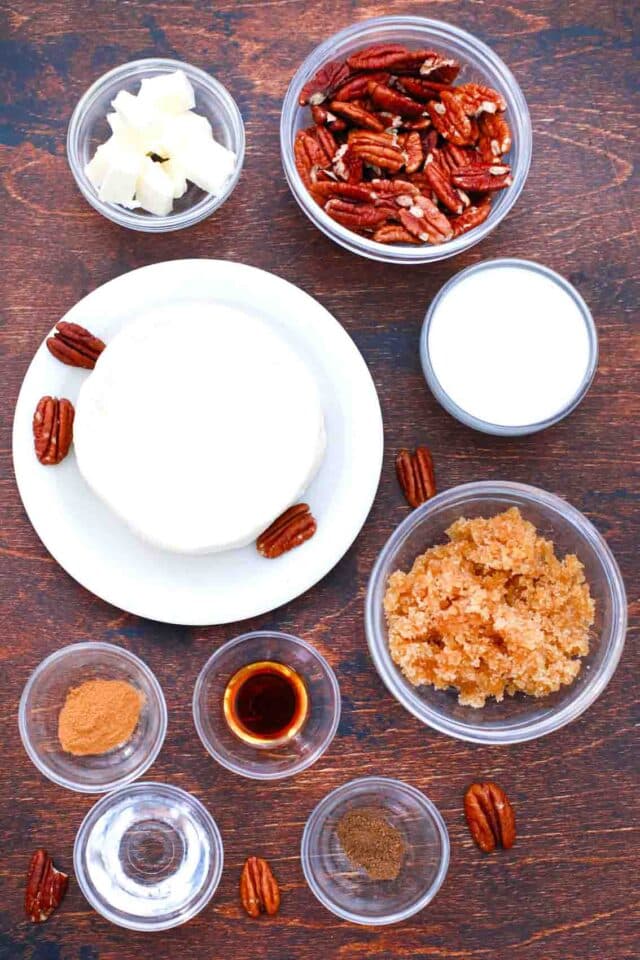 Ingredients needed:
Ready to make the best cheese you have ever tasted? Gather the ingredients listed below and then look for our printable recipe card at the bottom of the page for the exact measurements and directions.
Wheel of brie

Whole or chopped pecans

Maple syrup

Double cream

Brown sugar

Butter

Ground nutmeg

Ground cinnamon

Vanilla extract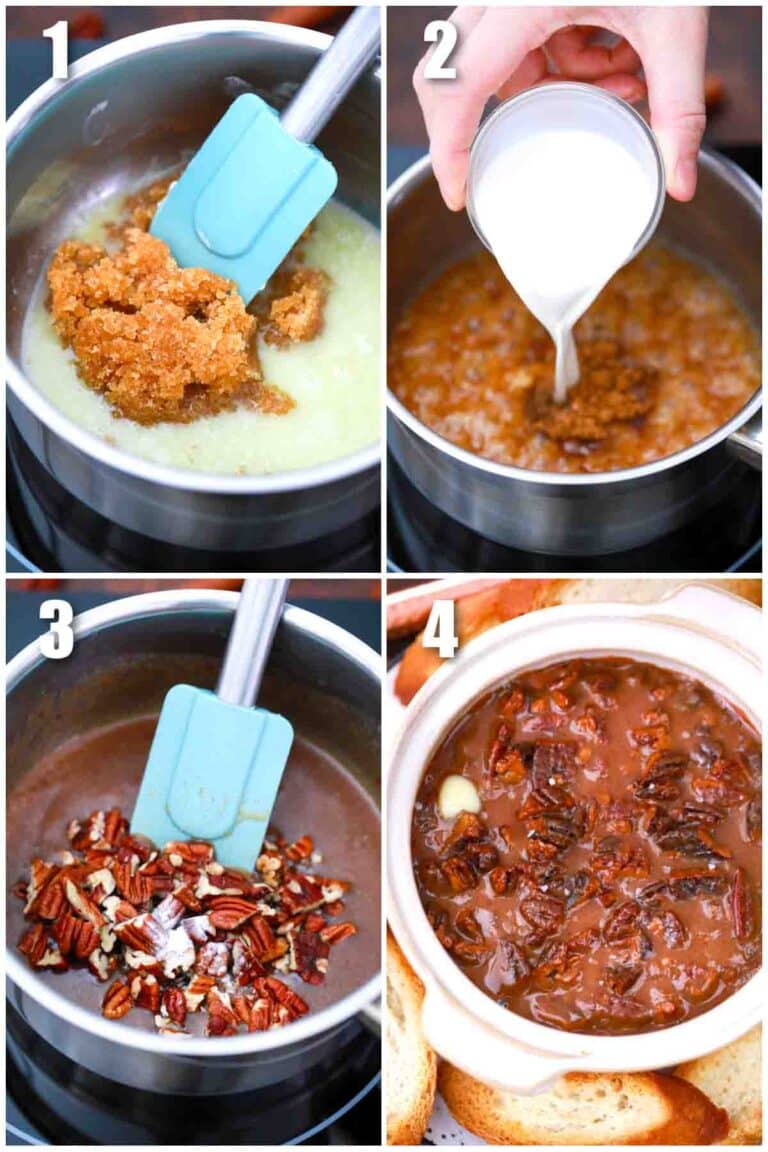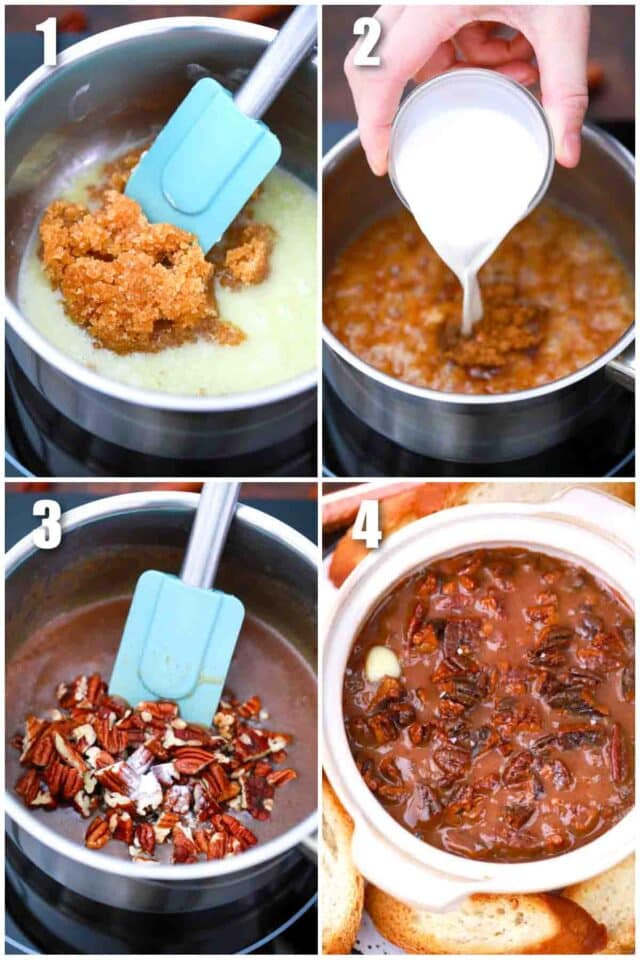 How to make pecan pie baked brie from scratch?
Preheat your oven: To begin, preheat oven to 350 degrees F.

Prep the pan: Meanwhile, place brie in a small oven-safe skillet, cookie sheet, or baking dish lined with parchment paper. Just put the whole thing in the skillet. No need to cut it up.

Melt butter and sugar: Now, melt butter and brown sugar in a nonstick skillet over low heat until it is bubbly.

Stir in the pecan mixture: Then, stir in the kosher salt, pecans, cream, nutmeg, and cinnamon until they are completely coated.

Add maple syrup and vanilla: Next, add vanilla extract and maple syrup and stir then remove from heat.

Cook the brie: Last, pour pecan mixture over the top of the brie and bake it until the cheese is melty.

Serve while warm: Finally, place brie on a serving platter or dish and eat with chips, veggies, fruit, or nuts.
How to make actual pecan pie brie?
Preheat oven: First, preheat oven to 375 degrees F and line a nine-inch deep-dish pie dish with one unbaked pie crust.

Add the brie: Then, place brie on top and set aside while you make the chopped pecans mixture.

Make the pecan mixture: Next, mix the salt, pecans, cream, nutmeg, and cinnamon in a pan over low heat until they are completely coated. Then add the syrup and vanilla before removing it from the heat.

Pour and seal: Now, pour the pecan mixture over the brie before covering it with another crust. Seal and fold or cut the edges as desired.

Bake and eat: Lastly, bake the pie for 30 to 40 minutes or until the center is almost set and the crust is golden brown.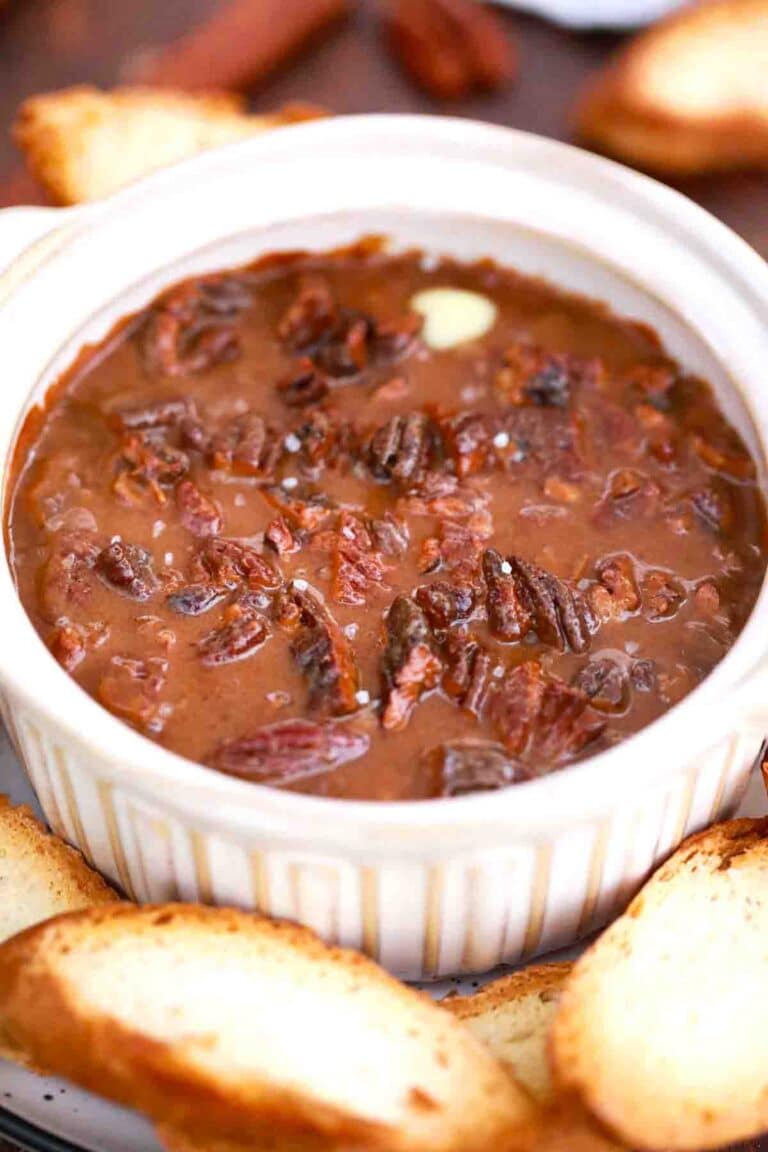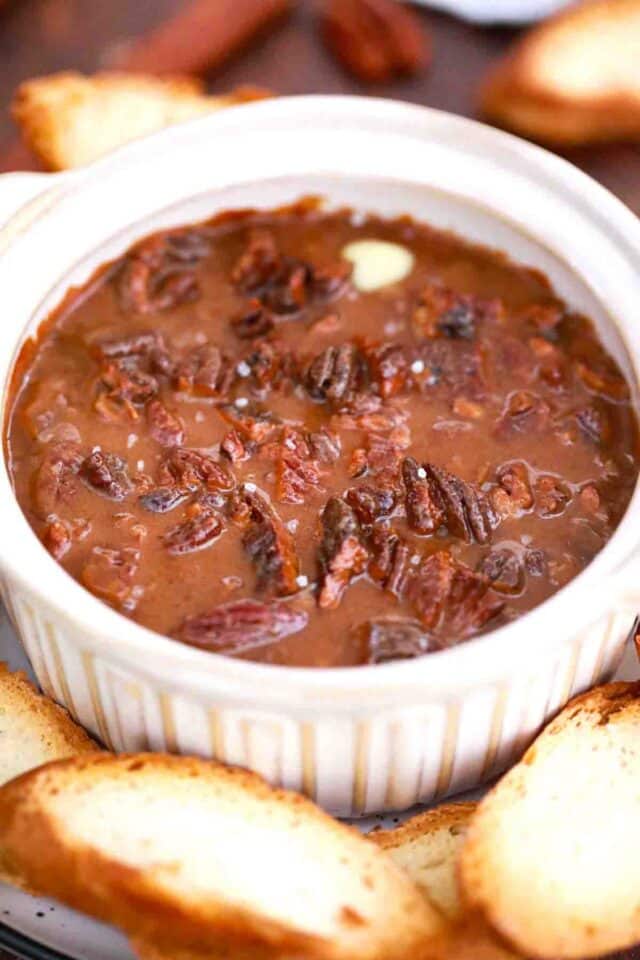 Recipe variations:
Heavy cream: Instead of double cream, you can use heavy cream.

Other nuts: If you do not have any pecans or do not like them, feel free to use walnuts, almonds, or whatever nut you like instead.

Add fruit: Why not toss in some dried cranberries, raisins, or blueberries before baking?

Brown sugar: Sprinkle extra brown sugar on top of the mixture before baking for a caramelized crust.

Brie bites: Turn these into little tarts by using phyllo cups and spooning two tablespoons of the cooked brie into the cups before baking in a muffin pan. Only bake for 10 to 12 minutes. Because these are small, they will cook faster.

No brie: If you cannot find brie, try goat or camembert cheese instead.

Heat it up: Those who like spicy food would appreciate a pinch of red pepper flakes mixed in.
How to serve:
You can serve this pecan pie brie in a serving dish or use an old-fashioned cast iron skillet. It goes great with anything you want to dip into it or spread it onto. Try one of our serving ideas or share one of your own in the comments section below.
You could spread this delicious dip onto toast or bagels.

Add a dollop of this baked brie to your favorite fruit salad. Try it with our snickers apple salad.

Any kind of crackers would work well for dipping or spreading.

Or serve with apple or pear slices, grapes, strawberries, or whatever fruit you like. You will love it on these air fryer pineapple rings!

Dried fruit is also a great thing to dip into pecan pie brie.

Instead of fruit, try veggies like celery or carrots.

Whatever you put your baked brie on, add a spoonful of your favorite jam or preserves.

This would also be a tasty topping on our eggnog waffles.

Actually, this pecan pie brie is so good, you can have it plain with a spoon!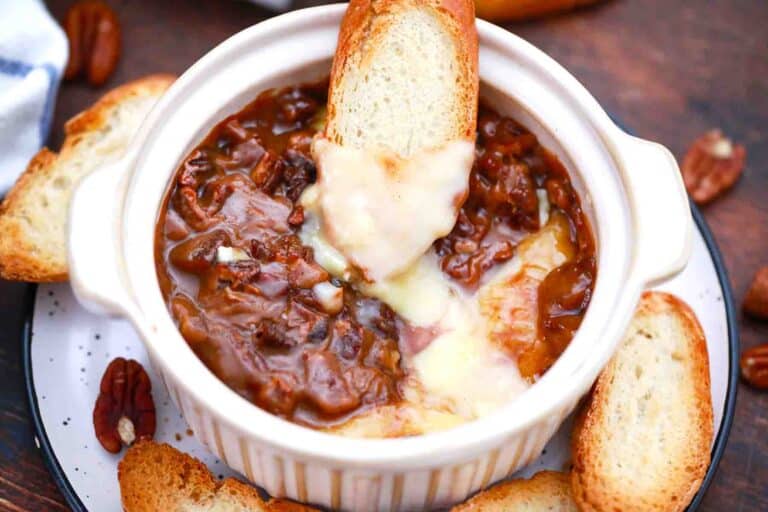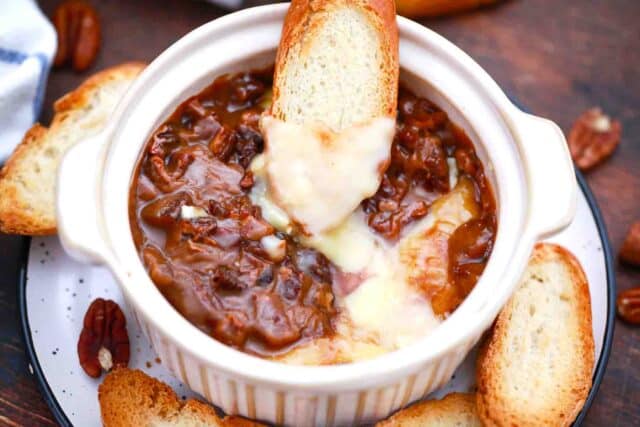 Frequently asked questions
Should I take the rind off the brie before baking?
Although you may not like eating the rind, it is best to leave it on when baking it to help it hold its shape. In this recipe where you are using a skillet with sides, it should be okay without the rind because the sides of the pan will keep it together. The rind is actually an edible form of mold. Some people remove it after baking and use it for dipping.
Are you supposed to eat brie cheese cold or warm?
With this recipe, because you are using it for dipping, it is best served warm. It would be too hard to dip anything in cold brie and it is not very easy to spread it either. But if you are just cutting it into slices for a sandwich, cold is best. In fact, the best way to eat it in France is to have a bite of cold brie and then a bite of bread.
Why is my baked brie rubbery?
It could be that you overbaked or overcooked it. It will reharden and turn dry if you cook it too long. One way to help make sure it cooks properly is to score or remove the top of the rind. Also, you can use a thicker pan or lower the temperature. But the best thing to remember is to not overcook it.
What are the nutrition facts in this recipe?
The nutrition facts for this dish vary depending on what you are using it with. Whatever you are dipping in it or putting it on will alter these numbers. But just for the pecan pie brie, you get 240 calories with 20 grams of fat including 9 grams of saturated fat. You will also get 13 grams of carbohydrates, 400 mg of sodium, 25 mg of cholesterol, and 5 grams of sugar.
On the other hand, your pecan pie brie has 8 grams of protein, 62 mg of calcium, 2 mg of vitamin C, and 66 mg of potassium. It also has 225 units of vitamin A, 2 mg of iron, 2 grams of fiber, 3 grams of monounsaturated fat, and 2 grams of polyunsaturated fat.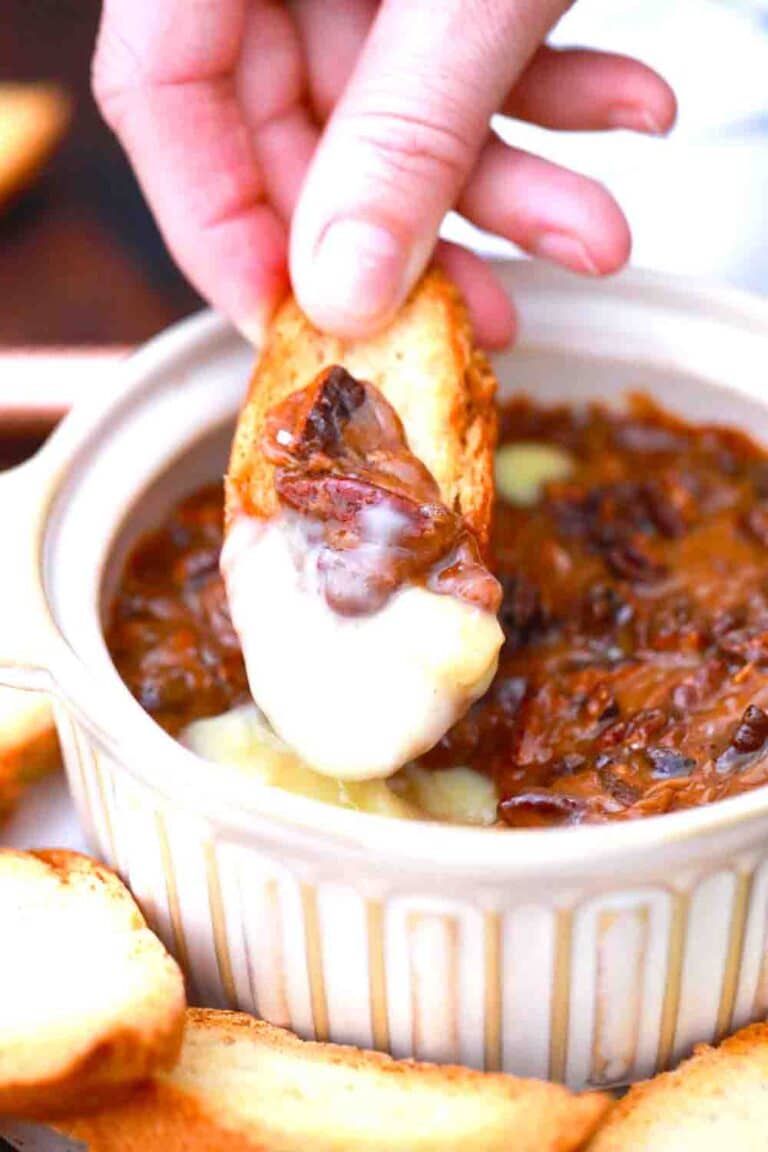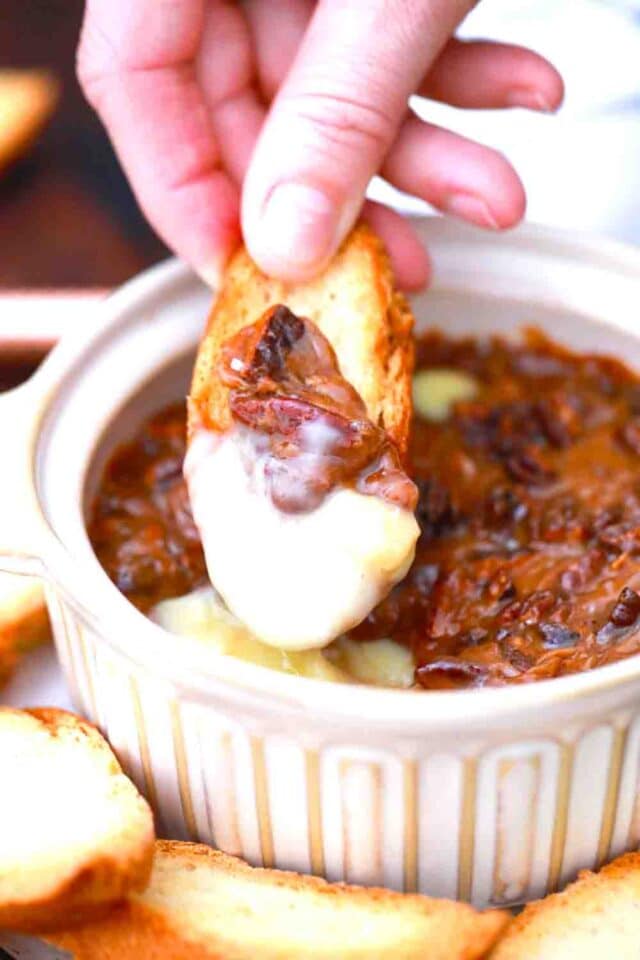 How to store leftovers:
Store: Leftover pecan pie baked brie will harden as it cools. You can safely store it in an airtight container in the fridge for several days.

Freeze: Freezing is not recommended.

Reheat: To reheat, place the brie in a microwave-safe dish and heat for 30 seconds at a time until it is melted.
Recipe tips:
Make sure you do not overcook your brie. It will turn hard and rubbery.

If you are making the second recipe, you can use puff pastry instead of crust.

To save time, just use praline sauce instead of making your own.

Use a sturdy chip or crackers for dipping. A thin one will just snap off instead of picking up.

Once your baked brie dip has set out for a while, it will start to harden. If this happens, just heat it in the microwave for a few seconds and stir.

You can use honey instead of maple syrup if you like.

To get the best brie, you want to get one that is no more than one inch thick, and the outside should be firm while the middle is springy.

Underripe brie will not continue to ripen when you get it home so make sure you get one that is not too hard.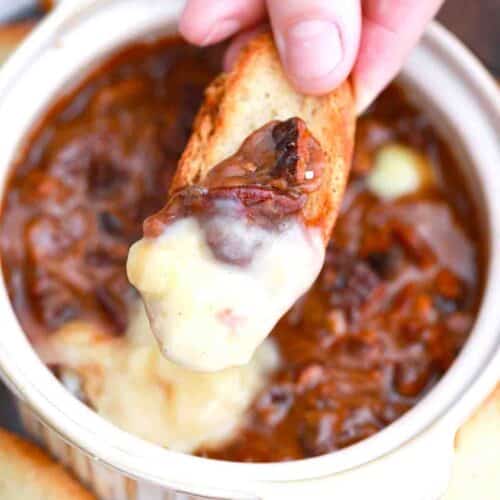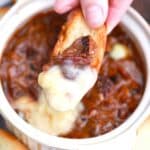 Pecan Pie Baked Brie
PecanPie Baked Brie is the perfect appetizer or snack made with deliciousdouble cream, a wheel of brie, syrup, butter, brown sugar, andcrunchy pecans.
Keyword:
Pecan Pie Baked Brie
Ingredients
1 8

oz

brie round

3

tablespoons

unsalted butter

1/4

cup

brown sugar

1

teaspoon

ground cinnamon

1/4

teaspoon

nutmeg

4

tablespoons

double cream

1

cup

pecans

whole or chopped

2

tablespoon

maple syrup

1

teaspoon

vanilla extract
Instructions
Preheat oven to 350 degrees F. Place brie in a small oven-safe round pan or baking dish with parchment paper on the bottom.

Place a nonstick skillet over low heat, and melt the butter and brown sugar until bubbly, stirring constantly.

Stir in cinnamon, nutmeg, double cream, pecans, and salt until completely coated. After that, add maple syrup and vanilla extract, stir then remove from heat.

Pour pecan mixture over the brie round and bake until brie is melty, 10 minutes.

Serve immediately with crostini.
Nutrition Facts
Pecan Pie Baked Brie
Amount Per Serving
Calories 240
Calories from Fat 180
% Daily Value*
Fat 20g31%
Cholesterol 25mg8%
Sodium 400mg17%
Potassium 66mg2%
Carbohydrates 13g4%
Protein 8g16%
Vitamin A 225IU5%
Vitamin C 2mg2%
Calcium 62mg6%
Iron 2mg11%
* Percent Daily Values are based on a 2000 calorie diet.