Crispy Air Fryer Broccoli
Air Fryer Broccoli are tender and crispy, perfect for an easy side dish or fun appetizer when served with your favorite dipping sauce. Crispy air fryer broccoli are only 15 minutes away when you use this great recipe.
This delicious side dish will go great with our keto Air Fryer Chicken Breast to make a low-carb healthy dinner. For a larger meal with another side of vegetables, try Creamy Chicken with Asparagus. Or if you would rather have dark meat, Air Fryer Chicken Thighs are perfect with crispy skin and tender meat.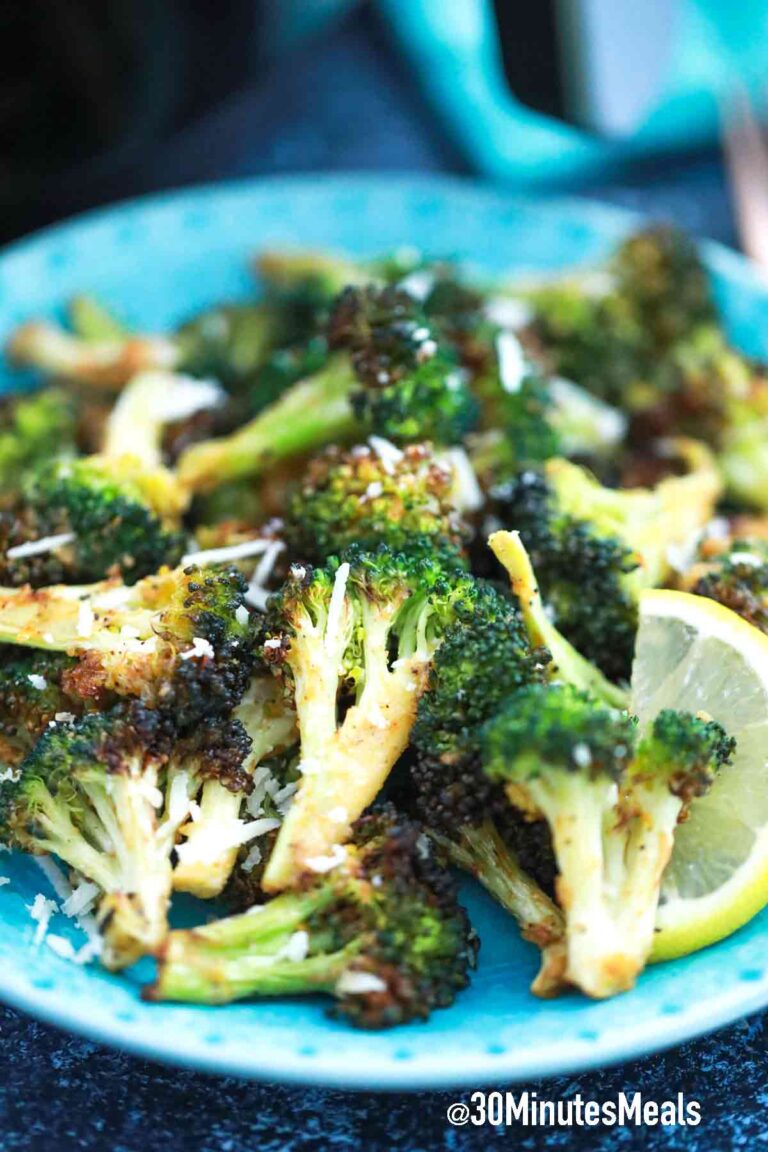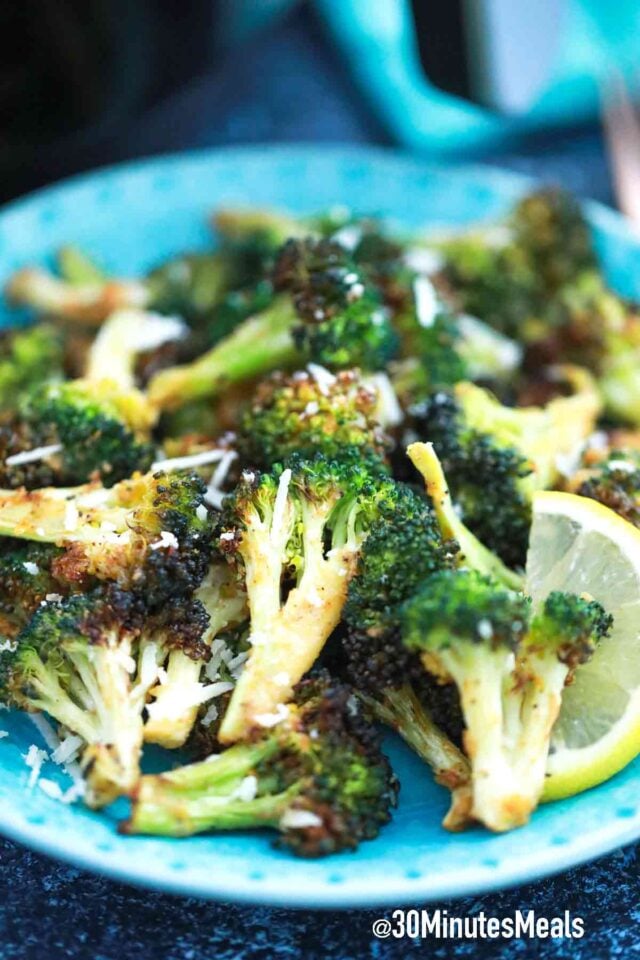 Air fryer broccoli
Our easy recipe gives you a healthy side dish of broccoli bites with plenty of vitamin C with very little cook time and can be used with any vegetarian recipes you may want to make. It is a fast and easy side dish that may very well make this your favorite way to make broccoli from now on.
In fact, easy air fryer recipes are the best way to make all sorts of vegetables like air fryer cauliflower or carrots as well. Air frying takes less time and is healthier than frying in oil or broiling in the oven because it uses minimal oil.
This Air Fryer Broccoli makes tender broccoli with a crispy crust in a fraction of the time you would make them in the oven, and you only need five ingredients.
Ingredients needed:
For the best air fryer broccoli, you will only need a handful of simple ingredients you may already have. The exact measurements can be found on our recipe card below.
Broccoli: Cut florets to similar sizes for best results.
Olive oil: Just a bit to get crispy broccoli bites without sticking.

Garlic powder: Any brand will do.
Salt and pepper: We used kosher salt and ground black pepper.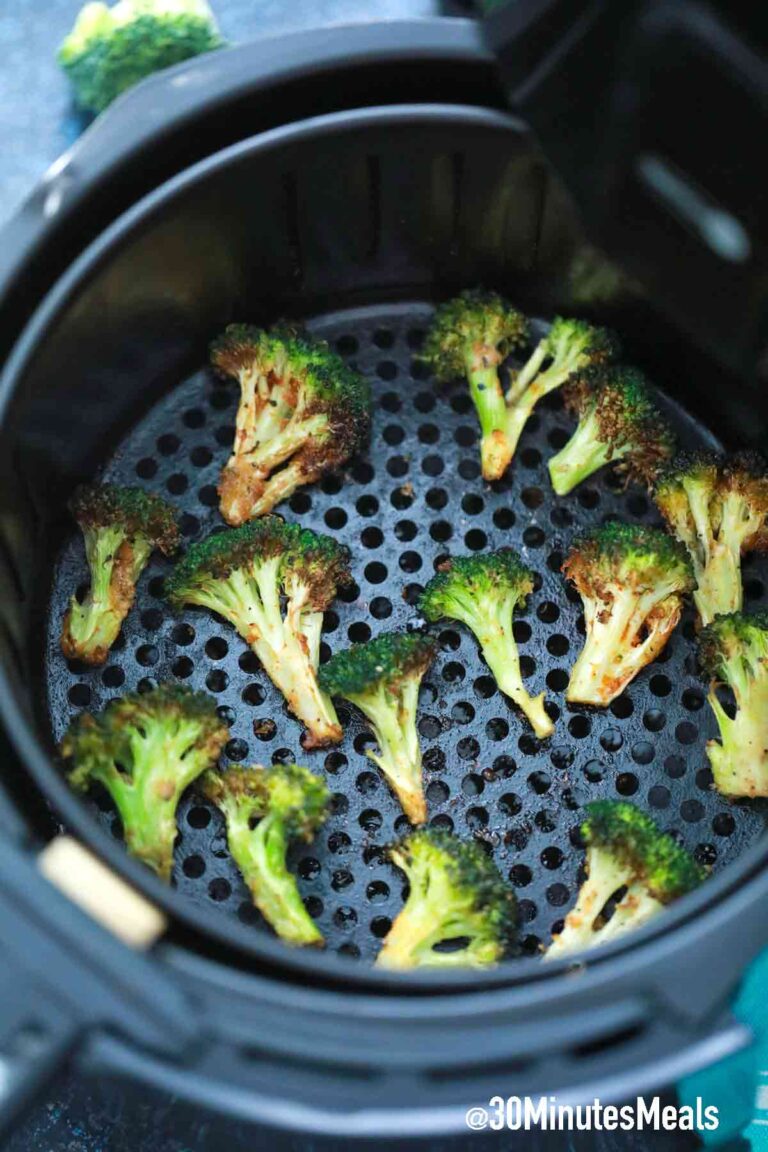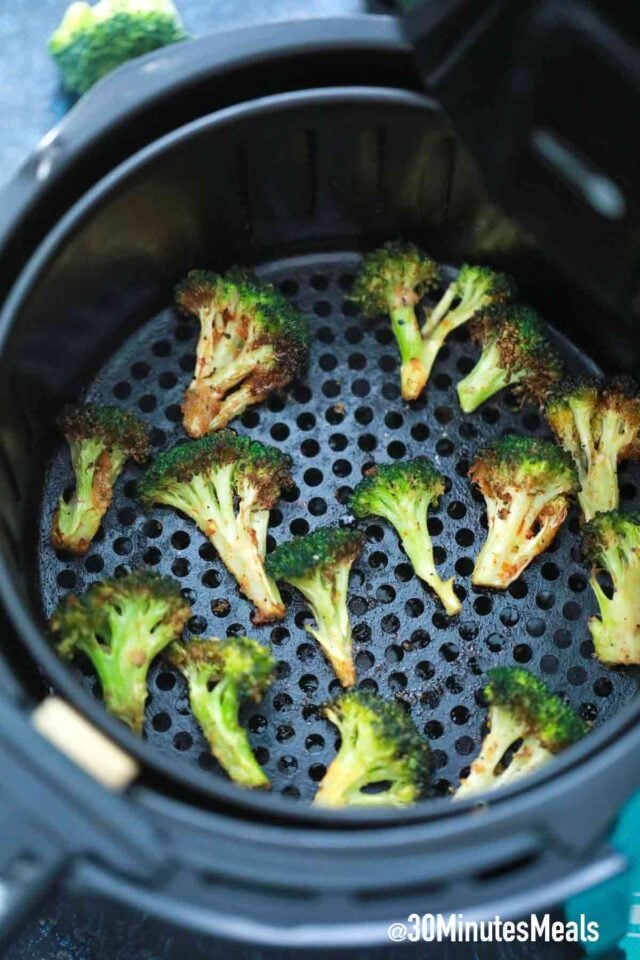 How to make air fryer broccoli from scratch?
Prepare: First, toss your broccoli florets in a large bowl with olive oil, garlic powder, black pepper, and salt.

Place: Then, spread the florets in the bottom of the basket in a single layer without them touching.

Cook: Last, cook your broccoli at 390 degrees F for seven to nine minutes, shaking it after four minutes.
Recipe variations:
Add more flavor: Add onion powder for more flavor.

Heat it up: Sprinkle on some red pepper flakes or cayenne pepper for a kick of heat.

Add other veggies: Toss in some chopped cauliflower or carrots for a big bowl of mixed vegetables.
Other oil: Remember, feel free to substitute the olive oil with your favorite oil like avocado oil, grapeseed oil, or canola oil.

Italian: Give your broccoli a dose of Italian seasoning for an extra kick.
How to serve:
One of the best things about this perfect side dish is that you can add it to any of the main dishes you like. Here are some good serving suggestions:
Sprinkle some parmesan cheese on top for air fryer broccoli parmesan.

This would be great mixed with our tasty beef and broccoli stir fry.
Top these with cheddar cheese for cheesy broccoli.
Broccoli makes a fantastic side dish to this crunchy air fryer fish or these scrumptious BBQ sloppy joes.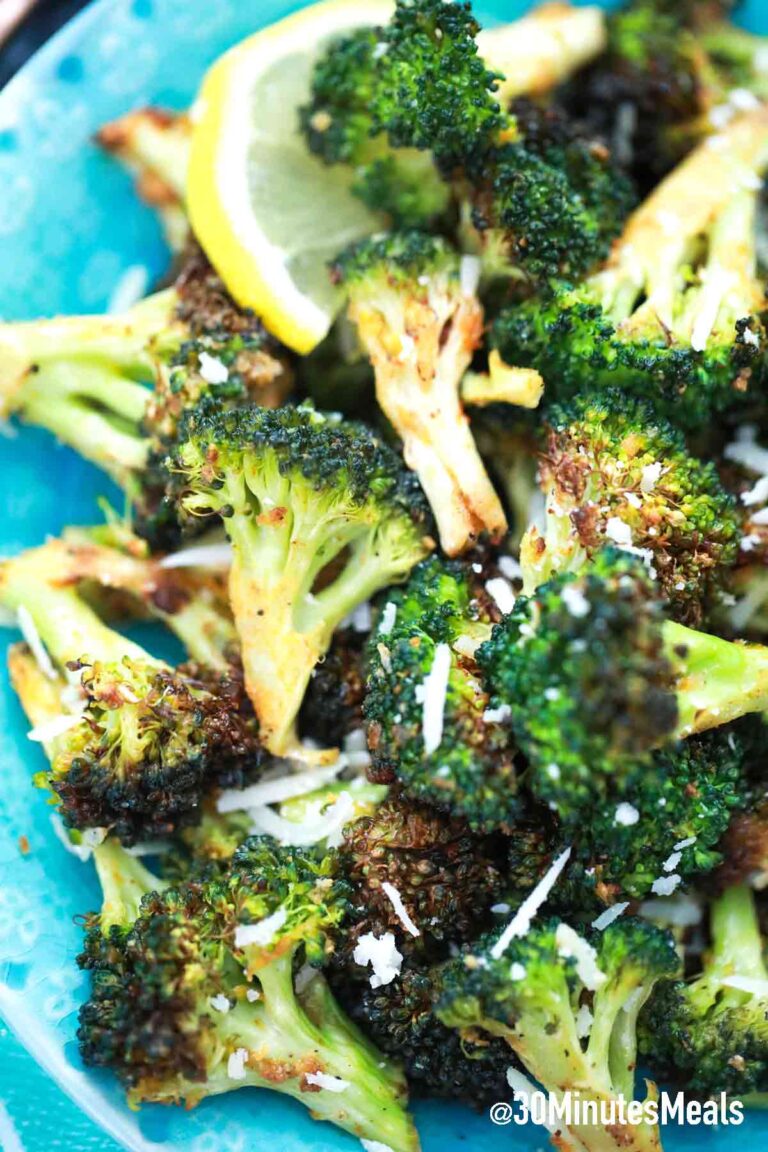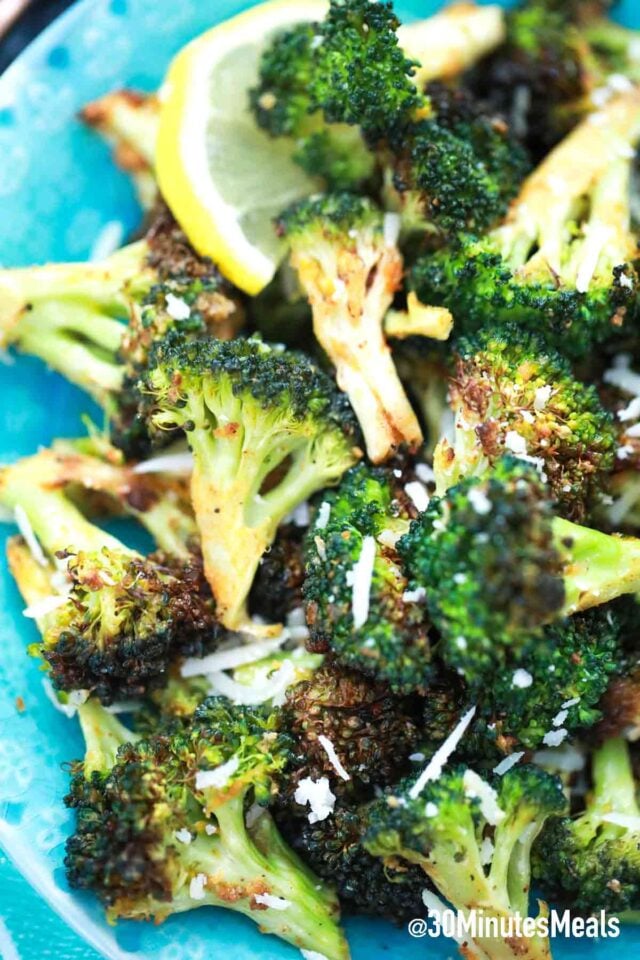 Frequently asked questions
Can I cook frozen broccoli in the air fryer?
Cooking frozen broccoli or any other frozen veggie in the air fryer is a great way to get perfect air fryer broccoli! The air fryer not only cooks frozen veggies faster, but it also cooks them crispier. And we all know that crispy broccoli is better. Although some people would rather use fresh broccoli, using frozen is just as good if not better.
Do you have to use oil when air frying vegetables?
Air fryers are known for being healthier because they do not use a lot of oil to cook. And while you can use less oil when frying your vegetables, you should still spritz your broccoli florets with just a touch of olive oil or cooking spray to keep them from sticking.
The air fryer cooks with hot air, but your veggies may stick if you do not use any oil at all. If you do not want to use any oil, prevent sticking by putting the vegetables in a single layer without touching each other.
Can I dehydrate fruit and vegetables in the air fryer?
Dehydrating fruit and veggies in the air fryer is easy. You just have to set it at a much lower temperature than you would usually use. The temperature depends on what you are cooking but it should typically be about 125 to 150 degrees F. The cooking time will vary as well.
One of the most important things to remember about dehydrating anything in the air fryer is thickness and size. You want your pieces to be equal in size and thickness or some will come out burnt while others are still soggy or chewy. Use a mandoline to get every slice the same size.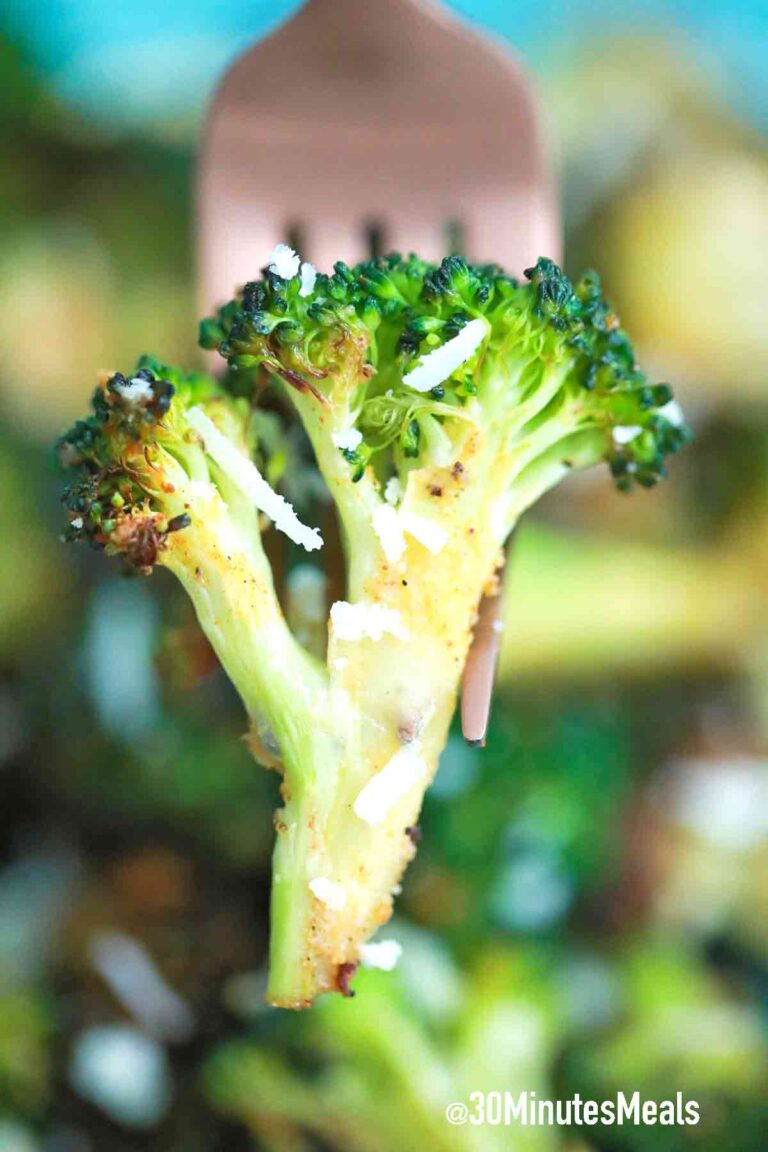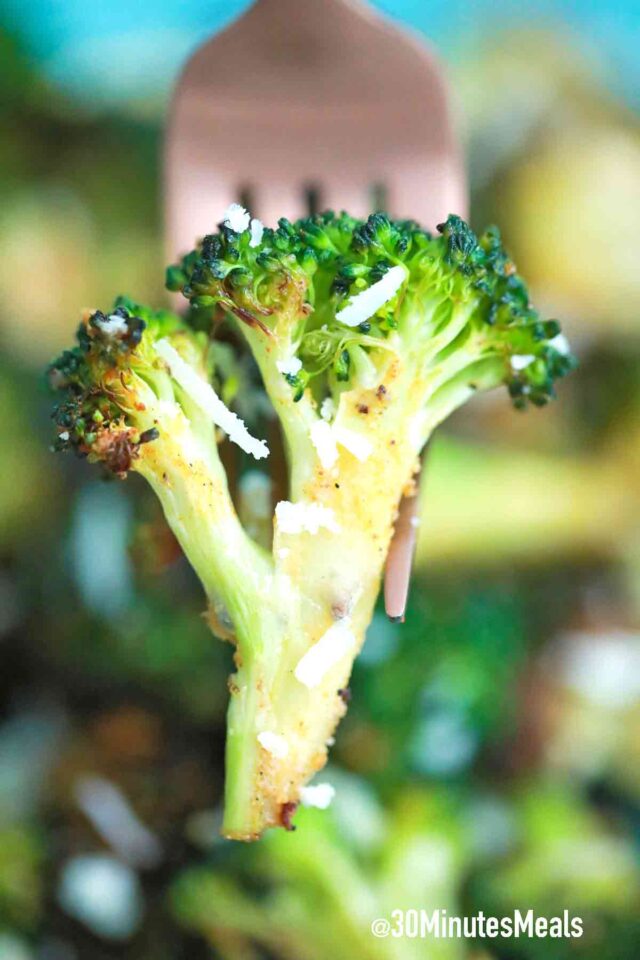 How to store leftovers:
Store: After letting the broccoli cool completely, place leftovers in an airtight container in the fridge for up to three days.

Freeze: If you cannot finish the leftovers in three days, bag them up in freezer bags and freeze them for up to three months.

Reheat: Reheat your broccoli from frozen in the air fryer for that crispy texture. You could also use the microwave, but it will not turn out as crispy.
Recipe tips:
Always try to cook pieces of the same size together. For example, if you have a bunch of large broccoli florets as well as small pieces, cook the large with the large and the small with the small. Otherwise, some will burn while others will not get done.

For best results, shake the basket or flip broccoli halfway through cooking.

Because all air fryers are different, the first time you make this easy air fryer broccoli, it may not be as good as you expected even if you follow the recipe. The next time you cook them, adjust the time and temperature as you need to.
Remember that the outer perimeter of the basket is the warmest so put the largest pieces to the outside or move the inner pieces to the outside halfway through.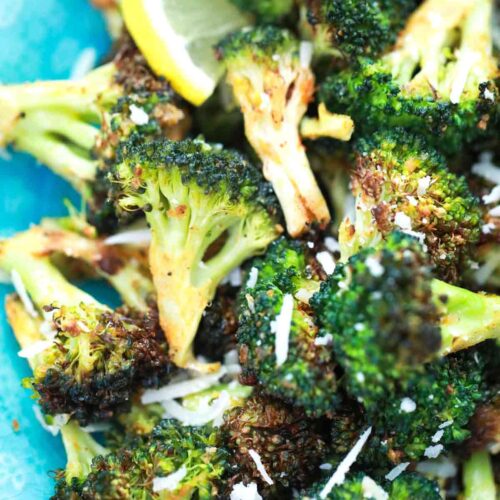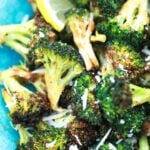 Crispy Air Fryer Broccoli
Air Fryer Broccoli are tender and crispy, perfect for an easy side dish or fun appetizer when served with your favorite dipping sauce.
Course:
Appetizer, Side Dish
Keyword:
Air Fryer Broccoli
Ingredients
1

lb

fresh broccoli florets

1

tablespoon

olive oil

1/8

teaspoon

kosher salt

1/8

teaspoon

black pepper

1/4

teaspoon

garlic powder

1/4

teaspoon

smoked paprika

optional

2

tablespoons

freshly grated parmesan

optional
Instructions
In a mixing bowl combine all ingredients, except parmesan. Toss until the broccoli is evenly coated.

Preheat air fryer to 390 degrees F.

Add the broccoli to the Air Fryer basket, cook for 8-9 minutes or until crispy. Shake and toss once mid-cooking.

Serve garnished with parmesan cheese.
Nutrition Facts
Crispy Air Fryer Broccoli
Amount Per Serving
Calories 163
Calories from Fat 81
% Daily Value*
Fat 9g14%
Cholesterol 4mg1%
Sodium 297mg13%
Potassium 735mg21%
Carbohydrates 16g5%
Protein 8g16%
Vitamin A 1580IU32%
Vitamin C 202mg245%
Calcium 164mg16%
Iron 2mg11%
* Percent Daily Values are based on a 2000 calorie diet.