Mango Pineapple Smoothie has a creamy texture with tangy flavors of tropical fruit with lime juice and coconut milk for a great healthy snack. One of the best things about this is how easy and fast it is to make, and you can alter it to your liking.
For more easy recipes with mangoes, our Green Smoothies Bowl is simple and delicious with your favorite fruits, greens, and coconut milk. If you want a boozy smoothie, our Mango Colada made with creamy coconut, pineapple juice, and rum is perfect.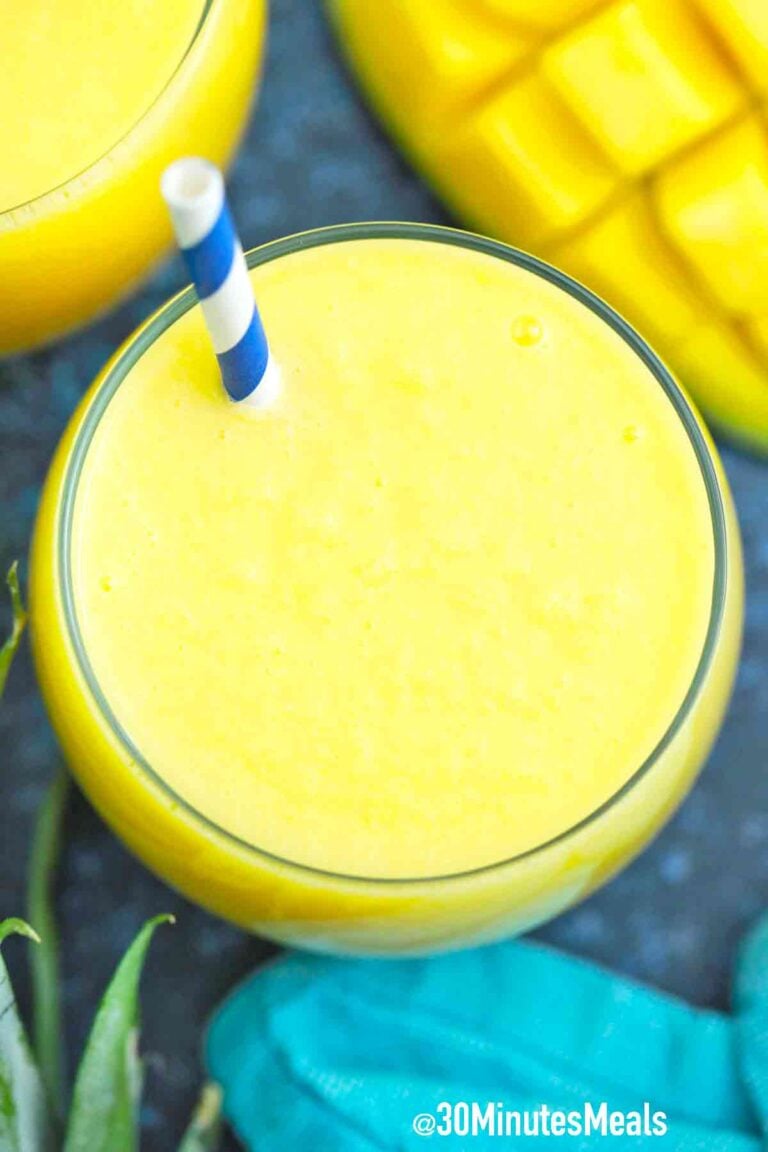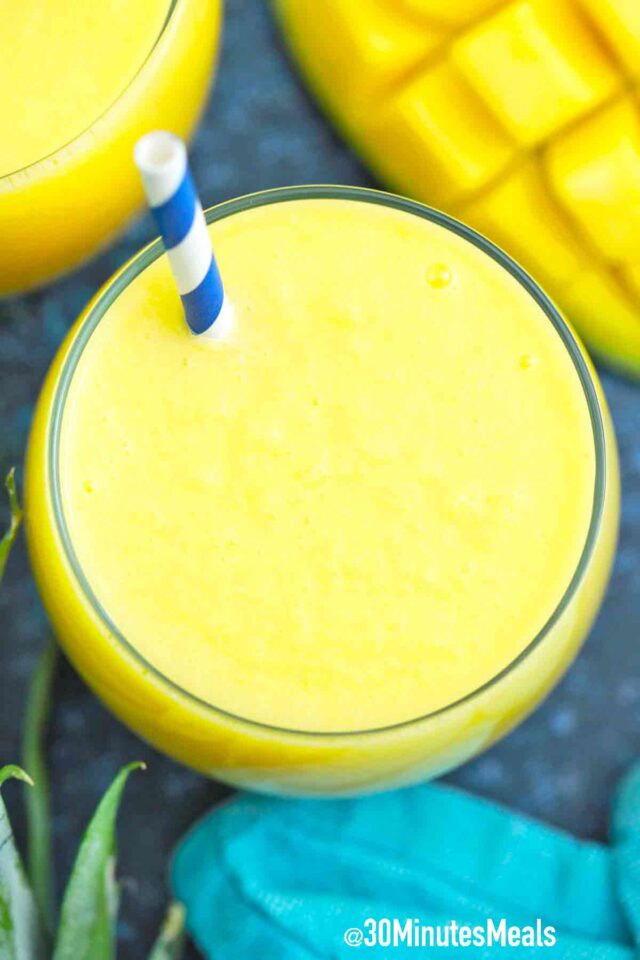 If you like fresh fruit, this is a great way to make a quick breakfast on the go. In fact, it is the perfect way for a healthy breakfast or snack no matter where you are.
The best part is the taste, but it helps to know that this freezer smoothie packs all sorts of good vitamins too. Try this healthy fruit smoothie recipe the next time you want something sweet.
If you want other fruits or veggies, go ahead and toss them in the blender too and adjust the taste to your preference. Another of our healthy recipes, Mango Salsa, gives you a taste of the tropics to dip your chips into.
Ingredients needed:
For this healthy smoothie, all you need is a few simple ingredients listed here. For the full recipe, scroll down to the printable recipe card.
Fresh mango: Diced.
Pineapple rings: Canned is fine but fresh pineapple is preferred.
Coconut yogurt
Coconut milk
Coconut water
Lime juice
Coconut water ice cubes: Or regular ice cubes work fine too.
How to make mango pineapple smoothie recipe?
Mix: Put all ingredients into a blender or food processor and puree until it is smooth.
Serve: Pour into a chilled glass and serve your mango-pineapple smoothie with an array of fresh fruits.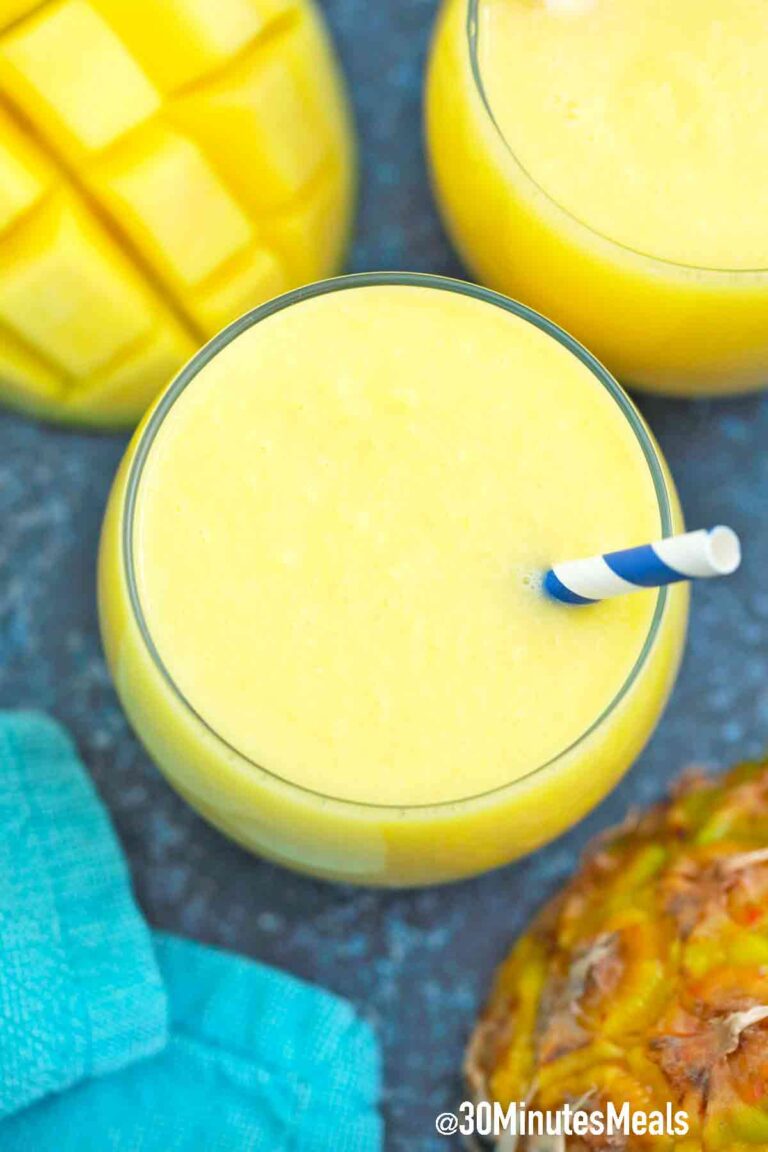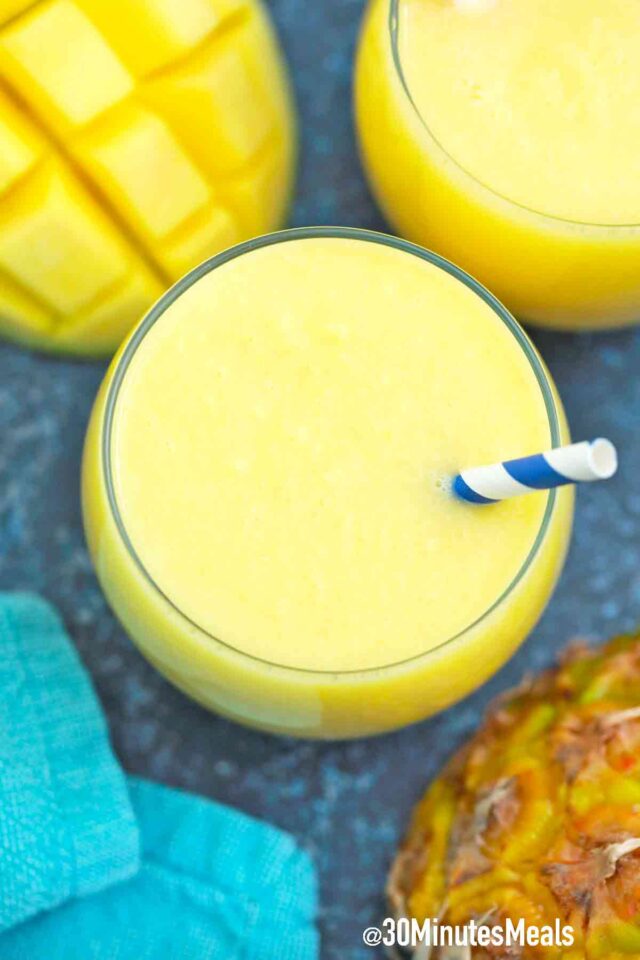 Recipe variations:
Other milk: For a milder flavor, use regular or almond milk instead of coconut.

Yogurt: You can also use plain yogurt. If it does not have enough coconut flavor, add coconut extract.
Bowls: To make smoothie bowls, leave pineapple and mango chunks and maybe some granola.

Juices: Add other fruit juice like papaya or orange juice instead of coconut water for more tropical flavors. Apple juice goes great with this delicious recipe too.
Greek: For a Greek yogurt smoothie, use Greek coconut yogurt instead of regular yogurt, which has a lot of sugar in it.
How to serve:
Drinking this tropical mango smoothie on a hot day will make you feel like you are on a tropical island. With healthy fats and light coconut milk, you can have this snack any time of the day. You may also like one of our serving suggestions.
Make it into a tropical smoothie bowl by adding other chunks of fruit and granola. This goes great with other healthy ingredients like avocados, bananas, and kiwis.

These also go great with our banana fritters and air fryer pineapple rings.

Since this delicious smoothie is packed with so many healthy ingredients, it won't hurt to add a scoop of light ice cream to your glass.

While you are at it, toss some chocolate chips in the glass when you serve it.
Serve your mango pineapple smoothie with a turkey salad made with shredded turkey and Dijon mayo dressing.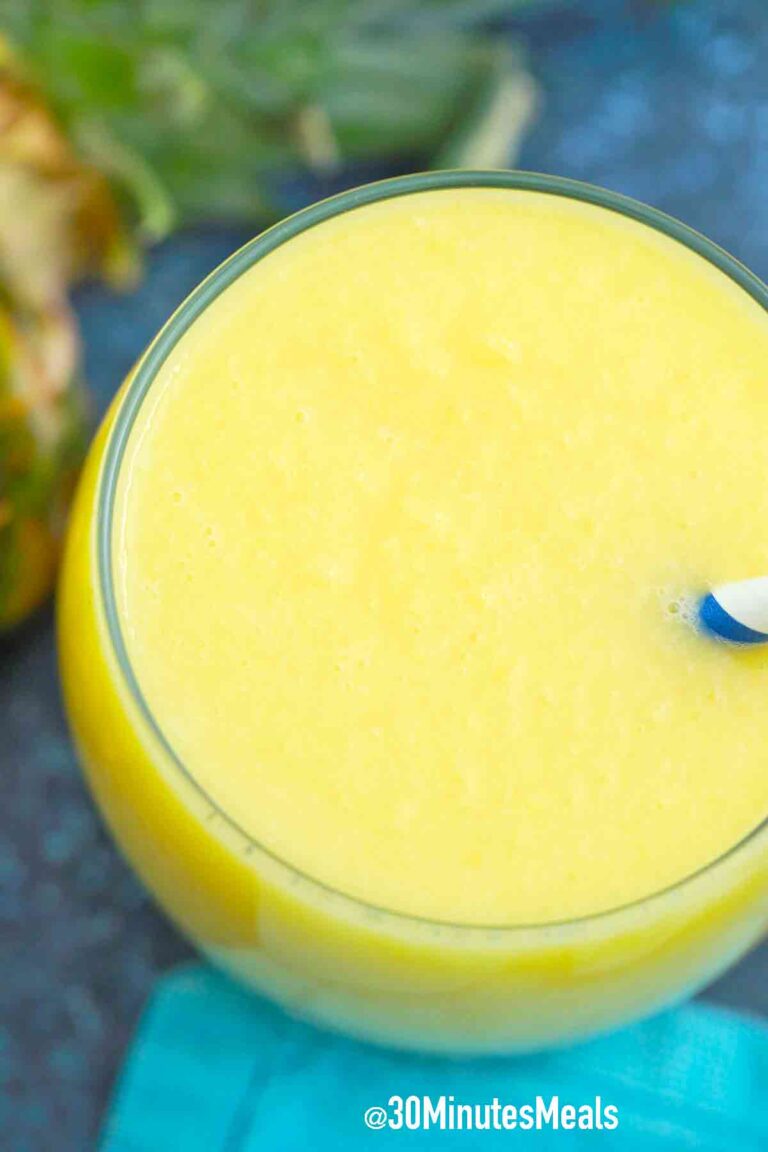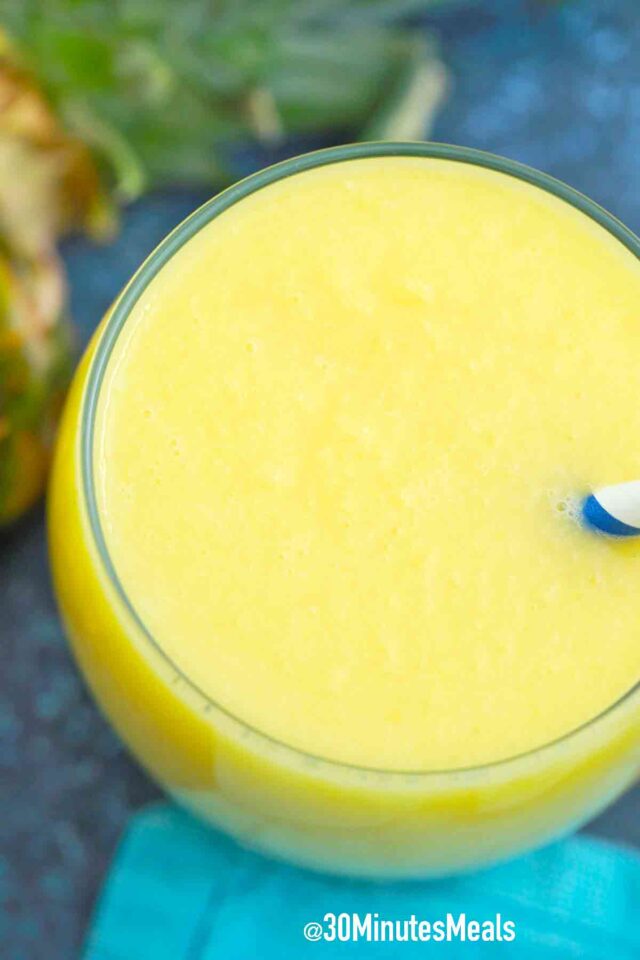 Frequently asked questions
Why does my smoothie taste bitter?
Sometimes when you mix milk and fresh pineapple, the combination curdles the milk. This is due to the casein in the milk mixing with the bromelain in the pineapple.
Heat your pineapples before using them but make sure they are cool. You could also use canned pineapple instead.
Is this a healthy drink?
This is a very healthy fruit smoothie recipe with all-natural ingredients. Making it at home means you can adjust the ingredients to your liking.
For example, you can use sugar-free or light milk and yogurt for less sugar. Mangoes and pineapples are both packed with vitamins and nutrients.
For example, one serving of mango has 76% of your daily value of vitamin C and 25% of vitamin A.
What other fruits go well with mangoes?
Because mangoes are tropical fruits, they go very well with other tropical fruits. Try adding chopped papayas, kiwi, or bananas to your fresh mango pineapple smoothie recipe.
You may also enjoy some passion fruit, dates, star fruit, guavas, or pomegranates.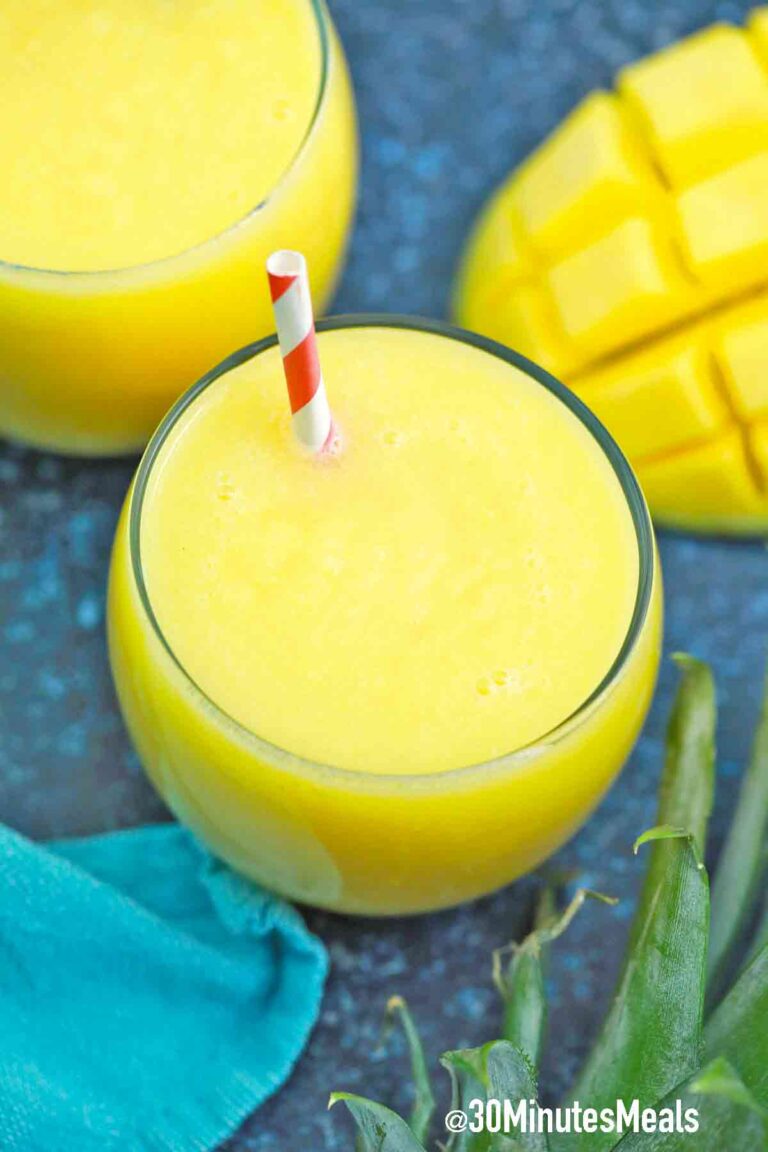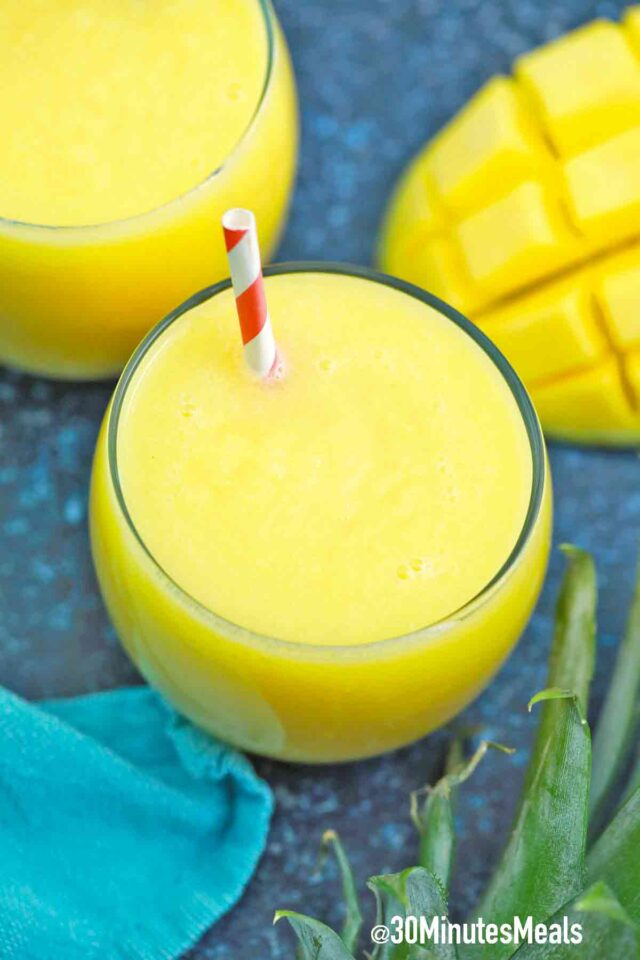 How to store leftovers:
Store: If you have any leftovers, you can store them in an airtight container like a mason jar in your fridge for three days.
Freeze: You can also freeze for about three months. Try freezing these in a mold to make popsicle smoothies.
Thaw: Be sure to thaw overnight in the fridge before serving.
Reheat: Serve in a chilled glass for the best flavor.
Recipe tips:
Using frozen fruits instead of fresh ones is fine too. No need to thaw as they will help thicken your smoothie. This is helpful in the winter because you can find frozen mangos at the store any time of year.
If your drink is too thick, try adding a bit of liquid such as more coconut water or milk.

Add a scoop of your favorite protein powder for an extra boost.
Magic bullet blenders work great for this creamy smoothie, but any kind of blender will work.
Add a little bit of chia or flax seeds for more fiber and vitamins.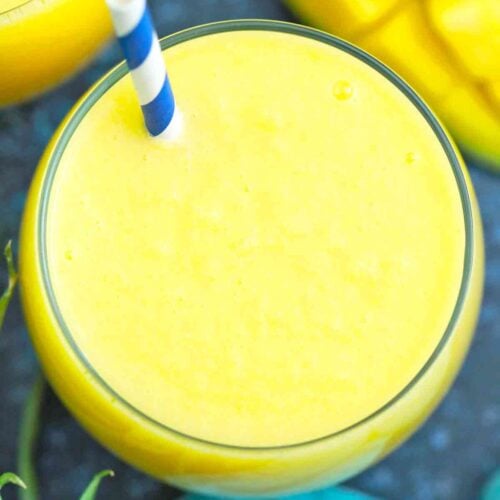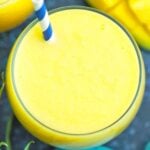 Mango Pineapple Smoothie
Mango Pineapple Smoothie has a creamy texture with tangy flavors of tropical fruit with lime juice and coconut milk for a great healthy snack.
Course:
Breakfast, Drinks, Snack
Keyword:
Mango Pineapple Smoothie
Ingredients
1

fresh mango

diced

2

rings of pineapple

1/2

cup

coconut yogurt

1

cup

coconut milk

1/2

cup

coconut water

1

teaspoon

lime juice

1

cup

ice cubes
Instructions
Place all ingredients into a blender, and process until smooth.

If needed add more liquid or some honey for sweetness.

Pour into glasses and serve.