Pineapple Mango Salsa Recipe
Pineapple Mango Salsa is sweet and tangy with a little bit of spice and a lot of flavors from the fresh and ripe fruits. Homemade salsas are fun to make and even more fun to eat. You can use this pineapple Pico de Gallo with just about any food from Mexican tacos to Asian rice dishes. In fact, it even tastes great on top of ice cream.
This tropical salsa is perfect to top our Rotisserie Chicken Tacos with sour cream and red cabbage or this Shrimp Ceviche with orange juice, cucumber, and red onions. Those who really love mango will enjoy this salsa recipe with a Mango Pineapple Smoothie made with coconut milk, yogurt, and lime.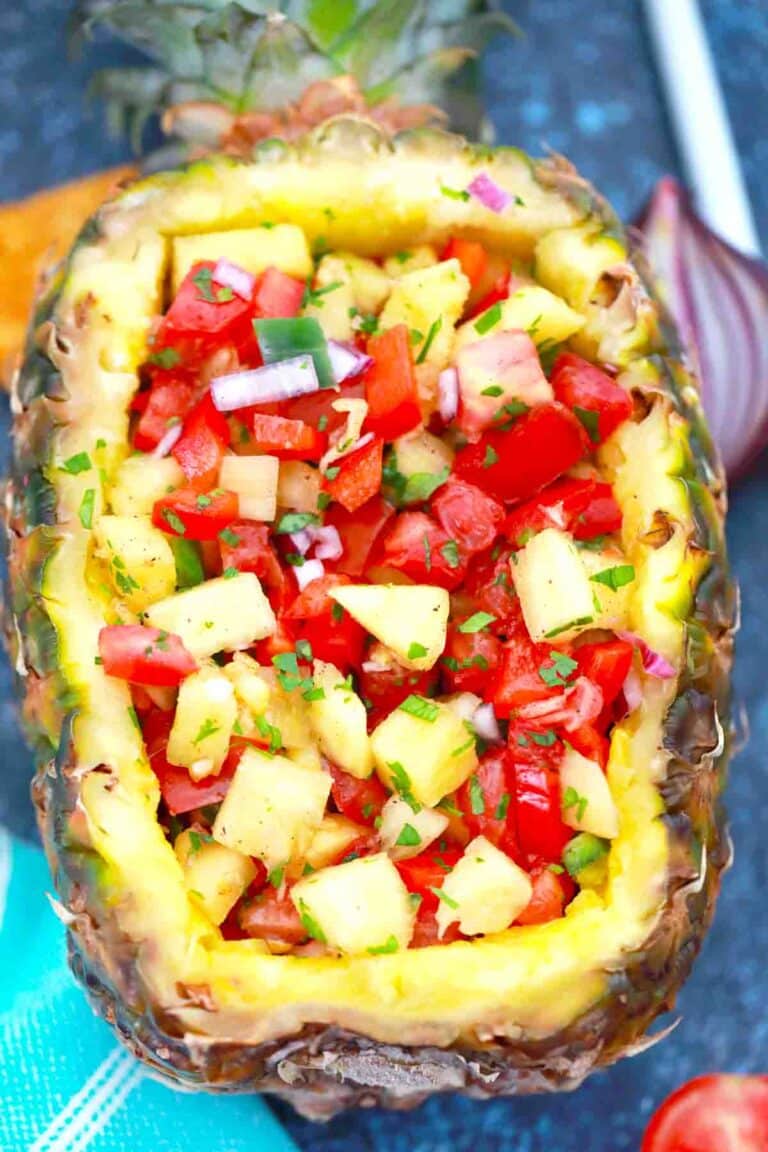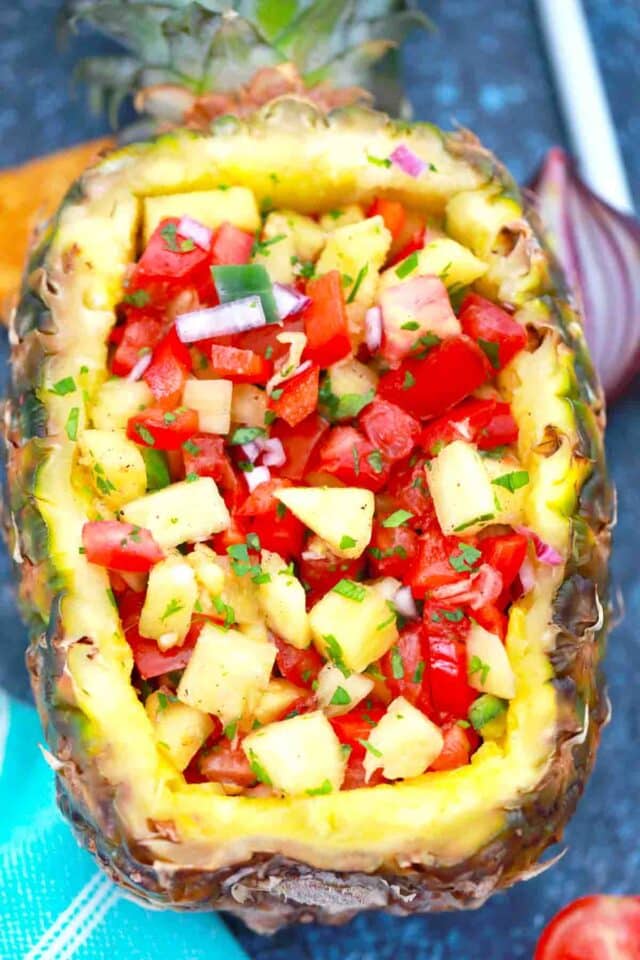 This delicious recipe is not just appetizer cuisine. You can serve it in a stew or soup, use it like a condiment for tacos, or make it into a hearty meal by adding meat to the mix. Make it your own by adding your own ingredients to taste. Instructions are just suggestions. You can add or omit what you like or do not like.
If you love pineapple mango salsa, this pineapple Pico de Gallo recipe is one of our most delicious recipes with sweet fruit, spicy jalapenos, and tangy lime juice. The tropical salsa has a blend of ripe fruit with savory flavors to give you all the flavors you love. It is naturally gluten-free, low in calories, and has a lot of vitamin C as well.
Are you sick of the same old flavor profile of hot wings and guacamole for game day or parties? This new recipe for mango salsa will kick it up a notch. Serve with our firecracker chicken breast made from hoisin sauce, oyster sauce, and black beans or turkey salad you can make in 15 minutes.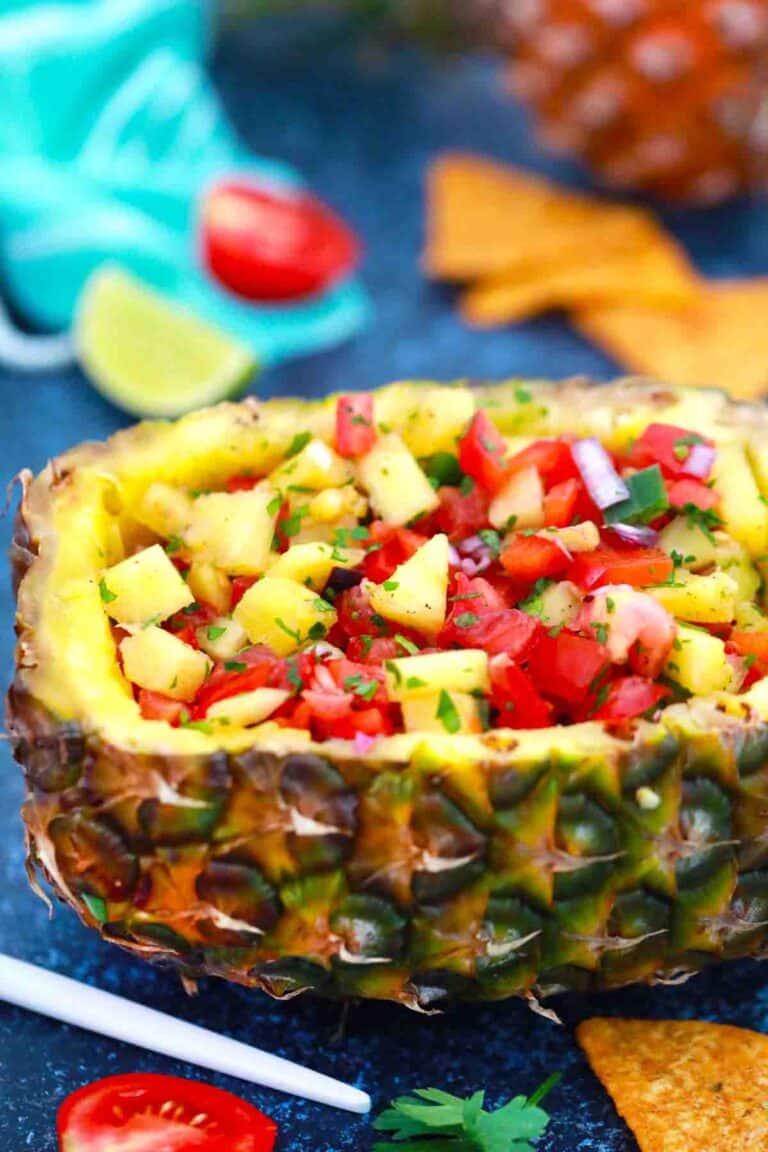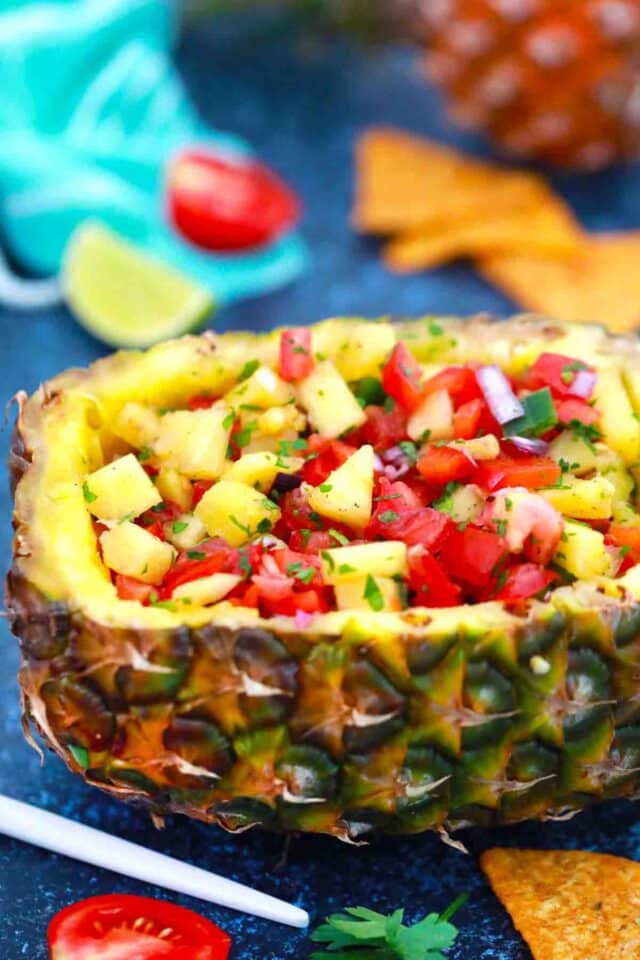 Ingredients needed:
Just gather these ingredients for this easy pineapple mango salsa recipe. When you are ready to prepare, scroll down to the bottom of the page to our get our printable card to put in your recipe box.
Whole pineapple: To use for the bowls.

Fresh mango: Diced.
Fresh pineapple: Diced.
Jalapeno: Diced.
Roma tomatoes: Diced.
Fresh cilantro leaves: Chopped.
Red onion: Very finely diced.

Fresh lime juice: Bottled lime juice is fine too if that is all you have.
Ground black pepper
Kosher salt: To taste.
How to make Pineapple mango salsa recipe?
Make the bowls: First, cut the fresh pineapple in half lengthwise and use a large metal spoon or ice cream scoop to remove all the pineapple flesh until it is empty.

Chopped ingredients: Next, mix together the red onions, cilantro, tomatoes, jalapeno, pineapple, and mango with the remaining ingredients in a medium bowl.

Scoop and serve: Last, scoop the fresh fruit salsa into the two pineapple bowls and serve immediately.

Refrigerate: Be sure to cover the bowls with plastic wrap or aluminum foil and put mango pineapple salsa in the fridge after eating.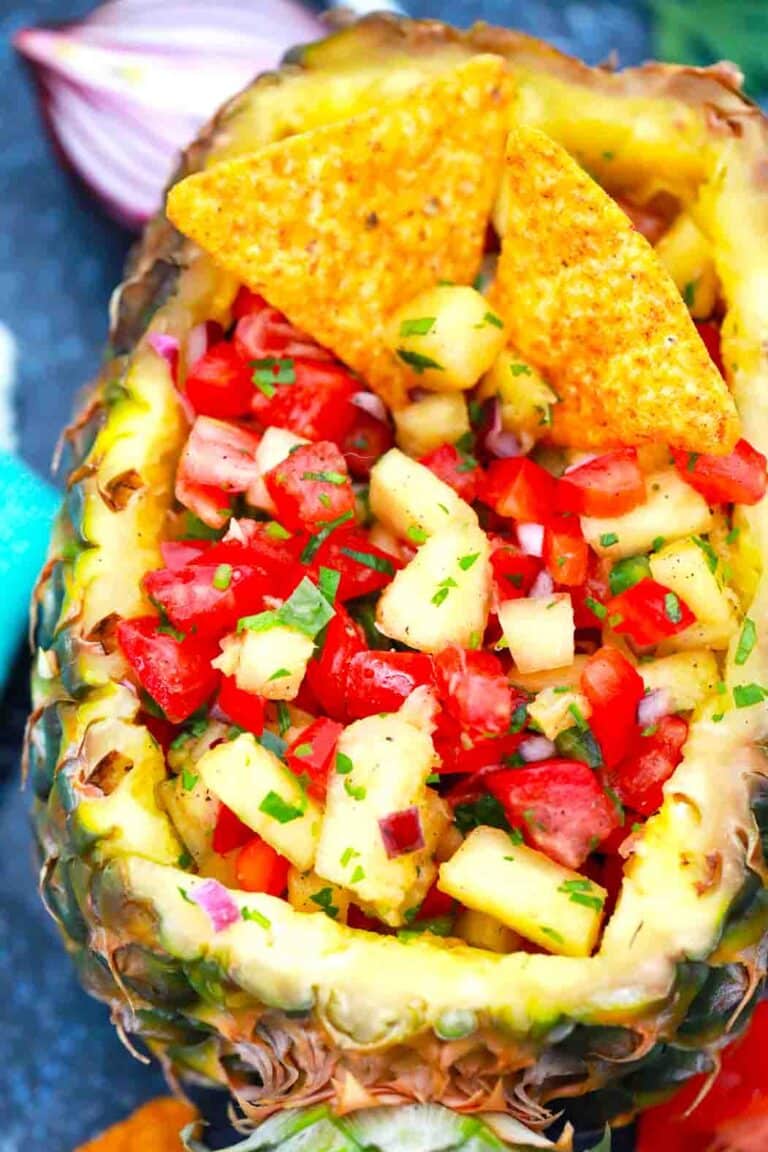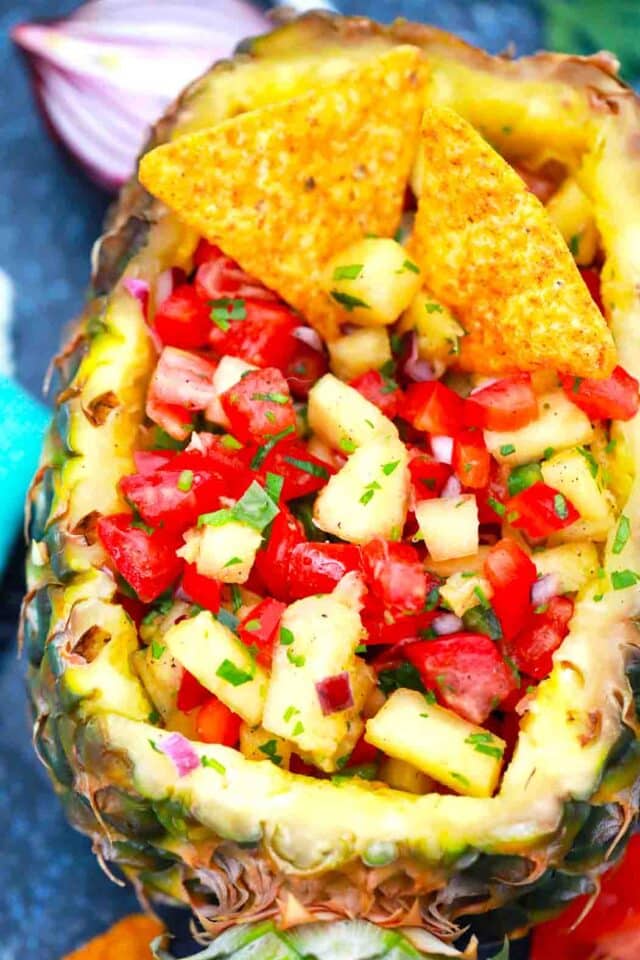 Recipe variations:
More fresh veggies: Feel free to add other fresh veggies like red bell pepper, cucumber, corn, green onion, and black beans.

More fresh fruit: You can also add your own favorite fresh fruits such as strawberries, blueberries, mandarin oranges, and kiwi.

Add bacon: Everyone loves bacon. Add some bacon bits or chopped crispy bacon for extra flavor and crunchiness.
Red pepper: For extra spiciness, add a pinch of red pepper flakes.

Canned pineapple: If you cannot find fresh pineapple at your grocery store, canned will work too.

Other seasonings: Don't be afraid to add your own personal touches like garlic powder, fresh oregano, thyme, basil, smoked paprika, or onion powder.
How to serve:
Serve pineapple mango salsa with tortilla chips or slather it on fish tacos or your favorite burger. It is the perfect summer dish for backyard barbecues, pool parties, and picnics, or just hanging around in the house with the family. Here are some serving ideas you can try:
Flavor with chili powder or taco seasoning just before serving for a boost of spiciness.

Toss in some baked or grilled chicken for a hearty entree.

This mango salsa recipe also goes great on top of a bed of lettuce.

Serve pineapple mango salsa over a scoop of rice or pasta. Try it with our cheesy taco pasta recipe.
This fresh salsa also tastes awesome on top of steaks and burgers.

Use leftover salsa to mix into your favorite recipes like chili or casserole. It would make a delicious addition to our 30-minute chili recipe.

Serve a large bowl of this pineapple mango salsa at your next game day party with chips and hot wings.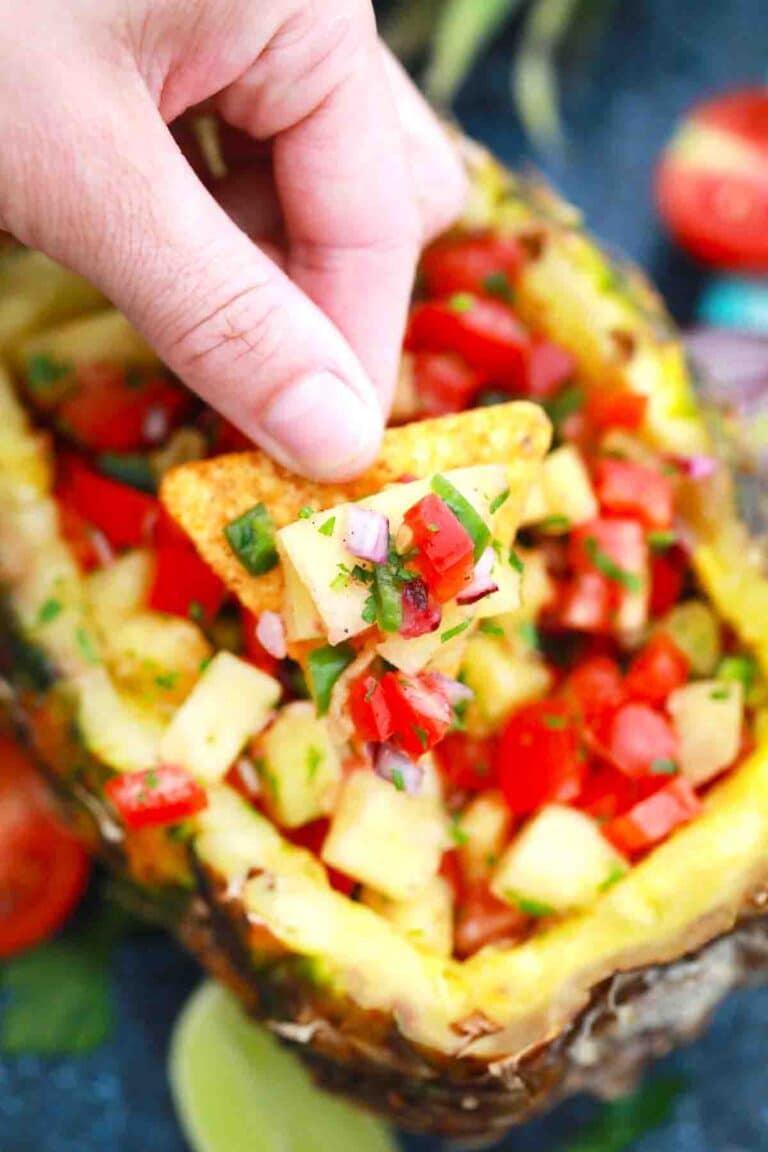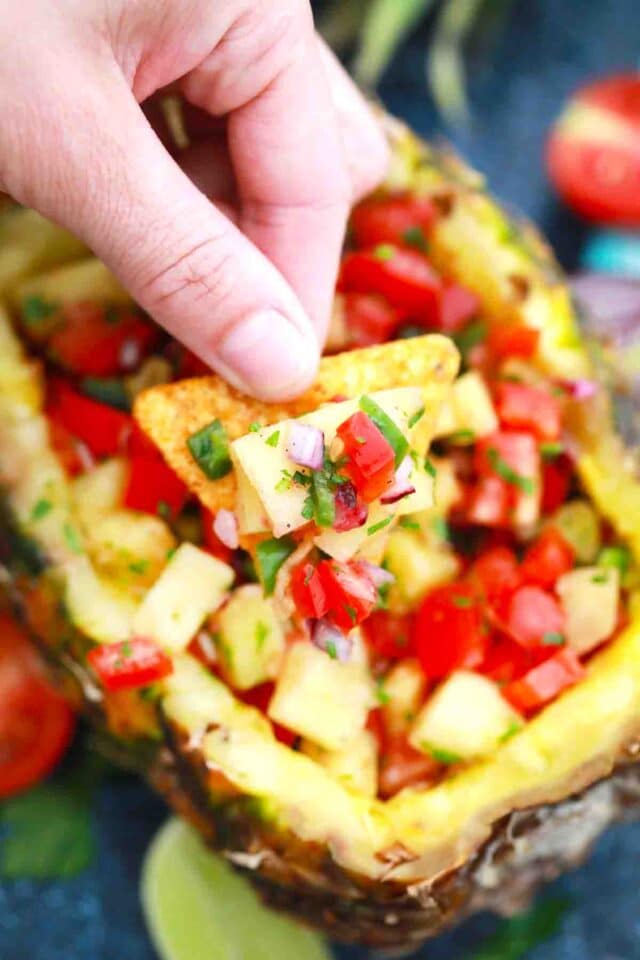 Frequently asked questions
How do I pick the best pineapple?
For a softer and riper pineapple, get one that is mostly yellow but not too soft. It should be firm with a slight give when you try to squeeze it. Also, it will smell fruity at the bottom, or it is probably not ripe. And a bitter smell means it is probably overripe.
How can I pull apart a pineapple like on Tik Tok?
Although it looks easy on the video, many people have tried this and claimed that it is possible but not easy. The main thing is that your pineapple needs to be fully ripe or even overripe, so the pieces are easy to remove. First, cut off the top with a paring knife but follow the pattern of the pineapple.
Then, roll the pineapple on your cutting board back and forth a few times to loosen it up. Now, you should be able to grab a section of pineapple and pull it upwards toward the core. However, sometimes, the first few are hard to get off. Cut those out with a paring knife and it will get easier as you move down toward the middle.
What can I use instead of cilantro?
Believe it or not, approximately 14% of the population does not like the taste of cilantro. In fact, to them, it tastes like soap. But you do not have to worry. There are many great substitutes such as basil, mint, parsley, and chives as well as dill, chives, and green onions.
What is the nutrition, calories, and benefits of pineapple mango salsa?
Each serving of this mango salsa recipe only has about 60 calories. In addition, it only has 15 grams of carbs, just 1 gram of fat with less than 1 gram being saturated fat, and 10 grams of sugar.
The benefits include .1 gram of polyunsaturated fat, .03 grams of monounsaturated fat, 470 units of vitamin A, 55 milligrams of vitamin C, and 25 milligrams of calcium.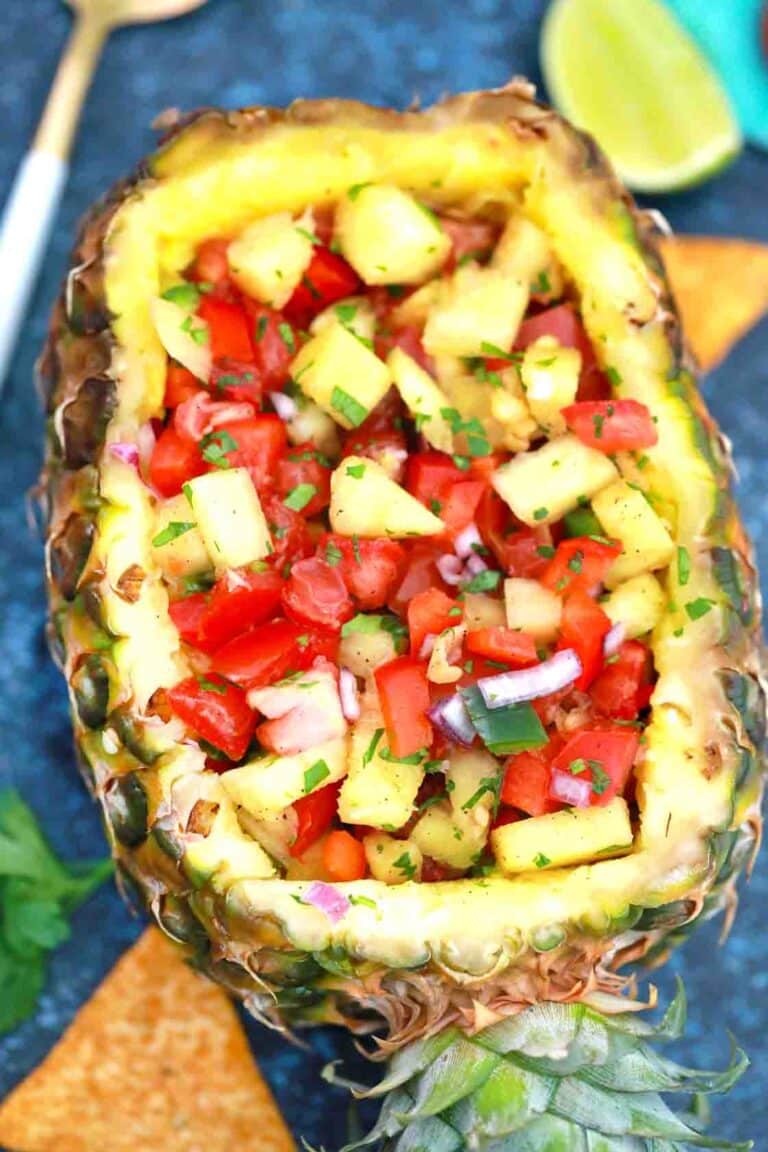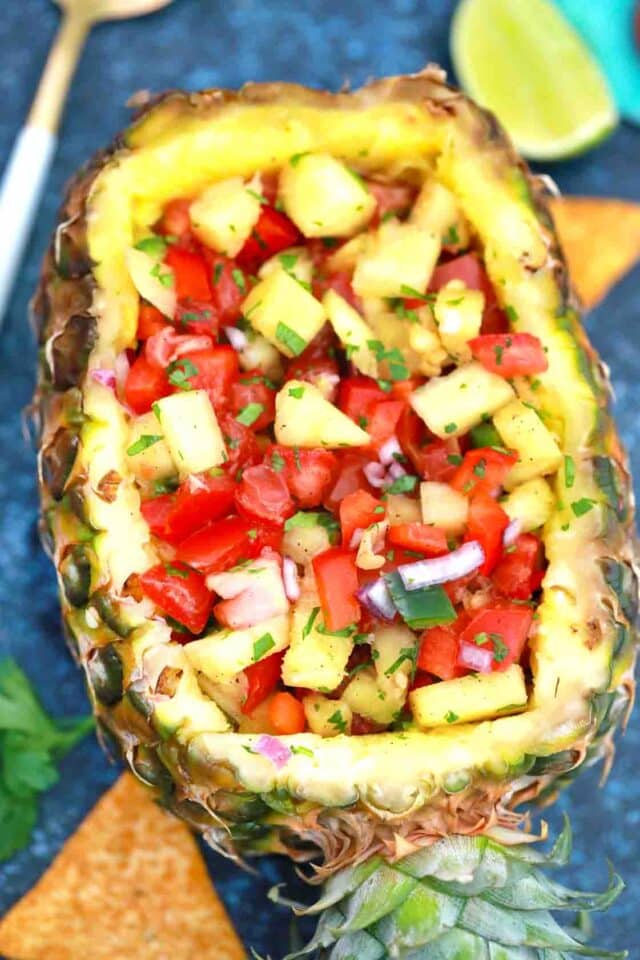 How to store leftovers:
Store: Place leftover salsa in an airtight jar or container in the fridge but eat it within seven days.
Freeze: If you are making extra or have a lot of leftover pineapple mango salsa, put it into a freezer bag and it will keep for about four months in the freezer.

Thaw: Remember to put the salsa in the fridge to thaw overnight before serving.
Reheat: Although this pineapple mango salsa is delicious when served cold or at room temperature, you can heat it up in the microwave for 30 to 60 seconds to eat it warm.
Recipe tips:
Chill the pineapple bowls and salsa first for the best flavor.

Another way to get the best flavor is to use all fresh ingredients. However, if all you have is canned or frozen, it will still taste delicious.

Use a food processor to chop and dice the fruits and veggies to cut down on prep time.

Make sure you remove the seeds from the jalapeno unless you want it to be super spicy.

You should also wear disposable kitchen gloves when handling the jalapeno.
The nutrition information we give on our food blog is not to be used as a professional or medical guide.

After rinsing the mango, drain it in a fine mesh sieve to remove excess water.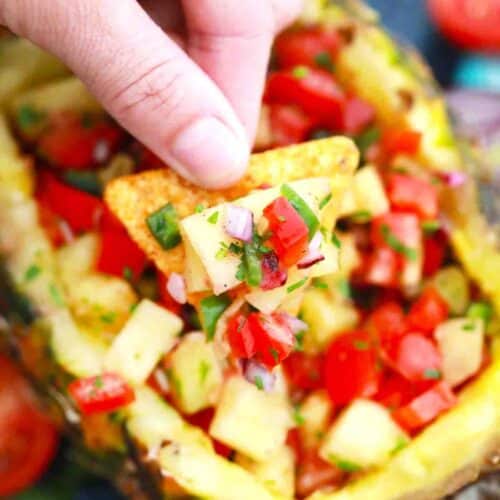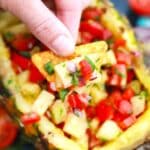 Pineapple Mango Salsa
Pineapple Mango Salsa is sweet and tangy with a little bit of spice and a lot of flavors from the fresh and ripe fruits.
Course:
Appetizer, Salad, Side Dish, Snack
Cuisine:
American, Mexican
Keyword:
Pineapple Mango Salsa
Ingredients
1

whole pineapple

halved - flesh scooped and diced and the halves used as two bowls

1

large mango

diced

1

jalapeno

diced

1

cup

Roma tomatoes

diced

1/3

cup

cilantro

chopped

1/2

medium red onion

very finely diced

4

tablespoons

lime juice

1/8

teaspoon

ground black pepper

salt

to taste
Instructions
Make the pineapple bowl:
Cut the pineapple in half lengthwise, after that use a metal spoon to scoop out the pineapple chunks leaving 1/2 inch border on the sides.
Salsa:
Dice the pineapple flesh and add it to a large bowl.

Add the diced mango, diced tomatoes, diced pepper, onion, chopped cilantro, lime juice, salt, and pepper to the same bowl. Stir to combine and taste and adjust for salt and pepper.

Divide the salsa between pineapple bowls and serve.
Nutrition Facts
Pineapple Mango Salsa
Amount Per Serving
Calories 110
Calories from Fat 4
% Daily Value*
Fat 0.4g1%
Sodium 5mg0%
Potassium 352mg10%
Carbohydrates 28g9%
Protein 2g4%
Vitamin A 880IU18%
Vitamin C 97mg118%
Calcium 32mg3%
Iron 1mg6%
* Percent Daily Values are based on a 2000 calorie diet.