Rotisserie Chicken Tacos Recipe
Rotisserie Chicken Tacos are juicy and packed with bold taco spices, served on toasted tortillas with your choice of toppings. Ready in a flash thanks to a clever shortcut!
30 minutes are all you need to enjoy a homemade Tex-Mex fiesta. Spice up your regular menu with this 30 Minute Chili, Cheesy Fajita Quesadilla, and Chorizo Pasta!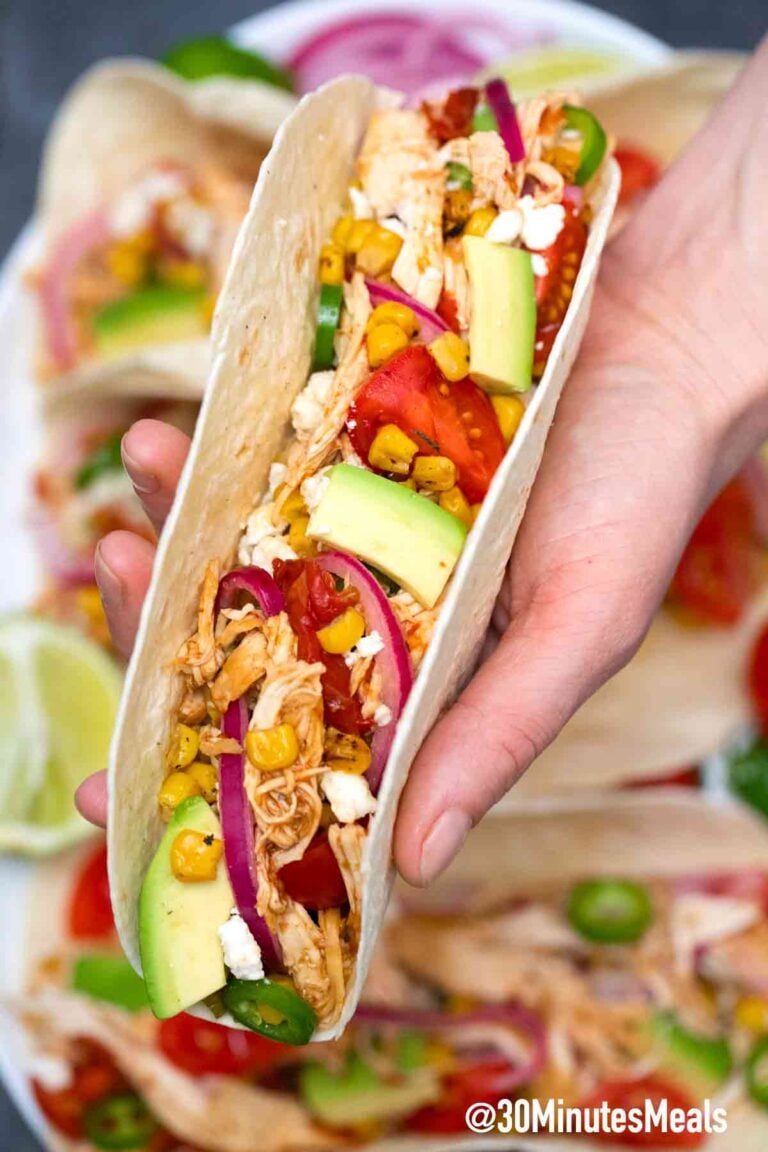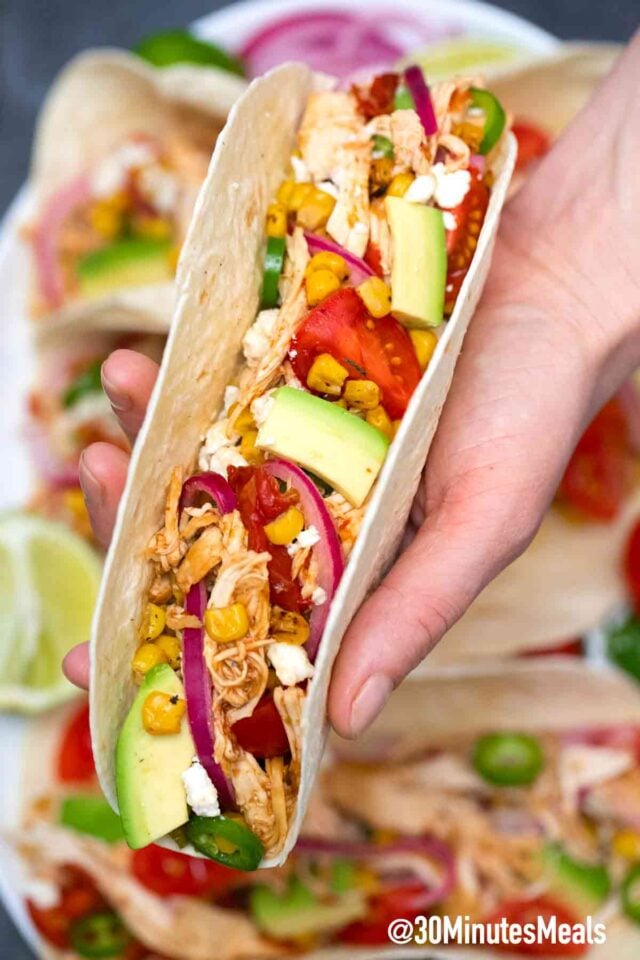 Chicken Tacos
Rotisserie Chicken Tacos are the perfect weeknight meal, game day snack, or potluck pleaser! Nothing tastes better than food made from scratch, but some days, supermarket rotisserie chicken can be a real lifesaver. It's delicious, convenient, and can be repurposed for so many dishes— what's not to love?
And trust me, it's AMAZING in these tacos. Adding spices to that already-flavorful rotisserie meat really takes them to the next level!
Stuff them into some warm tortillas, pile on your favorite toppings, spritz with lime, and let the feast begin!
Is rotisserie chicken healthy?
Yes, much healthier compared to other preparations like frying or smothering with cheese. It's loaded with protein and essential minerals like Vitamin A and iron. You can also remove the skin to reduce the fat.
It also matters what you serve with it. Enjoying it with some mac and cheese and mashed potatoes is comfort food heaven, but also packs on the calories and carbs. Serving it with some sauteed cabbage or salad gives you a more balanced meal.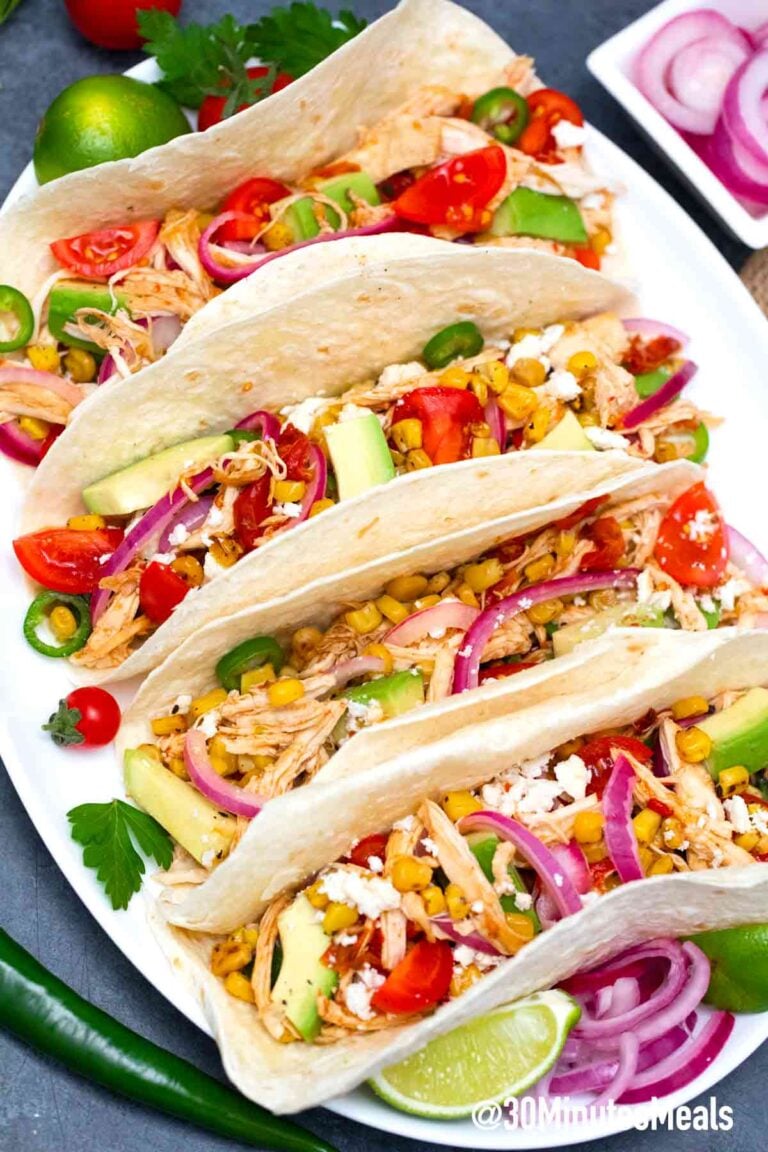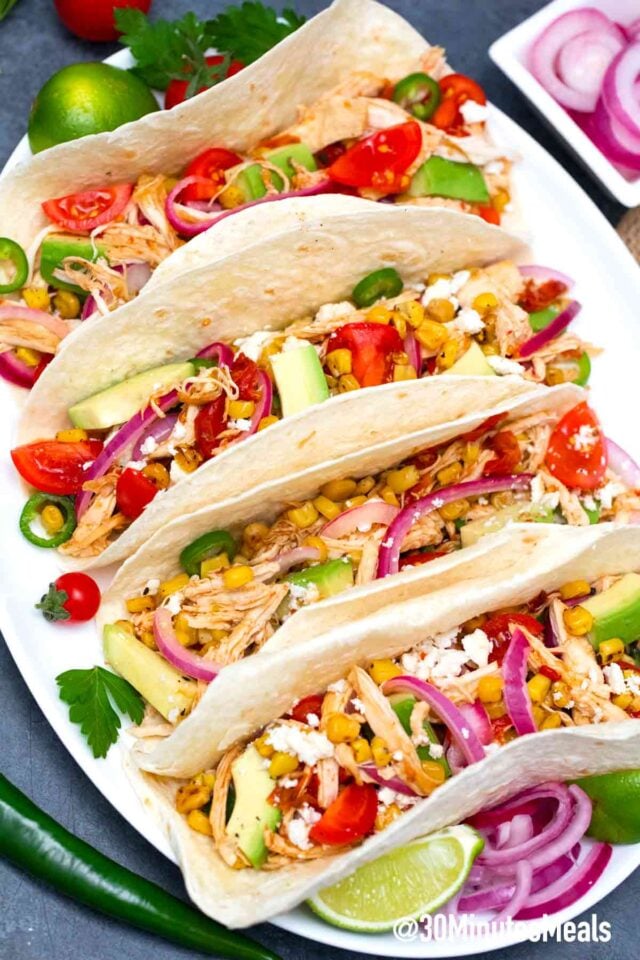 How do you shred a rotisserie chicken?
Separate the meat from the bone. Those bones make fantastic stock, so don't throw them away!
You can use two forks to break them up manually, use a hand mixer, or if you're shredding a big batch, a stand mixer.
How long is a rotisserie chicken good for?
In the fridge, inside a tightly-sealed container, it will stay fresh for up to 4 days. But the earlier you consume it, the better! You can also freeze for up to a month.
How do you make

Rotisserie Chicken Tacos

?
Prepare

. Measure and stir the spices together. Shred the meat.

Sauté

. Cook the spices for a minute in hot oil, then add the meat with a splash of water. Toss to coat, then pour salsa and stir.

Serve

. Enjoy them your way! Spoon on warm tortillas with toppings, or serve taco-bar style and let everyone make their own.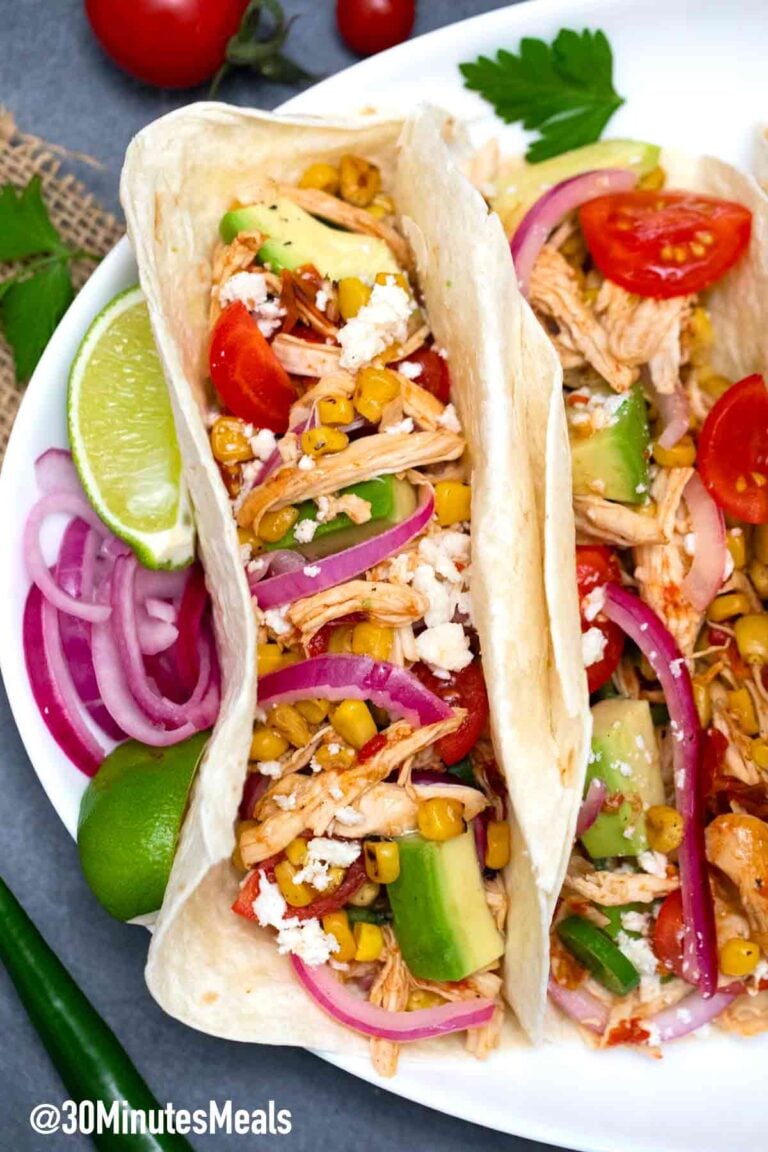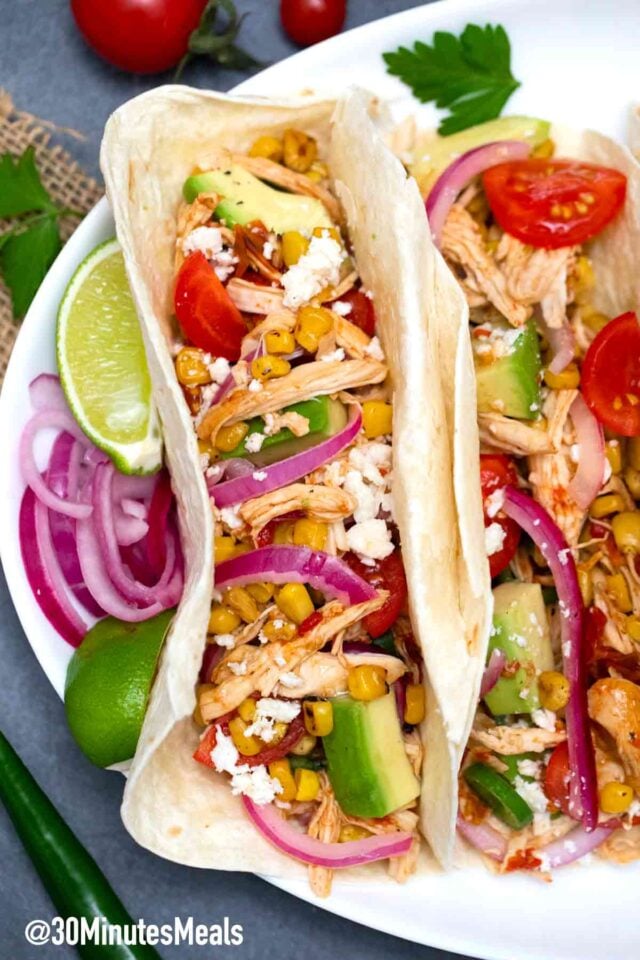 Recipe Variations:
Use poached, boneless breasts

: Shred the poached meat, then continue with the recipe. A lighter take on this dish!

Make it spicier

: Add some sliced jalapenos, more cayenne, and use extra hot salsa.

Try this with deli roast beef

: This will also work with store-bought, shredded roast beef.
Can I season already cooked chicken?
Yes, that's exactly what we do in this recipe! Some great ways are tossing them in a spice mix like we do here or stirring the meat into your favorite sauces like marinara or alfredo.
How to reheat rotisserie chicken meat?
In the oven, whole

: Roast for 25 minutes with a cup of broth.

In the microwave, sliced

: Debone and cut into pieces. Microwave for 2 minutes with a damp paper towel on top to avoid drying it out.

In the air-fryer, whole or sliced

: Air fry at 350F for about 4 minutes until hot.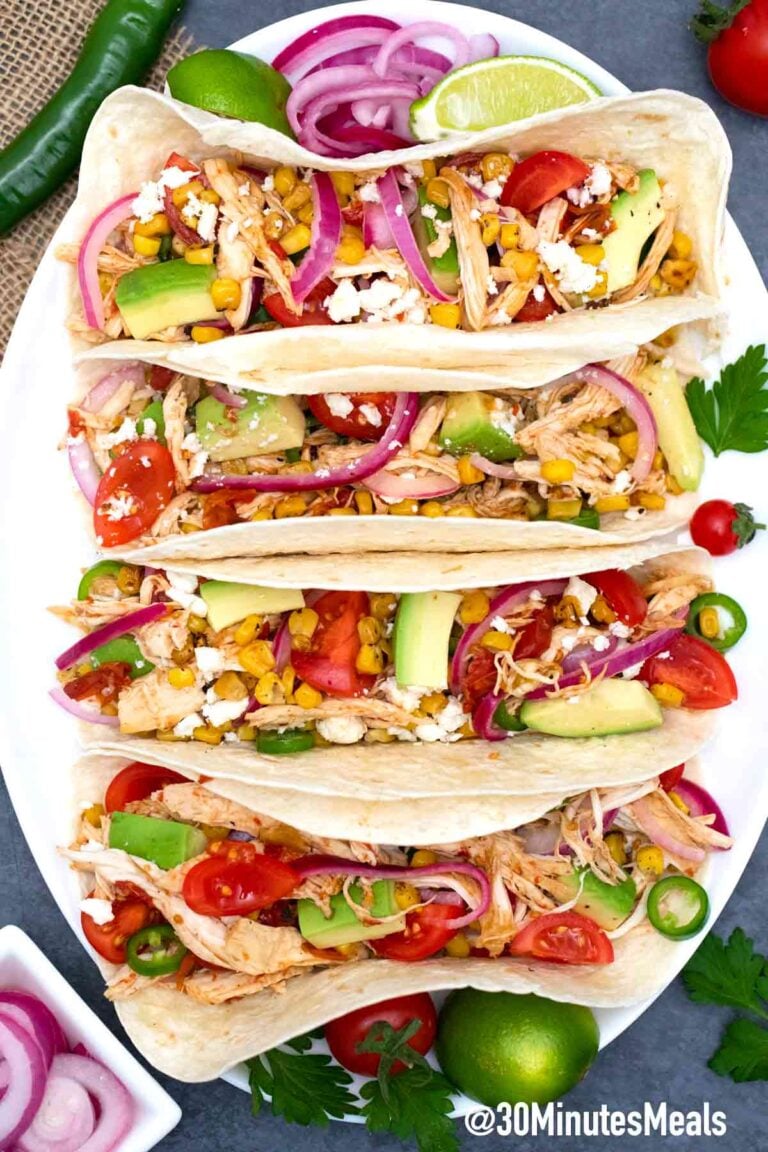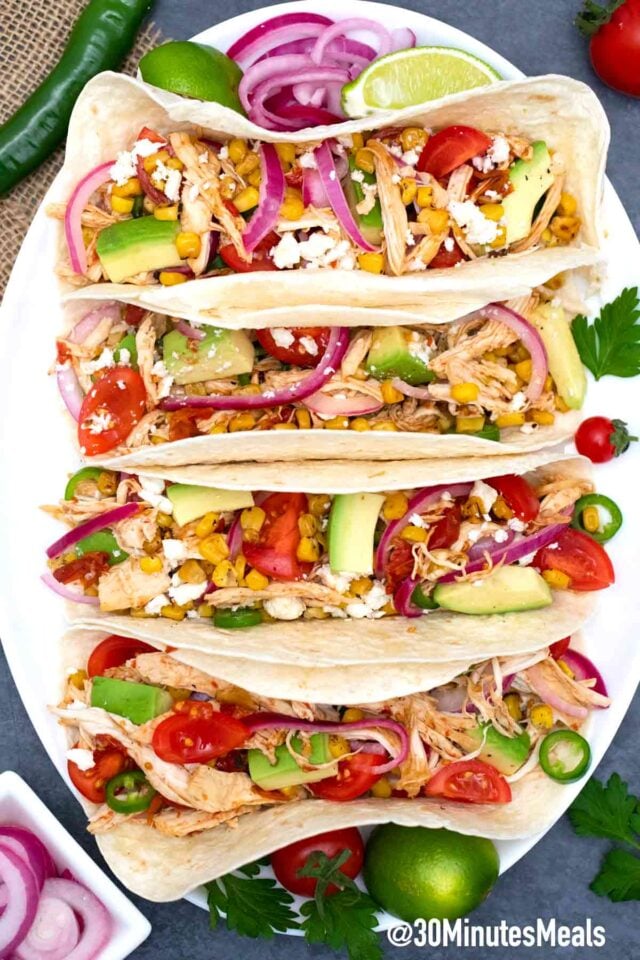 How can I make my rotisserie chicken more flavorful?
Aside from sautéing it in your favorite spice blend, you can also use it in place of regular chicken in many recipes. Try it in this Cajun Chicken Alfredo Pasta, One Pot Chicken Fajita Pasta, and Chicken Waldorf Salad.
Rotisserie Chicken Tacos Toppings:
Can't enjoy these tacos without some classic salsa or mango salsa for a sweet twist! Don't forget the guacamole, sour cream, diced red onions, cilantro, Mexican rice, cheese, fresh tomatoes, refried beans, and lettuce. Yum!
How to store:
Cool down the taco meat, and transfer to a tightly-sealed, air tight container. Place in the coldest part of the fridge and consume within 3 days. Reheat in the microwave until hot.
What to serve with:
Aside from your favorite toppings, it's also really good with Grilled Chicken Fajita Salad and a bowl of Taco Dip with corn chips. Whip up a pitcher of this coconut-cranberry White Margarita while you're at it!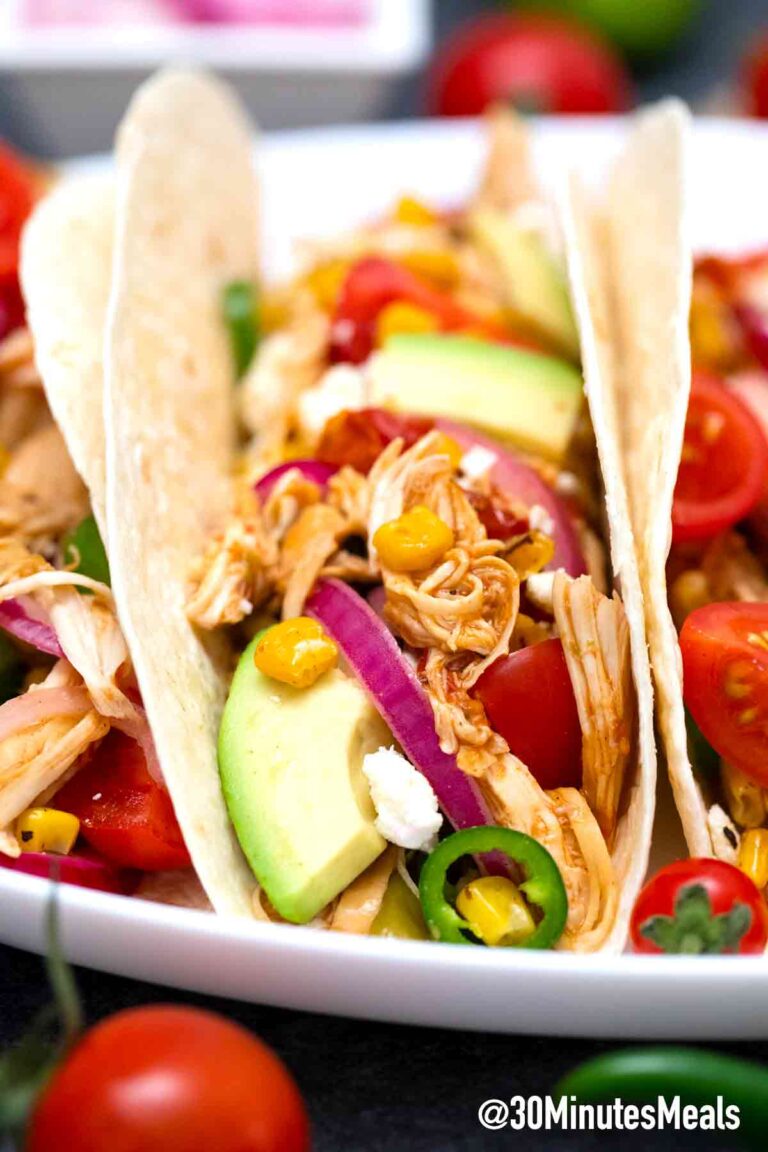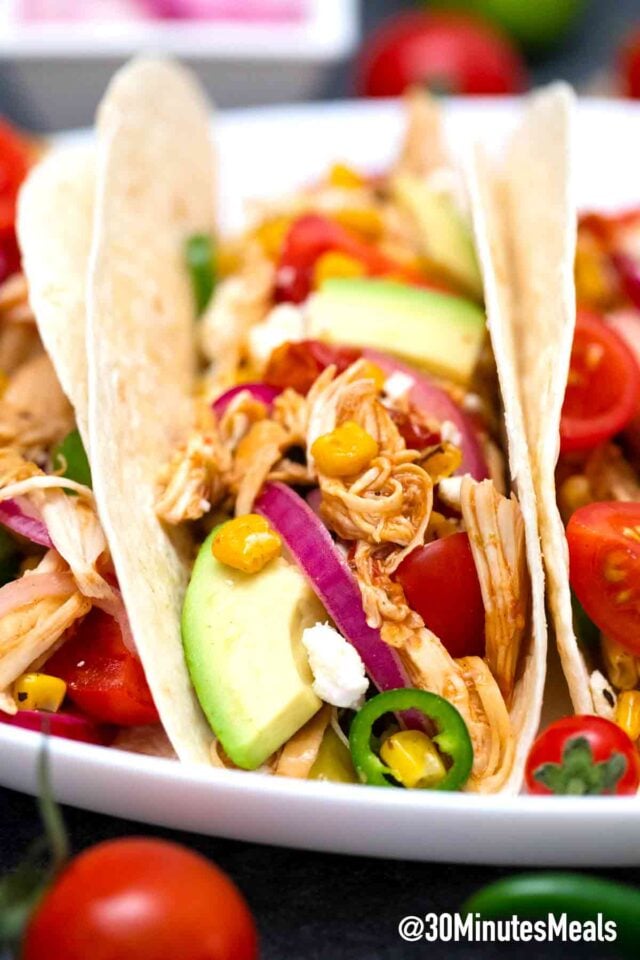 More Easy Chicken Recipes:
Recipe Tips:
Halve the recipe if you want to use white meat only.

Shred the meat right after you get home, because it's easier to do so while it's still warm.

You can use store-bought taco seasoning to save even more time!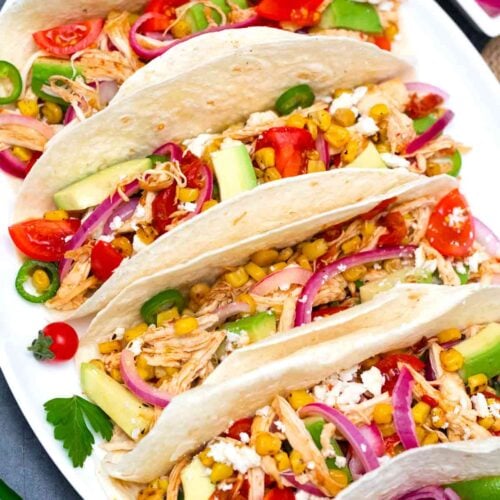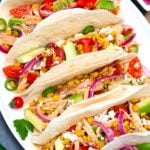 Rotisserie Chicken Tacos
RotisserieChicken Tacos are juicy and packed with bold taco spices, served ontoasted tortillas with your choice of toppings. Ready in a flashthanks to a clever shortcut!
Ingredients
2

tablespoons

extra virgin olive oil

3

cloves

garlic

minced

1 1/2

tablespoon

taco seasoning

1/2

teaspoon

onion powder

1/2

teaspoon

kosher salt

1/4

teaspoon

ground black pepper

4

cups

1 pound shredded rotisserie chicken without the skin

1/2

cup

salsa

10-12

warm tortillas

corn or flour
Toppings:
jalapeños

avocado

cilantro

shredded red cabbage

corn

sour cream

fresh squeezed lime juice
Instructions
In a large heavy-bottom saucepan over medium-low heat, heat the olive oil.

Add the garlic and cook for 1 minute, then add the taco seasoning, onion powder, salt and pepper, stir to combine.

Add the shredded chicken and stir to coat with the spice mixture. If needed, add 2-3 tablespoons of water.

Remove from the heat and stir in the salsa.

Serve tacos on warm tortillas with your favorite toppings!
Nutrition Facts
Rotisserie Chicken Tacos
Amount Per Serving
Calories 170
Calories from Fat 54
% Daily Value*
Fat 6g9%
Cholesterol 42mg14%
Sodium 529mg23%
Potassium 210mg6%
Carbohydrates 14g5%
Protein 16g32%
Vitamin A 90IU2%
Vitamin C 1mg1%
Calcium 38mg4%
Iron 1mg6%
* Percent Daily Values are based on a 2000 calorie diet.