Baked Garlic Lemon Chicken Breasts Recipe
Baked Garlic Lemon Chicken Breasts are super juicy and tender, and they are easy to bake in under 30 minutes. The bold taste of garlic is perfectly combined with lemon and Italian herbs for amazingly flavorful meat with just a few ingredients. Marinating the meat overnight can make it even tastier.
This simple dish is done in about 15 minutes and is a perfect weeknight meal for the family. For those who do not like garlic, try this simple Baked Lemon Thyme Chicken recipe. And if it is too hot to turn on the oven, use this Easy Honey Lemon Garlic Chicken recipe or One Pan Lemon Thyme Chicken.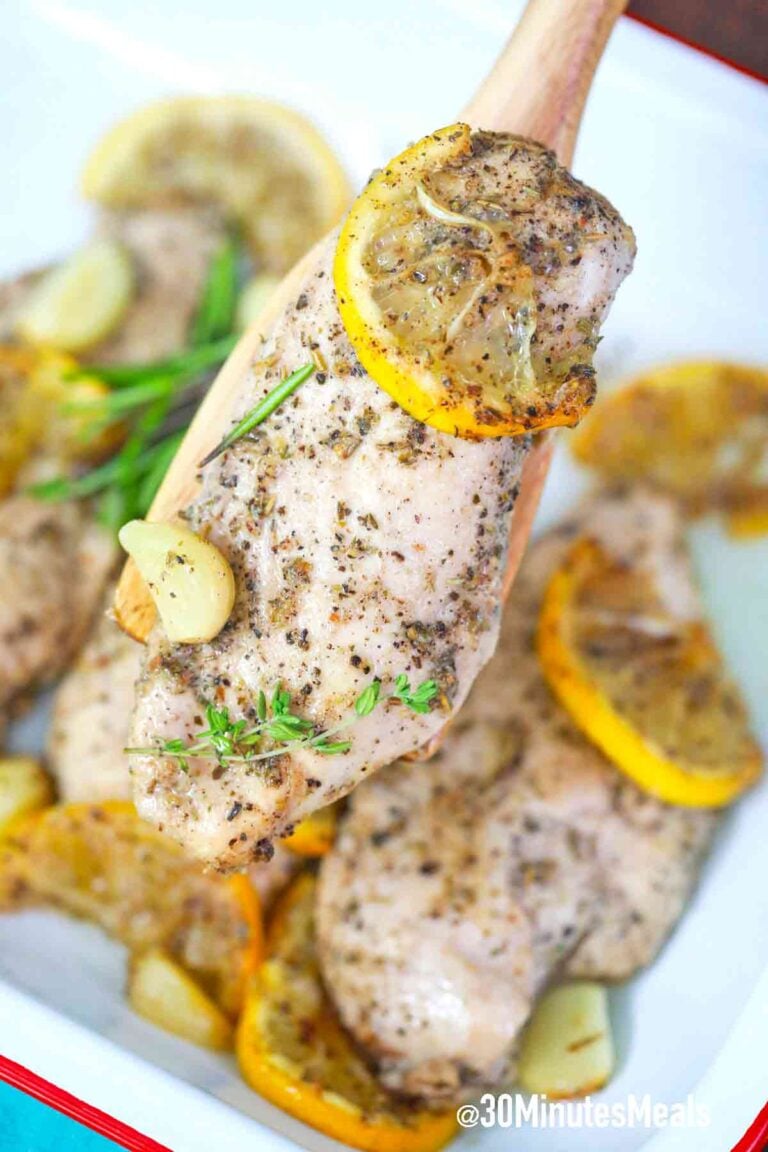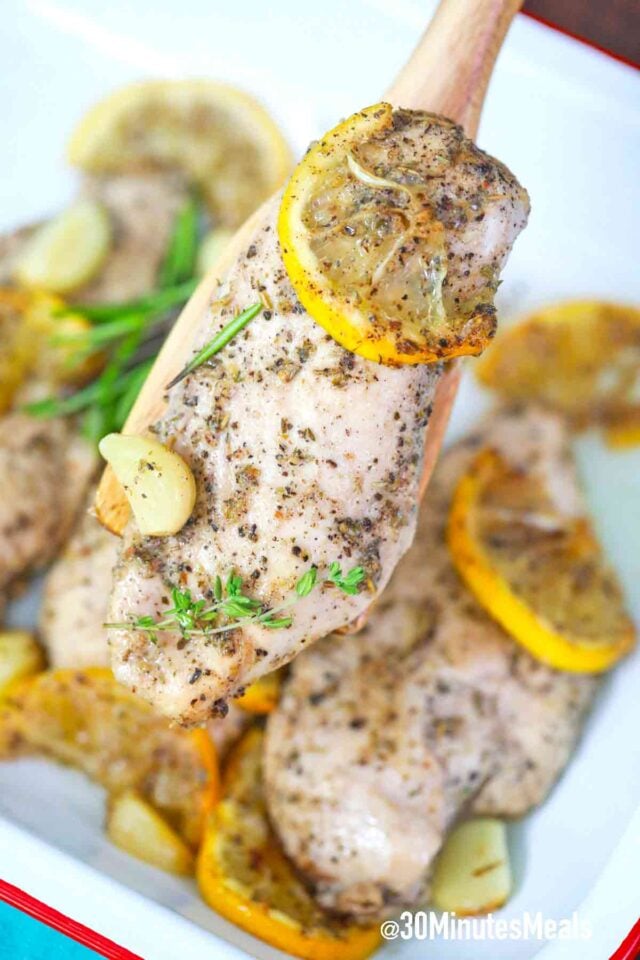 Baked chicken breasts
recipe
Whether you are using this as a meal or snack, the moist and tender meat goes perfectly with just about anything. Or you can use the meat for sandwiches, salads, or a pot pie or casserole. Whichever way you choose to cook it, it will be done in less than a half-hour.
Another bonus to this delicious chicken meal is that it is very inexpensive and made with simple ingredients. Roast chicken is one of the most inexpensive meats to cook and with its mild flavor. Also, it absorbs whatever you put on it whether it is garlic and lemon or spicy buffalo sauce.
Forget about flavorless chicken or dry chicken with this tangy marinade, that will keep it moist and juicy. The whole family loves this baked lemon chicken recipe, and the leftovers are so delicious. Therefore, you can use them on salads, to make sandwiches or tu stuff wraps.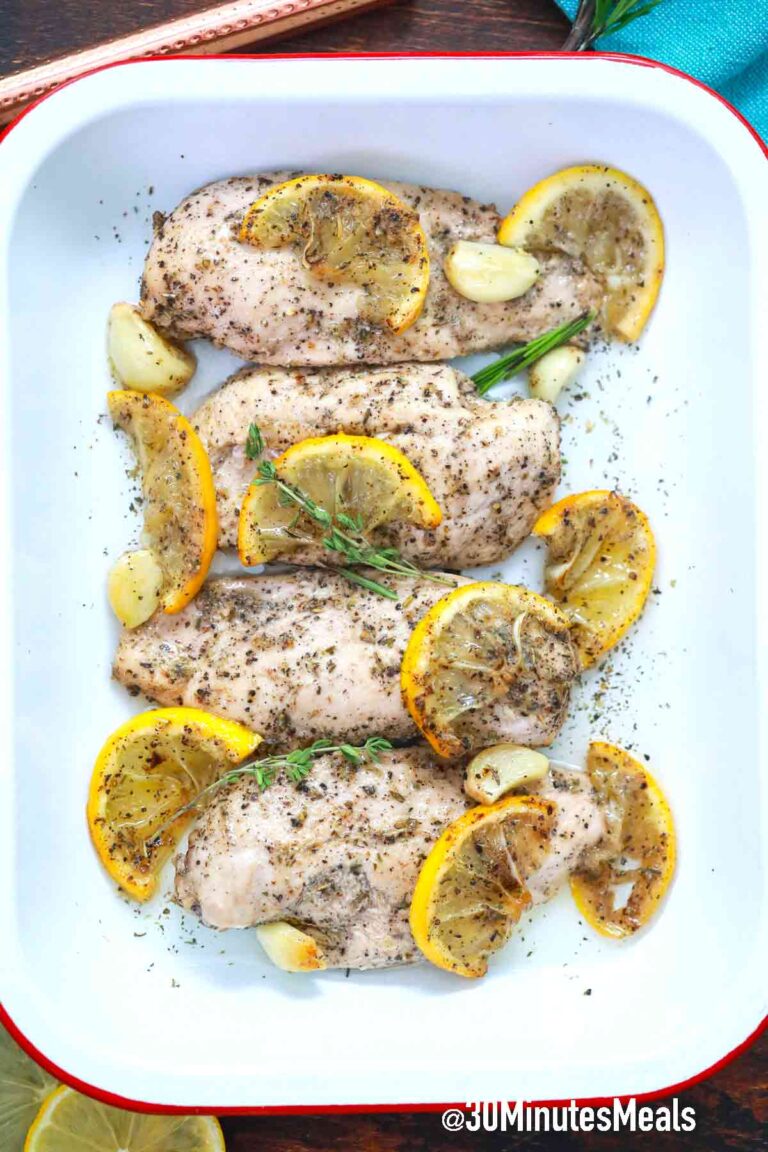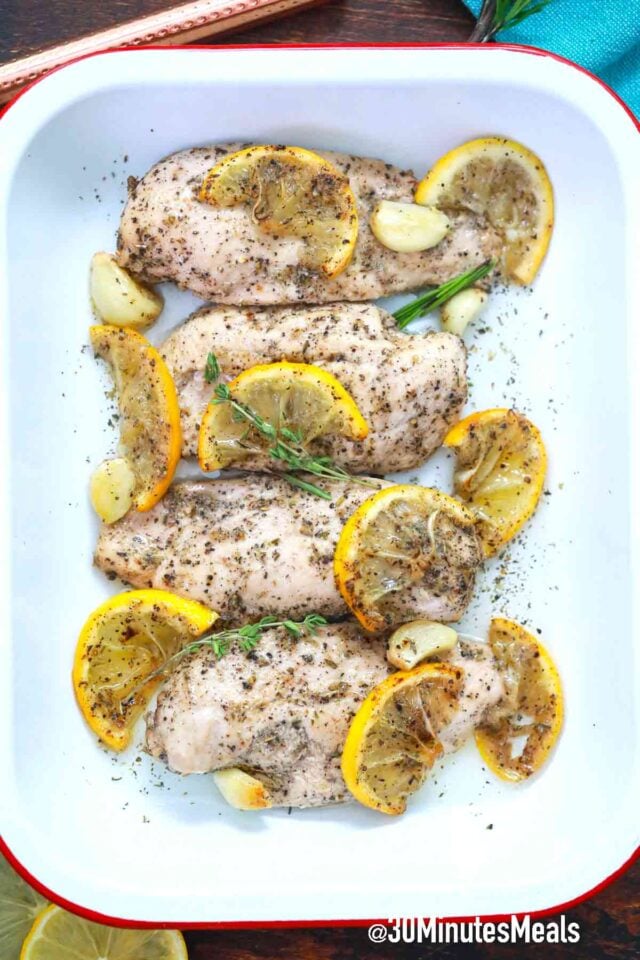 Ingredients needed:
The lemon and garlic flavors mixed with the Italian herbs make this a family favorite. For the exact ingredients and measurements, scroll down to our handy recipe card. But here are the main ingredients the recipe calls for:
Chicken breasts: We used boneless skinless breasts, but you can use what you want.

Olive oil: Or use butter.

Seasoning: The Italian herbs we use include sage, basil, oregano, thyme, garlic powder, and rosemary.
Garlic cloves: With or without the peel.
Lemon juice: Freshly squeezed or store-bought. Use fresh lemon and lemon zest for extra flavor.
Lemon slices: Sliced into rounds.
Salt and Black Pepper: Seasoned to taste.
How to make baked garlic lemon chicken breasts from scratch?
Quick Marinade: At least 30 minutes prior to cooking (or overnight), add all the ingredients into a plastic bag or small bowl with the chicken. Make sure it is completely covered and let it sit in the juices in the fridge.
Preheat: Then, preheat the oven to 400 degrees F. Note: It can also be baked at 350 degrees F but add five to eight minutes to the cooking time.

Add: Meanwhile, transfer meat and part of the lemon mixture to the bottom of the pan that is sprayed with cooking oil or covered in aluminum foil.

Bake: Next, bake the breasts uncovered, flipping several times until the internal temperature reaches 165 degrees F. Baking time usually takes about 25 to 30 minutes depending on the size of the breasts.

Rest: Finally, remove the chicken from the oven and let the chicken rest for 10 minutes before you cut it. Discard the marinade before serving.
Recipe variations:
Use dark meat: Try using chicken thighs or legs for a dark meat flavor.

Also, you can cook rotisserie chicken using the same marinade recipe.

Try different meat: Another choice is to use turkey, duck, or pork.
Heat it up: Alternatively, add some jalapenos or cayenne pepper for some spiciness.

Dijon: Add some Dijon mustard to the breasts before baking.
Other spices: Don't forget, you can also use onion powder or other spices to the marinade for more flavors.

Sweeten it up: Alternatively, add some honey or brown sugar for a sweeter taste.
Wine: Add a splash of white wine with fresh herbs.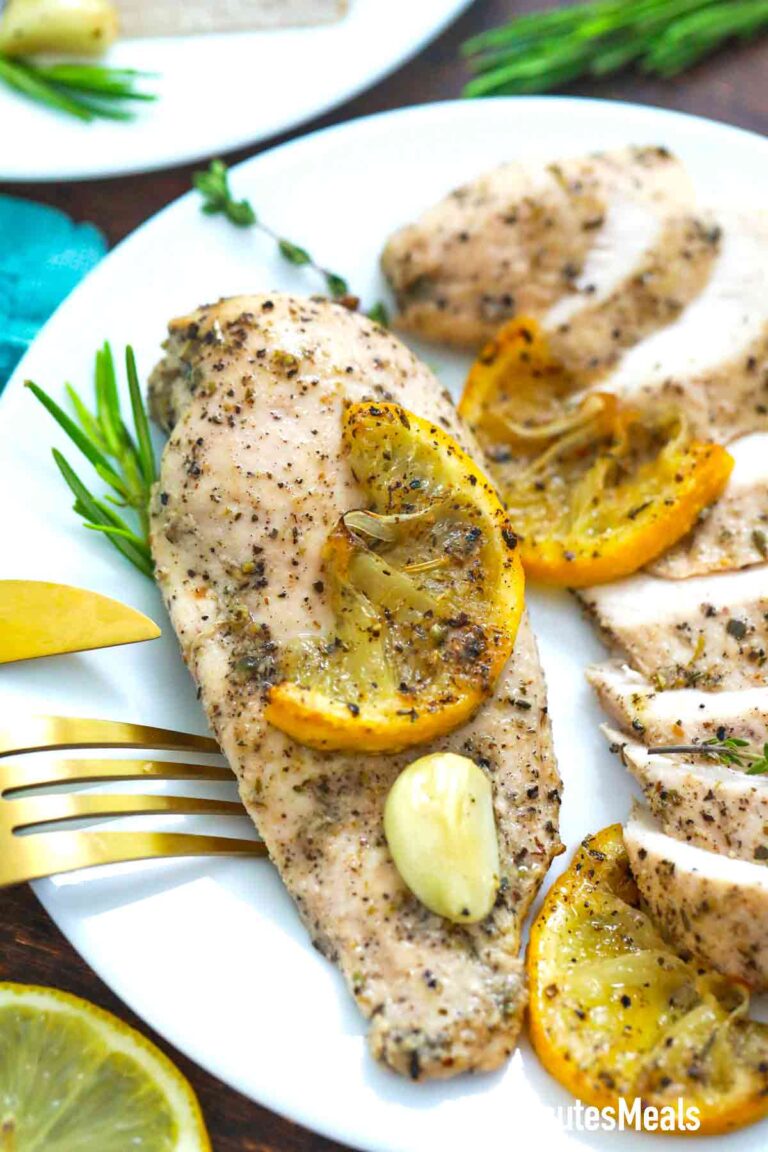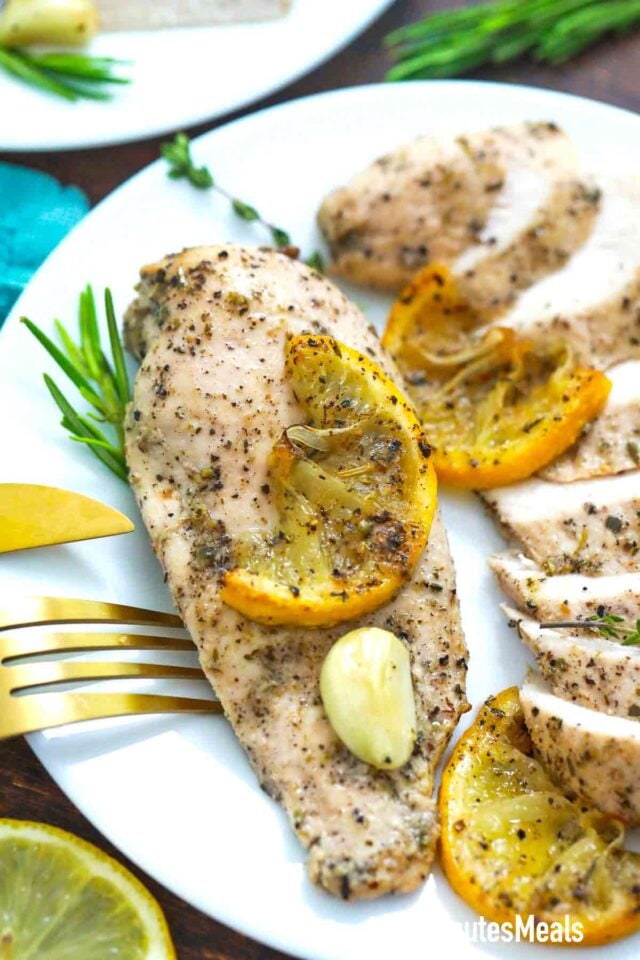 How to serve:
To serve, add to a bed of rice or noodles or choose a side dish to go with it. Here are some ideas:
How to store leftovers:
Store: After cooling completely, wrap the leftovers in plastic wrap and foil or put them in an airtight container. They will stay good for about three or four days.
Freeze: Also, you can freeze the leftovers in the same manner, and they can be stored for about three months.

Reheat: To reheat, cook it at 425 degrees F for about 20 minutes or until the temperature is 160 degrees F.
Frequently asked questions
How do you keep chicken breast from drying out in the oven?
Many cooks think you need to add water to your chicken breast when you bake it to keep it moist but just the opposite is true. The water actually makes the chicken bake hotter than it should because water transfers the heat better than air.
One way to keep the meat moist is to sear the chicken in oil before baking it. Also, make sure you do not overcook it. Since chicken should be 165 degrees F when done, take it out when it is 160 degrees F because it will rise an extra five degrees after it comes out.
Another way to prevent drying is to let it rest in aluminum foil for at least five minutes before you serve it. That way the juices are allowed to spread through the meat, so it does not leak out as much when you cut it. Other ideas are to soak it in milk, bake it in parchment paper, or cook it in a covered saucepan instead.
Can I cook a chicken at 200 degrees F?
Slow cooking is a popular way to cook chicken because it gives you moist and tender meat. However, you will have to cook it longer than you would at a higher temperature. Just put it in a roasting pan and bake it for two to three hours, depending on the size. Make sure the chicken is at room temperature before you put it in the oven.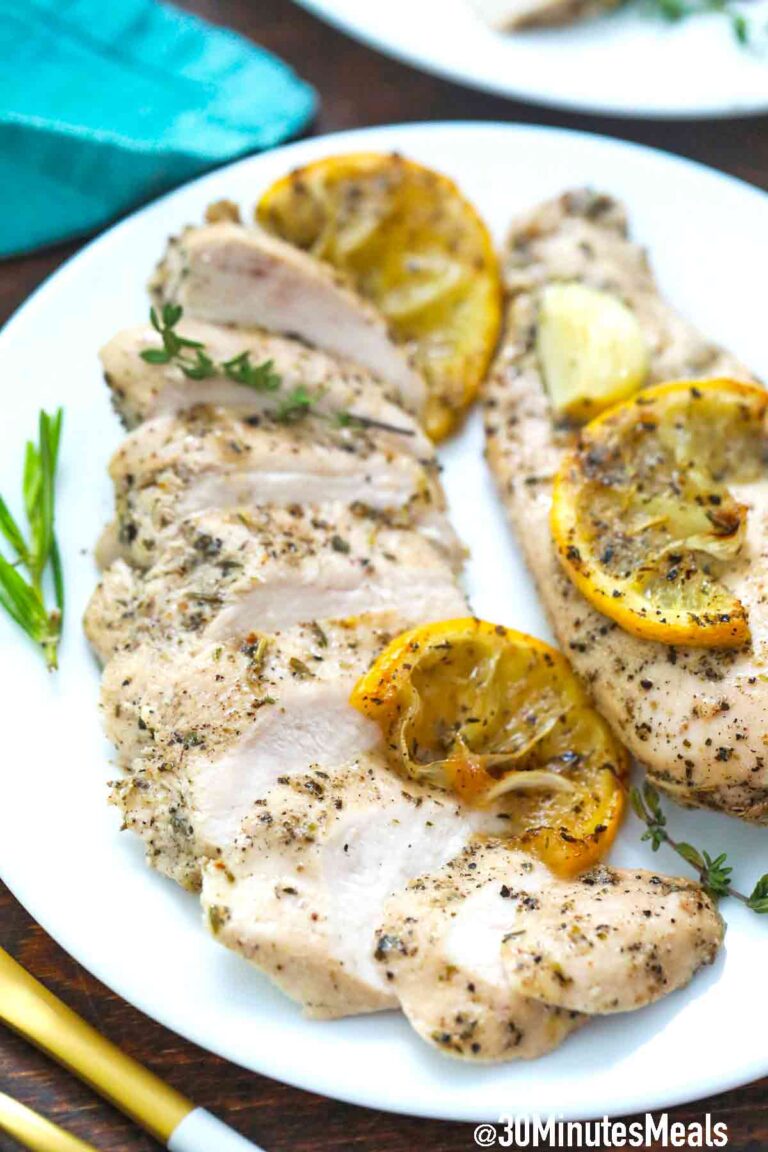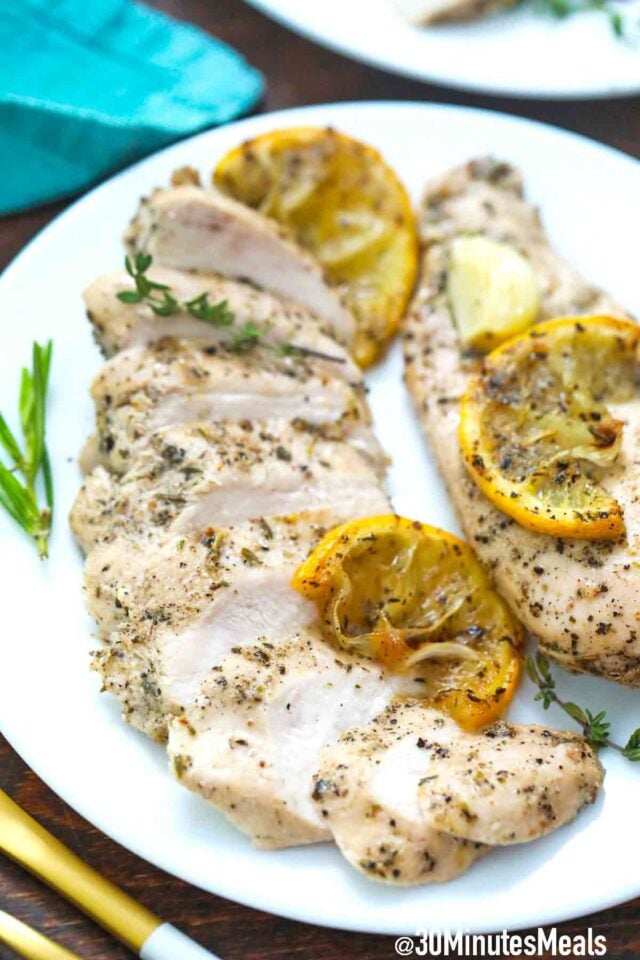 What is spatchcocking?
Spatchcocking a chicken is a way to flatten out a whole chicken, so it cooks faster or in a different way. All you have to do is flip it over and cut the backbone out. Then, flip it back over and push it down until it cracks and lies flat. With this method, you can cook it faster, so it does not dry out as much, or cook it in the skillet or on the barbecue.
Recipe tips:
Using frozen poultry is fine too but make sure it is completely thawed out before using.

It can also be cooked loosely covered with foil if they are getting too brown.

Be sure not to overcook the baked garlic lemon chicken breasts or they will be dry.
You do not have to use skinless and boneless chicken breast. You can leave the skin on and bones in.

Keep the pan juices and baste the meat right before serving.

Make sure to use a digital meat thermometer to measure the temperature in the thickest part of the breast.
Use a large baking dish and double this easy recipe.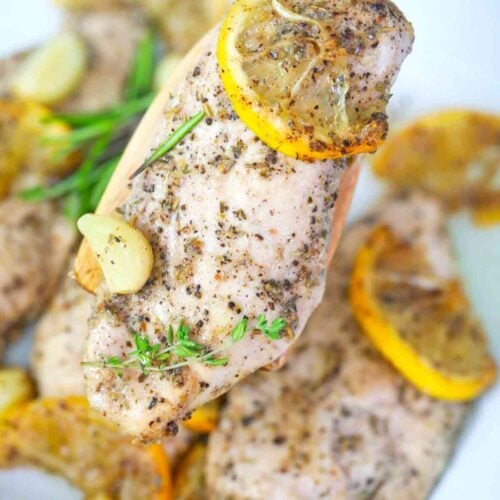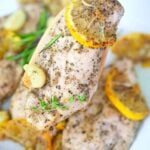 Baked Garlic Lemon Chicken Breasts
Baked Garlic Lemon Chicken Breasts are super juicy and tender, and they are easy to bake in under 30 minutes with fresh lemon and garlic.
Keyword:
Baked Chicken Breast, Baked Garlic Lemon Chicken Breasts, Lemon Chicken Breast
Ingredients
4

chicken breasts

boneless and skinless

1/4

cup

extra virgin olive oil

8

cloves

garlic

smashed

1

tablespoon

garlic powder

1

lemon

sliced into rounds

3

tablespoons

lemon juice

1

teaspoon

Italian Herbs

1

teaspoon

kosher salt

1/4

teaspoon

ground black pepper
Instructions
Add all the ingredients to a large bowl or plastic bag, and stir to combine.

Add the chicken and toss covering it in the marinade.

Let sit for at least 30 minutes, or overnight to marinate in the fridge.

Preheat oven to 400 degrees Fahrenheit.

Lightly grease a baking dish.

Add chicken in one layer and part of the marinade to the baking dish.

Bake it for about 20 minutes in the preheated oven, flipping it once and basting it with the sauce. The chicken is ready when it reaches 165 degrees in the thickest part of the breast.

Remove the chicken from the oven and let it rest for 10 minutes before slicing and serving it.
Nutrition Facts
Baked Garlic Lemon Chicken Breasts
Amount Per Serving
Calories 404
Calories from Fat 180
% Daily Value*
Fat 20g31%
Cholesterol 145mg48%
Sodium 847mg37%
Potassium 941mg27%
Carbohydrates 7g2%
Protein 49g98%
Vitamin A 84IU2%
Vitamin C 23mg28%
Calcium 40mg4%
Iron 2mg11%
* Percent Daily Values are based on a 2000 calorie diet.