Raspberry muffins are absolutely delicious made with fresh or frozen raspberries and lemon zest topped with lemon glaze. Add some fresh raspberries to the top for more juiciness and serve with ice cream or alone for a dessert or snack.
Another great recipe for dessert is this Snickerdoodle Muffins recipe made with cinnamon sugar and sour cream. Or try our other muffin recipes like this unique Meatloaf Muffins recipe for a main meal with ground turkey, tomato sauce, and Worcestershire sauce.
Looking for some healthy recipes to try? Our grilled corn with blue cheese and smoked paprika is perfect and these no-bake granola bars are scrumptious and made with peanut butter, Rice Krispies, and maple syrup.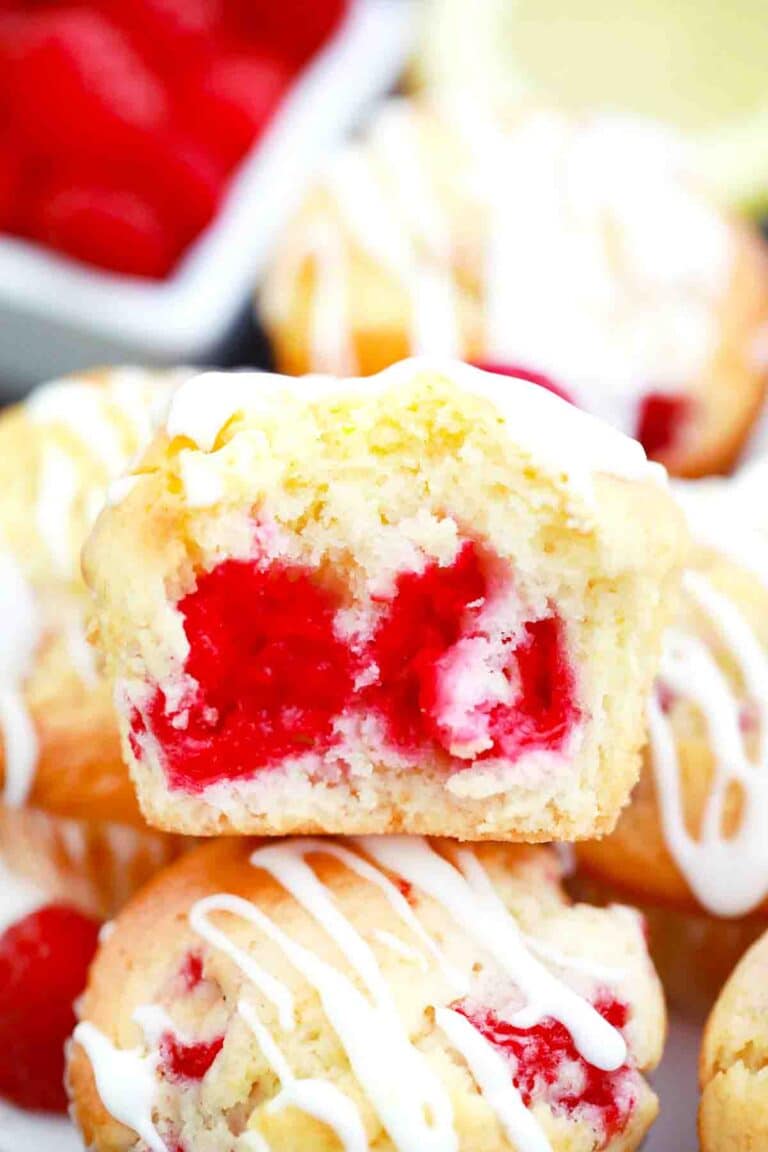 Done in less than 30 minutes with barely any prep time, these muffins are great whether you use frozen berries or fresh berries. No matter what kind of berries you use, muffins taste great either way.
You can change the recipe as you like using different zests or extracts as well as berries and other fruit. Turn it into a raspberry cake or bars, make it into a raspberry bread, or turn it into whatever you want it to be. Either way, they taste great.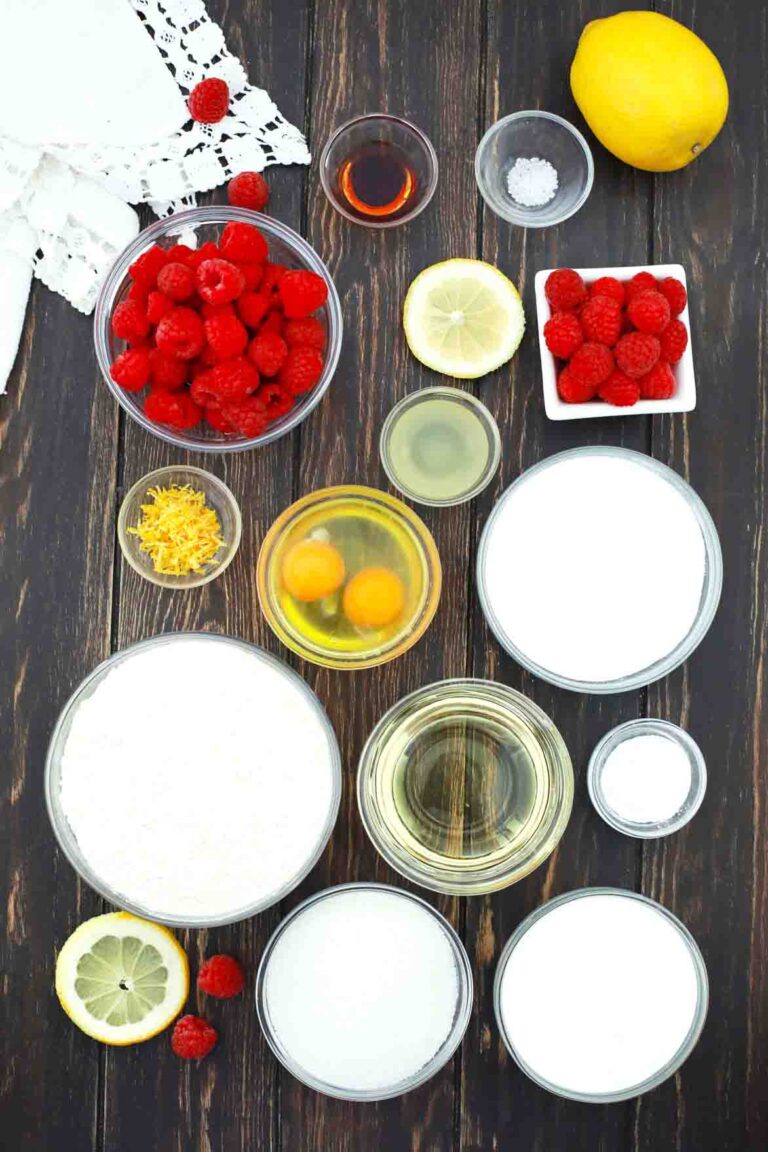 Ingredients needed:
Here are the basic ingredients for this raspberry muffin recipe. Scroll down to our recipe card for complete instructions and exact measurements.
Flour: We used all-purpose flour.

Sugar: White granulated sugar.

Baking powder: Not baking soda.

Kosher salt

Large eggs: Lightly beaten

Milk: Whole milk is best for this recipe.

Small lemon: To make juice and zest.

Vegetable oil: You can also use canola oil, or coconut oil.

Fresh raspberries: Frozen raspberries will work too.
For the glaze:
Powdered sugar: Also known as confectioners' sugar.

Fresh lemon juice: Bottled is fine too.

Raspberries: Optional, for a pink color of the glaze.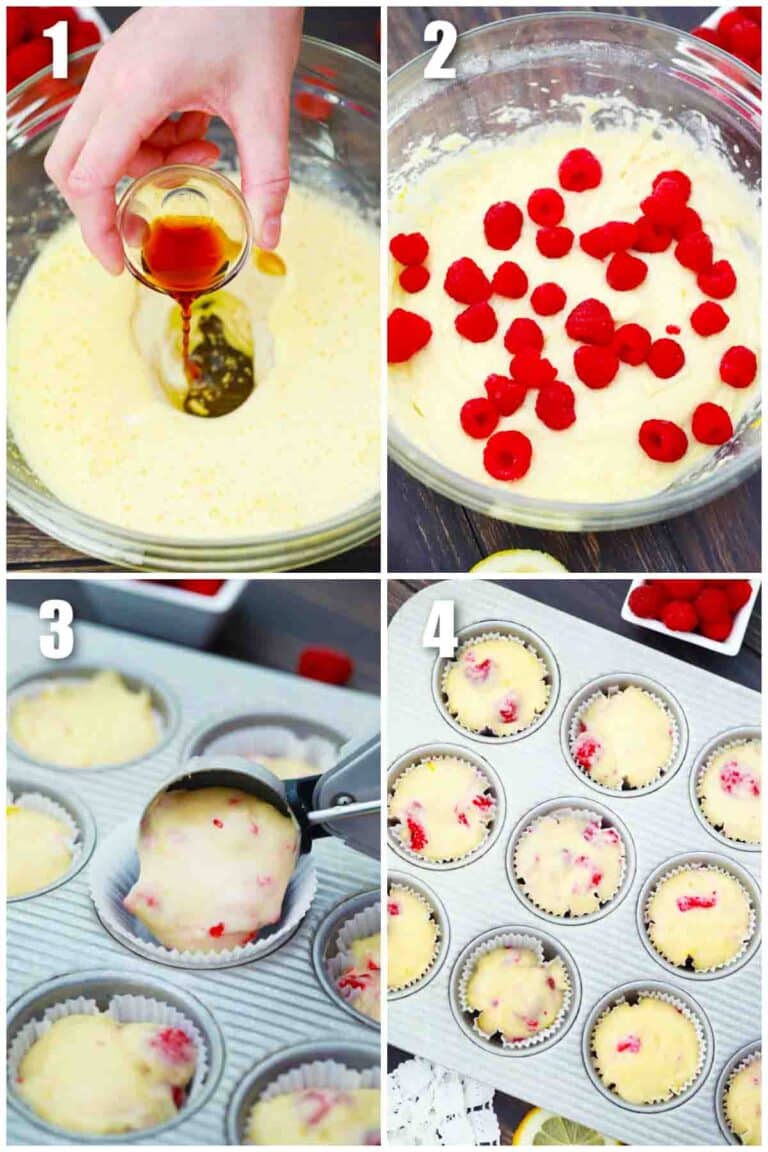 How to make Raspberry muffins from scratch?
Preheat: First, preheat your oven to 400 degrees F. Line your muffin tin with paper liners or grease them with non-stick cooking spray.

Mix: Meanwhile, add the lemon zest, oil, and eggs to a large bowl before measuring your milk and adding the lemon juice to that. Wait one minute before pouring the milk and lemon juice mixture into the egg mixture bowl. Whisk together to combine.

Dry ingredients: Then, mix the dry ingredients in a separate bowl. This includes granulated sugar, flour, baking powder, and salt.

Add wet ingredients: After, add the wet ingredients to the flour mixture but be careful not to over stir the muffin batter before you gently fold in the raspberries.

Fill the muffin tin: Lastly, fill the muffin cups ¾ full and bake at 400 degrees F for 16 to 20 minutes or until they are golden brown, and a toothpick inserted in the center comes out clean.
For the glaze:
Whisk: In a medium bowl, whisk together the powdered sugar and two tablespoons of lemon juice.

Cool: Then, let your raspberry muffins cool for a few minutes before you drizzle them with the glaze.
How to make air fryer raspberry muffins:
Preheat: First, preheat your air fryer to 325 degrees F. Prepare your muffin tin with paper liners or non-stick cooking spray.

Mix: Then, mix the flour, baking powder, and salt in a large bowl.

Wet ingredients: In another bowl, whisk your wet ingredients just until they are combined before you add the flour mixture and carefully fold in the raspberries.

Fill: After, pour the muffin batter into the muffin tin, filling each to about 3/4 full.

Cook: Next, air fry for 12 to 15 minutes or until one raspberry muffin passes the toothpick test.

Cool: Last, let them cool in the muffin cups for a few minutes before removing them and drizzling them with glaze.

Serve: Finally, allow the glaze to set before serving.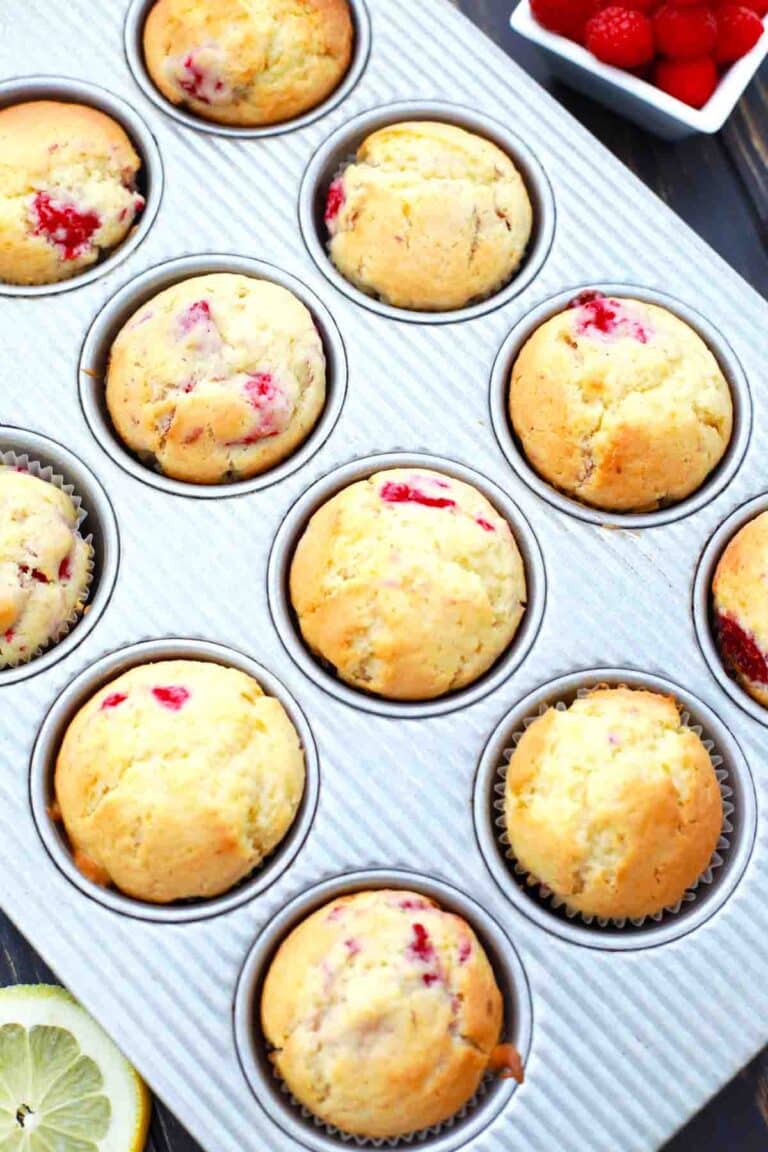 Recipe variations:
Another oil: Feel free to try coconut oil or whatever type you like.

Berries: Fresh or frozen raspberries both work fine here.

Blueberry muffins: Turn this into a blueberry muffin recipe easy by switching the raspberries for blueberries.

Other berries: Alternatively, try diced strawberries, blackberries, or any other berries for a different muffin recipe.

Butter: Try using melted butter instead of oil for a buttery flavor but make sure it is unsalted butter.

Gluten-free: You can also make this raspberry muffin recipe with gluten-free flour like coconut or almond flour.

Fewer carbs: Another way to make these lemon raspberry muffins is to use almond milk for fewer carbs and sugar.
How to serve:
Serve your lemon raspberry muffins while warm as soon as the glaze sets. Add a few fresh raspberries or other fresh or frozen berries to the top for the best raspberry muffins ever. Here are some other serving ideas you can try:
Top with rainbow sprinkles or mini-M&M's for a festive look if your lemon raspberry muffins are for a special occasion.

Another way to top these muffins is with powdered sugar.

Add buttercream frosting if you want a richer dessert.

Break apart while warm and spread with cold butter.

You could also spread fresh raspberry jam or preserves inside.

A raspberry muffin makes a great side dessert for ice cream or this rich and creamy chocolate mousse.

A dollop of whipped cream and a swirl of chocolate syrup would also make a nice topping.

Top with streusel topping for a crunchy texture (See recipe in tips below).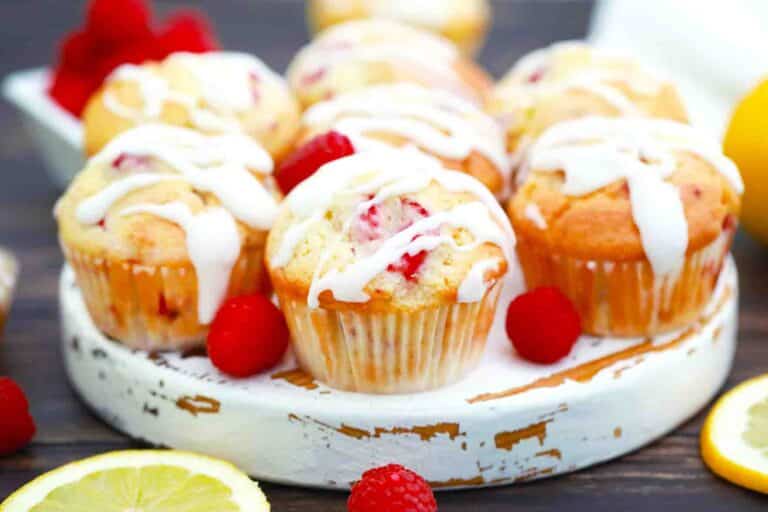 Frequently asked questions
How can I make raspberry muffins lighter and fluffier?
First, you can try using cake flour instead of all-purpose flour. It is lighter. You can also add a 1/2 teaspoon of baking soda to the recipe or mix it with 1/2 teaspoon of baking powder. One more secret. Preheat your oven to 425 degrees F. Then reduce the heat when you put in your muffin tin.
What is the difference between cake flour and all-purpose flour?
All-purpose flour has more protein (10 – 12%) than cake flour (7 – 9%), which makes it heavier and harder. The lower protein in cake flour means less gluten, which makes your batter lighter no matter what you are making.
Bread flour is another type of flour, which has even more protein and the hardest texture. To substitute regular flour for cake flour, replace two tablespoons of all-purpose flour with corn starch for every cup. Sift it together before using it.
What is the secret to moist muffins?
Yes, raspberry muffins are delicious muffins no matter whether they are moist or not. But for super moist muffins no matter what, try using melted butter and oil in your muffin recipe. Make it half and half or, if you have to choose one, just use oil.
Also, do not mix the muffin batter more than 10 or 12 times. Overmixing makes your muffins dense and heavy. It should not be smooth. You want lumpy batter with a bit of flour in spots. Finally, do not overbake them. Twenty minutes is the max time for raspberry muffins.
How do I make lemon zest?
You can buy lemon zest from the store. But if you have a lemon already, why waste the zest after getting the lemon juice you need for your muffin recipe? The most obvious way is to use a lemon zester. But if you don't have one, we can help.
First, make sure there is no wax on your lemon. This is easy to do by rinsing them in boiling water before scrubbing them with a vegetable brush. But make sure you dry the lemons before zesting.
You can zest a lemon with a microplane by holding it at an angle on a cutting board as you rub the lemon on it. You only want the yellow skin, not the white bitter stuff. Or use the smallest holes on a cheese grater. You could even try a potato peeler if you have the skills.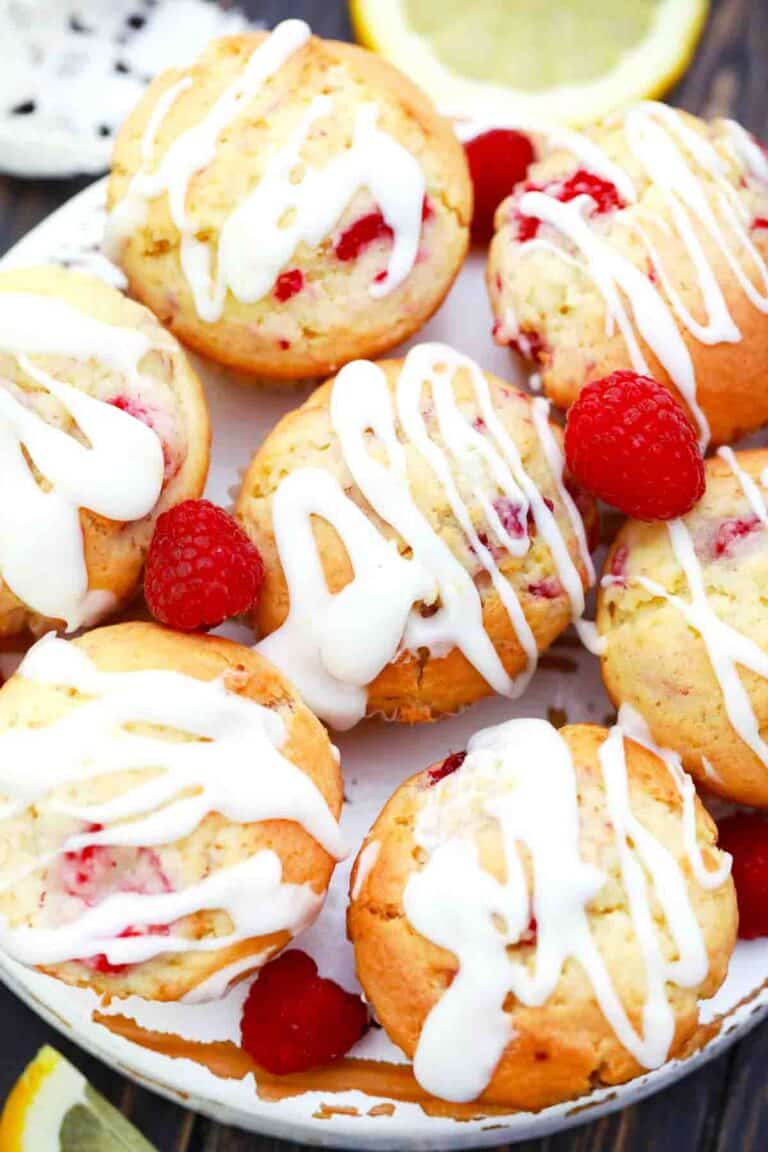 How to store leftovers:
Store: Refrigerate your raspberry muffins for up to five days in an airtight container after they cool completely.

Freeze: It is also safe to freeze your homemade raspberry muffins for up to three months in a freezer-safe container or freezer bag.

Thaw: You can thaw them at room temperature or pop them into the microwave for a few seconds to thaw.

Reheat: If you want them warm, keep them in the microwave for about 20 to 30 seconds per muffin.
Recipe tips:
For a thinner glaze, use three tablespoons of lemon juice. For a thicker glaze, use two tablespoons.

Whether you use fresh raspberries or frozen raspberries, coat them with a bit of flour before adding them to the muffin mix so they do not sink to the bottom.

To make the streusel topping, mix 2/3 cup flour, 1/3 cup granulated sugar, and four tablespoons of cold butter, cubed. Mix all dry ingredients before cutting in the cubed butter with a pastry cutter. Then, add streusel topping to your muffins before baking.

Try adding vanilla extract or some other kind of extract for additional flavor.

Alternatively, use orange zest instead of lemon zest to make orange raspberry muffins.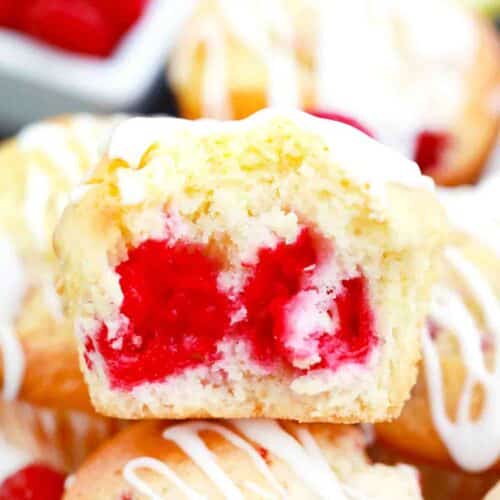 Raspberry Muffins
Raspberrymuffins are absolutely delicious made with fresh or frozenraspberries and lemon zest topped with lemon glaze.
Keyword:
Raspberry Muffins,
Ingredients
2

cups

all-purpose flour

2/3

cup

granulated sugar

1

Tablespoon

baking powder

1/2

teaspoon

salt

2

large eggs

lightly beaten

1

cup

milk

1

tablespoon

lemon juice

1

tablespoon

lemon zest

1/2

cup

oil

vegetable or coconut oil

1 1/2

cups

raspberries

fresh or frozen - if using frozen there is no need to thaw them
For the glaze:
1

cup

powdered sugar

2-3

tablespoons

fresh lemon juice

1-2

raspberries

optional - for pink color
Instructions
Preheat oven to 400 degrees F.

Line a muffin tin with liners, or grease with non-stick cooking spray. Set it aside.

In a small bowl combine the milk with the lemon juice and set it aside for 1 minute

In a large bowl whisk together the eggs, oil, and lemon zest, then add the milk mixture and whisk until combined, about 1 minute.

In a separate large bowl combine dry ingredients: flour, sugar, baking powder, and salt.

Using a rubber spatula, stir the wet ingredients into the dry ingredients, being careful not to over-mix the batter. Scrape well the sides and bottom of the bowl.

Fold in the fresh or frozen raspberries.

Fill muffin cups ¾ full.

Bake in the preheated oven at 400 degrees F for 16-20 minutes, or until a toothpick inserted in the center comes out with few crumbs, but NOT raw batter.
For the glaze:
In a small bowl, whisk together the powdered sugar and 2 tablespoons lemon juice. For a thinner, add an extra tablespoon of lemon juice or water.

For a pink glaze, crush in 1-2 raspberries into the mixture.

Allow the muffins to fully cool for before drizzling with the glaze.
Nutrition Facts
Raspberry Muffins
Amount Per Serving
Calories 272
Calories from Fat 99
% Daily Value*
Fat 11g17%
Cholesterol 30mg10%
Sodium 117mg5%
Potassium 189mg5%
Carbohydrates 40g13%
Protein 4g8%
Vitamin A 78IU2%
Vitamin C 5mg6%
Calcium 80mg8%
Iron 1mg6%
* Percent Daily Values are based on a 2000 calorie diet.