Panzanella Salad is made with juicy tomatoes, creamy mozzarella cheese, sweet red onions, and crusty bread tossed with fresh basil and topped with homemade vinaigrette dressing. Also known as bread salad, tomato salad, bread and tomato salad, Tuscan salad, or Tuscan bread salad, this is the perfect summer salad recipe. It is a nice light dinner, lunch, or side dish and can be made in minutes.
Looking for more Italian-inspired dishes? Try our Broccoli Salad It adds a sweet twist with apples, cheese, broccoli, and pecans. Then top it with a homemade poppy seed lemon juice dressing. If you are looking for something different, this Creamy Corn Salad is amazing! All you need is corn, radishes, cheese, green onions, and chopped jalapeno blended with creamy yogurt lime dressing.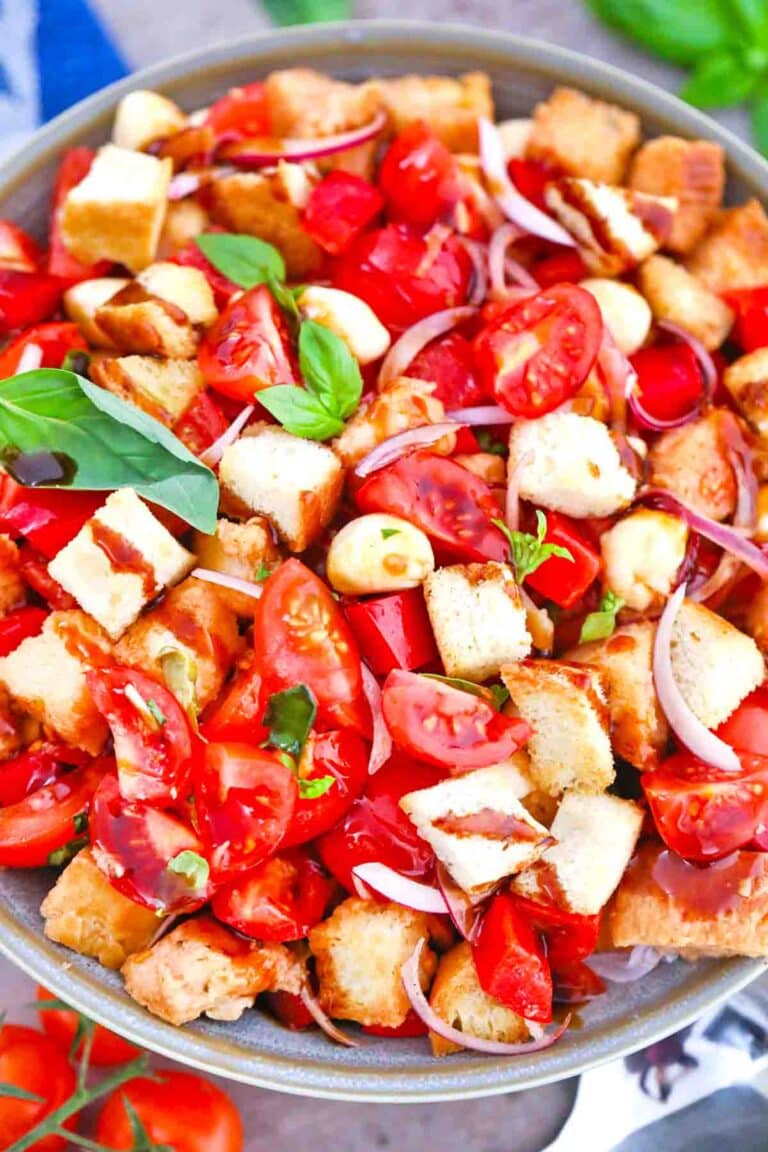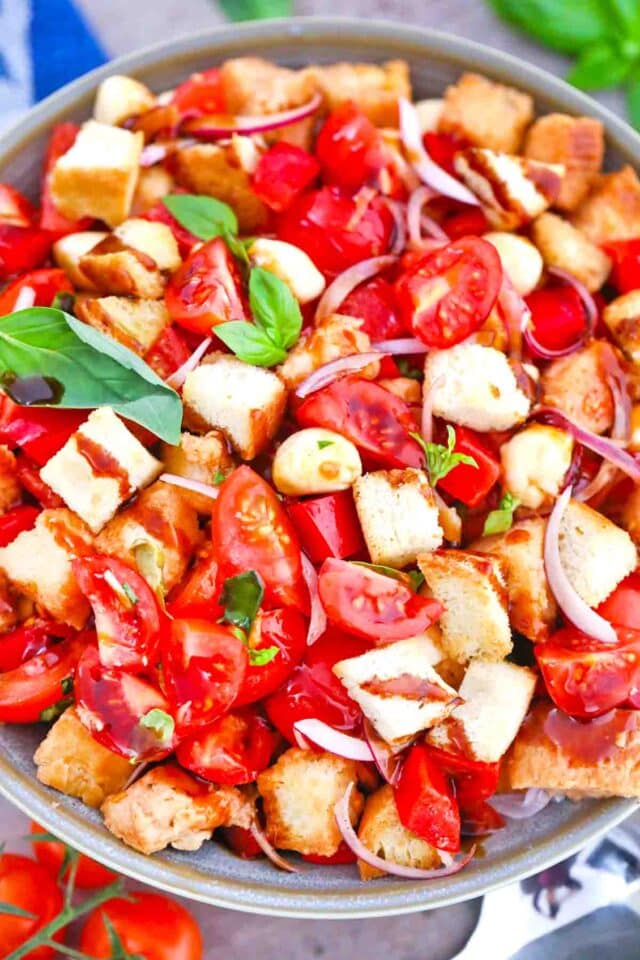 Bread salads may seem strange to Americans who are used to using mostly lettuce, but they are common in Europe and the Mediterranean. Panzanella is a Tuscan dish that dates back to the peasants when they would soak their old stale bread in water, let it dry, and mix it with veggies. The name came from the Italian words "pane" which means bread and "zanella" which means soup bowl.
For this delicious tomato panzanella salad recipe, all you need are a few ingredients including fresh basil, chopped tomatoes, soft mild cheese, and chopped onions. Then it is lightly coated with a vinegar garlic dressing to make it a classic panzanella salad.
Some fun ideas to serve with panzanella include our creamy Tuscan chicken made with onion, parmesan cheese, garlic, mushrooms, sun-dried tomatoes, spinach, and creamy sauce. Or you can try this Air Fryer Salmon. Actually, any kind of dish would work with this panzanella salad recipe.
Ingredients needed:
If you want to make this amazingly delicious panzanella recipe. When you are ready, scroll down to our recipe card for the instructions and exact measurements.
Panzanella salad ingredients:
Crusty bread cubes: Cut into one-inch cubes.

Medium red onion: Thinly sliced.

Fresh mozzarella: Pearls cut in half is what we used.

Ripe tomatoes: Grape tomatoes cut in half or cherry tomatoes cut into bite-sized pieces.

Extra virgin olive oil

Sea salt

Basil leaves: Coarsely chopped, plus more to garnish.
For the vinaigrette dressing:
Garlic cloves: Grated.

Red wine vinegar

Extra virgin olive oil

Kosher salt

Freshly ground black pepper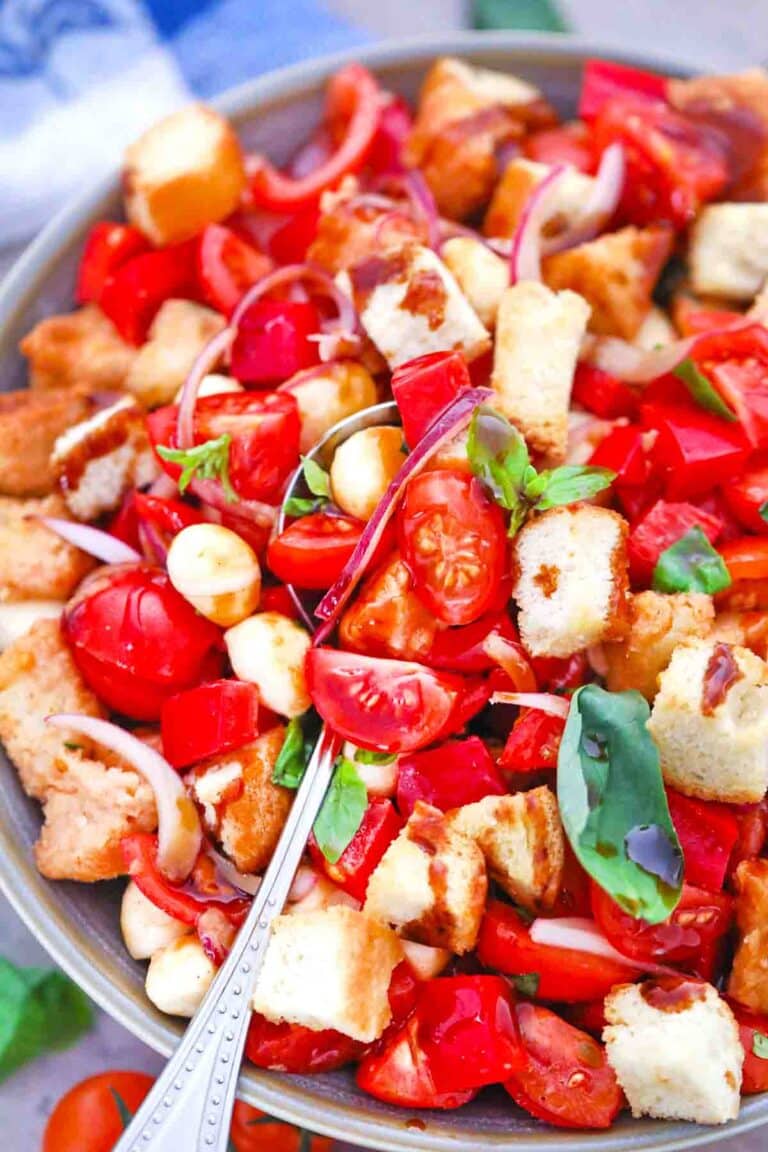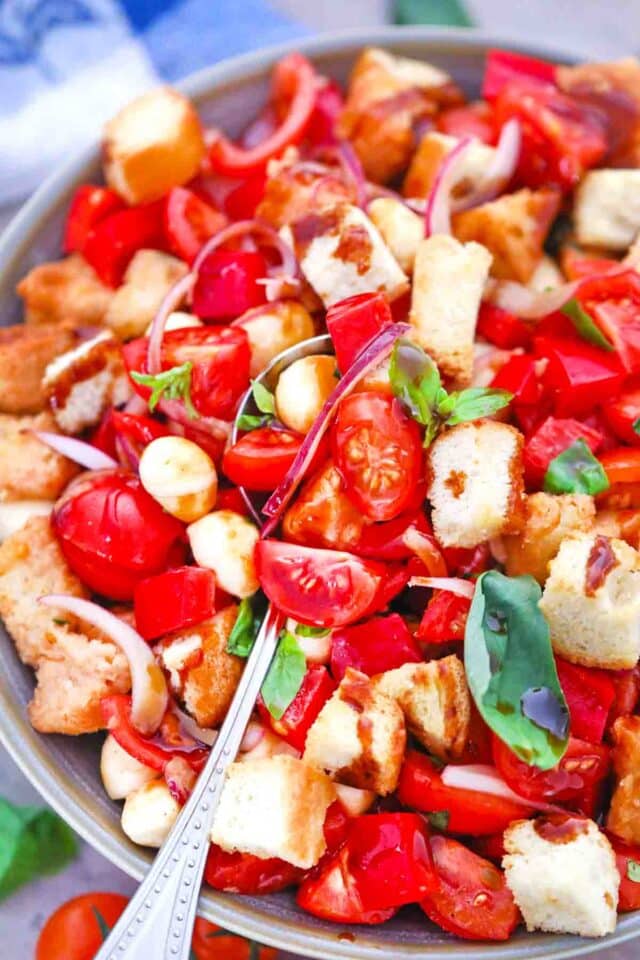 How to make panzanella salad from scratch?
Oven drying fresh bread: First preheat oven to 400 degrees F and mix the bread in a large bowl with oil, salt, and pepper until coated. Bake on a rimmed baking sheet for 10 to 12 minutes or until the edges are golden brown. Set aside to cool.

Make the vinaigrette dressing: Next, whisk the garlic, vinegar, olive oil, salt, and pepper in a small bowl. Set it to the side while you prep the rest of the ingredients.

Mix it up: Lastly, using the same mixing bowl you used for the bread, mix the remaining salad ingredients with the cooled bread, and put it in the fridge to chill for about 15 to 30 minutes.

Toss and serve: Finally, about 15 minutes before serving, add the dressing and gently toss to coat, letting it chill until you serve it.
Recipe variations:
Another oil: You can use a different oil such as avocado oil or coconut oil.

Tomato juice: Add 1/2 cup of your favorite tomato juice into your vinaigrette dressing for more tomato flavor.

Add mustard: You could also add 1/2 teaspoon of dijon mustard for extra tanginess.

Make it a meal: Add grilled chicken or another meat to make this a hearty meal.

More fresh veggies: Feel free to add your own favorite veggies like chopped bell peppers, broccoli, asparagus, sliced cucumbers, and green olives.

Other herbs and spices: Similarly, you can also add your favorite herbs and spices like thyme, paprika, dill, fennel, or fresh oregano. For a sweeter flavor, try ginger, nutmeg, rosemary, or cloves.

Spicy salad: If you like spicy food, sprinkle a pinch of red pepper flakes or cayenne pepper into your dressing.

Other tomatoes: Alternatively, any kind of tomatoes will work as long as you cut them into bite-sized pieces.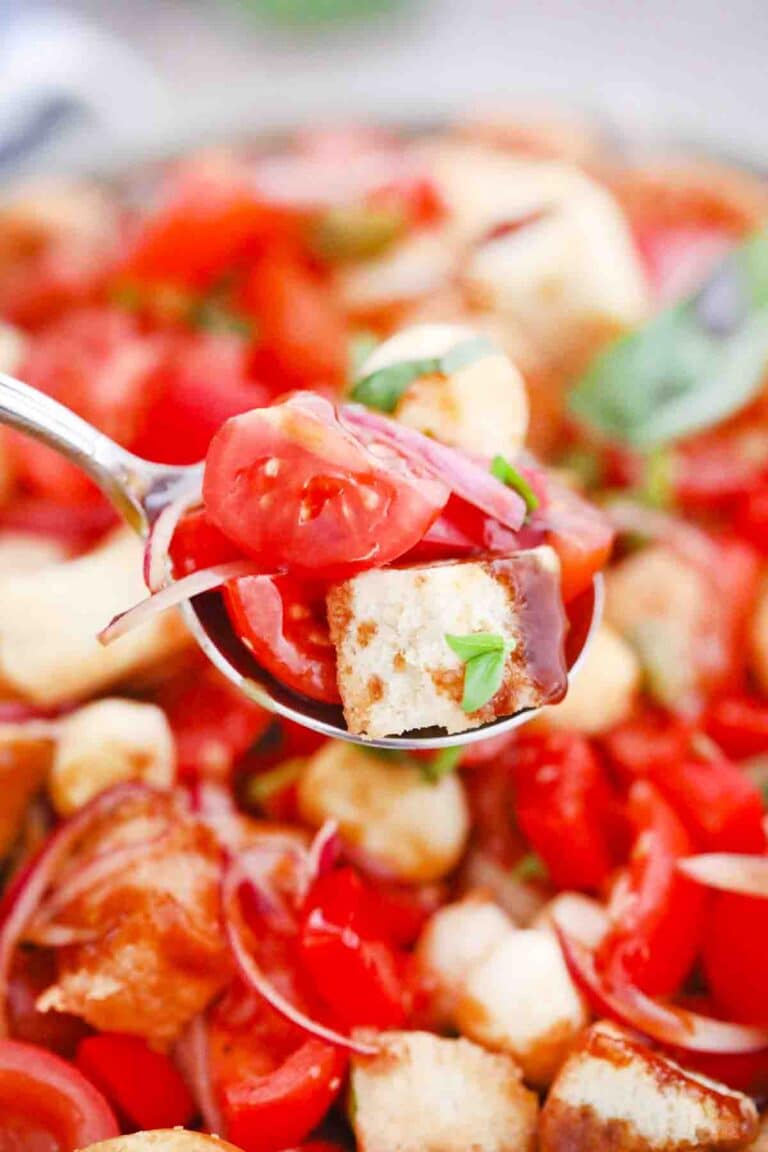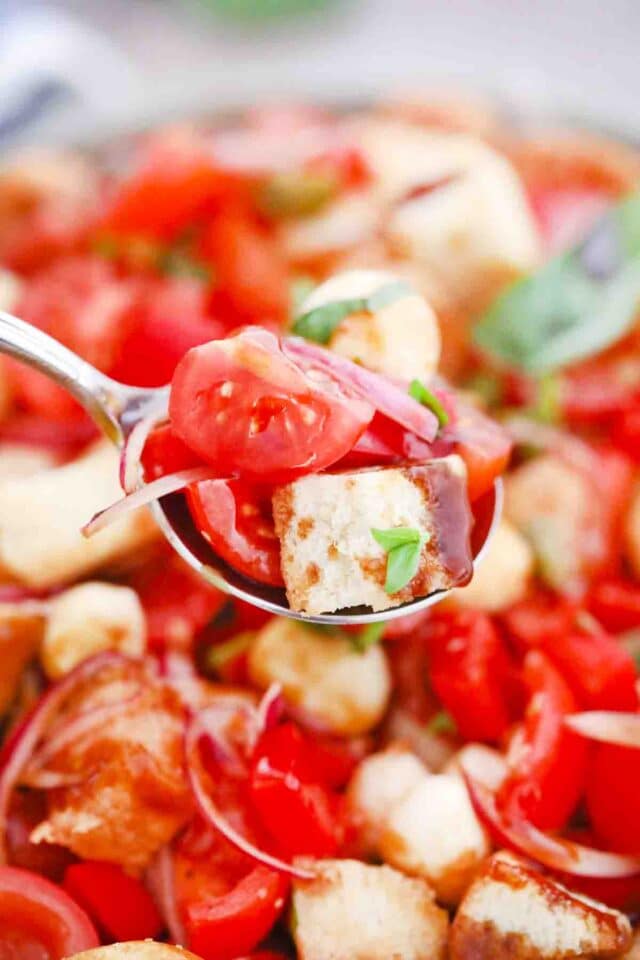 How to serve:
This panzanella salad is absolutely delicious with any meal or as a meal on its own. Like a classic salad, you can enjoy it as a first course or serve it as a side dish in a small bowl. Try one of these great ideas or share one of your own in the comments section at the bottom of the page.
Add dry cheese like parmesan or romano for a bold and rich salad.

Try this delicious salad with these yummy Taco Tortilla pinwheel sandwiches for a light dinner or lunch.

Other great cheeses to add to this salad include mozzarella, cheddar, or feta cheese.

Instead of vinaigrette, you could also use a delicious Italian dressing.

For a more traditional salad, add some wild succulent lettuce to your bowl.

Use leftovers to add to another salad such as this easy Greek salad or whatever is your favorite.

Other toppings include crunchy bacon bits, toasted almonds, walnuts, or pecans, and sunflower seeds.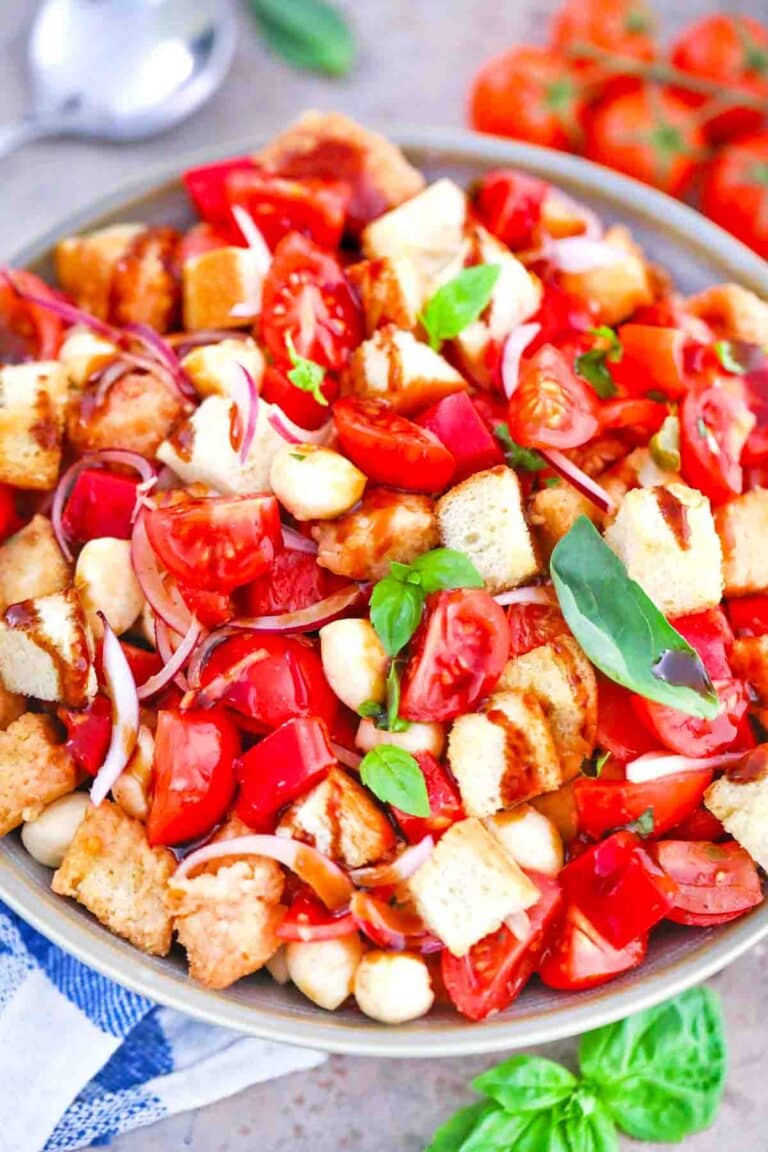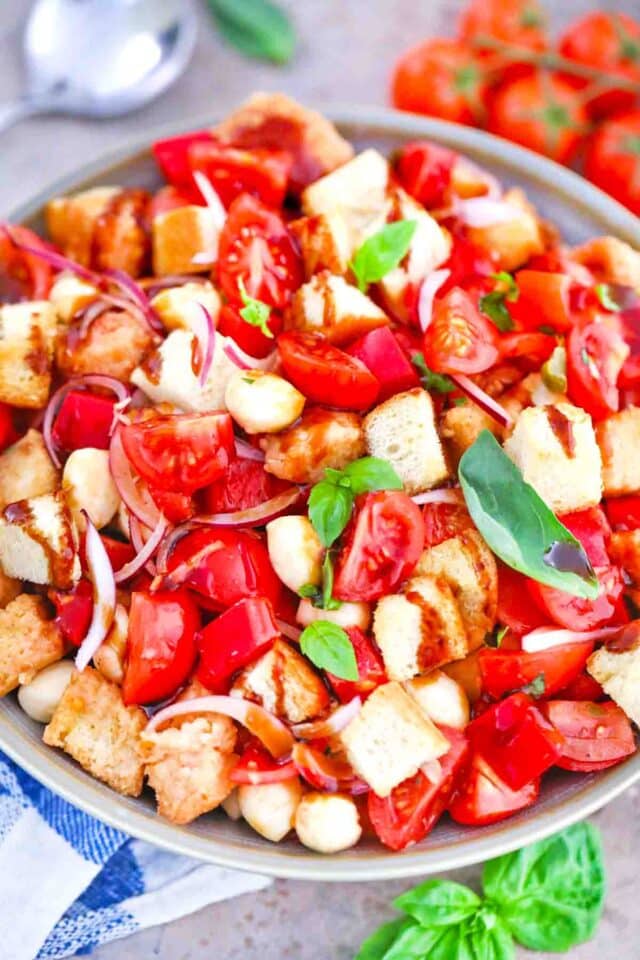 Frequently asked questions
What is the best bread for this recipe?
You will need hearty bread that will not get mushy because nobody likes soggy bread. A hearty Italian bread like ciabatta bread or sourdough bread cut in chunks would work great. If you do not have anything like that, you could use stale bread or just toast whatever kind you have. Toasted bread is perfect and you can do it in the oven in just a few minutes.
What is the easiest way to toast the bread?
Toasted bread is easy to make with a toaster or oven. If you want to toast bread quickly, place fresh bread on a rimmed baking sheet covered in parchment paper and bake it in the oven. Or, you can tear the bread into small pieces and bake the cubed bread in the oven. This is a great way to get rid of leftover bread that is starting to get stale. You could also use a toaster if you do not want to heat up the house.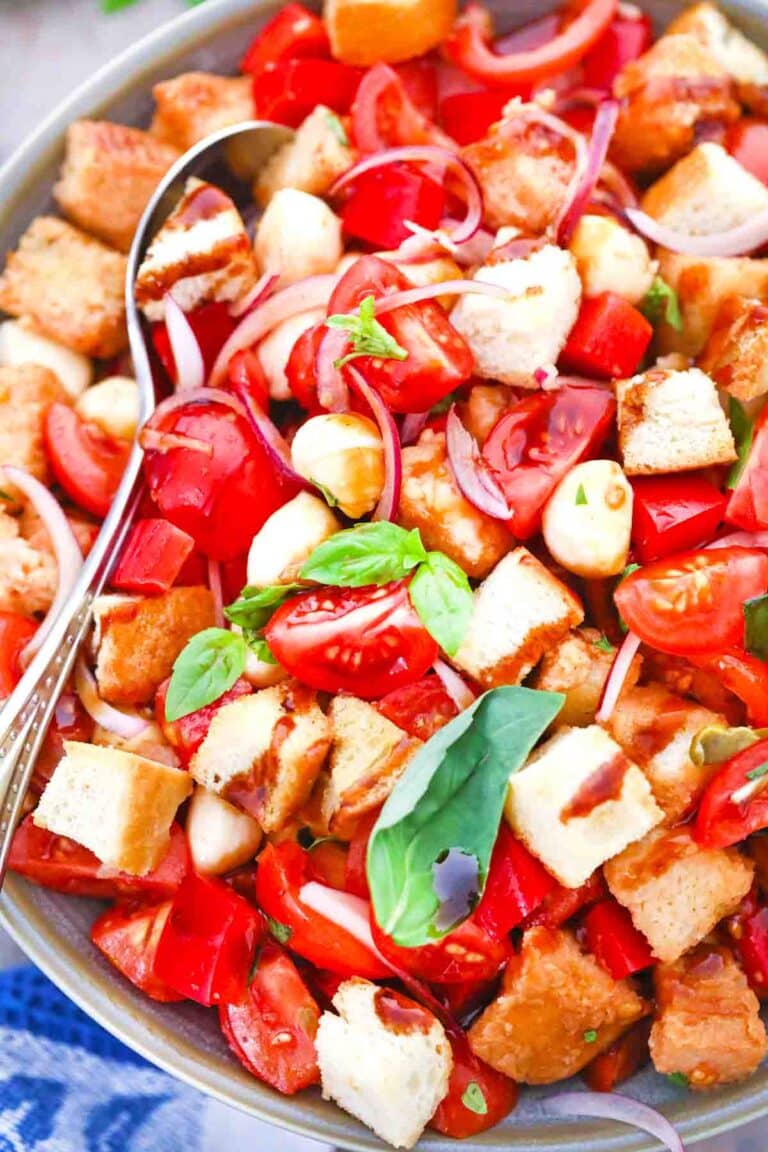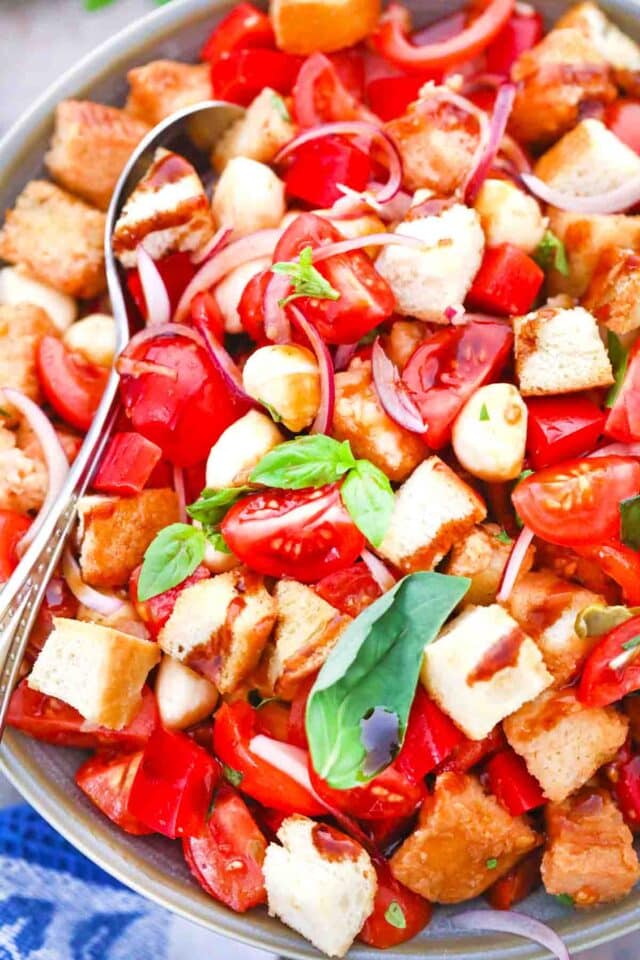 What kind of vinegar is best for this salad dressing?
Although our recipe calls for red wine vinegar, you can use just about any vinegar you like. Balsamic vinegar is an excellent choice because of its sweet taste. White wine vinegar is another great choice with its mildly tangy flavor. If you do not have any of these, you could also mix white distilled vinegar mixed with a bit of lemon juice.
What are the nutrition facts in this recipe?
Each serving of panzanella salad has 302 calories, 16 mg cholesterol, and 28 grams fat with 7 grams saturated fat. One serving also contains, 376 mg sodium, 8 mg carbohydrates, and 6 grams sugar. On the good side, you will also get 2 mg iron, 120 mg calcium, 22 mg vitamin C, 1,501 units vitamin A, 6 grams protein, 2 grams fiber, and 398 mg potassium.
How to store leftovers:
Store: You can store your leftover panzanella salad in a sealed container in the fridge for one to two days. It will not keep longer than that because the veggies and bread will get soggy.

Freeze: Freezing is not recommended.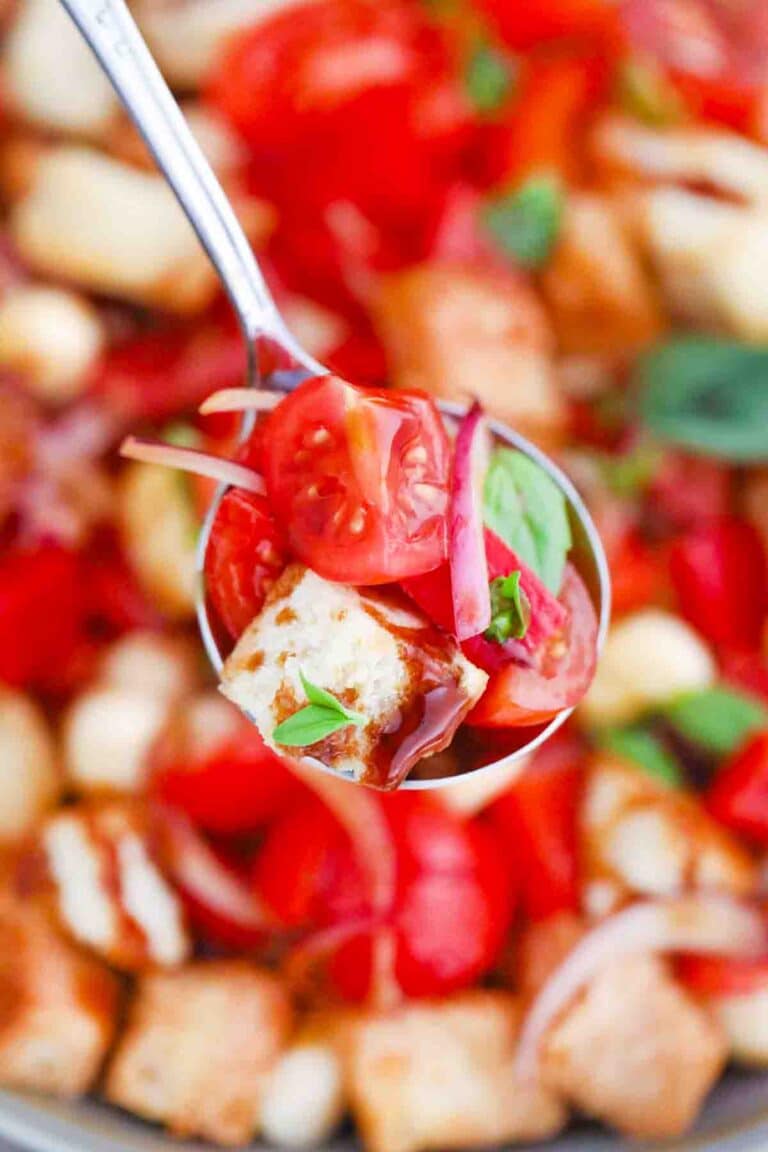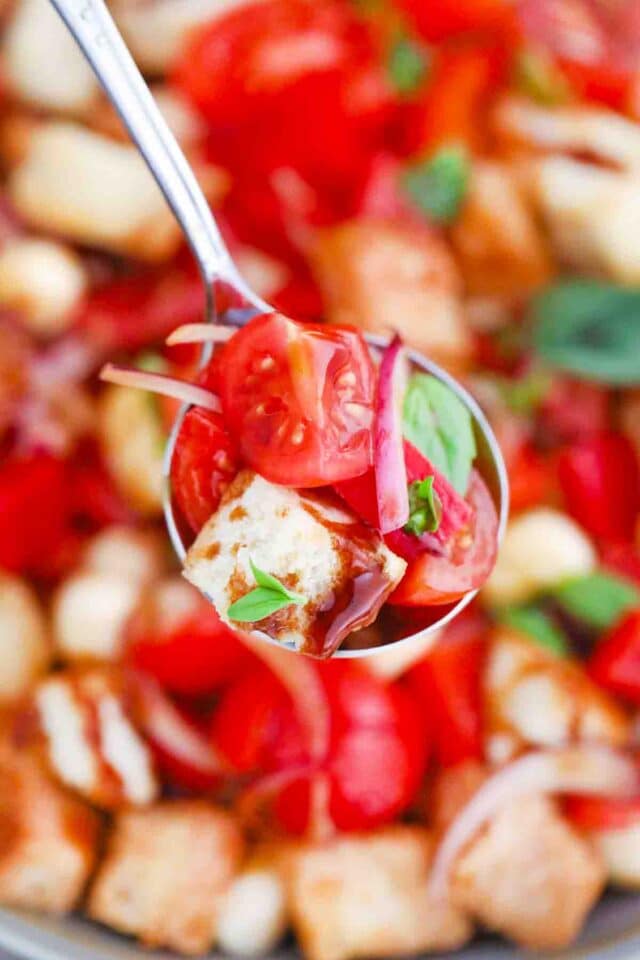 Recipe tips:
Use sturdy bread like sourdough or ciabatta so they do not get too soggy.

Be sure to cut the pieces about the same size for better flavor and uniformity.

If you do not have fresh garlic, you can use garlic powder.

Although you can serve this salad after 20 to 30 minutes in the fridge, it is best to let the salad rest for several hours to let the bread absorb the tomato juices.

To save prep time, you could use store-bought croutons and vinaigrette dressing. Then, all you have to do is prep the veggies.

Another way to save time making this panzanella recipe is to use canned tomatoes or pre-cut veggies. However, fresh tomatoes are the better choice for flavor and texture.

Do not skip toasting the bread or it will not soak up the juices as it should.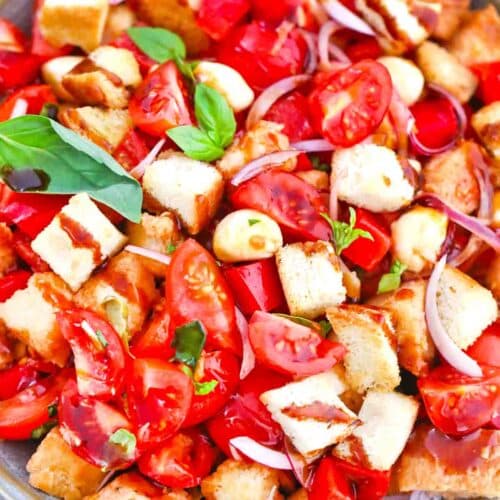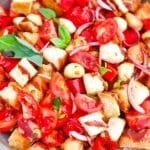 Panzanella Salad
PanzanellaSalad is made with juicy tomatoes, creamy mozzarella cheese, sweetred onions, and crusty bread tossed with fresh basil and topped withhomemade vinaigrette dressing.
Keyword:
Panzanella Salad
Ingredients
6

cup

cubed crusty bread

2

tablespoons

extra virgin olive oil

Sprinkle of sea salt

2

lbs

ripe cherry tomatoes

cut into wedges

8

oz

mozzarella pearls

halved

1/2

red onion

thinly sliced

1/3

cup

basil leaves

coarsely chopped, plus more to garnish
For the Vinaigrette Dressing:
1/2

cup

extra virgin olive oil

1/4

cup

red wine vinegar

3

cloves

garlic

minced

Salt and pepper

to taste
Instructions
Preheat oven to 400˚F.

Add the bread to a mixing bowl, drizzle with 2 tablespoons of olive oil and a pinch of salt, toss to combine.

Spread on a baking sheet covered with parchment paper and bake for 10-12 minutes or until toasted, and golden in color. Remove from the oven and set aside to cool.

In a small bowl, combine the dressing ingredients and whisk. Set it aside.

Add all the salad ingredients to a bowl, let them stand for 10-15 minutes, so the bread gets some of the tomato juice.

Drizzle on the dressing, to taste. Toss the salad gently, garsnish with more basil leaves and serve.
Nutrition Facts
Panzanella Salad
Amount Per Serving
Calories 585
Calories from Fat 378
% Daily Value*
Fat 42g65%
Cholesterol 10mg3%
Sodium 404mg18%
Potassium 605mg17%
Carbohydrates 42g14%
Protein 14g28%
Vitamin A 1215IU24%
Vitamin C 54mg65%
Calcium 169mg17%
Iron 4mg22%
* Percent Daily Values are based on a 2000 calorie diet.