Quick Chocolate Mousse – 3 Ingredients!
Chocolate Mousse is a quick and easy dessert that is loaded with chocolate flavors and made with no eggs. A classic recipe that requires a few simple ingredients, and is ready in minutes!
When it comes to creamy and rich mousse recipes, I can proudly say that I am quite an expert. I already have this delicious Chocolate Mint Mousse, and this Peanut Butter Mousse. Both amazing treats and very easy to make!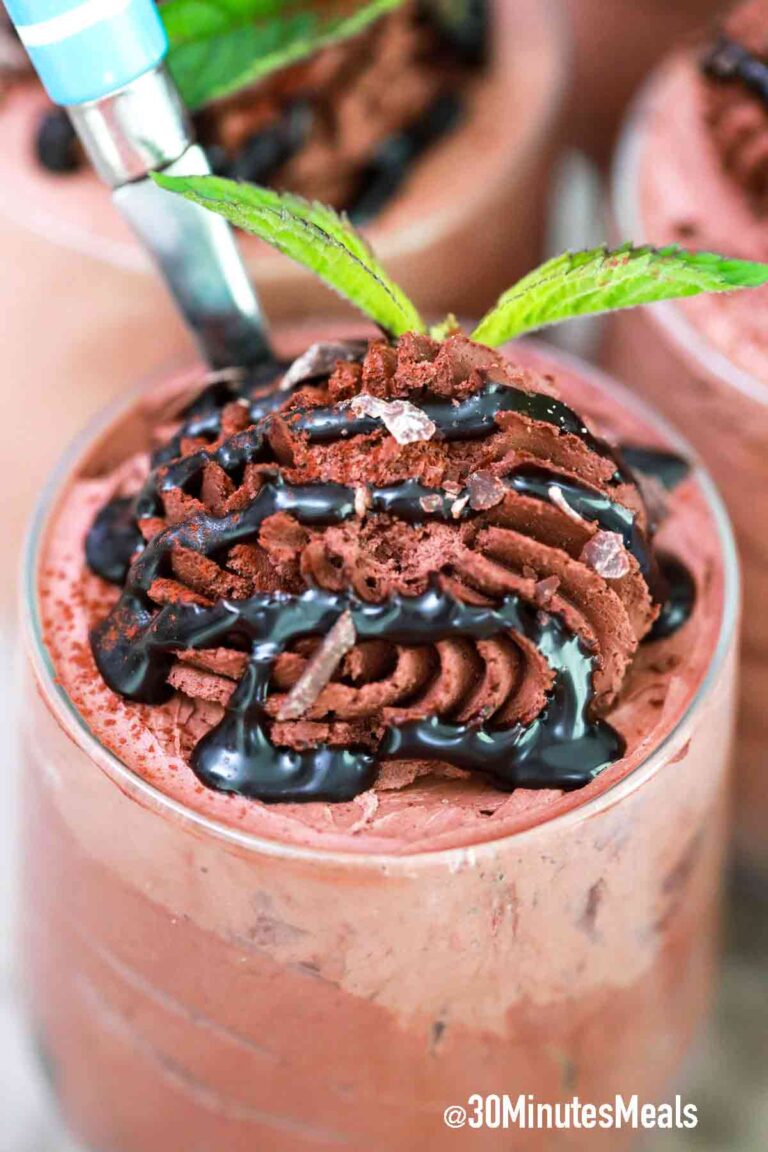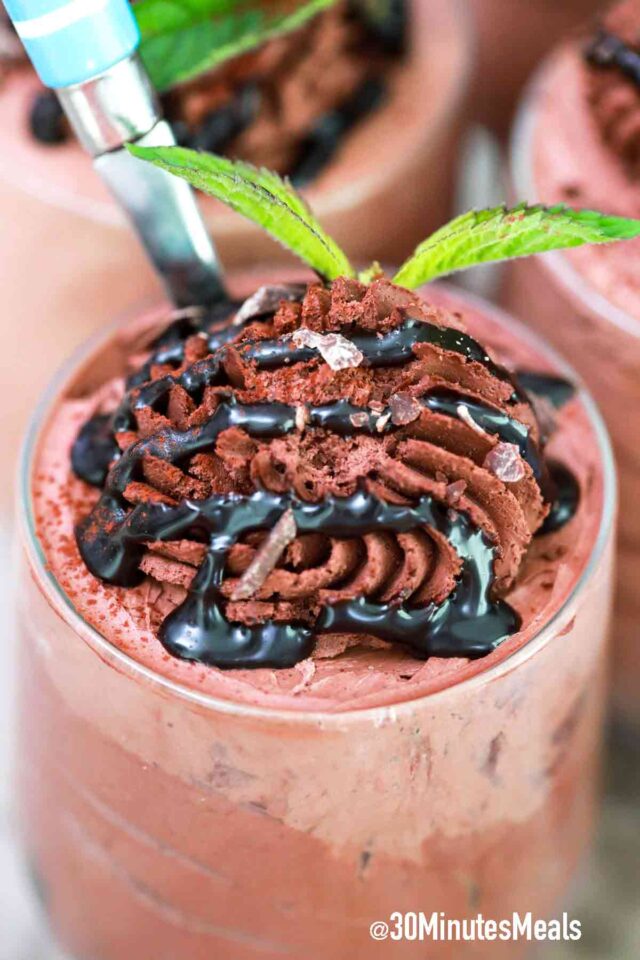 Chocolate Mousse Recipe – No eggs required!
This Classic Chocolate Mousse Recipe is light yet very chocolaty! Unlike the traditional French-style version, this one is made without eggs, and with only three main ingredients – whipped cream, chocolate, and vanilla extract!
I skipped the eggs to keep it simple. Also, I tend to avoid eating uncooked eggs, especially during summer hot days because they might contain potentially harmful bacteria. However, you can easily beat the eggs and incorporate them as well, especially if you plan on making this during colder times of the year.
But during the summer pool days, this is the perfect dessert to enjoy as is. It is creamy, loaded with flavors, and even kids can make it. Also, it is quite festive and can be served in ice glasses, flutes, shot glasses, or even espresso cups.
In addition, you can easily double or triple this recipe, or make it in advance and refrigerate it for days to come. Overall this is probably one of the easiest and quickest desserts one can make at home. Follow the steps below, on how to make some.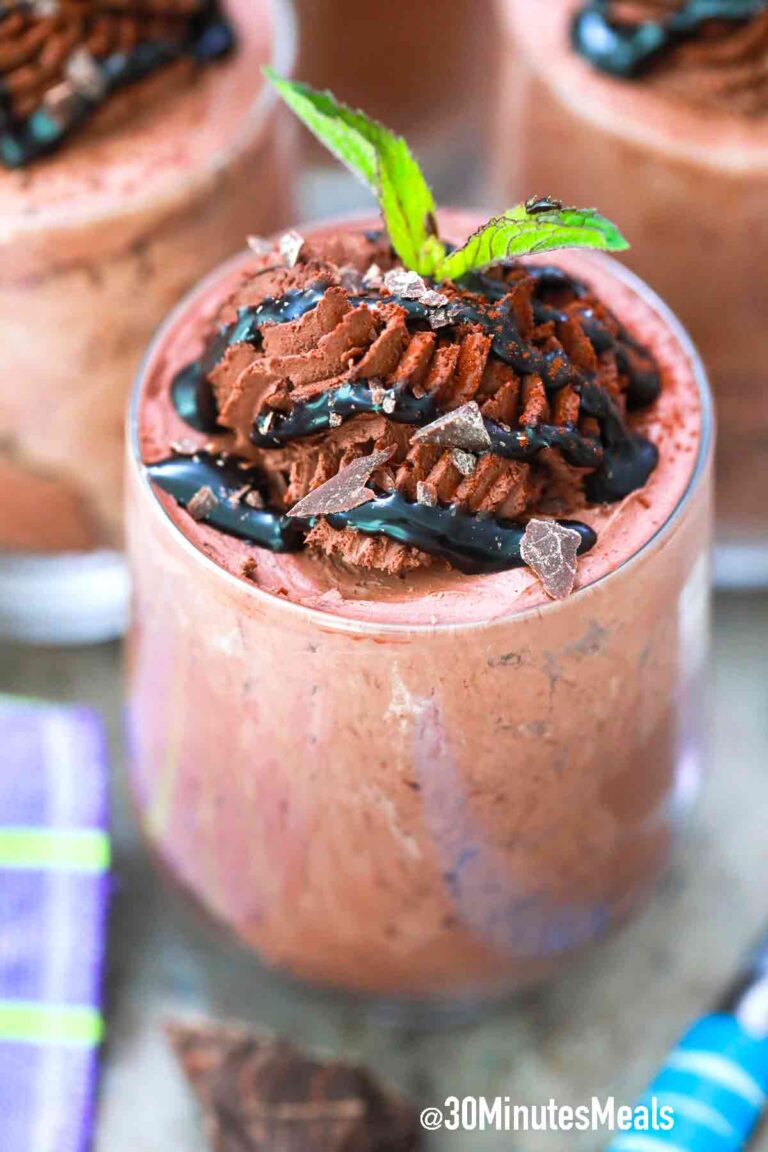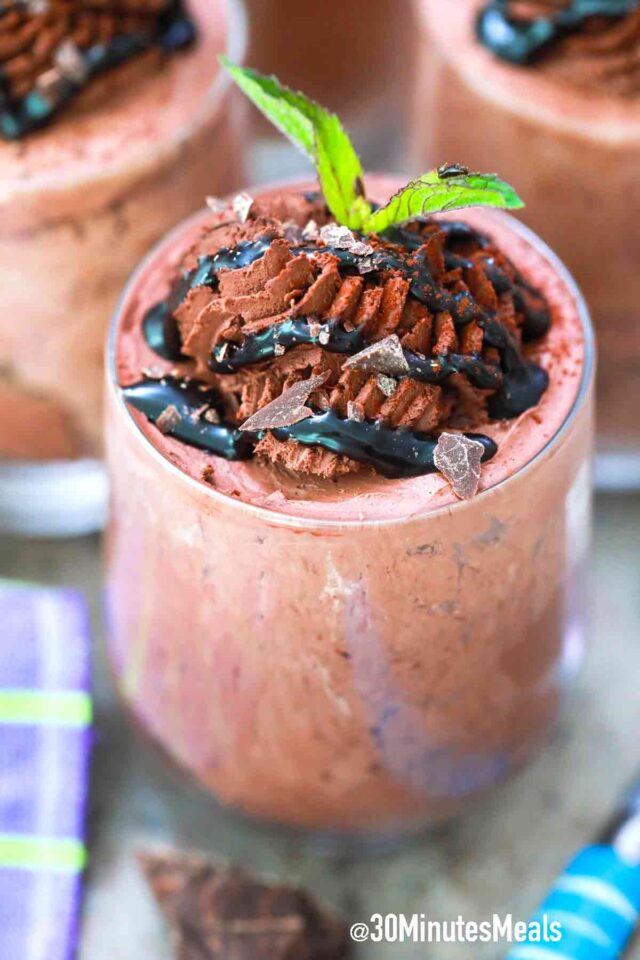 What is mousse?
This dessert originated in France in the mid-1700s that is similar to a pudding in taste and texture. It is basically a very soft, fluffy, creamy, thick, and yet light treat that has the whipped cream as the central ingredient.
Most mousse recipes contain eggs to give them that airy texture. Also, it is a very versatile dish, and you can mix and make various ingredients such as herbs, fruits, spices, coffee, to get the desired flavor and texture.
Ingredients needed:
As stated above, this is a bullet-proof dessert that even kids can make. It only requires 3 simple ingredients:
Whipped Cream
Dark Chocolate
Vanilla Extract: this is optional. If not a vanilla fan, skip it altogether!
How to make the best chocolate mousse dessert?
Heat up the cream: First, you will have to heat up about half of the cream in a saucepan over medium heat for about 2-3 minutes, until the bubbles start forming.
Add the chocolate and vanilla extract: Then, add the chopped chocolate to the saucepan along with vanilla extract. Whisk gently the ingredients until melted and evenly combined.
Mix in the rest of the cream: Lastly, pour in the remaining half of the whipped cream into the pan, and whisk.
Chill: Remove from heat, and refrigerate the mixture for a few hours.
Serve: You can serve refrigerated as is, or spoon the mixture into individual glass servings and enjoy!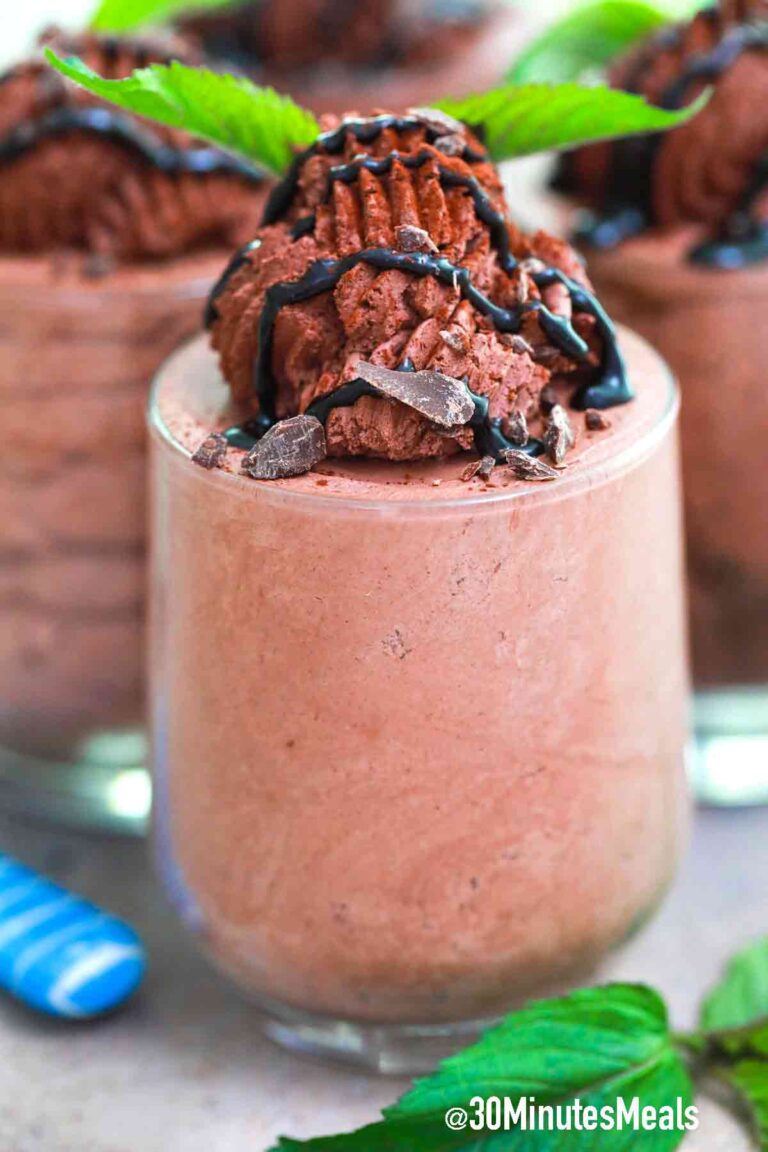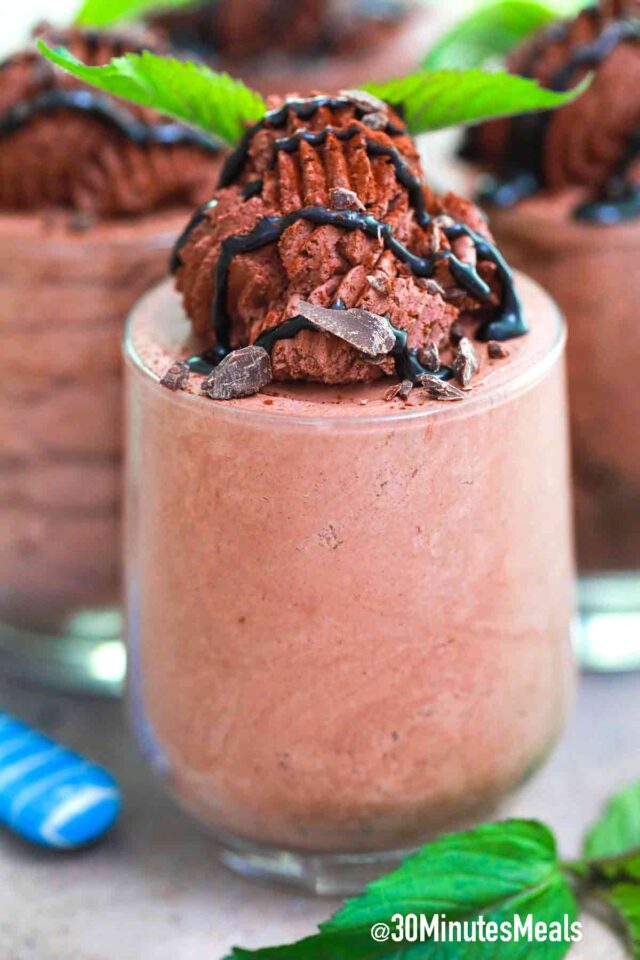 Recipe variations and adaptations:
White or Mint chocolate: Feel free to substitute the dark chocolate with mink or white one. Also, you can use pretty much any type of chocolate you prefer or a combination of them.
Add butter: For a creamier texture, add 2 tablespoons of butter to the mixture. This will add extra flavor and richness to it.
Herbs and spices: Cinnamon, cloves, nutmeg are great additions as well.
Add eggs: To make it the traditional French and fluffy way, whisk in 2 egg yolks.
Strawberry Mousse: There is not a better combination during the summer times than adding some fresh strawberries to it. Simply, blend some fresh strawberries to puree them, and incorporate them into this recipe.
Using relating to firm up the chocolate mousse…
Although I do not use gelatine here, you could add it to make it firmer. But please keep in mind that the texture of this dessert when refrigerated is already stabilized and firm. However, if you want it firmer, you can simply add about 1/2 packet of unflavored gelatin to about 1/6 cup of cold water and allow it to bloom prior to adding it to the pan.
Also, it is best to heat the bloomed gelatin in the microwave for about 30 to 45 seconds to melt, then add it to the saucepan.
How to store it?
Mousse is a great make-ahead dessert as it stores really well. Simply refrigerate it in the saucepan or individual serving dishes for up to 7 days.
Keep in mind, if you want to serve it sofer, then let it sit at room temperature for 15-30 minutes prior to serving.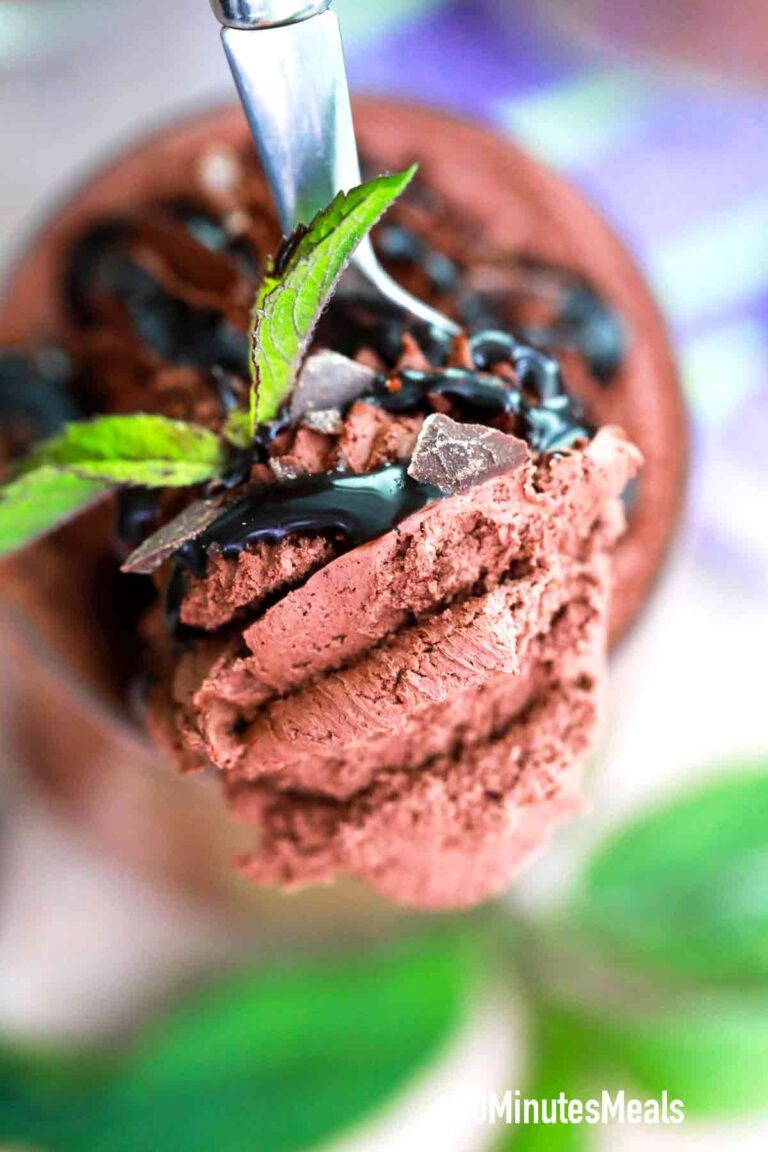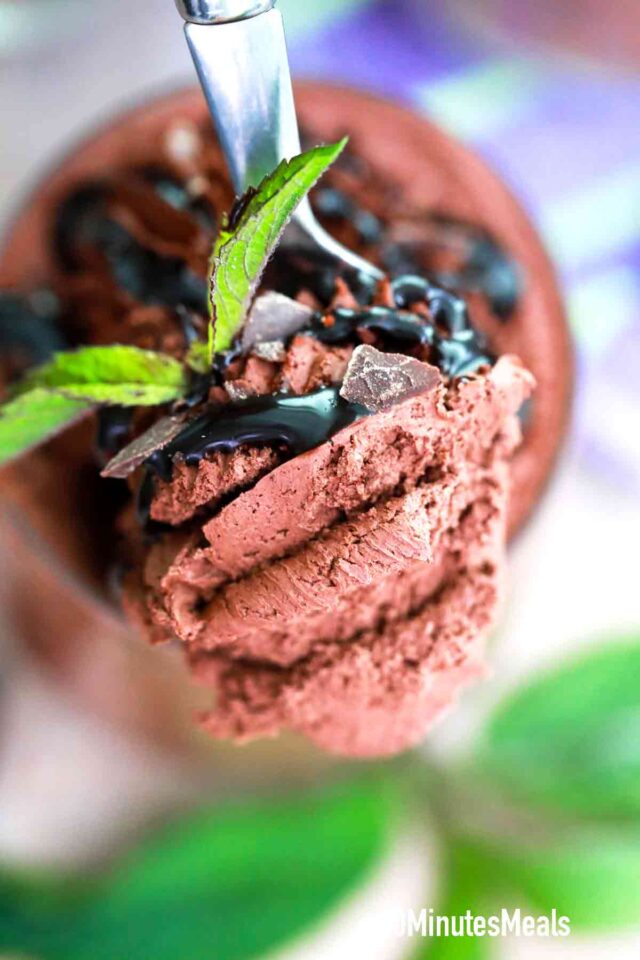 More easy desserts to try:
Recipe tips:
To make it more festive, decorate it with some mini marshmallows, sprinkles, sliced fruits, sea salt, or cocoa powder.
It is important to use good-quality chocolate here because it the front and center ingredient.
Also, the dark one is bittersweet. If you want something sweeter then go with milk chocolate or a less dark one.
Prior to serving it is essential to chill and refrigerate the mousse.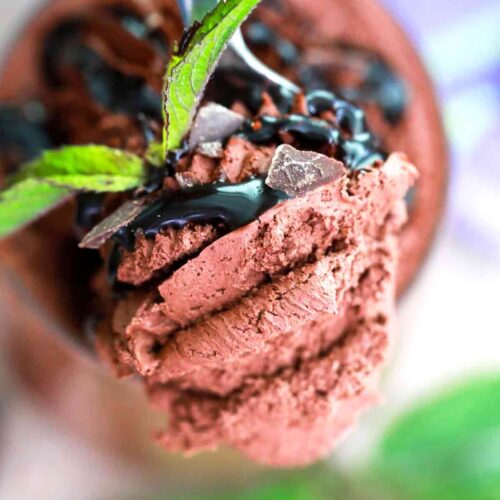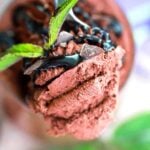 Quick Chocolate Mousse
Chocolate Mousse is a quick and easy dessert that is loaded with chocolate flavors and made with no eggs. A classic recipe that requires a few simple ingredients, and is ready in minutes!
Keyword:
Chocolate Mousse, Quick Chocolate Mousse
Ingredients
2

cups

heavy whipping cream

16

ounces

high quality dark chocolate

roughly chopped - milk or white chocolate work as well

1

teaspoon

vanilla extract
Instructions
Place the chopped chocolate into a heatproof bowl.

Next, heat one cup of heavy whipping cream in a small saucepan over medium-high heat until it just starts to simmer.

Pour the hot cream over the chocolate. Leave for onee minute to melt, then stir until all of the chocolate is melted and the mixture is smooth and shiny.

Stir in the vanilla extract.

Gently, whisk in the remaining heavy whipping cream. Taste and adjust for sweetness, if needed add some powdered sugar.

Cover the bowl with plastic wrap and refrigerate until well chilled, 6 hours or overnight.

When ready to serve, using a hand mixer, whip the chocolate cream until stiff peaks form.

Add to a piping bag and pipe into serving glasses or bowls.

Serve it immediately or store, covered, in the fridge for several days.

Drizzle with fudge before serving.
Nutrition Facts
Quick Chocolate Mousse
Amount Per Serving
Calories 792
Calories from Fat 828
% Daily Value*
Fat 92g142%
Cholesterol 166mg55%
Sodium 68mg3%
Potassium 902mg26%
Carbohydrates 55g18%
Protein 11g22%
Vitamin A 1794IU36%
Vitamin C 1mg1%
Calcium 160mg16%
Iron 14mg78%
* Percent Daily Values are based on a 2000 calorie diet.