Air Fryer Steak is perfectly cooked with the crusty sear on the outside and juicy inside. This is a great method to quickly and easily cook meat during busy weekdays.
You can pair this dish with Fried Cabbage and Ham, Hasselback Potatoes, or Parmesan Brussel Sprouts.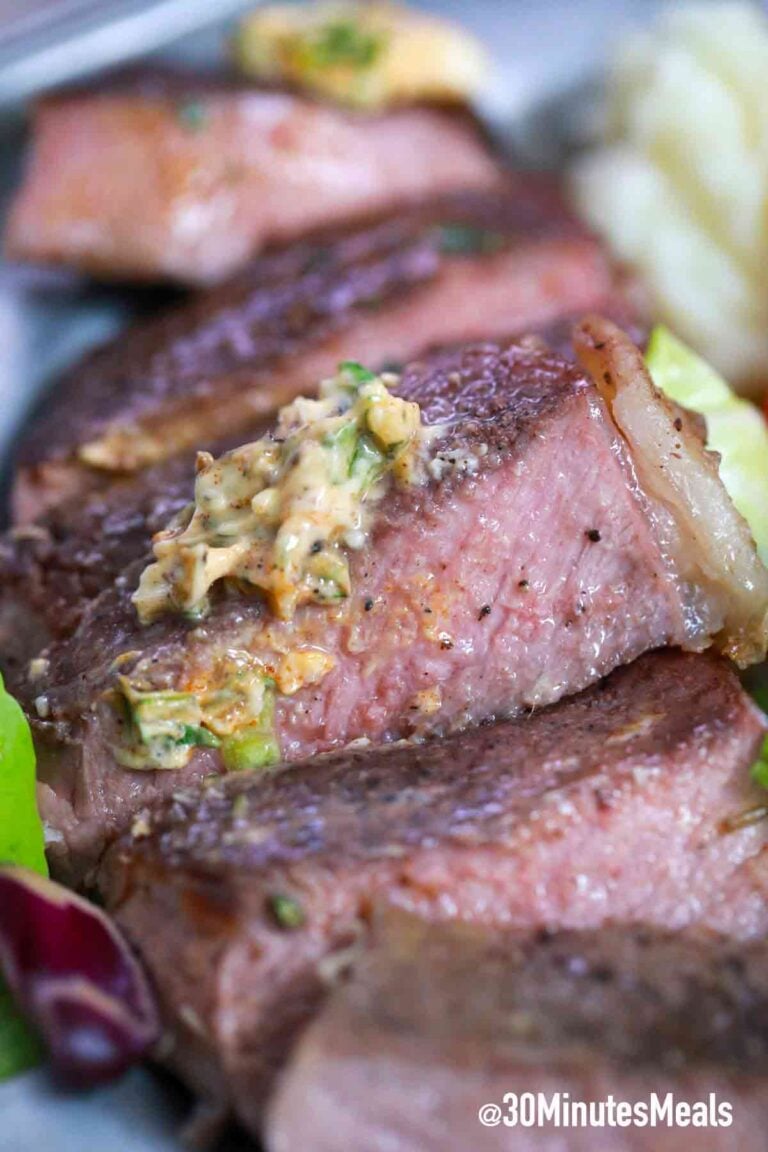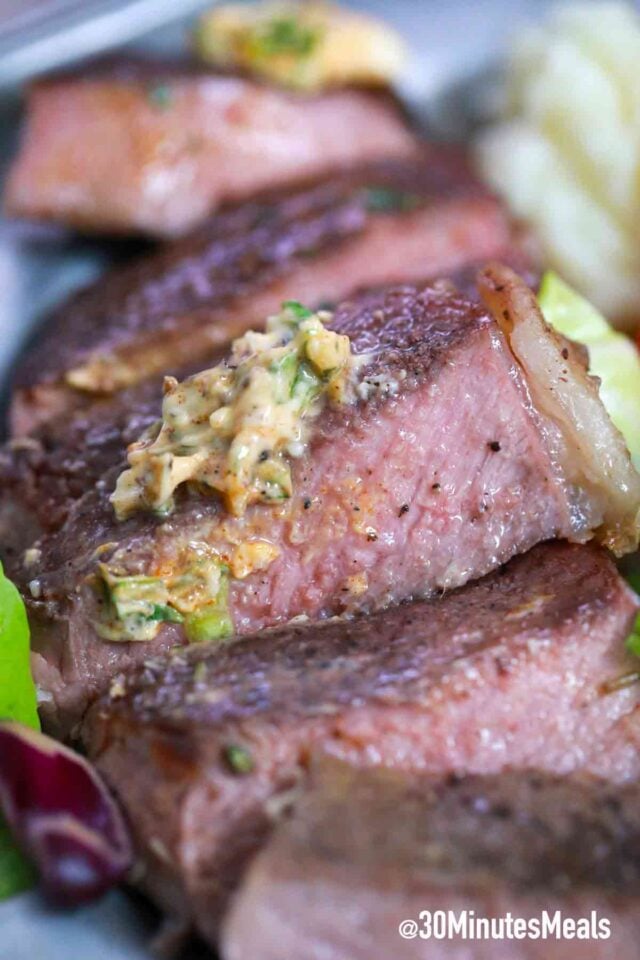 Juicy Air Fried Steak
If you are curious about how to make the BEST Air Fryer Steak, then look no further. This recipe is truly amazing, as it results in crusty outside and juicy on the inside. A great alternative to grilling the steak, without the smoke and extra hassle.
If you are a busy family you should definitely try to make it. All you need is to season the meat, and in less than 10 minutes, you will end up with a delicious steak that is as good and flavorful as the restaurant one. You will never believe this was cooked in the Air Fryer! It is truly a great way to cook the steak!
Also, there is not much cleaning up, since everything is done in the pot. I tend to use tender cuts here, such as sirloin, ribeye, strip, or T-Bone. Also, for the best results, go with marbled ones, which are about 1.5 inches thick. They will cook perfectly, and maintain a tender and juicy center each and every time.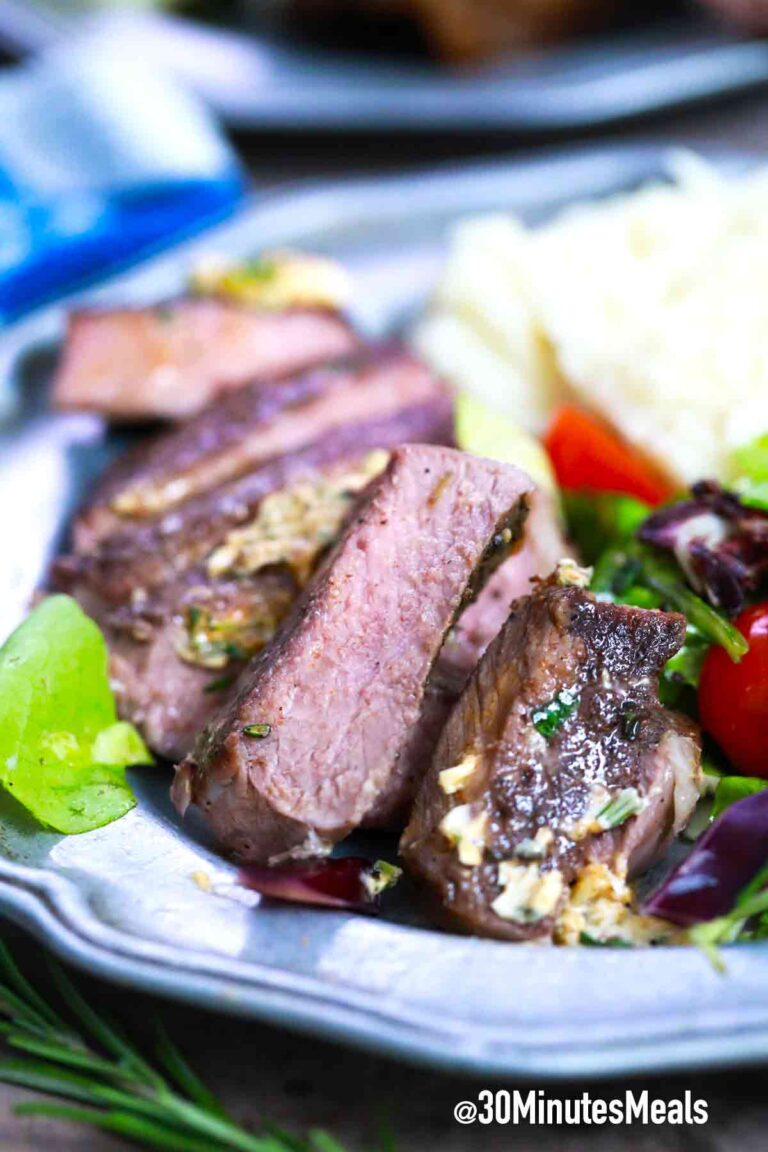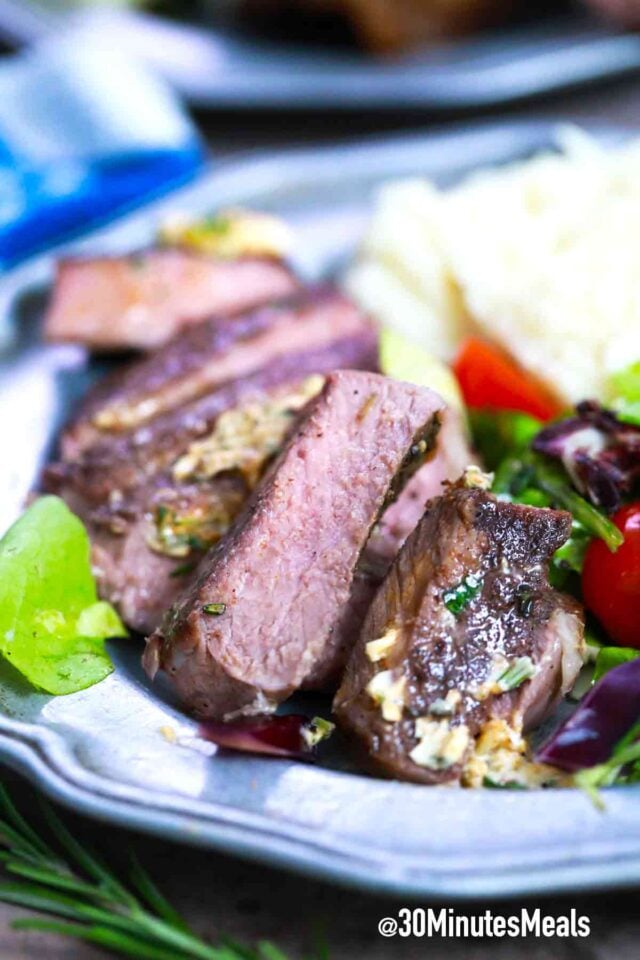 Ingredients needed:
Steak: As stated above, tender cuts are ideal here (sirloin, ribeye, strip, etc). Try to use freshly cut meat, which is well-marbled, and about 1.2 to 1.5 inches thick.
Butter: Unsalted butter.
Seasoning: Salt, pepper, garlic seasoning, freshly chopped thyme, and rosemary.
How to make Juicy Air Fryer Steak?
Preheat the AF: Firstly, get your air fryer ready by preheating it to the set temperature.
Season: Then, season the meat on both sides.
Cook: Next, place the steak in the basket of the AF, and cook at 425 degrees for 10 minutes.
Serve: Once cooked, top it with some butter, and let it rest for a few minutes prior to serving.
How many steaks can you fit in an air fryer?
Depending on your type, but as a general rule, you should be able to fit about 2 cuts. Also, when cooking something in the AF, it is important not to overcrowd the ingredients. The air should circulate freely to evenly cook the meat.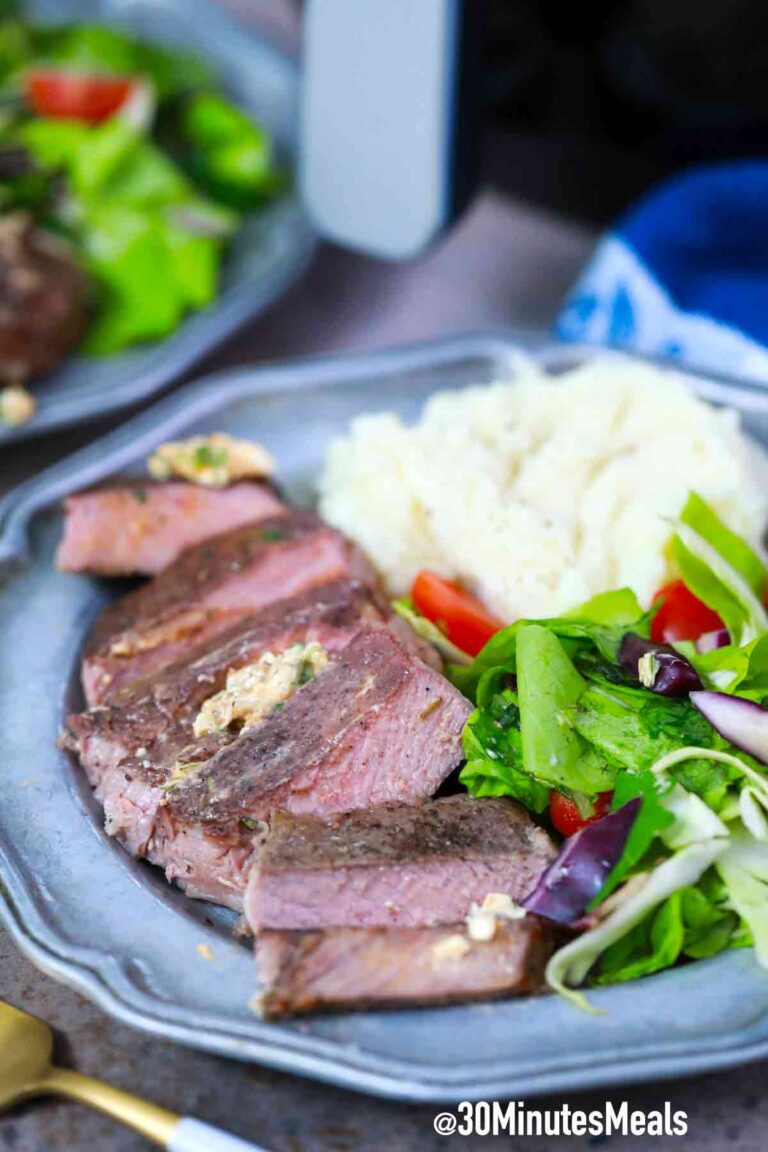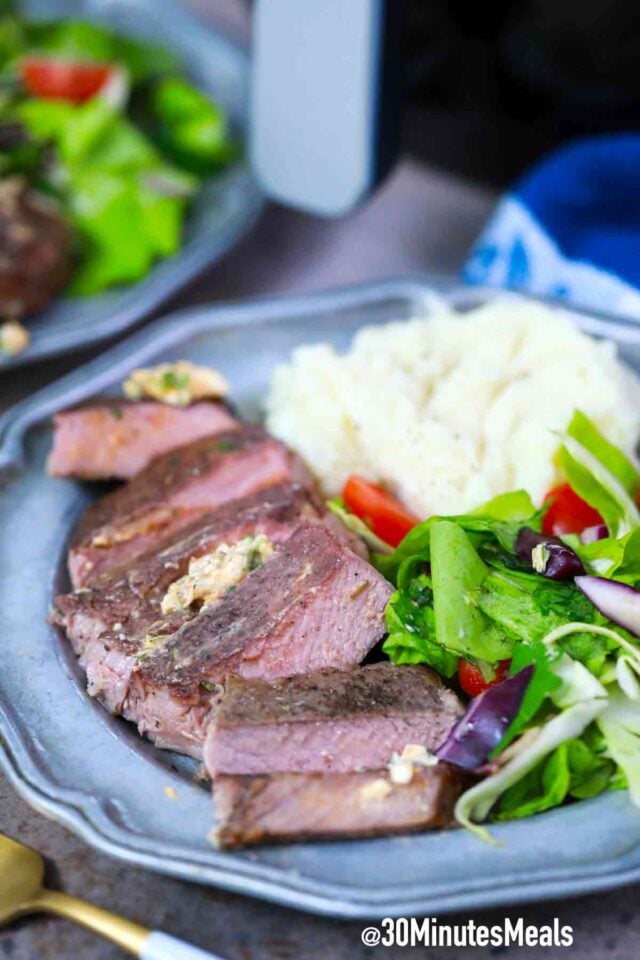 How Long to Air Fry Steaks?
Below is a quick guideline for about 1 inch, fresh cuts. If you are going to use thinner cuts, the cooking time should be reduced by 1-2 minutes, and vice-versa.
Rare – cook about 6 to 8 minutes
Medium – 8 to 10 minutes
Well done – 12 to 15 minutes.
Also, it is important to use a meat thermometer to check the internal temperature. The temperature for each doneness is listed below:
Rare: 125ºF
Medium-rare: 135ºF
Medium: 145ºF
Medium-well: 155ºF
Well done: 160º
What to goes with Air Fryer Steak?
Suggested sauces to use: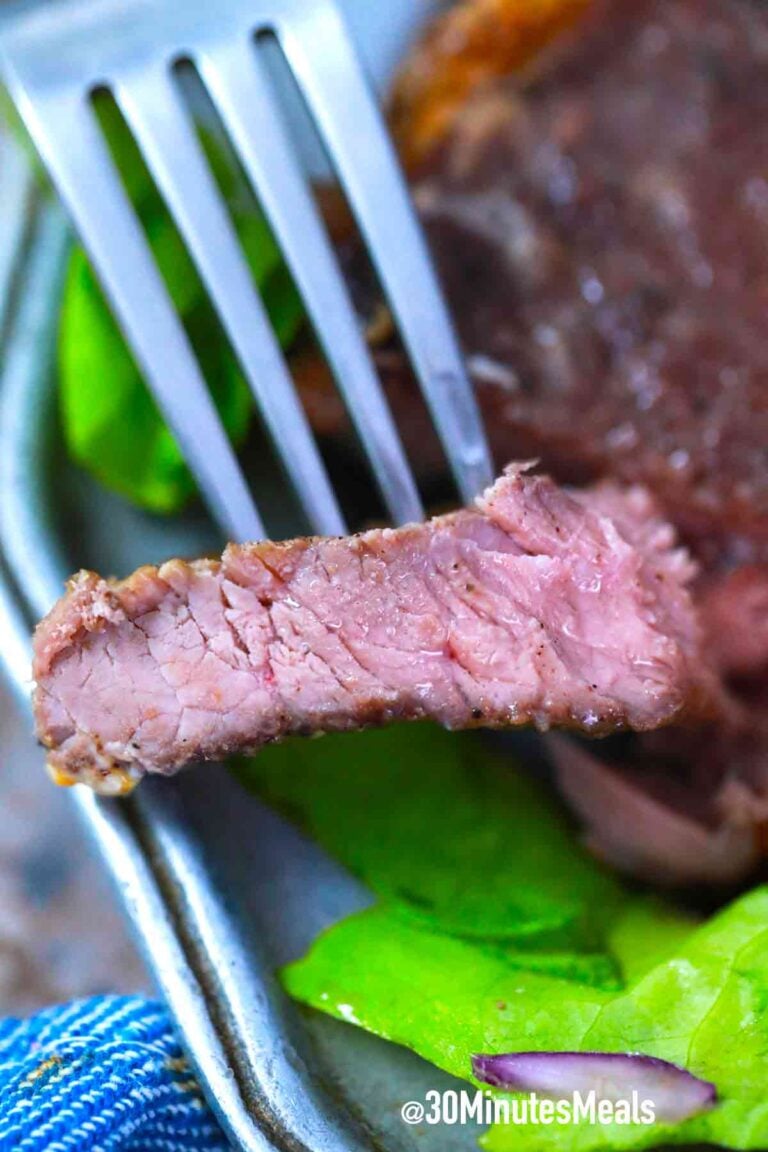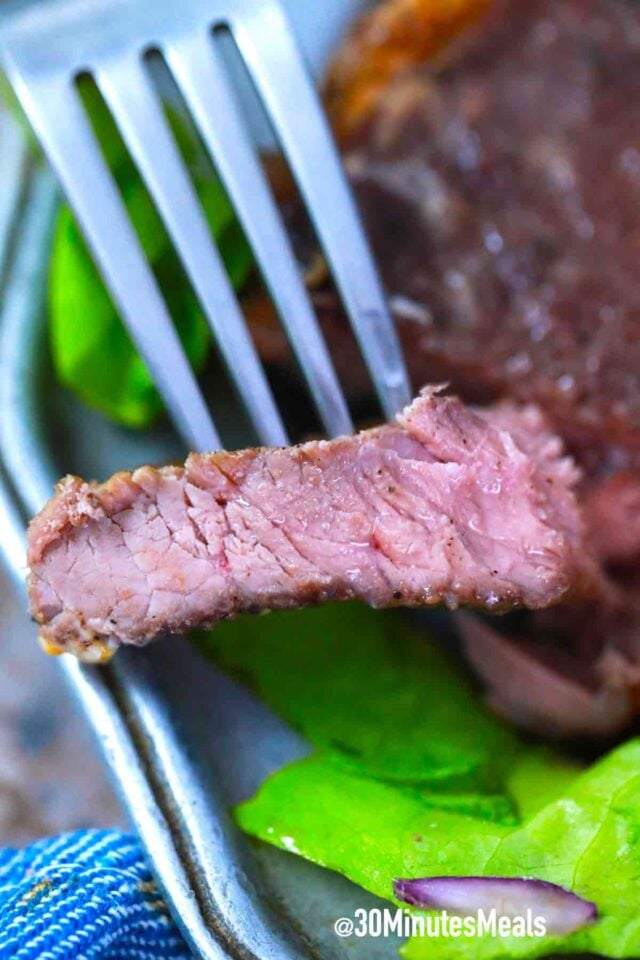 How to store leftovers?
Use an airtight container and refrigerate leftovers for up to 3 days. Also, you can use leftovers for breakfast by making an omelet, salads, or pasta.
To freeze it, use a freezer-safe dish and freeze for up to 3 months.
Reheat leftovers in the microwave for a few minutes.
Recipe Tips:
For the best results, let the steak rest at room temp prior to cooking.
Also, let it rest for about 5 minutes after cooking. This will elevate the flavors, and make it juicier.
I use unsalted butter to control the saltiness. However, you can use herbed butter or garlic butter for extra flavor.
Use a well-marbled cut for a tender and juicy result.
Feel free to use other seasonings. Italian, ranch, dried onion, etc can be used as well.
In addition, you can cook frozen meat in the air fryer. I usually cook fresh cuts. However, if you want to cook frozen steak, you could do so as well. Simply increase the cooking time by about 5 minutes.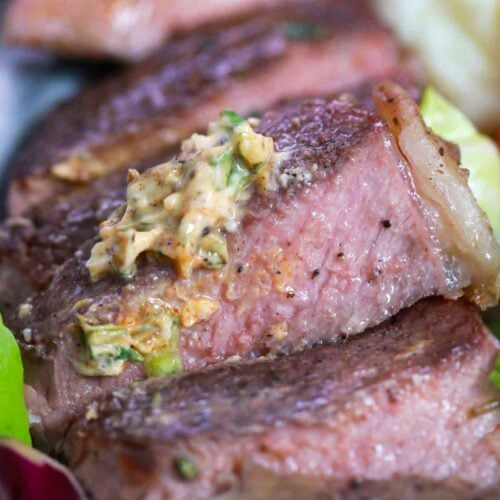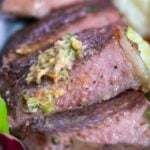 Air Fryer Steak Recipe
Air Fryer Steak is perfectly cooked with a delicious crusty sear on the outside and juicy and tender on the inside.
Ingredients
2

Ribeye Steaks

1.5 inches thick

Salt and pepper

1

teaspoon

garlic powder

1

teaspoon

fresh rosemary

finely diced

1

teaspoon

fresh thyme

finely diced

4

tablespoons

butter

, softened
Instructions
Preheat the air fryer to 400 degrees.

Pat dry the steaks and season with salt, pepper and garlic powder.

Mix butter with fresh rosemary and thyme, set aside in the fridge.

Add the steak to the air fryer basket and cook for 12 minutes, turning over after 6 minutes for medium. Let the steak rest for 5 minutes, top with the herb butter and serve.
Nutrition Facts
Air Fryer Steak Recipe
Amount Per Serving
Calories 677
Calories from Fat 495
% Daily Value*
Fat 55g85%
Cholesterol 198mg66%
Sodium 318mg14%
Potassium 637mg18%
Carbohydrates 1g0%
Protein 46g92%
Vitamin A 783IU16%
Vitamin C 2mg2%
Calcium 28mg3%
Iron 4mg22%
* Percent Daily Values are based on a 2000 calorie diet.