Air Fryer Bacon Wrapped Green Beans
Air Fryer Bacon Wrapped Green Beans are little green bean bundles doused with salt, pepper, and a touch of brown sugar. And these only have 5 net carbs per serving so they are not going to break your diet. These air fryer green beans are a great side dish with any of your holiday dinners.
Actually, these make a perfect side dish with Bacon Wrapped Smokies. Or add to any meal including these Bacon Wrapped Pork Medallions. With crispy bacon strips wrapped around crisp beans, this is sure to be one of your favorite recipes. Another fantastic vegetable side dish is this Air Fryer Corn on the Cob recipe.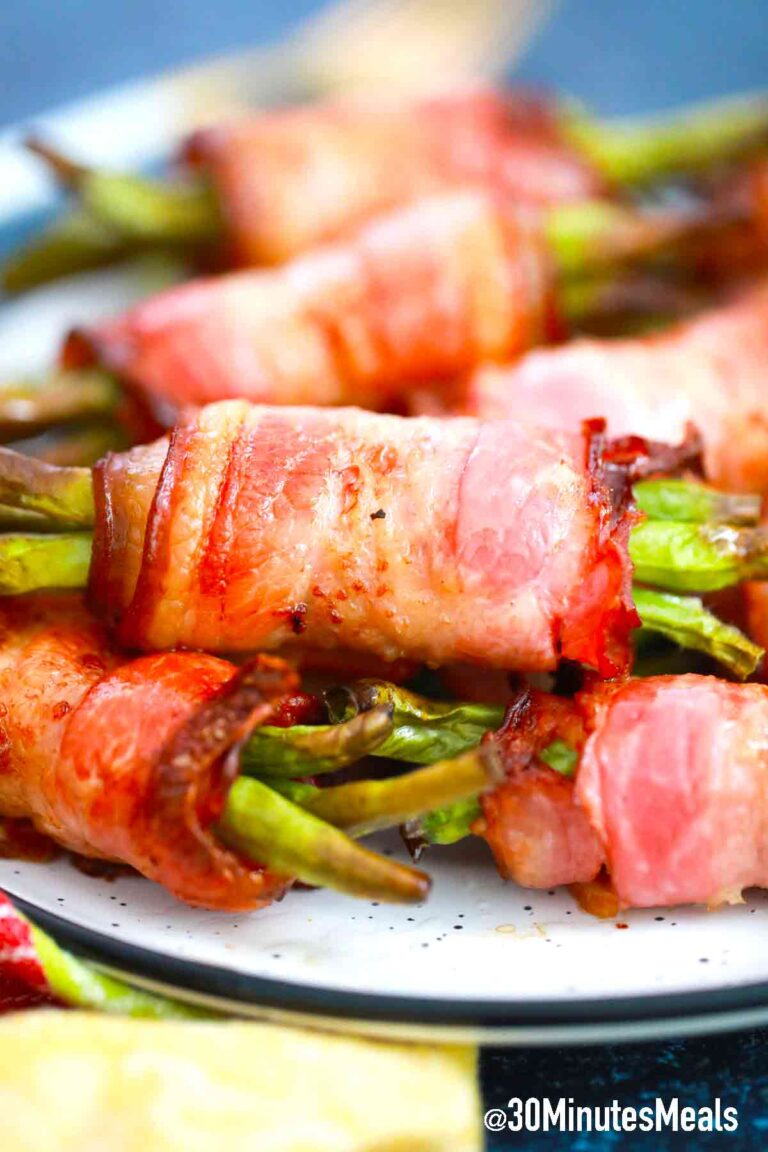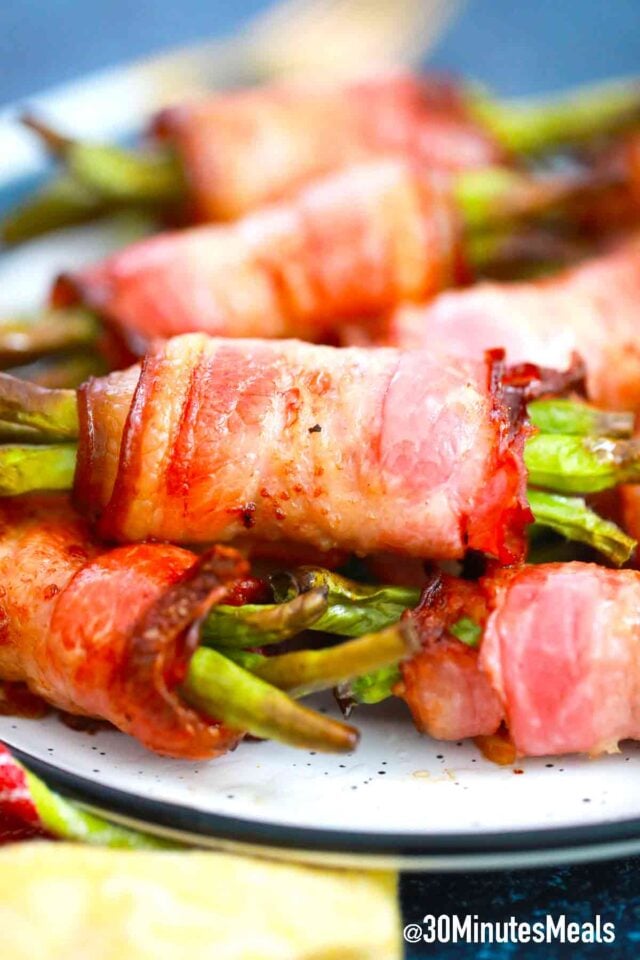 The flavors of the meaty bacon and tender green beans will make this easy recipe a favorite on your dinner table all the time. And using the air fryer makes the cooking process simple as well as fast. Especially since it is low carb and uses simple ingredients that you probably already have in your kitchen.
These are healthier and even tastier than French fries with each slice of bacon wrapped around crispy green beans for the perfect pairings. The bright green color will make a great addition to your Thanksgiving table or any main meal you are having. This dish is even better than green bean casserole.
Ingredients needed:
You probably will not need any detailed instructions, but the exact measurements and directions are on our recipe card below. Here are the main ingredients you need though:
Standard green beans: Fresh stalks of green beans.
Uncured bacon: You could use cured bacon if that is all you have.

Seasoning: We used sea salt and black pepper, but you can add whatever you like.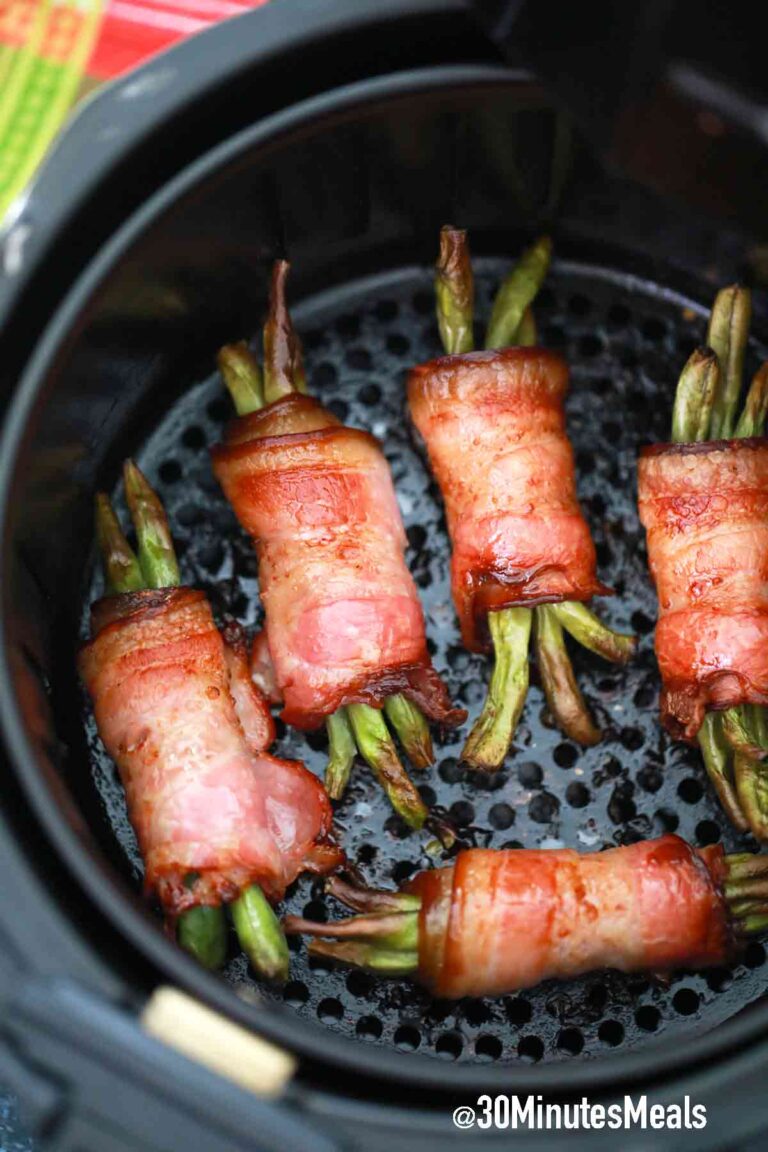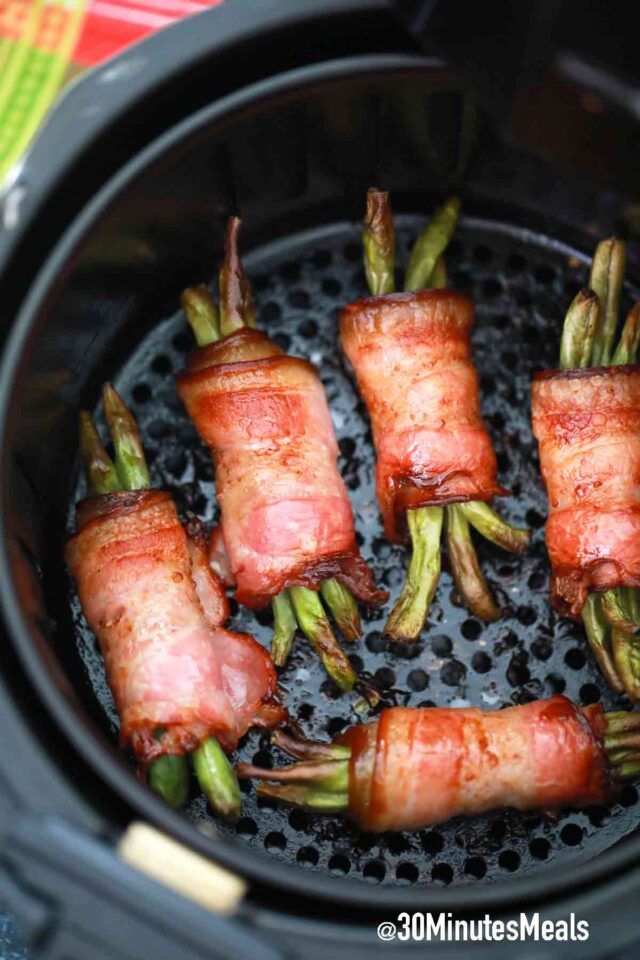 How to make air fryer bacon wrapped green beans?
Preheat: First, preheat your air fryer to 370 degrees F.

Bathe: Meanwhile, using a sharp knife cut off the ends of the green beans and give them an ice bath in a large bowl of cold water.

Dry: Immediately, place them onto a bed of paper towels to dry.
Season: After the beans are dry, sprinkle them with a little bit of seasoning.

Wrap: Then, wrap little bundles of two or three string beans with a strip of bacon and place them seam side down on a baking sheet sprayed with cooking spray or olive oil.

Place: Finally, place each bundle in a single layer on the bottom of the air fryer basket that you sprayed with cooking spray.

Cook: Last, let the high heat cook the bundles for 10 to 15 minutes or until the bacon is crisp and brown.
Recipe variations:
Haricots verts: Alternatively, use French green beans instead.
Add seasonings: Sprinkle some garlic powder, paprika, parsley, onion, or other seasonings you like on the bundles before cooking them.

Healthier bacon: To make this a really healthy air fryer recipe, try using turkey bacon. It is a great alternative.

Make fries: As another alternative, skip the wrapping and make air fryer green bean fries.
Make them spicy: Sprinkle some cayenne pepper on these for a spicy kick.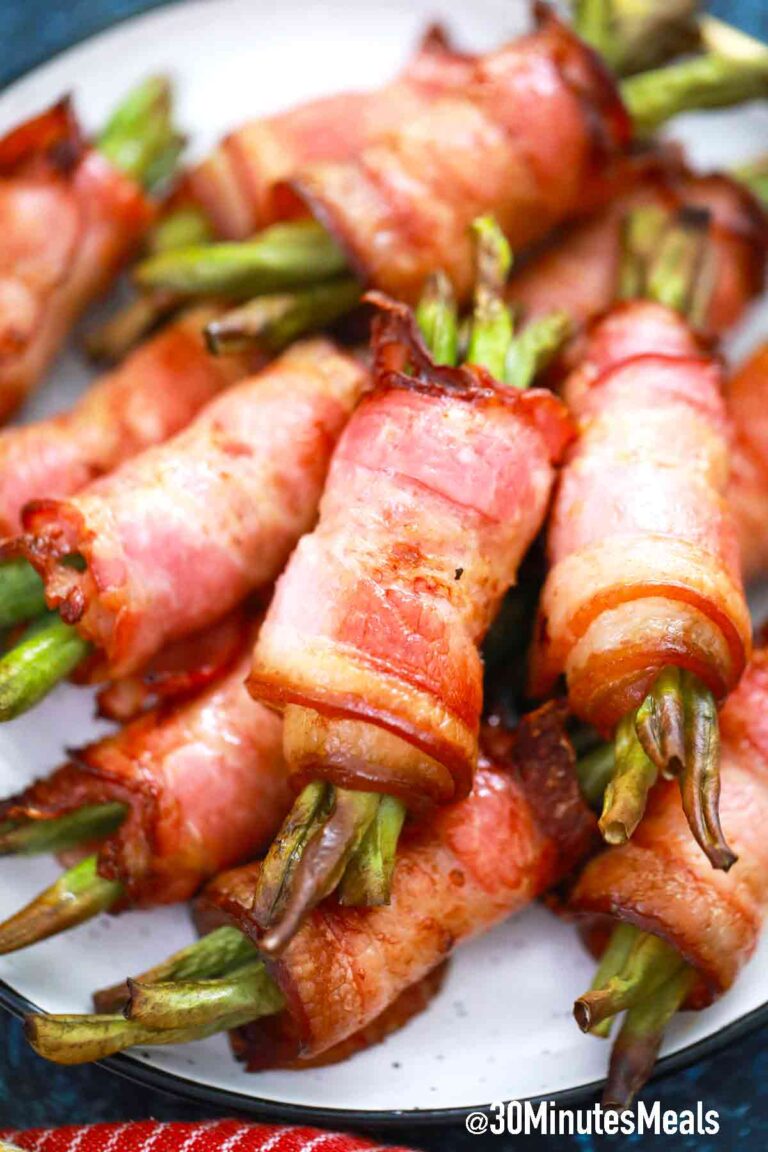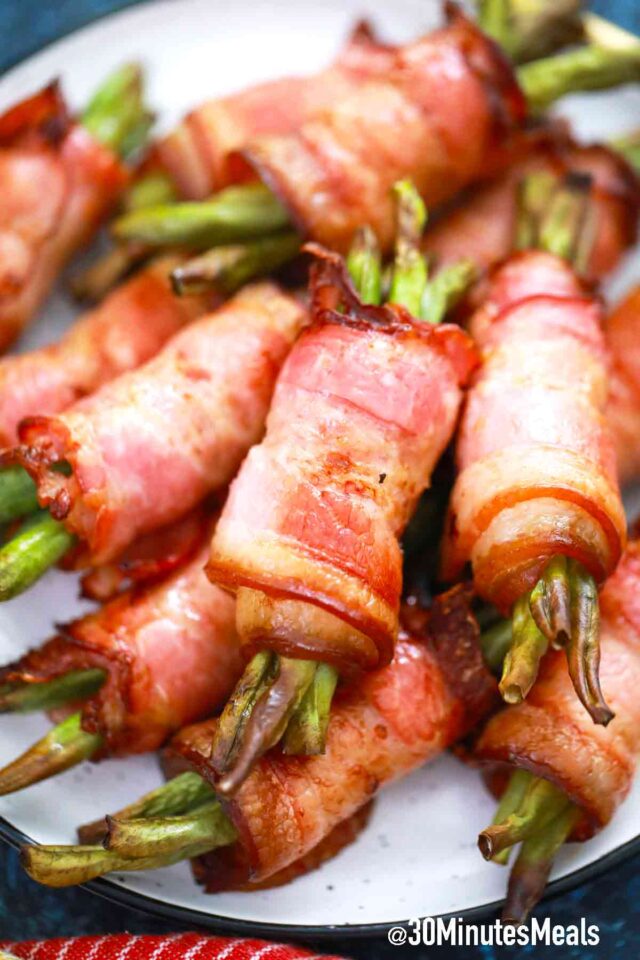 How to serve:
These bundles of flavorful bacon and beans are best served warm with a sprinkle of salt and pepper, and they are a nice keto side dish to whatever main dish you are making. Here are some other serving ideas:
Serve with a side of Dijon mustard for dipping.

Add a few cherry tomatoes to the side to make the dish really festive.
This will make a delicious side dish for these air fryer pork chops.

Add a bit of sea salt for salty bacon.
These are a wonderful addition to bacon Philly cheesesteak sloppy joes.
Sprinkle your bean and bacon bundles with parmesan or shredded cheese.
Serve with this scrumptious shrimp ceviche for seafood lovers.
Frequently asked questions
Are canned beans okay?
Although you can use canned green beans instead of fresh green beans, they can get too soft if you are using raw bacon. If you choose to use canned, make sure the bacon is about halfway cooked before wrapping them up and cooking them. Also, cut the cooking time in half.
What is the difference between cured and uncured bacon?
Instead of using artificial sodium nitrites to preserve the bacon, uncured bacon uses a type of celery that makes natural nitrites. They also add parsley, beets, and sea salt to uncured bacon to makes the color of the bacon more appealing.
Is it necessary to soak the beans in ice water?
If you blanch your beans by boiling them first, it is good to put them in ice water afterward to stop the cooking process. But it is not necessary to blanch your beans so do it the easy way and just cook them in the air fryer.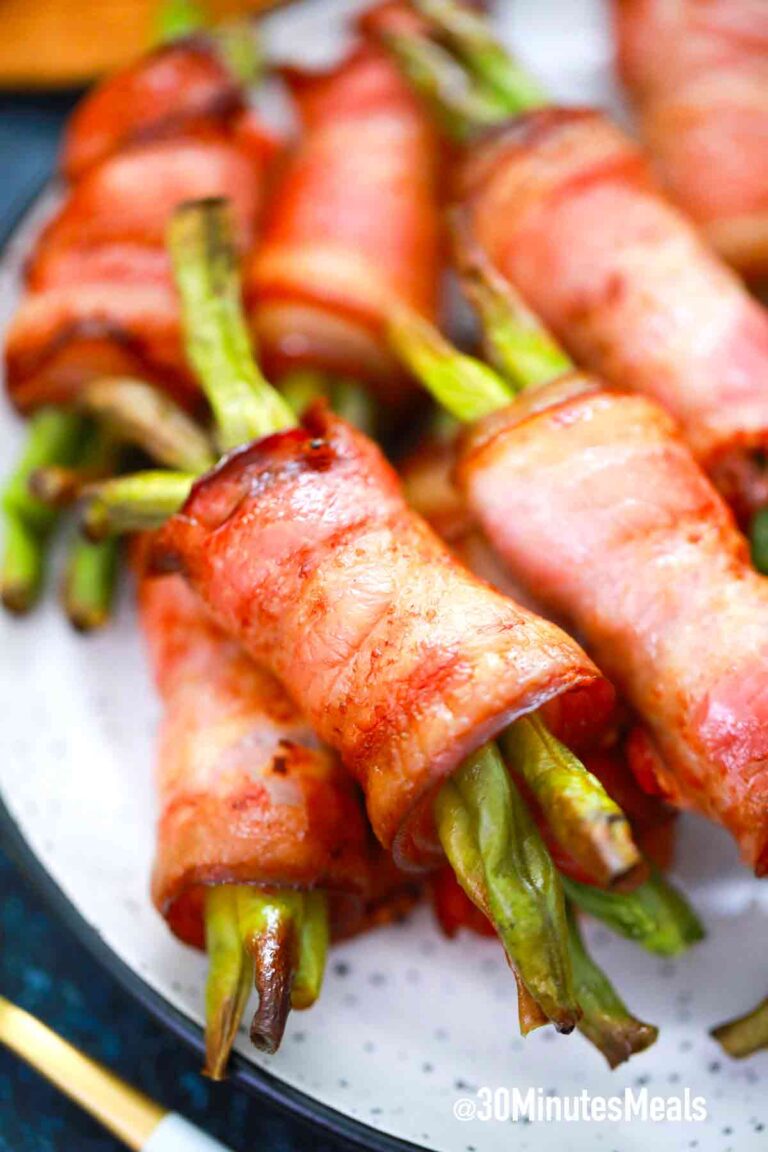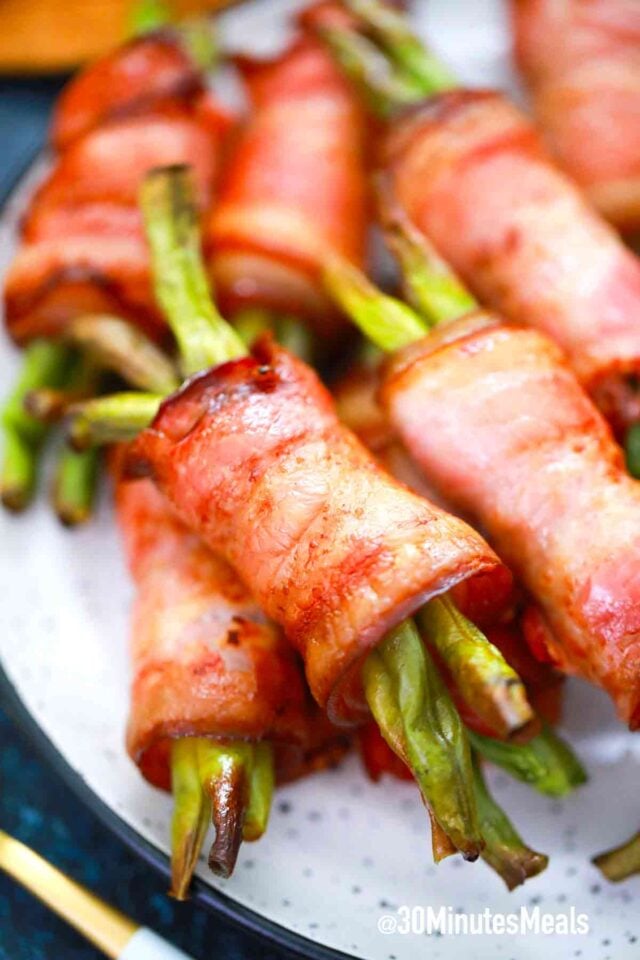 How to store leftovers:
Store: Store your leftovers in an airtight container in the refrigerator for up to three days.

Freeze: If you do not finish them in three days, freeze them by wrapping them in plastic wrap and place them in a freezer bag. They will last for about three months.
Reheat: Either reheat these in the air fryer or microwave for five minutes.
Recipe tips:
Make sure the beans are dry before wrapping them.
Use thin strips of bacon so they get crispier.
Try adding the leftovers to a soup or casserole.

You could also add them to this 30-minute chili recipe.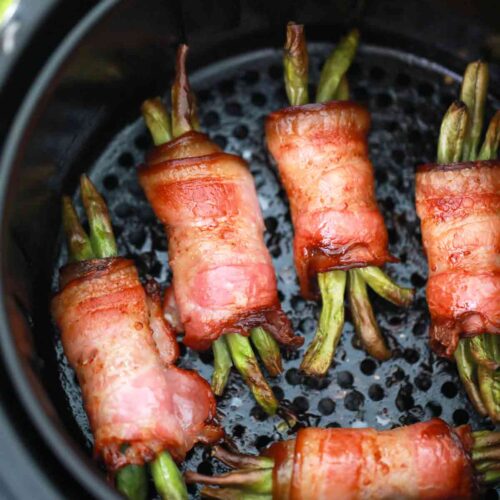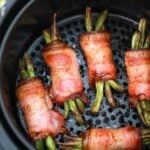 Air Fryer Bacon Wrapped Green Beans
Air Fryer Bacon Wrapped Green Beans are little green bean bundles doused with salt, pepper, and a touch of brown sugar made.
Course:
Appetizer, Side Dish
Keyword:
Air Fryer Bacon Wrapped Green Beans
Ingredients
32

stalks

fresh green beans

1

tablespoon

brown sugar

optional

1

teaspoon

paprika

Salt and pepper

to taste

12

slices

uncured bacon
Instructions
Preheat the air fryer to 380 degrees F.

Wash the beans under cold water. After that, pat dry with paper towels and trim the ends.

Add the beans to a large mixing bowl and toss with brown sugar, paprika, salt, and pepper.

Take about two three green beans and wrap in a piece of bacon tightly.

Arrange seam side down in a single layer in the air fryer basket. You will have to cook these in batches.

Air fry for 12-15 minutes or until the bacon is crispy.
Nutrition Facts
Air Fryer Bacon Wrapped Green Beans
Amount Per Serving
Calories 291
Calories from Fat 234
% Daily Value*
Fat 26g40%
Cholesterol 44mg15%
Sodium 439mg19%
Potassium 163mg5%
Carbohydrates 5g2%
Protein 9g18%
Vitamin A 326IU7%
Vitamin C 1mg1%
Calcium 10mg1%
Iron 1mg6%
* Percent Daily Values are based on a 2000 calorie diet.