Crispy Hash Browns are so fast and easy, with just three ingredients you probably already have in your kitchen. The only thing you will need for this simple recipe besides oil and seasonings is raw potatoes. In fact, these are the best crispy hash browns you will ever taste, and you can make them in record time, giving a new meaning to fast food.
These crispy potatoes make a fantastic side dish to these savory Eggs in a Basket. The crunchy bread with the soft egg in the middle goes great with these hash browns. Another excellent choice to go with these is Oatmeal Pancakes made with creamy yogurt. Add this Chocolate Cherry Smoothie to your breakfast meal for a drink that tastes like dessert.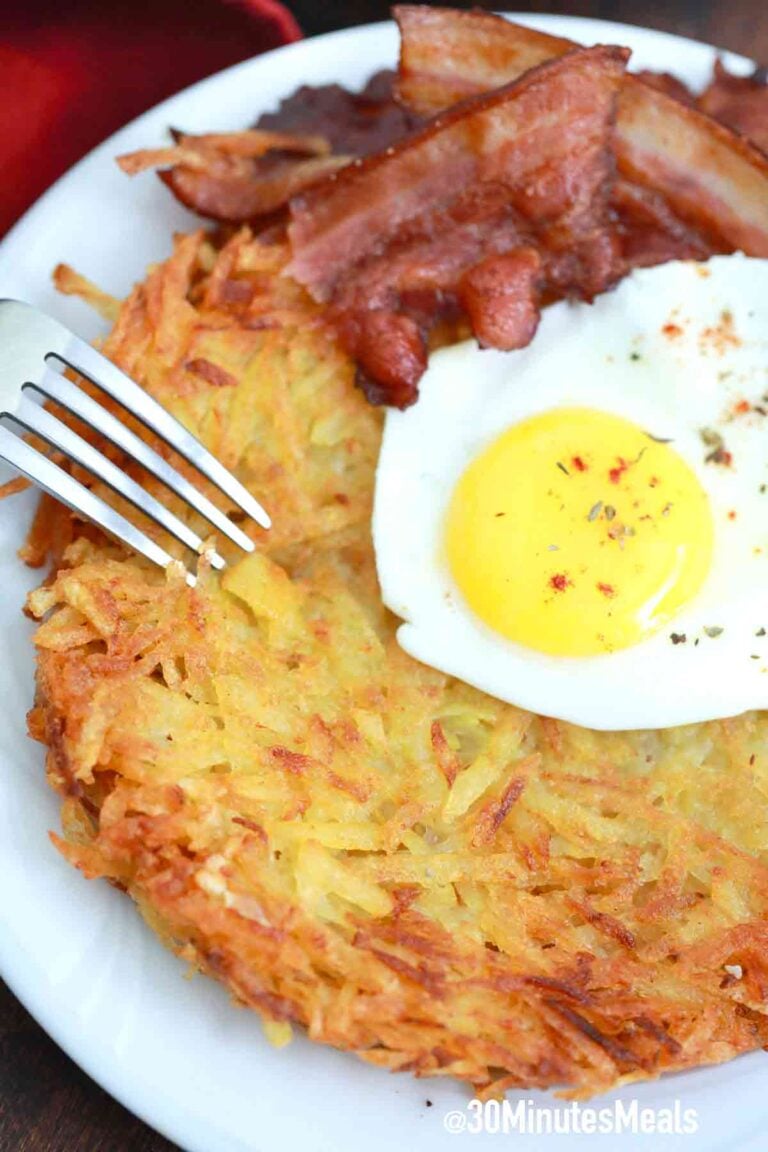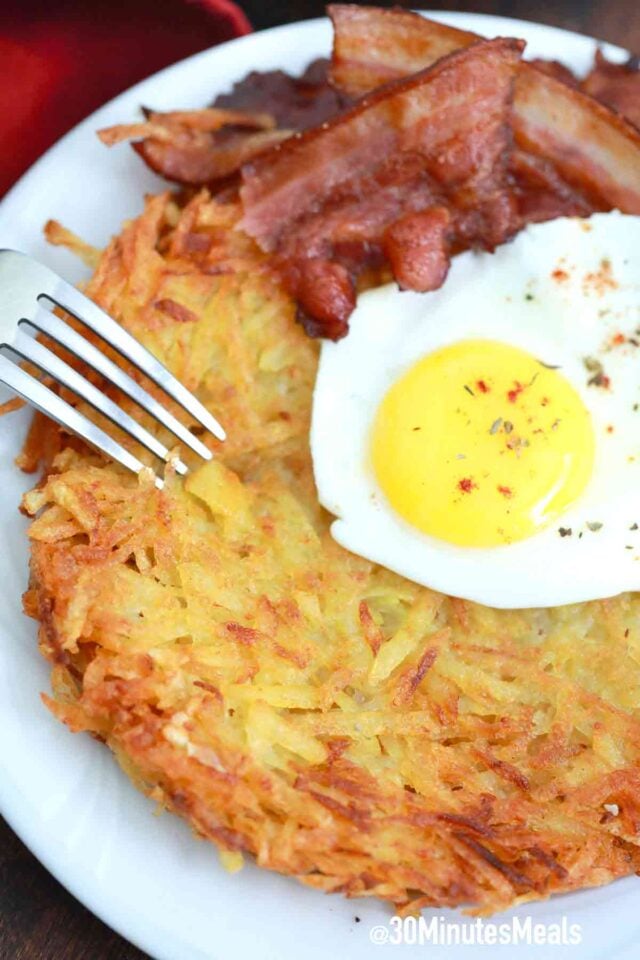 Homemade hash browns are the perfect accompaniment to eggs, bacon, sausages, breakfast burritos, or pancakes. You probably grew up calling them breakfast potatoes, but these grated potatoes are a great side dish to any meal. No matter what your meal plans are, these delicious golden brown home fries are just amazing.
This recipe is extremely easy with just a few simple steps so it will not take a long time. The longest time will be spent shredding the potatoes. Use a food processor to speed up this step. The key to a crispy exterior and fluffy center is squeezing out as much water as you can.
Ingredients needed:
This easy recipe has only three ingredients that many of us already have in our kitchen. So, chances are good that you will not have to go shopping before making these hash browns. Here is all you will need to get started:
Potatoes: Russet baking potatoes.
Olive oil: Extra-virgin olive oil works best but you can use vegetable oil.
Salt and pepper: We use kosher salt and black pepper.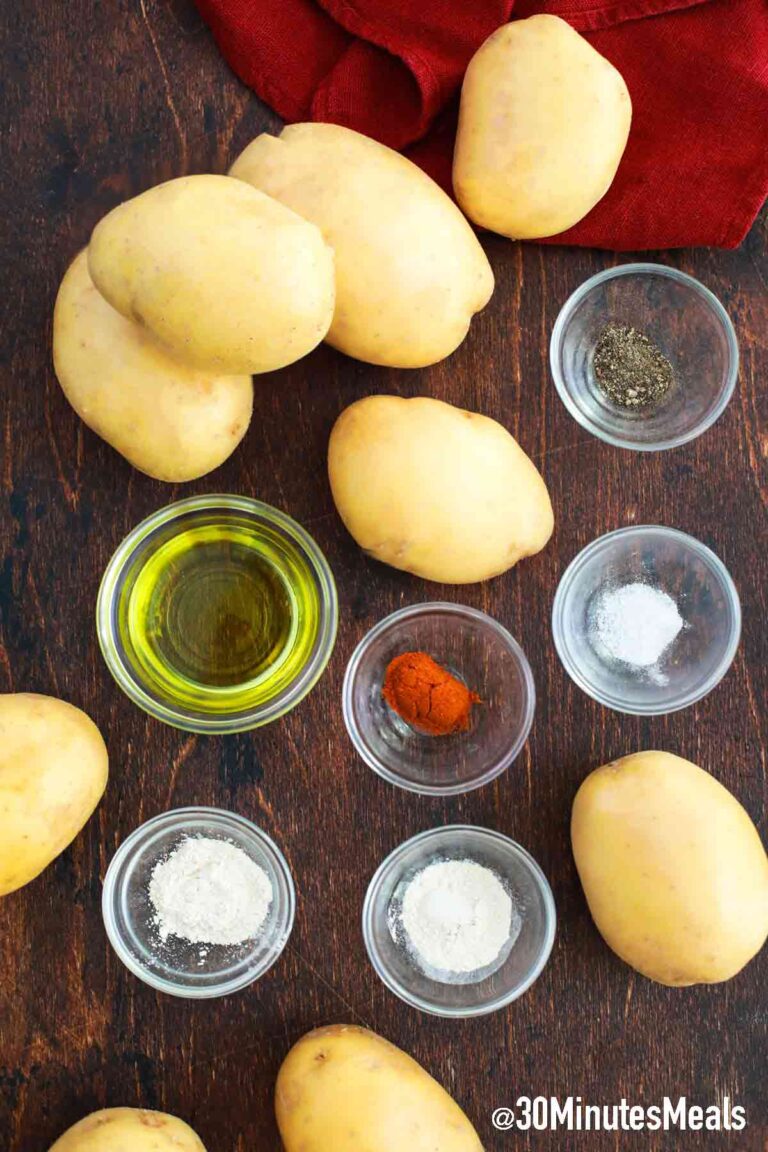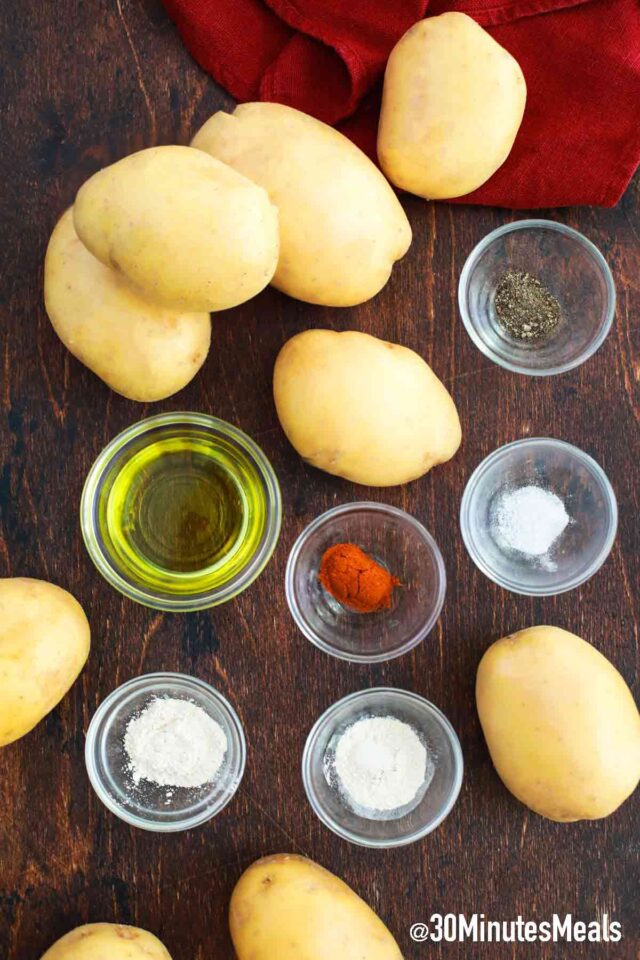 How to make crispy hash browns from scratch?
Peel and grate: First, peel the potatoes, placing them in a large bowl, and rinse them in cool water before grating them with the large side of a box grater.

Squeeze: Next, get rid of all the moisture you can from the potatoes using a potato ricer or a fruit or garlic press. This is the secret to perfect hash browns.

Cook: Then, put three tablespoons of oil in a large skillet on medium heat. Once the oil is simmering, add the potatoes in a single layer and spread them out to make a thin layer about ¼ inch thick. Sprinkle them with salt and pepper.
Flip: Lastly, use a large spatula to flip the potatoes all at once after the edges are brown. Continue to cook them until they are golden brown.

Tip: The cook time can vary depending on the pan. A cast-iron skillet works well but takes longer to heat up.
Recipe variations:
More spice: In addition, you could add some onion powder, garlic powder, seasoning salt, or smoked paprika for more seasoning.

Add veggies: Alternatively, toss in some chopped red onion and fresh garlic instead of powdered.
Make them meaty: Toss in some cooked bacon or ham during the frying process for some extra meatiness.
Cheese it up: Sprinkle some shredded cheese or grated parmesan after flipping.
Other add-ins: Try adding some mushrooms, asparagus, carrots, or broccoli to make these the main dish.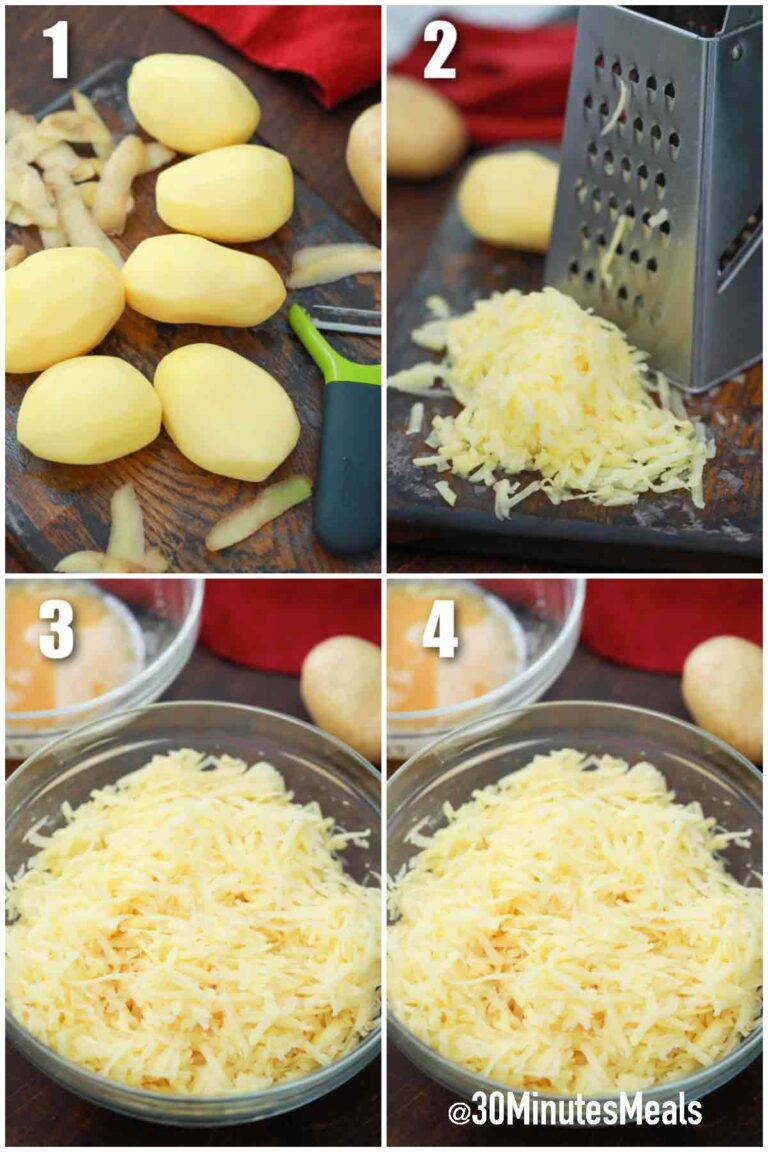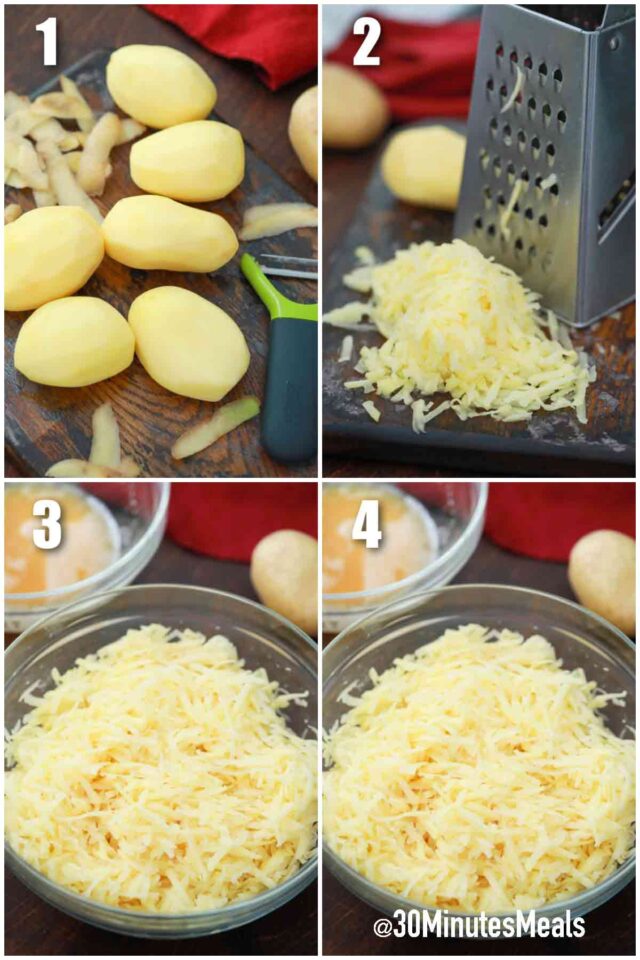 How to serve:
These delicious hash browns are best served hot and crispy with an egg on top. However, you could try one of these other serving suggestions: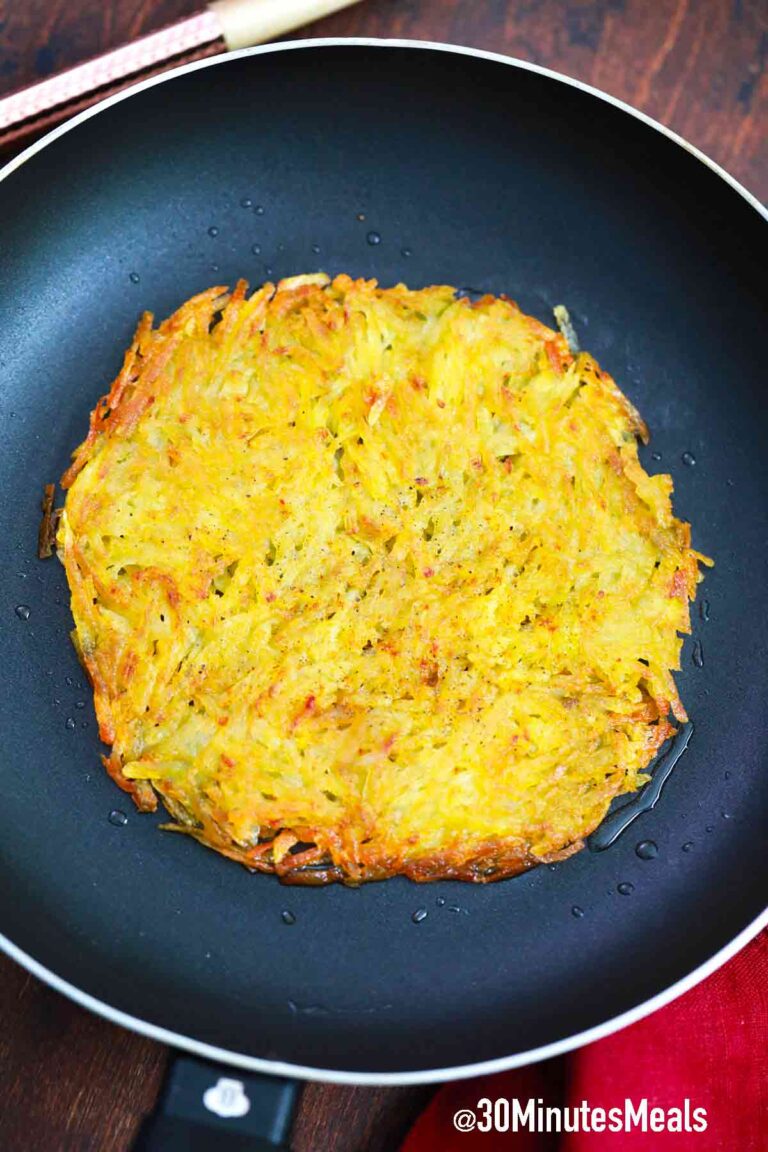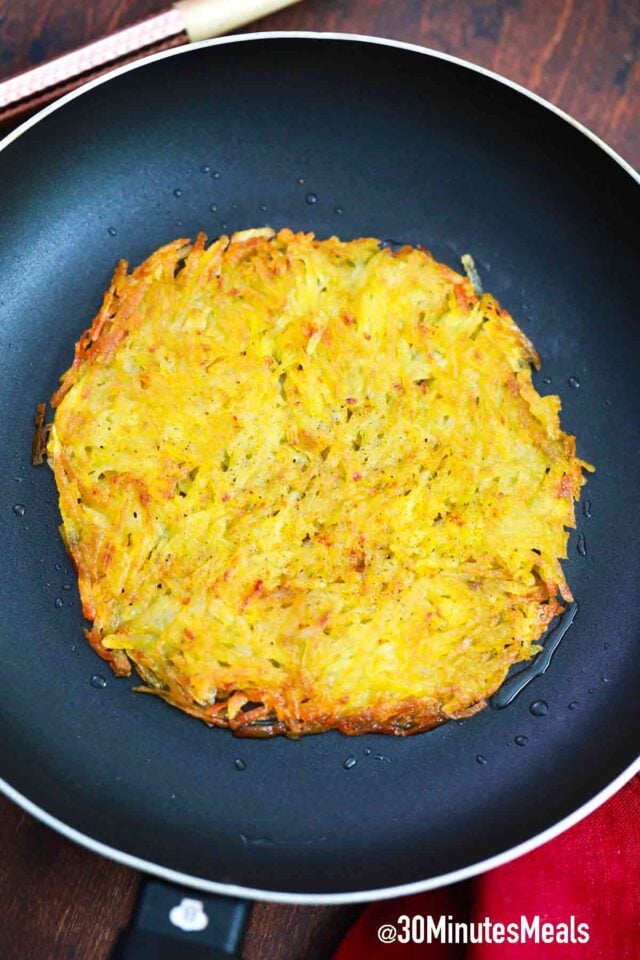 Frequently asked questions
What kind of potatoes work best for hash browns?
The starchier the better, excess starch means crispier potatoes. Russet potatoes are the best ones to use. Yukon gold potatoes are also acceptable for this recipe. You can use red potatoes, but they are lower in starch and hold more moisture.
Using these, you will need to squeeze out the moisture even more than the brown potatoes. These are waxy potatoes and are more difficult to dry out. Many people find that reds work better because they hold their shape better too, but they do not brown as evenly.
Should I thaw hash browns before I cook them?
Yes, it is important to thaw out the hash browns before you cook them. Remember that you do not want any moisture in your potatoes when you cook them, and frozen potatoes have too much moisture. Thaw them by leaving them out for a while or, if you are in a hurry, defrost them in the microwave, checking them every 30 seconds. Then be sure to squeeze out the moisture before frying.
Why are my hash browns sticking to the pan?
You may think that using a nonstick pan is good enough to prevent your potatoes from sticking but it is more than that. If you want golden brown hash browns that are nice and crispy, you want to coat the pan in olive oil (make sure you have enough oil) and heat it until it is shimmering.
Wait until drops of water sizzle and steam, balling up in the pan. That is when to start frying and keep it at medium-high heat while cooking. You don't want soggy hash browns so be sure to only use the recommended amount of oil.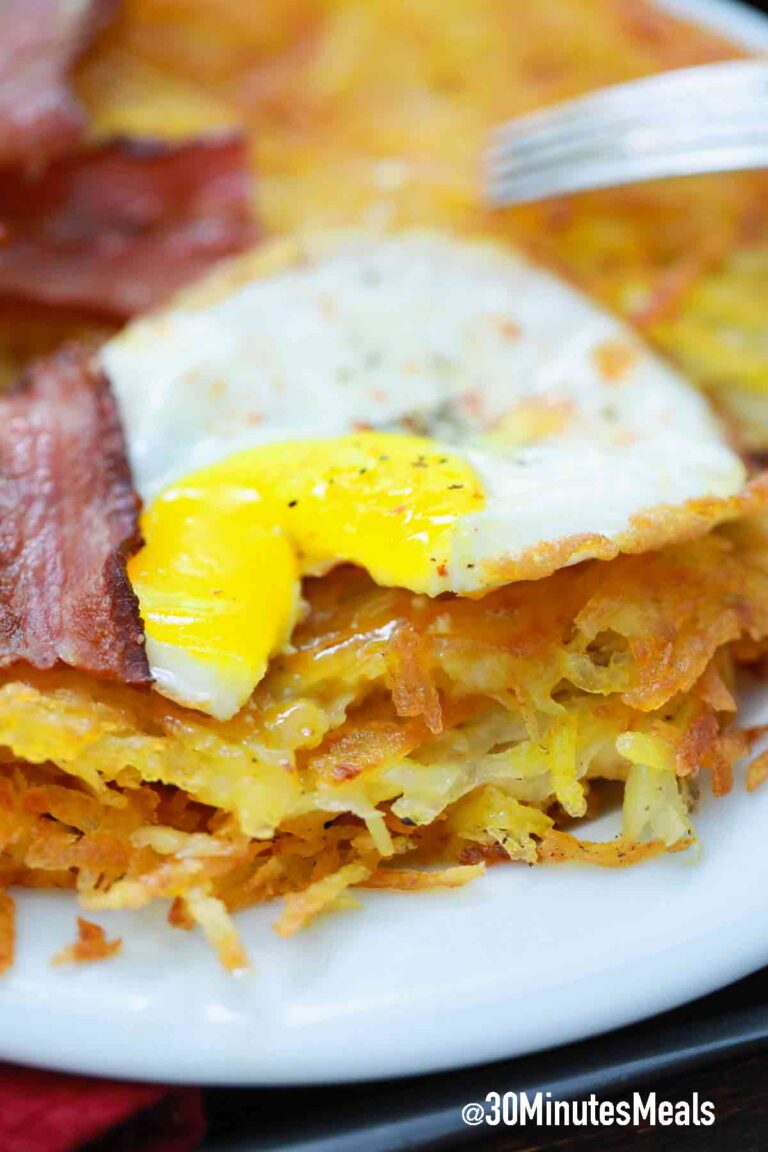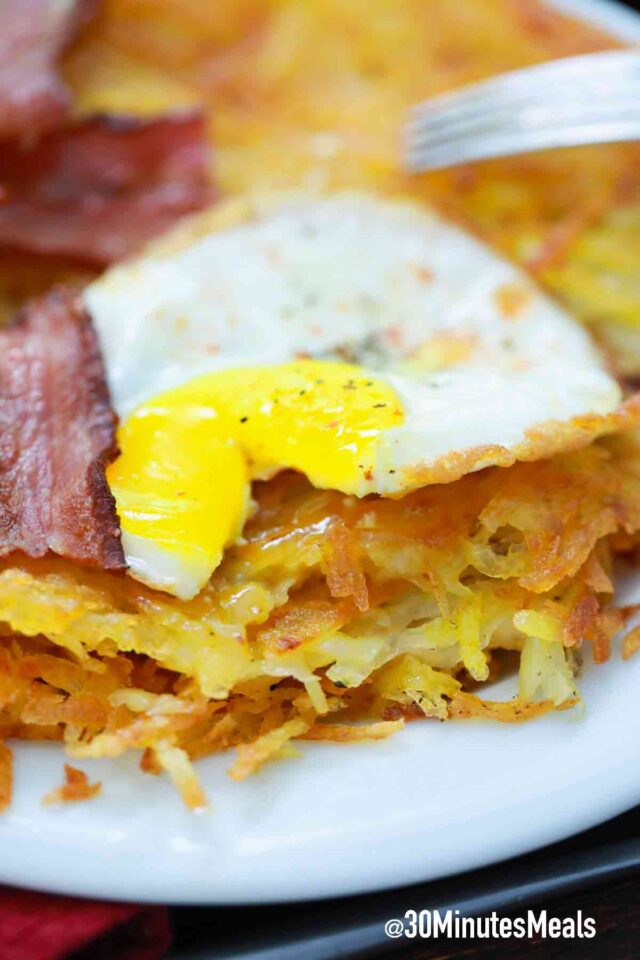 How to store leftovers:
Store: Although they are best eaten right out of the skillet, you could store them in an airtight container or Ziploc baggie in the fridge for up to five days.
Freeze: Freeze what is left for up to three months in a freezer bag.
Thaw: Thaw these out in the refrigerator overnight before reheating.
Reheat: After they are thawed out, you can reheat them in the microwave or on the skillet.
Cooking tips:
If you do not have a potato ricer or fruit press, use a kitchen towel or paper towels to squeeze out as much liquid as you can.
You may also want to rinse your shredded potatoes under cold water before wringing out the excess moisture.
Make sure your potato shreds are spread in an even layer when you cook them.

You do not want excess oil in your pan so follow the measurements carefully.
If you do not have any real potatoes, you can use thawed out and dried frozen hash browns for this hash brown recipe.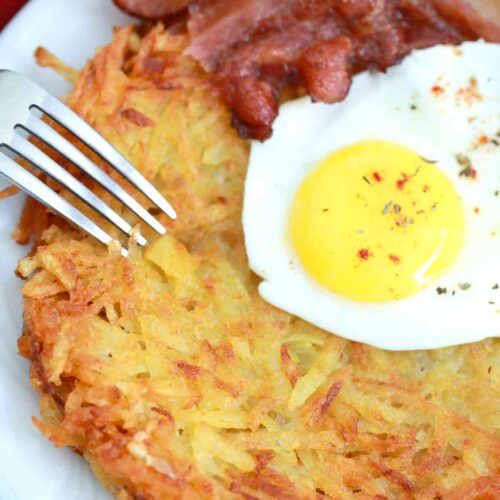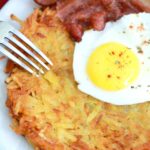 Crispy Hash Browns
Crispy Hash Browns are so fast and easy to make, with just three ingredients you probably already have in your kitchen.
Keyword:
Crispy Hash Browns
Ingredients
3

tablespoons

extra virgin olive oil

1

pound

Russet baking potatoes

Salt

to taste

1/2

teaspoon

garlic powder

optional

1/2

teaspoon

smoked paprika

optional

Ground black pepper

optional - to taste
Instructions
First, peel the potatoes.

Wash them under cold water and pat dry with a kitchen towel.

Grate them in a large bowl.

After that, working in batches, squeeze as much moisture as possible. Either use your hands or wrap the potatoes in a kitchen towel and squeeze.

Add the squeezed potatoes to a different large bowl.

Place a large skillet over medium-high heat, add the oil and once shimmering add the grated potatoes.

Arrange them in a layer that is about 1/4-inch thick.

Season with salt, pepper, garlic powder, and paprika if using.

Cook for 3-5 minutes or until golden-brown, then flip and cook more until crisp.

Remove from heat and serve immediately topped with an egg and bacon on the side.
Nutrition Facts
Crispy Hash Browns
Amount Per Serving
Calories 364
Calories from Fat 189
% Daily Value*
Fat 21g32%
Sodium 15mg1%
Potassium 975mg28%
Carbohydrates 40g13%
Protein 5g10%
Vitamin A 251IU5%
Vitamin C 45mg55%
Calcium 29mg3%
Iron 2mg11%
* Percent Daily Values are based on a 2000 calorie diet.