Air Fryer Corn on the Cob Recipe
Air Fryer Corn on the Cob is so easy and fast, you will wonder why you ever made it any other way. It only takes 15 minutes and all you need is corn, olive oil, and seasoning. No need to turn the house into a steam bath by boiling it or heating up the house with the oven.
On the other hand, if you happen to be barbecuing anyway, you can cook these on the grill with this Grilled Corn Recipe. Or if you want another side dish to go with the corn, how about these crispy and tasty Air Fryer Zucchini Fries? Or forget the cob and make Avocado Corn Salad for a nice cool and creamy appetizer.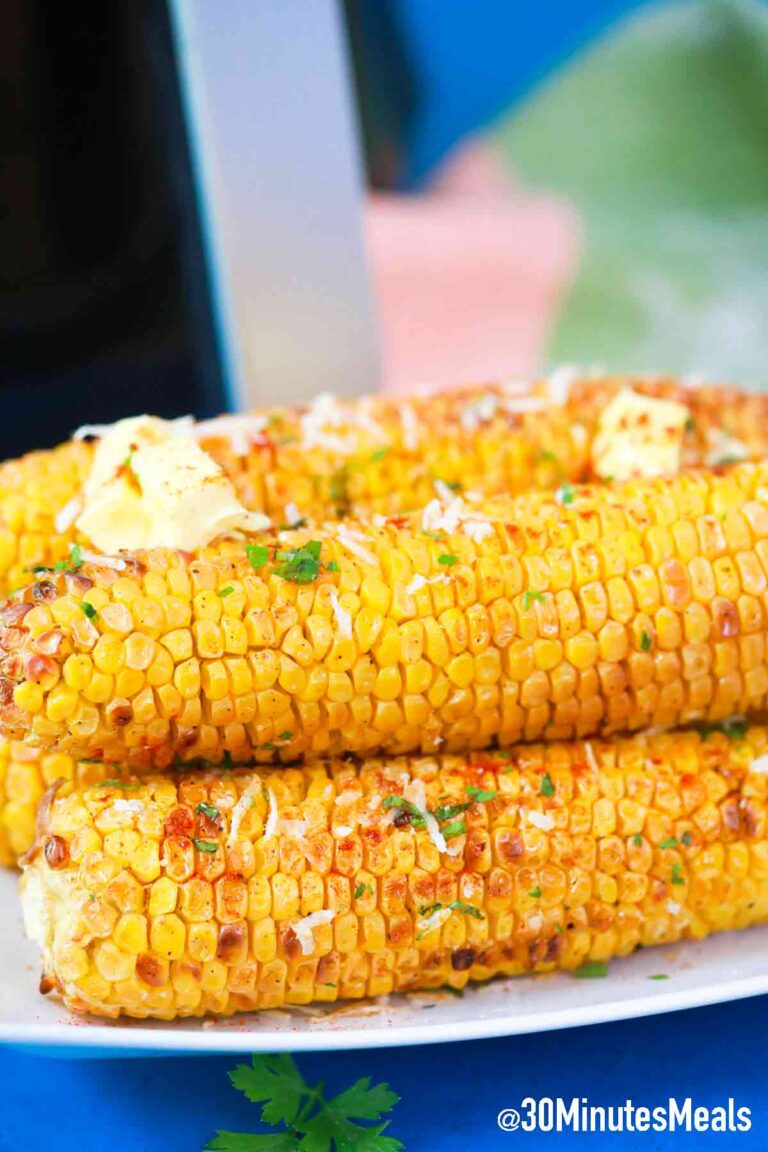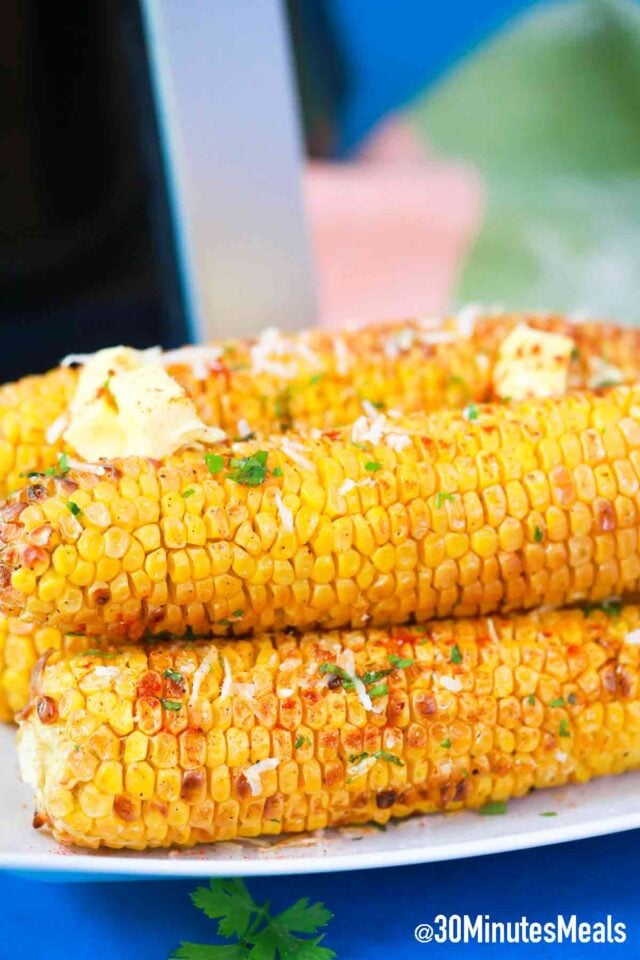 Whether you use sweet corn or not, just make sure it is fresh or you will have to change the cooking time a bit. But with this air fryer recipe, you can make four ears while you make your main entrée. Just don't forget to turn them halfway. Cooking corn has never been so easy.
Because the fryer cooks with hot air instead of water, you don't have to worry about the flavor being washed away. Sweet fresh corn will taste even better roasted with melted butter and a few seasonings in the air fryer. And this way of cooking is much healthier as well, depending on what you put on it.
This will quickly become your favorite way of cooking this easy dish that the whole family will love! Air fryer recipes are the best way to cook crispy food without using too much oil! This great recipe is just another example!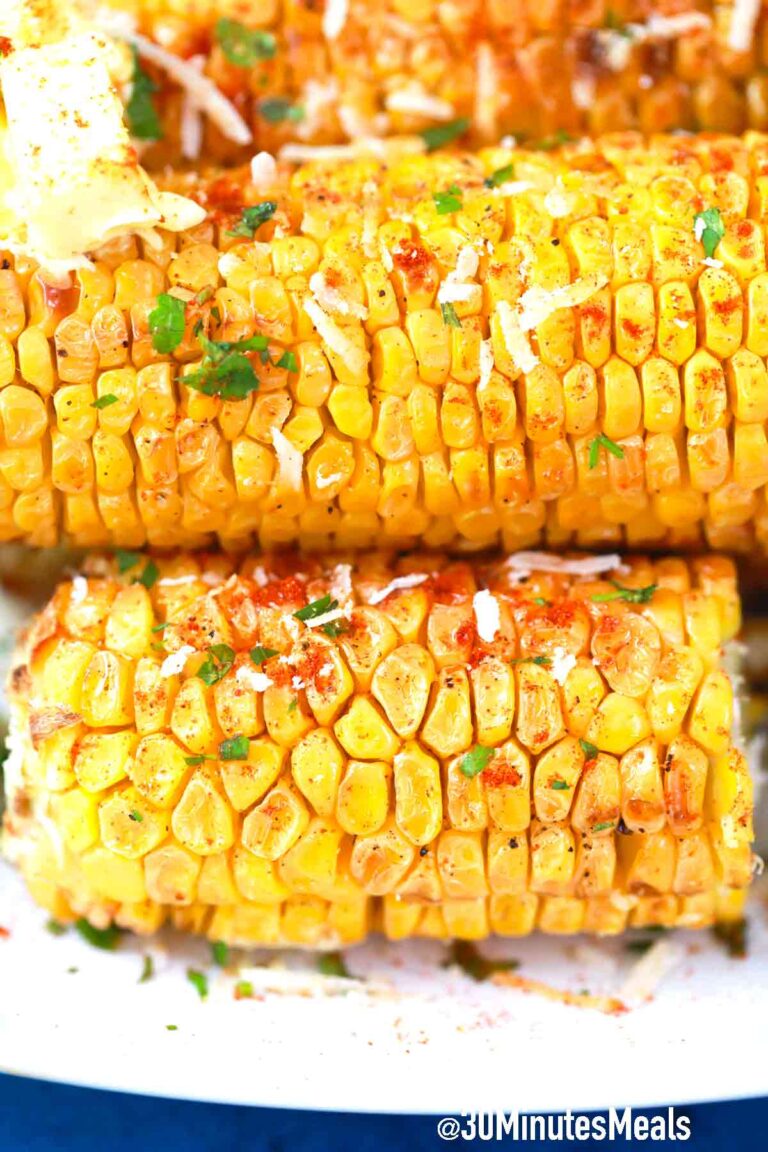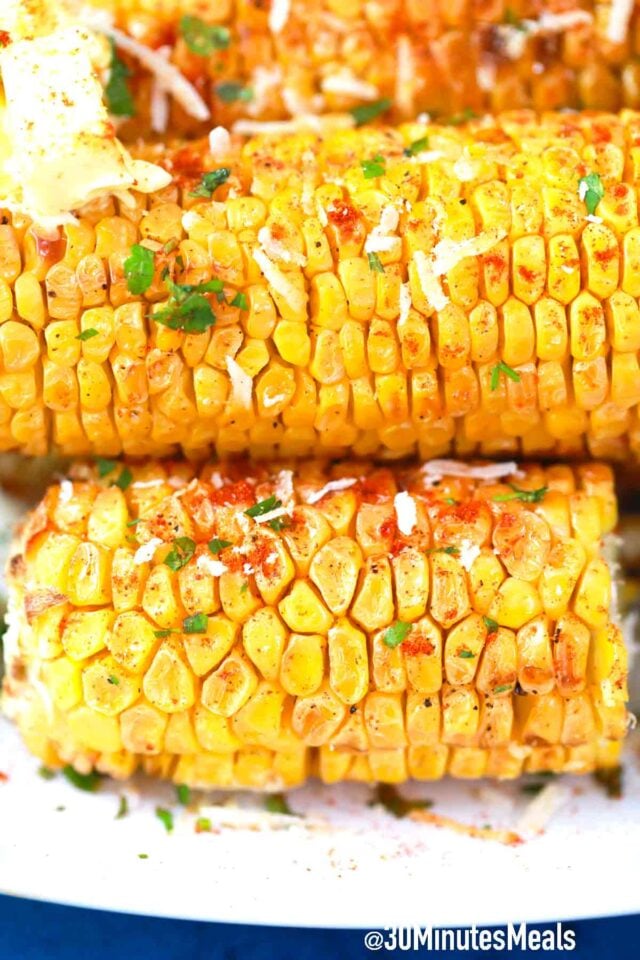 Ingredients needed:
There are only a handful of ingredients to gather for this mouthwatering side dish but if you want the specifics, scroll down to our recipe card. The basic ingredients include:
Corn on the cob: From your garden, a farmer's market, or the grocery store.

Olive oil: Extra virgin olive oil is best.
Paprika: Smoked paprika gives it a smoky flavor.
Butter: You can also use margarine.
Cilantro: Very finely chopped.
Parmesan cheese: Freshly grated or store-bought.
How to make air fryer corn on the cob recipe from scratch?
Preheat: First, preheat the fryer to 370 degrees F.

Prepare: Next, remove the leaves and silk from the ears of corn and run it under cold water.

Rub: Then, rub each ear with olive oil and season them with salt and pepper.

Place: Finally, put the ears in a single layer in the basket of the air fryer and make sure they are not touching.

Cook: Then, air fry corn for 12 to 15 minutes, turning halfway.

Depending on the size of your air fryer you may have to cook this recipe in batches.

Serve: Butter and season with salt and black pepper before serving.
Recipe variations:
Add other spices: For a garlic flavor, add some garlic powder to the seasonings.

Spice it up: Alternatively, sprinkle the corn with cayenne pepper or tabasco sauce for a spicy kick.

Lemon or lime: Add a sour kick with a spritz of lemon or lime juice after cooking.

Smokey: Another way to enjoy this dish is by soaking it in liquid smoke before cooking.

Mexican: Make Mexican street corn by topping it with red chili powder, fresh parsley or cilantro, cotija cheese, and some mayo.
Salsa: Mix it with black beans and tomatoes to make corn salsa.
How to serve:
You will want to serve topped with melted butter or with butter on the side. And don't forget to add a sprinkle of cilantro, parmesan cheese, and paprika. Or try one of these other ways to serve this delicious side dish:
How to store leftovers:
Store: Store any leftover corn in the refrigerator in an airtight container for up to three days.
Freeze: If you do not plan to eat them in the next few days, they will stay good in the freezer for three months. Just wrap them in plastic wrap, foil, and put them in a freezer bag.

Thaw: These can be thawed in the fridge overnight before reheating.
Reheat: Either reheat them in the fryer for three minutes if they are thawed or reheat from frozen for 10 minutes.
Frequently asked questions
Can I cook frozen corn in the air fryer?
You can cook almost anything frozen in your fryer. If you want to make frozen corn on the cob, just preheat to 400 degrees F, spritz them with olive oil or avocado oil, and cook for 10 minutes, flipping halfway through. But don't stop there! You can air fry anything in there no matter how frozen it is.
Frozen chicken breast takes about 20 minutes, pizza can be done in 10 minutes, hot pockets will be ready in about 13 minutes, and you can eat that frozen burrito in 12! Also, frozen french fries only take about 15 minutes, tater tots are good in 10, and onion rings can be ready to eat in about eight minutes!
How do you reheat corn in the air fryer?
Because some things just do not come out right when you reheat them in the microwave and the oven takes too long, the air fryer is a perfect choice. It is quick and easy. First, preheat the fryer to 350 degrees F. Then, wrap it in foil and add some butter or cooking spray, salt, and pepper. Put the corn in the basket and heat it up for three or four minutes.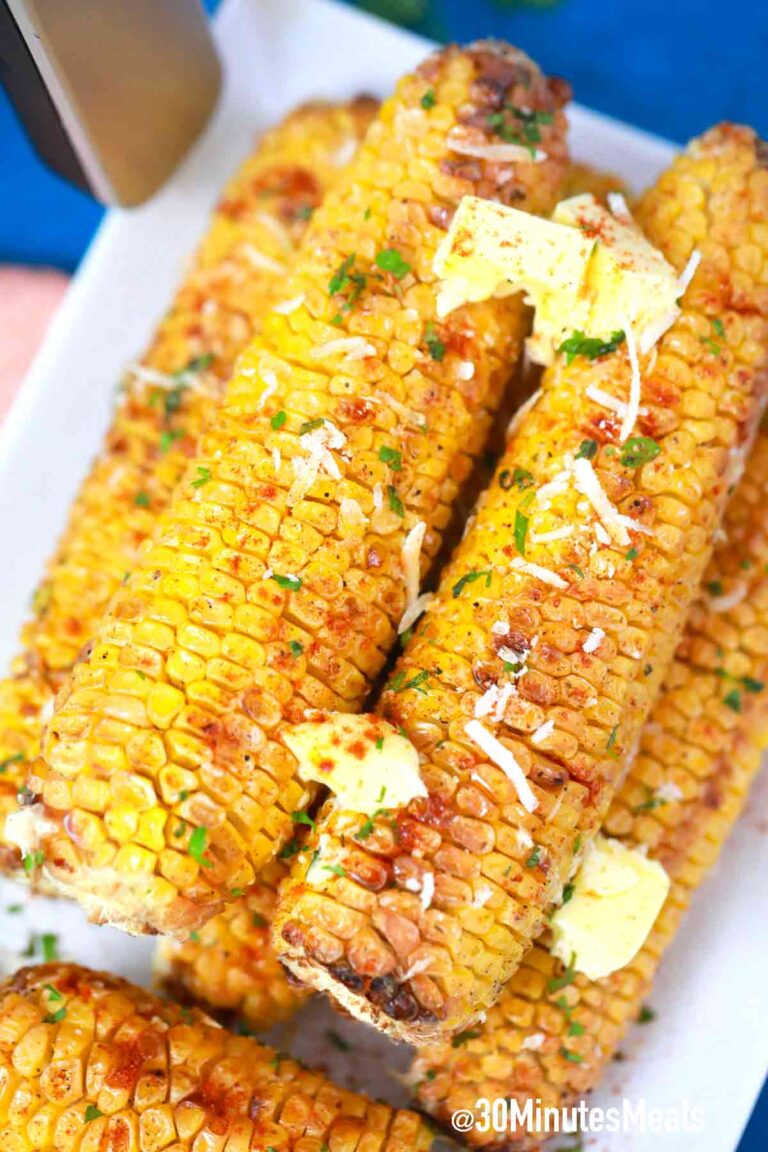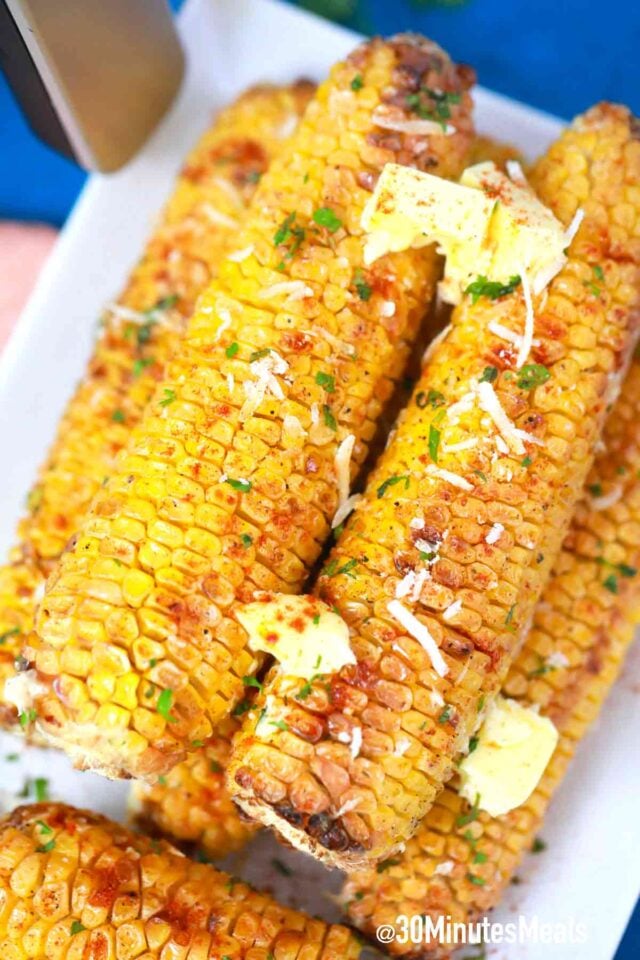 Do I have to remove the husks to cook corn in the air fryer?
It is best to remove the husks before putting them in an air fryer. However, that is just because it is easier to husk them before they are cooked since they are cooler. Husking an ear of hot corn can be painful. But on the other hand, the husk and silk contain precious moisture that can make it even juicier. If you do cook with the husks on, add a couple of extra minutes, about extra five minutes to your cook time.
Recipe tips:
Alternatively, wrap them in foil and add the butter and seasonings before cooking.

If you do not have olive oil, use canola, vegetable oil, or even cooking spray.
Also, try coconut oil for a slightly Hawaiian flavor.

Be sure there is space in between each cob so they cook evenly.

Make sure you flip them halfway through.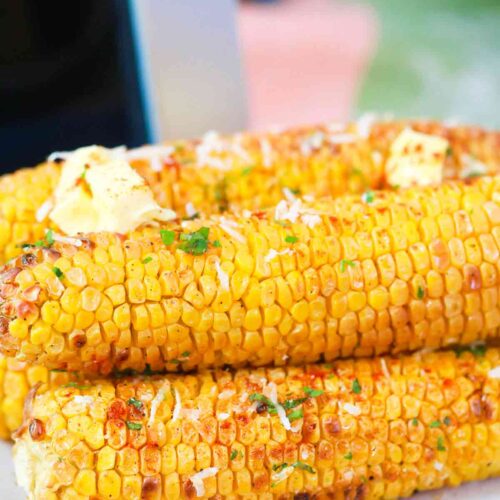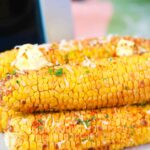 Air Fryer Corn on the Cob
Air Fryer Corn on the Cob is so easy and fast, you will wonder why you ever made it any other way. It only takes 15 minutes to air fry it!
Course:
Appetizer, Side Dish
Keyword:
Air Fryer Corn on the Cob
Ingredients
4

ears of corn

2

tablespoons

olive oil

Salt and pepper

to taste
Garnish:
1

teaspoon

Paprika

2

tablespoons

butter

1

tablespoon

parsley

very finely chopped

1/4

cup

finely grated parmesan cheese
Instructions
Peeling the green leaves and remove the silk strands from the corn ears.

Rinse them under cold water and pat dry with paper towels.

Rub with olive oil and season with salt and pepper.

Arrange in a single layer in the air fryer basket, so they don't touch each other.

Air fry at 380 degrees for 12-15 minutes or until tender.

Serve topped with butter, paprika, parmesan cheese, or cotija cheese.
Nutrition Facts
Air Fryer Corn on the Cob
Amount Per Serving
Calories 201
Calories from Fat 126
% Daily Value*
Fat 14g22%
Cholesterol 15mg5%
Sodium 65mg3%
Potassium 262mg7%
Carbohydrates 17g6%
Protein 3g6%
Vitamin A 674IU13%
Vitamin C 7mg8%
Calcium 6mg1%
Iron 1mg6%
* Percent Daily Values are based on a 2000 calorie diet.