Air Fryer Hasselback Potatoes
Air Fryer Hasselback Potatoes are the perfect side dish made quickly and easily in the Air Fryer. They are ready in less than 30 minutes from start to finish and are super crispy on the outside and tender on the inside.
For more delicious side dish recipes check out my Asparagus, Zucchini fries, and Parmesan Brussel Sprouts.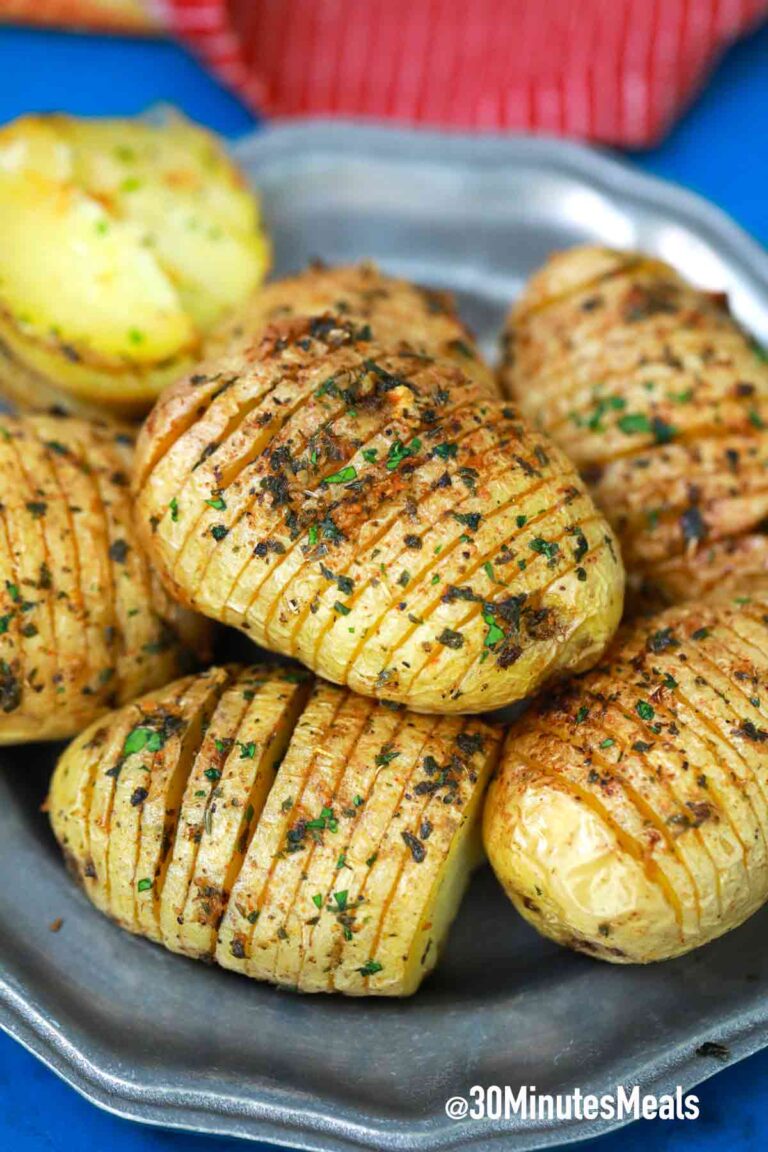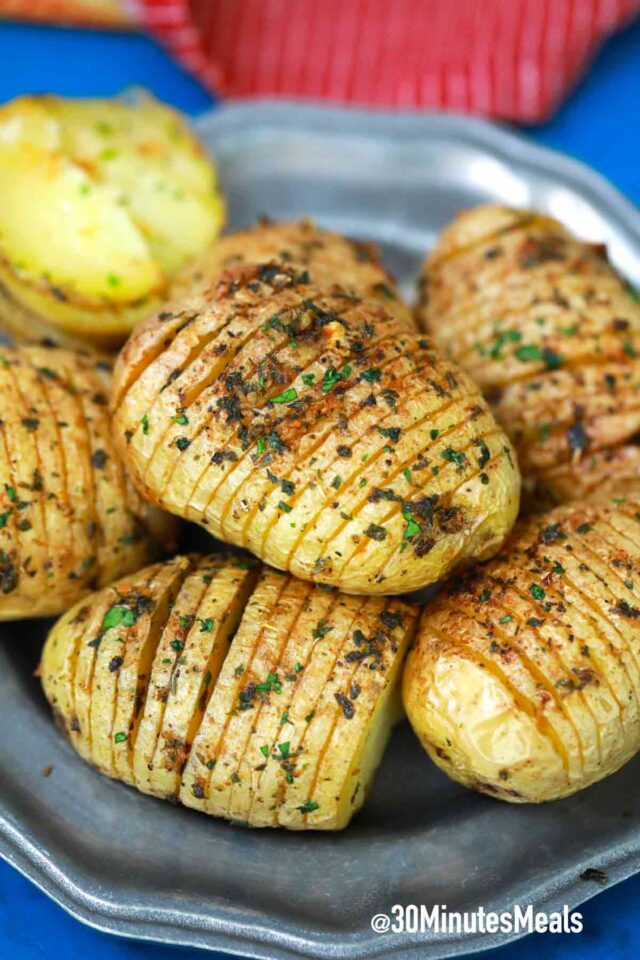 Crispy Air Fried Hasselback Potatoes
These Air Fryer Hasselback Potatoes are one of my favorite side dishes. Firstly, they are super easy to prepare without any special tools. All you need is a sharp knife to cut the spuds and some seasoning. Then, put them in the AF, and you will have the perfect side dish for the whole family to enjoy in less than 30 minutes.
I guarantee you that your kids will love them as well. They have such crunchy skin that is hard to resist. Dip them in some ketchup for the perfect combo. Also, the flavors are delicious and you can use your favorite seasoning to satisfy your cravings.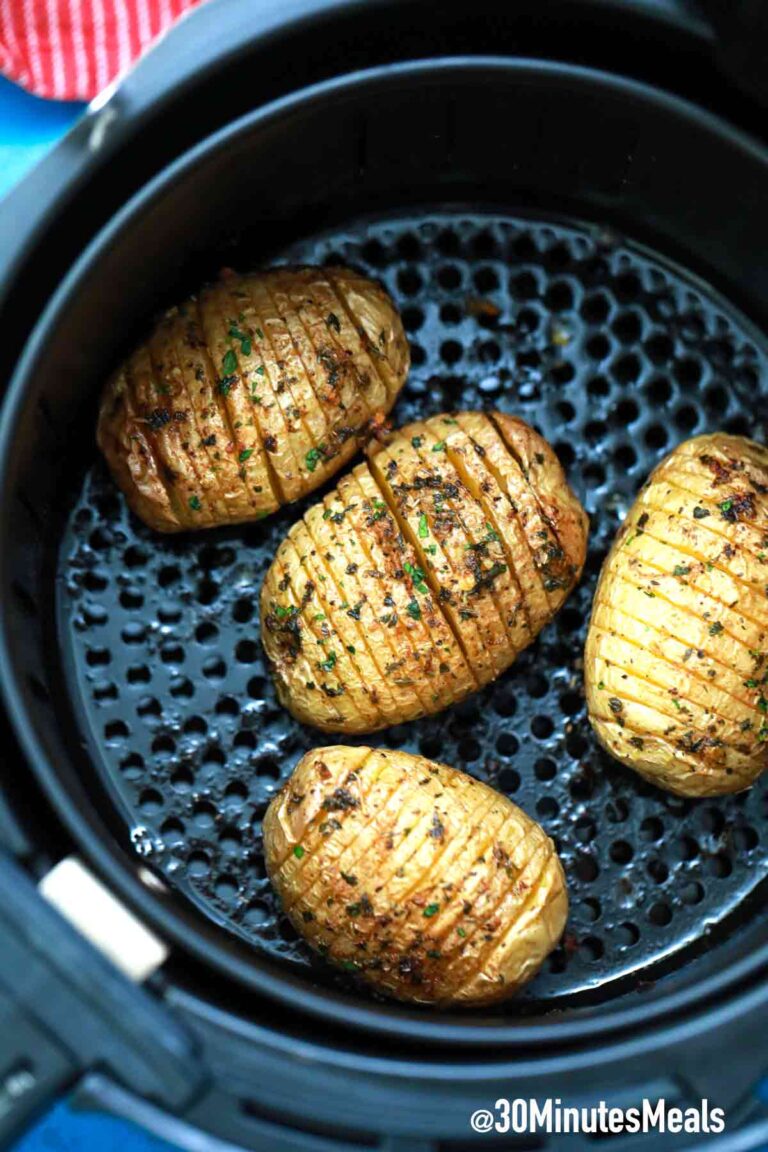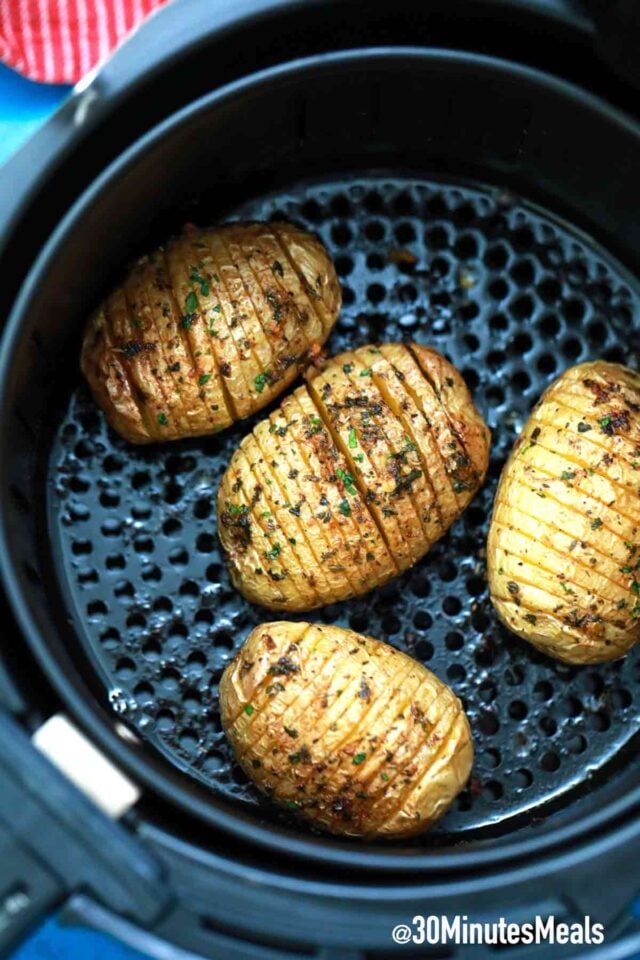 For this version, I like using some dried seasoning, butter, and garlic. My whole family loves garlic, so I tend to use quite a bit of it! In addition, you can stuff the potatoes with veggies such as mushrooms, or spinach. No matter what you add to them, they will taste amazingly delicious!
What are Hasselback Potatoes?
This recipe was created back in the 1940s in Sweden and takes its name from the restaurant where it was invented. It is basically a side dish where the spuds are sliced in uniform slices, oiled, seasoned, and then baked.
Nowadays, this dish has become a staple worldwide and has a few variations to it.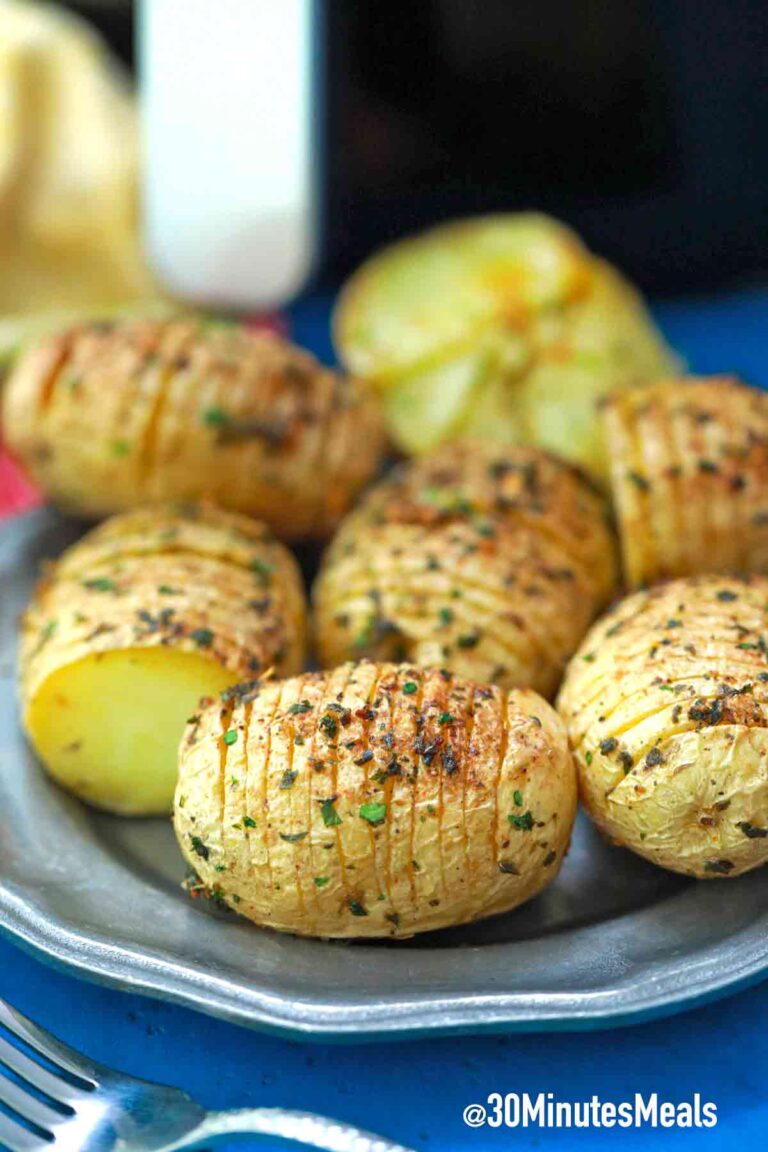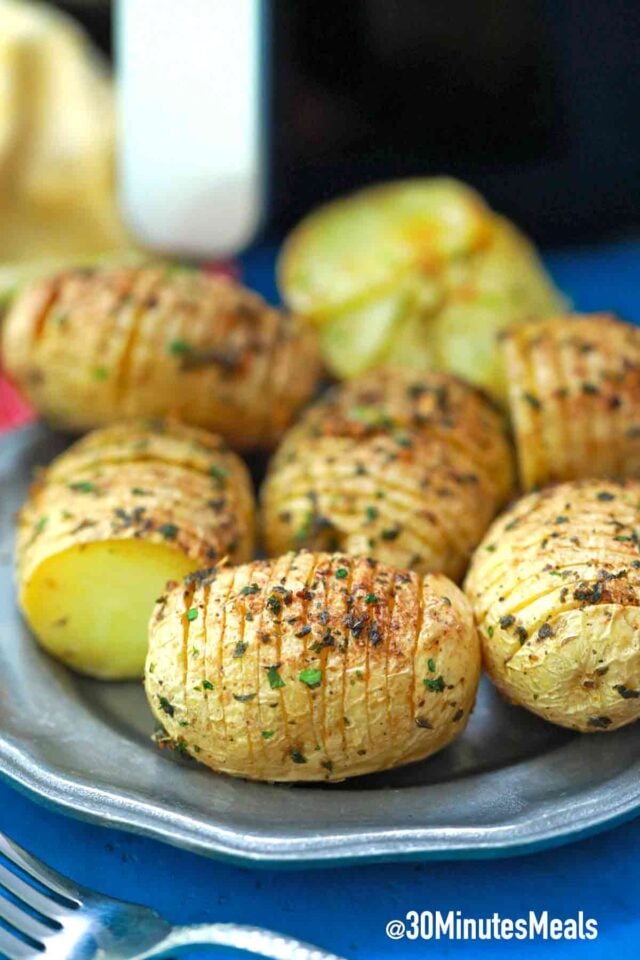 Ingredients needed:
Potatoes: I like using Yukon Gold or Russet as they have plenty of starch. You will need about 4-5.
Butter and Olive oil: It adds plenty of flavor to this dish. You can use any type you like.
Seasoning: Salt, dried thyme, parsley, rosemary, and ground black pepper. Adjust per your taste. We kept it simple and used garlic and parsley.
Garlic: Freshly minced garlic adds plenty of aromas. Use as much as you like.
How to make Crispy Air Fryer Hasselback Potatoes?
Prepare the potatoes: First, wash and clean them. Then, using a sharp knife slice them evenly across the entire length to make about 1/4-inch slices. Ensure not to cut all the way through the bottom of the spuds. They should remain intact.
Mix the ingredients: In a bowl, combine olive oil, butter, and seasoning together. Mix well, and then brush the mixture over each potato.
Cook: Place them in the Air Fryer, and cook for about 15 minutes.
Serve: Garnish with more parsley and a dollop of sour cream and enjoy warm!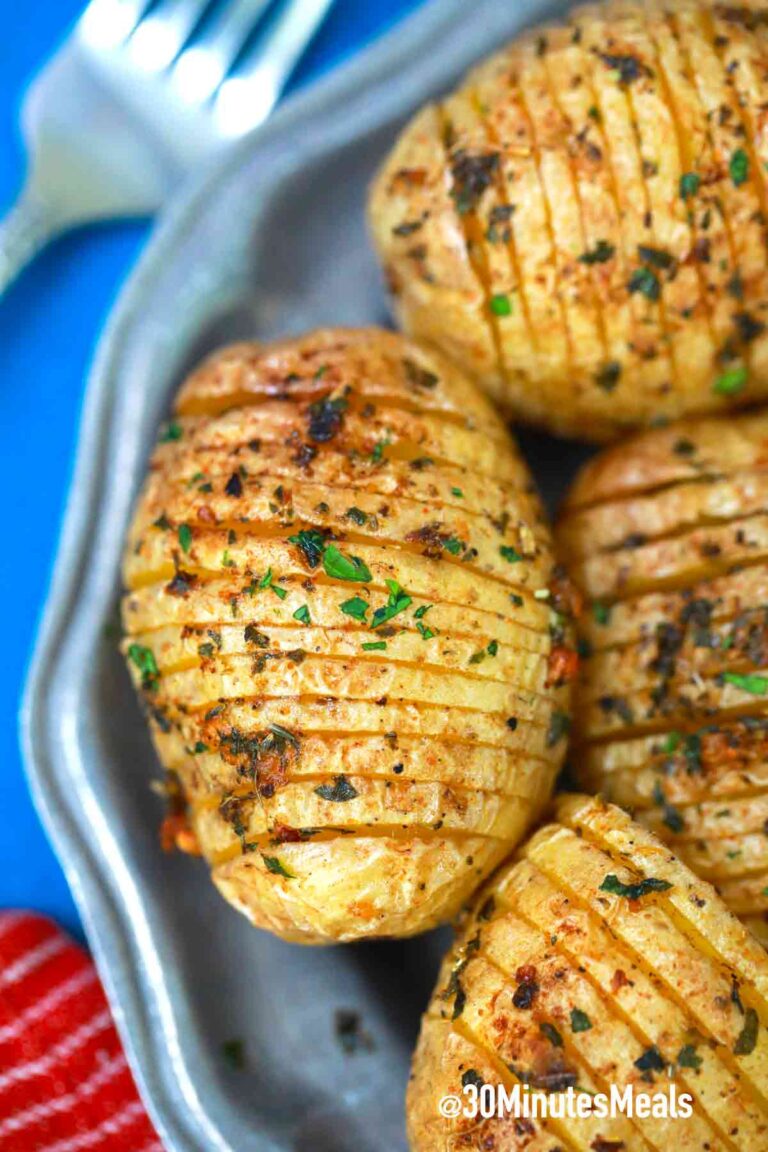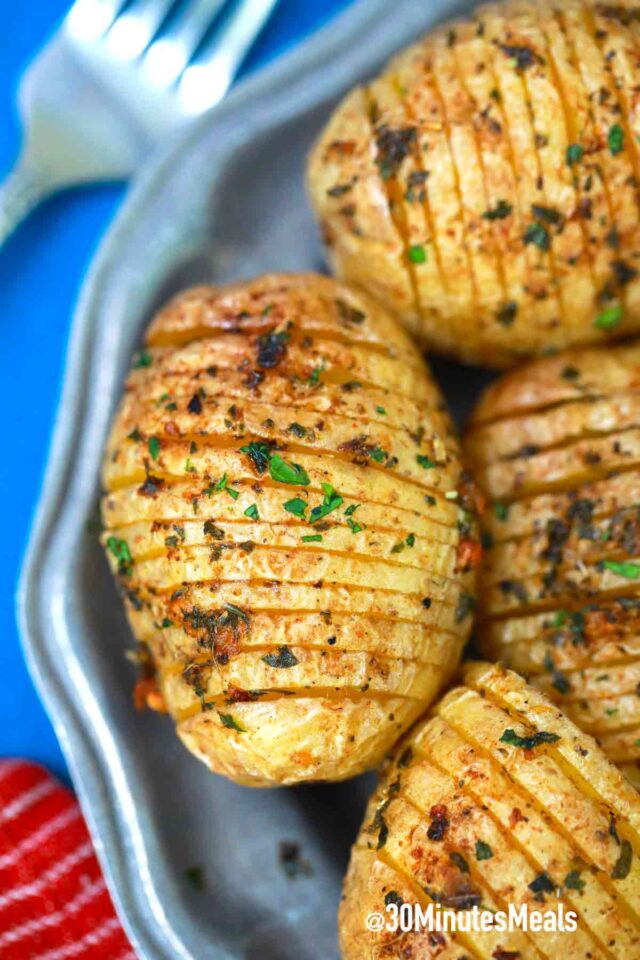 Recipe variation and adaptation:
Stuff with veggies: Feel free to stuff the slices with mushrooms, bacon, or bell pepper.
Add cheese: For cheese lovers, I recommend using some shredded cheddar cheese.
Make them spicier: For added heat, use some chili pepper, or sliced jalapeno peppers.
Swap them with sweet potatoes: To make it even healthier, you can swap the regular spuds with sweet potatoes.
Bake them: If you don't have an air fryer, feel free to make this recipe in the oven. Simply preheat the oven to 450 degrees F, follow the same steps, and then cook for about 35 minutes until they are golden brown.
Use mini potatoes: Alternatively, swap the regular spuds with mini ones.
What Kind of Potatoes Work Best for Hasselback?
You can use pretty much any type you like or have on hand. I tend to go with Yukon Gold or Russet potatoes because they have more starch. However, this is not mandatory.
Feel free to use red, white, sweet, or Fingerling variety. The most important thing to remember here is to use them in uniform size so they cook evenly.
What to serve with them?
As a side dish, they go pretty much with anything. We love serving them with Chicken Breasts, Pork Medallions, and Fish.
How to store leftovers?
Prior to refrigerating let the spuds cool down first. Then, store them in an airtight container and refrigerate them for up to 3 days.
To reheat leftovers, you can microwave them for about 2-3 minutes, or preheat the oven to 350 degrees F, and let them cook for about 5-7 minutes.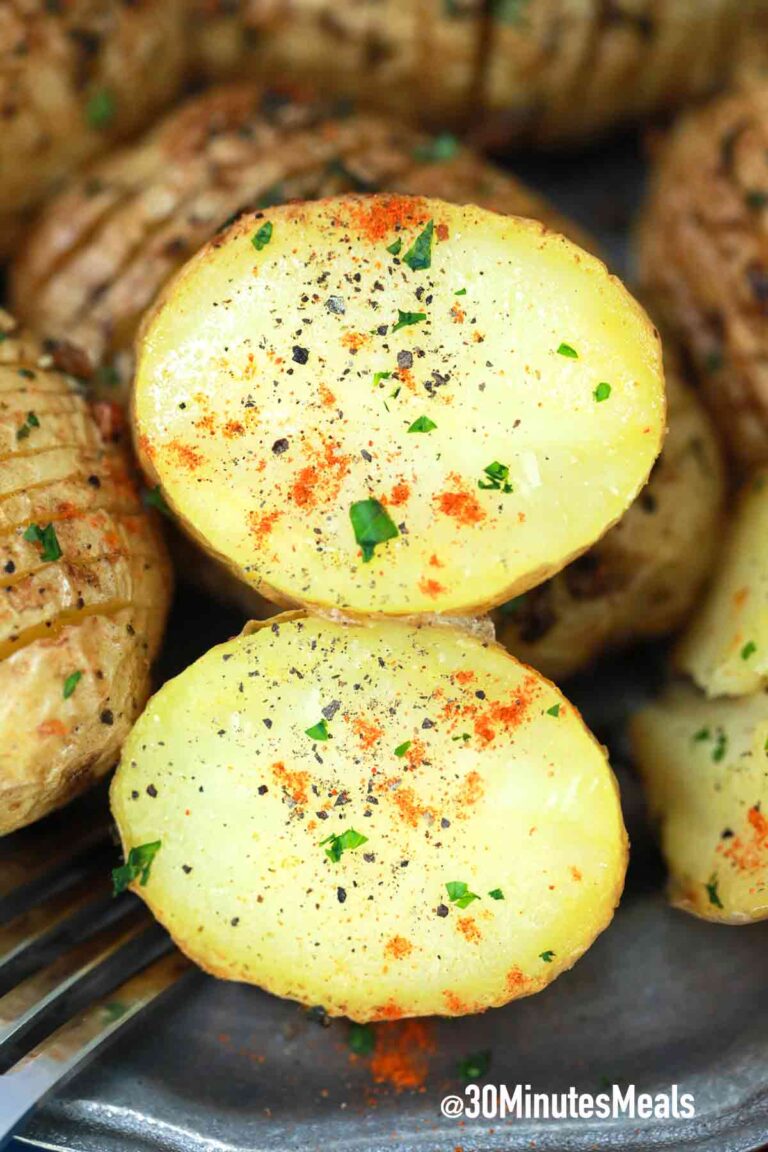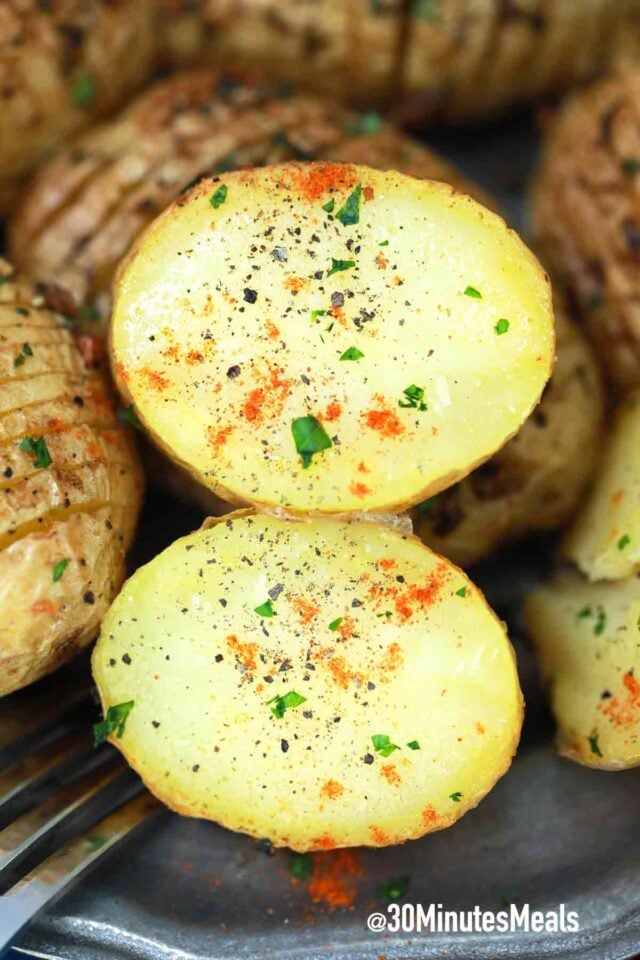 More delicious side dishes to try:
Recipe tips:
As stated above, any spuds will work to make this side dish.
For extra toppings, I suggest using some crunchy bacon, sliced jalapeno, shredded cheeses, and freshly chopped parsley.
Also, peeling is not required here especially if you are looking for crispy and crunchy skin. However, this is optional, and if you want to peel them, you can easily do so.
Remember not to slice the potatoes all the way to the bottom. Have about 3/4th of the way through to keep them intact.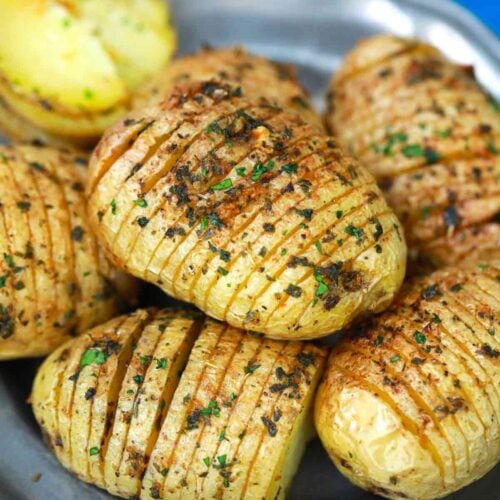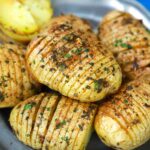 Air Fryer Hasselback Potatoes
Air Fryer Hasselback Potatoes seasoned with garlic are the perfect side dish made quickly and easily in the Air Fryer.
Keyword:
Air Fryer Hasselback Potatoes
Ingredients
4-6

small size russet potatoes

washeed and scrubbed

salt and pepper

to taste

1/2

cup

butter

melted

4

cloves

garlic minced

1

teaspoon

fresh parsley

finely chopped
Instructions
Slice the clean potatoes thinly leaving a half an inch base at the bottom.

In a small bowl combine melted butter, salt, pepper, parsley and garlic. Rub into the potatoes.

Place the potatoes on the bottom of the air fryer basket.

Brush with the reeemaining butter mixture the tops.

Cook at 360 degrees F for 15-20 minutes or until tender.

Garnish with freshly chopped parsley and serve.
Nutrition Facts
Air Fryer Hasselback Potatoes
Amount Per Serving
Calories 248
Calories from Fat 135
% Daily Value*
Fat 15g23%
Cholesterol 41mg14%
Sodium 144mg6%
Potassium 610mg17%
Carbohydrates 25g8%
Protein 3g6%
Vitamin A 477IU10%
Vitamin C 29mg35%
Calcium 25mg3%
Iron 1mg6%
* Percent Daily Values are based on a 2000 calorie diet.