Fried Cabbage with Bacon is stir-fried with butter and onions, then simmered in broth until perfectly tender. A smoky, savory, and irresistible side dish that'll work as a light meal, too!
For more dishes that can double as a light meal or side, try our Shrimp Cobb Salad with Avocado, Pasta Primavera, and Greek Salad with Homemade Dressing.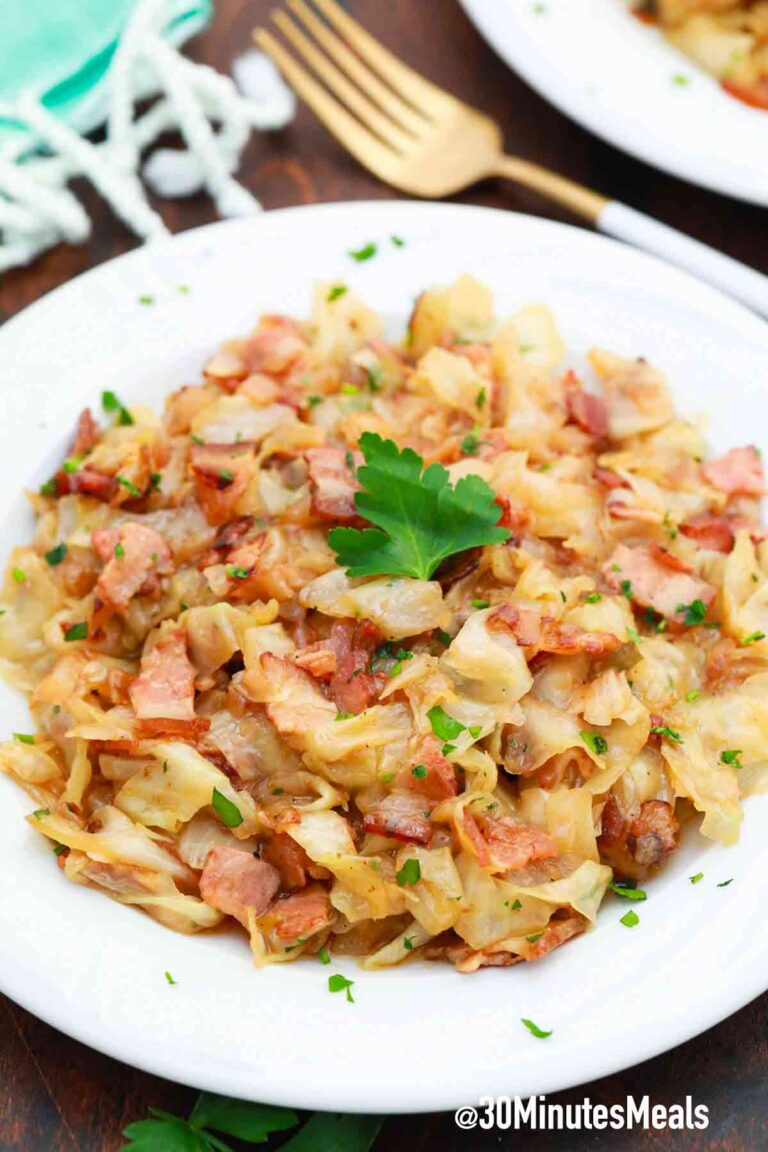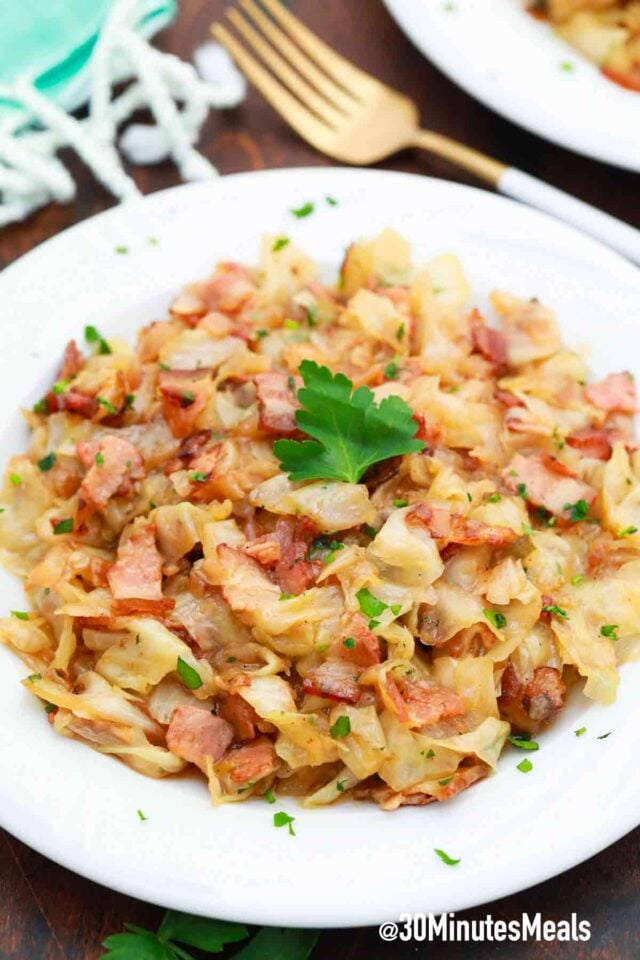 Southern Fried Cabbage
Fried Cabbage with Bacon is so simple, yet it never fails to get everyone raving. Even kids enjoy it! The star flavor is the smoky bacon and onions which practically melt into the vegetables after simmering them together in butter and chicken stock.
Another thing you'll love about this recipe is how versatile it is. Got some veggies in the fridge that are past their prime? Chop them up and add to the pan! Only have sausage or leftover rotisserie chicken for the meat? No problem— throw it in there and it'll still turn out delicious! Easy and satisfying, this recipe is a keeper.
Is cabbage better cooked or raw?
It's delicious either way! Raw Napa and Savoy are delicate with a slight peppery taste, making them perfect for salads. The regular green variety is perfect for coleslaw and able to hold up to the creamy dressing. Almost all varieties are tasty when cooked, making them ideal for most cooking methods like roasting, sautéing, adding to soups, and more.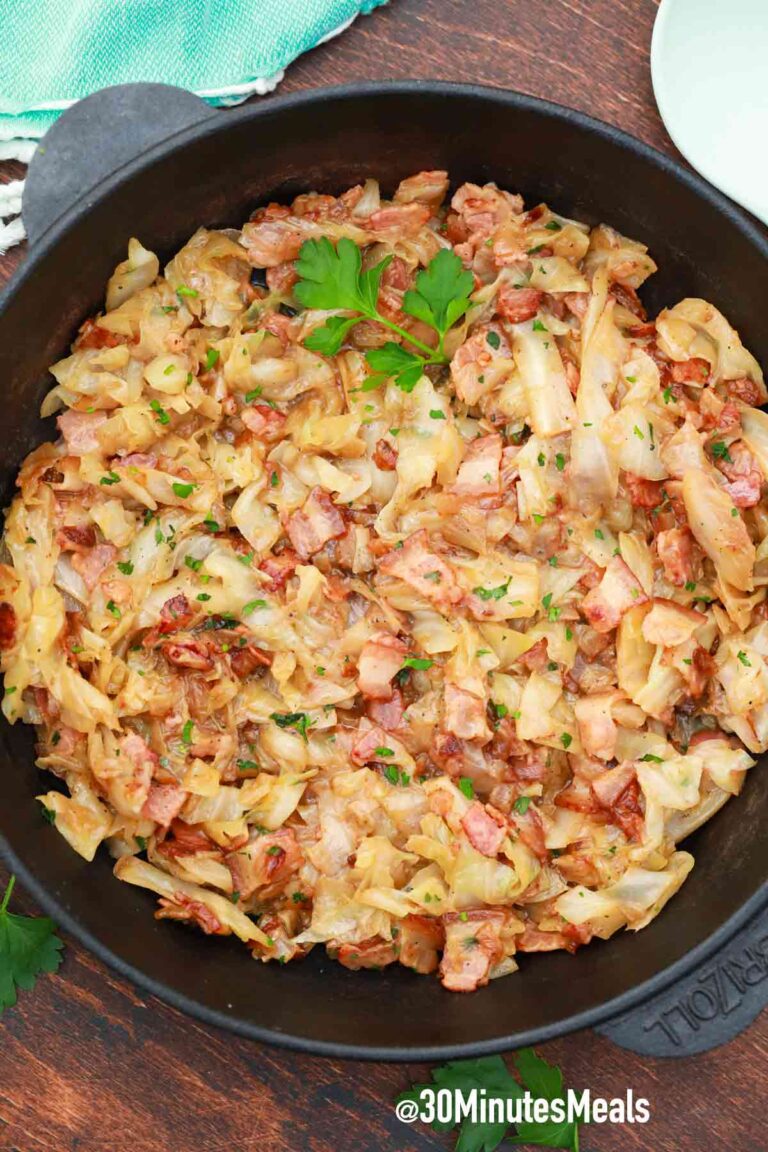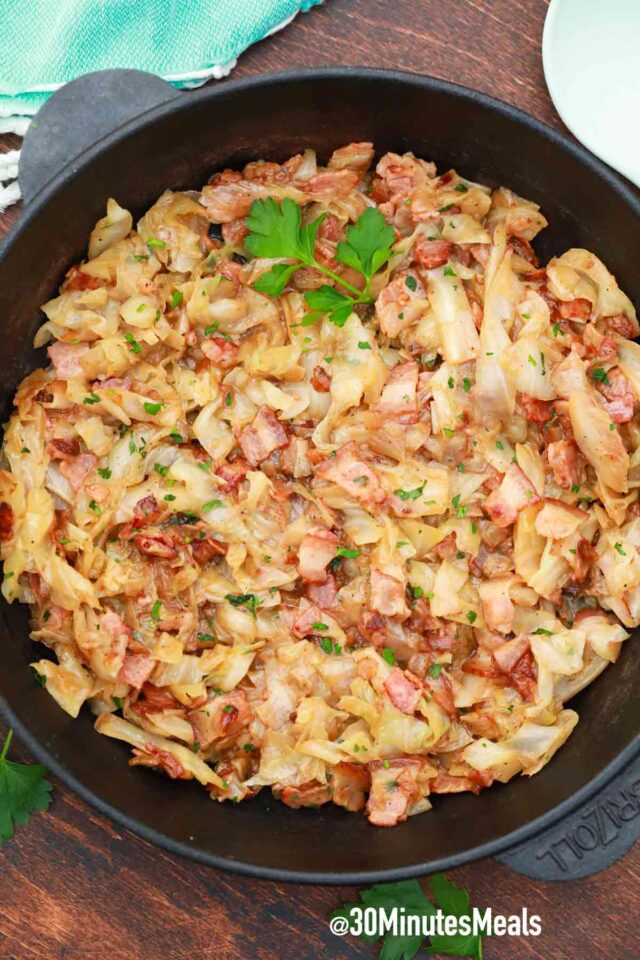 What meat goes well with cabbage?
Because cooked cabbage tastes so mild, you can pair it with almost any meat. It's delicious with sausage, ground beef or pork, chicken strips, ham chunks, and even plant-based meat! As a bonus, this veggie is incredible at absorbing flavors, too, so you can play around with countless seasoning and spice combinations.
What do you need to make Fried Cabbage with Bacon?
Cabbage

: We prefer regular green or white, shredded thin or chopped.

Bacon

: Use your favorite kind, and give it a rough chop.

Onion

: Fragrant and adds a ton of flavor! Slice it very thinly.

Butter

: Use unsalted, so you can control the saltiness of the dish.

Stock

: Make sure it's really hot.

Brown sugar

: Completely optional, but the sweetness really rounds out the flavors.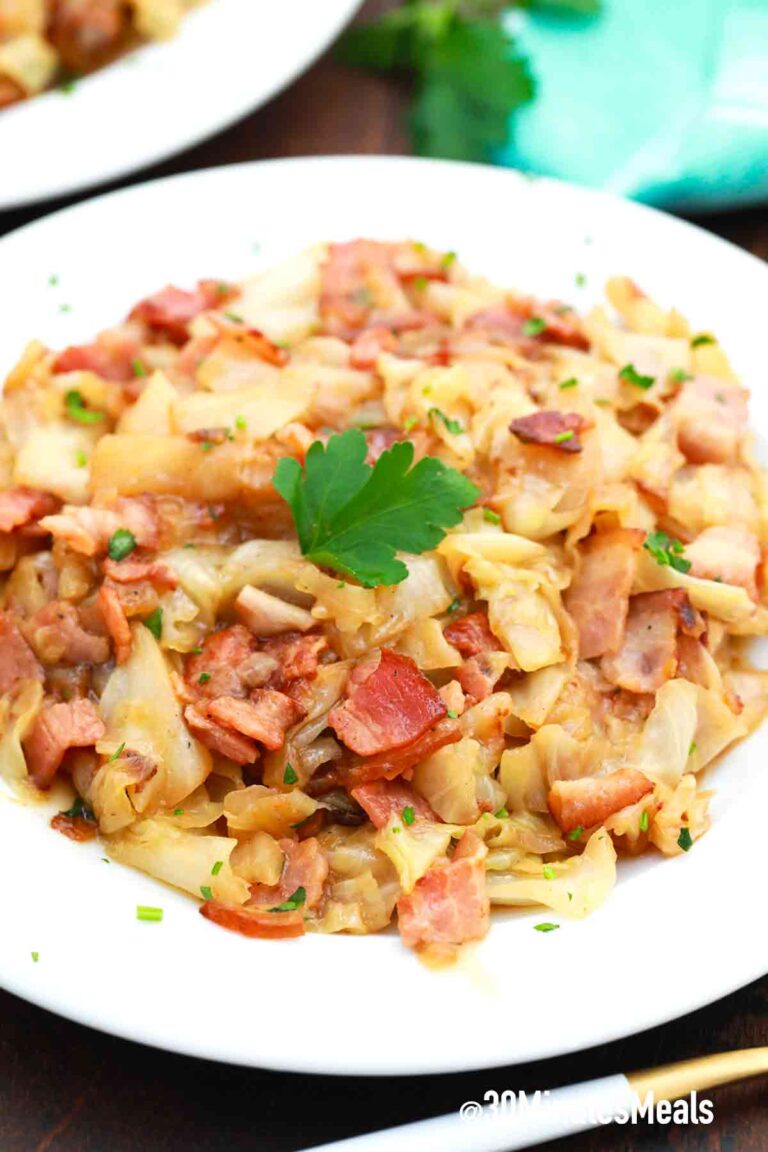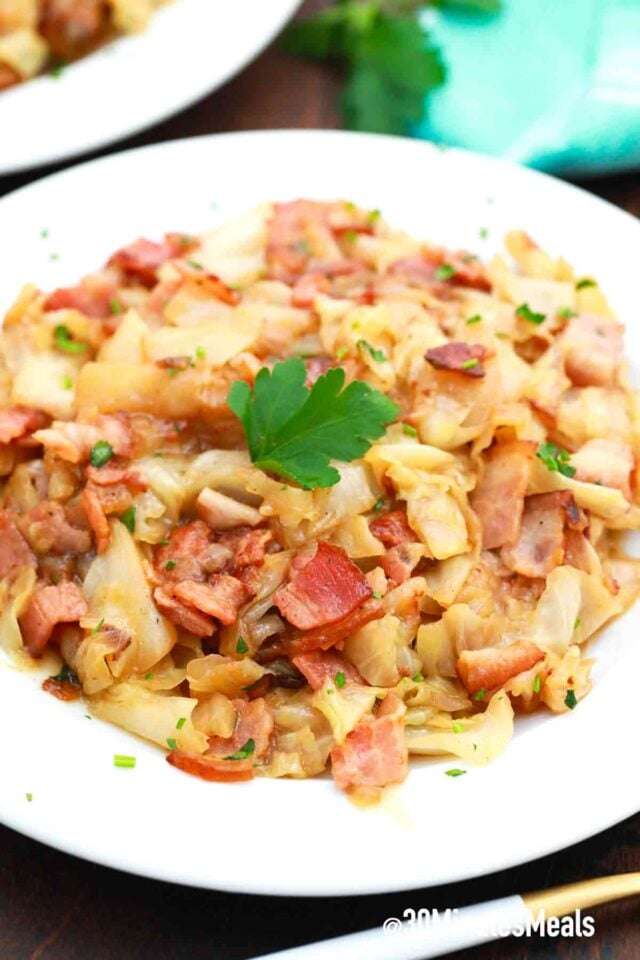 Is cabbage with bacon low carb?
Yes, you can enjoy it on a keto or low-carb diet! Both cabbage and bacon have minimal carbs, while providing lots of fiber, vitamins, and protein from the bacon. You can enjoy this dish often without going over your daily carb limit.
How do you make Fried Cabbage with Bacon?
Stir-fry

. Fry the thin onion slices in butter, and once it's fragrant and lightly caramelized, add the bacon and continue sautéing until it crisps up a bit.

Add the veggies

. If using the sugar, add it at this point along with the vegetables, and stir-fry everything until slightly browned, then add the hot stock. Simmer until it's tender enough for you.

Serve

. Sprinkle with chopped parsley, and enjoy!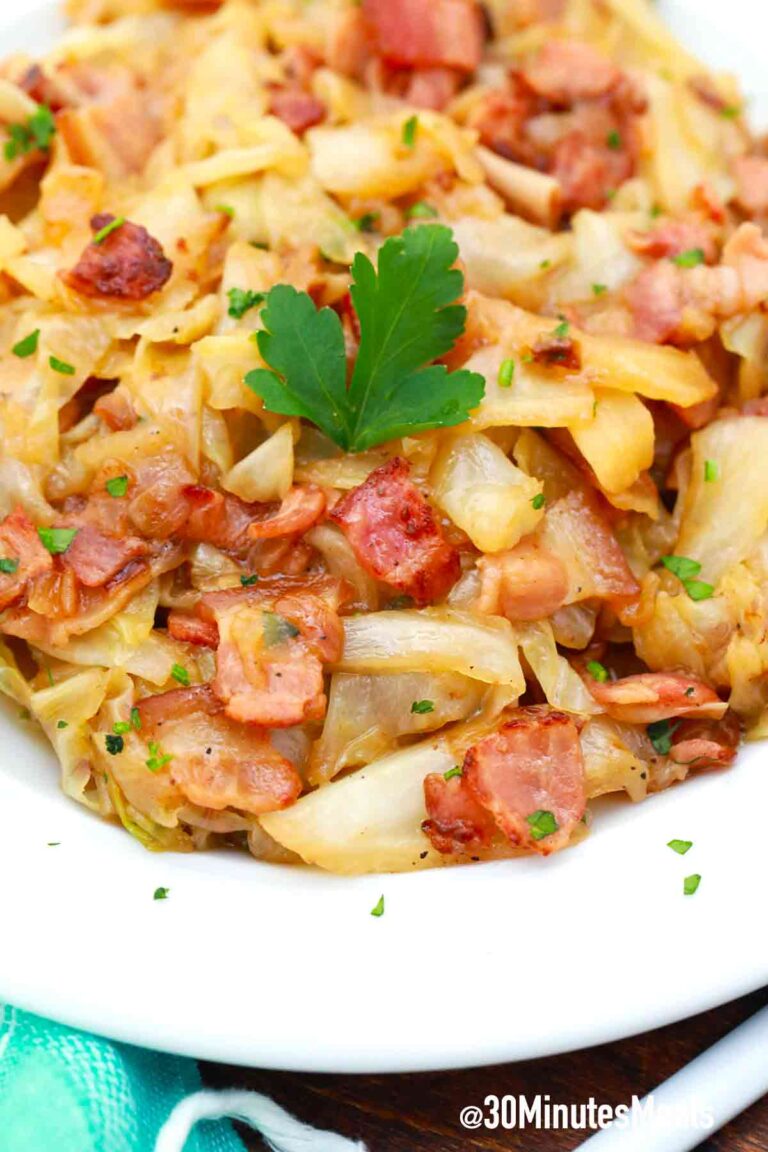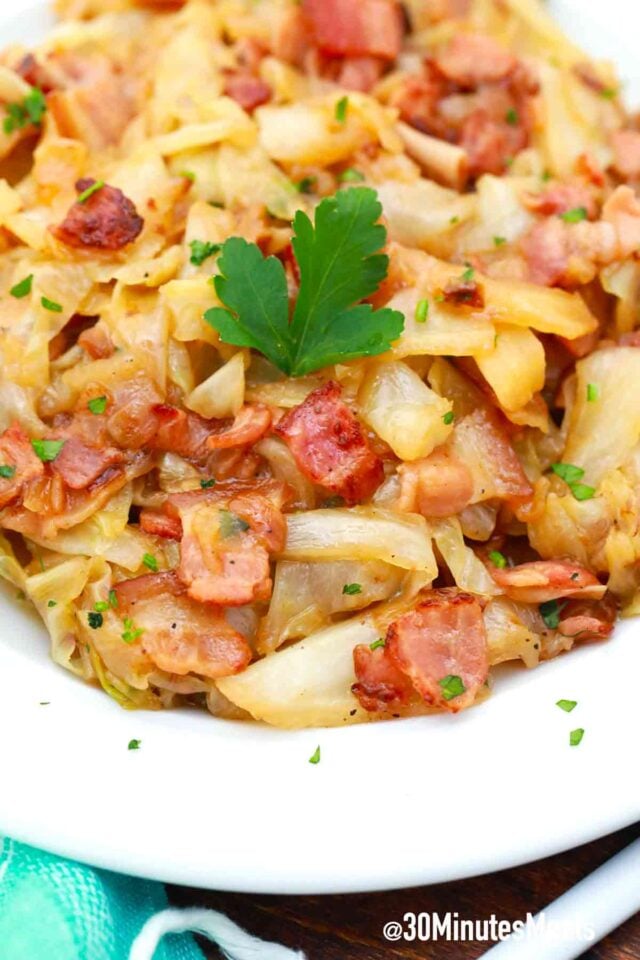 Recipe variations:
Add more vegetables

: Julienned carrots, sliced mushrooms, fresh kale and spinach, zucchini, and broccoli are just some of the delicious veggies you can add to this dish!
Use other meats

: Switch up the protein and flavor by using sausage (crumbled Italian or sliced kielbasa are great options), ground meat like beef, ham chunks, or rotisserie chicken.
Vegetarian

: Swap out the bacon with vegan meat or meaty Baby Bella mushrooms. Use veggie stock or water.
Herbs and seasonings

: Try this with Cajun seasoning, Old Bay, lemon pepper, dried Italian herbs, or a dash of curry powder.
What to serve with Fried Cabbage with Bacon?
Enjoy it as a hearty side to Low Carb Mongolian Beef, Air Fryer Chicken Breast, Honey Citrus Salmon, and other entrees. It's also delicious and satisfying simply spooned on top of hot rice!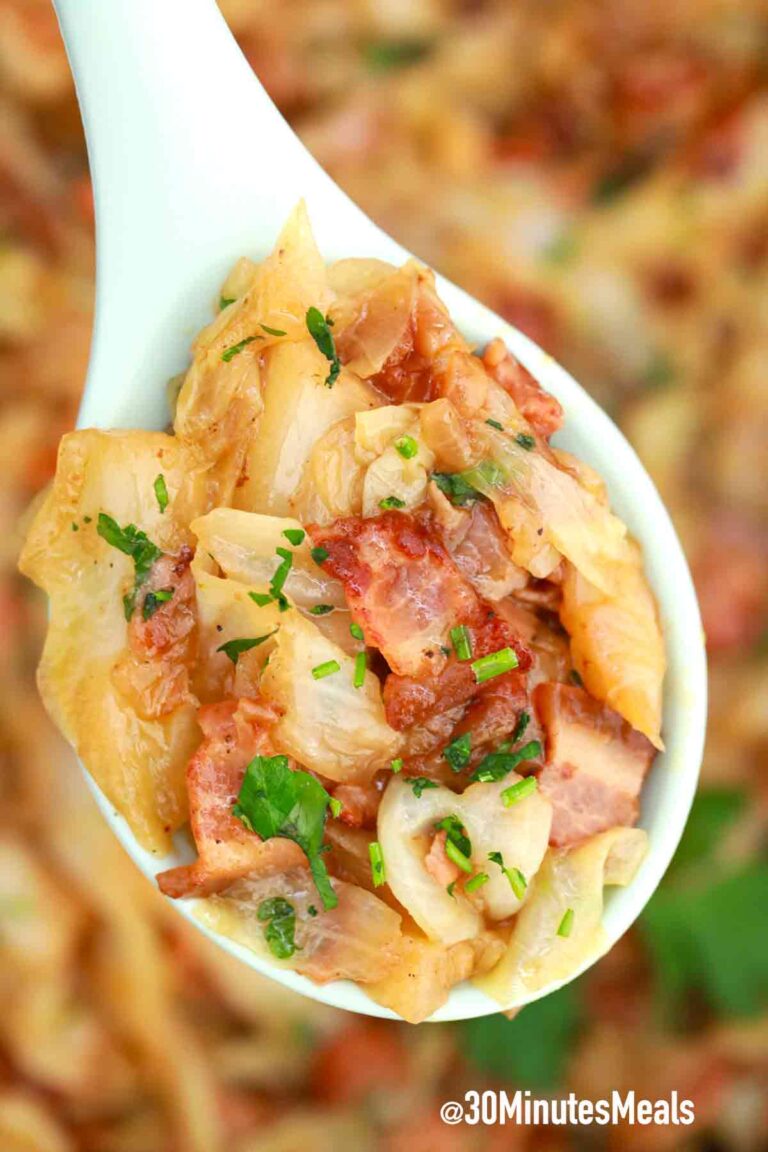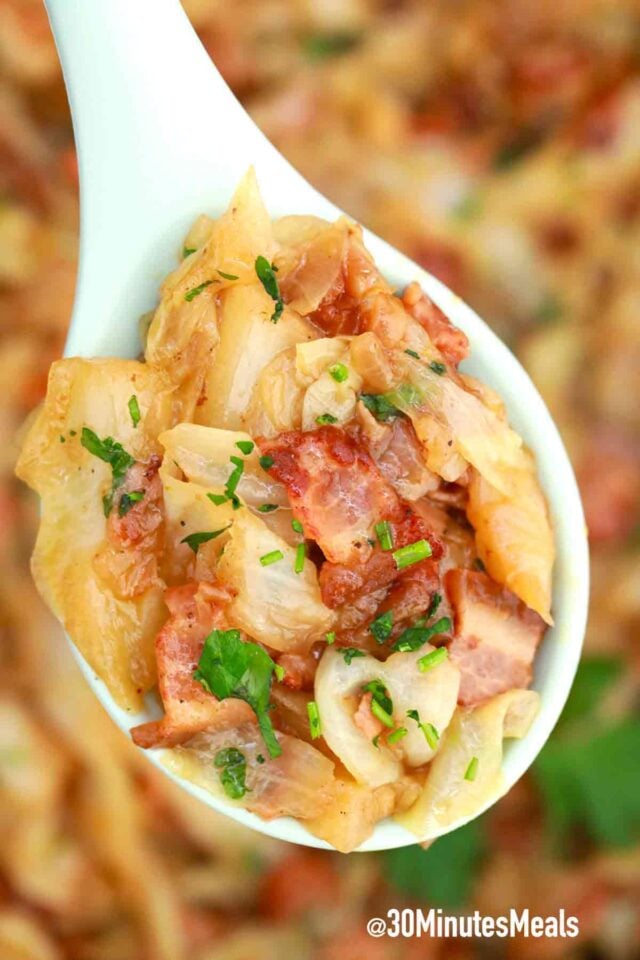 How to store leftovers:
Cool down the leftovers before transferring to a well-sealed container, then place in the fridge. Try finishing it within a day or two for best texture. To reheat, microwave until hot.
More cabbage recipes:
Recipe tips:
Take out the core from the cabbage, because it's too tough to eat.

Add more flavor to the dish by sautéing a bit of minced garlic with the onion.

Instead of strips, use chunks of thick-cut bacon for a meatier dish.

Add a splash of Worcestershire or apple cider vinegar for some tang.

Stir in some chopped green onions at the end for more color and flavor.

For some heat, add some cayenne or dried chili flakes.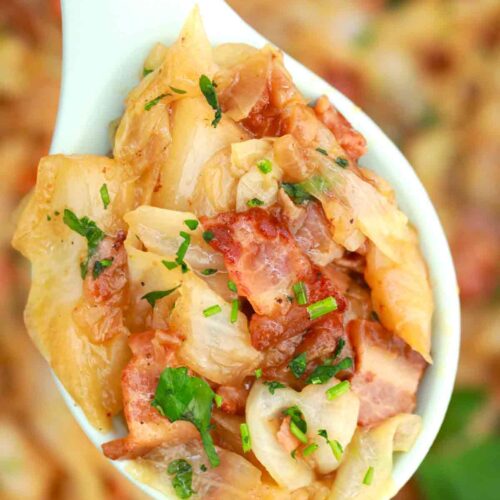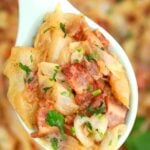 Fried Cabbage with Bacon
FriedCabbage with Bacon is stir-fried with butter and onions, thensimmered in broth until perfectly tender.
Keyword:
Fried Cabbage with Bacon
Ingredients
12

slices

bacon

chopped

1

large onion chopped

4

cloves

garlic minced

1/2

head large green cabbage

roughly chopped

1

cup

broth chicken broth

Salt and pepper to taste
Instructions
Place a large, heavy-bottom skillet over medium-high heat.

Once hot add the bacon and cook stirring until crispy and nicely browned.

Remove to a plate and discard the grease, leaving in only about 2 tablespoons.

Add onion and cook for 4 minutes. Add garlic, cook one more minute.

Next, add the cabbage and cook for another 5-7 minutes.

Pour the broth on top, season with salt and pepper, cover, and cook for 5-7 minutes or until tender.

Mix in the bacon and cook uncovered for 5 minutes.

Taste and adjust for salt and pepper and serve.
Nutrition Facts
Fried Cabbage with Bacon
Amount Per Serving
Calories 322
Calories from Fat 234
% Daily Value*
Fat 26g40%
Cholesterol 44mg15%
Sodium 674mg29%
Potassium 423mg12%
Carbohydrates 11g4%
Protein 11g22%
Vitamin A 138IU3%
Vitamin C 49mg59%
Calcium 64mg6%
Iron 1mg6%
* Percent Daily Values are based on a 2000 calorie diet.