Air Fryer Asparagus is tossed in olive oil, pepper, and herbs before getting roasted until it's tender and caramelized lightly. Ready in 10 minutes or less!
For more delicious vegetables dishes that can double as a main, try our Pasta Primavera, Fried Cabbage and Ham, and Beet Salad with Goat Cheese!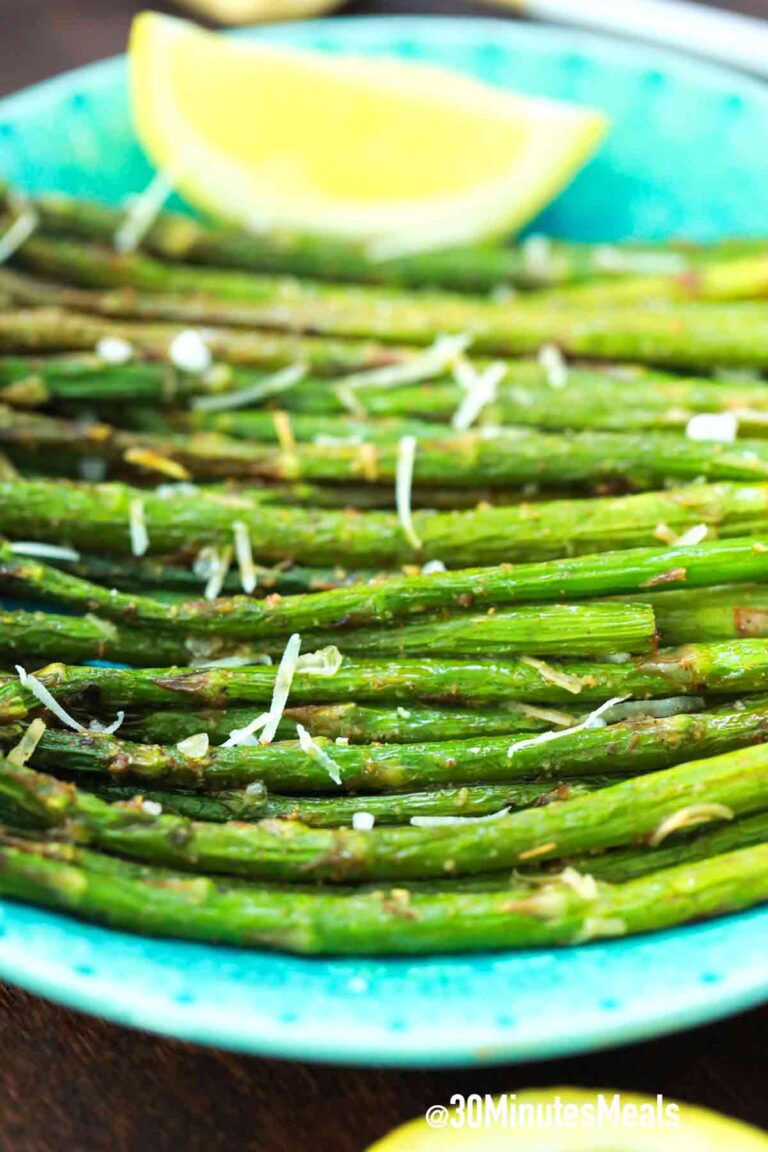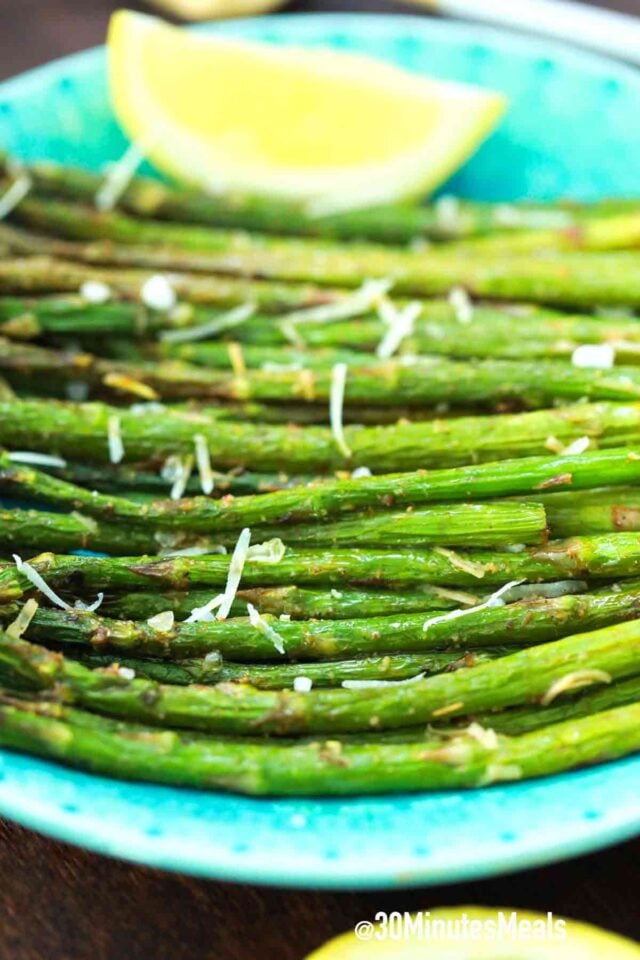 Air Fryer Asparagus Recipe
Air Fryer Asparagus cannot be easier to make, but it delivers big flavors in under 10 minutes! We keep the seasonings simple with herbs, fresh pepper, and salt to make the tender, roasted vegetable flavors shine.
While it's perfect as it is, feel free to dress it up. For instance, toss some lemon zest into the seasonings or freshly-shaved parmesan. You can also switch up the herbs and spices. It's up to you!
What is asparagus?
It's a fibrous veggie most recognizable for its elongated spears. The most common kind are the green ones, but they also come in purple and white varieties.
Nutrition-wise, it's really healthy and balanced. It is low-calorie and packed with fibers, which aids in digestion and weight loss. Each serving is loaded with vitamins, minerals, and antioxidants. This delicious vegetable has also been found to help lower inflammation, reduce blood pressure, and more. In short, it tastes good and is good for you, too!
Can you cook asparagus in the air fryer?
Yes! After trying it once, it became our new favorite way to cook this vegetable! It's so quick, and the results are just like roasting in the oven, except it doesn't heat up the kitchen and there's very little mess.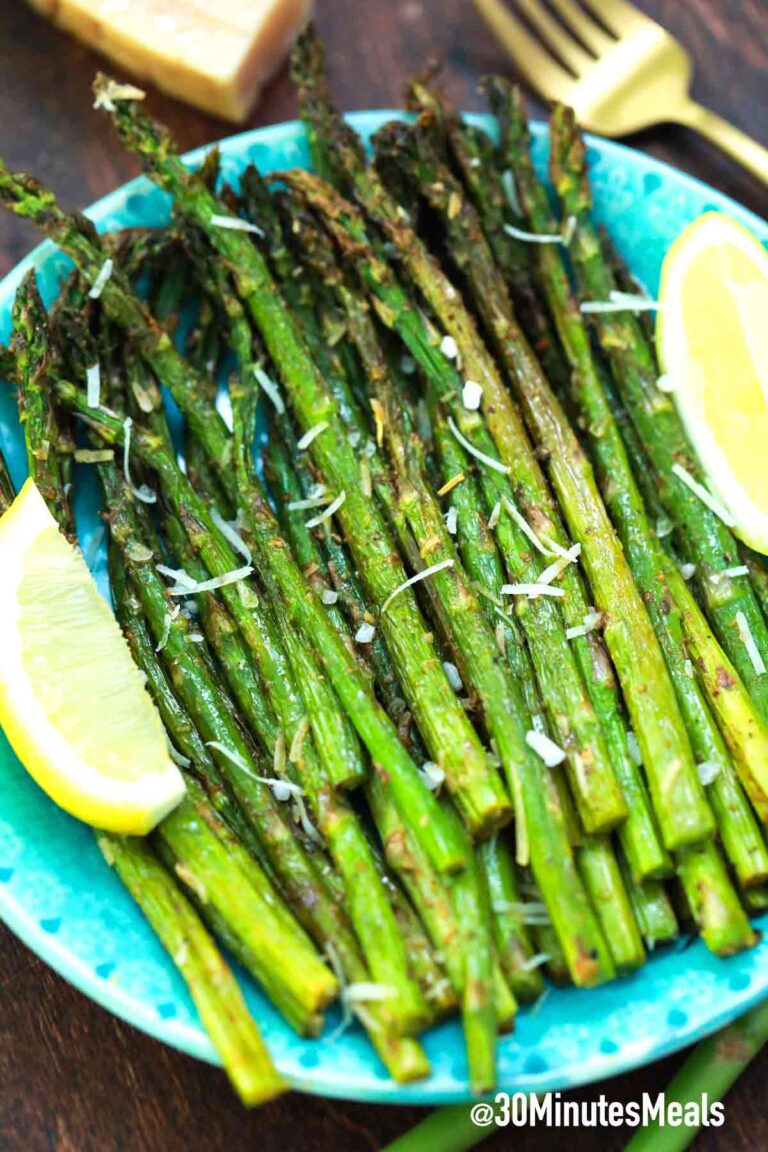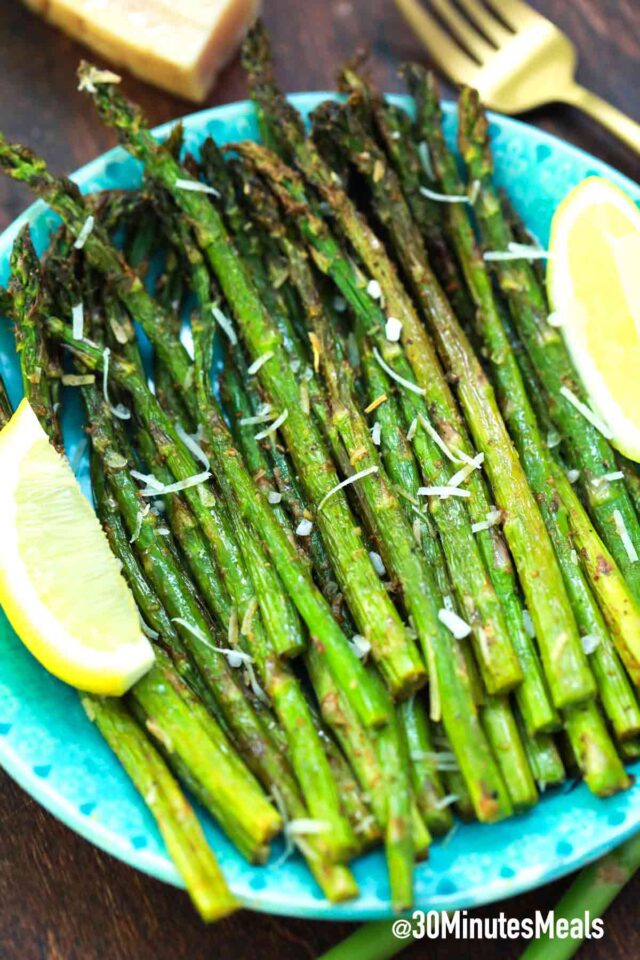 Can you add oil to the air fryer?
Not directly on it like you would on a skillet, but just a light spray or coating on the food itself. The oil helps seasonings stick onto the food without making the basket oil, or splattering it all over the fryer.
How long do you cook asparagus in the air fryer?
At 400F, it cooks up in a flash! Just 6 to 10 mins., in general. However, the final cooking time will depend on how thick your spears are, how tender/crisp you want it, and the wattage of your air fryer.
What do you need to make air fryer asparagus?
Asparagus:

Rinsed well, with the tougher bottom parts sliced off. Finally, make sure to dry the surface really well.
Oil

: Again, this allows our seasonings to stick on the veggies. It also encourages the outside to get roasted and beautifully caramelized.
Seasonings

: We're keeping it simple with the warm flavors of Italian herbs plus salt and fresh-ground pepper.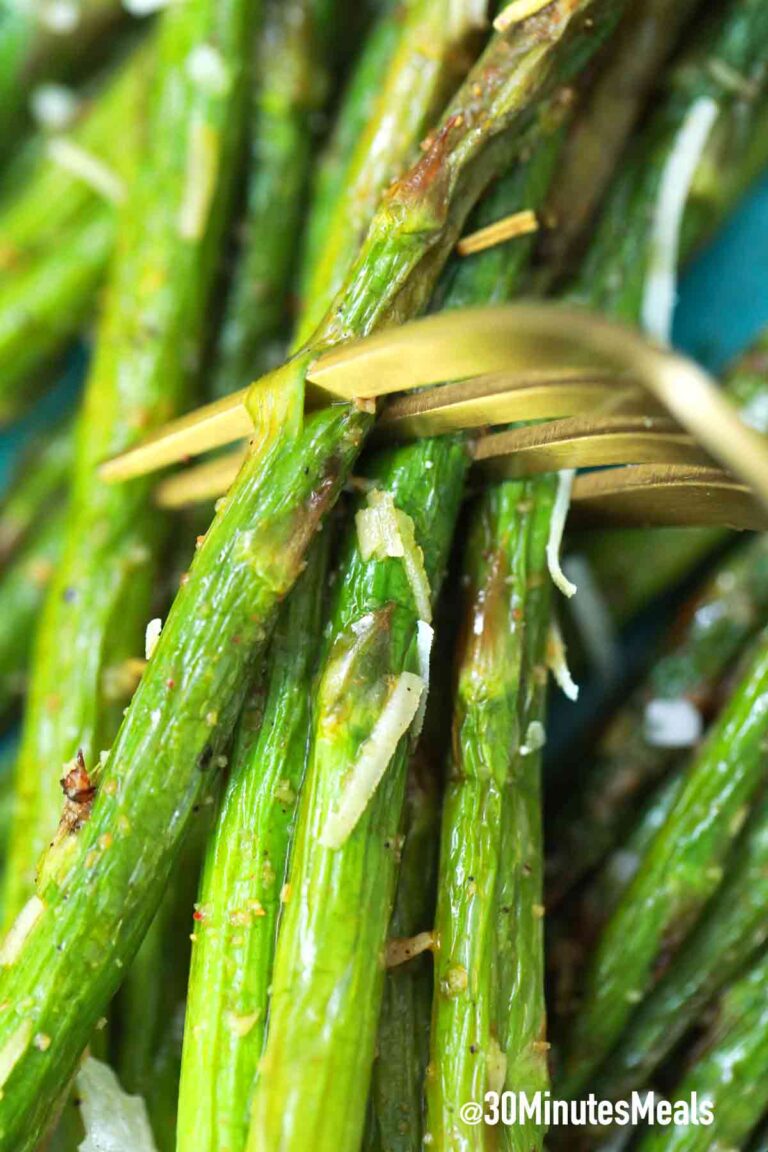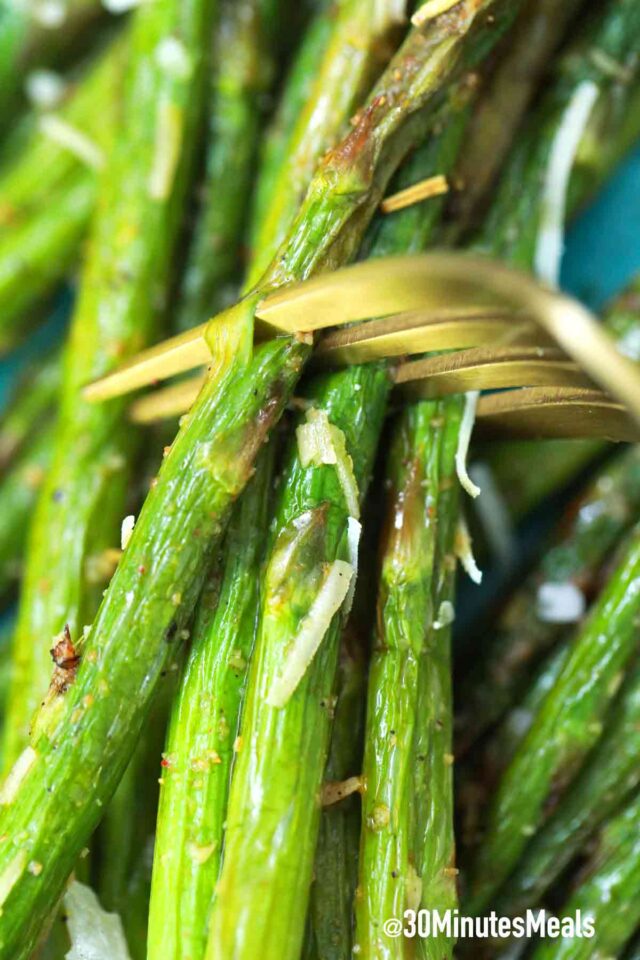 How to you make air fryer asparagus?
Season

. Toss your spears with the seasonings plus the oil.

Cook

. Air-fry for 6 to 10 mins. until tender but still crisp, and roasted lightly.

Serve.

Enjoy immediately. with fresh lemon wedges on the side.
Why is my asparagus not crispy?
First, you may have forgotten to pre-heat the basket. If it's not hot yet, the veggies will sit there longer than necessary, which can lead to overcooked, mushy results.
Another reason could be, that you didn't dry the stalks well enough. We're essentially roasting them, so the surface has to be dry so that the heat starts crisping them up upon contact.
If there's still moisture on the spears, it will turn to steam and can turn the vegetables to mush.
How to keep asparagus crunchy?
Don't overcook them! Keep in mind that they'll continue cooking after you take them out of the air-fryer, so time it well.
As for limp, raw asparagus, you can freshen them up by placing into cold water and covering tightly with a bag. Then, chill in the fridge for a couple of hours. They will firm right up!
Can you eat too much asparagus?
Not really! You can eat as much as you like (as long as you're not allergic to it), and it wouldn't harm you. Do note that it can make you gassy.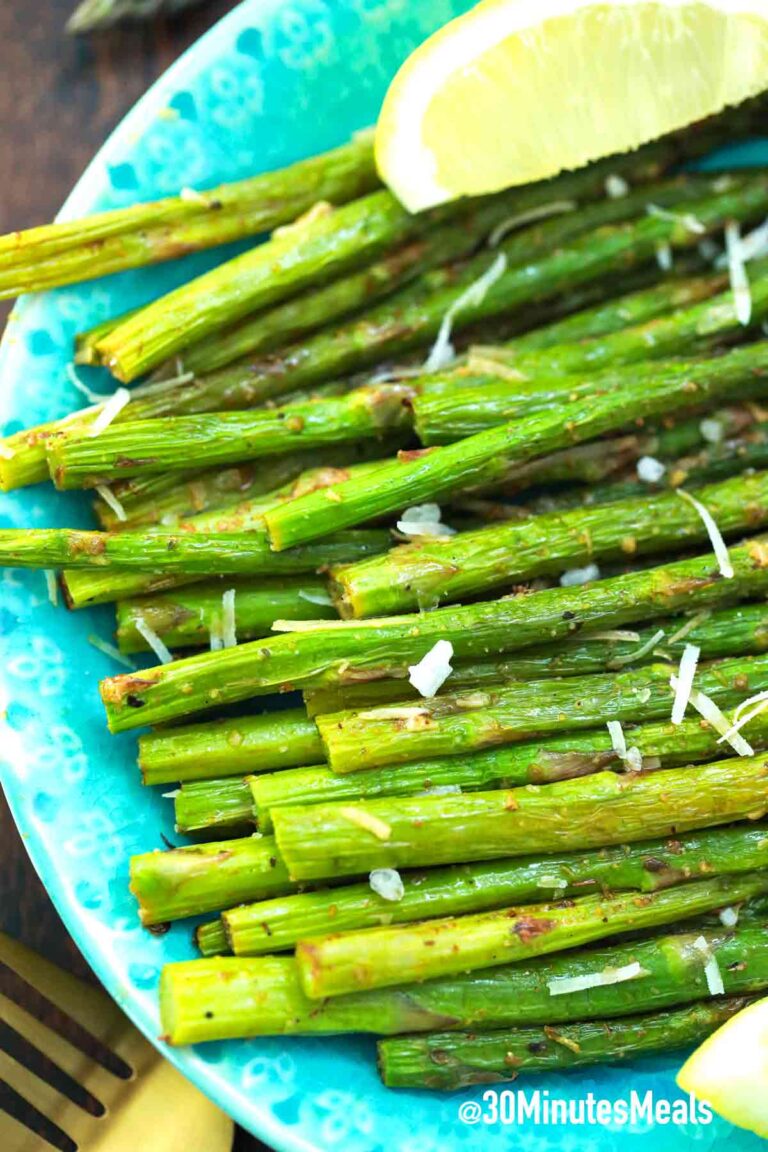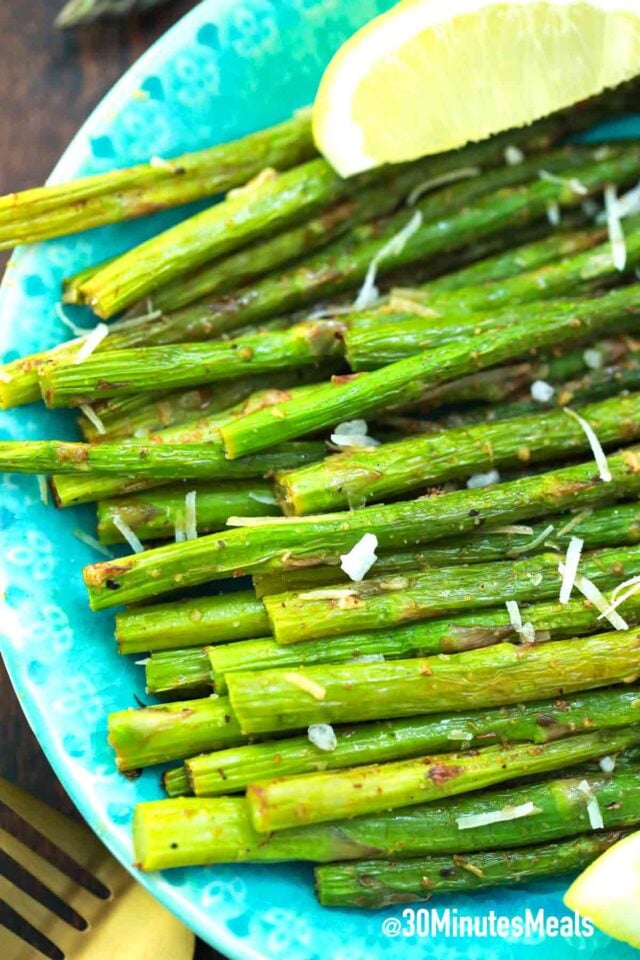 How do you serve air fryer asparagus?
We prefer keeping it simple with a light squeeze of lemon juice. This brings out the flavors better and makes the vegetable shine.
However, it's also a fantastic side dish to almost any entrée. For instance, we love pairing it with Air Fryer Salmon, Creamy Tuscan Chicken, Low Carb Mongolian Beef, and Peach Pork Chops.
How do you store and reheat asparagus?
After cooling the leftovers, transfer them to a well-sealed container. Chill in the refrigerator for up to three days, and try to finish as early as you can to maintain freshness.
When ready to eat, heat it up by air-frying at 420F for a couple of minutes, or popping in the microwave until hot.
Recipe tips:
Chop off those bottom ends, because they're too tough to eat.

You can also soak the stalks for 5 minutes in water to get rid of any remaining dirt.

Instead of oil, you can replace it with melted plain or flavored butter.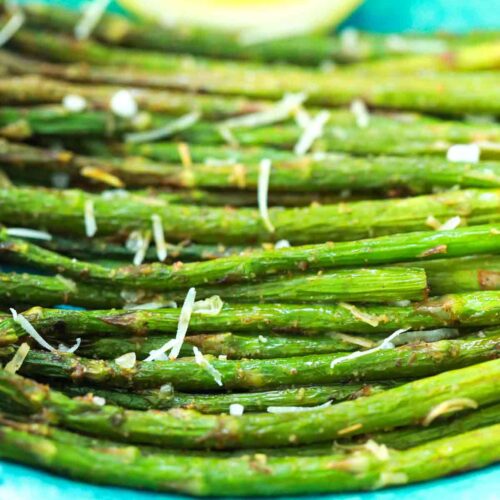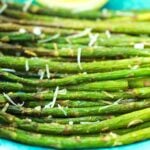 Air Fryer Asparagus
AirFryer Asparagus is tossed in olive oil, pepper, and herbs beforegetting roasted until it's tender and caramelized lightly. Ready in10 minutes or less!
Keyword:
Air Fryer Asparagus
Ingredients
Seasoning:
2

teaspoons

olive oil

1

teaspoon

Italian dried herbs

Salt and pepper

to taste

Lemon wedges

for serving
Instructions
Clean well the asparagus and dry with paper towels.

Slice about 1/2-1 inch off the bottom and discard.

Preheat air fryer to 400 degrees F.

Place on a baking sheet and drizzle with olive oil, season with Italian herbs, salt, and pepper and toss well.

Mix Seasoning ingredients in a bowl.

Arrange it in the air fryer in one layer, work in batches if needed.

Cook for 6-10 minutes or until tender-crisp and lightly roasted on the outside.
Nutrition Facts
Air Fryer Asparagus
Amount Per Serving
Calories 42
Calories from Fat 18
% Daily Value*
Fat 2g3%
Sodium 2mg0%
Potassium 235mg7%
Carbohydrates 5g2%
Protein 3g6%
Vitamin A 866IU17%
Vitamin C 6mg7%
Calcium 35mg4%
Iron 3mg17%
* Percent Daily Values are based on a 2000 calorie diet.