Air Fryer Salmon is healthy, flavorful, and very easy to make, taking you only around 30 minutes from start to finish. The fish has been perfectly seasoned and after that cooked to crispy perfection in the Air Fryer.
We enjoy light and easy recipes, especially now, during the holiday season, it is nice to take a break from the calorie-loaded main dishes that are inevitable. We invite you to check our mouth-watering Air Fryer Chicken Drumsticks, vitamin loaded Chickpea Salad and the perfect Mango Salsa.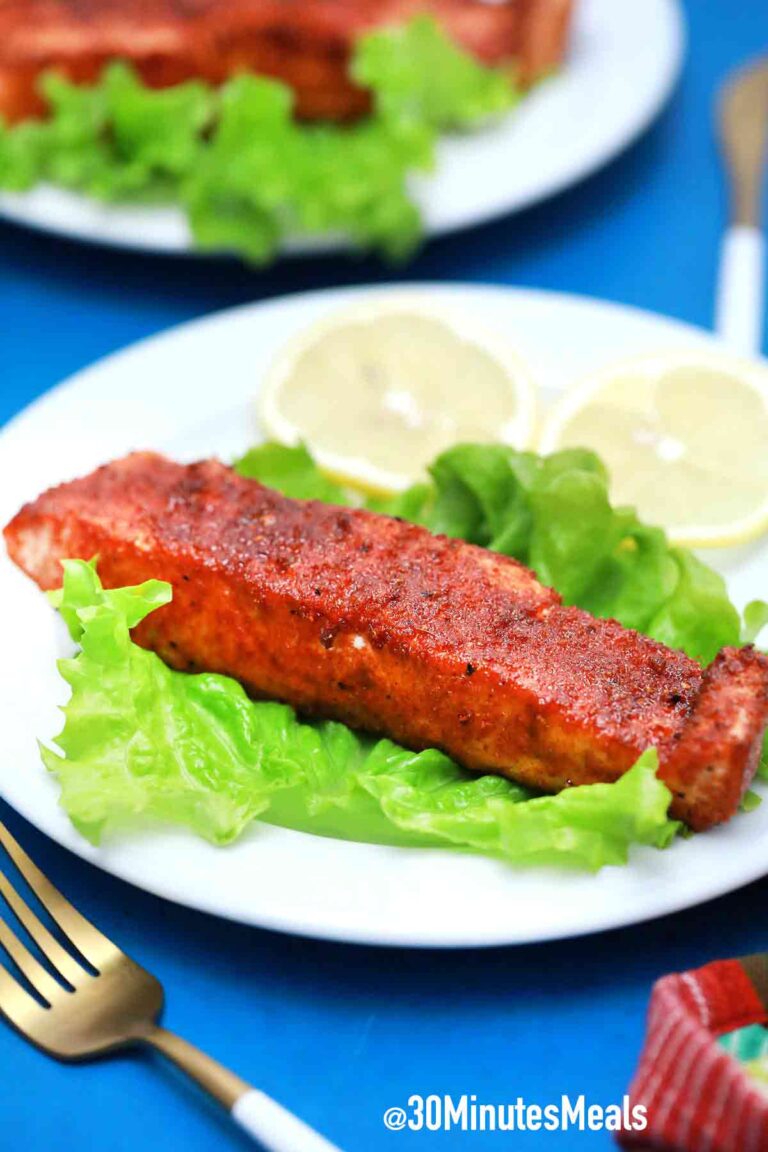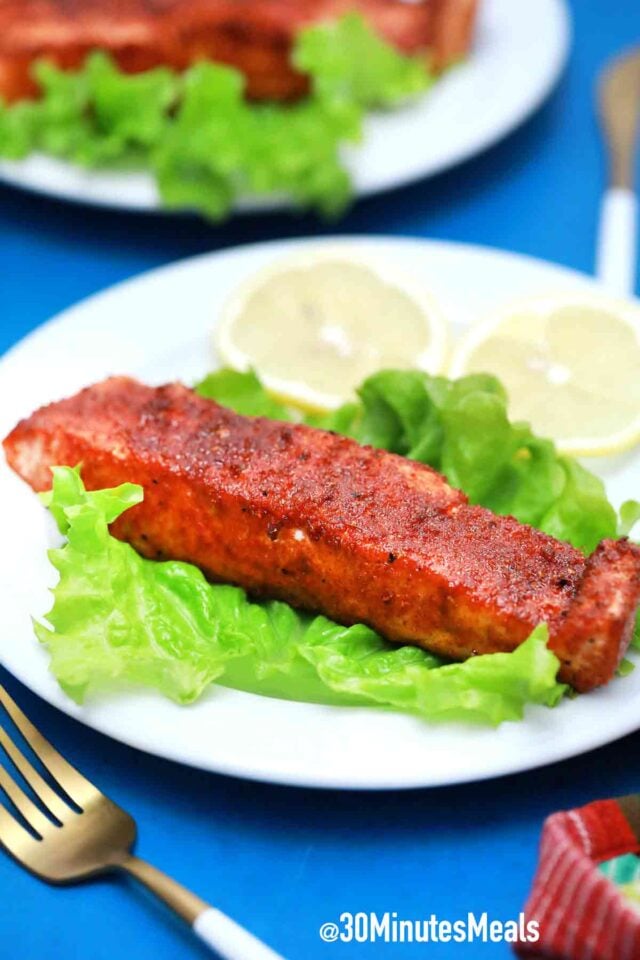 Healthy Air Fryer Salmon Recipe
Air Fryer Salmon is crispy on the outside and deliciously tender on the inside. For this recipe to truly be outstanding you have to make sure you don't skip the rub. The seasoning is amazing and it's what gives the salmon the most fantastic flavor.
You can make this recipe in just 30 minutes, which makes it perfect for busy weeknights. Whip a salad while the fish is cooking and some fresh lemonade, and you are good to go.
I enjoy cooking a double batch so I can have the leftovers on a salad the next day. Reheating it the next day in the air fryer is a great idea, as it enhances the crispiness that usually is lost when reheating food in the microwave.
What is an air fryer?
It is a small countertop convection oven, that has been specifically designed to simulate deep frying without submerging the food in oil. It achieves these results, thanks to a fan that circulates hot air at a very high speed, producing a crisp layer on the food.
The food cooked in the air fryer is obviously much healthier than the deep-fried version, as no high amount of oil is used. The texture doesn't truly resemble deep-frying, but it is usually very crispy on the outside, which will satisfy your cravings!
An air fryer has many benefits if you are trying to decide on investing in one. It is quick, efficient, versatile, easy to use, and definitely a healthier alternative.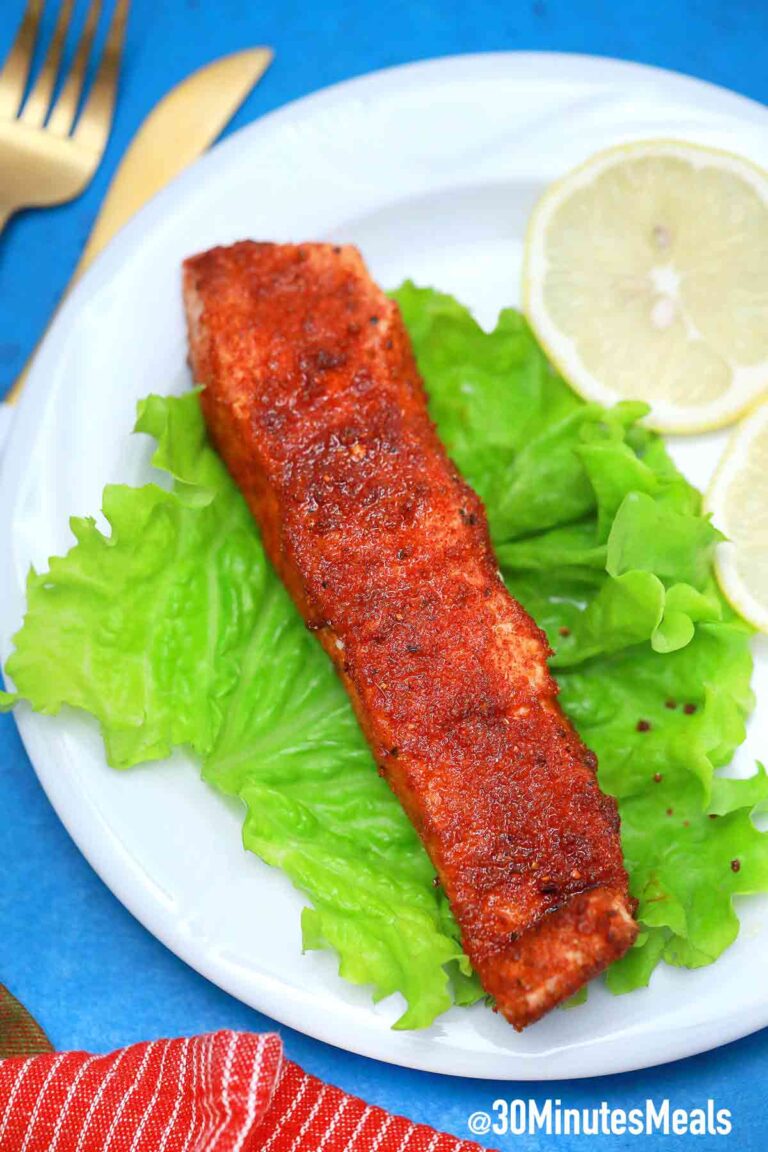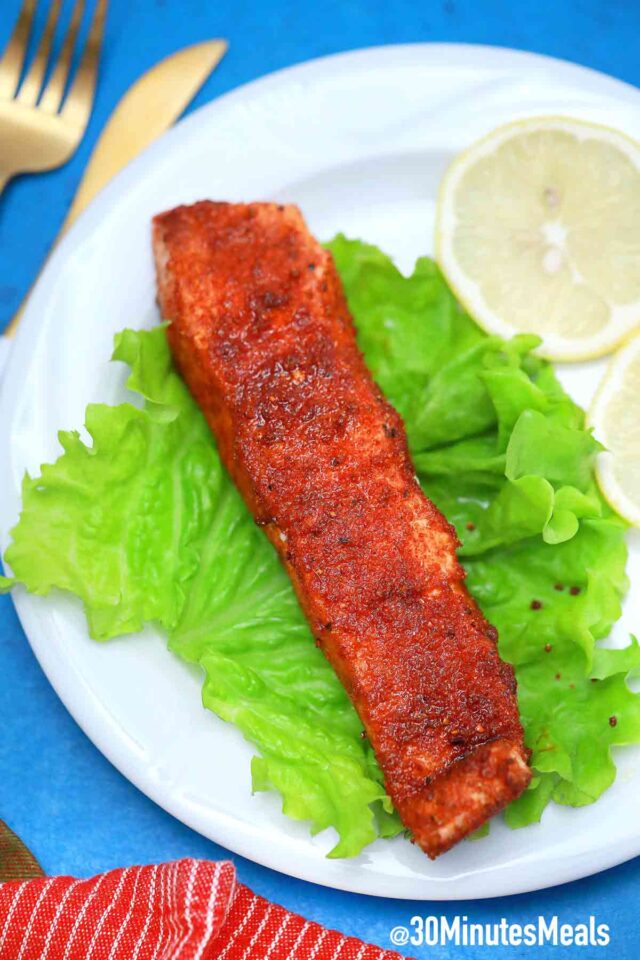 Can frozen salmon be cooked in the air fryer?
Yes, you can cook frozen salmon in the air fryer, but you will have to double the amount of cooking time. Once done cooking, check if the fish is done and if needed cook more.
While this is definitely an option and will speed up dinner, I recommend that you use this more on an exception basis cases. The results are much better and definitely more delicious when making the recipe with raw/thawed fish.
How do you make air fryer salmon:
Make the Rub: First, you start by mixing all the listed seasonings in a bowl.
Prepare the fish: Thaw the fish. There is no point in using the rub mixture on frozen fillets. Pat dry the fish and rub it with olive oil and after that the seasoning mixture.
Cook: Cook the fillets in the air fryer, check for doneness and if needed add a few more minutes. It is ok to serve salmon pink in the center but check with a fork first to see what color is the fish in the thickest part of the fillet to make sure it is cooked to your liking.
Serve and Enjoy!
What temperature should cooked salmon be?
The FDA recommends cooking salmon to an internal temperature of 145°F. The temperature is measured in the thickest part of the salmon fillets.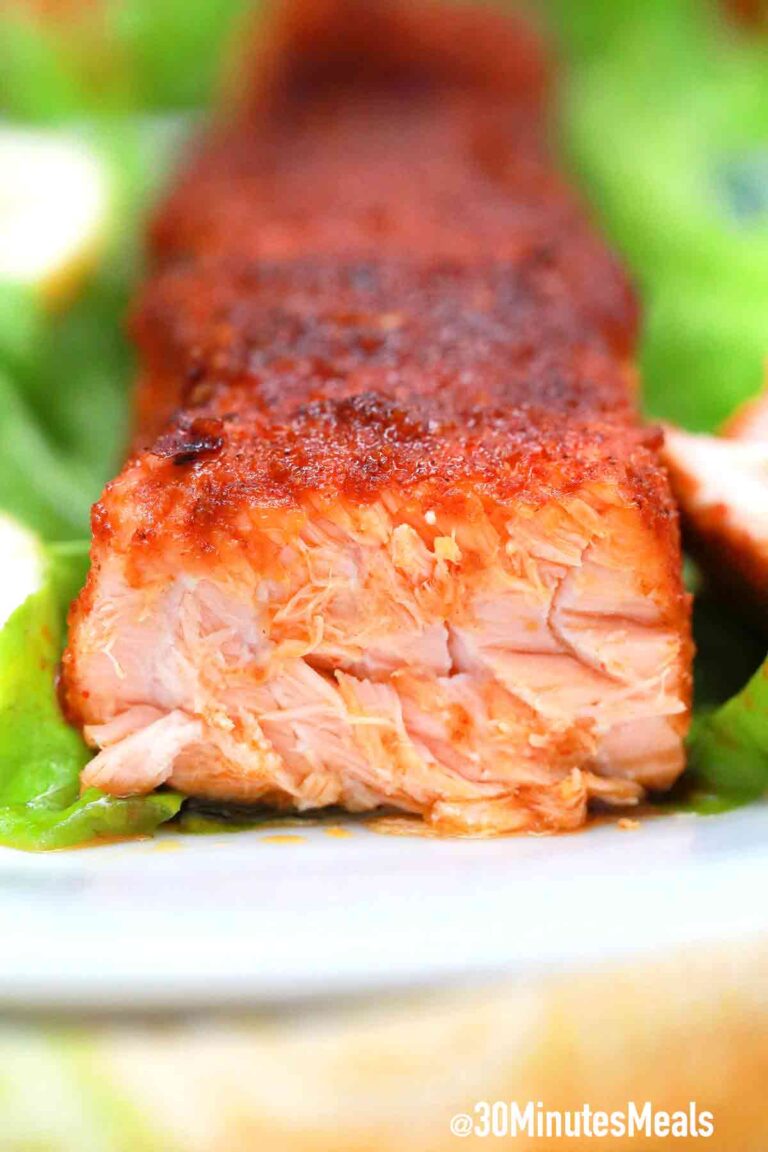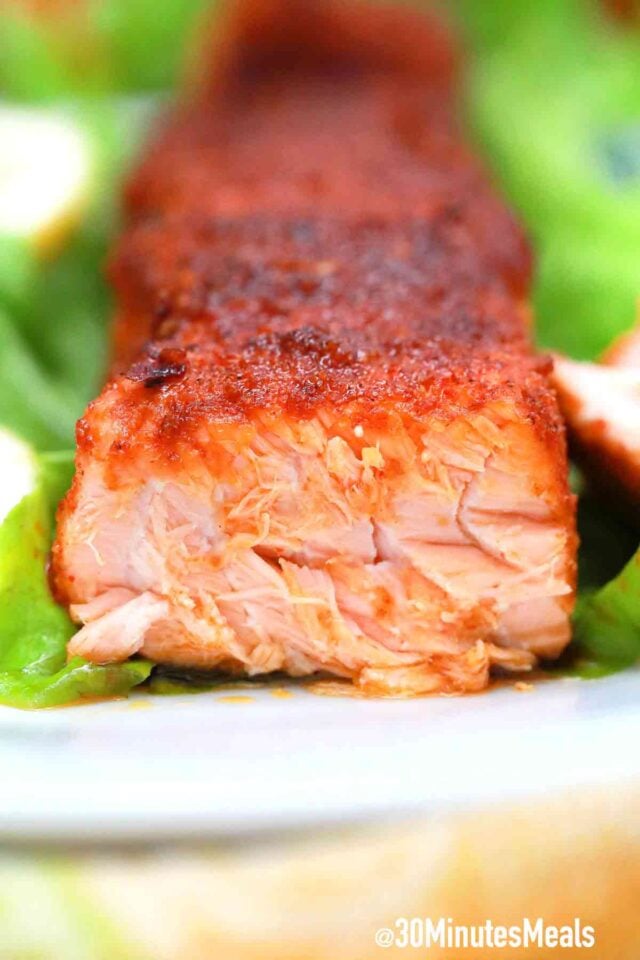 Recipe Variations:
Make this recipe with other types of fish, like tuna, mahi-mahi, or even tilapia for a budget-friendly meal.
Play around with the rub ingredients, add more of the ones you like, and exclude the ones you are not a fan of.
Make this meal Mexican inspired by replacing the rub with taco or fajita seasoning.
If you decide to use taco seasoning serve the fish as tacos and top it with guacamole and salsa for a hearty meal.
Does Salmon need to rest?
Most of the time after cooking some type of meat it is advised to let it rest for 10 minutes before serving. This is done to let all the juices from cooking to get a chance to soak in so you can enjoy it at its best.
It is the same recommended with salmon, to cover and let it rest for 5-10 minutes after cooking is the best way to enjoy it.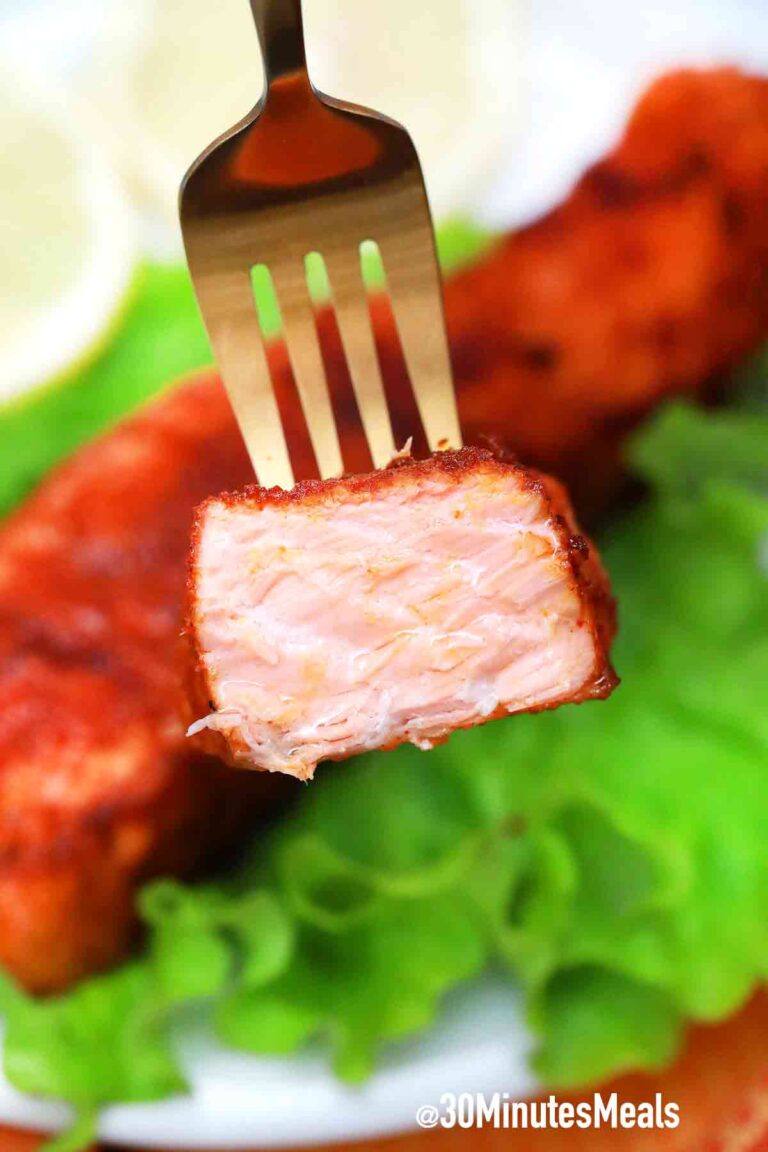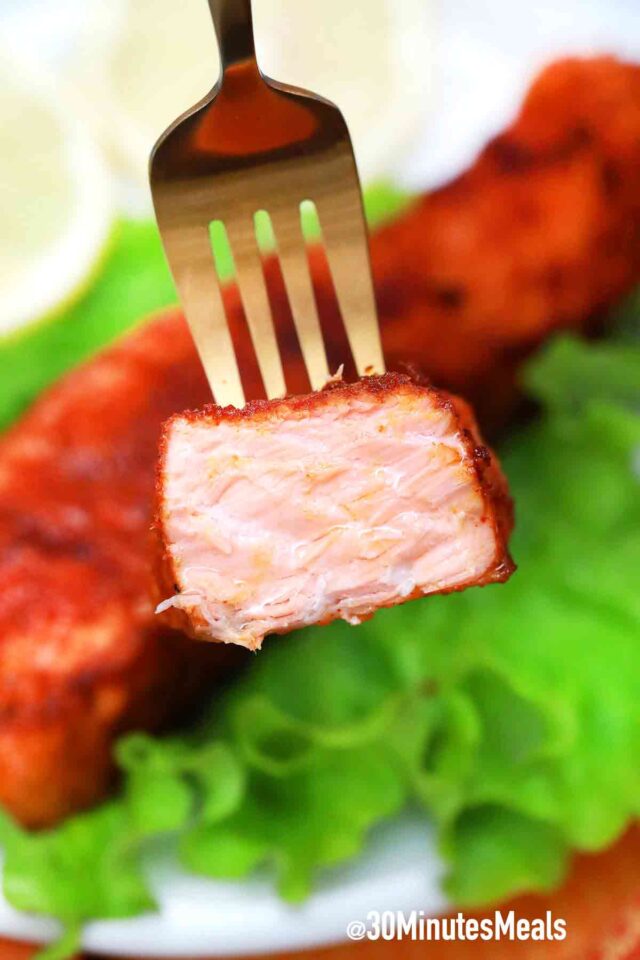 More Recipes:
Recipe Tips:
Make sure you use fresh salmon, preferably wild-caught, so you can enjoy this fish at its finest!
Don't skip the seasoning part, it truly makes the fish shine.
Do NOT overcook the salmon, it will taste dry and almost rubbery.
Serve it with a splash of freshly squeezed lemon juice.
Make a double batch and save the leftovers to use on salads.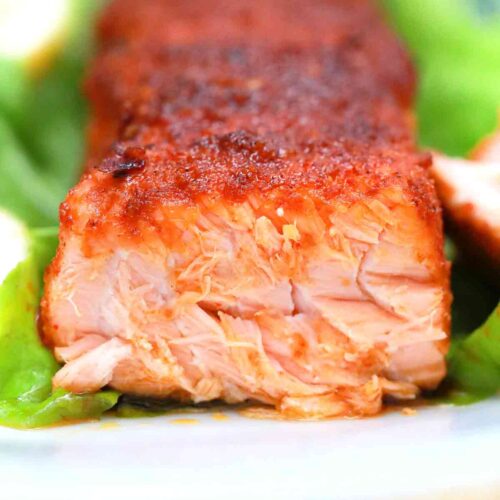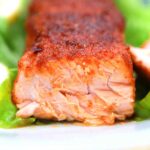 Air Fryer Salmon
Air Fryer Salmon is healthy, flavorful, and very easy to make, taking you only around 30 minutes from start to finish.
Keyword:
Air Fryer Salmon
Ingredients
2

salmon fillets

about 1 1/2-inches thick

1

tablespoon

olive oil
Dry Rub Seasoning:
2

teaspoons

smoked paprika

1

tablespoon

garlic powder

1

teaspoon

onion powder

1/2

teaspoon

ginger powder

1/4

teaspoon

chili powder

1/8

teaspoon

ground cumin

1/2

teaspoon

salt

1/4

teaspoon

ground black pepper
Instructions
Mix the RUB ingredients in a bowl and set aside.

Pat dry the fish, rub it with the oil, and after that with the RUB

Rub each fillet with olive oil and after that the Seasoning mixture.

Place fillets in the basket of the air fryer.

Set air fryer at 390 degrees for 8 minutes if the filets are 1-1/2-inches thick and 10 minutes if they are closed to 2 inches.

When cooking time is off, check fish with a fork for doneness. If needed cook a few minutes longer.

Let rest for 5 minutes, covered with foil, before serving.
Nutrition Facts
Air Fryer Salmon
Amount Per Serving
Calories 330
Calories from Fat 162
% Daily Value*
Fat 18g28%
Cholesterol 94mg31%
Sodium 666mg29%
Potassium 926mg26%
Carbohydrates 6g2%
Protein 35g70%
Vitamin A 1127IU23%
Calcium 20mg2%
Iron 2mg11%
* Percent Daily Values are based on a 2000 calorie diet.