Teriyaki Sauce is a simple and flavor-packed way to give your meals some Asian flair! It's amazing for stir fries, as a marinade, or dipping sauce. Ready in minutes using fresh ingredients!
This sauce is PERFECT for fast and simple air-fryer recipes. For instance, use it for these Air Fryer Salmon, Air Fryer Chicken Breast, and Air Fryer Asparagus. Instant takeout goodness!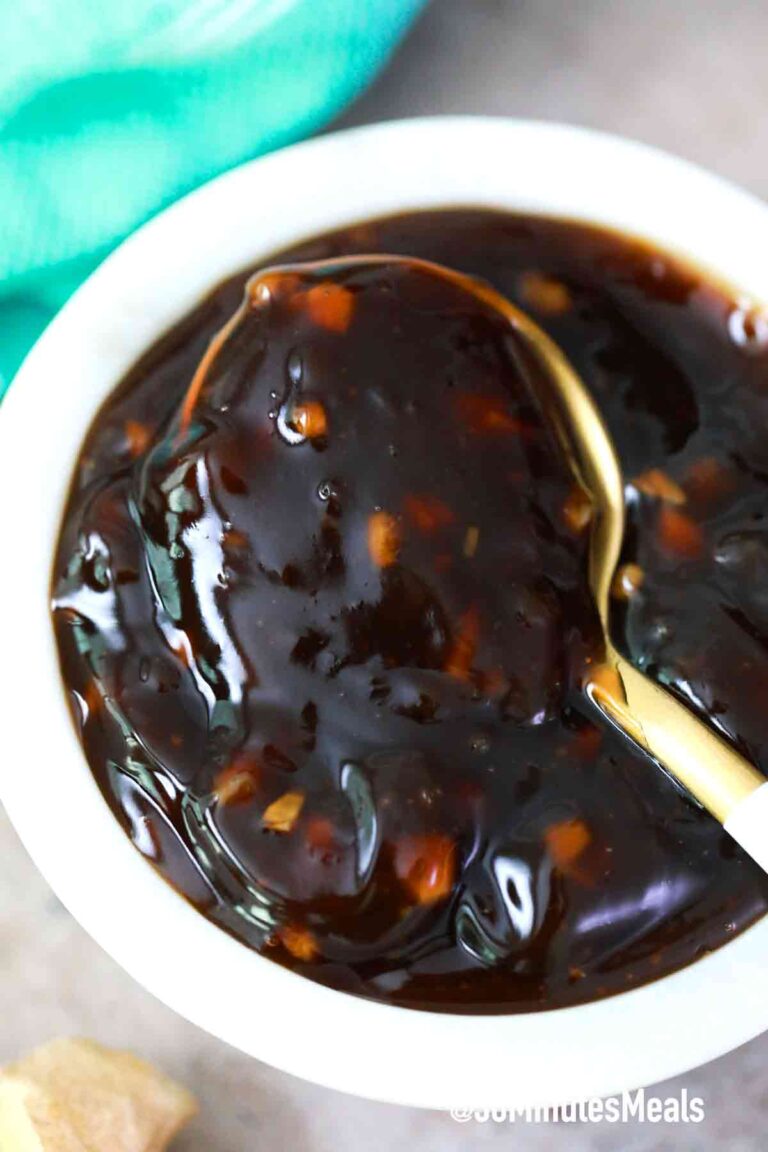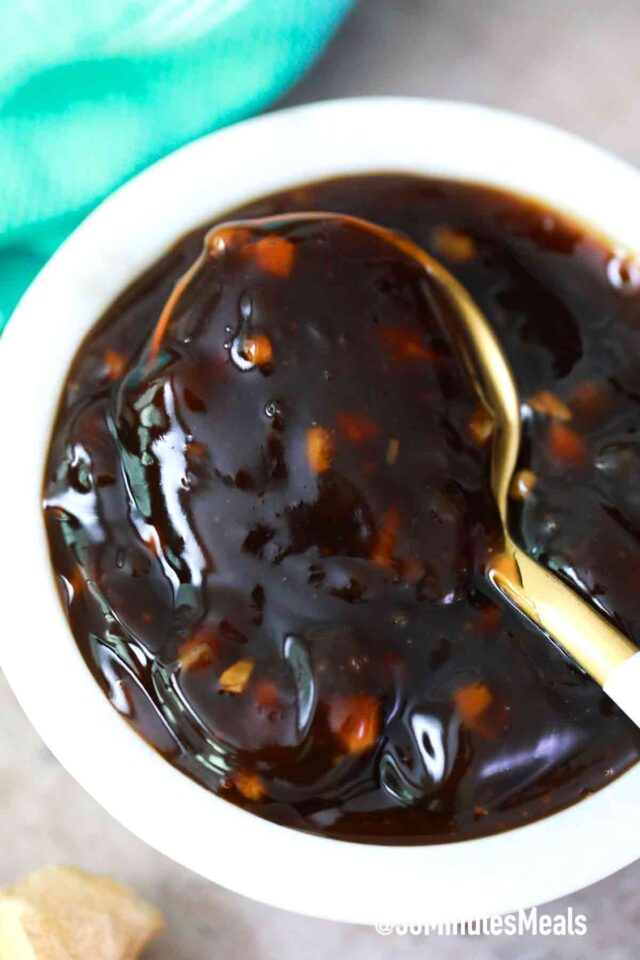 Homemade Teriyaki Sauce
Teriyaki Sauce will have you pouring it over everything you eat! It tastes authentic and much healthier than anything you can buy at the store. In fact, you only need seven pantry ingredients and 10 minutes to get it ready. After it's done, you can store it in the fridge for a few days. Pull it out when you're ready to cook, and turn your meals into a take-out style feast!
It's the ultimate sauce or marinade for quick and simple meals. Brush it over baked tofu or your preferred protein. It's perfect for sprucing up noodles, whether you're using instant ramen or Japanese udon. You can also brush it over grilled vegetables like mushrooms, broccoli, cauliflower, anything you like!
What goes into homemade teriyaki sauce?
Aromatics: Fresh minced ginger and finely-minced garlic.

Seasoning liquids: We're combining soy sauce and rice vinegar with a little water and orange juice for the perfect savory flavor!

Brown sugar: Aside from adding sweetness, it also helps our sauce thicken up.

Slurry: Mix up a little water with cornstarch as a thickener, if needed.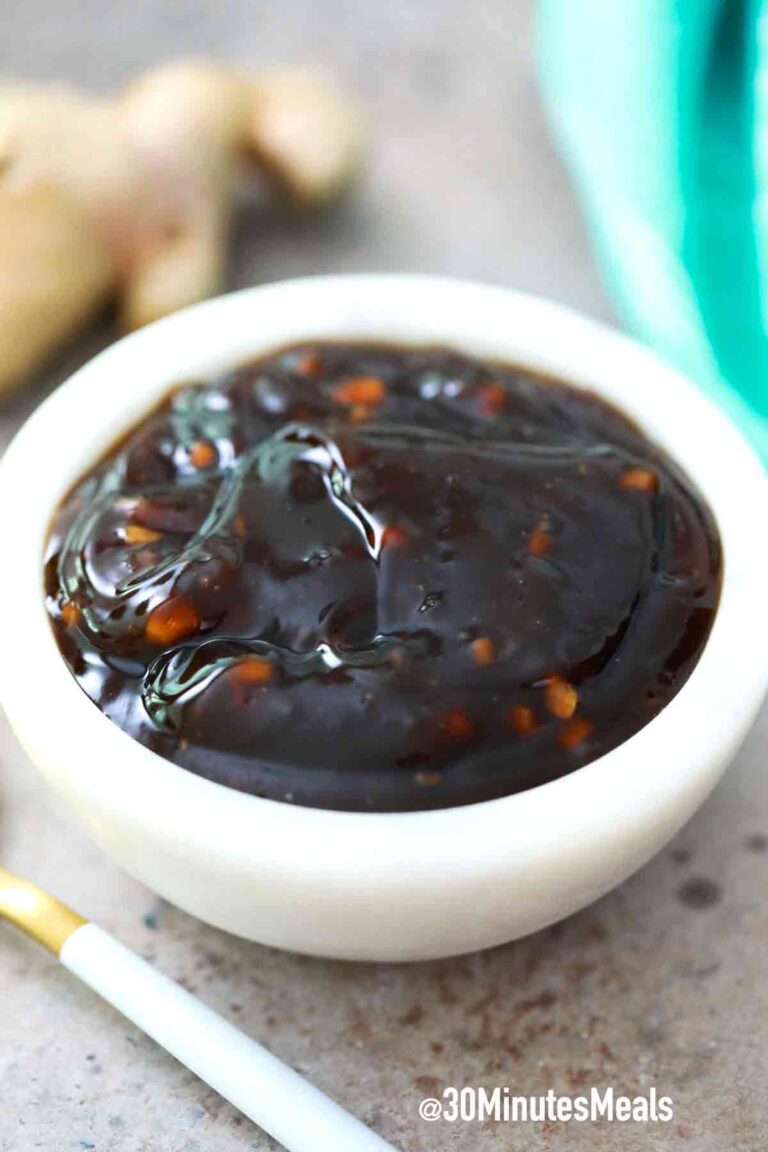 How to make the best homemade teriyaki sauce from scratch?
Heat. Mix all of the ingredients (except the slurry) and put on a hard simmer on medium. Do this until all the sugar has dissolved, about 5 mins.

Thicken. Add the slurry, and cook for about 5 more mins. until it's as thick as you like.

Use. You now have homemade teriyaki! Use for any recipe you wish, starting with our popular Chicken Teriyaki!
How to thicken homemade Teriyaki Sauce?
Since this has sugar, it will thicken naturally as it simmers down and the water evaporates. If you want to speed it up, you can also use a simple slurry made with cornstarch or flour.
Also, keep in mind that it will continue to thicken up as it cools down, so we recommend observing first. You can always reheat and add thickeners if it's not your preferred consistency yet.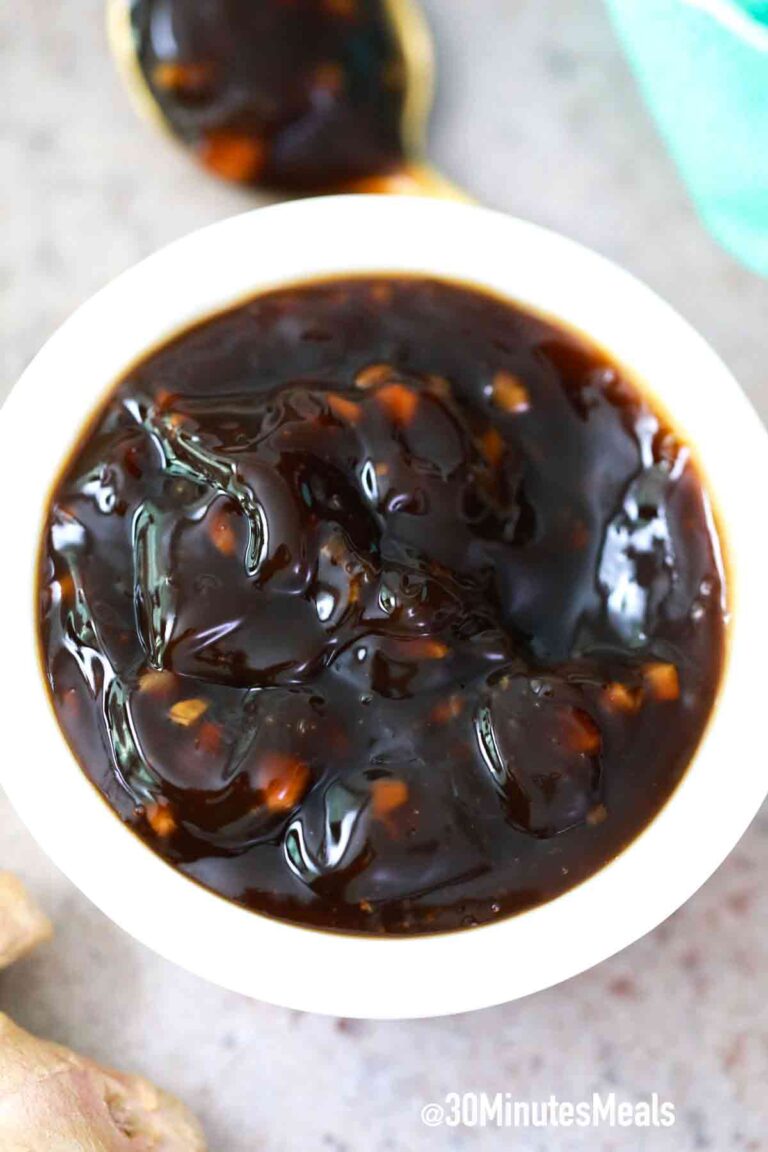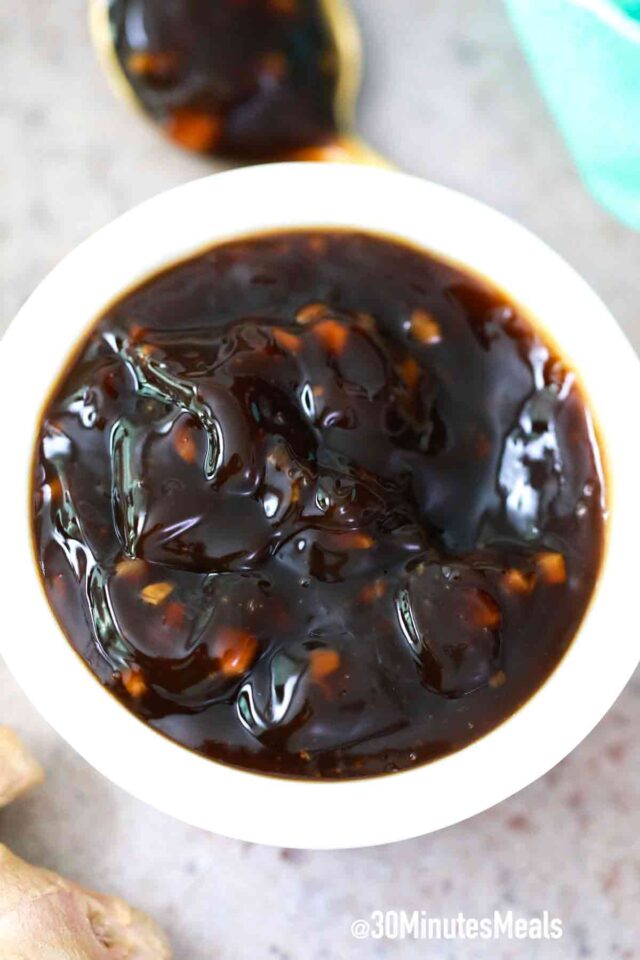 Can I use homemade teriyaki Sauce in place of Soy Sauce?
No. Soy sauce is used to add savory saltiness to dishes. Because this sauce is sweet with aromatics, it wouldn't work as a soy sauce substitute. Closer alternatives would be tamari, fish sauce, or liquid aminos (keto).
What's different between homemade teriyaki sauce and marinade?
This sauce specifically, you can use as both a marinade and sauce. The only difference is that as a marinade, you'll soak your ingredients in it BEFORE cooking. Used a sauce, it's served along with the cooked dish.
What goes good with homemade teriyaki sauce?
You can use it to make any protein or vegetable even more delicious! Brush it onto your meat of choice (or tofu for a vegetarian sub), and grill. You can also add it to stir-fries for a quick, Japanese-inspired meal. It makes everything taste like take-out!
We also love adding a splash to fried rice, flavoring stir-fried noodles, brushed onto vegetables, or as a dip. In short, add it to almost anything you like!
How to store it?
After cooling it down, place it in a clean glass jar with an air-tight lid. You can store it for up to a week. We don't recommend freezing it because it can separate and it tastes best when fresh.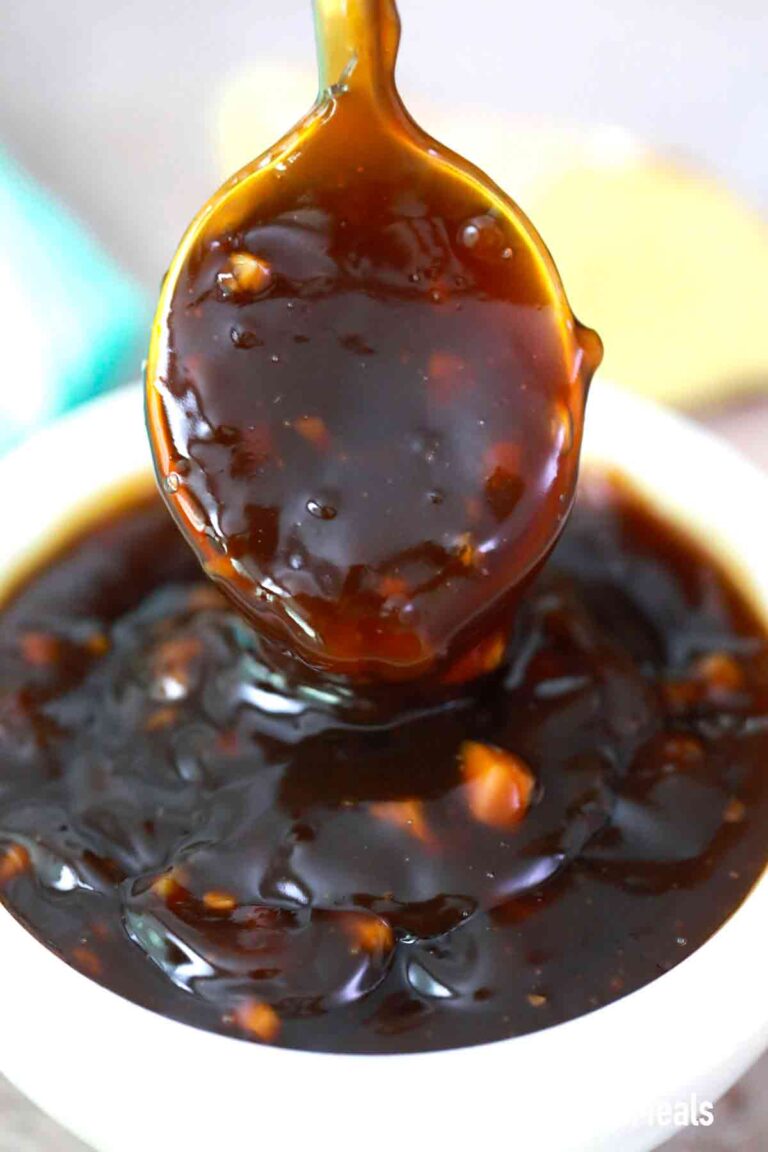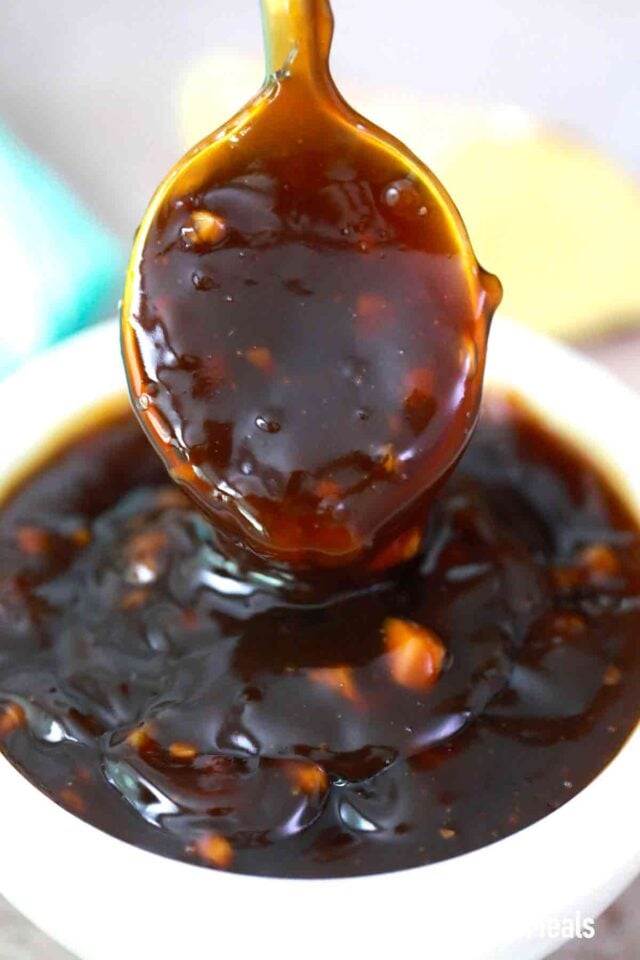 More sauce recipes to try:
Recipe tips:
Make it gluten-free by subbing with tamari or GF soy sauce.

Use FRESH garlic and ginger as much as possible, because the powdered kind doesn't make it taste authentic.

Try this with pineapple juice for a delicious twist!

Feel free to use more or less sugar as you wish.

Instead of orange juice, you can also use rice vinegar.

Instead of brown sugar, you can use honey. You can also replace it with white if that is all you like.

For a spicy version, add dried chili flakes or chopped red-eye chilies.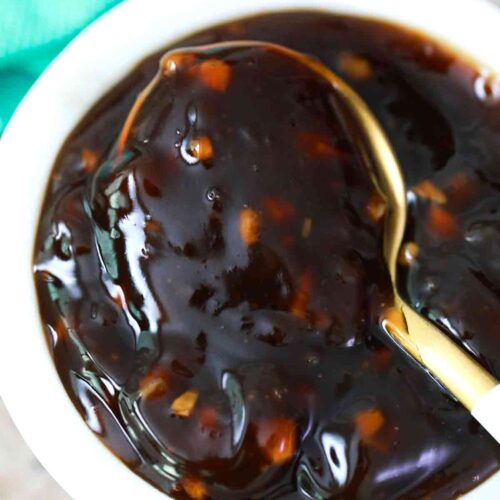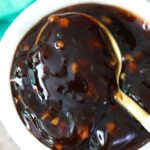 Teriyaki Sauce Recipe
TeriyakiSauce is a simple and flavor-packed way to give your meals some Asianflair! It's amazing for stir fries, as a marinade, or dippingsauce. Ready in minutes using fresh ingredients!
Ingredients
1/3

cup

soy sauce

1/2

cup

orange juice

1/4

cup

water

1/4

cup

brown sugar

2

teaspoons

rice vinegar

5

cloves

garlic

minced

1

teaspoon

minced ginger
For the corn starch slurry
2

tablespoons

corn starch

1/4

cup

cold water
Instructions
Add soy sauce, orange juice, water, brown sugar, rice vinegar, garlic, and ginger to a medium sauce pan over medium heat.

Stir until sugar dissolves.

In a small bowl, whisk together the slurry ingredients until the corn starch is fully dissolved.

Add the slurry to the sauce, and continue to cook stirring for an additional 5 minutes, until thick.

Remove from heat and either use it right away or store it for later.
Nutrition Facts
Teriyaki Sauce Recipe
Amount Per Serving
Calories 66
Calories from Fat 9
% Daily Value*
Fat 1g2%
Sodium 724mg31%
Potassium 91mg3%
Carbohydrates 15g5%
Protein 2g4%
Vitamin A 42IU1%
Vitamin C 11mg13%
Calcium 17mg2%
Iron 1mg6%
* Percent Daily Values are based on a 2000 calorie diet.