Air Fryer Zucchini Fritters Recipe
Air Fryer Zucchini Fritters are crunchy on the outside and tender inside, made in less than 10 minutes in your air fryer. This is one of those easy zucchini recipes you will fall in love with. Whether you serve them as a side dish or quick snack, these fritters are fantastic.
Another way to use up that extra zucchini you have leftover from your garden is to make these tasty Air Fryer Zucchini Fries. Or you can serve these with our crunchy Air Fryer Fish Sticks too. Another delicious side dish for any time of year is our Air Fryer Corn on the Cob served dripping with butter and sprinkled with parmesan.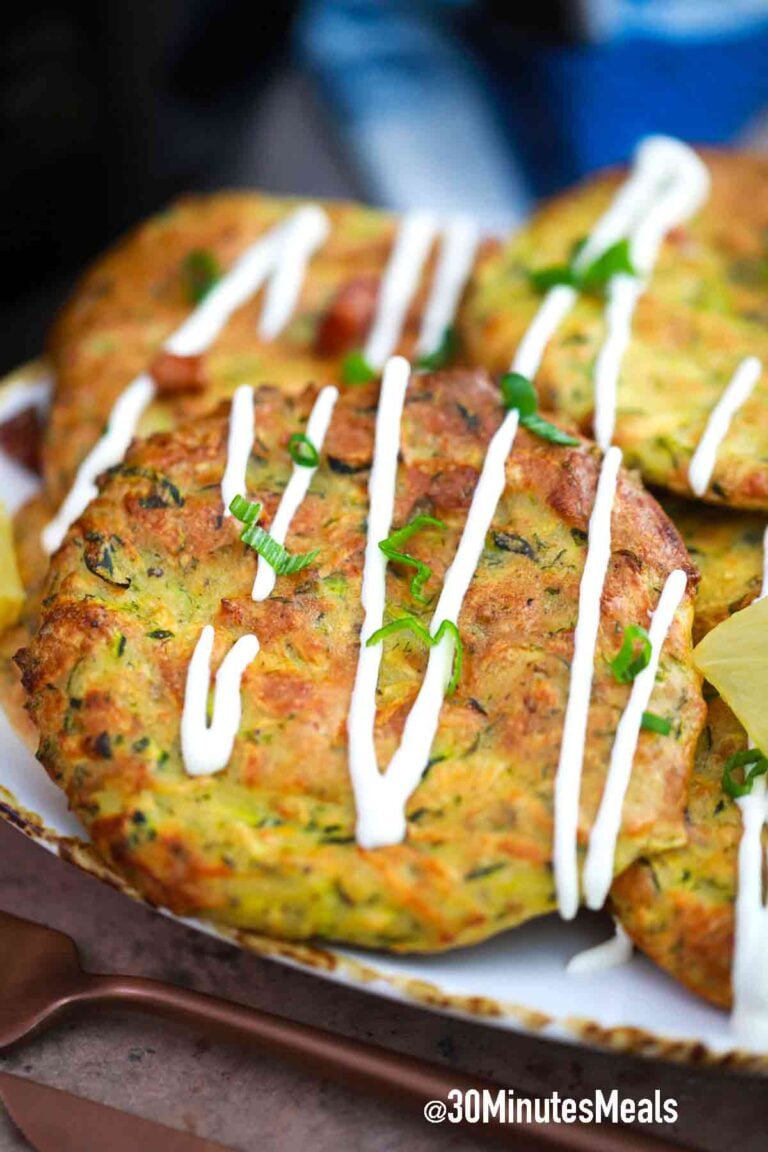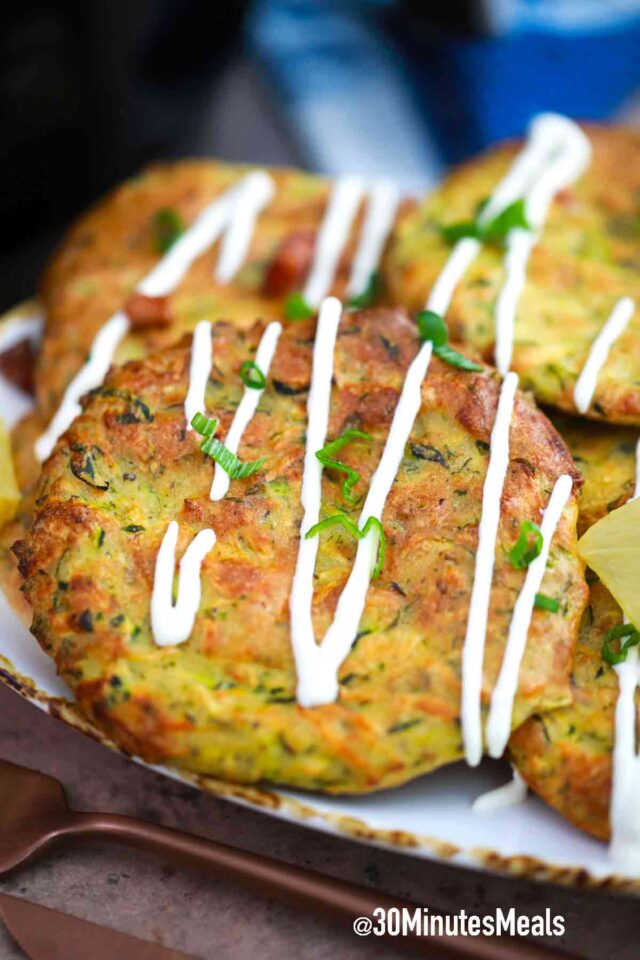 All you need for this quick snack besides some simple ingredients is a large mixing bowl, paper towels, and of course, your air fryer. The zucchini mixture is fast and easy to prepare so you will have it on the table with your favorite dipping sauce in minutes.
Ingredients needed:
This recipe is easy and fast with just a handful of ingredients. See the printable recipe card below for more details.
Medium zucchini: Shredded and dried.
All-purpose flour: You can also use almond flour for a nutty flavor.
Baking powder: This is essential to get crispy fritters.
Kosher salt: Divided in half.
Pepper: Ground black pepper is best.
Green onions: Thinly diced.
Onion powder
Italian herbs
Eggs: Medium are best for less moisture.
Garlic: Minced cloves.
Dill: Finely chopped.
Lemon zest: Make your own by grating a fresh lemon peel.
Toppings: Bacon, sour cream, sliced green onions, and lemon wedges.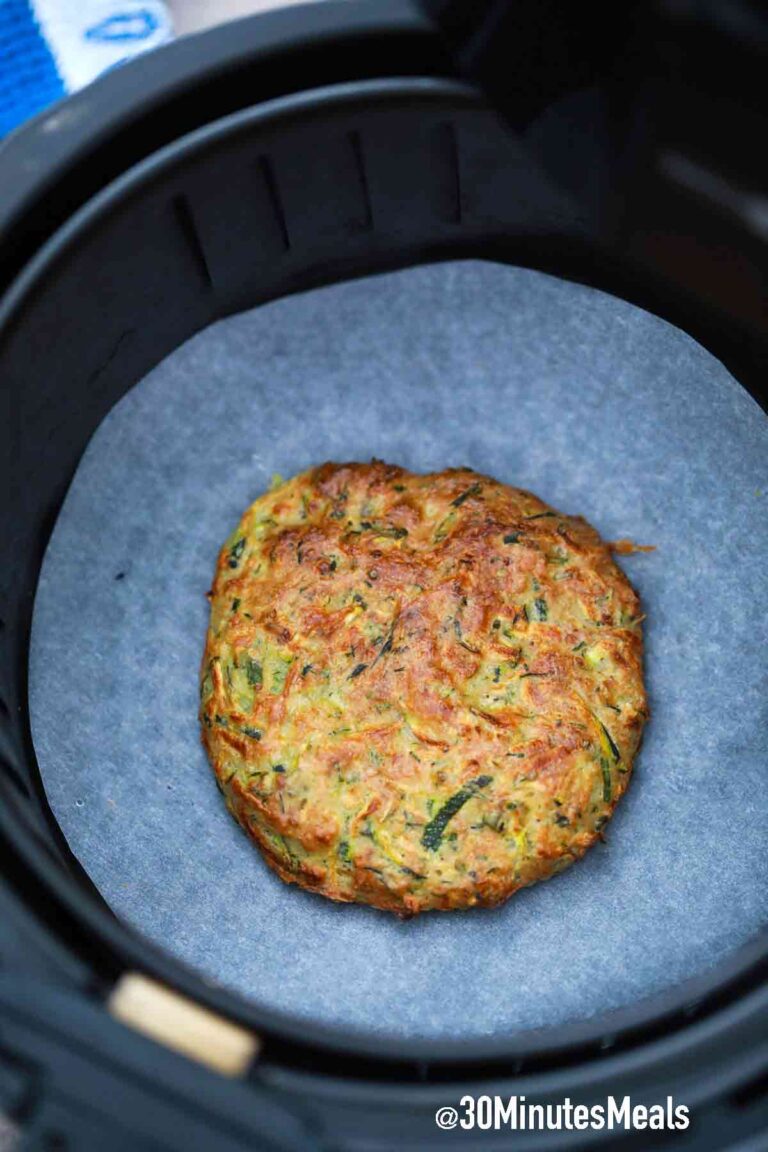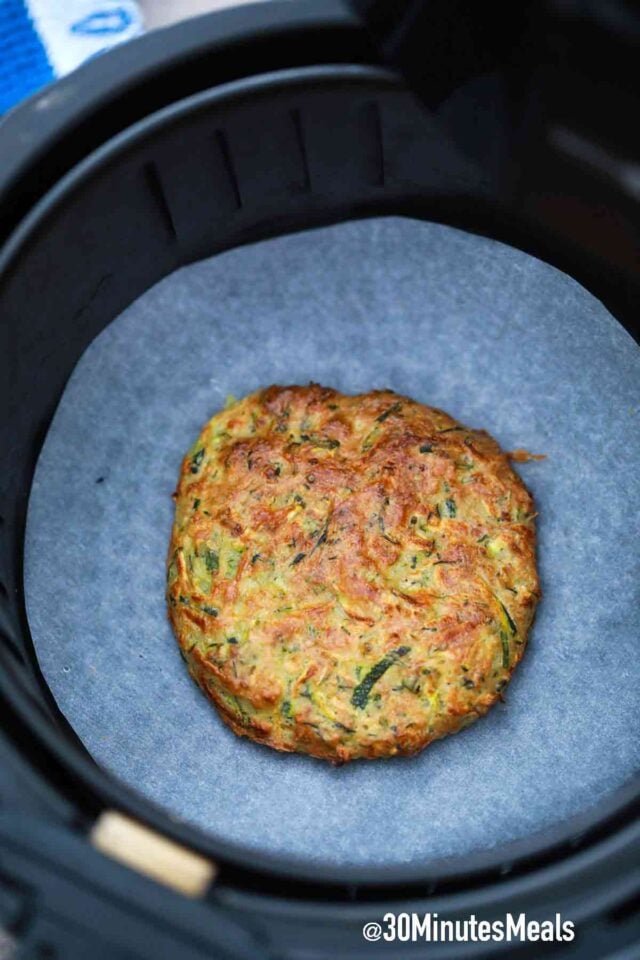 How do you make air fryer zucchini fritters?
Preheat: First, preheat the air fryer to 390 degrees F.

Salt: Then, put your shredded zucchini in a large colander and sprinkle it with a half-teaspoon of salt. Let it sit for 15 minutes.

Squeeze: After, squeeze with a clean dish towel or cheesecloth to remove all the excess moisture.

Mix: Next, use a large bowl to mix the rest of the ingredients with the drained zucchini. Stir it well until you have a nice fritter batter.

Spray: Finally, spritz the air fryer basket with cooking spray or olive oil before putting the fritters in so they do not stick.

Cook: Lastly, fry for seven minutes per side or until they are golden brown. Continue cooking in batches until they are all done. Then serve with lemon while they are still warm.
Recipe variations:
Add cheese: Similarly, make these cheesier by adding a tablespoon of parmesan cheese.

Use powder: You could use garlic powder if you do not have cloves or minced garlic.
Corn: Or turn these into zucchini corn fritters by adding some fresh or canned corn to the mixture. But make sure it is dry.
Make them spicy: Add a bit of cayenne pepper or red pepper flakes for a little heat.
How to serve:
You can serve these scrumptious zucchini patties as an appetizer, side dish, or a healthy afterschool snack for the kids. Try some of these serving ideas:
Serve on the side with any entrée from beef to chicken.
Add a dash of hot sauce or salsa for a bit of spiciness.

Try dipping these fritters in homemade barbecue sauce or teriyaki sauce.

These are also fantastic dipped in sour cream or ranch dressing.
Alternatively, serve with this scrumptious cheddar ranch cheese ball.
Sprinkle some feta cheese on top while they are still hot for a melted creamy topping.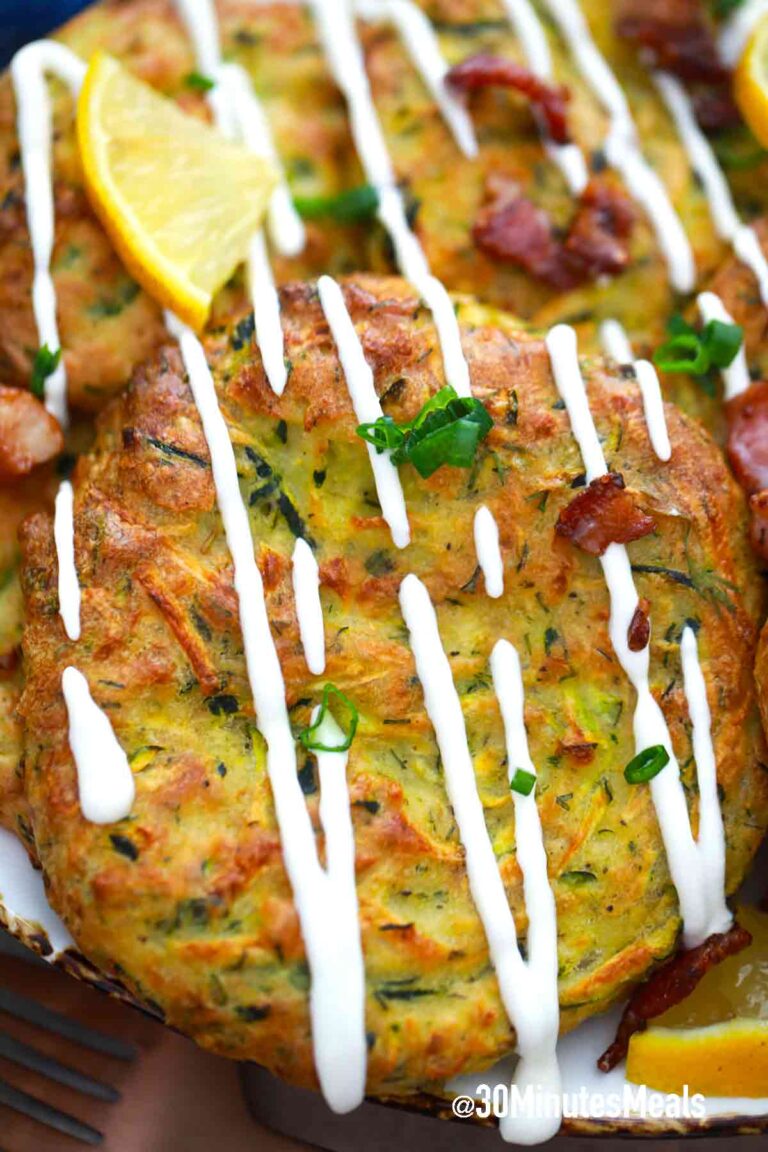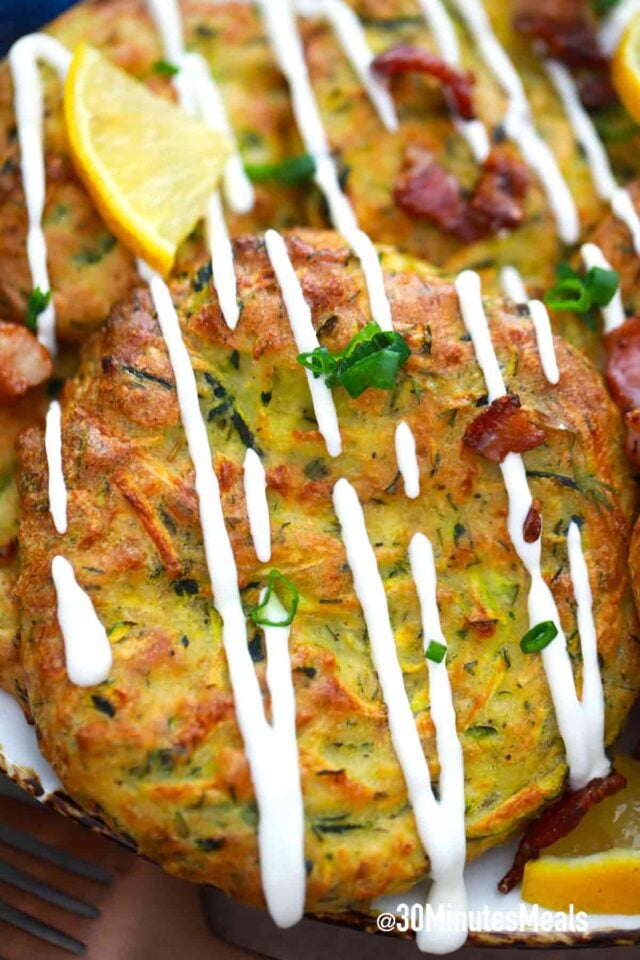 Frequently asked questions
Why are my zucchini fritters falling apart?
This usually happens when you do not have enough binders in your mixture. For example, you have to add the right amount of flour or eggs, which are two main ingredients that hold the fritters together. You could also use panko or some other kind of breadcrumbs as a binder and cheese work well too.
Another reason they fall apart is if they stick to the pan. You have to be sure you use enough oil and do not flip them too soon or too often. Do not cook them at too high of a temperature and preheat the pan first. Use medium to medium-low heat or the outsides will get done too fast and the insides will be undercooked.
How do you stop soggy fritters?
Soggy fritters usually mean you have too much excess water in the zucchini. You have to salt the shredded zucchini and then squeeze out as much liquid as you can with a clean kitchen towel or paper towels. You could even use your hands. The main thing is to get rid of any excess liquid.
Another tip is to use smaller eggs. The larger the egg, the more egg white, and that means more liquid that you do not want in your fritters. Medium eggs should be good for this recipe. And make sure they are cold because it slows down the gluten development, which helps with texture.
Why should I add baking soda to my fritters?
The baking soda will help make the fritters crispy and light, which is exactly what you are trying to accomplish for this delicious snack. It also adds some volume and air to prevent sogginess or mushy insides. The reaction of the baking soda when it is combined with liquid creates gas bubbles for a light and airy crunchiness.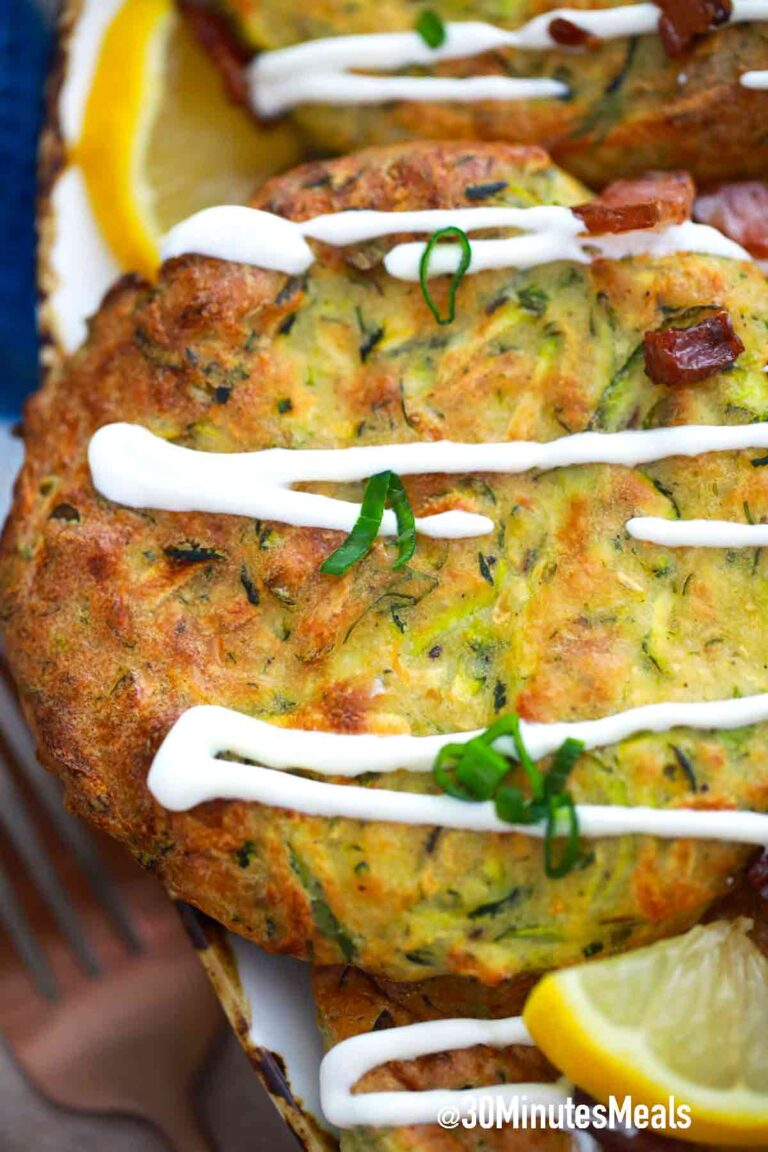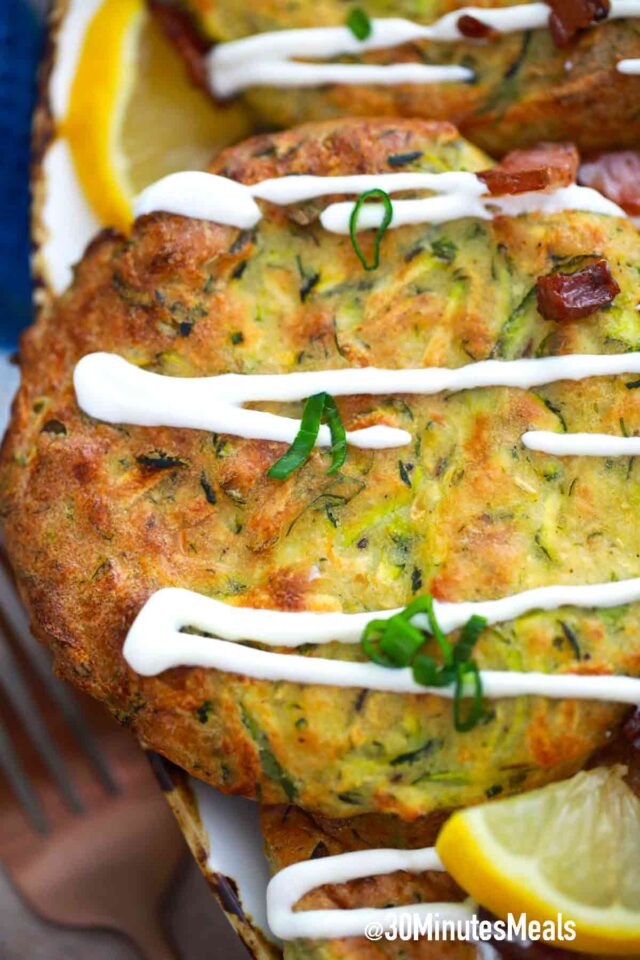 How to store leftovers:
Store: A great way to store these is to separate them with parchment paper so they do not stick together when placing them in an airtight container. They will stay fresh for up to three days in the fridge.
Freeze: You can also freeze these zucchini cakes and they will stay good for up to three months.

Thaw: Defrost them overnight in the fridge before reheating.
Reheat: Place zucchini in a single layer in the air fryer basket and toast them at 450 degrees F for about three minutes or until they are crispy.
Recipe tips:
Be sure to follow the step-by-step instructions for the best results.

It is essential to get as rid of all the moisture from your grated zucchini as possible. Salt them and let them sit for 15 minutes before squeezing them out. Otherwise, they will be soggy and may fall apart.

If you do not have fresh zucchini, it is okay to use frozen but make sure you let it thaw out and squeeze out all the moisture before using it.

Do not toss out the water you get from the zucchini. You can use it in soup, rice, curry, and sauce. It has a lot of nutrients.
Using a box grater is the best way to shred the zucchini but you can also use the grater attachment on your food processor.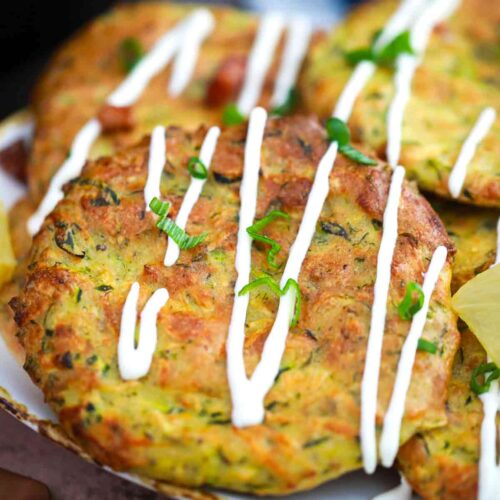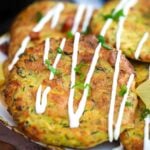 Air Fryer Zucchini Fritters
Air Fryer Zucchini Fritters are crunchy on the outside and tender inside, made in less than 10 minutes in your air fryer.
Course:
Appetizer, Side Dish
Keyword:
Air Fryer Zucchini Fritters
Ingredients
4

cups

shredded zucchini

3/4

cup

all-purpose flour

1/2

teaspoon

baking powder

1

teaspoon

kosher salt

divided

1/4

teaspoon

ground black pepper

1/2

teaspoon

onion powder

1/2

teaspoon

dried Italian herbs

2

eggs

3

cloves

garlic minced

1/4

cup

green onions

diced

1

tablespoons

dill

finely chopped

1

teaspoon

lemon zest
Instructions
Add the shredded zucchini to a large colander and sprinkle with 1/2 teaspoon of salt. Let it sit for 15 minutes.

After that, squeeze all of the excess water out, plate on a clean kitchen towel or paper towels, and pat dry.

Transfer the drained zucchini to a large bowl and add the flour, baking powder, remaining 1/2 teaspoon of salt, black pepper, eggs, onion powder, dried Italian herbs, garlic, green onions, and dill. Stir until combined.

Preheat the Air fryer to 390 F. Add parchment paper to the basket.

Take about 2 tablespoons of the mixture, form a fritter, and place it in the air fryer basket.

Air fry the fritters for 5-7 minutes per side, or until they're golden and crispy.

Repeat the process with the remaining mixture.

Serve warm with lemon on the side and your favorite dipping sauce.
Nutrition Facts
Air Fryer Zucchini Fritters
Amount Per Serving
Calories 36
Calories from Fat 9
% Daily Value*
Fat 1g2%
Cholesterol 20mg7%
Sodium 156mg7%
Potassium 116mg3%
Carbohydrates 6g2%
Protein 2g4%
Vitamin A 111IU2%
Vitamin C 6mg7%
Calcium 18mg2%
Iron 1mg6%
* Percent Daily Values are based on a 2000 calorie diet.