BBQ Sloppy Joes are sauteed with bell peppers and onions, simmered in a BBQ-ketchup combo, then piled high on hamburger buns with lots of cheddar on top. Delicious comfort food that everyone will love and is beyond easy to make!
For other quick and delicious sandwiches, try our healthy Cucumber Sandwiches, French Dip Grilled Cheese Sandwich, and Turkey Salad stuffed into fresh croissants!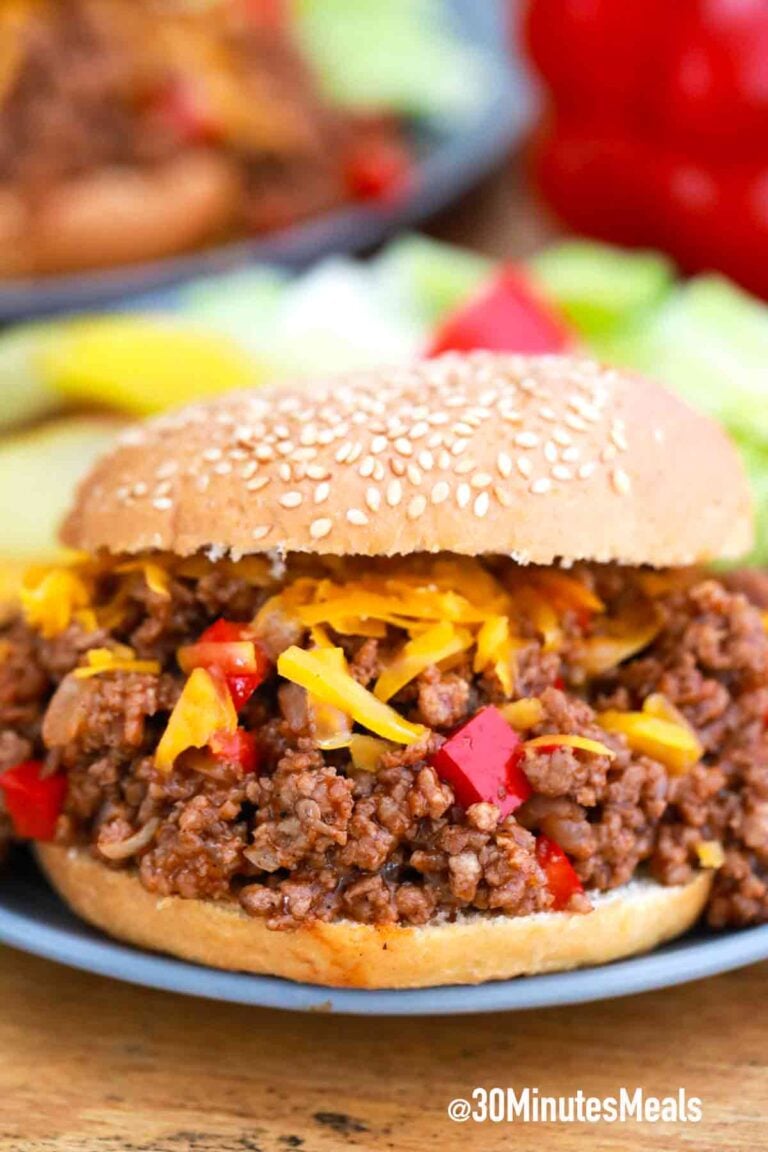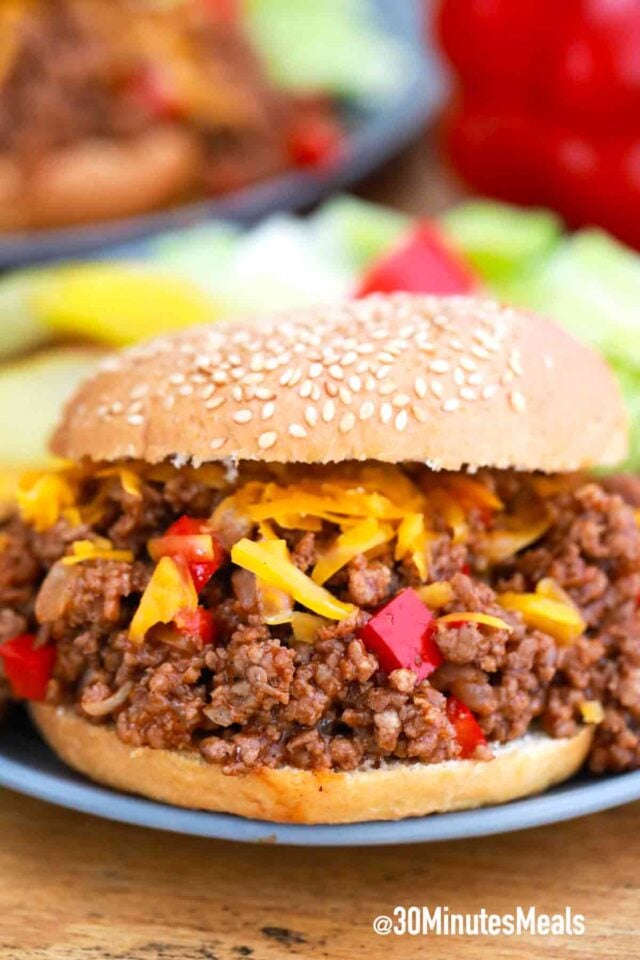 Easy Sloppy Joes Recipe
BBQ Sloppy Joes are a glorious mess of ground beef, onions and fresh bell pepper, drenched in BBQ sauce and ketchup, then spooned on a hamburger bun with a ton of cheddar cheese on top. This is the comfort food of your childhood, except extra delicious and made from scratch!
We've got a few tips to take this dish to the next level. First, butter your buns, then toast them until golden. Try broiling the cheddar a bit so it's all melty and gooey. Add all sorts of delicious toppings, like bacon, creamy coleslaw, or jalapenos! Whatever you do, you can't go wrong with these amazing sloppy joes for a fast and kiddie-friendly meal!
What are sloppy joes?
The basic version has browned, ground beef simmered in ketchup and BBQ sauce, then scooped into hamburger buns with cheese on top.
They started off as "loose meat" sandwiches in a hamburger bun, because unlike other sandwiches like burgers, the ground beef is not molded into a specific shape. They're just piled onto the bread.
Then, one cook took it further and added sauce, and the sloppy joes we know and love were born!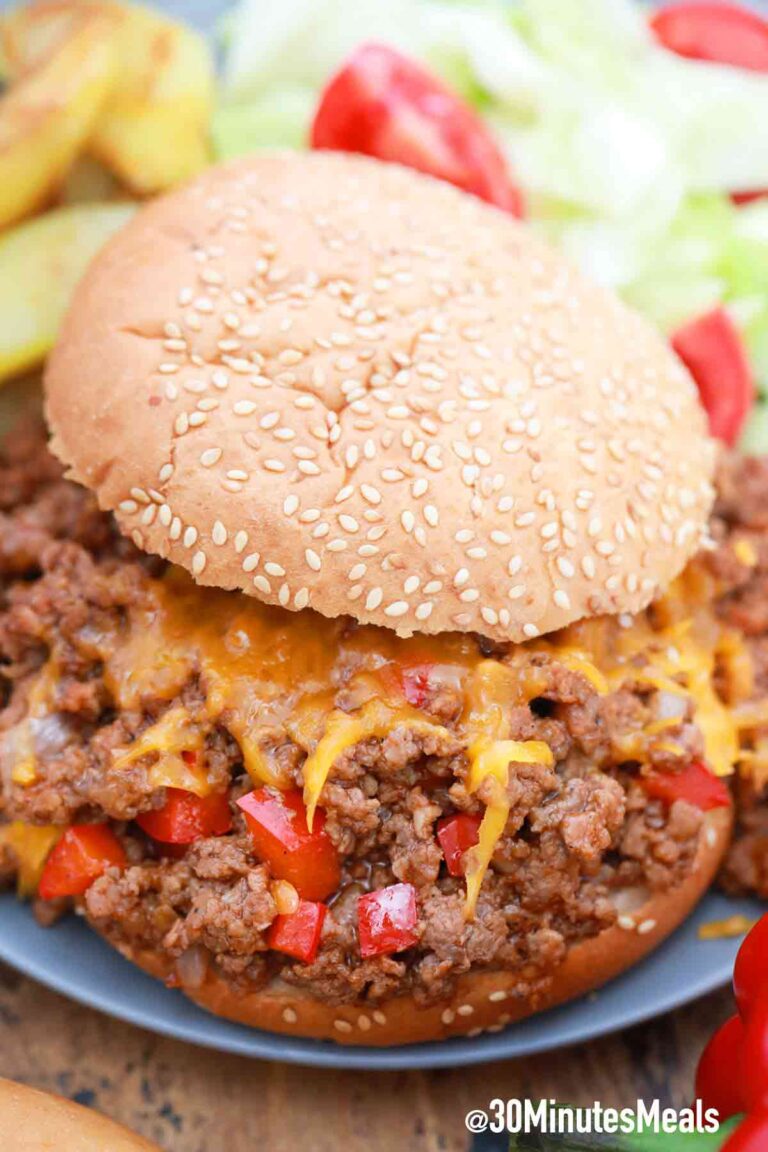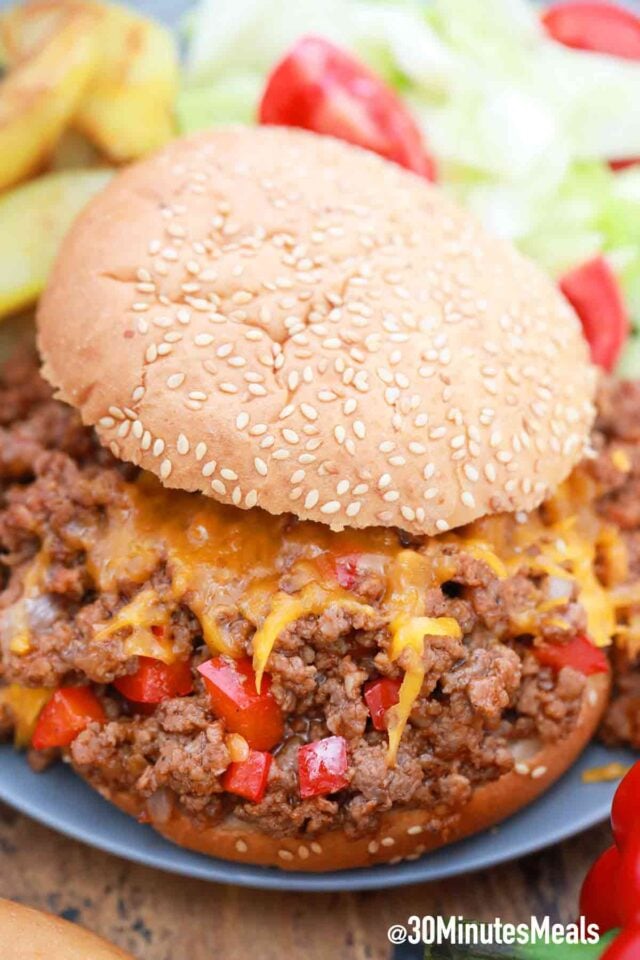 BBQ Beef Sloppy Joes ingredients:
Ground beef

: Try to use grass-fed, organic meat for beefiest, freshest taste.

Onions and red bell pepper

: These aromatics are our building blocks of flavor.

Salt and pepper

: We're keeping it simple in the seasoning department, because every part of these sandwiches is flavorful already!

Barbecue sauce: Use your favorite BBQ sauce flavor. Using bottled is fine, but we recommend trying your hand at making homemade BBQ sauce!
Ketchup

: Adds that essential tomato flavor to our sauce, plus subtle sweetness and tang.

Water

: Helps everything come together.

Hamburger buns

: Toasted and buttered, preferably.

Cheddar cheese

: For that classic comfort food vibe, we're going with shredded cheddar.
How to make BBQ Sloppy Joes?
Sauté

. Stir-fry the ground beef until it's beautifully browned, then drain off all excess fat. Add your aromatics, then continue sautéing until soft.

Sauce it up

. Once it's ready, mix in your BBQ sauce, seasonings, and ketchup. Simmer this for up to 10 minutes so all the flavors are infused into the beef.

Serve

. Spoon the sloppy joe mixture into buns, top with shredded cheddar, and enjoy!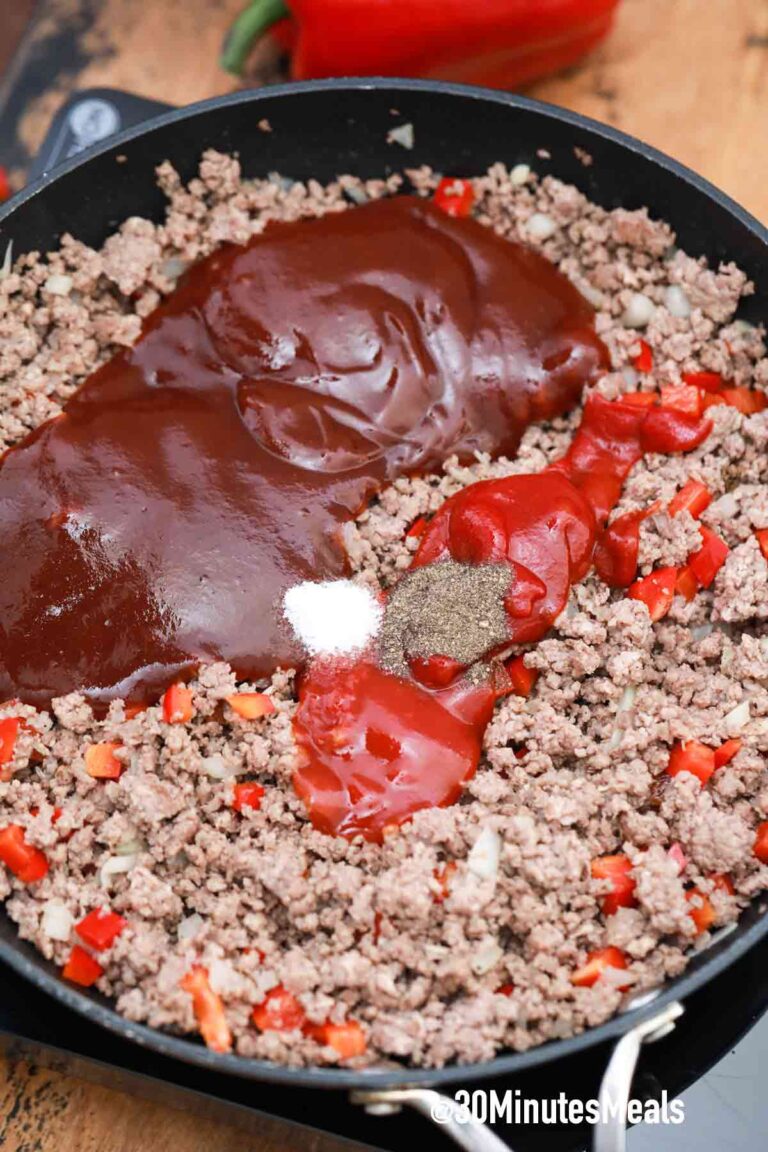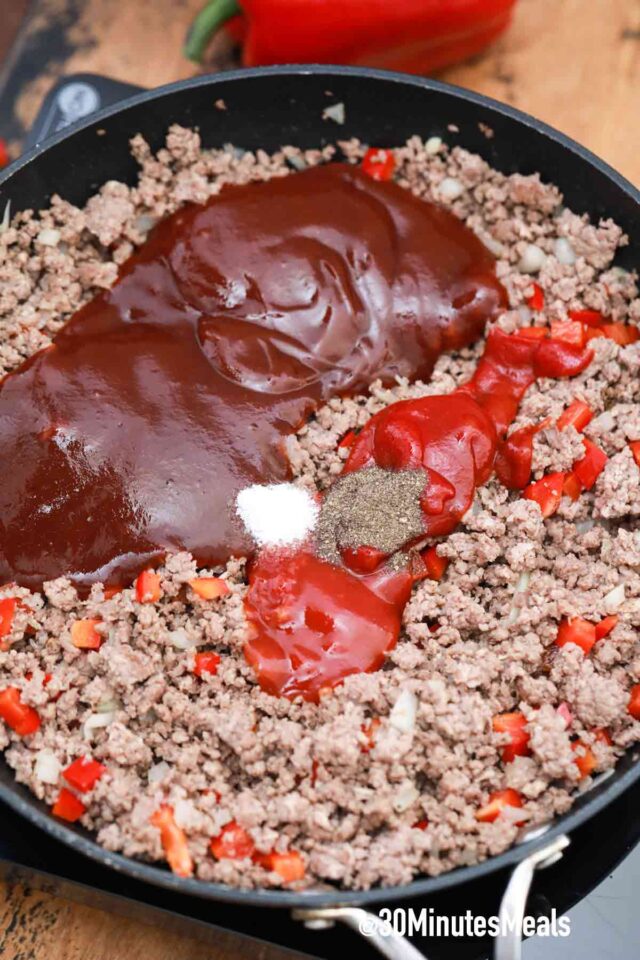 Recipe Variations and substitutions:
Use kinds of meat

: You can use mince pork, ground lamb, and turkey or chicken for lighter versions.
Add bacon

: Chop some up, and sauté with the meat. We also like frying up a few strips, and topping the sandwiches with them.
Vegetarian

: Use vegan ground meat and vegan cheese.
Include veggies

: For a veggie-packed version, add some finely-chopped mushrooms, carrots, or even chopped broccoli, zucchini, and cauliflower into the mix!
Spicy

: You can add heat with some cayenne or chili powder, pepper flakes, or chopped jalapenos.
Use other cheeses

: Aside from cheddar, these sandwiches are also tasty with Swiss, mozzarella, gouda, or Emmental.
Try other seasonings

: Add garlic powder, a dash of Cajun or Taco powder, some Old Bay, or a little amount of dried Italian herbs. We also love the flavor that Worcestershire and a squirt of mustard adds to the mix.
How to make Sloppy Joes in the Slow Cooker?
This is a great "dump it and forget it" slow cooker meal! Throw in all the ingredients, including the sauce and all seasonings and ground beef, into your crockpot. We do recommend browning the meat first so you can take off all excess fat. So, if you don't have time for that, make sure to use the leanest beef you can find.
Cook everything for 3 hrs. (HIGH) or 6 hrs. (HIGH). Spoon onto your toasted buns with the toppings, and serve.
What to serve with BBQ Sloppy Joes?
These are fantastic with a side of Beer Battered Onion Rings, Air Fryer Zucchini Fries, or Mozzarella Cheese Sticks! Healthier sides like Avocado Corn Salad and Caesar Salad are excellent, too.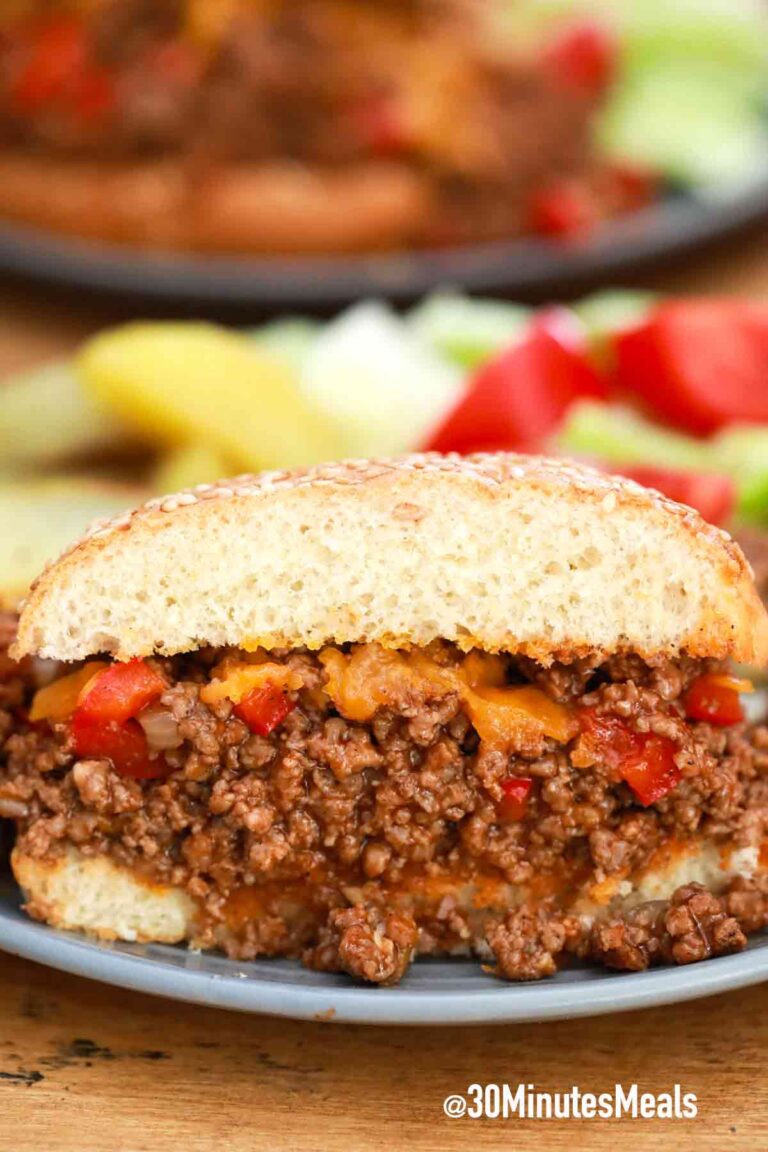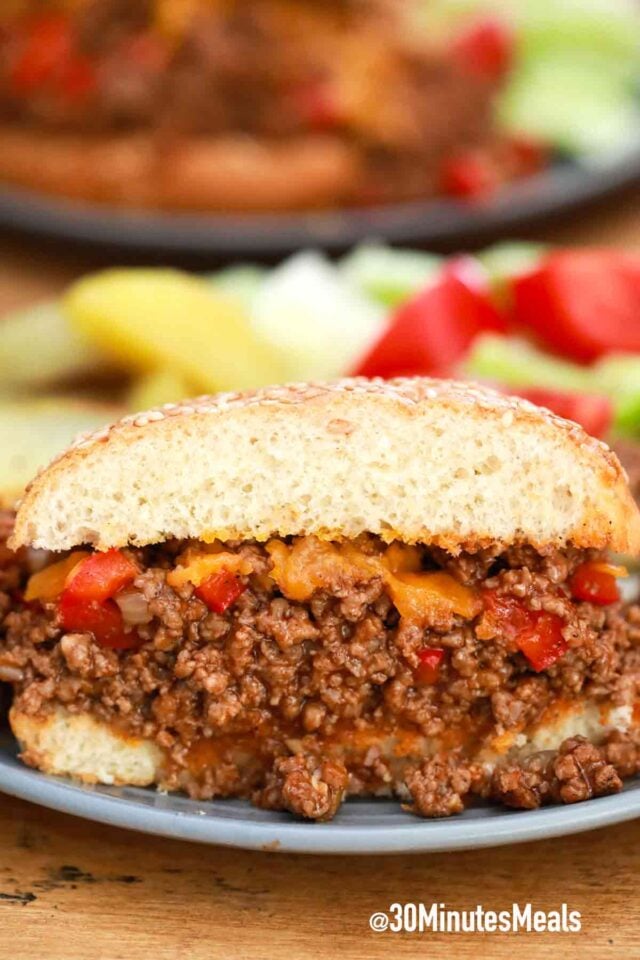 How to store leftovers?
Cool the meat mixture first, then either store in a well-sealed container or inside a freezer bag if you'd like to store it for longer. It will stay up to 5 days in the refrigerator, and up to 3 months frozen. To heat, defrost, microwave until hot, and serve as desired.
More beef recipes to try:
Recipe tips:
Shred the cheddar from the block, because we find more flavorful and it melts better.

Some people like their 'joes sweeter, others like it really savory. You can definitely tweak this to taste! If you like it sweeter, add a splash of honey or some brown sugar. To make it more savory, add a bit more salt or some beef broth.

Hamburger buns are the classic choice, but if you want to add something extra, try this with pretzel buns or potato rolls.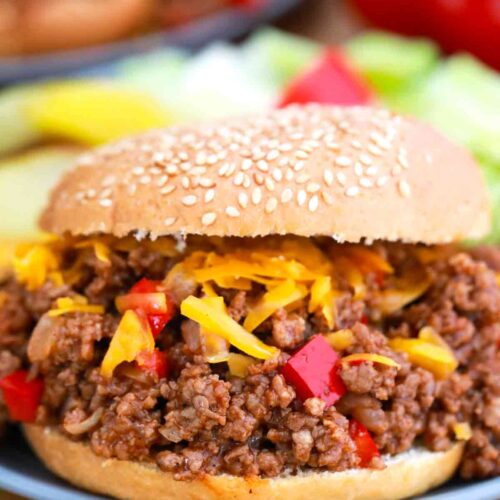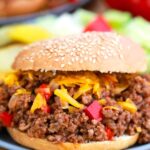 BBQ Sloppy Joes
BBQSloppy Joes are sauteed with bell peppers and onions, simmered in aBBQ-ketchup combo, then piled high on hamburger buns with lots ofcheddar on top. Delicious comfort food that everyone will love and isbeyond easy to make!
Ingredients
1 1/2

lb

ground beef

1/2

sweet onion

diced

1/2

red bell pepper

diced

1/2

teaspoon

salt

1/2

teaspoon

ground black Pepper

1

cup

Barbecue sauce

1/4

cup

ketchup

1/2

cup

water

6

hamburger buns

1

cup

cheddar cheese

shredded
Instructions
Place a medium skillet over medium-high heat and brown the beef, for about 5 minutes. Drain the grease when done.

Add the diced onion, bell pepper, and season with salt and pepper. Cook for 5 minutes.

Add in the barbecue sauce and ketchup.

Cook on low uncovered for 10 minutes, taste and adjust for salt and pepper.

Serve on the hamburger buns topped with the shredded cheddar cheese.
Nutrition Facts
BBQ Sloppy Joes
Amount Per Serving
Calories 589
Calories from Fat 279
% Daily Value*
Fat 31g48%
Cholesterol 100mg33%
Sodium 1186mg52%
Potassium 577mg16%
Carbohydrates 47g16%
Protein 29g58%
Vitamin A 659IU13%
Vitamin C 15mg18%
Calcium 256mg26%
Iron 4mg22%
* Percent Daily Values are based on a 2000 calorie diet.