Oven Baked Chicken Thighs
Oven Baked Chicken Thighs are very flavorful, also crispy on the outside, and tender and juicy on the inside. With just a handful of simple ingredients, you can have tender thighs bursting with flavor in less than 30 minutes.
For tangier chicken, try this easy recipe for Baked Lemon Thyme Chicken. Or if you want something more convenient but still delicious, our Honey Balsamic Chicken is cooked in one pan in less than 30 minutes. Alternatively, this savory dish can be cooked in the air fryer with this Air Fryer Chicken Thighs recipe.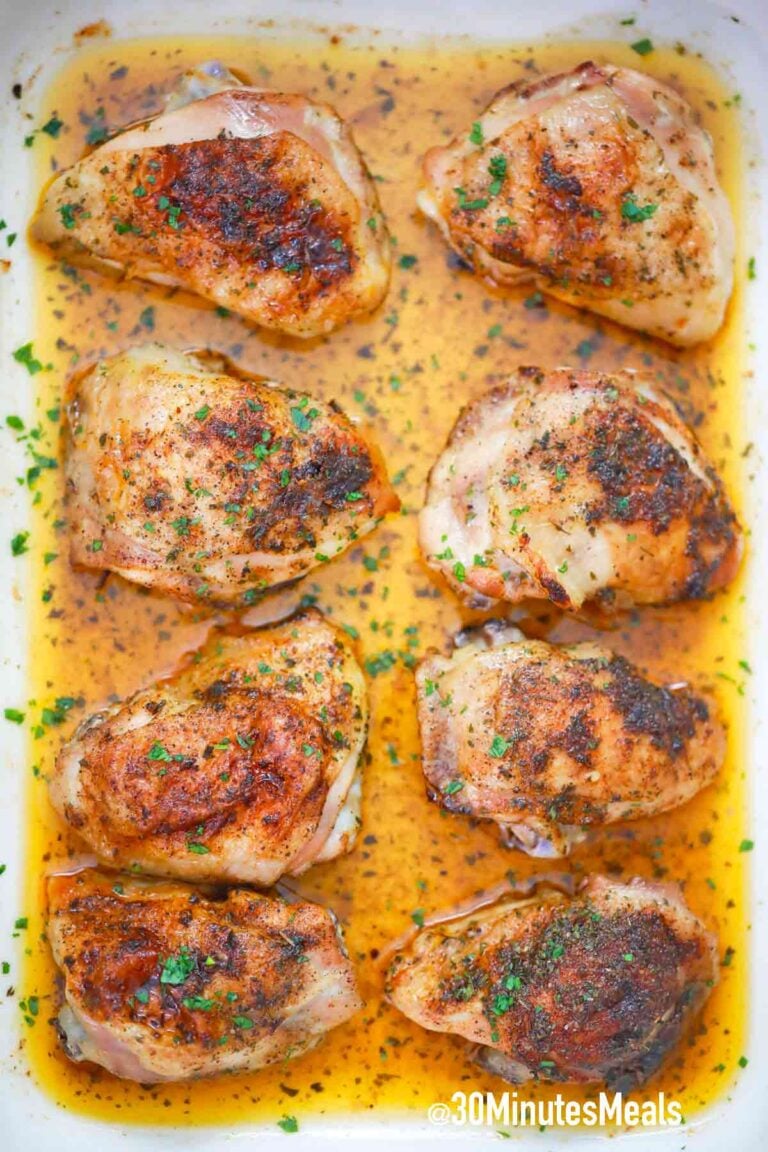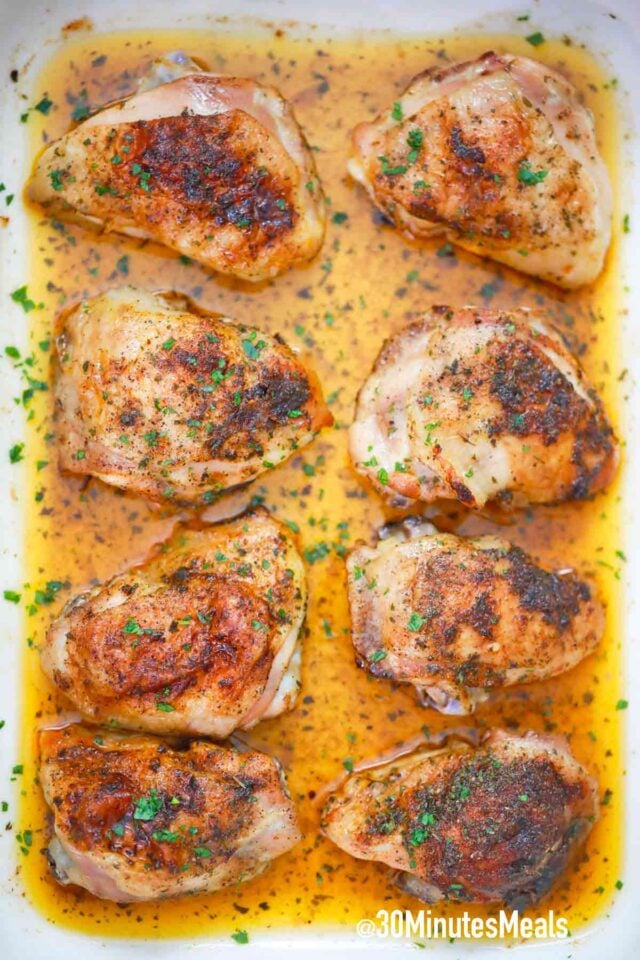 Easy oven baked chicken thighs
One of the tricks to this easy dinner is using bone-in chicken with the skin still on. This keeps the juiciness inside the meat where it belongs.
And since the thighs are dark meat, they are more tender and juicier than other cuts of meat, making this recipe may end up being your favorite simple chicken recipe.
If you have an Instant pot make sure to try these pressure cooker wings for some variety!
Ingredients needed:
You are only going to need a few ingredients for these juicy thighs but the whole list with exact measurements and instructions can be found below on our recipe card. But here is a basic list:
Chicken thighs: Using bone-in with the skin still on is best for juicy meat.
Olive oil: Another oil would be fine such as canola or vegetable oil.
Salt: We used kosher salt.
Pepper: Ground black pepper.

Paprika: Try smoked paprika for a smokier flavor.
Garlic powder: Or minced garlic cloves.
Parsley: Fresh dried parsley.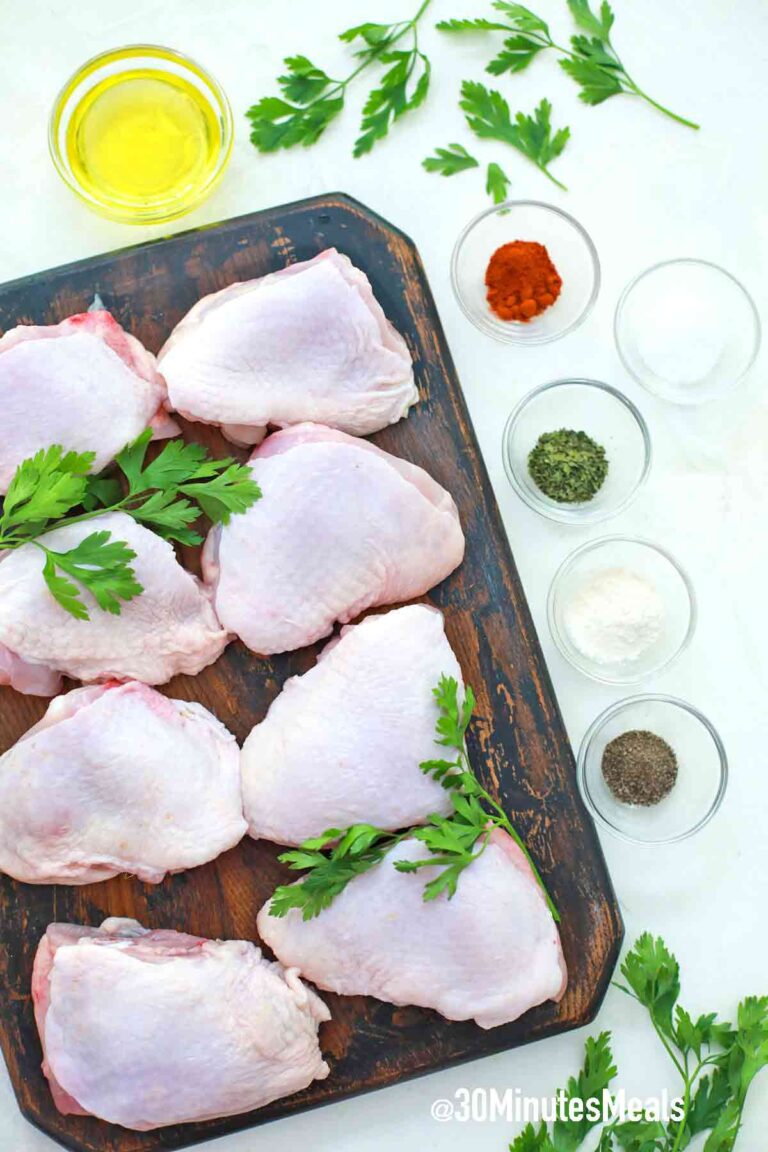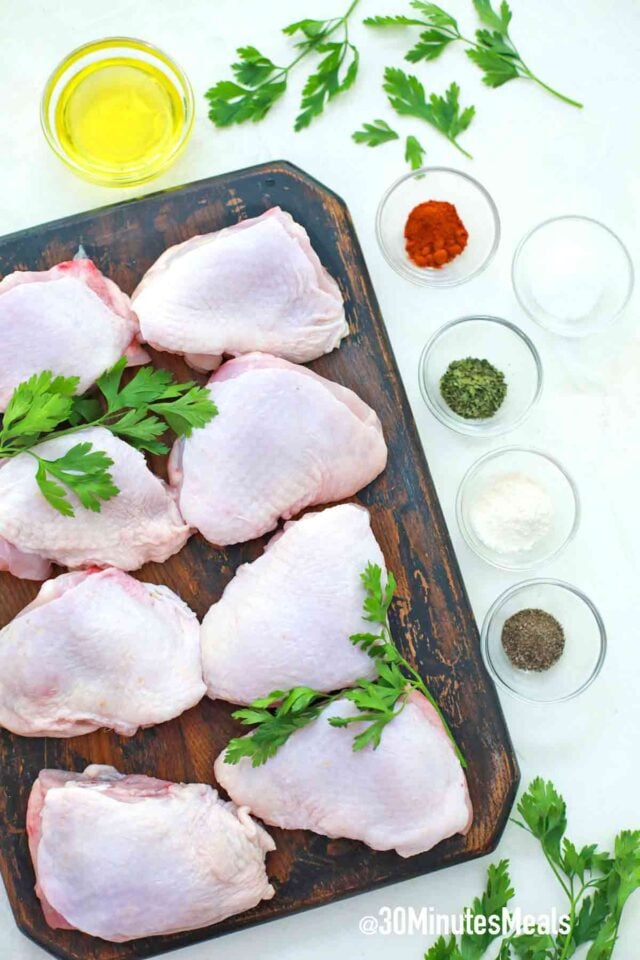 How to make easy oven baked chicken thighs from scratch?
Preheat: The first thing to do is to preheat your oven to 400 degrees F.

Prepare: Meanwhile, spray a baking dish with a light coat of cooking spray.
Prep the chicken: After patting each piece with paper towels to get all the moisture off, brush them each with oil.

Mix: Then, mix the seasonings together in a small bowl as your spice rub.

Rub: Sprinkle with the spice, giving it a rub to make sure it is spread all over each piece before putting them in the baking dish.

Cook: Lastly, place the dish in the oven and cook uncovered for approximately 30 minutes. Just until the internal temperature reaches 165 degrees F. Cooking time may vary depending on the oven and amount of chicken.
Recipe variations:
Use other cuts: Feel free to use chicken drumsticks or breasts.

Skinless: You could also use skinless chicken breasts or skinless thighs but adjust your cooking time to avoid drying out the meat.
Make it spicy: Add some cayenne pepper or hot chilis to the seasoning for a spicier meal.
Italian: Make this an Italian dish by adding some Italian seasoning.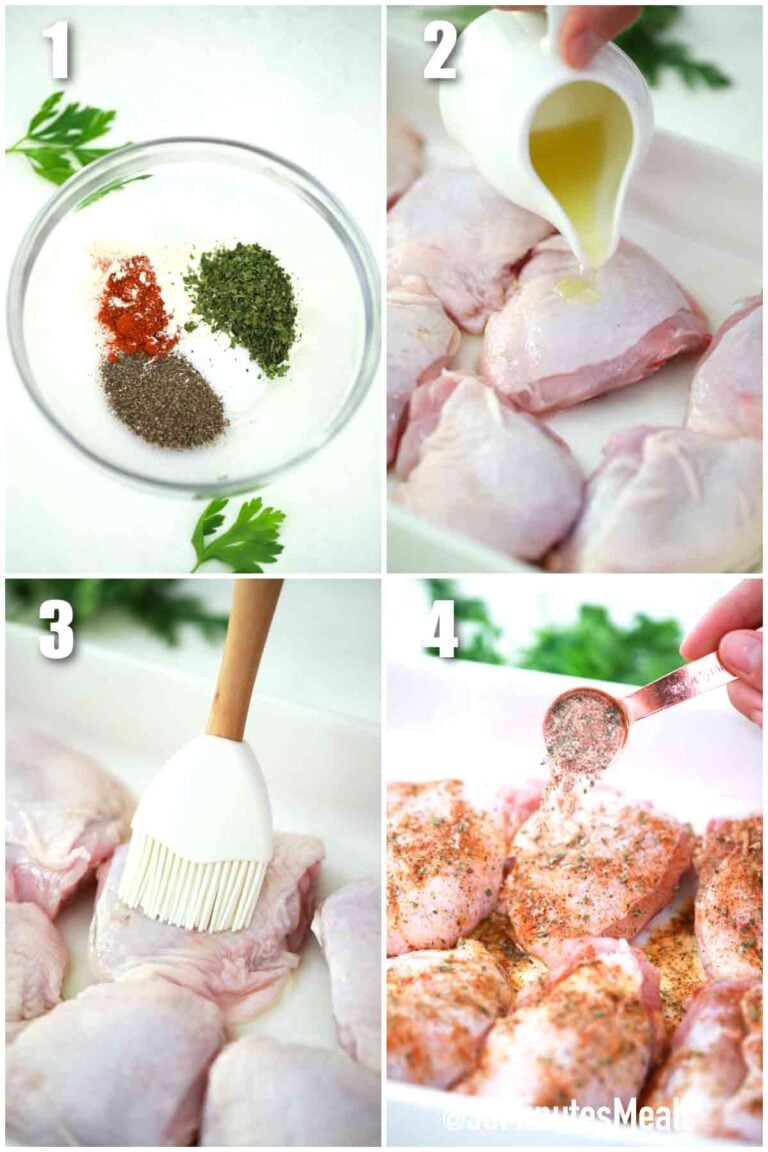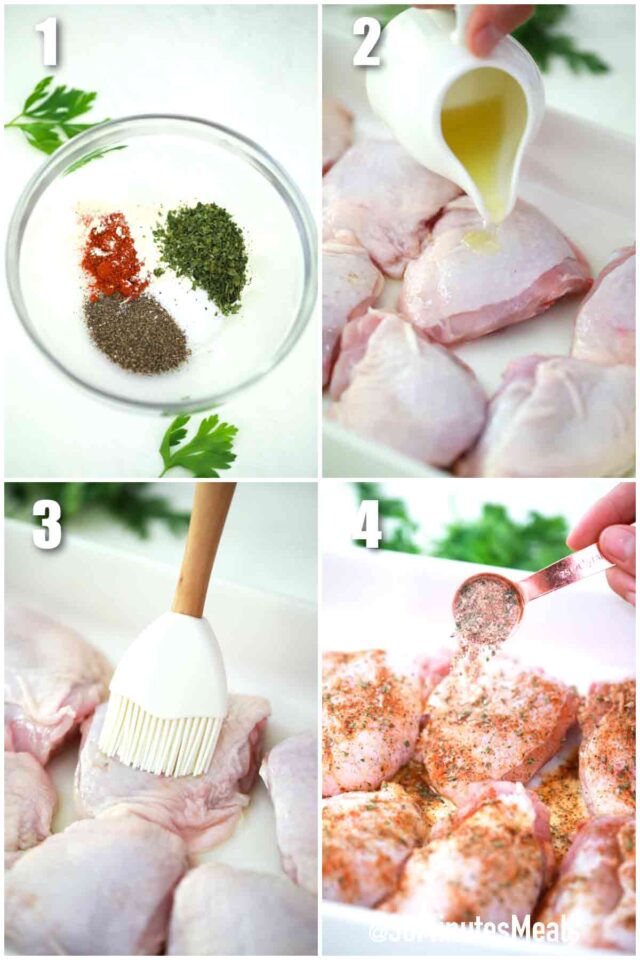 How to serve:
This dish can be served with just about any side dish and makes an easy dinner for any night of the week. Or you can try one of these ideas:
Frequently asked questions
Is it better to cook chicken at 350 or 400 degrees F?
Although baking time varies with each oven and the cut of the chicken, the oven temperature has a lot to do with how good your meat comes out. For crispy chicken thighs in less time, bake them at 400 degrees F as in this recipe. Just make sure the internal temperature of each piece is 165 degrees F using an instant-read thermometer.
Do boneless skinless thighs cook faster?
Yes, boneless, skinless chicken thighs cook faster than bone-in thighs with skin. However, boneless chicken tends to dry out faster. The cook time will vary depending on the size and cut of the meat, but they are typically cooked in 15 to 20 minutes at 400 degrees F.
How do you keep chicken thighs from drying out in the oven?
For baked thighs with crispy skin outside and juicy meat inside, be sure to pat the chicken dry with paper towels and spritz it with a tiny bit of olive oil. Also, use bone-in chicken with skin to get the juiciest thighs. Boneless thighs tend to get dried out faster.
In addition, do not forget to bake them with the skin side up on a sheet pan at a high temperature, and do not flip them or move them as they cook. If you want, you can sear the meat first on a hot skillet to make it extra crispy outside. The crispy skin will keep the moisture inside.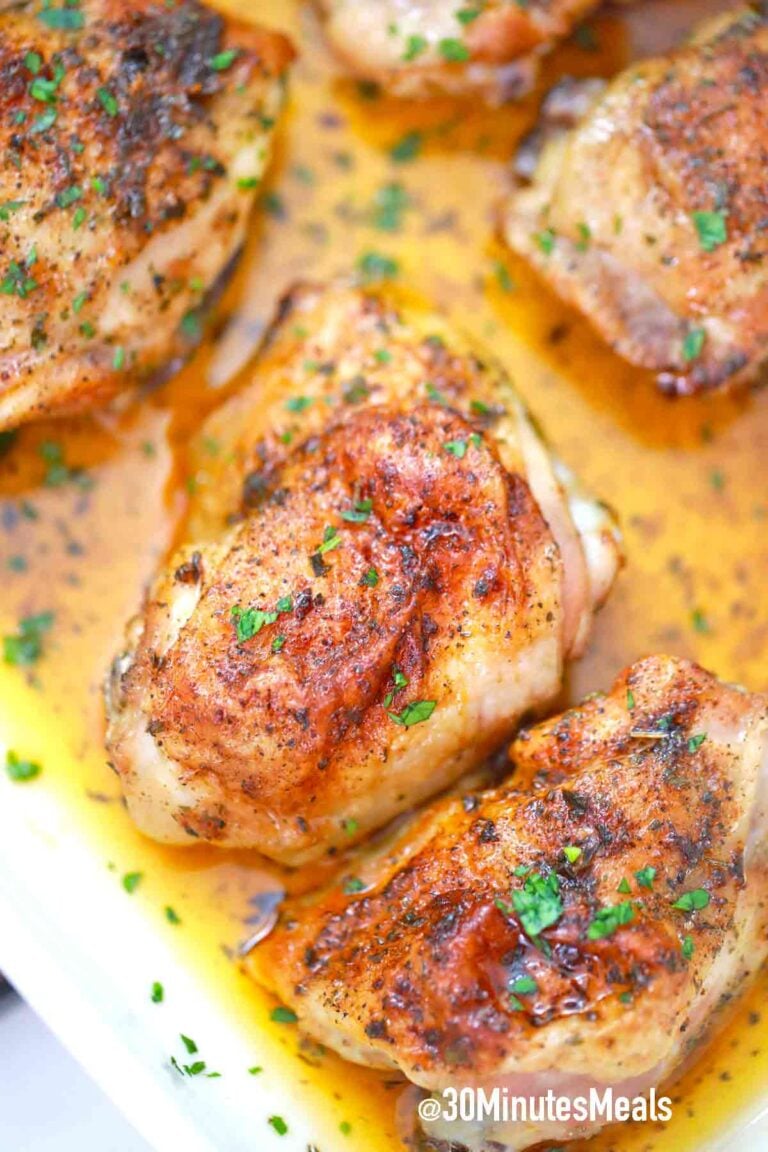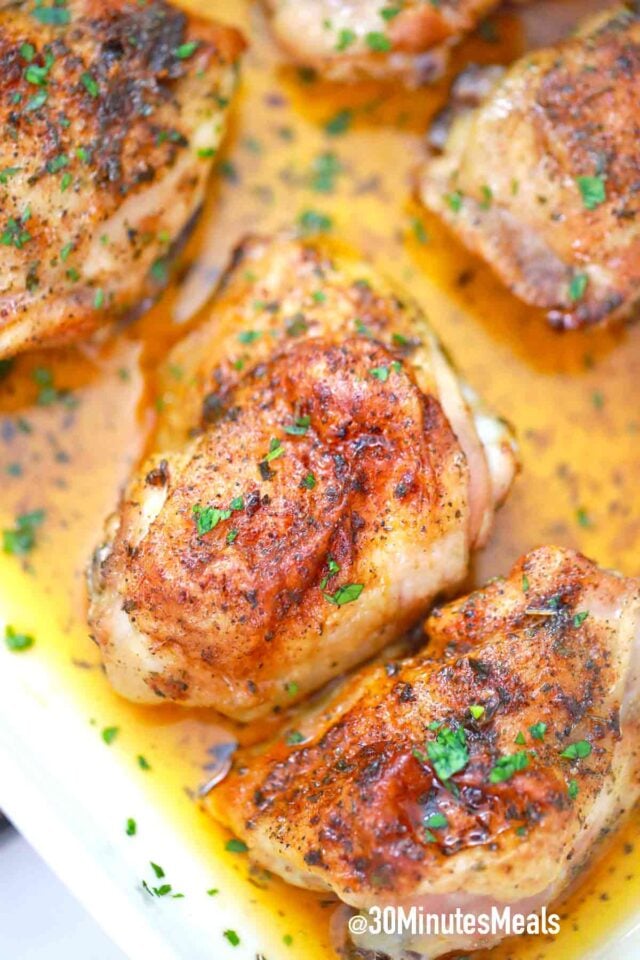 How to store leftovers:
Store: After your thighs are cooled to room temperature, you can put the pieces in an airtight container in the fridge. They should stay fresh for up to three days.
Freeze: If you do not plan on eating the leftovers within a few days, it is best to freeze them. Wrap them in plastic wrap or aluminum foil and put them in a freezer bag and they will be good for up to four months.
Thaw: When you are ready to reheat them, you will get the best results if you thaw them overnight in the refrigerator.
Reheat: To reheat, put them in a baking dish or on a baking sheet and bake at 400 degrees F for about 10 minutes.
Recipe tips:
Rather than storing or freezing, use the yummy leftovers with a rice dish like this egg fried rice.

If your thighs are not as crispy as you like, put them in your oven on broil for a few minutes.
When checking the internal temperature, be sure you put it into the thickest part of the meat without touching the bone.

No thermometer? No problem, just cook until the juices run clear.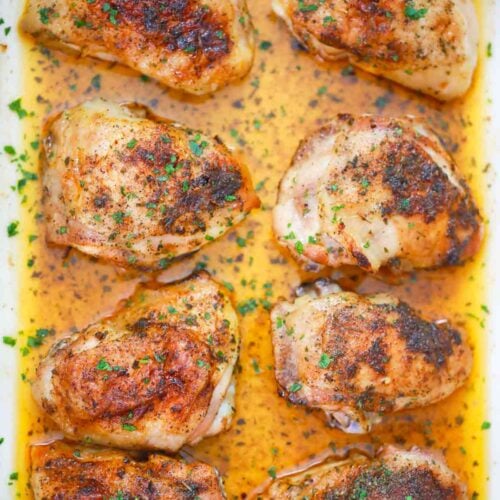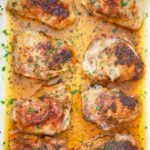 Oven Baked Chicken Thighs
Oven Baked Chicken Thighs are crispy on the outside and tender and juicy on the inside with this 30-minute recipe.
Keyword:
Oven Baked Chicken Thighs
Ingredients
8

chicken thighs

bone-in, and skin-on

2

tablespoons

olive oil

1

teaspoon

salt

1/4

teaspoon

ground black pepper

1

teaspoon

paprika

1

teaspoon

garlic powder

1

teaspoon

dried parsley
Instructions
Preheat oven to 400 degrees F.

Lightly grease with oil a 9x13-inch baking dish and set it aside.

Toss the chicken thighs with oil and arrange them into the baking dish.

Combine the rest of the ingredients in a bowl.

Sprinkle the seasoning over both sides of the chicken thighs.

Bake in the preheated oven, uncovered for 25-30 minutes or until the internal temperature reads 165 degrees.

Serve immediately with rice or veggies.
Nutrition Facts
Oven Baked Chicken Thighs
Amount Per Serving
Calories 561
Calories from Fat 405
% Daily Value*
Fat 45g69%
Cholesterol 221mg74%
Sodium 756mg33%
Potassium 486mg14%
Carbohydrates 1g0%
Protein 37g74%
Vitamin A 424IU8%
Vitamin C 1mg1%
Calcium 21mg2%
Iron 2mg11%
* Percent Daily Values are based on a 2000 calorie diet.