Eggnog Waffles are crispy on the outside with a rich and fluffy inside and filled with wonderful warm holiday flavors. If you are looking for something to make the family on Christmas morning, this is the perfect holiday season recipe.
For those family and friends who do not like eggnog, try our recipe for Rainbow Waffles made with buttermilk. Top your waffles with these Fried Apples made with apple juice and brown sugar. To balance out this breakfast, serve your family Eggs in a Basket seasoned with garlic and smoked paprika.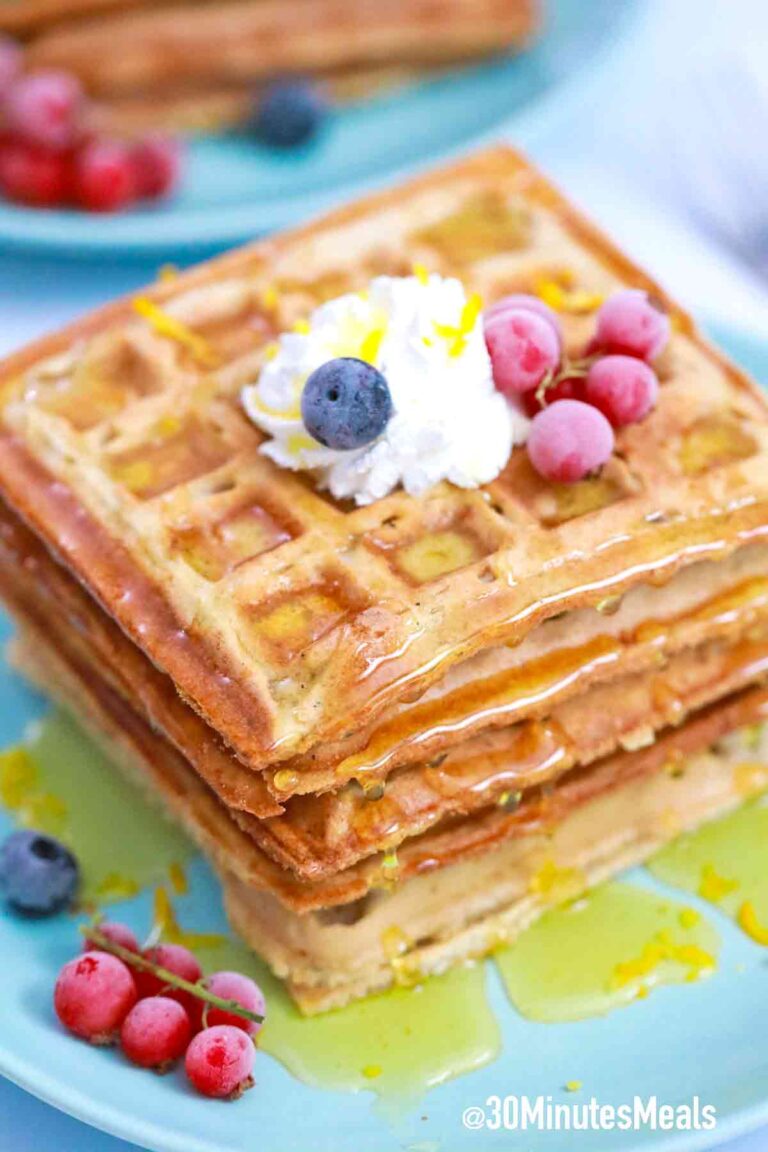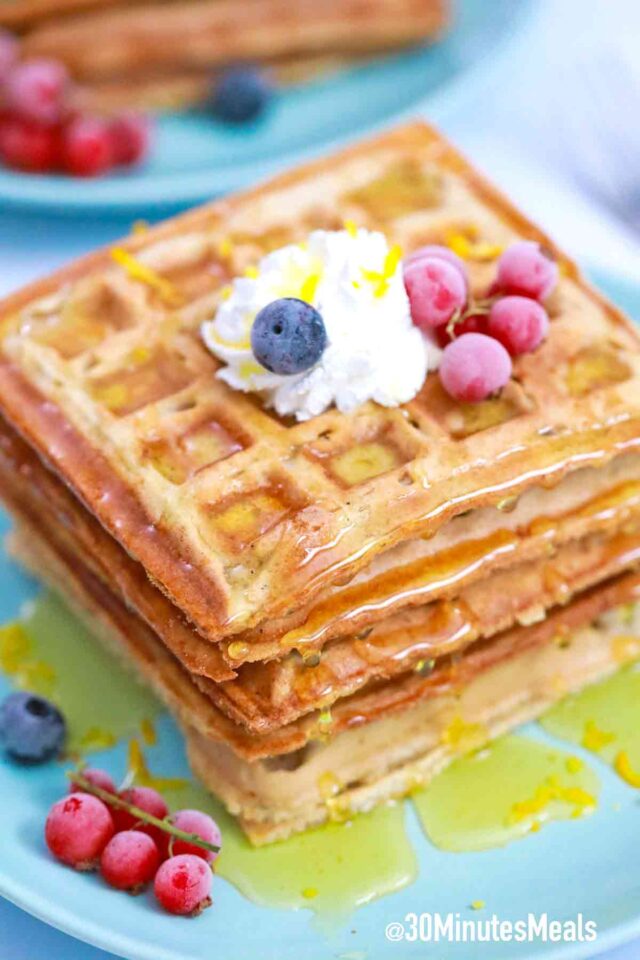 If your Christmas breakfast last year was the typical eggs and bacon, why not try these delicious eggnog waffles this year instead?
With buttermilk, nutmeg, and cinnamon, this is going to be your family's new favorite way to spend Christmas morning with the best waffles they have ever tasted.
In fact, you can enjoy these whenever you like whether it is just Sunday morning with the kids or an afterschool snack.
Try this batter to make traditional waffles or you can use it for eggnog pancakes too.
In addition, Belgian waffles (also known as liege waffles) or French toast are also fantastic ways to use up your leftover eggnog. That way you can have your family's favorite flavors in several different dishes.
Ingredients needed:
Scroll down to the bottom of the page for the exact measurements on our recipe card. But here are the basic ingredients you need for our eggnog waffle recipe:
Flour: All-purpose flour.
Cornstarch: To thicken the batter.
Baking powder: Not baking soda.
Sugar: White sugar.
Spices: We used cinnamon, nutmeg, and a pinch of salt.
Eggs: Room temperature.
Vanilla: Use pure vanilla extract for best results.
Vegetable oil: Or you can use your favorite oil.
Buttermilk: Low-fat will work for this recipe.
Eggnog: Try our recipe for homemade creamy eggnog or you can use your own eggnog favorite.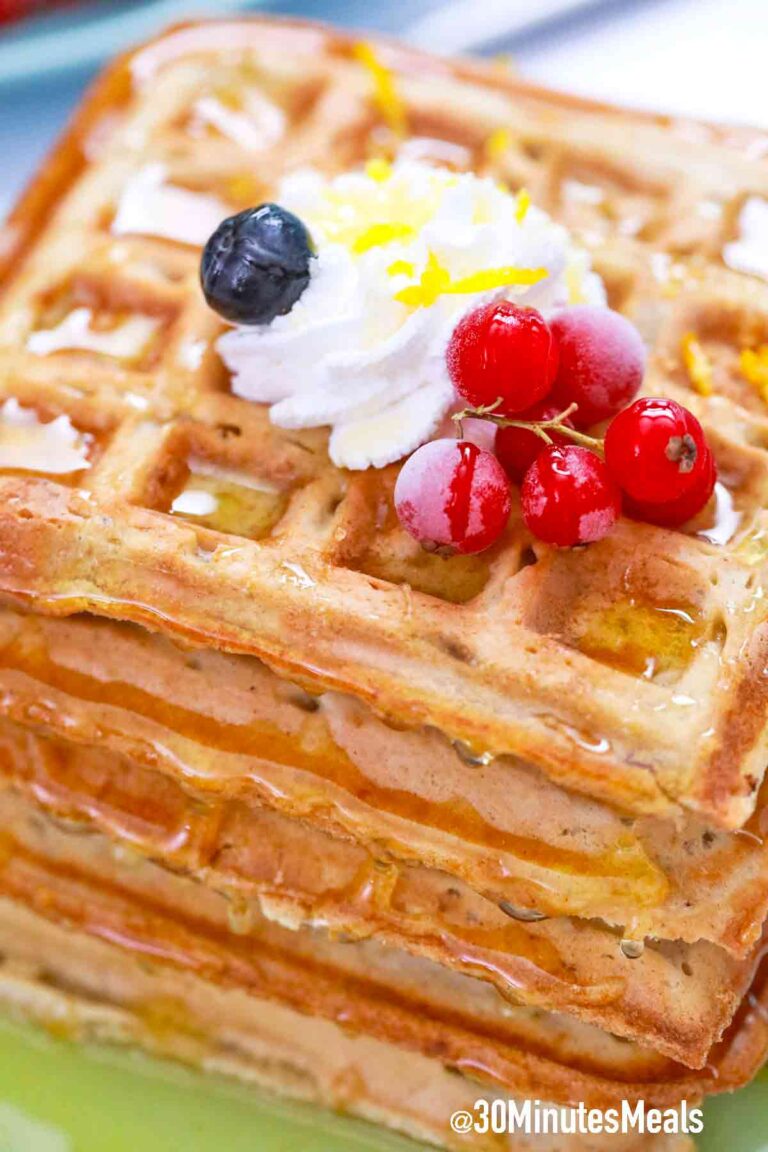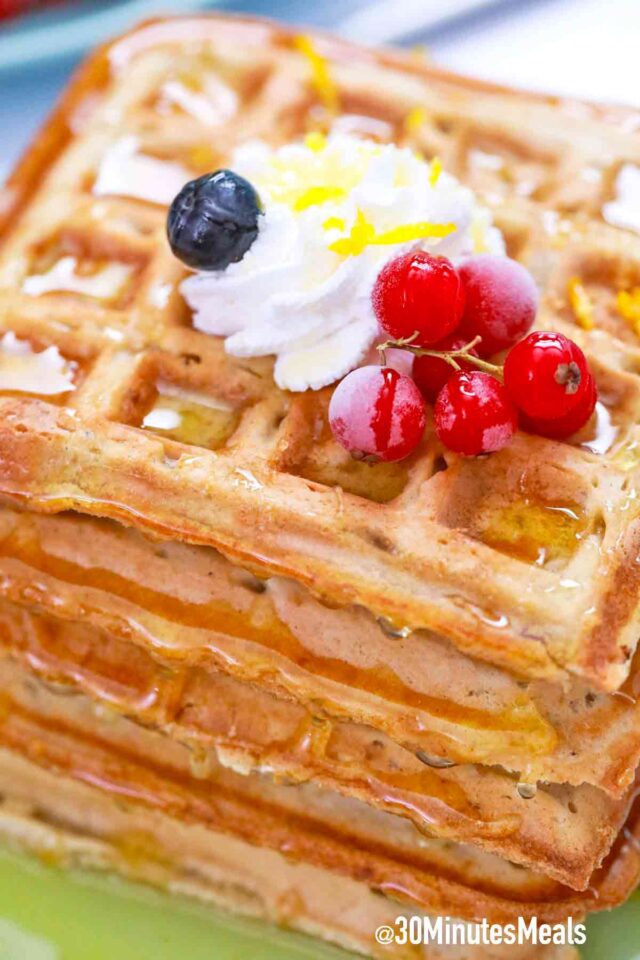 How do you make eggnog waffles from scratch?
Preheat: First, preheat the waffle maker and spray it with non-stick cooking spray.

Mix: Then, mix the dry ingredients in a large bowl.
Wet ingredients: Next, put the wet ingredients in a medium bowl and beat them just until blended.

Combine: After, combine the flour mixture with the wet ingredients.

Scoop: Finally, scoop ½-cup of waffle batter onto the heated waffle iron and cook until there is no more steam.
Serve: Lastly, serve these delicious waffles warm with maple syrup, whipped cream, orange zest, and ground cinnamon.
Recipe variations:
Egg whites: For extra fluffy eggnog waffles, just use the egg whites.

Holiday flavor: Add some peppermint extract or crushed candy canes to the mix for extra holiday flavor.

Healthy: Use egg substitute, nonfat milk, and sugar-free sweetener for fewer calories and fat.
No gluten: Turn these into gluten-free eggnog by using oat or almond flour.

Buttermilk substitute: Use a tablespoon of vinegar with milk if you don't have any buttermilk.
How to serve:
The best way to serve our homemade waffles is warm with whipped cream, maple syrup, orange zest, and cinnamon. Or try one of these suggestions:
Enjoy these holiday waffles with a glass of ice-cold Christmas punch.

Add a dollop of ice cream on top for an even sweeter treat.

You can also put strawberry or raspberry preserves on top.

Spread a little butter on top of hot waffles making sure the melted butter gets into all the crevices.

Drizzle some of our tangy homemade orange sauce on top for a unique twist.
These also taste delicious with some scrambled eggs and bacon.
Another great way to eat these is with a side of crispy hash browns.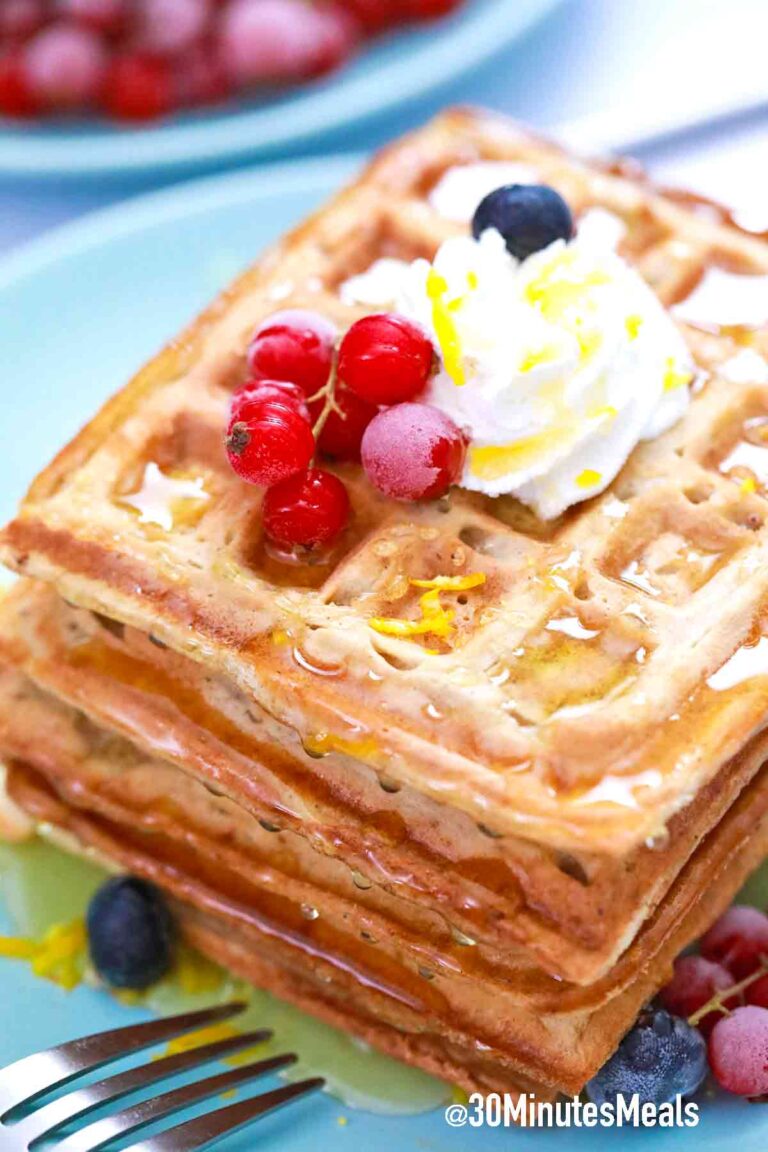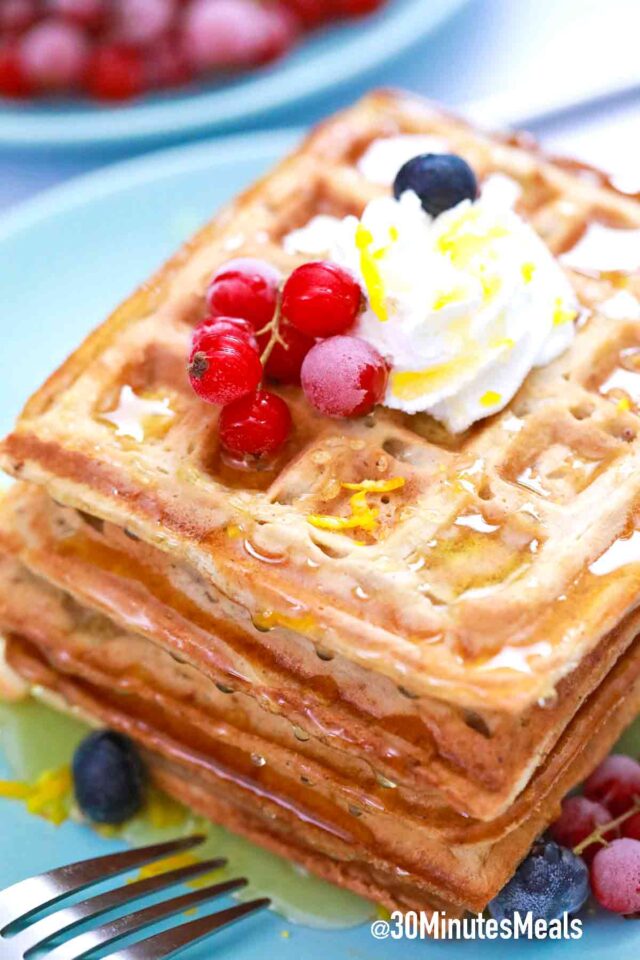 Frequently asked questions
What is eggnog?
This delicious holiday drink is made with milk, cream, egg yolks, and holiday spice.
A lot of people enjoy this drink all year long but most just have it during the Christmas and New Year seasons. But there is nothing wrong with having an eggnog waffle in July.
Who invented eggnog?
Eggnog, which was called posset back then, was first consumed in the early 16th century by the British.
It was originally made to treat insomnia and the common cold and was made by mixing hot milk with some kind of liquor and spices like nutmeg and cinnamon.
Is eggnog healthy for you to drink?
Although it is true that one serving of store-bought eggnog has over 350 calories and a whopping 150 milligrams of cholesterol, you can make it healthier by preparing it at home.
Just substitute the heavy cream with plain Greek yogurt and use non-fat milk with an egg substitute.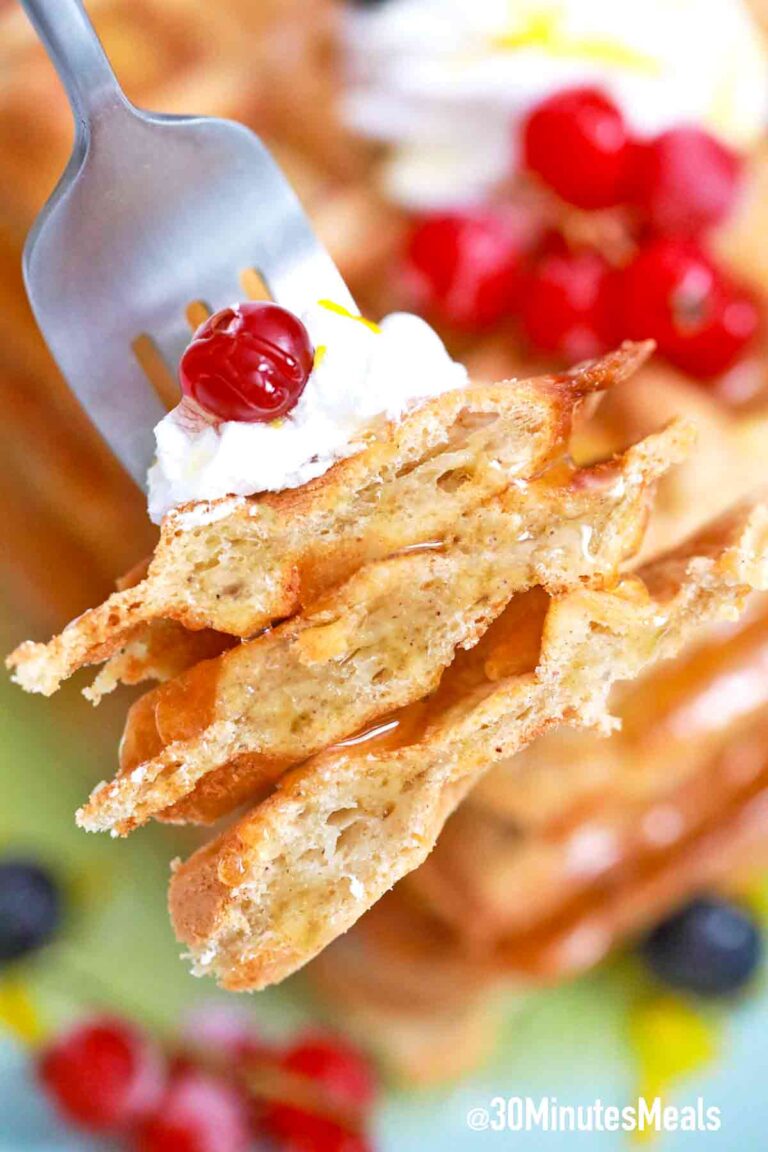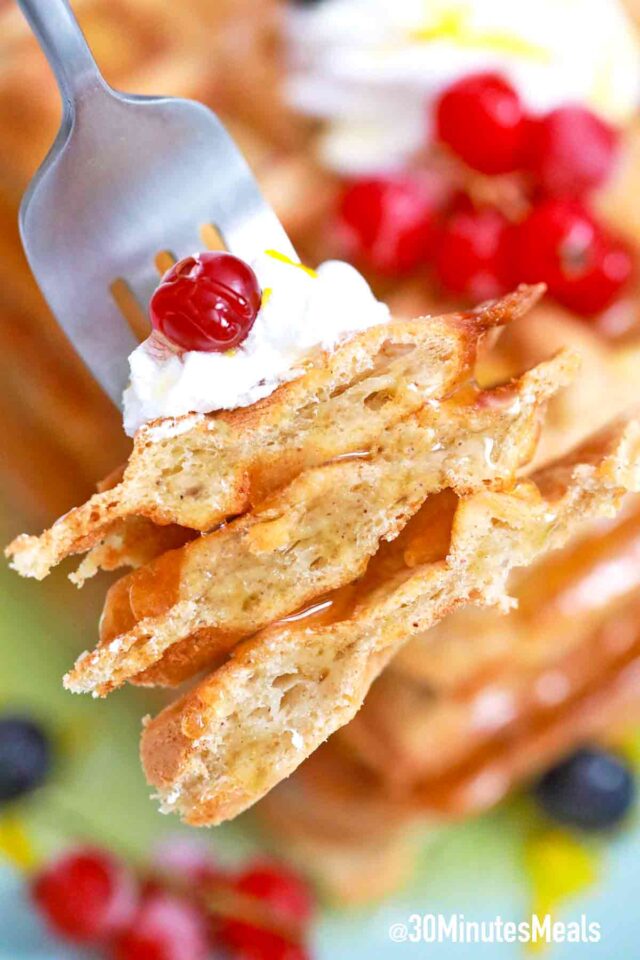 How to store leftovers:
Store: Any leftover waffles can be stored in the fridge in an airtight container for about three or four days.

Freeze: If you have way too many, go ahead and put them in freezer bags and they will stay good for about two or three months in the freezer.
Thaw: Remember to move frozen waffles to the fridge overnight before serving.

Reheat: You can reheat these one at a time in the microwave for 30 to 45 seconds.
Recipe tips:
Don't overmix your batter or the waffles will be too chewy.

Add a tablespoon more oil to the batter to keep it from sticking.

For extra fluffy waffles, separate the eggs, using the yolks first in the wet ingredients and then carefully fold in the whites at the end.

Make sure you preheat your waffle iron for the best results.

Be sure to get the good stuff when you buy vanilla for the best flavor.
You can fill the waffle iron to the brim because this batter does not expand like the boxed waffle batter.

However, just in case, put some paper towels under your waffle iron for the overflow.

These are denser than regular waffles, so you have to cook them until there is no more steam coming out.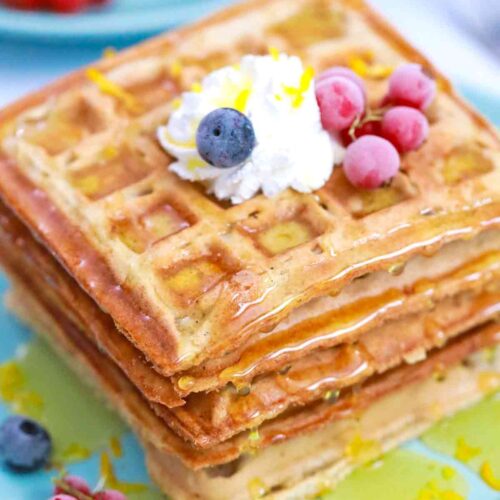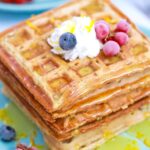 Eggnog Waffles
Eggnog Waffles are crispy on the outside with a rich and fluffy inside and filled with wonderful warm holiday flavors.
Ingredients
2 2/3 - 3

cups

all-purpose flour

1

tablespoon

baking powder

4

tablespoons

white granulated sugar

1/2

teaspoon

salt

1/2

teaspoon

nutmeg

1/2

teaspoon

cinnamon

3

eggs

1

teaspoon

vanilla

3

tablespoons

vegetable oil

1/4

cup

buttermilk

2

cups

eggnog
Instructions
Preheat and lightly spray waffle iron with non-stick cooking spray.

In a large bowl mix flour, baking powder, sugar, salt, cinnamon, and nutmeg.

In a medium bowl beat together the eggs, vanilla, vegetable oil, buttermilk, and eggnog.

Blend the egg mixture into the dry ingredients until completely combined.

Scoop batter by about ½ cupfuls onto the heated waffle iron and cook until no steam is escaping from the closed iron.

Repeat with the remaining batter.

Serve with maple syrup, whipped cream, nutmeg, and orange zest.
Nutrition Facts
Eggnog Waffles
Amount Per Serving
Calories 333
Calories from Fat 45
% Daily Value*
Fat 5g8%
Cholesterol 100mg33%
Sodium 214mg9%
Potassium 386mg11%
Carbohydrates 80g27%
Protein 14g28%
Vitamin A 233IU5%
Vitamin C 1mg1%
Calcium 180mg18%
Iron 5mg28%
* Percent Daily Values are based on a 2000 calorie diet.